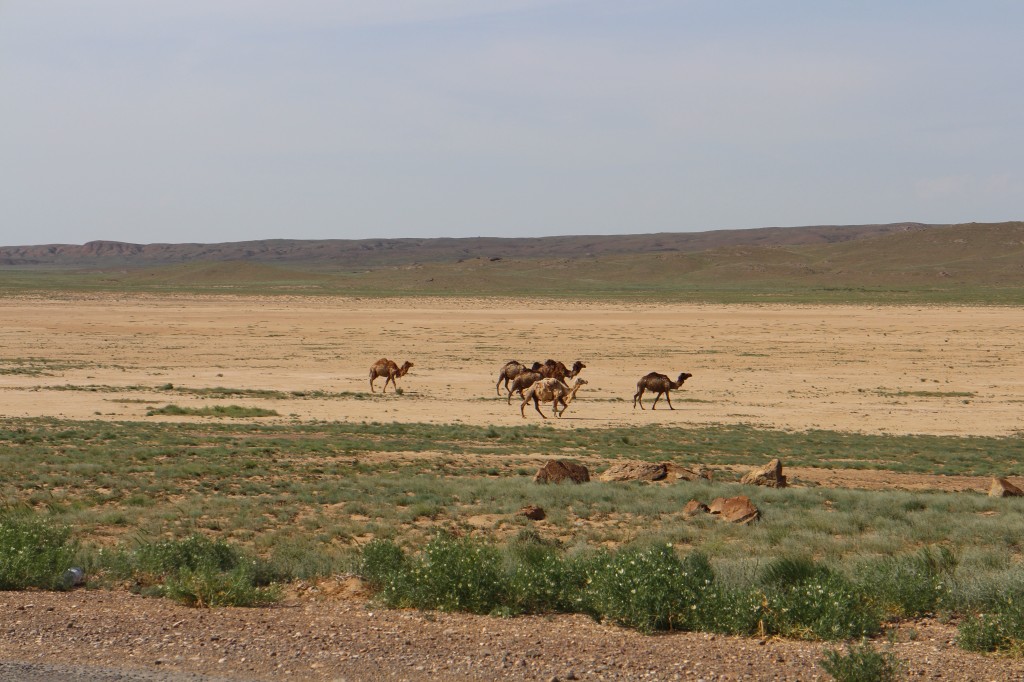 Kazakh steppe, beginning of June: What do you expect?
Sandy, dusty plain without anything alive at all?
Nope, wrong answer.
It's green over here as far as you can see. And the steppe is alive. There are tons of crickets (I hate them!), lots of dung beetles, camel spiders, salamanders, snakes, hedgehogs and suricates… And probably a lot more other animals we haven't seen yet.
First I have to tell you something: I am not really in the mood to write the blog. Today we wanted to print some photos and send them as postcards to Switzerland. In Beyneus photostudio they connected my camera to the computer … and all of a sudden, my images were gone. 1500 photos. Goodbye, tschau tschüss. Damn!
At least Franci still has his pictures, so we'll upload those. For this entry and for the ferry-post.
Maybe I do not write very enthusiastic now, although Kazakhstan is an interesting and for me as nature-lover beautiful country. Sorry for that! Let's try…
First Aktau. Thanks to Jacek we arrived in Aktau. The first night we spent at the port, and the following day, too. You probably read it in the last blogpost. But then, we were ready to discover the city.
We parked the van at the beach in the city centre and had a swim first. Brrr, cold but refreshing water! Later we strolled trough the city and discovered a very different culture compared to Baku. Very few cars which all of them obey traffic rules, noise level really low and people look very Asian/Mongolian to us. In the evening we went out and discovered what Aktaus nightlife has to offer. Funny evening, the ferries wheel was still running at 4 am…
At the beach we set up a proper gypsy-camp with the van and our tent, and stayed there two days. 🙂 Because it was next to the boulevard, we got more than one request to rent our bicycles, haha!
With the van we drove a little out of Aktau, and then it was time to say goodbye. Jacek, bike mechanic, checked our bicycles and helped us to fix and exchange small things. Great timing, right before our exhausting stage through the steppe and desert. THANKS! Out of a well we got enough water to endure the heat for the next days.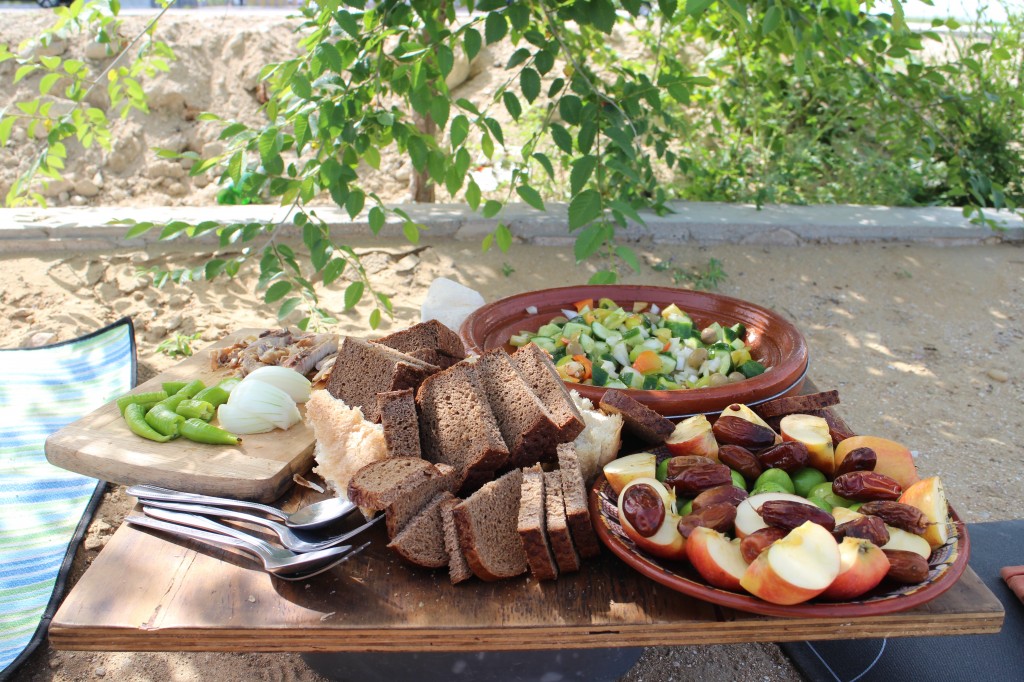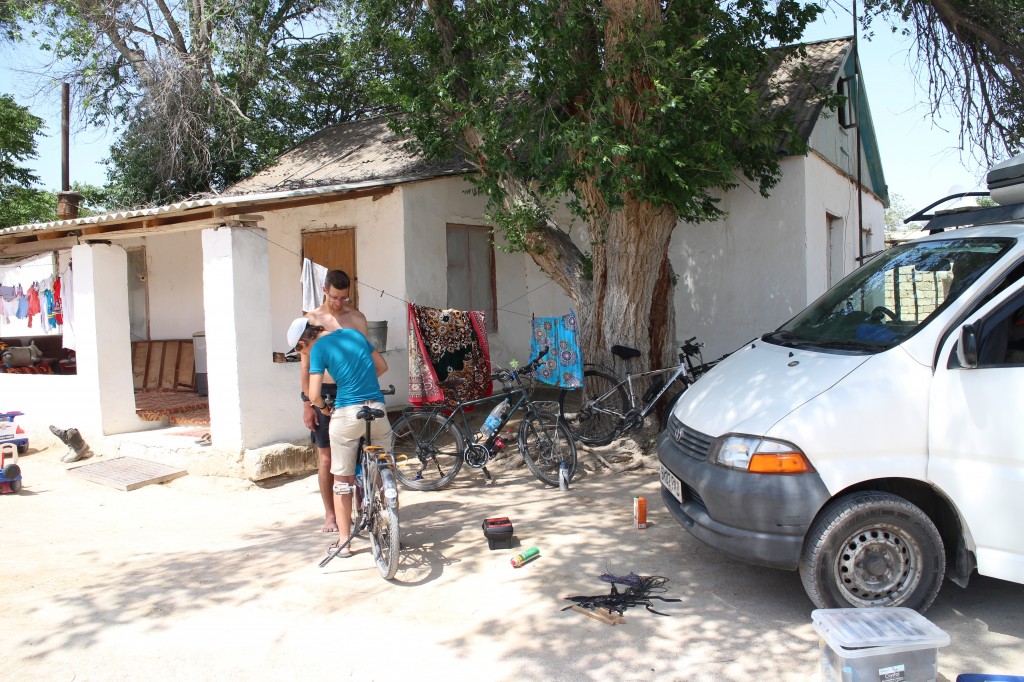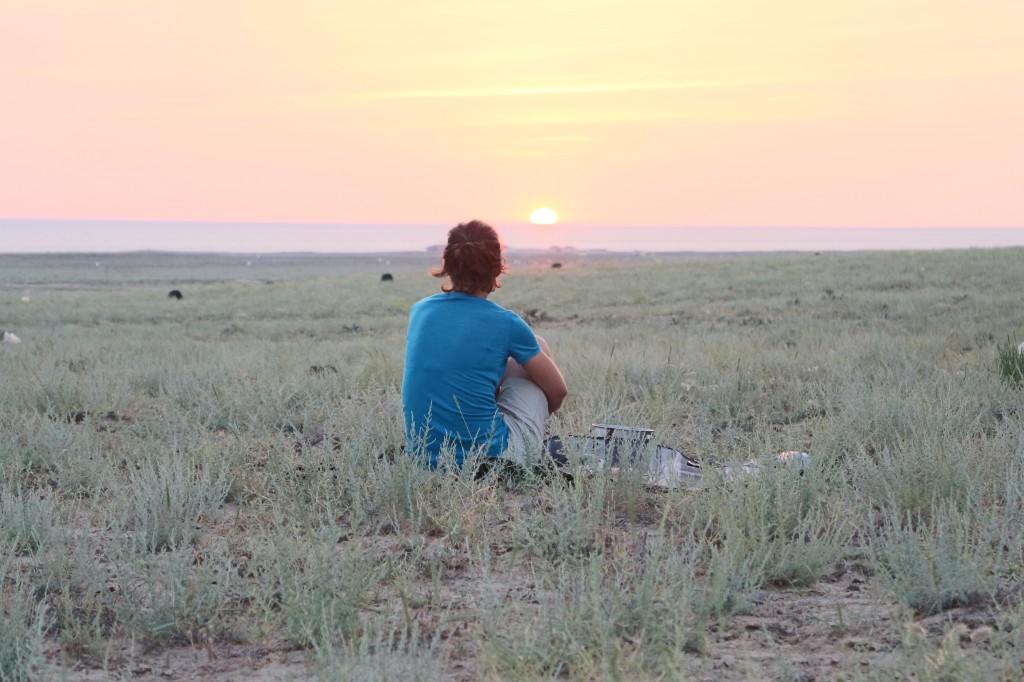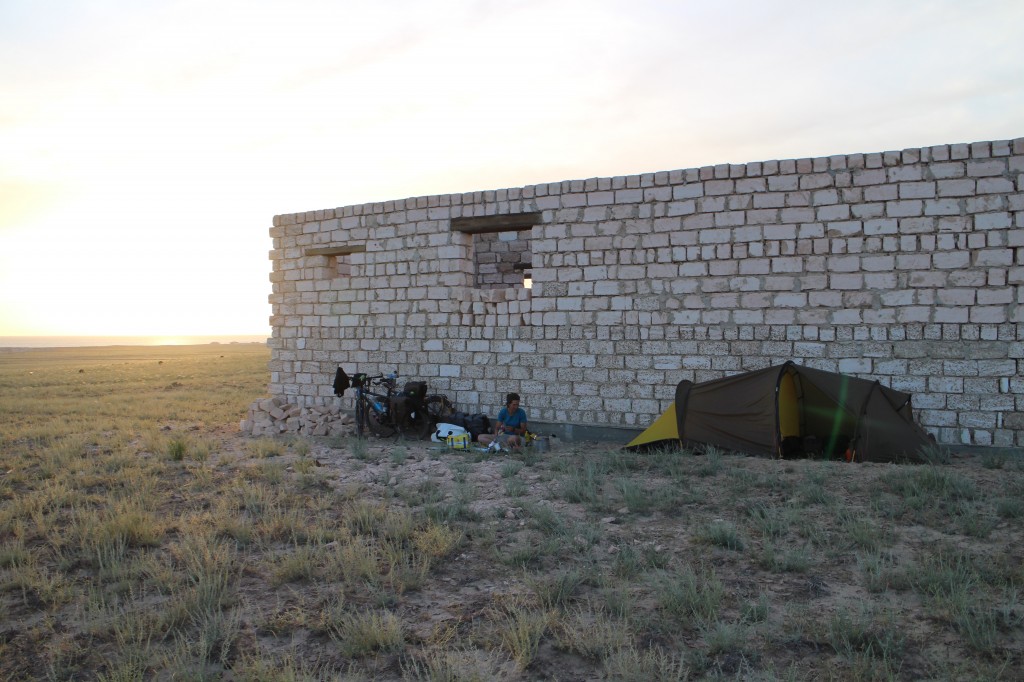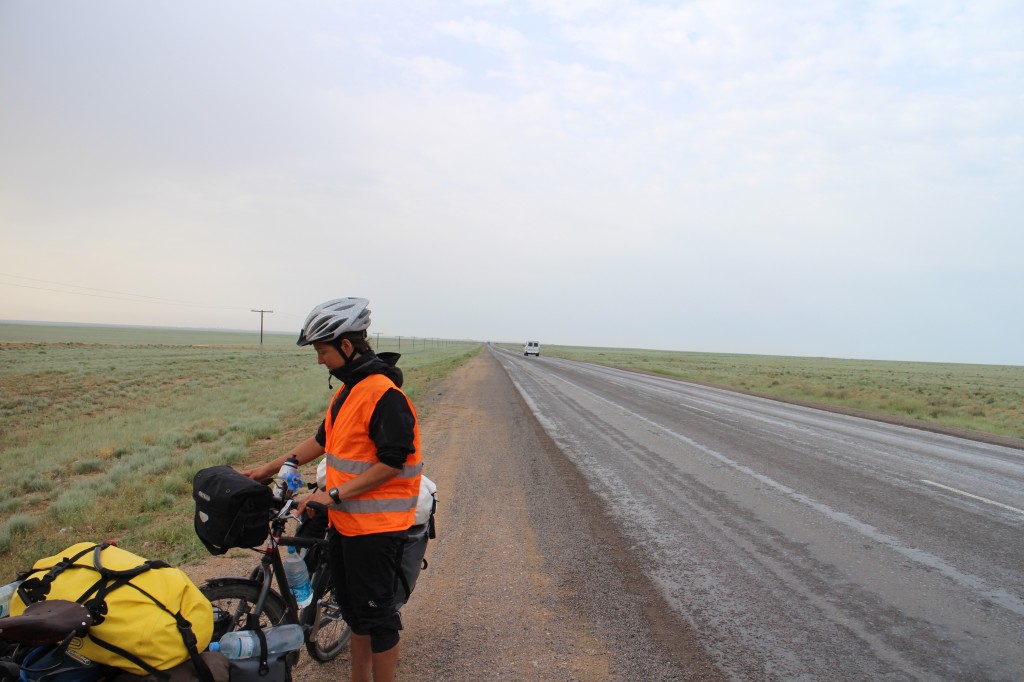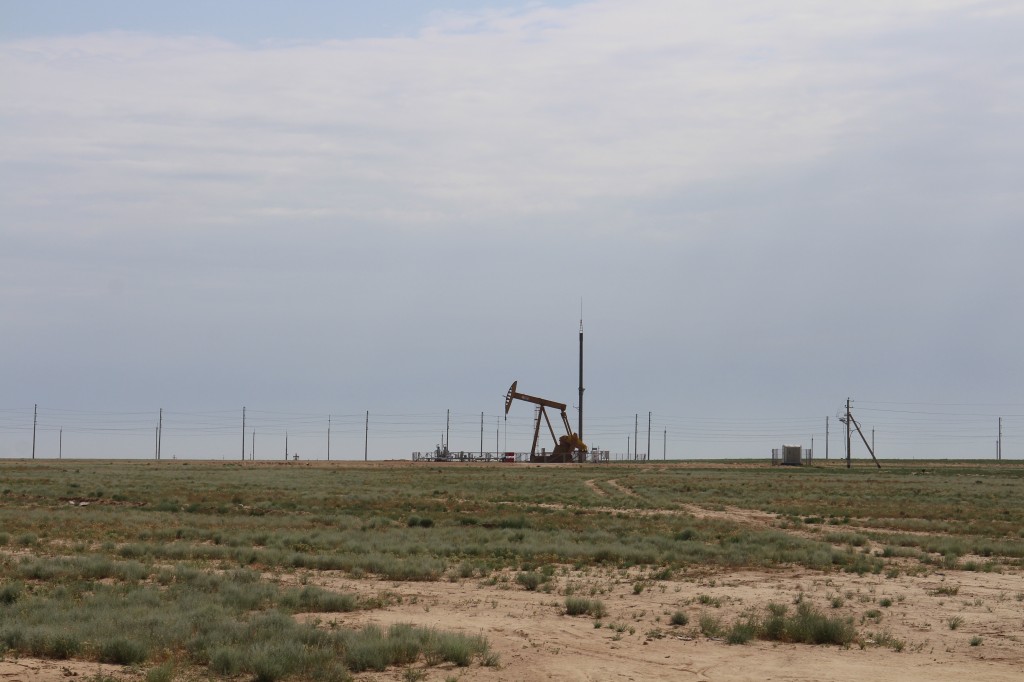 The first kilometers in Kazakhstan were exciting. The steppe was much greener than we expected. Not dusty dry brown, no, green on both sides of the streets! Now and then a camel crossed our way, or we saw some of them as brown points far away.
We didn't only expect it to be dusty brown, we also expected it to be extremely hot without shadow… The first morning we woke up pretty early, to start early and pedal most of the kilometers in the morning. But then… It began to rain! The first day in the steppe, water poured from the sky. Unbelievable for us, but looking back now, a supergood start for us. Because it is really hot here. And like this we could acclimatize slowly…
I was already impressed about the vastness in Georgia and Azerbaijan… But THIS, WOW!! Kazakhstan changed my mind about proportions. 120km without a village, there was just a huge oilfield and two shaykhanas (cafes) in between (no other houses in sight!)… At the second of them we stopped to drink some juice. In the time we were sitting there, two men entered and ordered something white which looked like ayran. They drank half a liter each in about thirty seconds. Wow, this must be very tasty, we should have ordered that! As if the lady from the bar would have understood Swissgerman, she offered us one small glass each. Extremely kind – but the drink was extremely disgusting. Unfortunately.
It is called Shubat, and it is fermented camel milk. The taste is about like this, I think you might imagine. If not, I forgot about it, but somehow it tasted like something really ugly with lot of baking powder in it – and it was sparkling. Served ice cold it's supposed to be a summer drink. It was nice to try, but never again! Well, we better stay with juices.
If you have a look at the map, this part of Kazakhstan seems pretty flat. But it wasn't. Well, it's not the Alps – but it ain't what you expect, too. There were some small hills and rocks. Though … overall it is flat. And flat means wind. Strong wind. And no matter how the road turned, the wind was ALWAYS against us. Because our Usbek visa will start very late (we expected the ferry would take some more time), we did not care much about the wind. Even better, it was pleasant to have a breeze in this heat!
During the day the temperature usually rose up to around 35 degrees in the shadow. But most of the time, there was no shade – sure, it is a steppe without trees. Between 12.30-16.30 we stopped, it was too hot for cycling. With our picnic blankets we made some shade between our two bicycles and had a rest until the temperature was suitable to ride again.
For long distances with no town, we carried a lot of water. Seventeen liters each – and of course enough food, too. The isolated camelbaks which we got as a gift from the German guys we met on the ferry, were fantastic! Water was still okay to drink – it seemed cold, compared to all the other bottles. THANKS again! Once Franci put a teabag in his bottle of water, because it was that hot – better to drink tea instead of water which is warm like horse piss… 🙂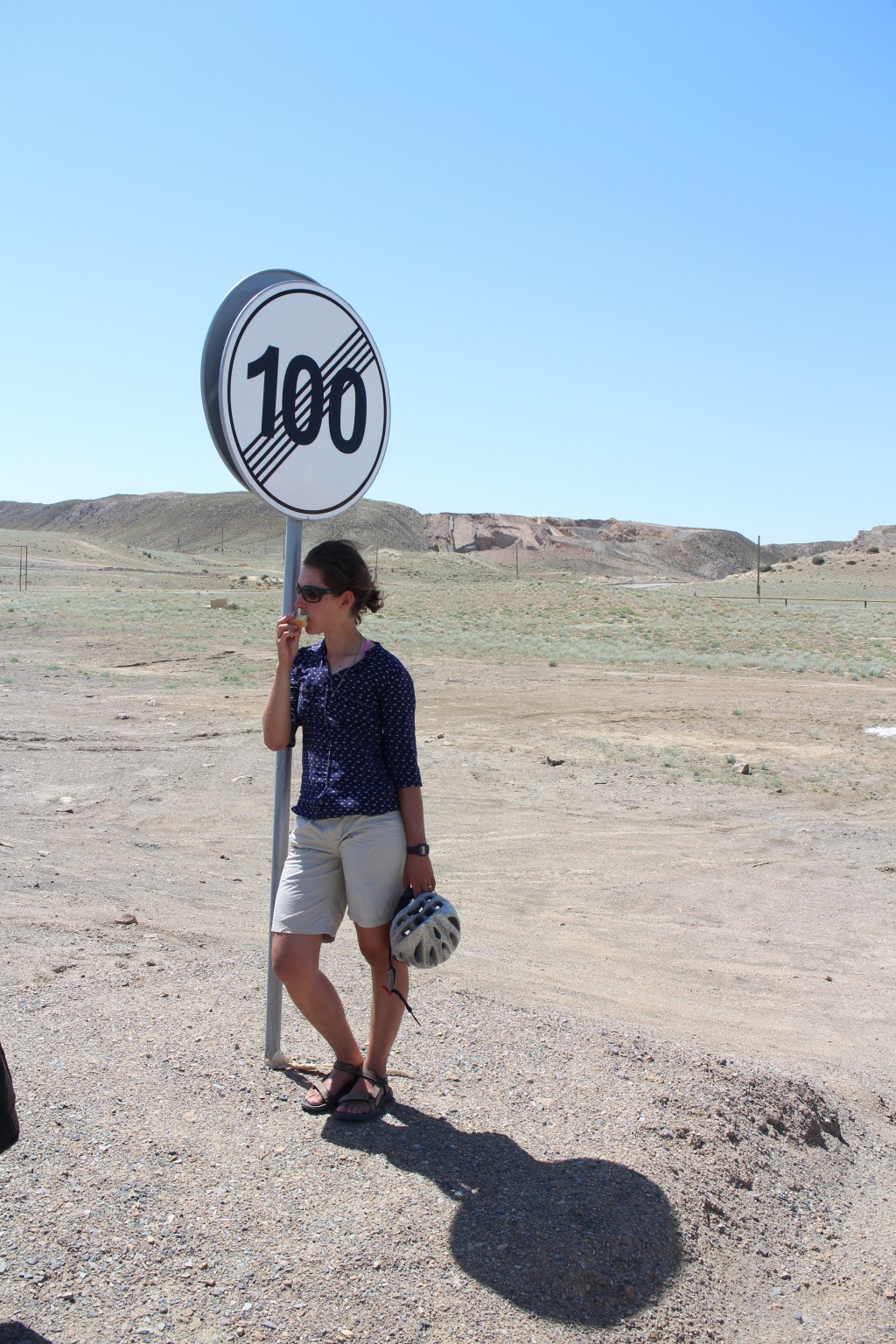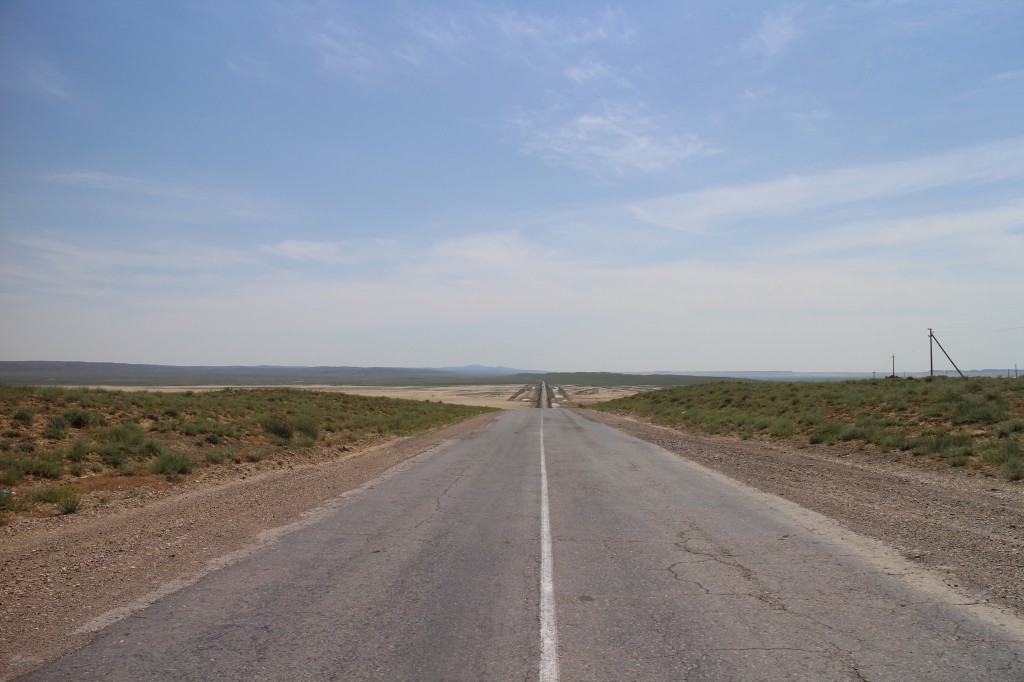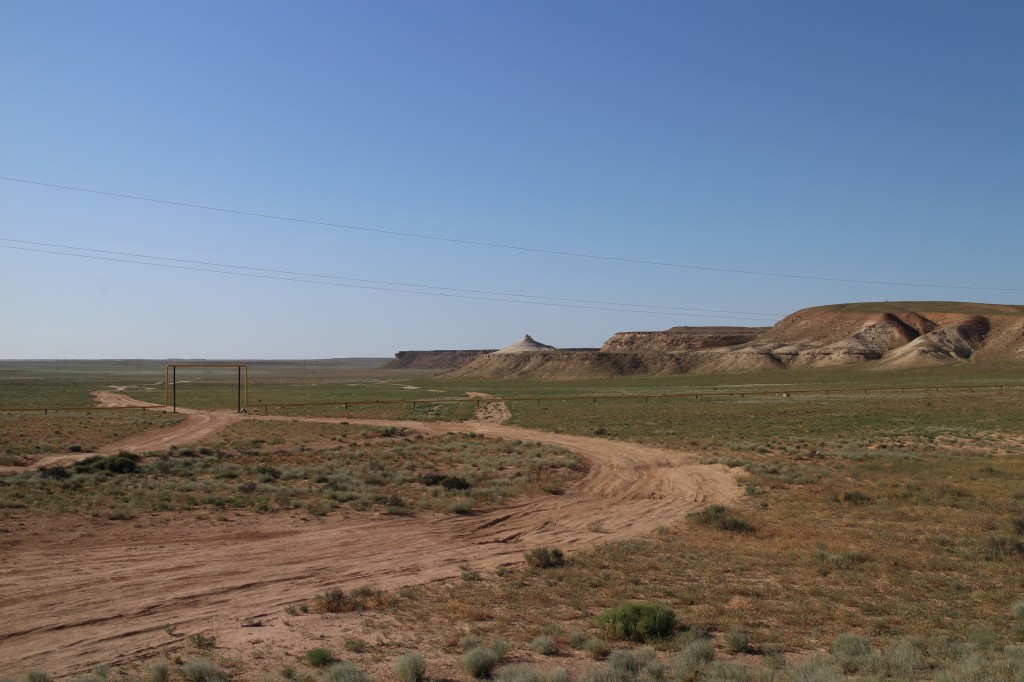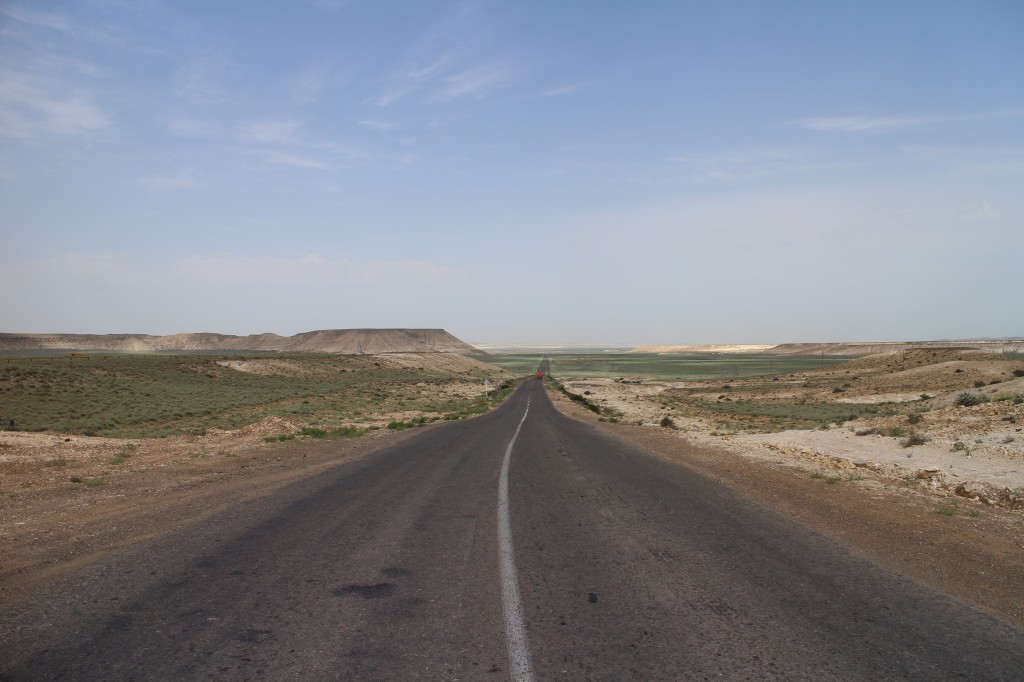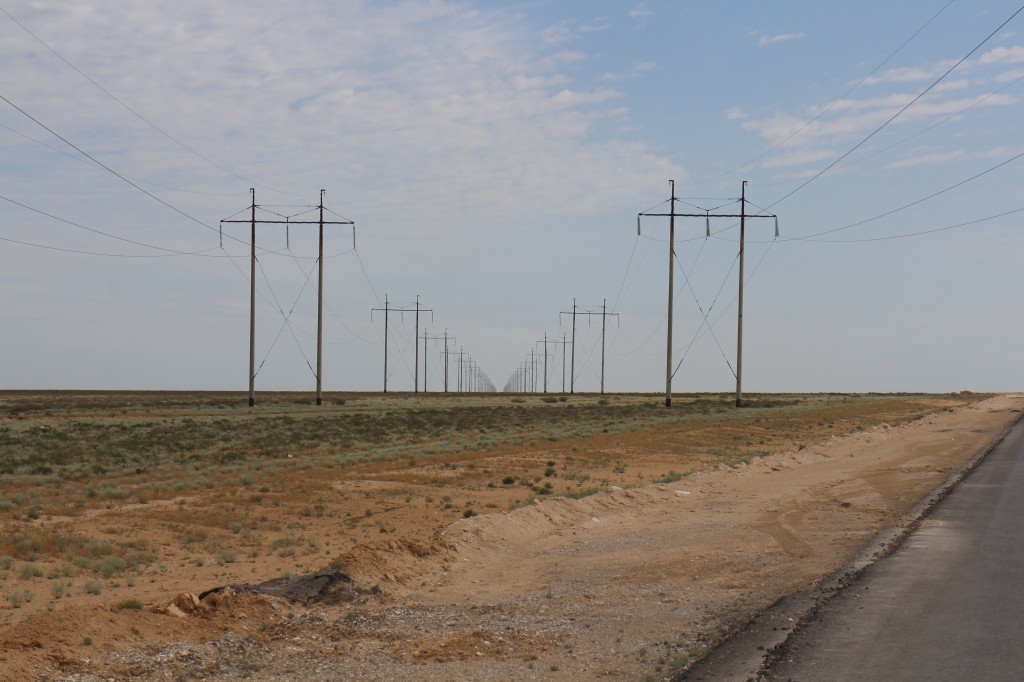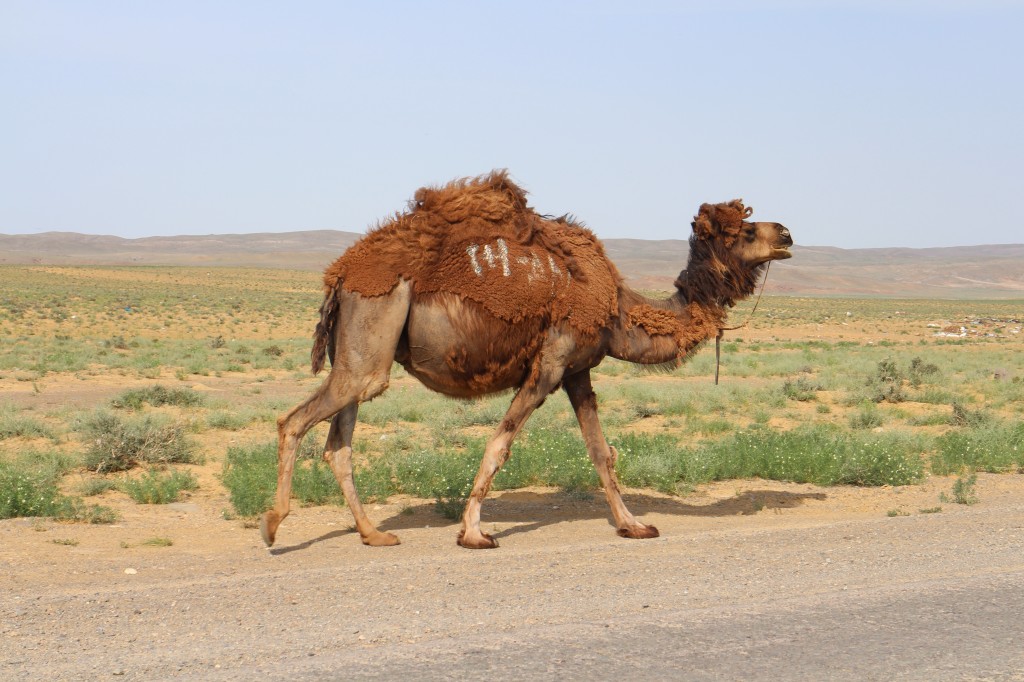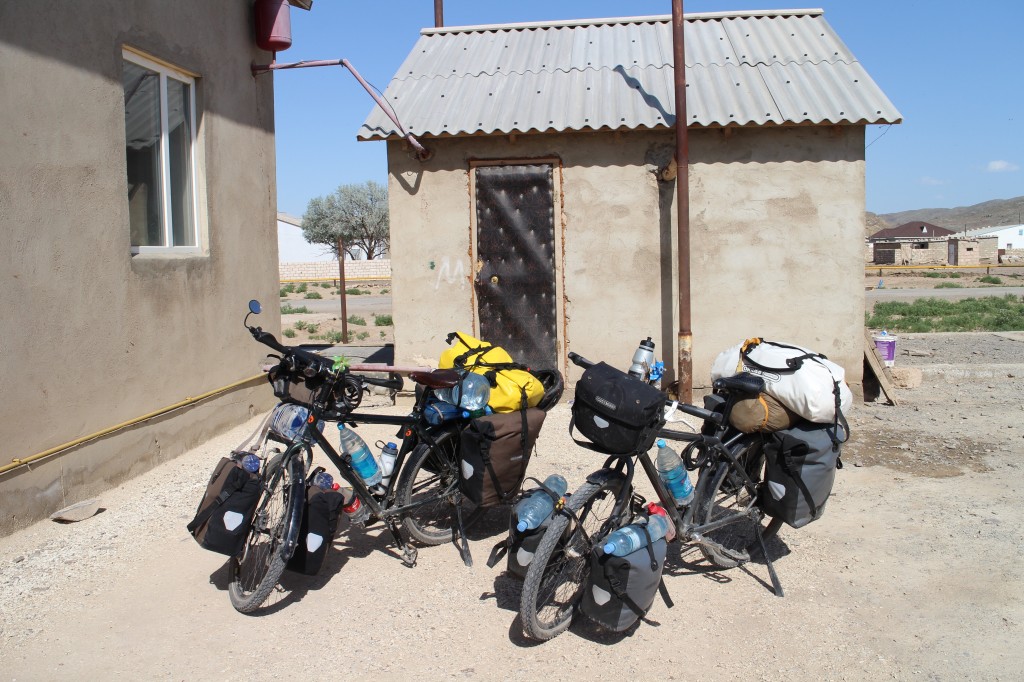 I enjoy traveling, and I love nature. I love to feel the change of landscapes, flora and fauna. And I like to see lots of different animals in their habitat. But… Here in Kazakhstan we REALLY come across lots of remarkable animals.
One evening, we put up the tent "early". It provided some shade, so we laid down right next to the tent until the sun almost set… We had dinner there, and did not move until the sun set. Because it looked like a storm could come up, we wanted to shift the tent into wind direction properly. Both of us grabbed one corner of the tent, pulled out the peg, and lifted the tent: aaaah, there's a snake!
Yes, really. A one meter long snake nestled below our tent – about 20 cm from where we were sitting the last hours… Probably it was very warm and cozy for her down there, the sun raised the temperature inside the tent extremely. Franci was able to rout her – it's good to have a man with me. 😉 It's too bad that we forgot to take a photo…
For the next night I insisted on a hotel. Fortunately, we reached the big town Shetpe. After asking around, a man guided us to the only gostiniza (hotel); but it was full or closed (we understood only "njeto" while the lady was crossing her arms). We tried to negotiate, but after one night with almost no sleep (thanks to the adrenaline due to the snake and a storm afterwards) and then one day of cycling (it was the hottest day by far!) we were just too tired. No hotel in Shetpe…
… But the guy who guided us to the hotel invited us instead. Wow, this was awesome! He was rebuilding a house, but obviously not living there at the moment. So he just opened the door, showed us around and then asked what time we would leave the next morning. Amazing! We felt like in a cozy home, but without any stress of hospitality (yes, hospitality can be tiring sometimes). In addition we could wash ourselves and our clothes. When we went to sleep at 23.00, the thermometer dispayed acceptable 28 degrees.
After Shetpe there were few villages, even less than there were on our map. In the last village before a 150km-strech without a house, we met Alex from Germany. On his second cycling tour ever, he started following the Danube end of April, and ended up meeting us in the Kazakh steppe beginning of June… Crazy guy! His equipment is minimized to the maximum: a full-carbon road bike, a tent and a sleepingbag attached onto the handlebar, and two jackets, a matress and some food (bread, …) in a small backpack. One bottle of water (bike-bottle size) in the bottleholder. That's it. We gave him the advice to carry a little bit more water…
The road was great afterwards. It's been built recently, and some parts are still under construction. But more about that later. The first night outside after the meeting with the snake, we met some other animals: while brushing his teeth in the dark, Franci was attacked by a Camel Spider. Ugh, a hand-sized hairy spider with clambs, disgusting! 🙂
And in the morning, I had a scorpion under/on one of my bags… When I put the last bag onto my bike (the rackpack), it fell down onto the bag below (the backroller). We are really able to have a close and detailled look at the Kazakh fauna!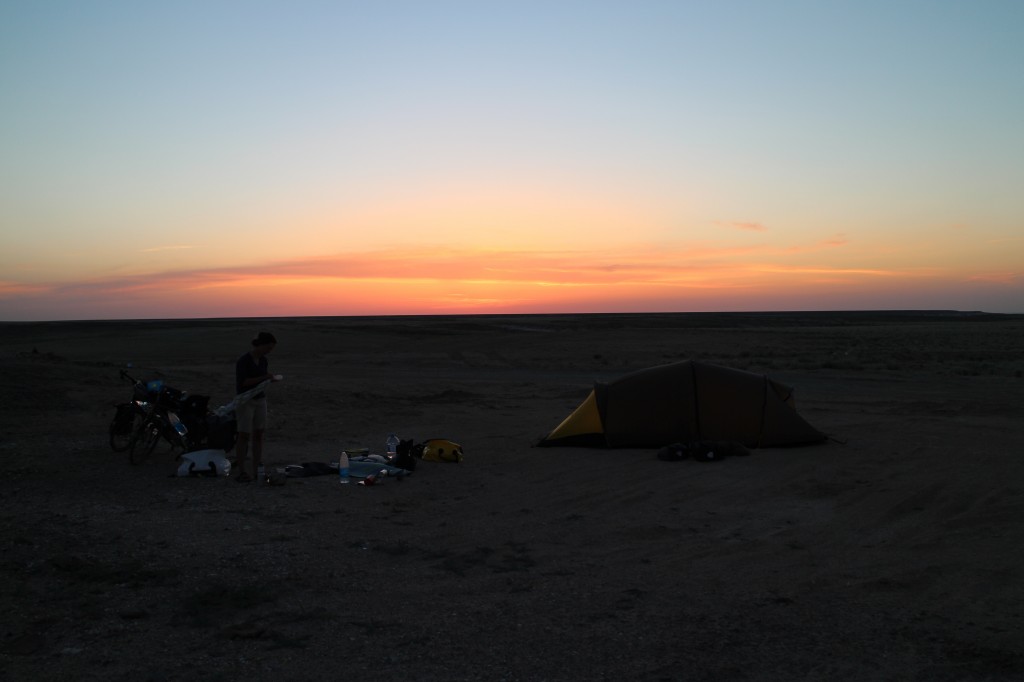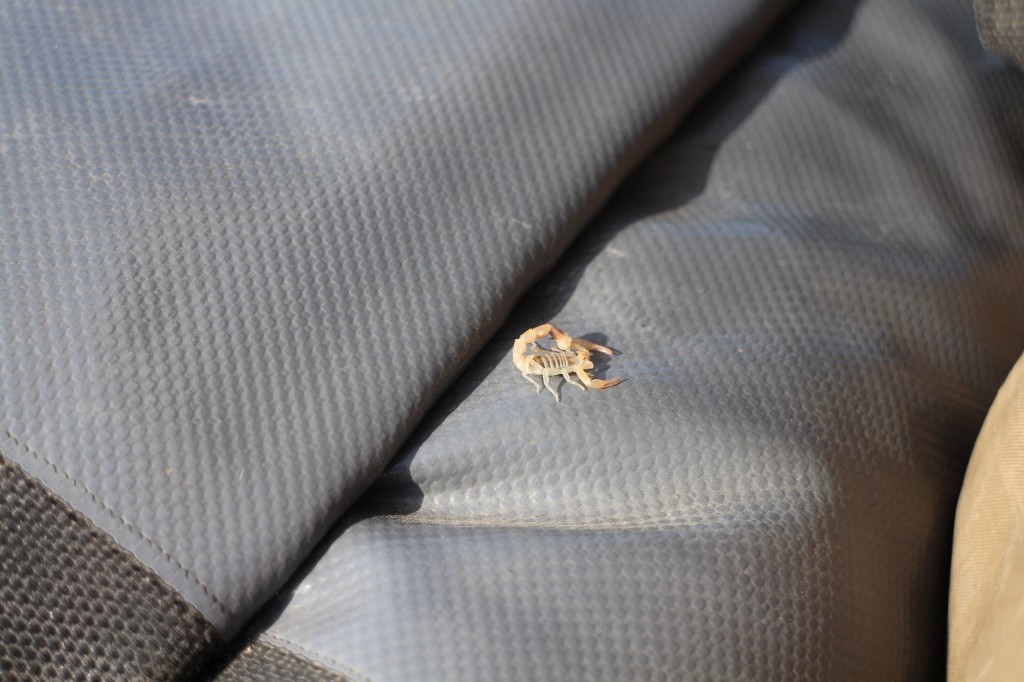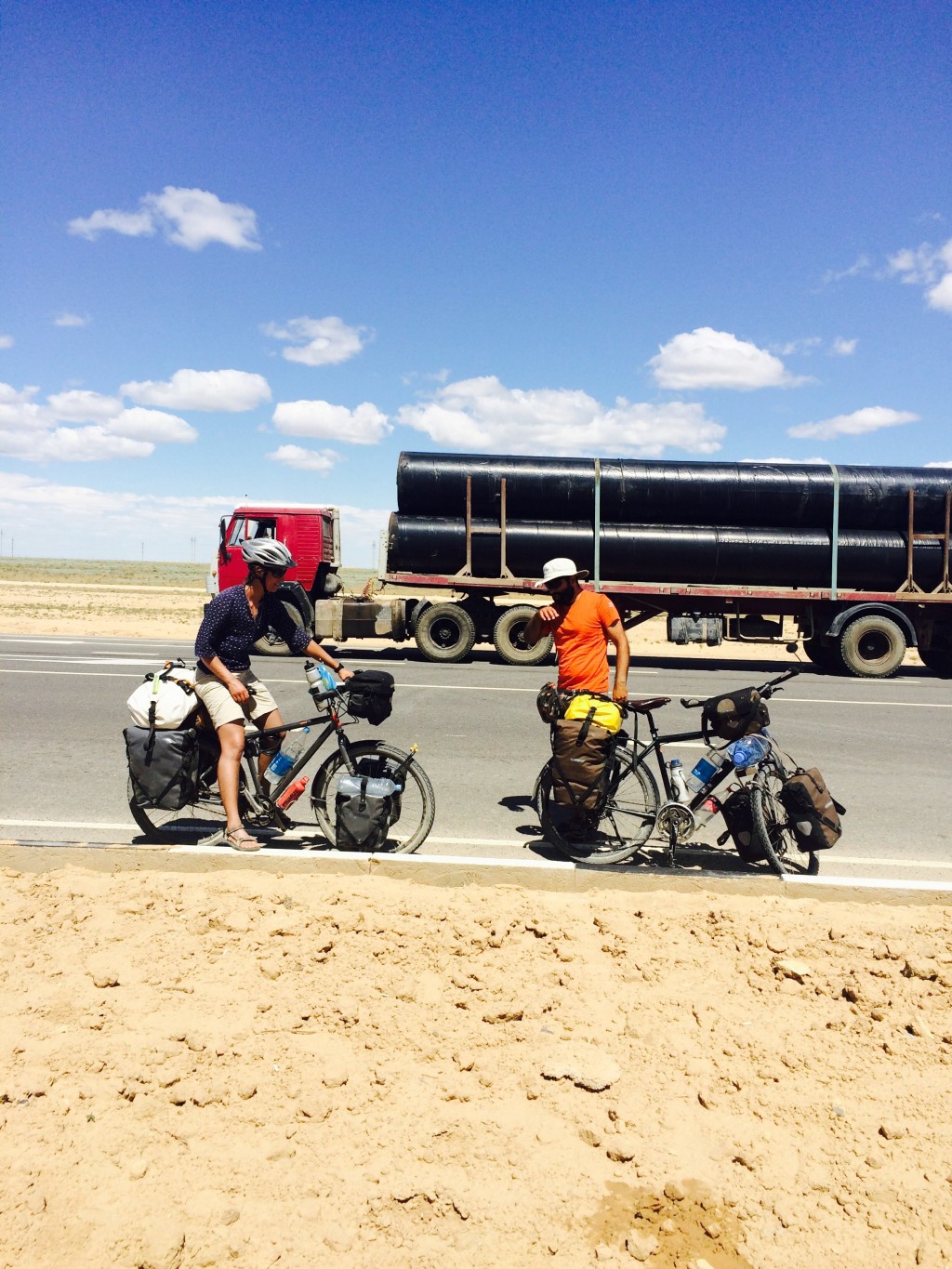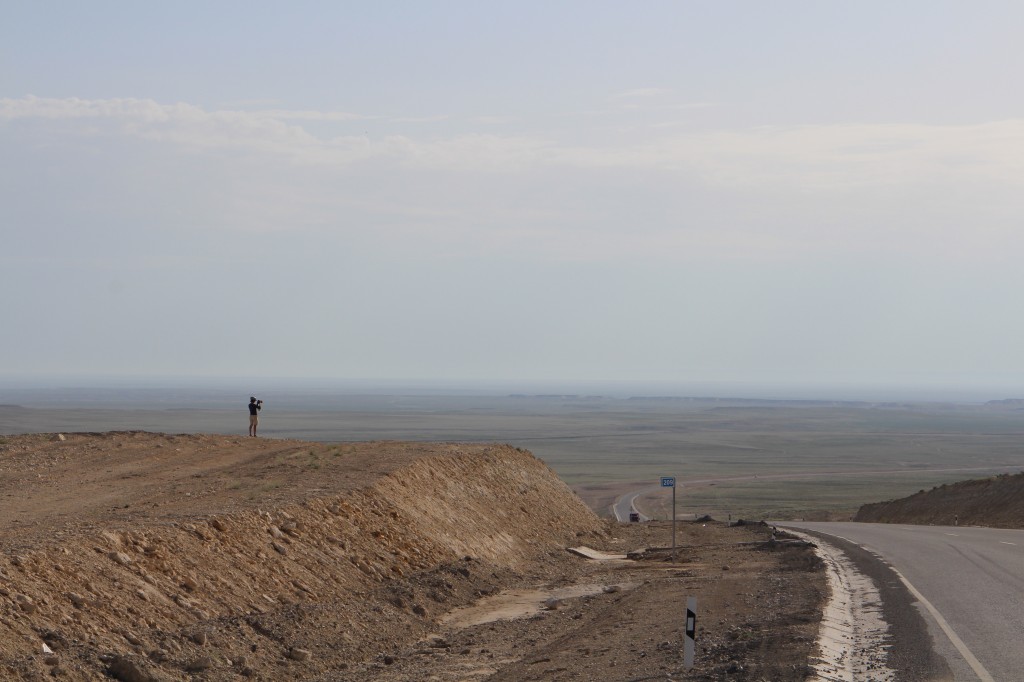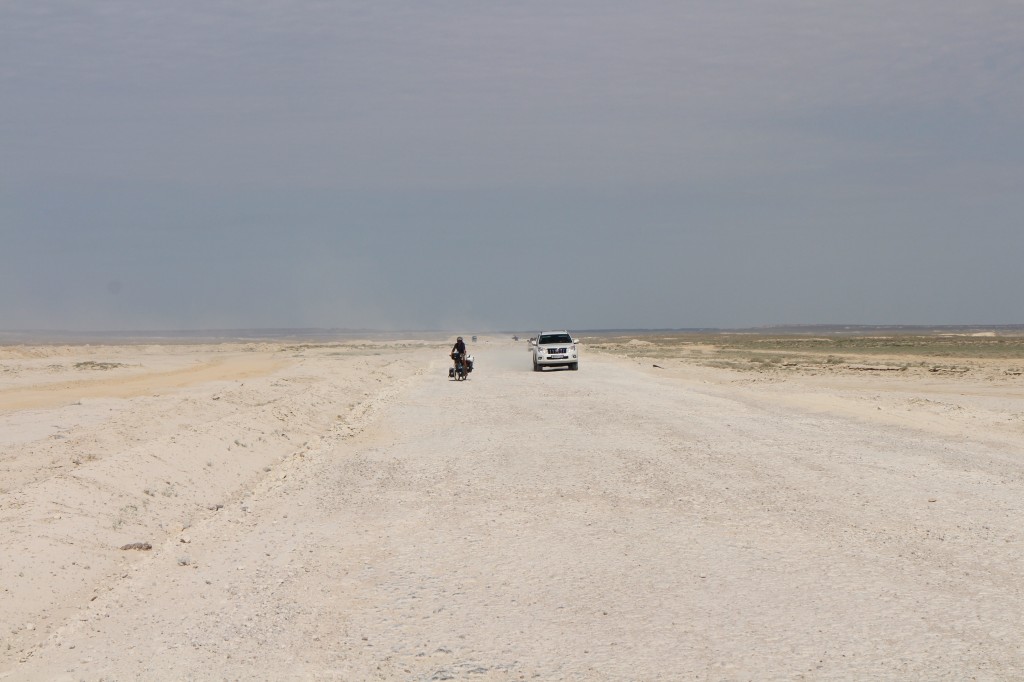 As I mentioned before, there were some parts of the road still under construction. For 40km we had to cycle the old road… Well, the good thing was, that every lorry and every car rode about walking pace, too. The road condition was that awful! There used to be tarmac once, but sometimes it had been better to use a dirtroad next to it instead.
In the middle of the crappy part we made a break – lunchtime. That day was really hot again, and I was dreaming of an ice cream. Maybe I already got on Franci's nerves with talking the whole afternoon about ice cream… But then, as none of us expected anything, a car drove by slowly and then turned around. He stopped next to our bicycles-and-picnic-rugs-installation, got out of the car and handed us a frozen water bottle! That was even better than an ice cream!! Unbelievable, imagine: Sitting in the middle of nowhere since hours, 35 degrees, our water 35 degrees as well, about 60km away from the last and 90km from the next village, A BOTTLE OF ICE! 🙂
It must have given us some energy! Otherwise we couldn't have managed the next part that good: "The dangerous section" it's called. 0% tarmac, 12% ascending slope, 32 degrees celsius and both of us still carrying approx. 12 liters of water each. Uff. Lorrydrivers stopped honking, they really had to concentrate now.
The road after this climb was secluded and kinda boring, but in a good way. No single turn for the last 190km to Beyneu! And there were less towns than there were on our map. Fortunately we carried enough food and water, and for breakfast we made our own bread in the fire. Yay!
In Beyneu we have been staying in a hotel, since 7 days now. We are waiting for our Usbekistan visa to begin… We planned more time for the ferryride. Here in the hotel we met some other cyclists: Phil and Mary from the US (freetwowheel.com) and Tural from Azerbaijan (velotural.az). Cool evenings and stories with them, thanks! Phil and Mary both tow a bob yak, and on the crappy road Phils bobyak broke down. The bearings came out, and it was impossible to move. They hitchhiked to Beyneu and found two (one as a spare part for Mary's bobyak) fitting bearings on the mechanic bazar, awesome!
Besides drinking some beer with Phil, Mary and Tural, we enjoyed our vacation in Beyneu with having showers, washing clothes, maintaining the tent, strolling around the bazar and the town, calling home, playing yatzy and tschau sepp, googeling animals, and preparing for the desert… For me the best part was definitely the shower! First time running water since Baku! 🙂 to know more about amazing Beyneu, have a look at this guide: HERE! It's really worth to read, haha!!
Preparing for the desert means: We bought some densly woven fabric that we can put between the bicycles now. So we can sit again on the picnic blankets. 🙂 and sure, we put plenty of water in the fridge, isolated bottles from now on!