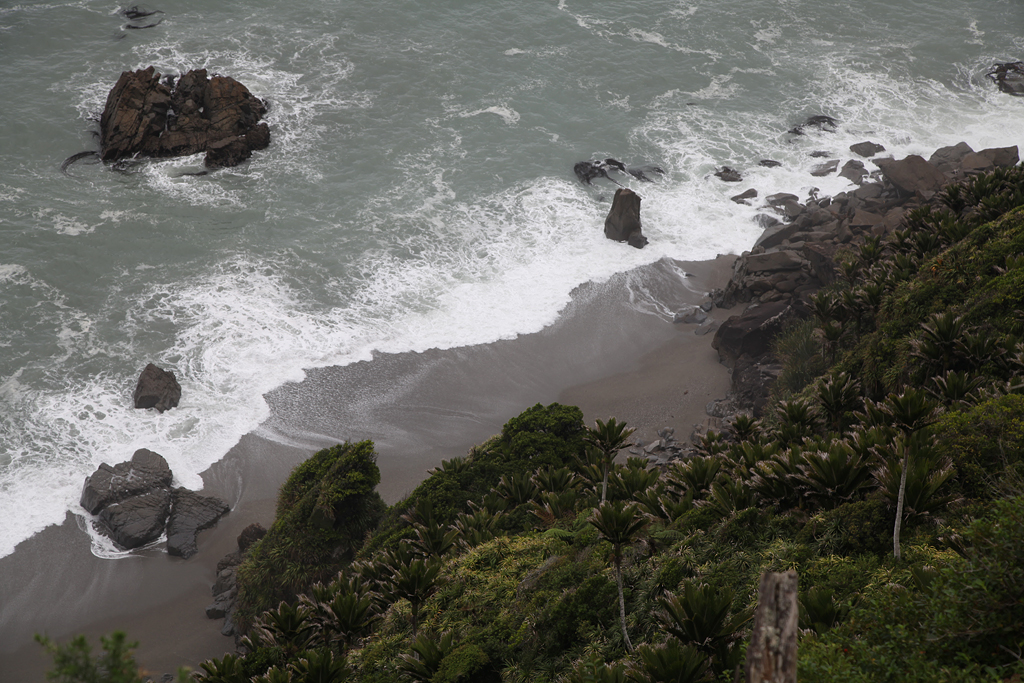 Thanks to a longer break with baking cake and cookies in Westport I was able to recharge my battery (and sore legs) after the Heaphy Track and the days cycling to and from it. I felt great when I left, even the rain and mist on the "wetcoast" couldn't really bother me.
First thing to see south of Westport: The famous "Pancake Rocks" in Punakaiki. The cliffs consist of a mix of sediments, which got washed out by the sea and wind in a special way that it looks like layers of pancakes (or whatever). There are also blowholes where you can watch the water shooting through like a geyser when a big wave hits the cliff.
The wetcoast showed why it's called like that – it poured down quite a bit. And exactly that day I broke a spoke in my back wheel. Suddenly, on a flat and straight road I heard a cracking sound in the back – and I knew what was going on. Because of the weather I didn't replace it immediately, and hoped I was okay riding a few days more with a broken spoke. From what I learned from Chris (fromatobe.com) in Uzbekistan, one should be able to ride without any problems even with three broken spokes per wheel. So no worries by then…
On a cute, small campsite I pitched my tent in the rain, and since it kept raining the whole evening (and night) I wasn't motivated to prove that I was a good enough bike mechanic. Instead, I enjoyed the company of the other travelers in the communal kitchen and postponed the replacement of the spoke to another day.
That evening I got to know Brian from the US, a fellow cycle tourer who stayed at the same campground. We agreed to hit the road together the following day, and eventually we found out, that we'd met each other before on the north island. Brian started his cycling trip in Auckland, cycled the whole length of the north island and wanted to finish at the very southern tip of the south island.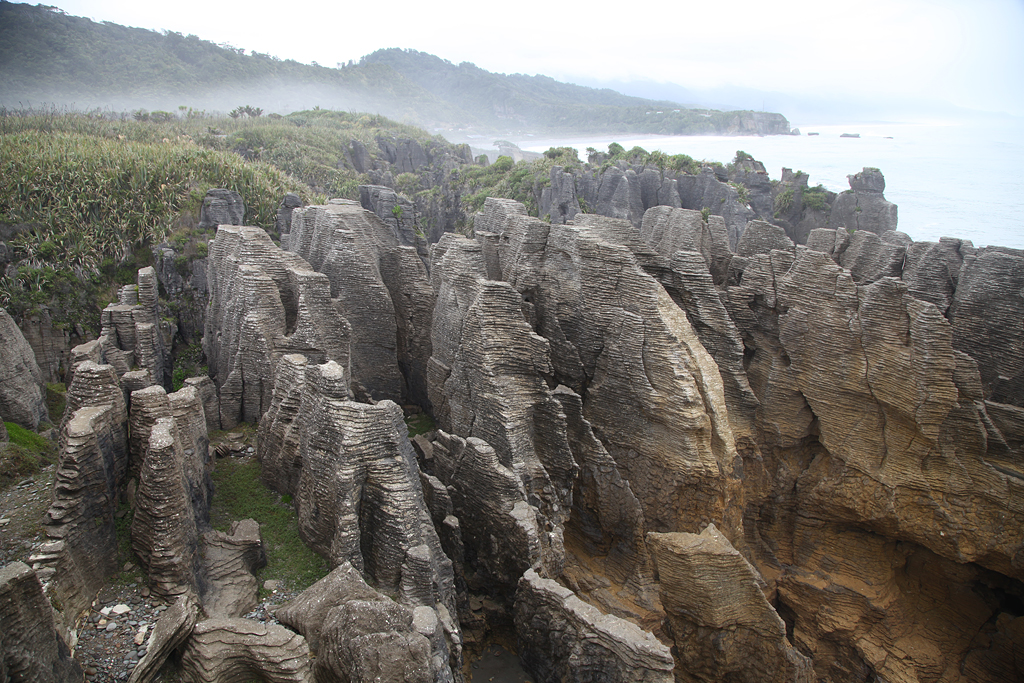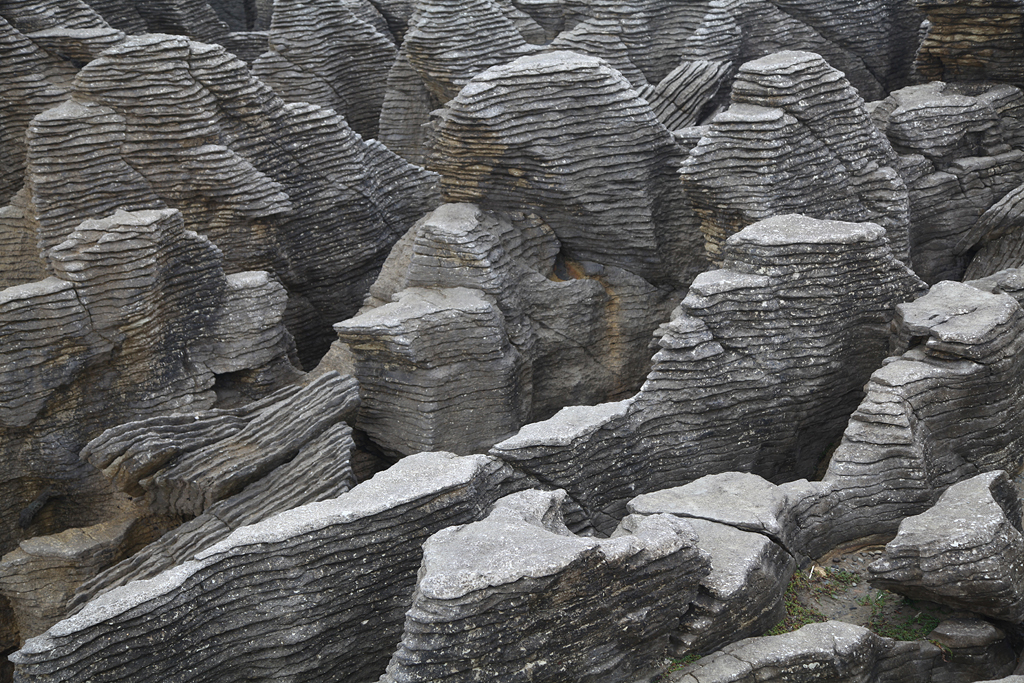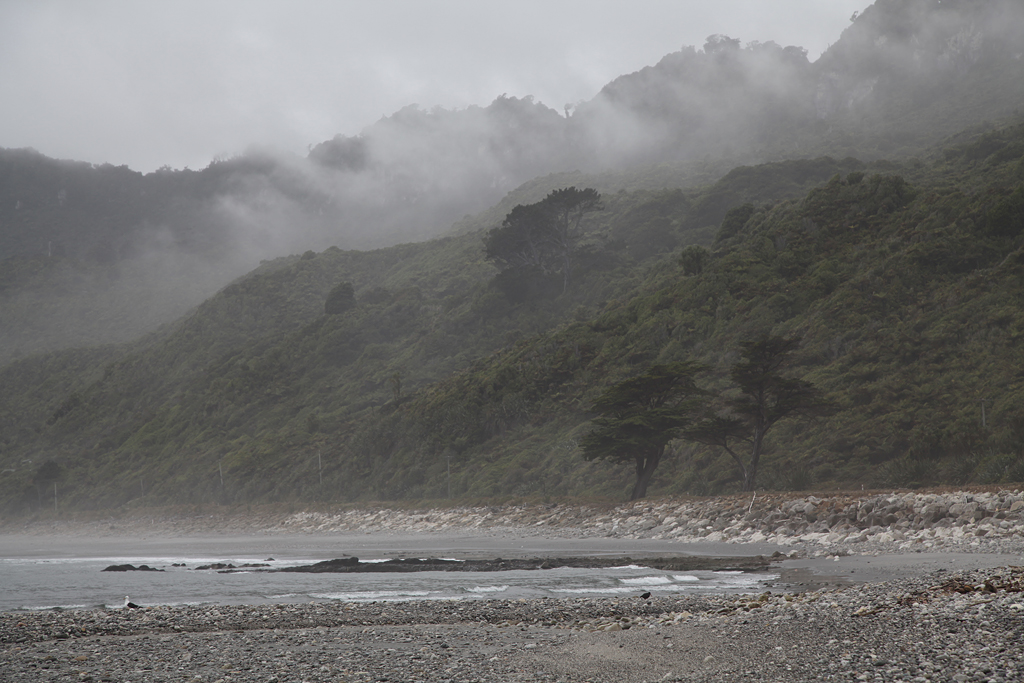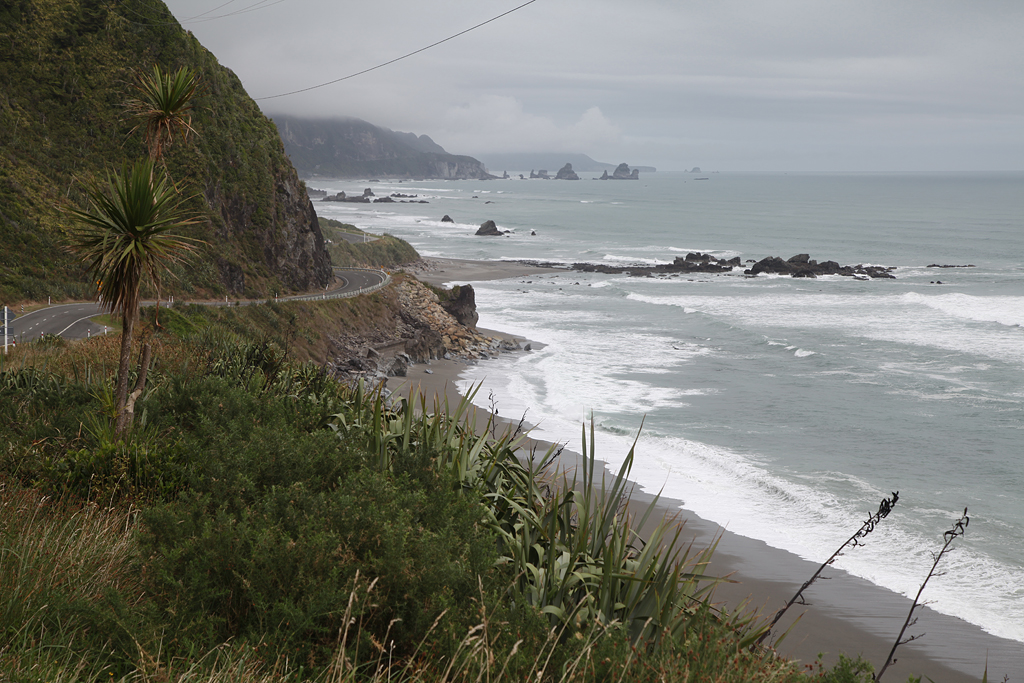 My second birthday on this tour came up, and the weather finally got better. Coffee and cake was the minimum I could gift to myself, and the super nice DOC campsite at lake Mapourika in the evening was a good spot to celebrate my 27th anniversary.
Together with Brian I cycled along the coast, mostly a little further away from the actual coastline, over a few hills and past Franz Josef and Fox glaciers. As the weather forecast showed some more heavy rain coming through, we spent a day in the kitchen of a small campsite along the way. Reading, cooking, talking, drinking tea and celebrating Brian's birthday. Yes, our birthdays are only 2 days apart! In the evening a lot of bikepacking cyclists showed up. They were participants of the "Tour Aotearoa", an unsupported bicycle race which was technically not a race but in fact was one. 250 cyclists raced from the northern tip to the southern one of New Zealand, following mountain bike tracks and camping along the way. Some just traveled with their credit card in the pocket, others attached a small tent or bivibag plus sleeping gear to the handlebar and some basic kitchen equipment onto the seatpost. The 3000 km had to be cycled within maximum 30 days, but the fastest guy finished in less than 10!
Haast was the last town along the coast, from there the road led inland to and over Haast pass. Lots of locals and cyclists had warned us about the steep and high pass, so I was curious how it was gonna be. I mean, I cycled a bit higher passes already… 🙂
But as we rolled still in the flat towards the start of the climb, it happened: another spoke in my rear wheel snapped! Alright, two so far. I should be okay…
The ascent began, and I was still confident. Of course, I cycled much slower than Brian with my heavy load. But I thought I would easily climb up that 500er-pass. About half way up, in a super narrow and quite steep bit without any shoulder it happened: A third spoke broke, now there were three missing in a row. Like this, the wheel wasn't stable anymore at all, and I was afraid that I could destroy the whole wheel if I kept cycling. I dismounted and pushed the bike to the next small parking lot. Brian was already far away of course, so I had no other choice than hitch hiking. Fortunately the first campervan stopped, a German couple, and they offered to take me to the top of the pass or even a little further. Lucky me!!
On the way up we told Brian I'd wait on the next campsite and fix my wheel. So I really got a lift over the pass, replaced all the three spokes in front of a cafe, and as soon as I was packing up Brian arrived. Perfect timing! This was definitely not my best day I had, but the nice (and windy) campsite on a small peninsula at lake Wanaka made it a bit more enjoyable.
Wanaka was the more cozy and quiet version of Queenstown. Situated on the lake, it's a really relaxing town. Of course, on the way there another spoke snapped. I think as soon as two or three break, all of them will crack sooner or later because of material fatigue. Luckily there were a few good bike shops in town, and I was able to order a set of matching spokes. Because I do have a Rohloff hub, I need special length spokes which are usually not in stock. The mechanic let them be shipped to their other shop in Queenstown. Like this, I could ride another day (with crossed fingers that my bike wouldn't break down completely while riding one more day with this weak wheel) while the order was being processed.
The day was absolutely perfect, blue sky, gorgeous landscape up to another pass, this time over the Crown Range. One more cracking noise from my rear wheel, but I survived. 🙂 Moritz from Germany joined our cycle touring team and the three of us rolled down to Queenstown with big smiles. Brian could stay with a friend of a friend, Moritz and I set up tents on the campsite near the city centre. By far the most expensive campsite ever! But it was close to my mechanic and some good cafes, which was a big plus for me.
My new spokes didn't get delivered as quickly as I expected, so I had to stay a while. Most people I met in New Zealand didn't like Queenstown. I heard a lot about it, that it was too touristic, too busy, too crowded. But I have to say, I like it! With it's chic hotels and luxury villas, the lake surrounded by mountains, the busy centre with a few expensive clothing stores Queenstown reminded me strongly of St. Moritz in Switzerland. I strolled through town, ate one of the famous burgers, and relaxed. The next day, Brian and I rented some mountain bikes. A day off our touring bike – to spend on a mountain bike, hell yeah!! 🙂 We had a super fun day in a beginners bike park overlooking stunningly turquoise colored lake Wakatipu, and we were (or at least I was) super exhausted in the evening.
Finally I could pick up my newly built wheel, super strong with even thicker DT Swiss spokes. Yeah, with this I can (hopefully) easily roll another 20'000 kilometers! And the same evening, I got invited to stay with the parents of a friend of Brian. Sally and Jerry were super kind, and I almost couldn't believe how fortunate I was to stay in such an extraordinary comfortable bed! 🙂 Their house was located a bit outside of Queenstown, overlooking the lake. Just fantastic! Thank you very much again for your hospitality, Sally and Jerry!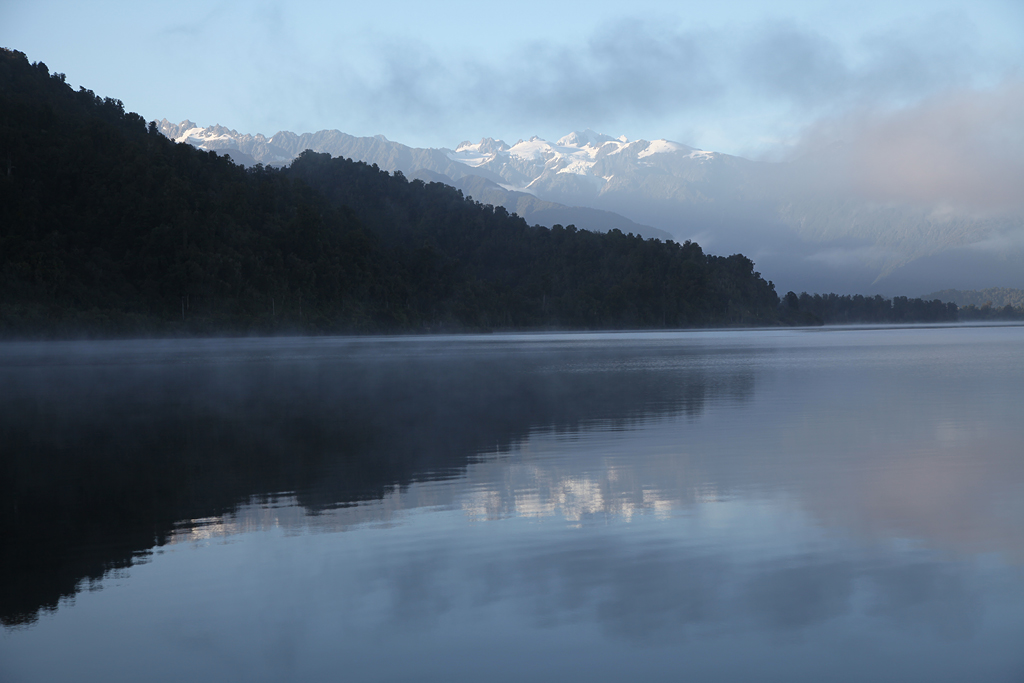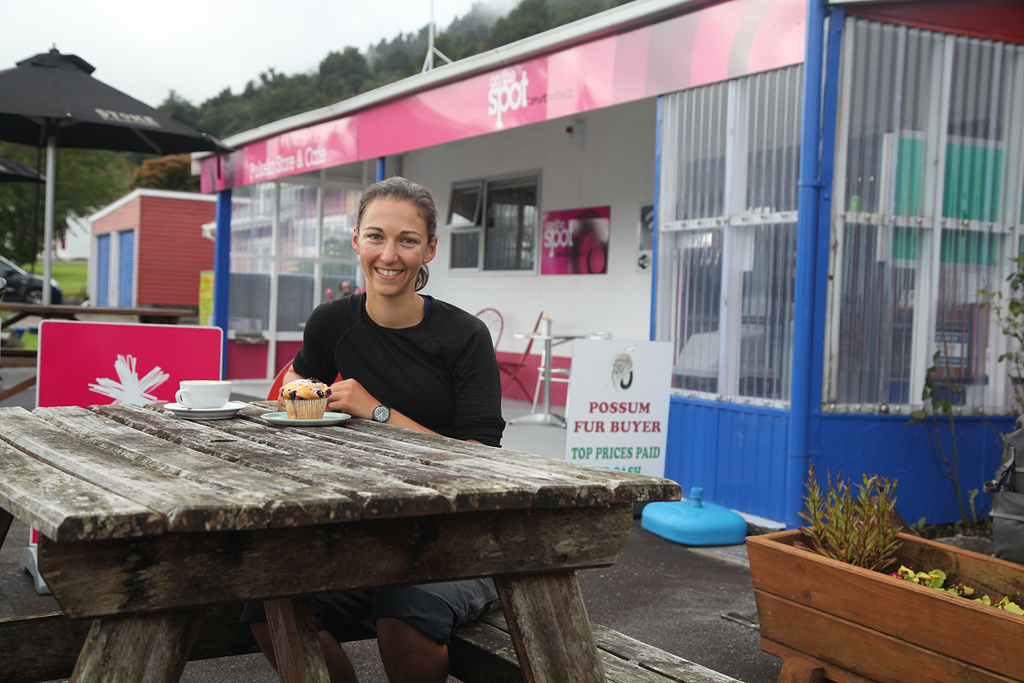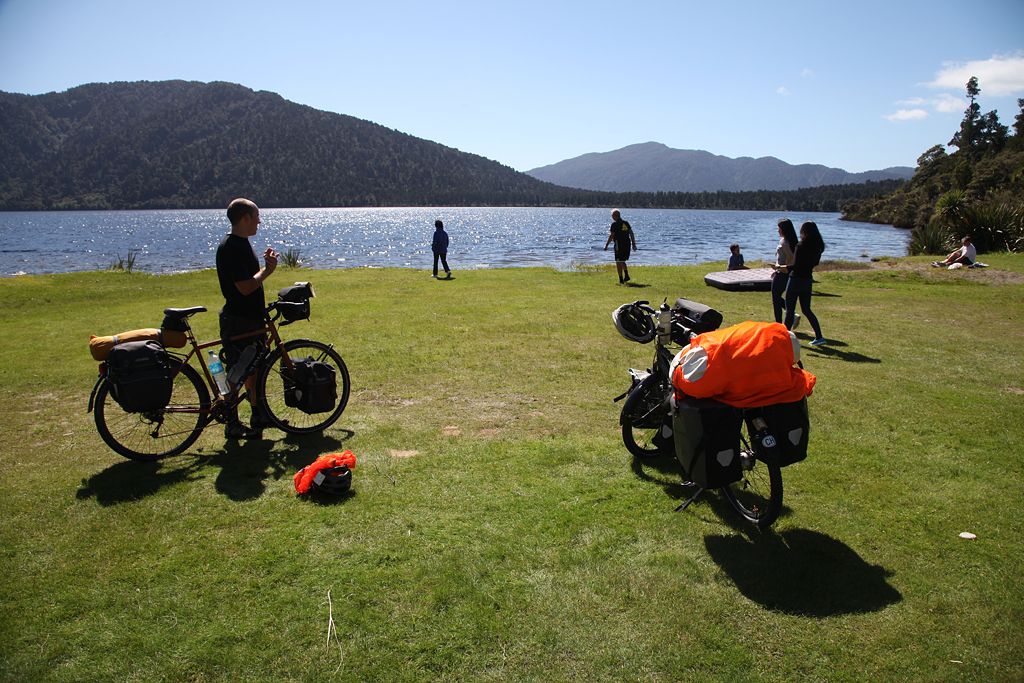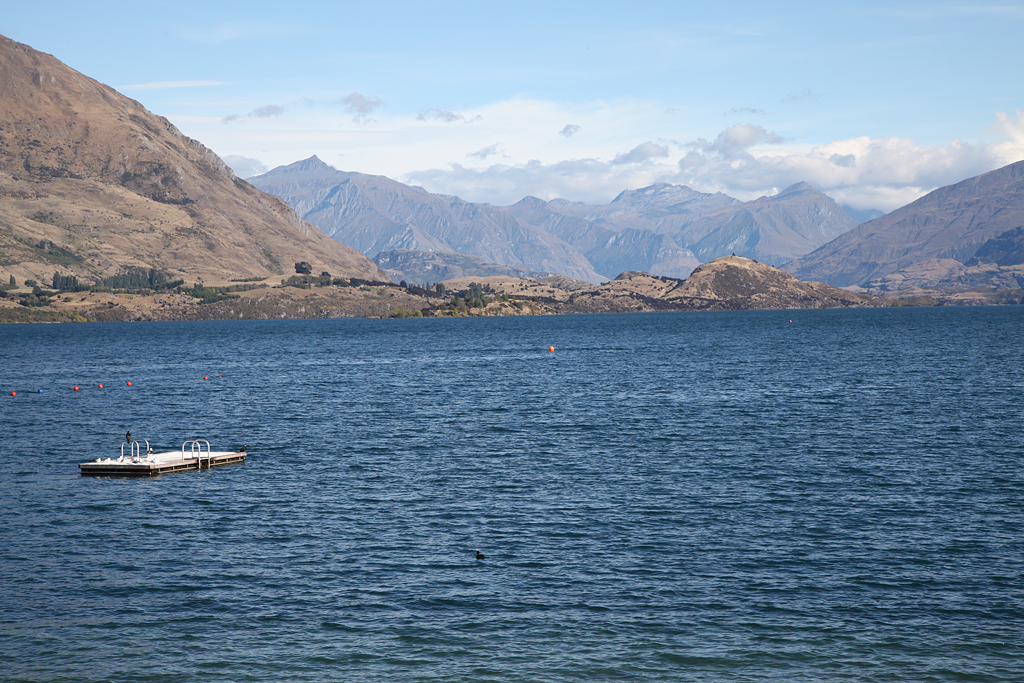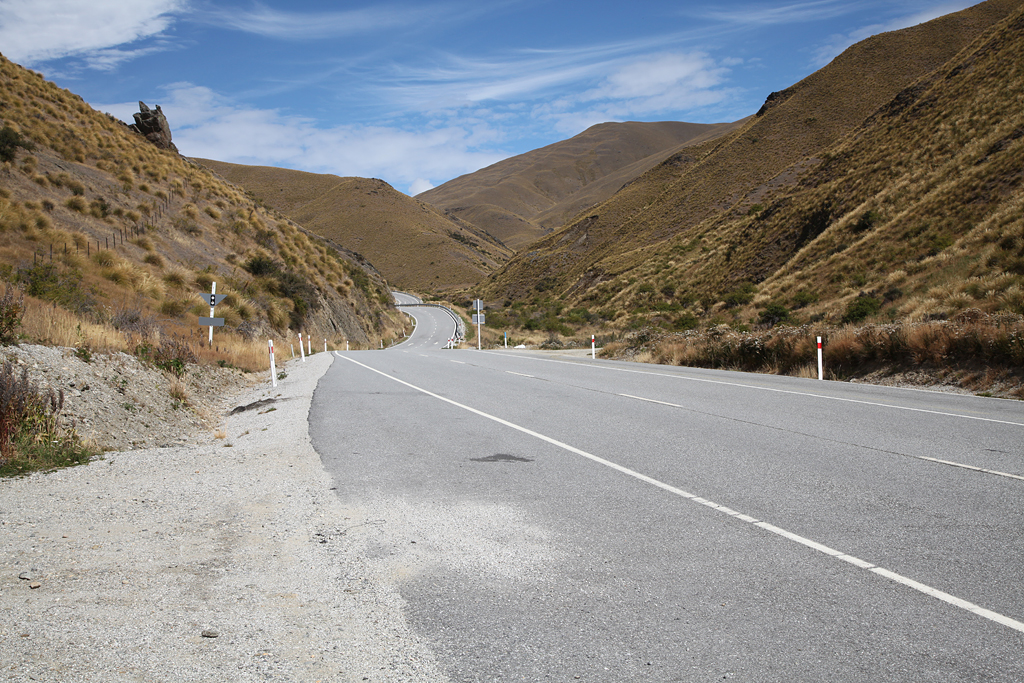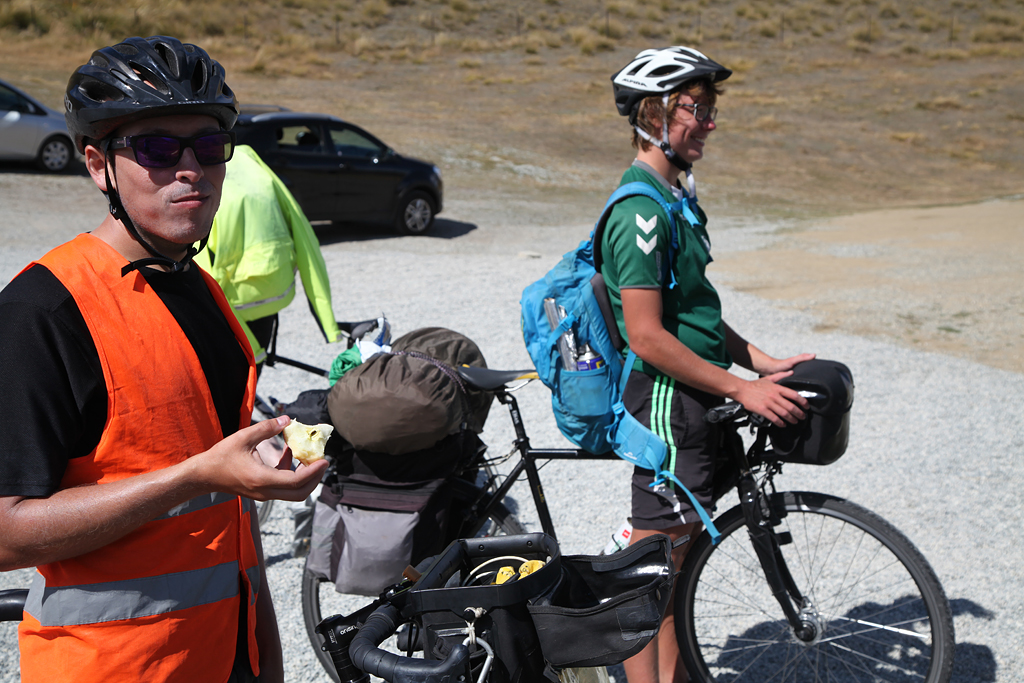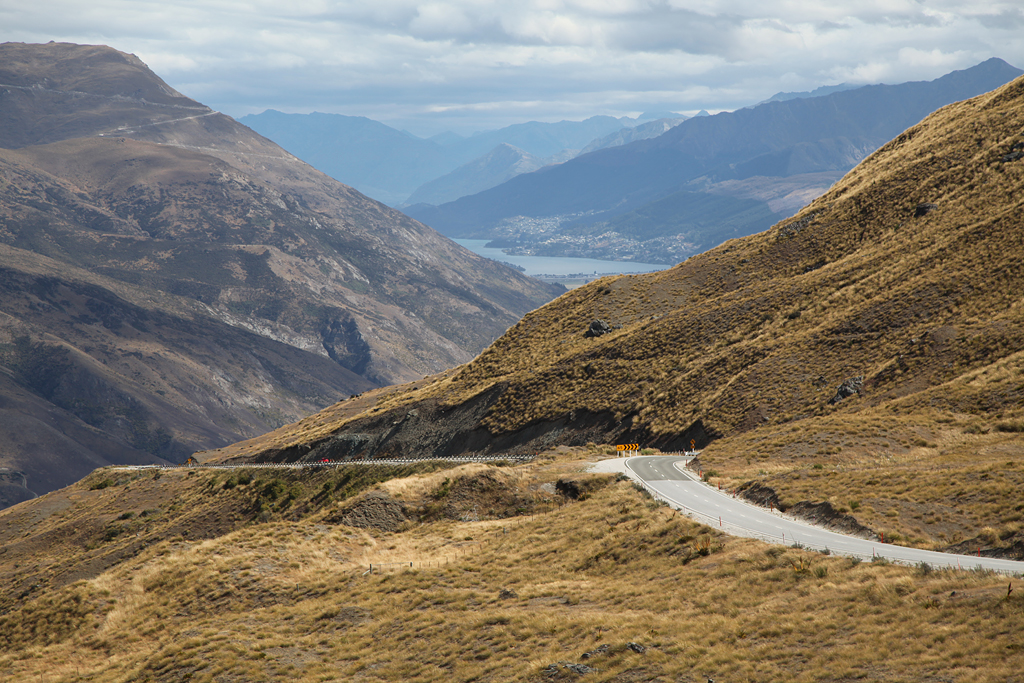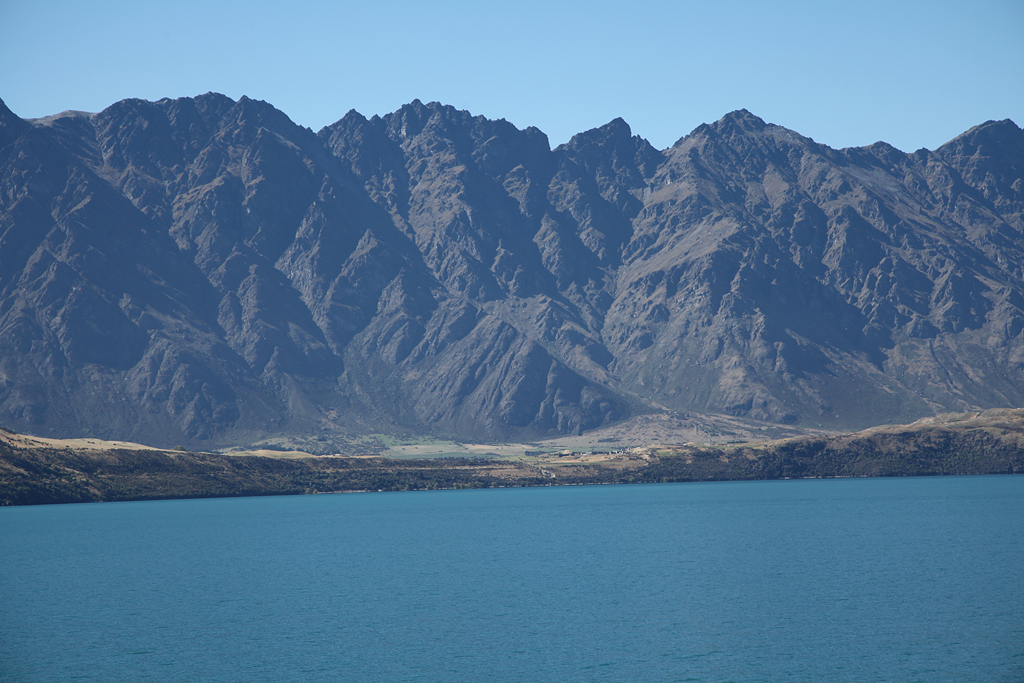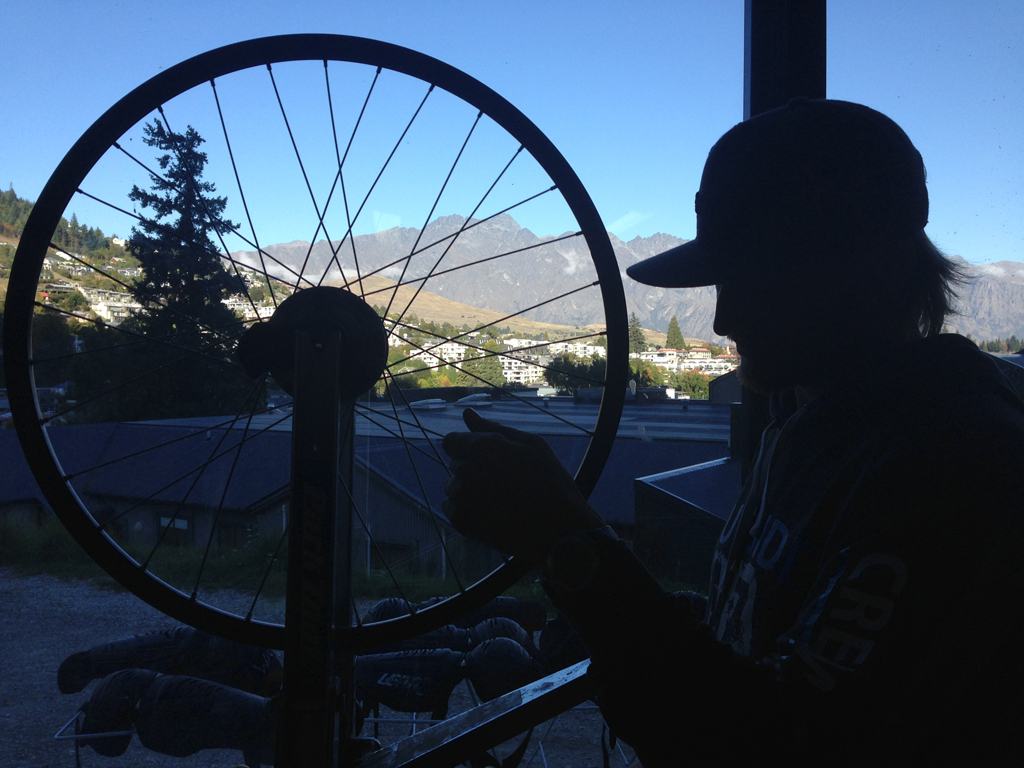 We were very welcome to stay longer with the warmhearted couple, but the weather kinda forced us to leave. It was another perfect blue sky day, the air smelled like autumn, the leaves on the trees were turning yellow – simply a stunning day to catch the old steamboat across lake Wakatipu. For the next days rain was forecasted, so we wanted to enjoy this special boat ride under the smiling sun.
Max from Germany who I've met on the campsite in Queenstown teamed up with us, so we were a group of three again. After a picknick at Walter Peak Station we started rolling on the metal road along the lake. The views were absolutely amazing, snow covered peaks in the distance, and the three of us were having permanently huge smiles. A turn to the left, away from the lake, a bit uphill – and we found a perfect "wildcamping" spot. We didn't make it to the official campground, so we literally pitched our tents just next to the road near a stream. There was absolutely no traffic, almost no houses, zero fences and thereby no problem to wildcamp. Finally again, it had been a while since the last freedom camping spot! That day and the following, we rode on one of the most beautiful routes which I saw in whole New Zealand. It felt very far away from civilization, and the fact of being able to freedom camp supported that.
Thanks to a hint of two cyclists who came the other way, we cycled to Manapouri instead of Te Anau. We rented a cabin, and due to the upcoming rain we planned a rest day. We had a very good time in the tiny house with a kitchen – reading, talking, cooking, …
Manapouri, Te Anau and Fjordland in general is the place with the most rainfall of New Zealand. The average rainfall in Manapouri is 100mm, but on the other side of the lake it's supposed to be 800mm!! The first day off was followed by a second one, the sound of raindrops falling on the roof made us automatically sleep in. I used the spare time to fix my panniers. The last couple of rainy days, all my gear got wet inside. And when I had a close look, I found out why: All four panniers had dozens of small holes! 🙂 A bit of seamgrip onto them, done.
The further south we got, what meant closer towards Brian's final destination, he started thinking about continuing his trip. Ideas like Europe and the States were thrown out, and since we got along really well I suggested him to come to Australia with me. So that's how the idea of cycling Australia together was born…
Rain on the third day in Manapouri: With that kind of weather I skipped Milford sound. It would have meant to cycle two days in one way (with rain), and then two days the same road back. And through a 4 km long single lane tunnel, which is downhill towards Milford – but uphill on the way back. Not really a lot of fun to me. Max still wanted to go, Milford is one of the main reasons why he came down south. But Brian and I continued the opposite direction, where the weather looked a bit nicer. It was still overcast and gloomy, but at least dry!
We cycled fast down south, past the infamous sausage capital, until we reached Invercargill after 2.5 days. There's so much rain down there, too, that there's a huge sized umbrella as monument in the city center! We arrived at noon, and sat in a cafe for a piece of cake and a coffee before we wanted to say goodbye. Because Invercargill was the place where our paths split again. Brian went down to the very souther point Bluff, and I had to cycle back to Te Anau where I had planned to go on another hike.
Invercargill kept me a little longer than planned, because we met a few other cyclists and had a really nice afternoon and evening all together. But the next day, I left on a different route back to Fjordland. A strong tailwind and pretty straight and flat roads let me almost fly. Already after two days I was back in Te Anau where I met the Chinese girl Maya again and some more touring cyclists.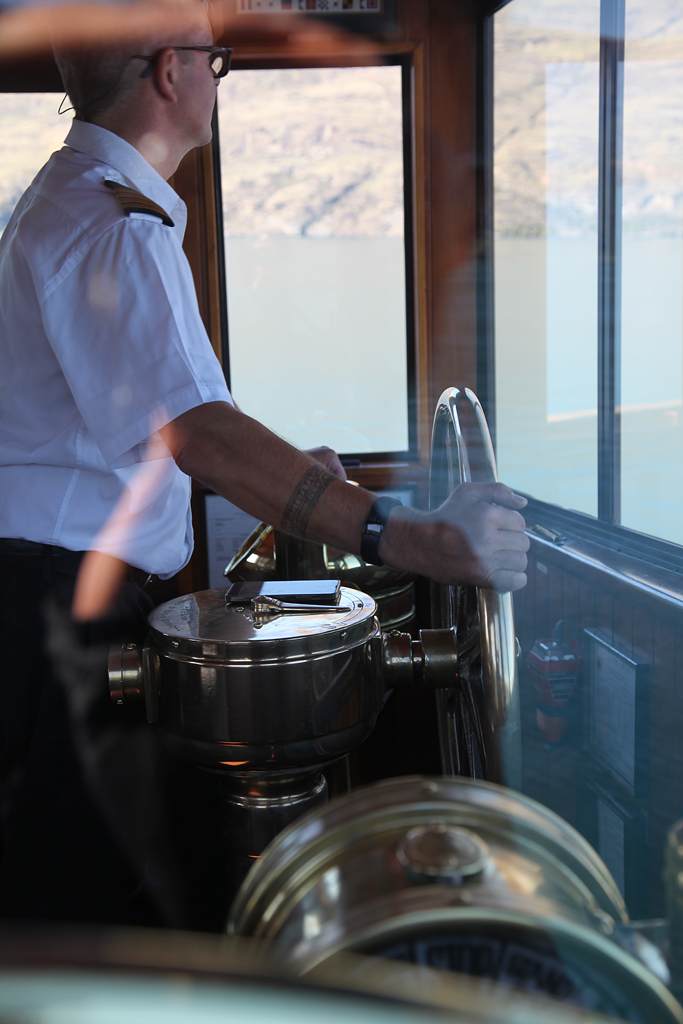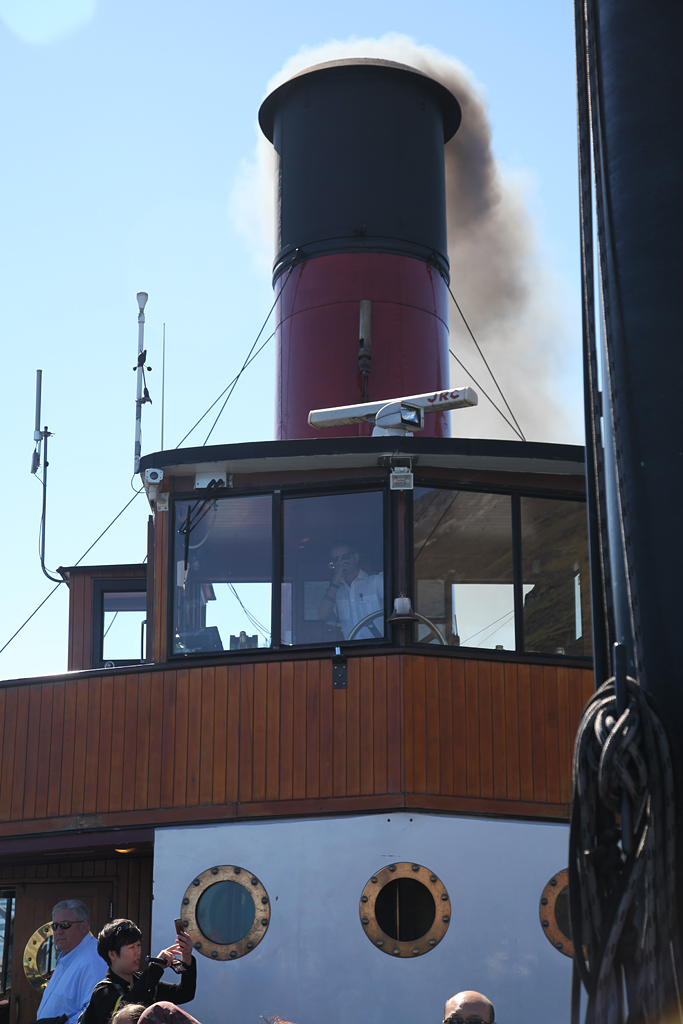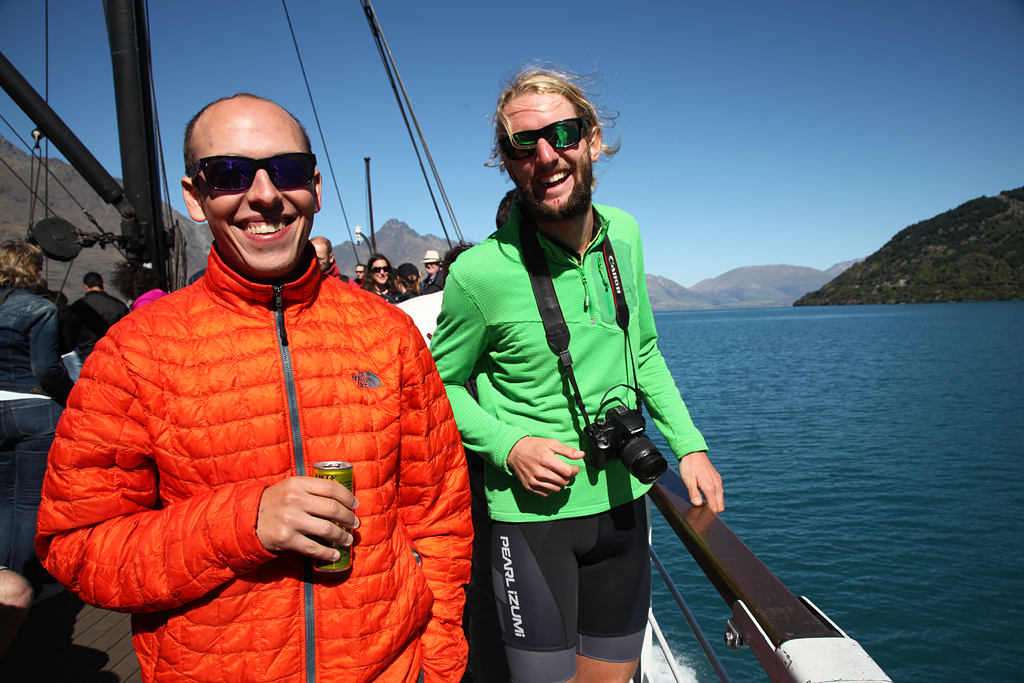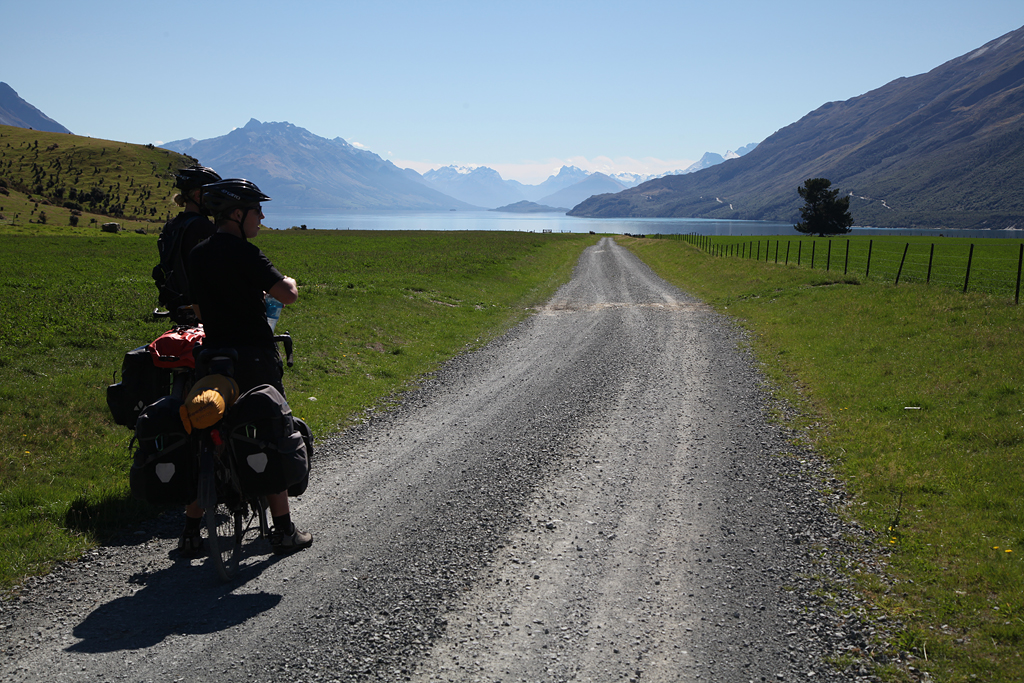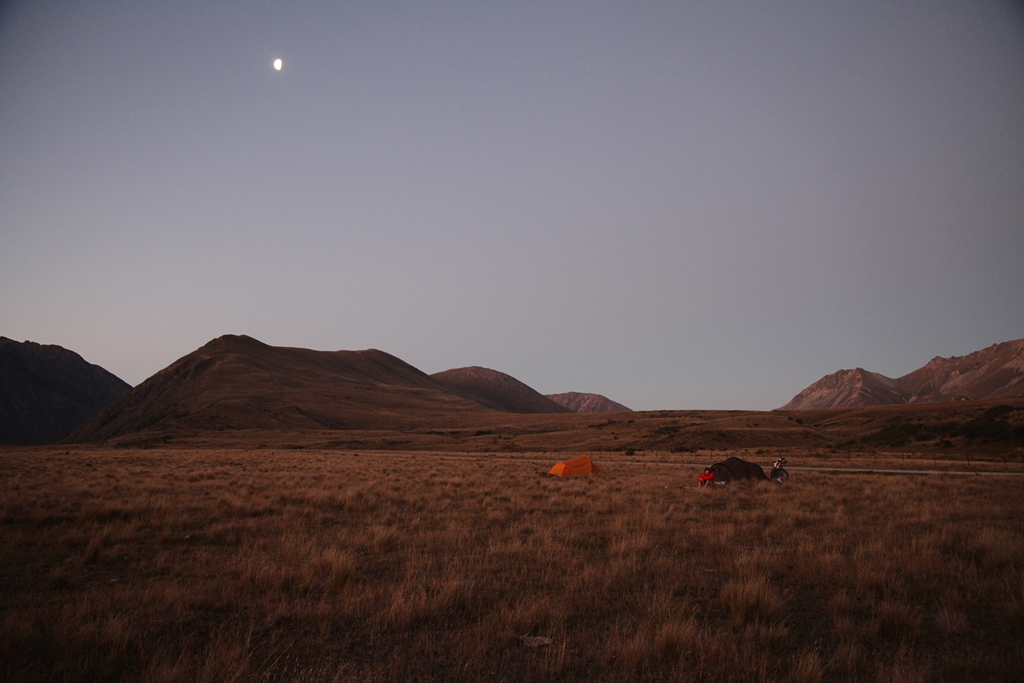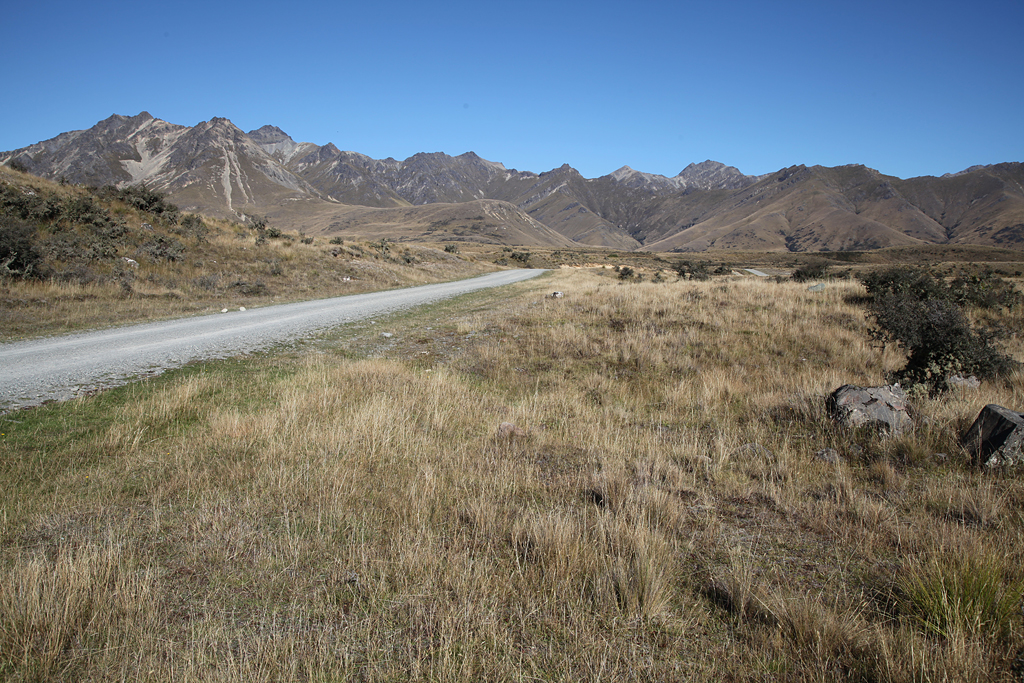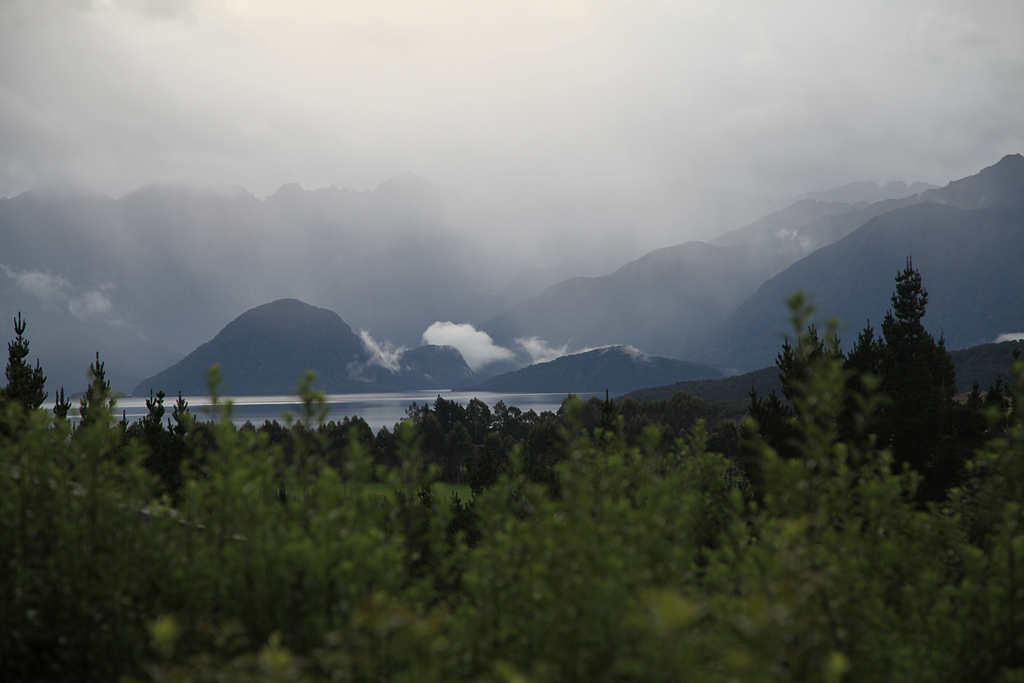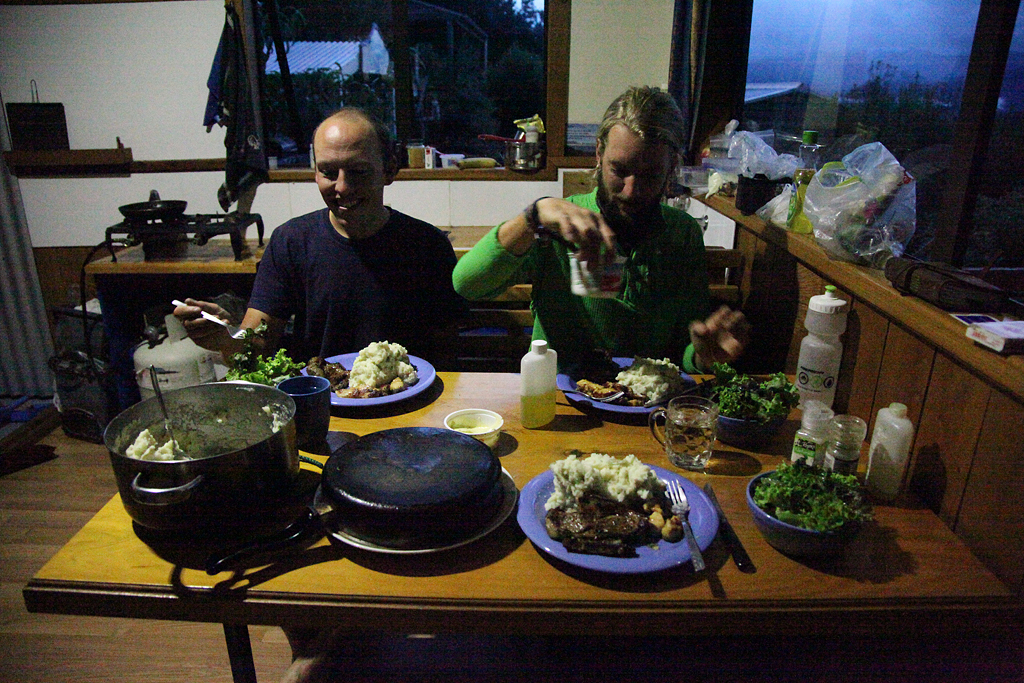 Back in February on the north island of New Zealand I had met some Swiss guys on a campground. We spent a nice evening together, and Roland and I spontaneously decided to go on a tramp together. Because you have to book the "Great Walks" a long time in advance, we agreed to meet again end of March in Te Anau to go on the Kepler Track.
So, end of March in the YHA Te Anau, we met again. Although you're never alone on a great walk, it is much more fun and entertaining to hike with a friend.
We stocked up with heaps of food, packed our packs and finally started the four days trip. It is a circular walk overlooking Te Anau, the two lakes and the mountain ranges to the west. Start and end point is Te Anau itself. On the first day, we mainly ascended through the forest up to the first hut. The magnificent views rewarded the long and steep uphill (with our heavy backpacks). All the huts along the Kepler Track are pretty big and they were all fully booked. I think there were about fifty beds per hut – so fifty people on the same part of the track each day!
The weather wasn't in a good mood the second day. Fog, cold wind, clouds and rain instead of sunshine. And this was the section with the "great views"! Too bad for us, we were fighting against the cold, the rain and some strong gusts on top of the ridgeline. We gritted our teeth and were super disappointed to not get a single view into the mountains. Not even the path in front of us was always visible for more than twenty meters!
The third and fourth day we descended again through the woods. The weather presented itself from it the best light, blue sky and sunshine. Birds were chirping in the bush and loads of mushrooms recently popped out of the ground. It was a very peaceful and relaxing walk along the river.
To get from Te Anau to Christchurch, Roland offered me to give me a lift in his BMW. We crunched my bike onto the back seats, played Tetris with all the luggage in the trunk and started a roadtrip to the east coast. First destination was Queenstown again, where we visited Nita (Kieran and Nita who Franci and I cycled with in Tajikistan and Kyrgyzstan and spent five days horse trekking in the Tien Shan). It was so much fun to see her again, and we spent the whole evening talking about the trip and people we'd met on the road. Somehow it was different than the last time I met this lovely couple on the road. Nita and Kieran are back in "real life", they both have jobs again and follow a different everyday life than I do. Like, I am still wearing the same clothes (although I bought two new t-shirts, but in exactly the same color as I used to have), am still on the road, only plan roughly the next couple of days and camp most of the time. It is a different kind of life…
Roland and I slowly drove towards Christchurch, we were not in a hurry. A few stops in nice spots, slack-lining and swimming in Wanaka, hiking in Mount Cook and eating heaps of cake in cafes…
In Christchurch, Kieran invited me to stay until my flight to Australia. The house was almost more like a cycle touring hostel, at one time we were 5 cyclists staying with him! 🙂 But I guess, for Kieran this feels a little like being on tour again. Brian was staying there, too, and meanwhile he organized an Australian visa and booked a flight to Sydney! So his adventure definitely got a further chapter, and I was super stoked to have company through the Outback in a bit time!
With Kieran we had a great time, it was awesome to meet him again. During the days I relaxed and got some stuff organized, in the evenings we cooked dinner together and once we even went indoor climbing. Thanks a lot for the amazing time!