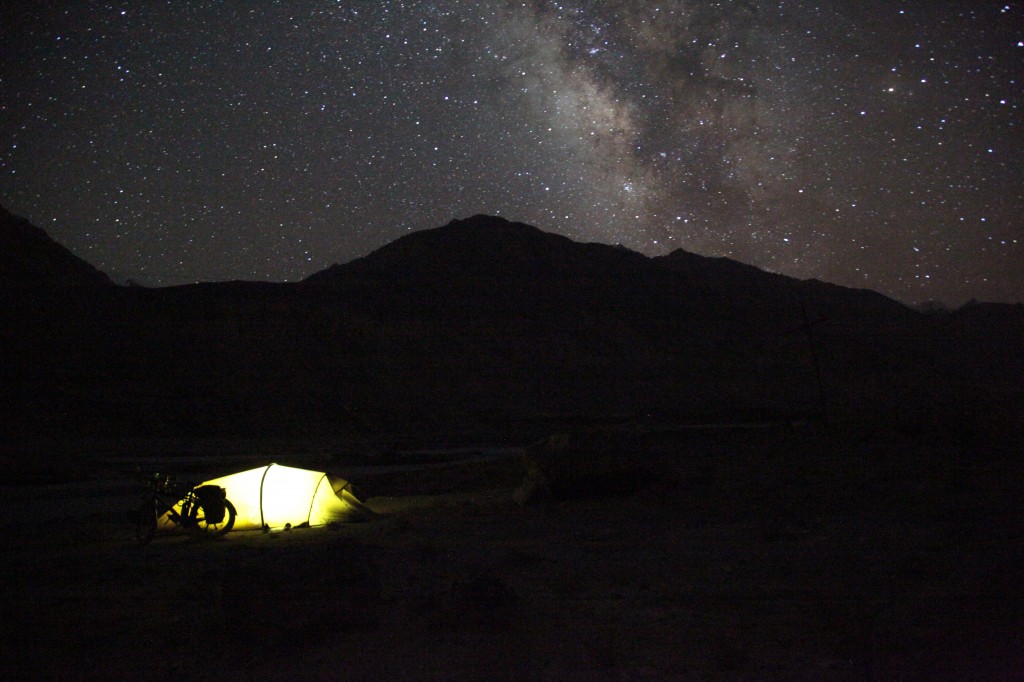 I'm sorry for not writing about Usbekistan. Maybe I'll have enough time and energy to do it later… But first about Tajikistan and the Pamirs: It was amazing, but also exhausting.
The days after Dushanbe were still hot like in the desert. Well – not exactly as hot as in the desert (45 degrees) – still around 37 degrees. Uff, and I thought Tajikistan would be cooler! [Note: on the second image, Franci is chilling on a cold-water-pipeline…] From Dushanbe there are two routes to the Pamirs. The southern road is paved, goes up less high but has more traffic on it. The northern road is more scenic, has less traffic but the road condition is worse and there's already a pass higher than 3000 meters… We decided to cycle north, like everyone else. Less to no traffic is great – and we thought, we should get used to bad roads! In fact, the road on this section was one of the worst parts of the whole route through Tajikistan. Only about 150-200km in the higher Pamir were worse – considering road conditions!
Although we followed some rivers, the road was never flat. Ascends and descends all the time… About to Obigarm, tarmac was perfect. We enjoyed the super ride down to the town on smooth surface – until the police stopped us. Too fast! There might have been a sign, saying 40km/h, I honestly didn't see it (Franci said he did). Well even if there is a sign, how should we measure our speed by bike? (Okay, I do have a speedometer, it said something between 50-55km/h…) Haha, fourtunately the next coming car did ride too fast as well, so we could leave without paying a fine!
Just after Obigarm, the tarmac ended and we had to ride on gravel and dirt roads. Steep up and down. Exhausting! In Rogun, Tajikistan is building an electric dam. Impressive, to see such a huge project! The building site did not end for kilometers, I hope you can imagine the dimensions when you look at the pictures.
After travelling through the desert, Tajikistan was THE destination with good water for us. We did drink sandy-brown water from wells in small and dusty towns, we did drink greylooking water from the tap near in cities near the Amudarya river – and we never treated it (filter or pills). It didn't taste always supergood, but it was always drinkable. And we were really looking forward to the fresh and cold springs in Tajikistan. Next to the street, there were often taps or just small streams with cold and clear water directly from the mountain. Yay! But…
Here, with the clear springs we got sick. It must have been the water, we cannot imagine anything else to knock us out like that. We both drank the same water and refilled most of our bottles in the afternoon. Already before we pitched our tent I did not feel good. In the morning we both felt a little sick, we forced ourselves to eat at least a piece of bread with chocolate spread. We started cycling really late and we felt worse hour by hour… It was too hot and I wanted to dip my head in cold water, but there was no tap for kilometers. So we kept going on, passed a checkpoint and found at noon a nice place with water and shadow. There we were laying around the whole afternoon. In the evening we deciced to move a little furter, but already looking for a campspot. We both felt really bad and it was hard to cycle – it felt like fever. Pain everywhere, cold, hot, a little headache, etc. We found a campsite and Franci cooked for dinner. As he poured the bad water into the pot, he found the reason for our sickness: There was a 3cm long worm in one of the bottles! So it definitely must have been the water… This happened just two days before our first pass. From then on, we made even shorter days.
The pass itself was a good start into the Pamirs. The temperature dropped with every meter of elevation, the hills got greener, but the weather turned. It rained a little when we were cycling uphill. On one hand this was alright – it would have been hell with 35 degrees! But on the other hand it was not very funny: the steep dirtroad turned into a slippery steep mudroad. With every turn we made, we got a better view to lots of 4000ers in the back. Awesome!!
After two days of climbing we reached the top on 3252m above sea level. Really nice, flowers and herbs everywhere. It smelled like spring, a big contrast to the heat and dryness down in the valley! We could still see and hear the signs of the civil war back in the 90ies. The lawns on the other side of the pass were marked with red-white-striped ribbons: mine-areas. And once we heard a detonation, there are teams searching and removing these mines. Better not to leave the road…
Downhill to Kalai-Khumb was awesome. Around 2000 meters (Kalai-Khumb is on about 1200m) in 2.5-3 hours. Yes, we were slow. But the road was bad but also scenic. This means slow speed plus lots of photo-stops. 🙂 It was already dark when we arrived in Kalai-Khumb…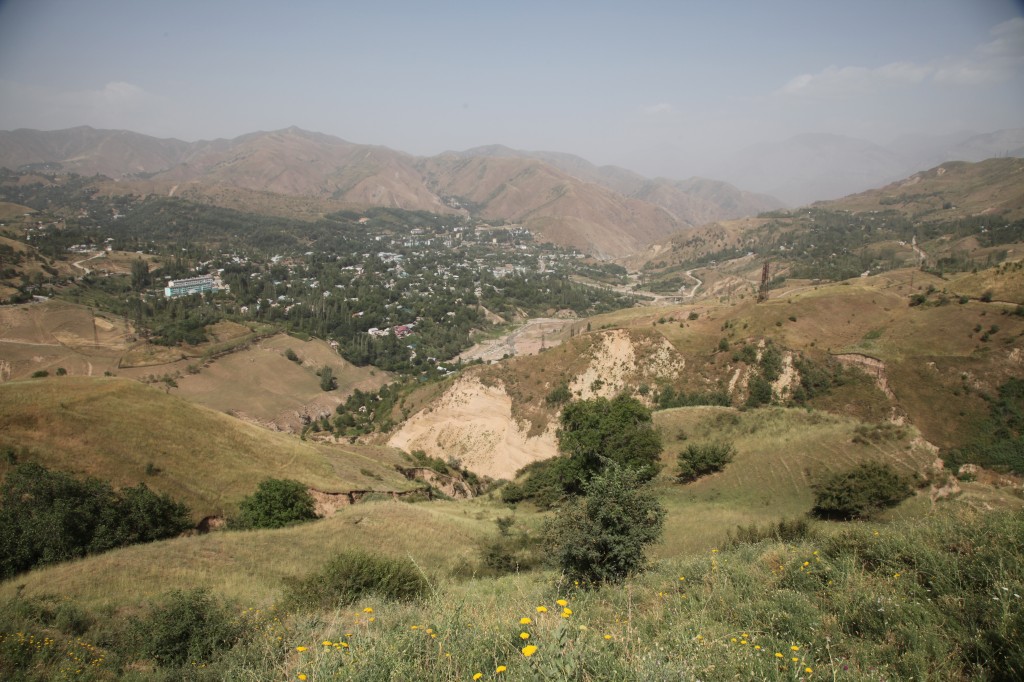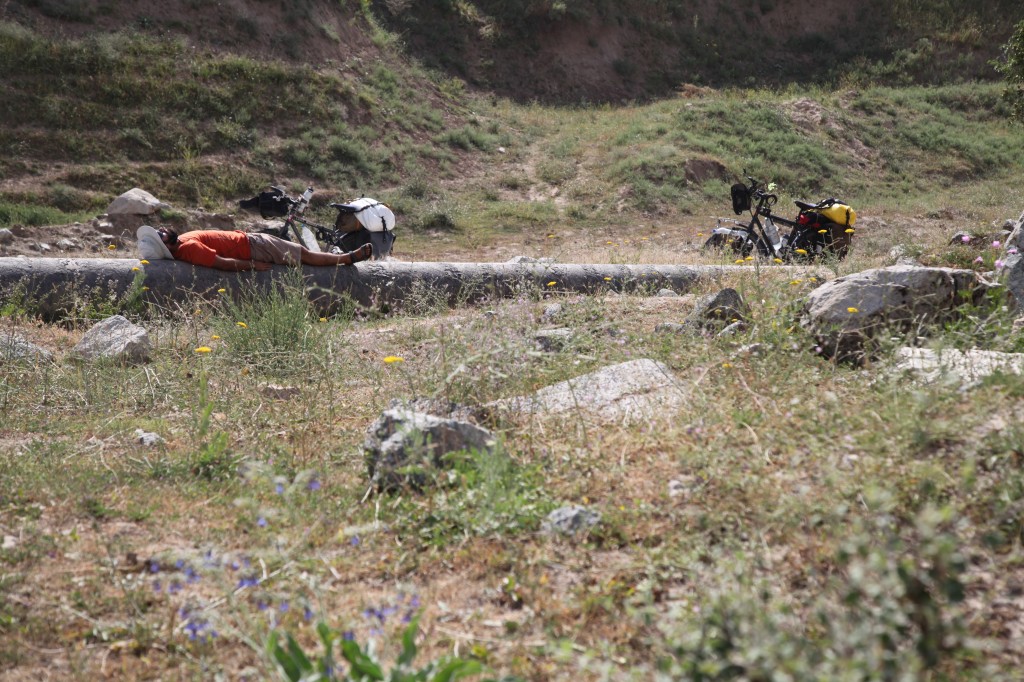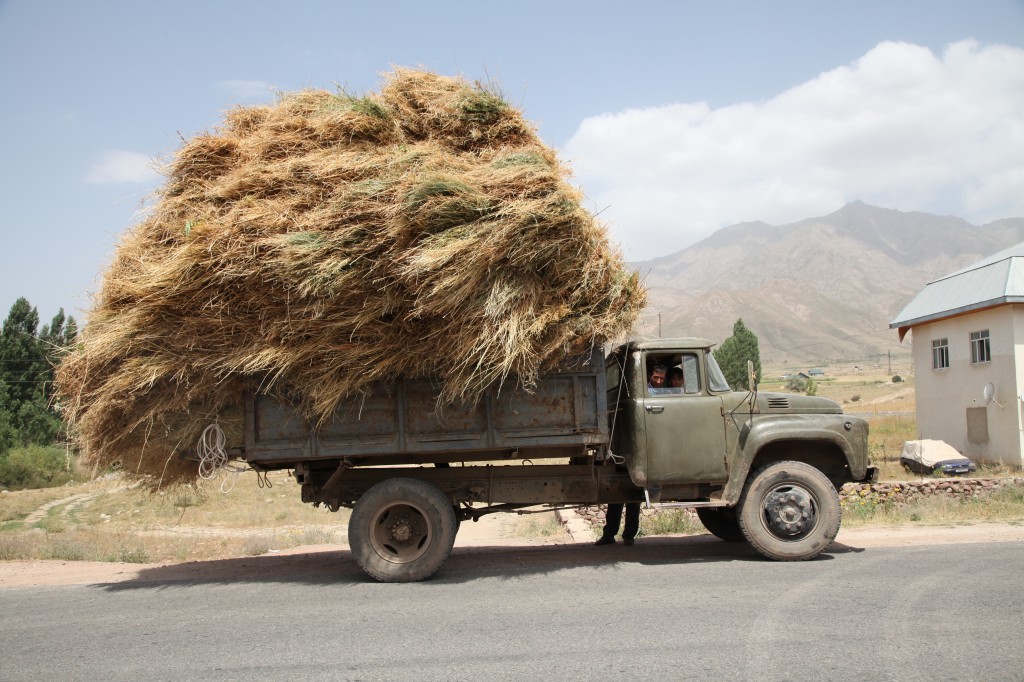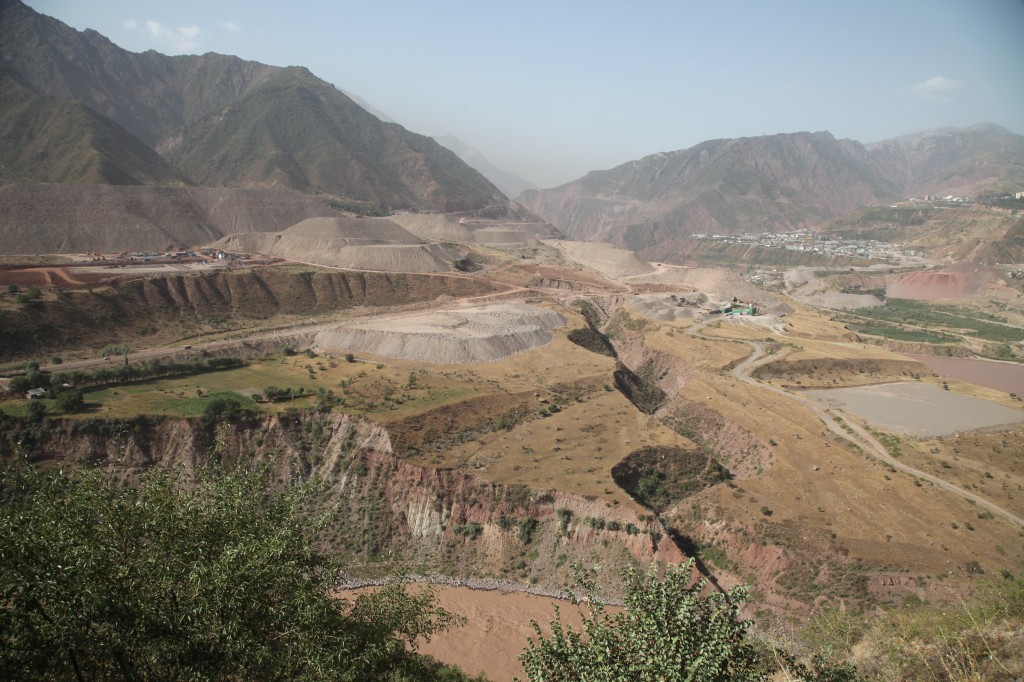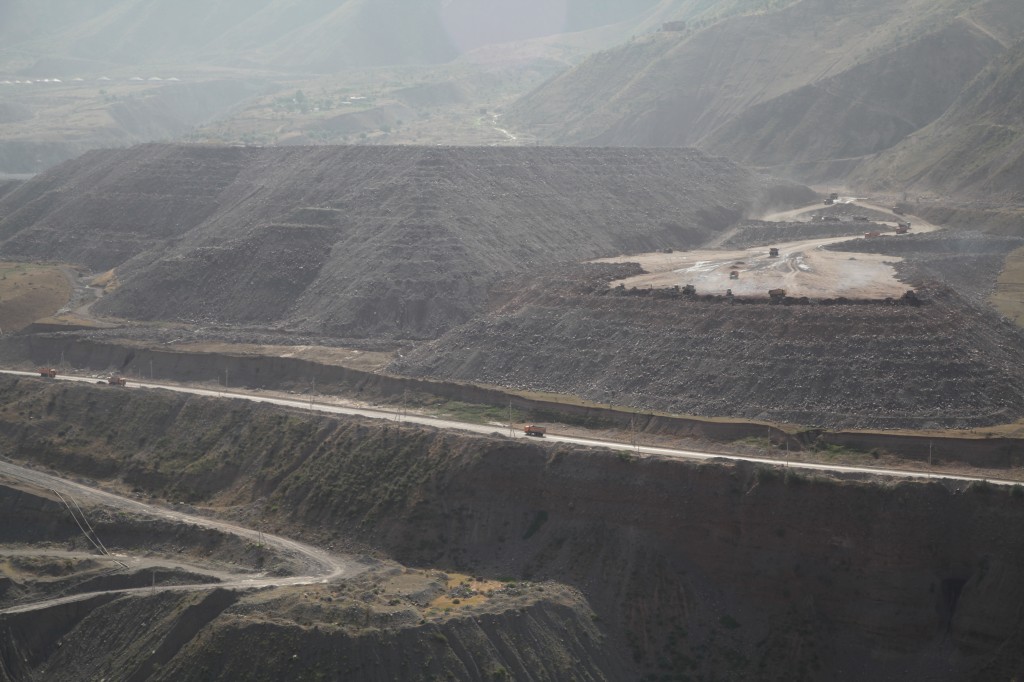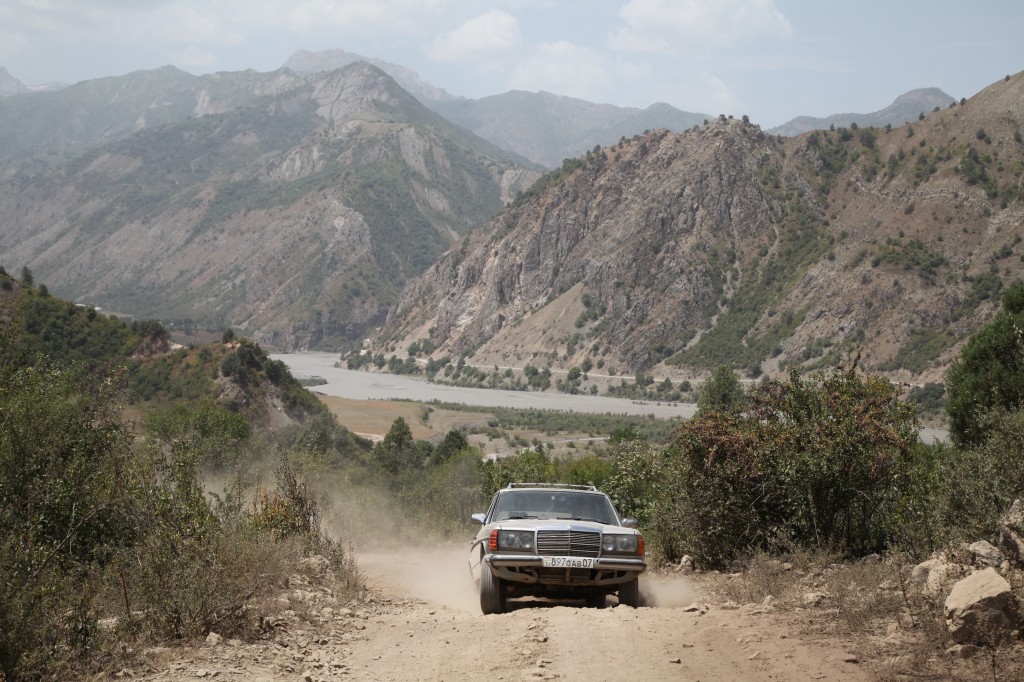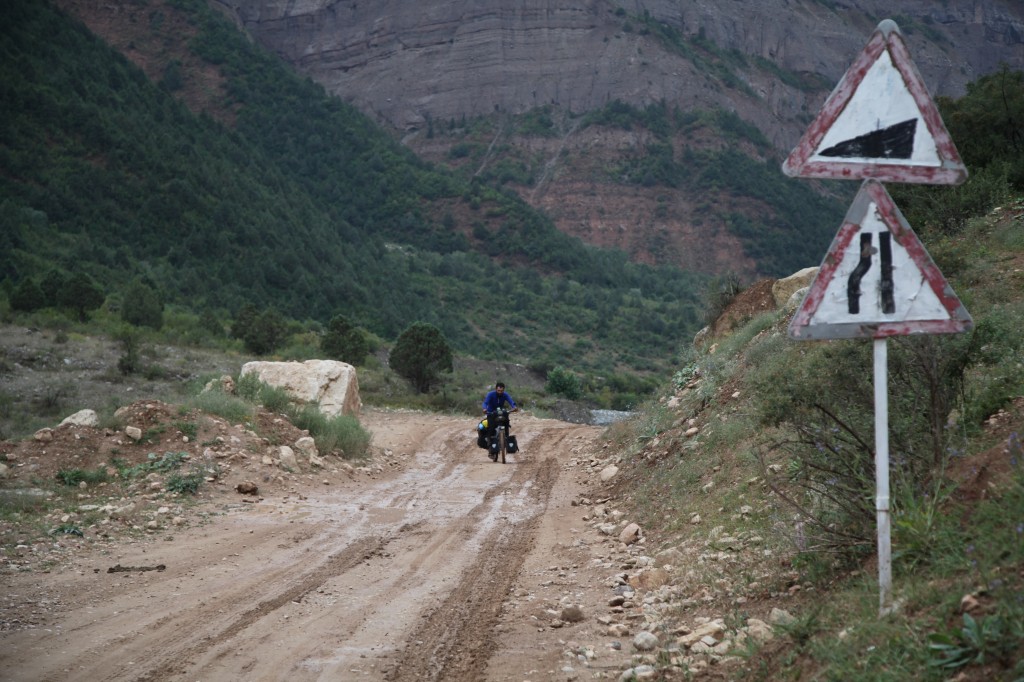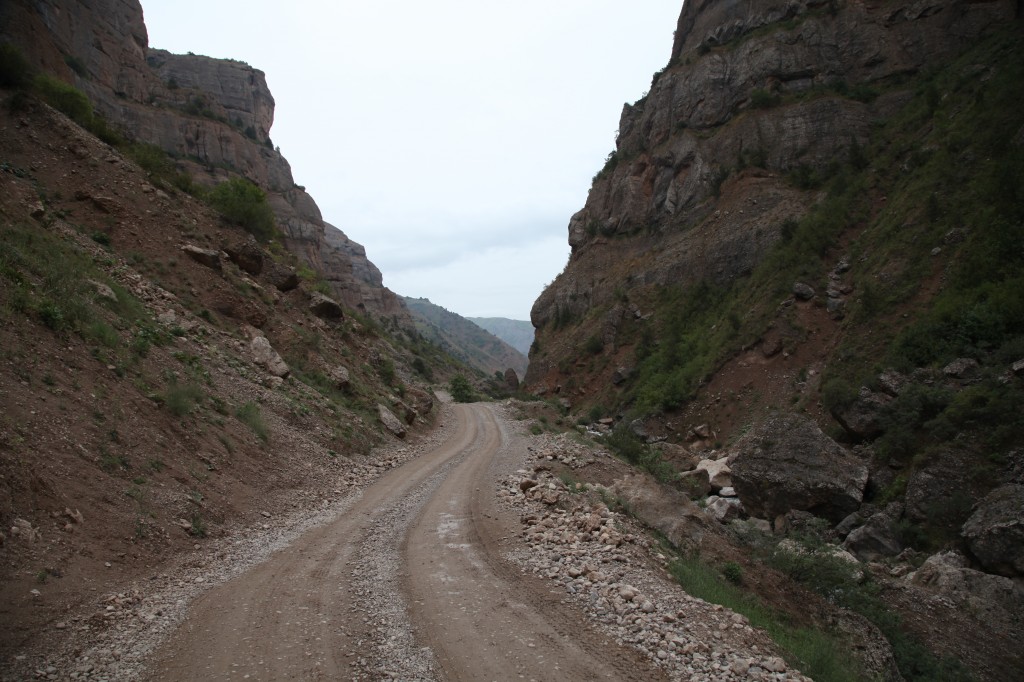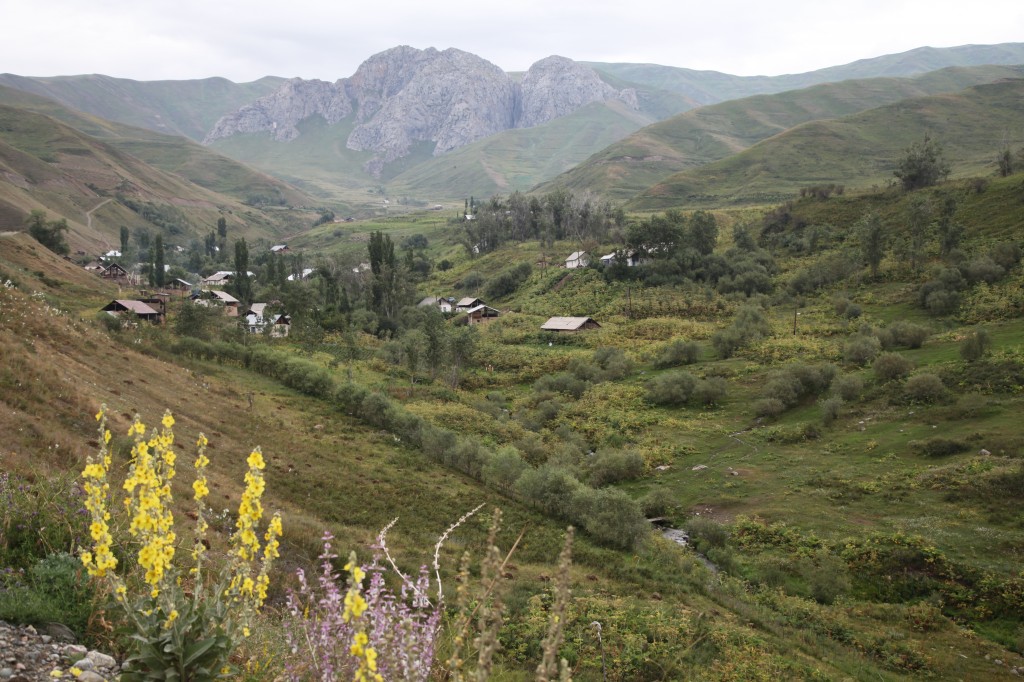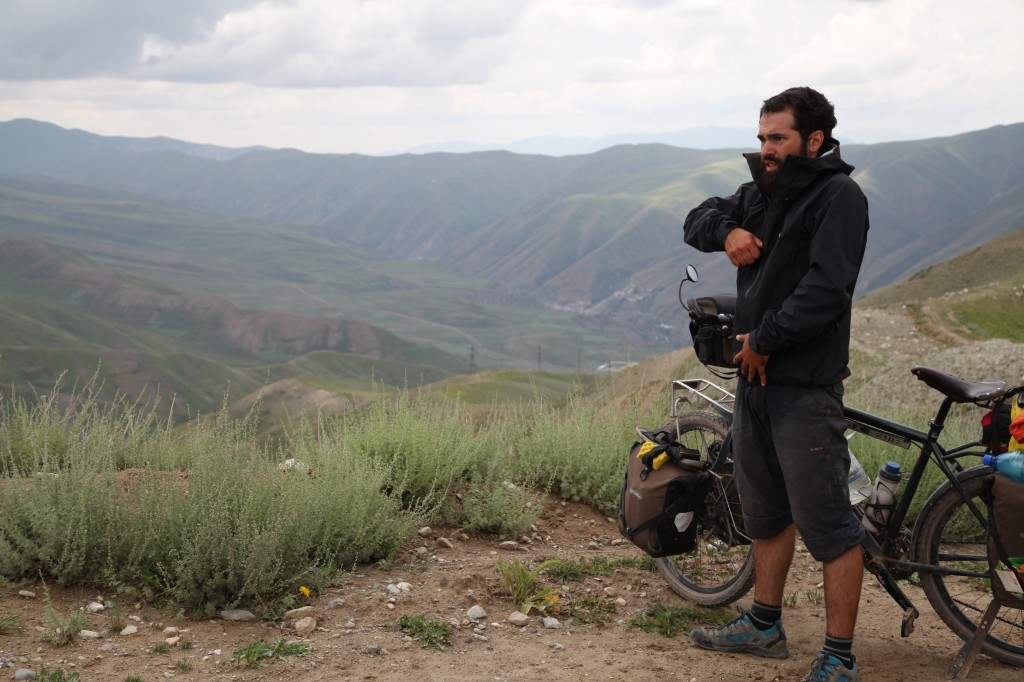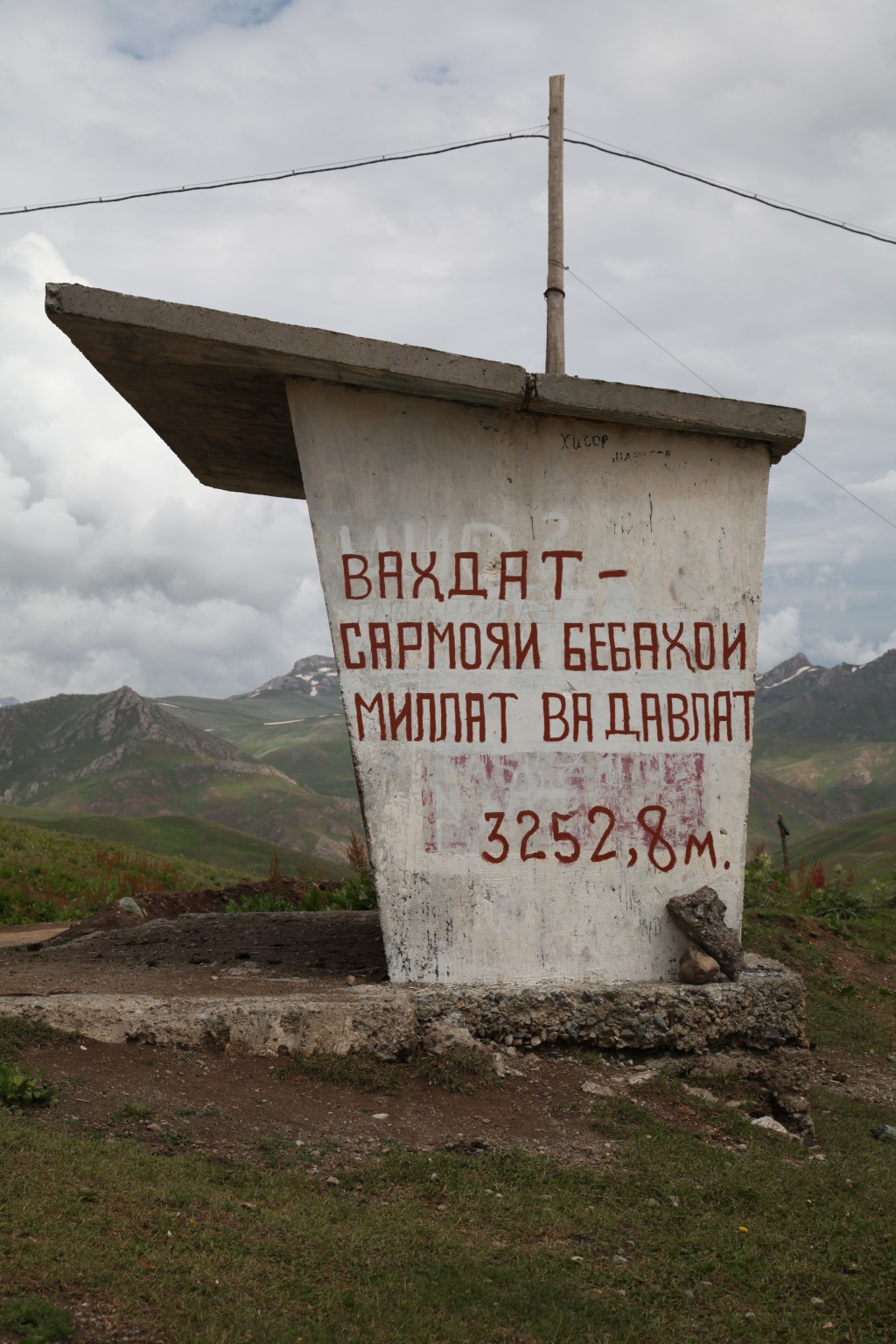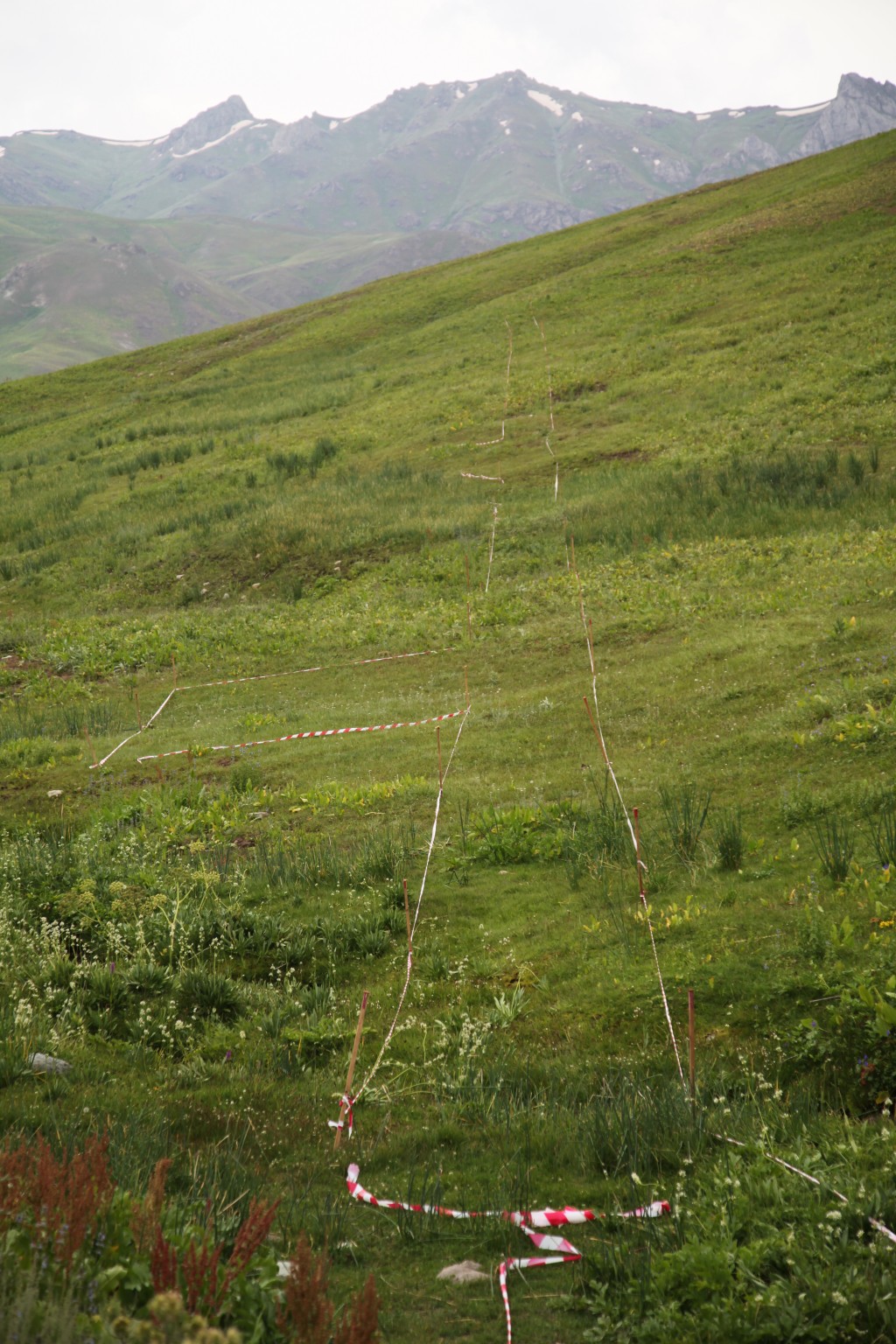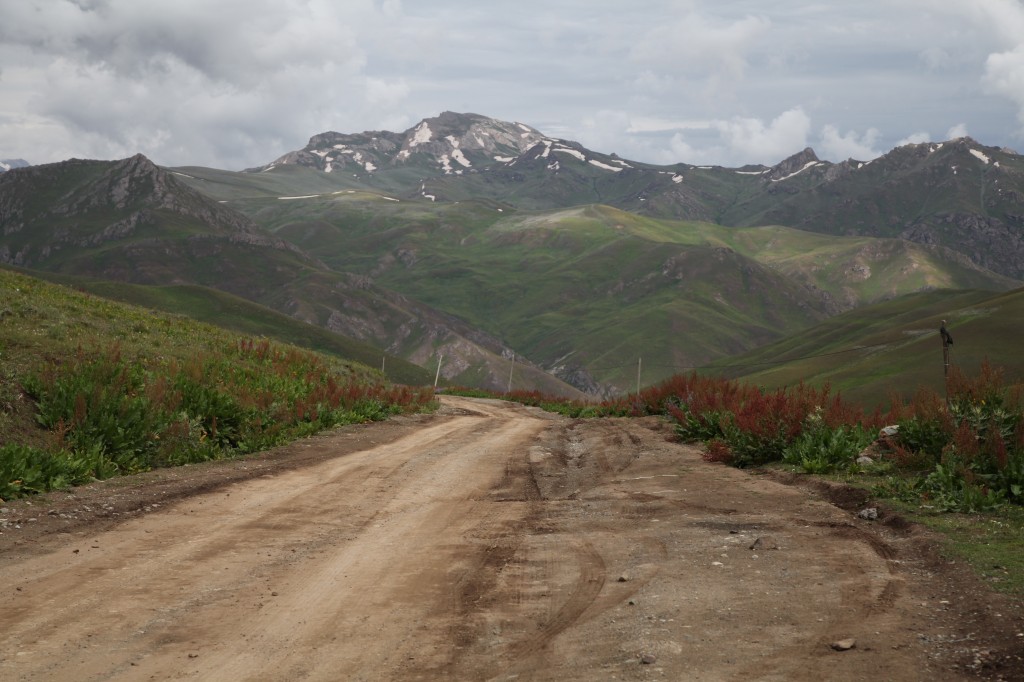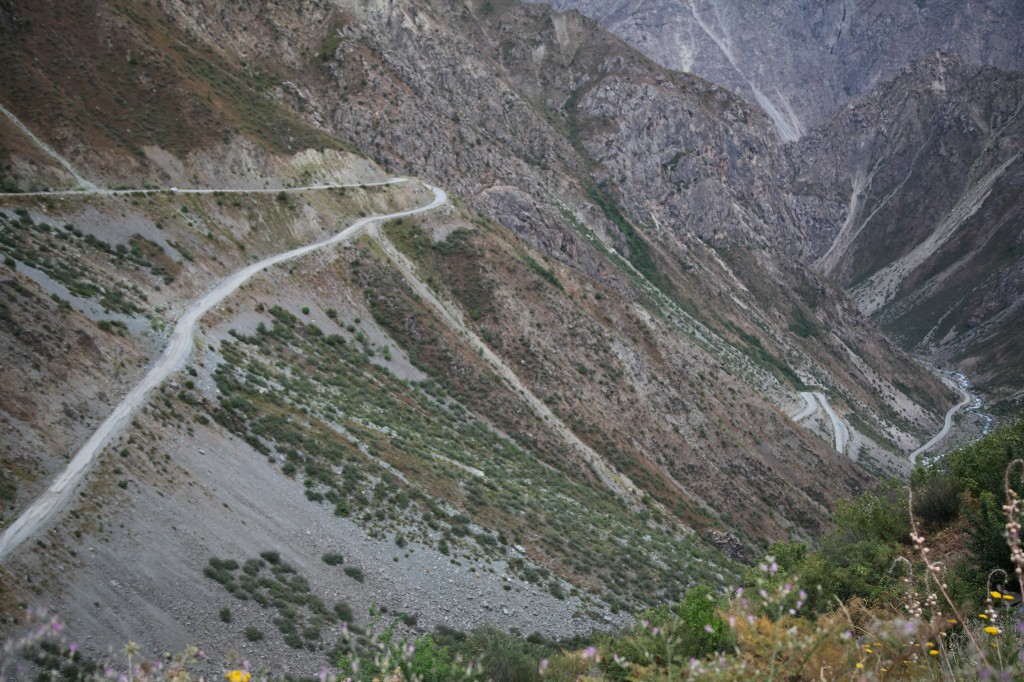 The time we had been staying in Dushanbe, there were lots of mudslides and floodings in the Pamir region. On one hand, it had been an extremely hot summer and glaciers melted more than usually. And on the other hand, it had been raining a lot. But as we arrived in the Pamir, there was no rain at all. Well, one day a little bit, but then the weather was good until we left Tajikistan!
As we left the capital city, the road from Kalai-Khumb to Khorog was closed due to several mudflows that blocked the road. We started cycling with not knowing if we could pass or not. But we knew that it would take us about 10-14 days to get to Khorog anyway… Well, time was the solution obviousely: When we arrived in Kalai-Khumb, the road was open and we had absolutely no problems to pass. Well – the southern route had been closed for some days and we've had more traffic than usual on our road. But that's okay…
The way to Khorog was impressive: narrow valley/gorge along the Panj river, crappy roads on both sides of the stream. Lefthandside (where we were rolling) Tajikistan, righthandside Afghanistan. We met several cyclists, but all of them were overtaking us because unfortunately Franci was sick again. But then Phil and Mary (the Irish/American couple we already met in Beyneu, Kazakhstan) appeared, and we kept going with them to Khorog. Phil felt sick, too, so the four of us were cycling about the same speed. 🙂 It was a fun time with them, picking apricots next to the road and baking bread in remote campspots. Actually you can't find bread in Minimarkets because people make their own at home. So if we found bread somewhere, we usually bought enough for some days.
Oh yeah, maybe about food… First we were excited about the Central Asian food culture. It was new for us, and everything tasted delicious. But after probably two days you've already tasted every dish on the menu – and that's it what you get until China (start in Kazakhstan): Plov, Shashlik, Manti, Lagman/Pelmeni/Soup, Samsa. Meat is in every dish and it's most of the time pretty oily. Maybe I've just eaten too much of Plov and Soup that I can't see it anymore.
A stop in a restaurant was usually very cheap, but after travelling for such a long time here in Central Asia we sometimes prefer to eat our own lunch. But – in Tajikistan it was quite difficult to find a reasonable variety of food in these small shops… One could find super dry biscuits, tea, some cans with tomato paste and condensed milk, fancy-looking and disgusting tasting sodas, some onions and every now and then some rotted carrots or potatoes. Okay sometimes the shops were a little better, sometimes we found yogurt – and sometimes instant noodle soup for lunch. Usually we refilled our panniers in cities (Dushanbe, Khorog, Murgab – big city, big town, town) with lots of fresh stuff, milk products as we could find, bread and of course dry food like rice, lentils, etc. That lasted us more or less to the next big town.
Reaching Khorog: Franci was really sick, but we could manage to cycle more than 80 kilometers on this sometimes-tarmac-sometimes-dirt-road, with stopping every two hours and resting for at least halft an hour or longer. We arrived in Khorog really late and exhausted, but happy to have a place to stay.
We spent five days in Khorog. Franci had to recover first. And then we just enjoyed feeling a little like at home far away. Like a little family we were cooking and eating together day by day with Mary, Phil, Raphael, Petra and Tural. Homemade Burgers and selfmade apricot jam were the two highlights, I guess only cyclists coming this way may really understand what it means to enjoy burgers in Khorog… 🙂
For all at home, just a short story about it: Phil and I were already dreaming about good/better food in Khorog on the bike. We thought about burgers and fries, and as we saw the kitchen in the hotel, we decided to make burgers on our own. The first day we wanted to buy meat, we were too late. You can buy meat only in the morning, of course. So the next morning, Raphael and I went to the bazaar again. Just perfect in time, we arrived in front of the butcher as five man brought about half of a cow. The work began (chopping it with an axe into handy pieces) and more and more people were gathering around the butchers window. After about 15-30 minutes (to be honest, I have no idea how long we were standing there), the window opened and the butcher threw the chopped pieces onto the desk. Raphael snatched two good parts, with not too many bones and fat, around 2-2.5 kg in total. One included the filet we guessed. Yummie! Back in the hotel, our work began: Separating flesh from bones, and then chopping into really small pieces. We needed minced meat for burgers. Six people, chopping meat for two hours… But in the end, after such an effort, eating these delicious burgers was just like heaven. And we even found green salad (very rare!), tomatoes (of course), onions (you find everywhere), mayo, ketchup, and more or less good (not Swiss but let's say "okay") cheese!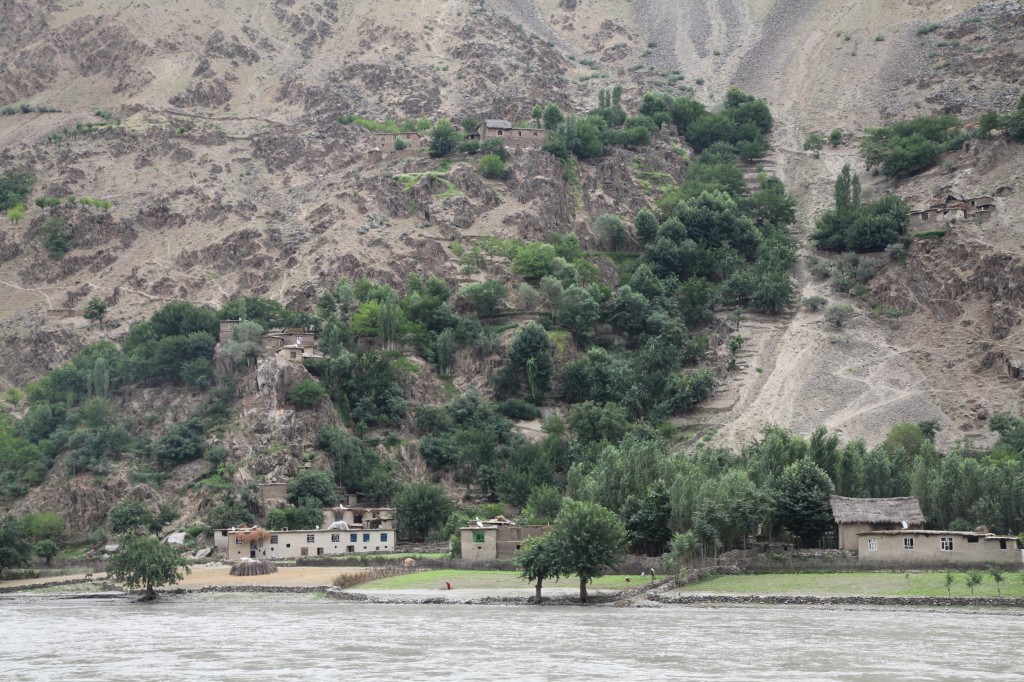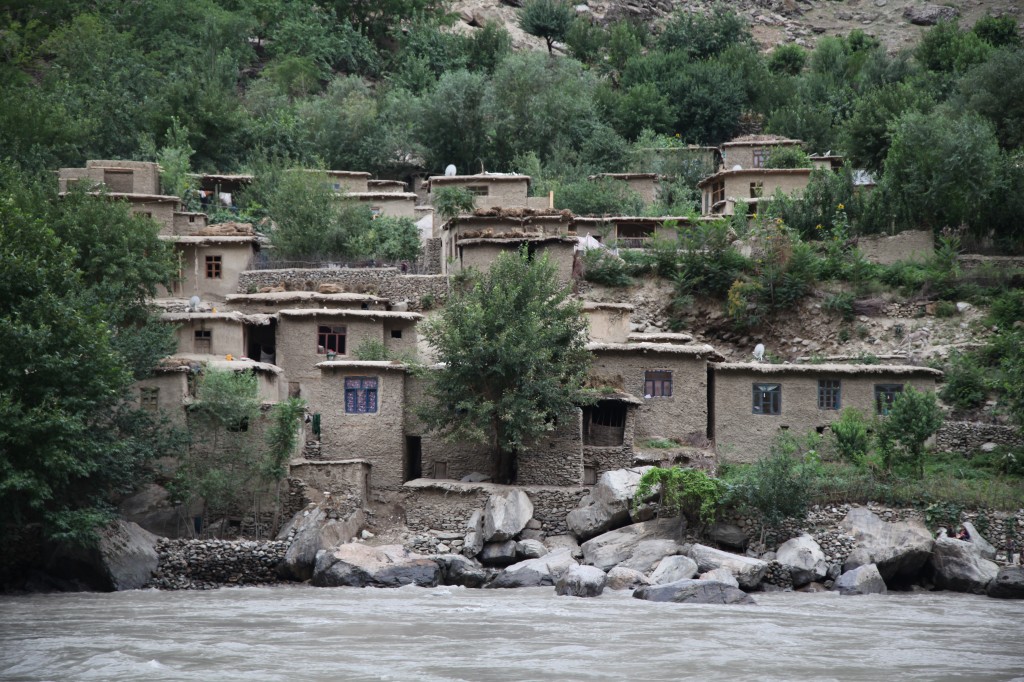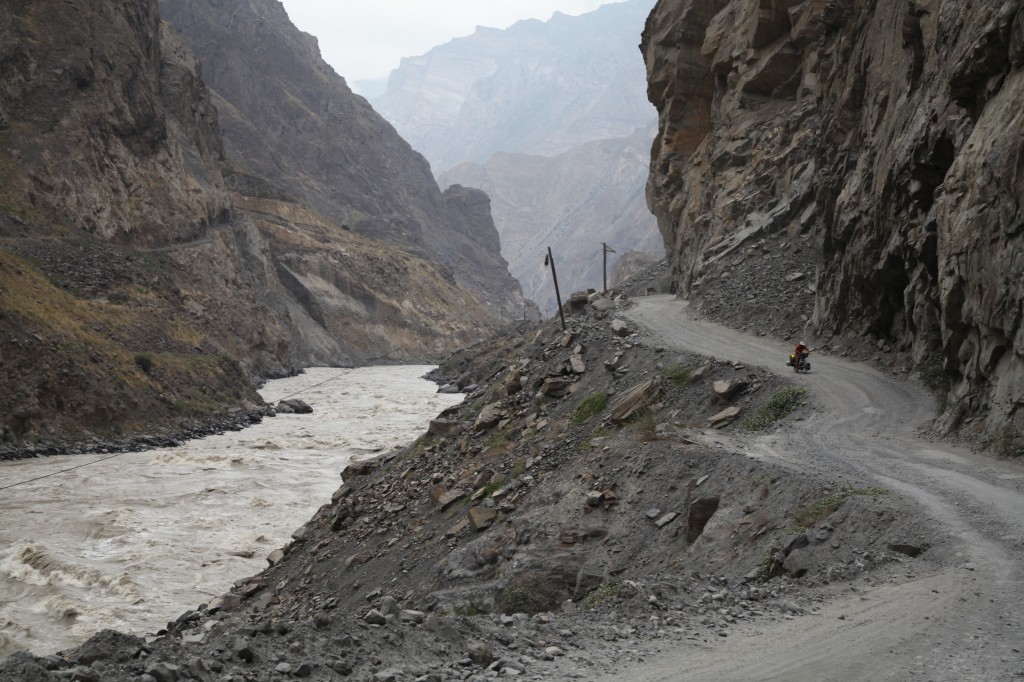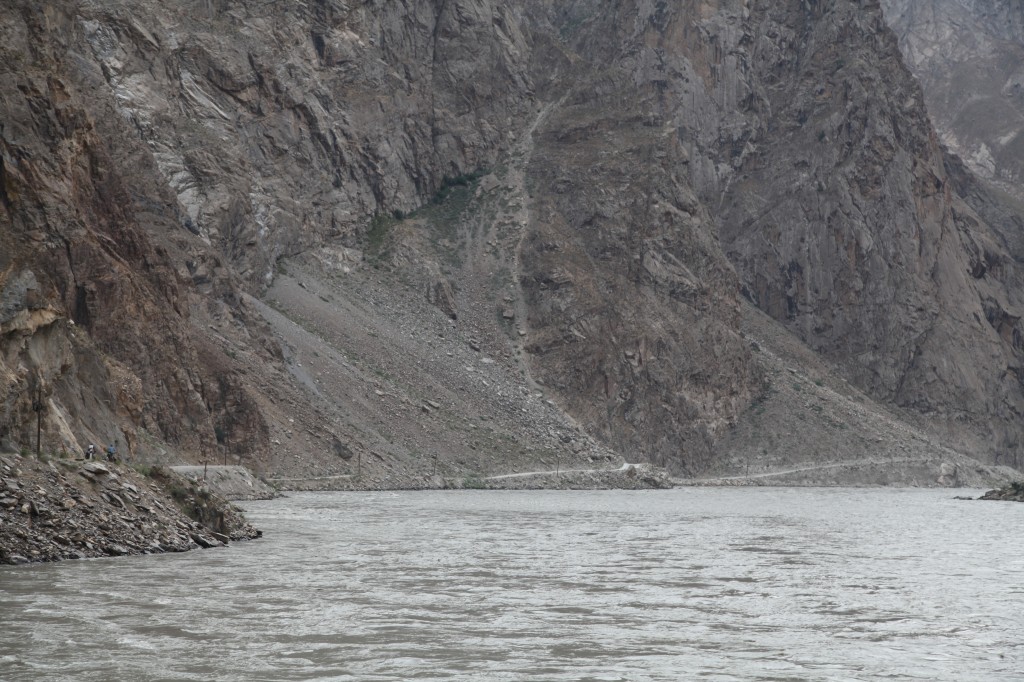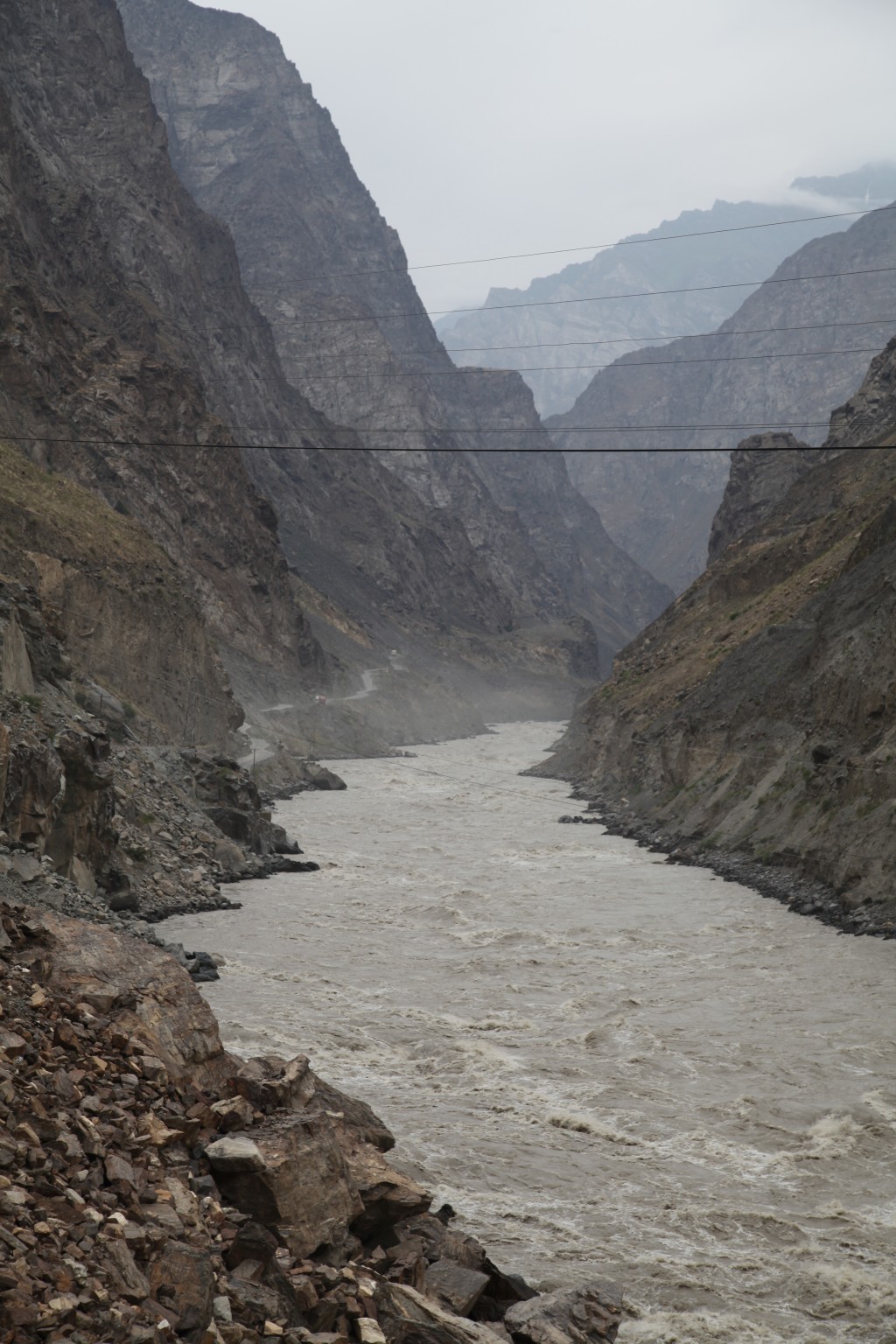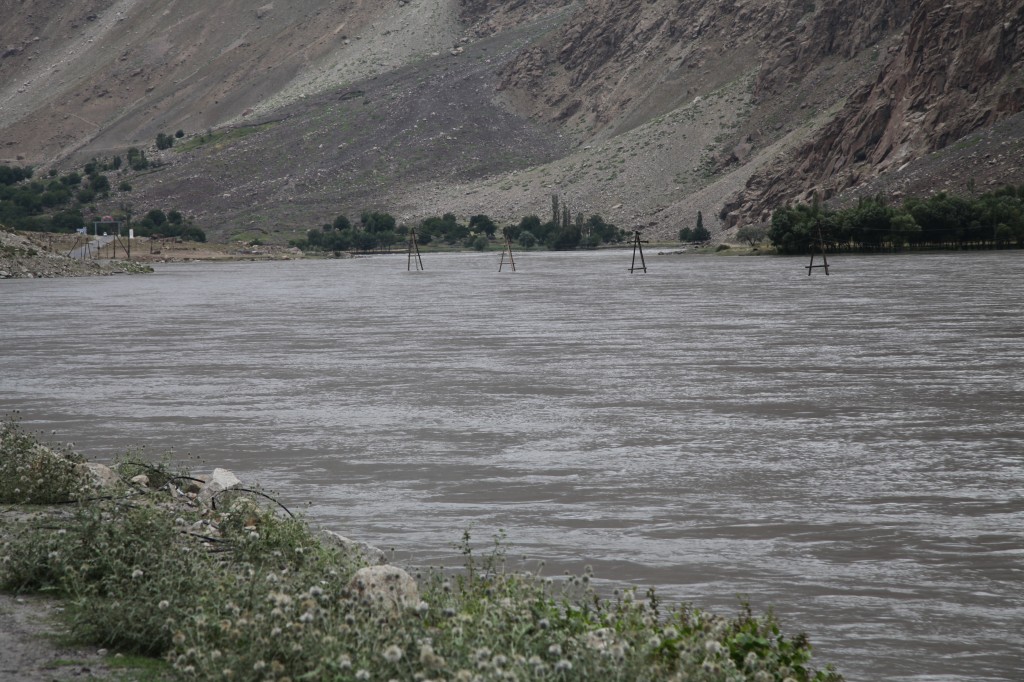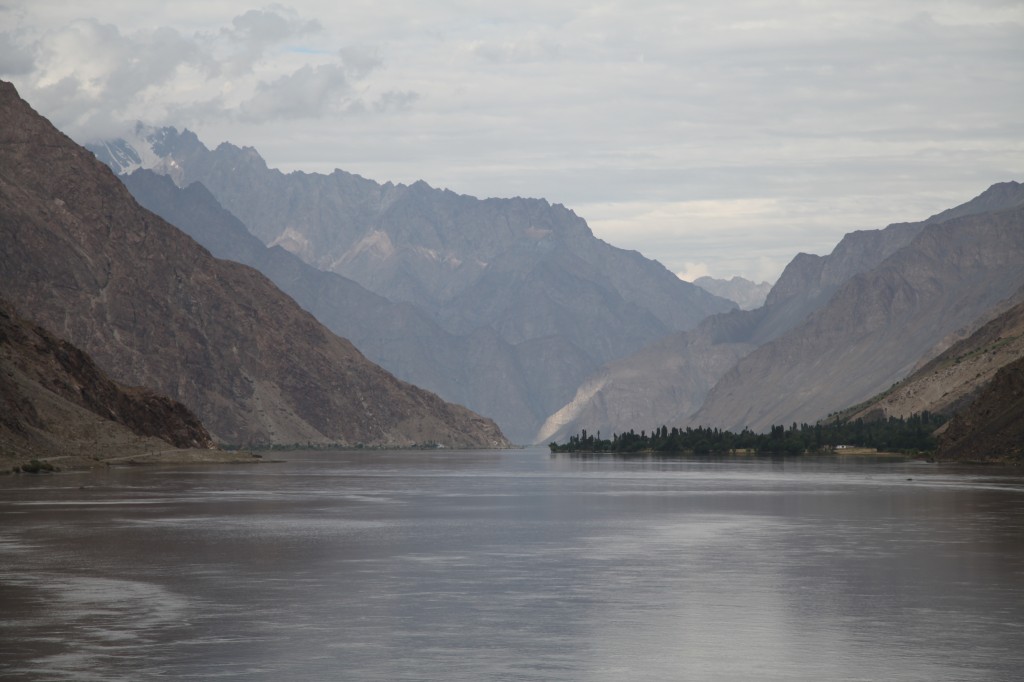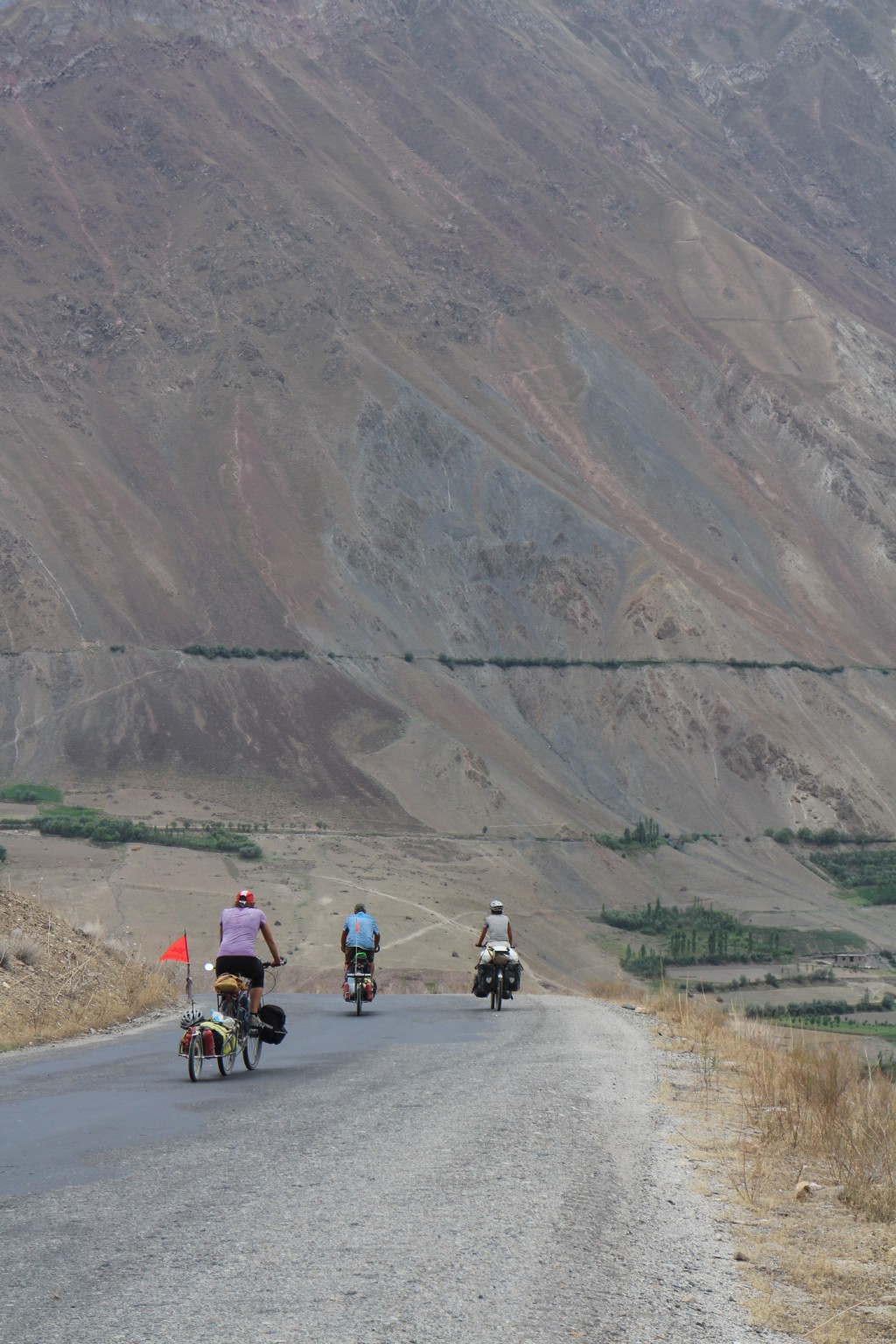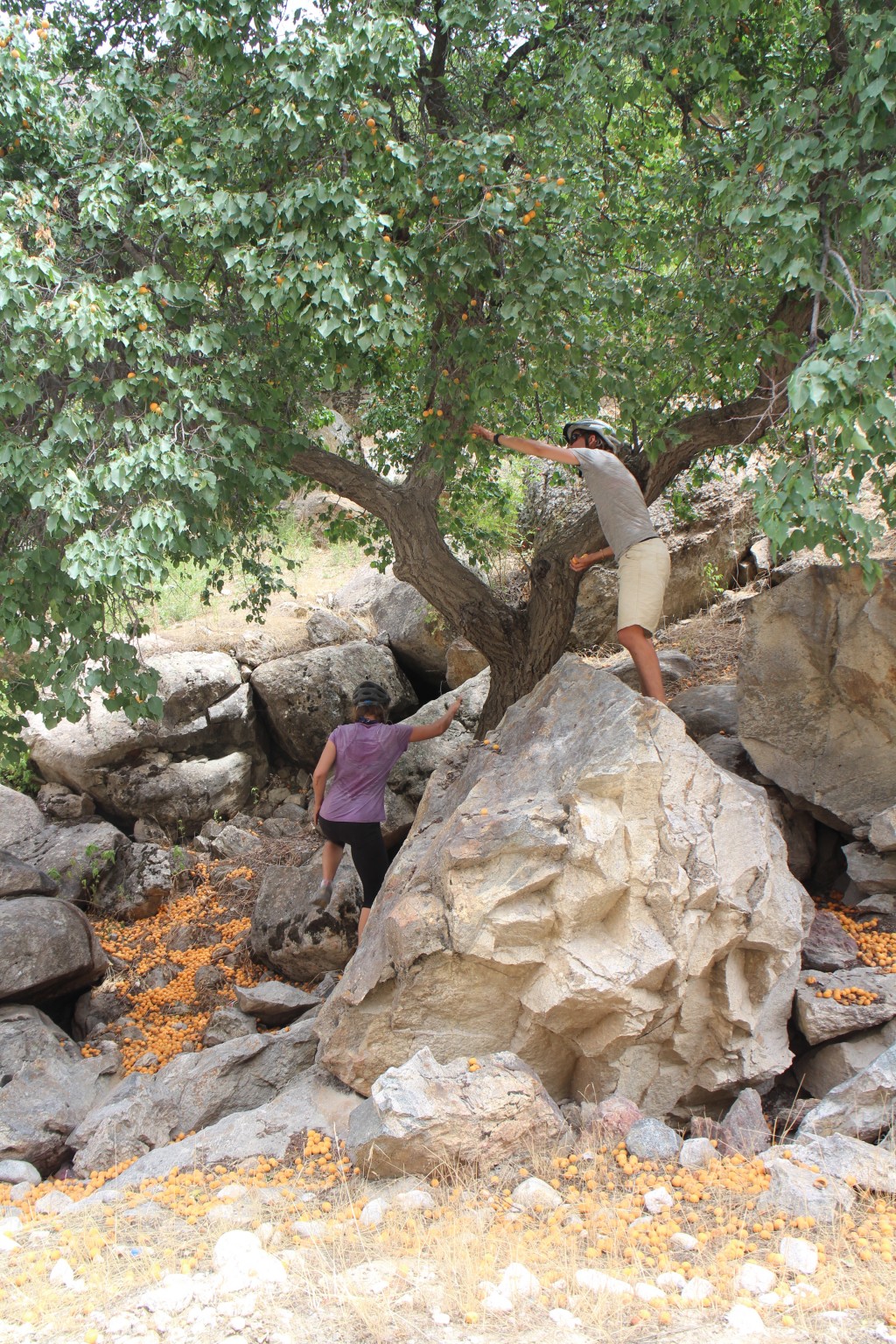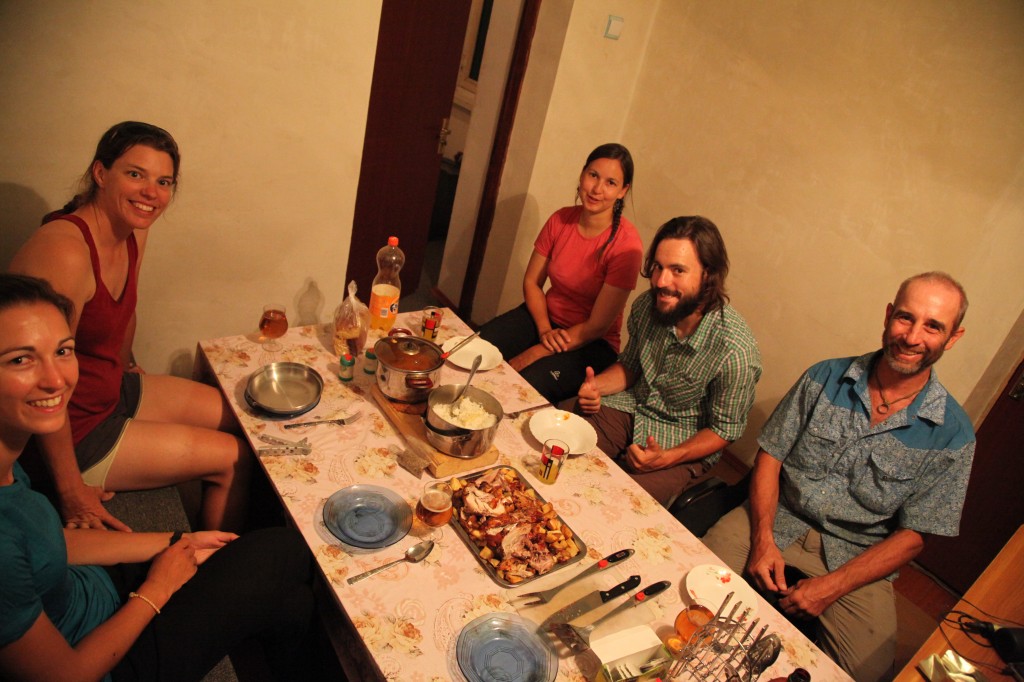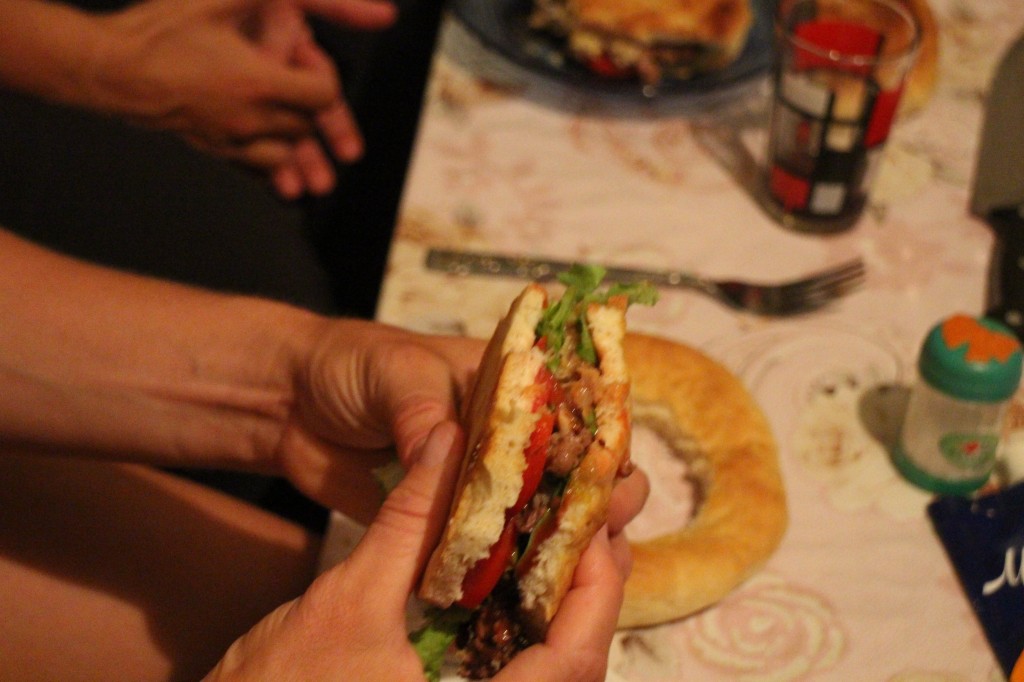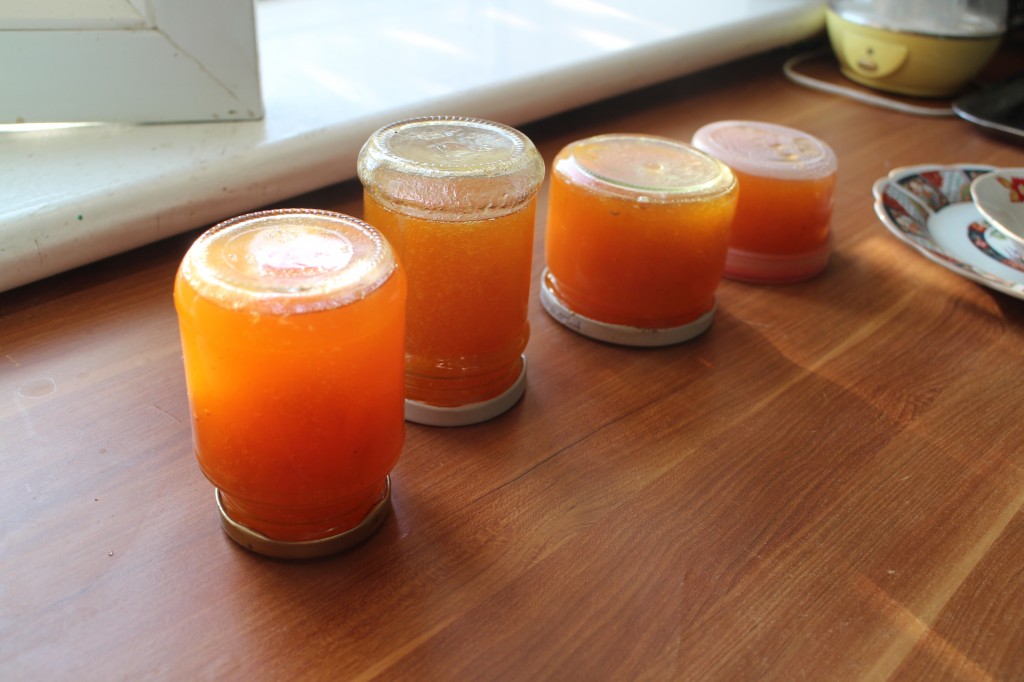 After Khorog, the "real" Pamir started. The first days were more or less the same like before, riding along the Panj. A side trip to the hot spring Garmchashma was a nice change.
Soon we reached Ishkashim – and the famous Wakhan valley. It was supposed to be the highlight of the Pamirs. Well, it was nice – but for me the highlight came later… From the Wakhan you can see the Hindukush, the mountain range which divides Afghanistan and Pakistan. Lots of five- and sixthousender. Pretty nice tough!
Ishkashim is well known (amongs travellers) for its border market. Every saturday foreigners are allowed to cross the border to Afghanistan without a visa. One can just leave his passport with the customs and go shopping in Afghanistan. The time we were there, the bridge was closed for foreigners. Some weeks or months ago, there were some problems with taliban – and that's why they are a little bit more cautious. It wasn't Saturday anyway…
In general, the Wakhan (on the Afghan side) is one of the most safest place in Afghanistan. If someone wants to travel in Afghanistan right now, he should go there – although Kabul isn't that far away. Unfortunately you can't say that about the whole riverbank down to Kalai-Khumb. On the Tajik side we saw lots of military, trucks and helicopters, and a whole bunch of hiding holes next to the street (from where the military guys may observe Afghanistan, or shoot from there, or hide in there?). And one morning we saw two jets on the other side of the river, and heard detonations not much later… Nevertheless, I felt save where we were. Always. I was never concerned about taliban or Afghanistan. As long as you do not camp near the river, but on the other side of the road, it's no problem at all.
Weird. You read or see all the news about the war and terrorists at home, which is far away. You cannot imagine how it can happen, what happens. And then, suddenly (okay, not suddenly but after half a year cycling) you are really close. We could have thrown stones onto the other side. But there, you do not really realize what's going on. No internet connection, no television, nothing. Nobody seems to be afraid, life is going on as usual. As we got to know it in the rest of the country…
Okay, back to cycling and the Wakhan. From time to time we still bumped into some landslides to cross. From the weeks before. No problem at all – and the weather was great for us. 🙂
Tajik kids are super. Although they must see cyclists everyday, they still have the energy to run towards you as soon as they spot you. "Hello, hellooo, hello, HELLOOO, …" and "what is your name?" are the two terms literally every kid yells. Accompanied by keen wave. Cute, but after a while sometimes annoying. And in Tajikistan, stones flew for the first time. Sadly it happened not only once. Sometimes groups of boys, but sometimes also just a e.g. single little girl threw stones at us/our bikes. We always tried to catch and scold them, but only once Franci succeeded. He caught the three kids in their home, where they wanted to hide in the safe surrounding next to mommy. Well done, the parents assumed the scolding for Franci!
Peak Karl Marx and Engels Peak appeard in front of us, both over 6000 meters heigh. Nice view, super weather, but unfortunately the road got worse. Washboard. … In Vrang, a slightly bigger town in the Wakhan, we were able to buy vegetables for the last time to Murgab: Tomatoes, cucumbers, onions, peppers and eggplants. The standards – but for us a highlight. We knew that there won't be any fresh food till Murgab!
The ascent after the Wakhan back to the main road M41 was one of the most exhausting parts of my trip so far. Really exhausting! We climbed about 2500 meters on a sandy dirtroad in two and a half days… At the beginning it was very steep, and in combination with the sand it was extremely hard to cycle – and also to push. Franci picked up a puncture in the last village – so the first few serpentines we pushed and reinflated the tire every corner. Uuuuh, that was a tiring evening.
Although the road was exhausting, the view was amazing. The Hindukush appeard more and more behind us, woooow! Just a note: On the other side of the river (e.g. where the camels where), there was still Afghanistan.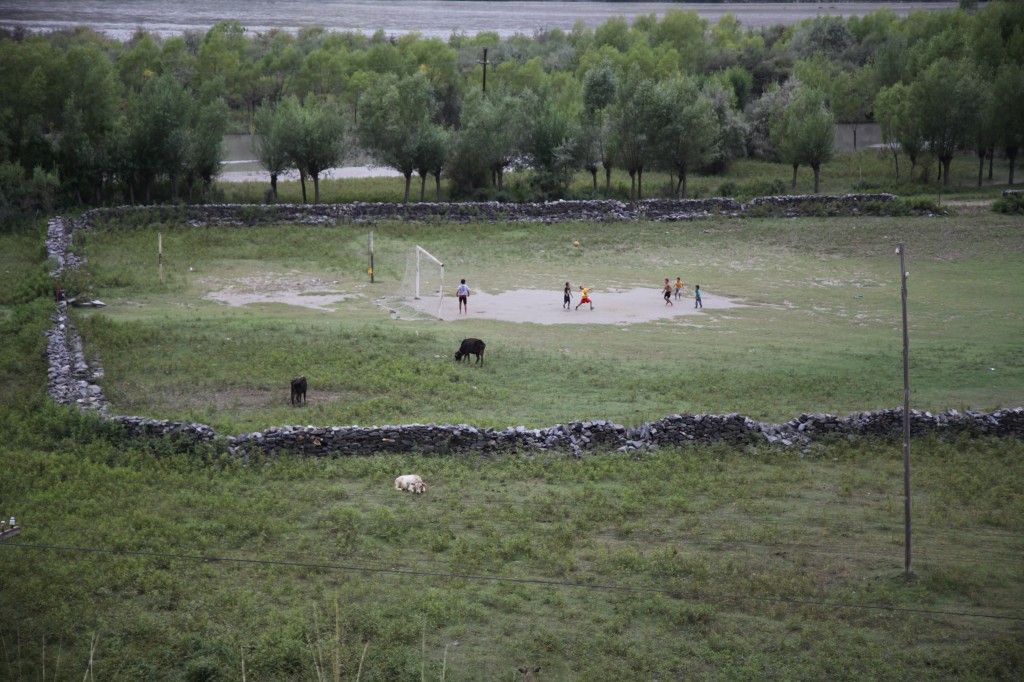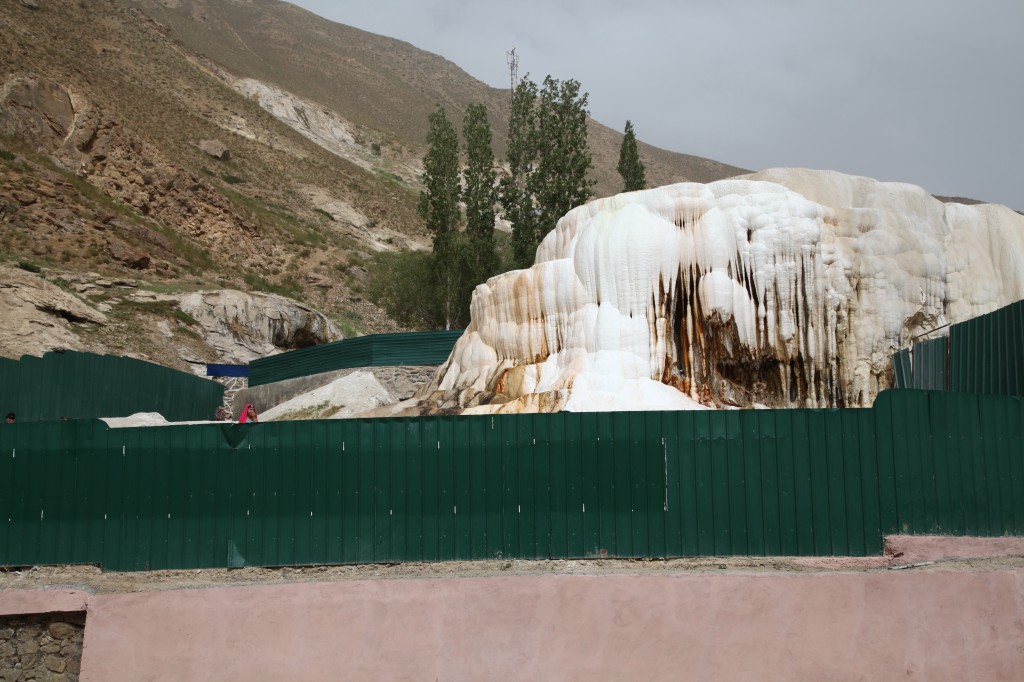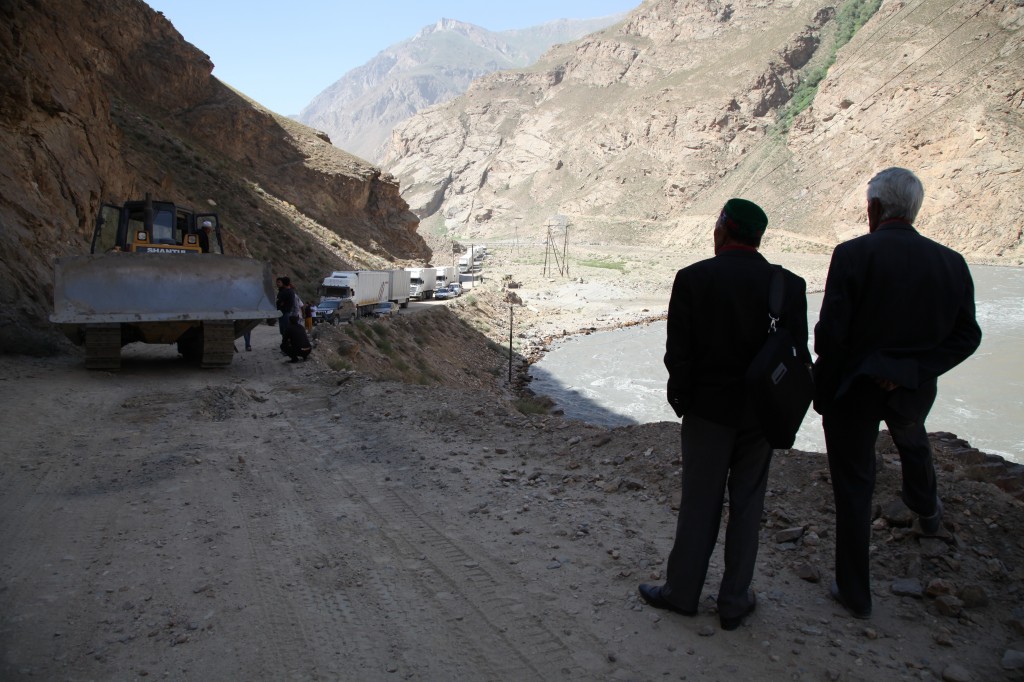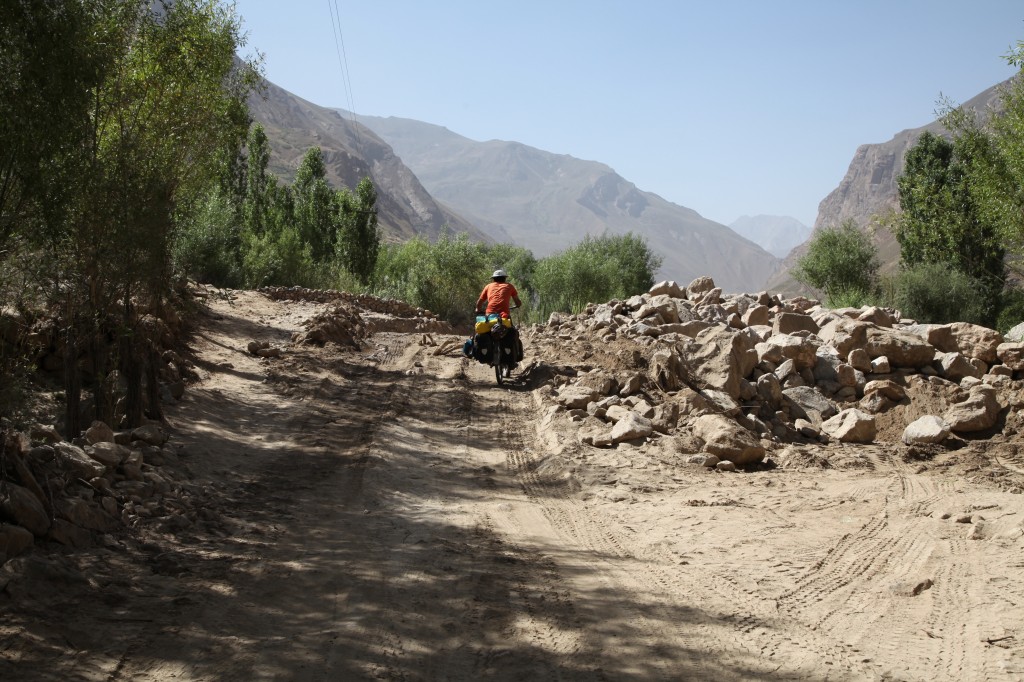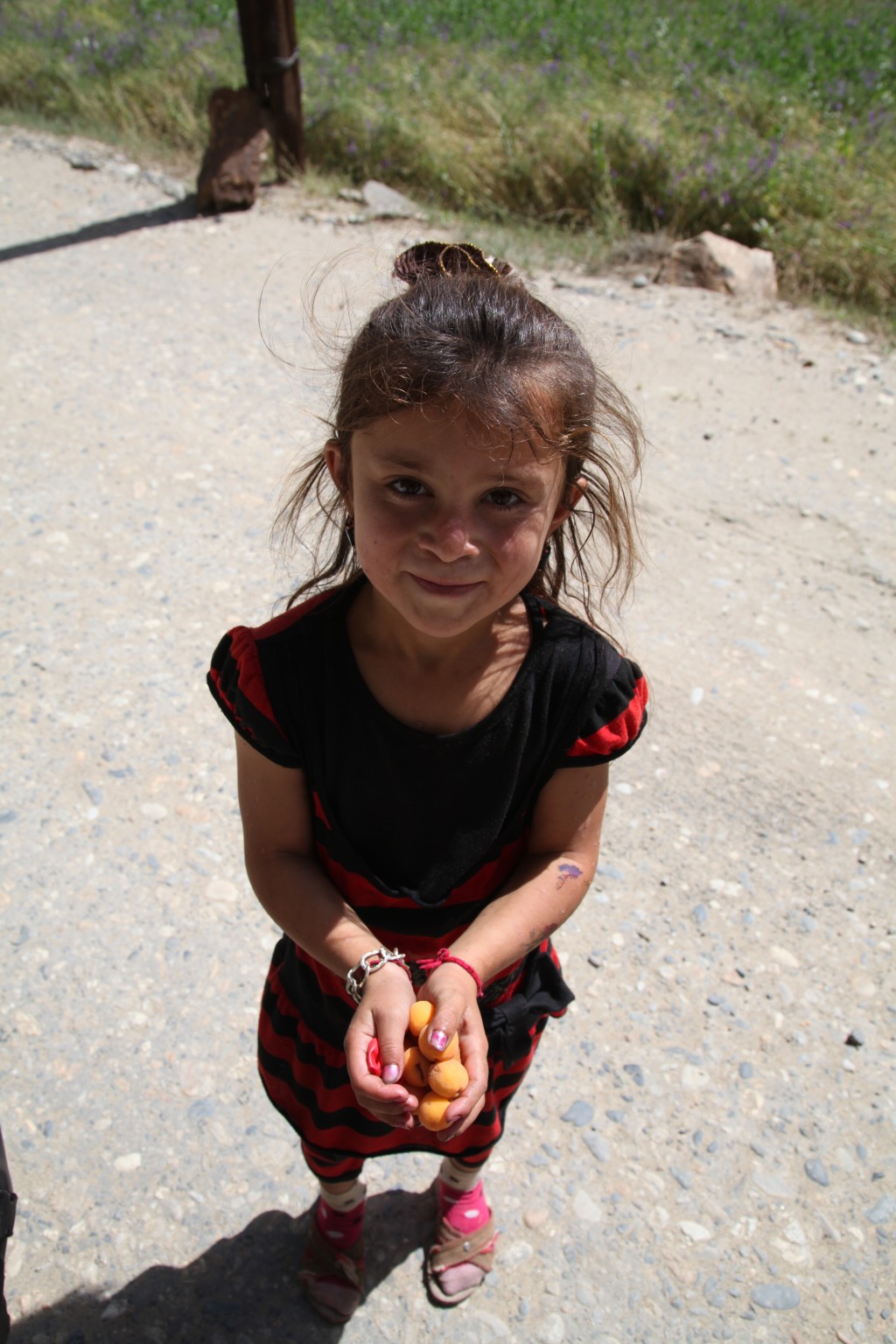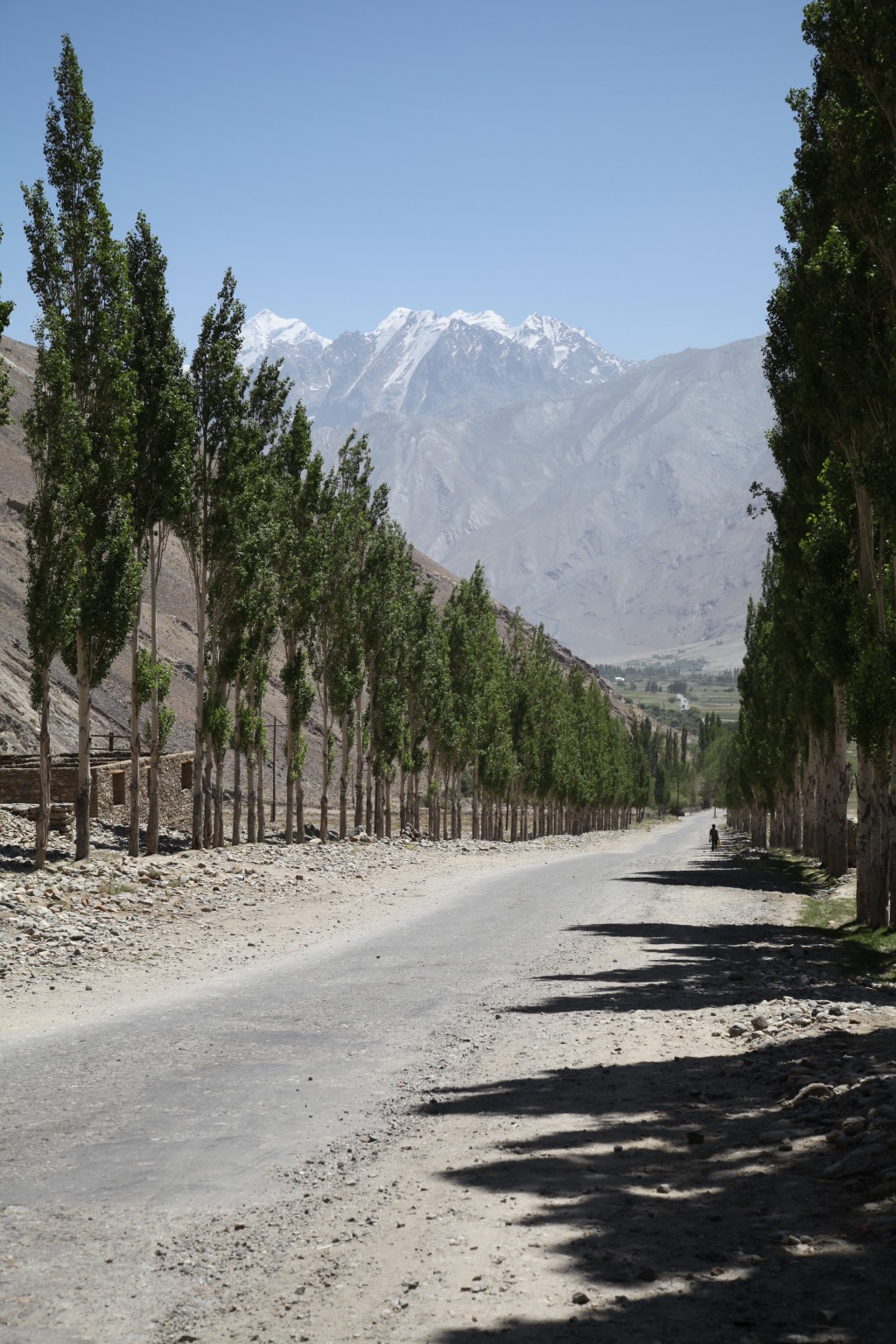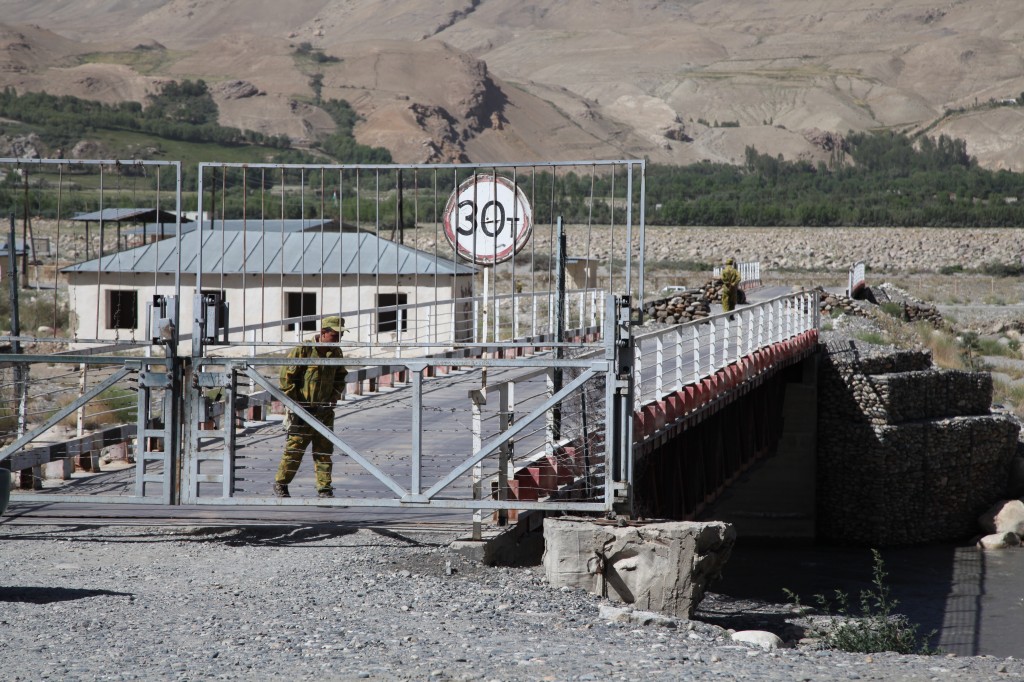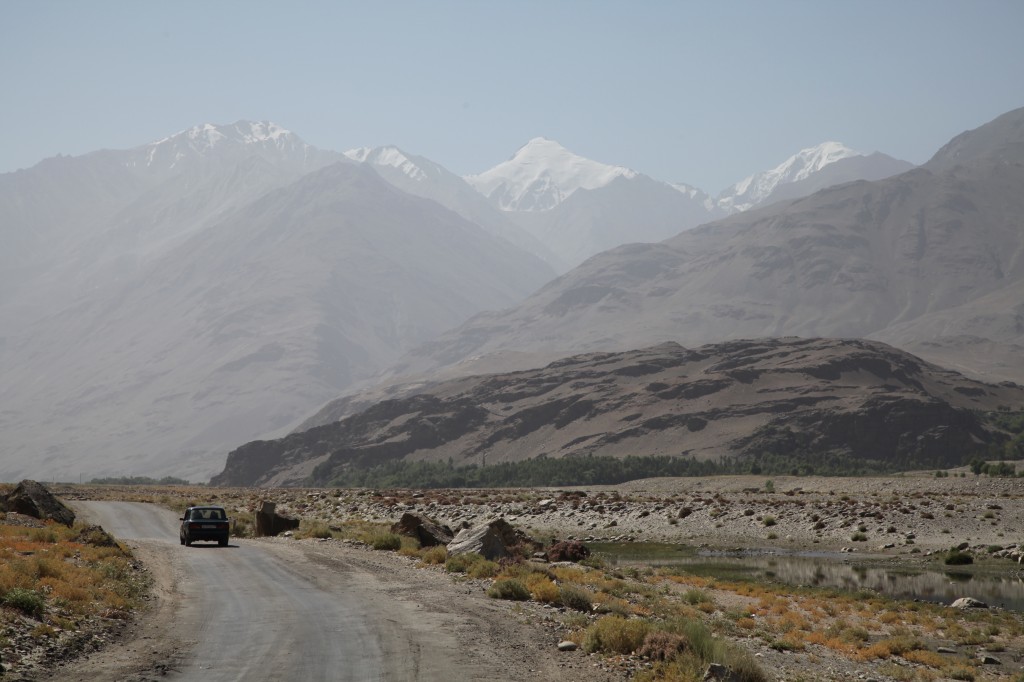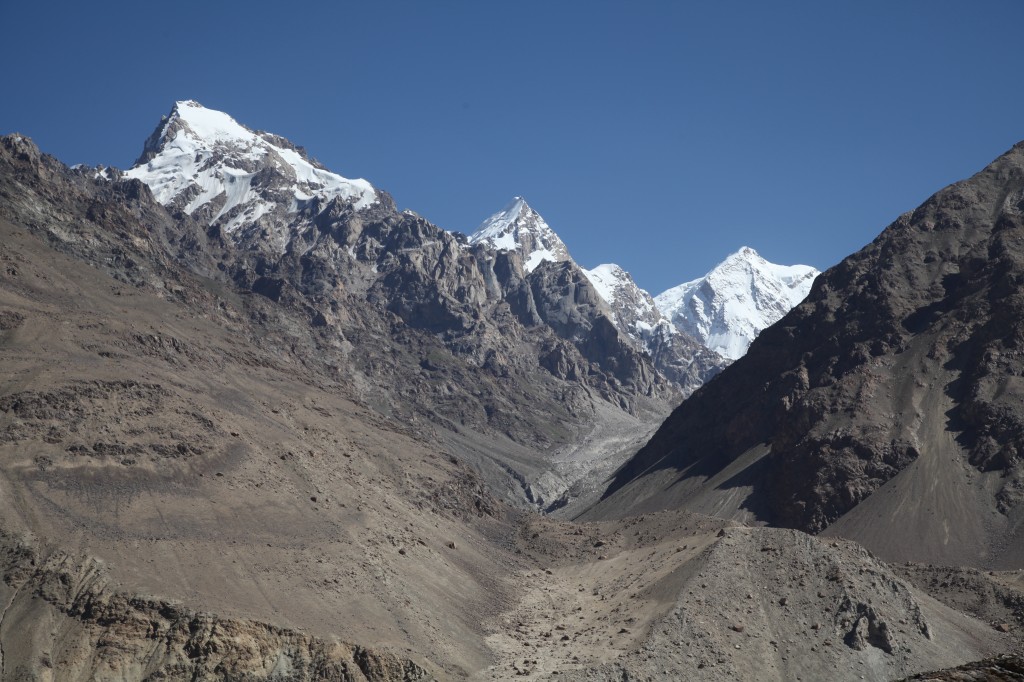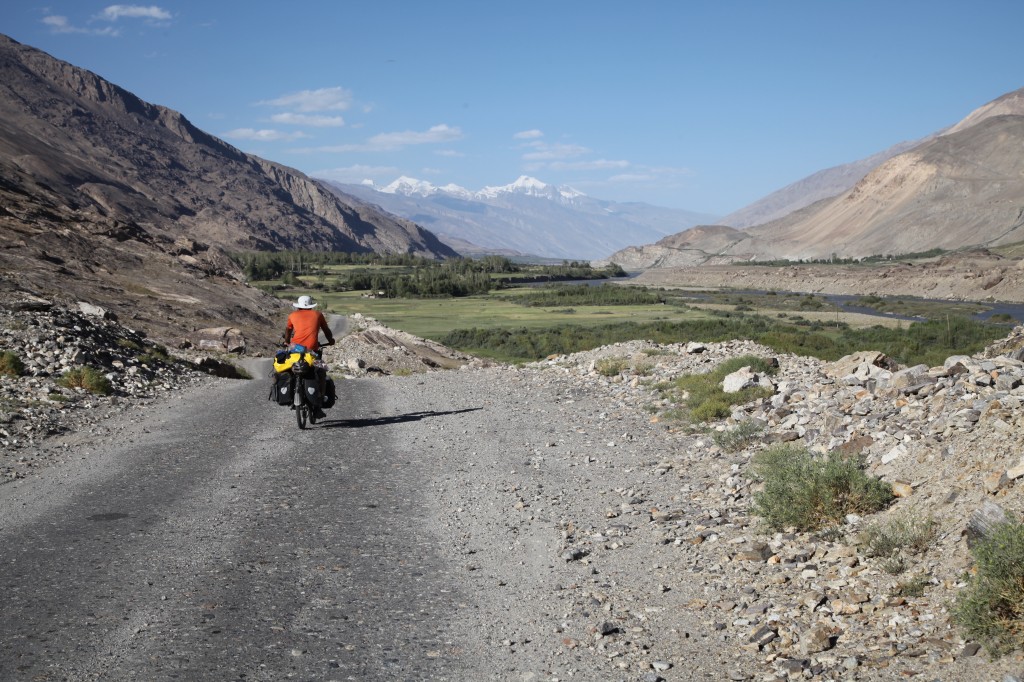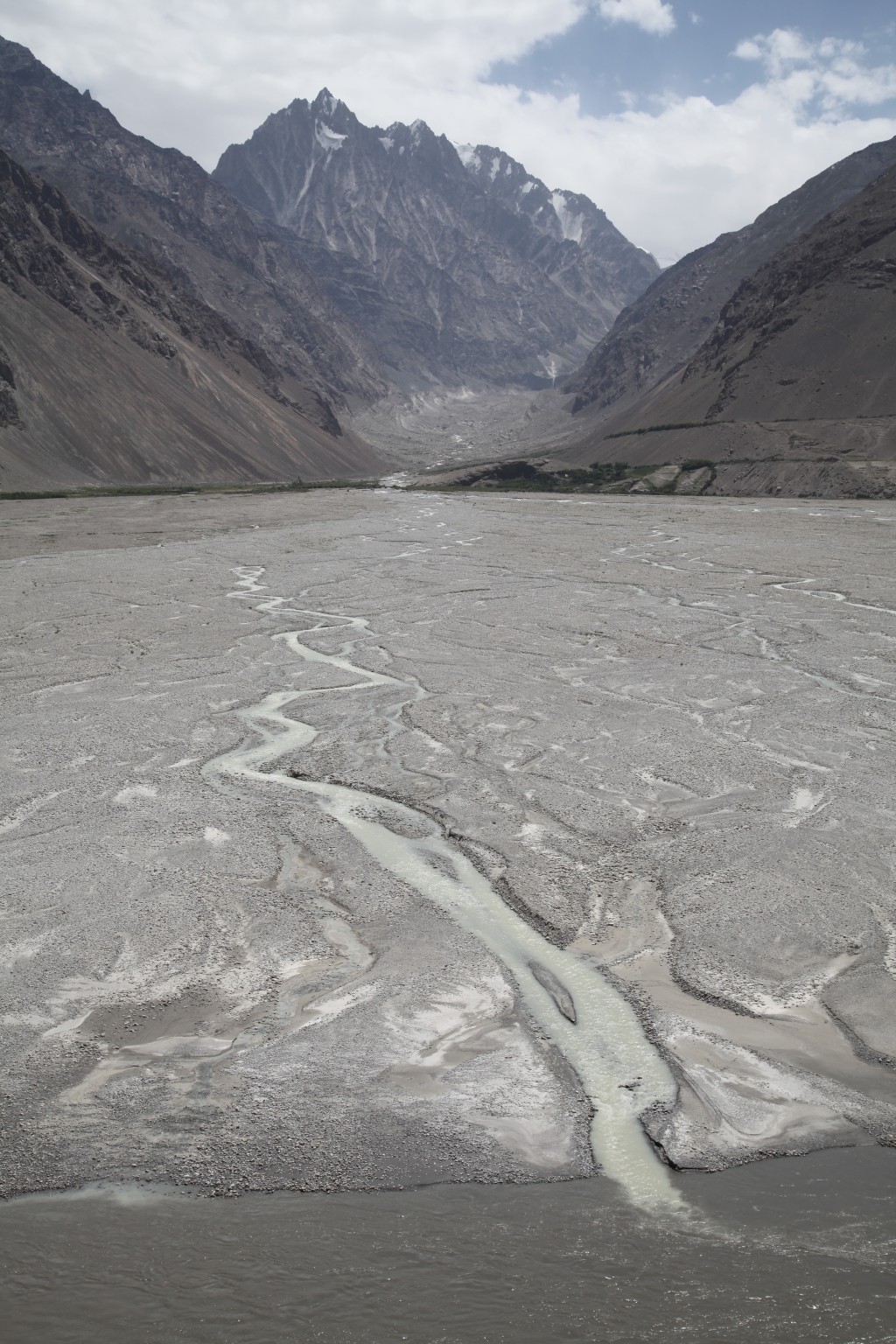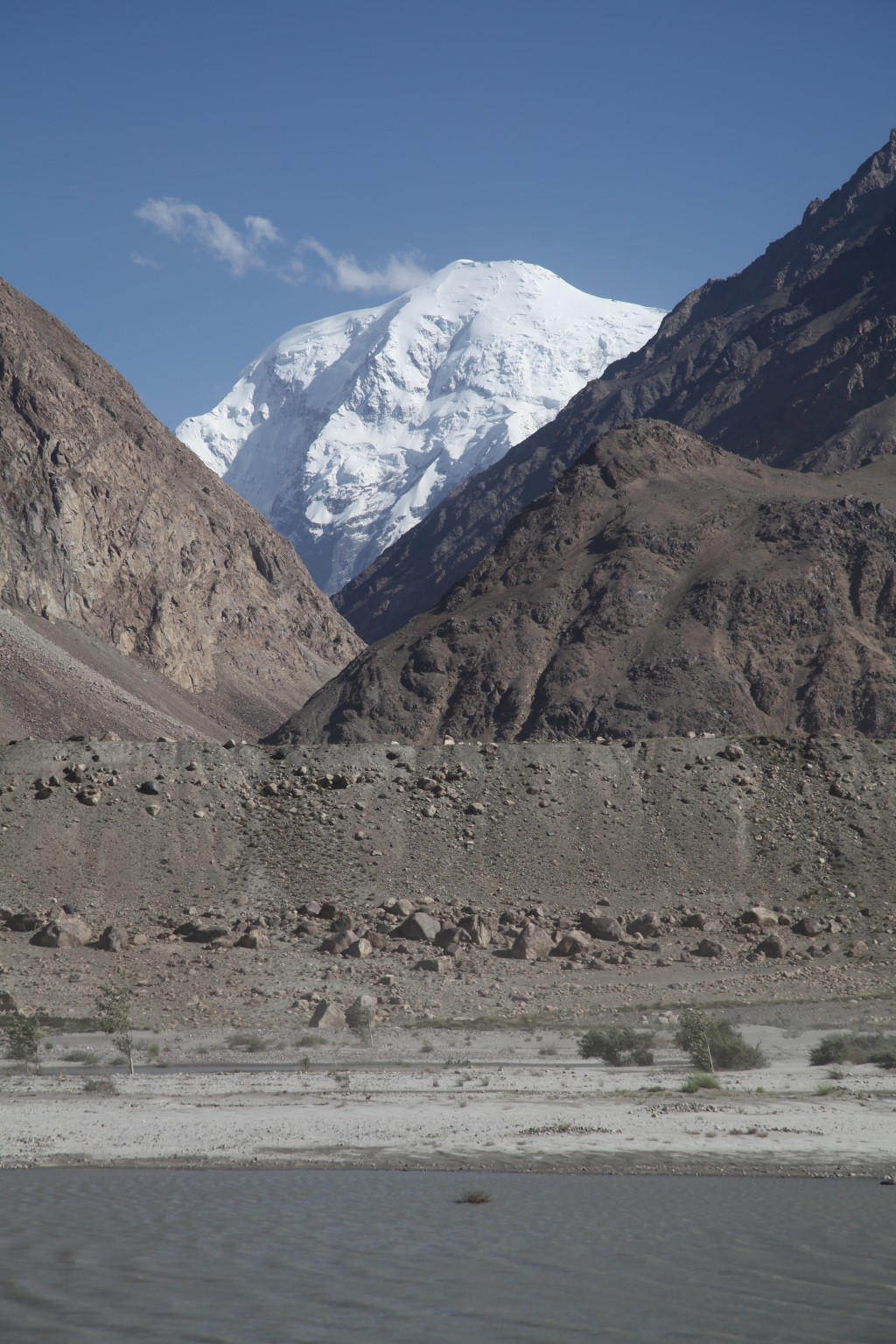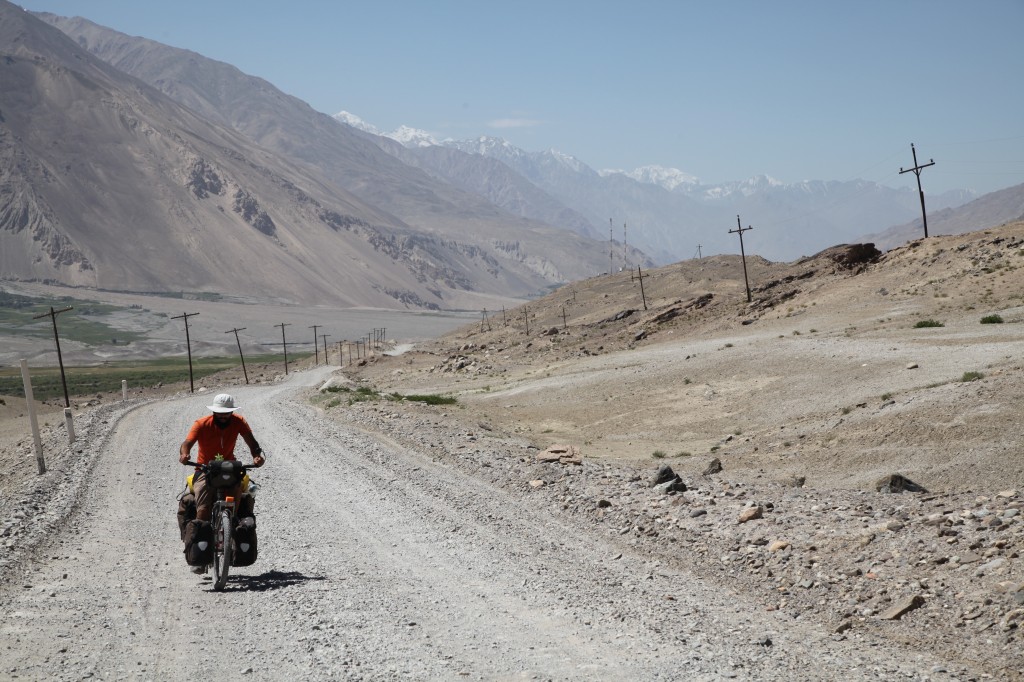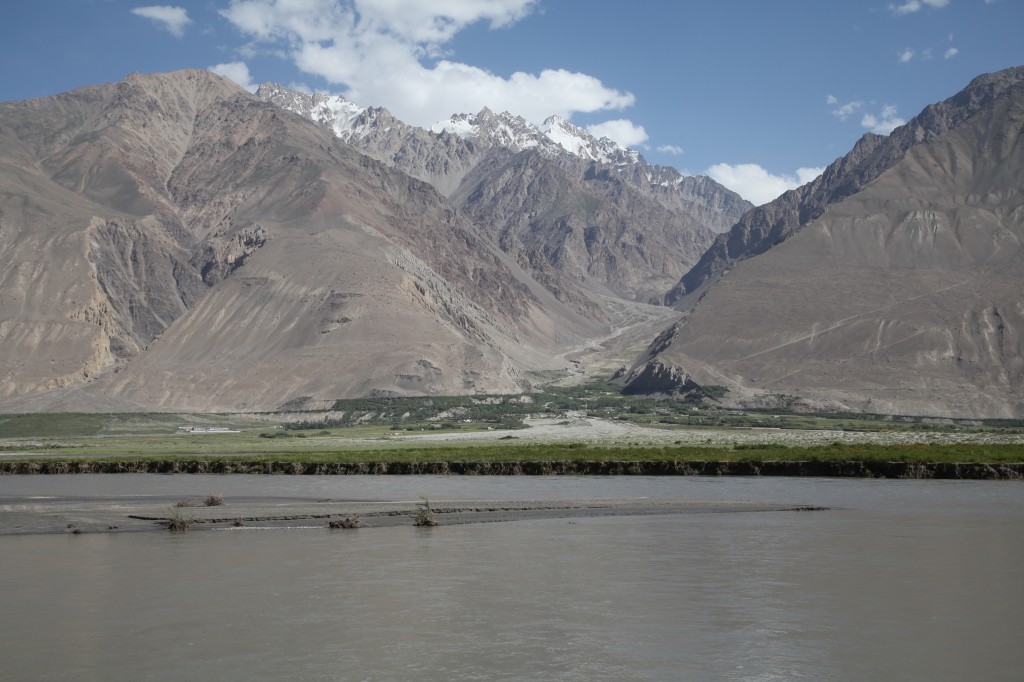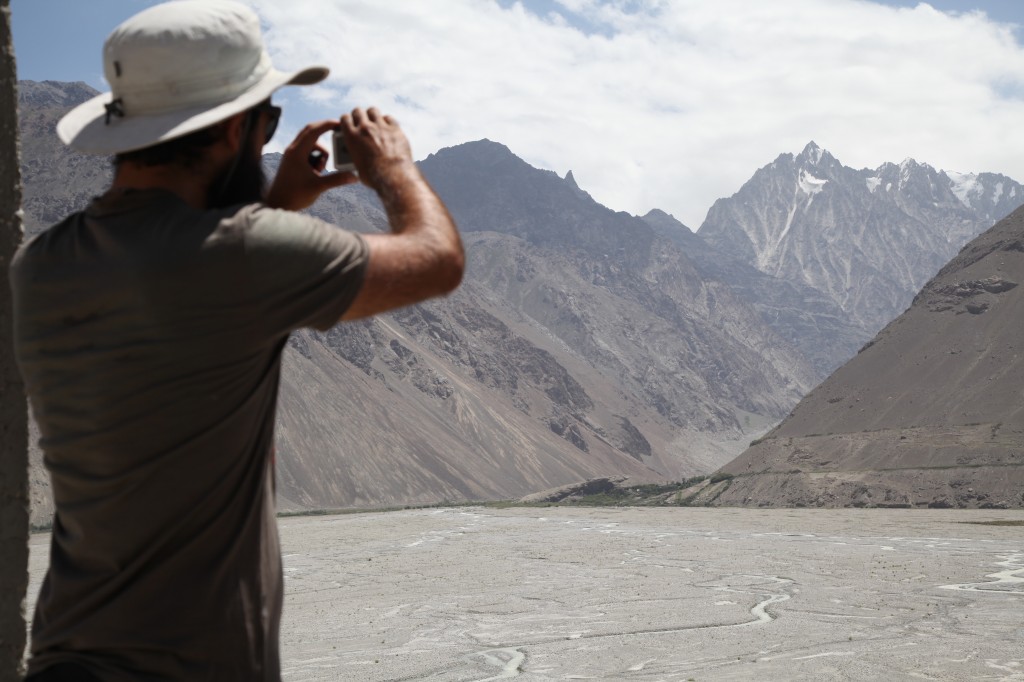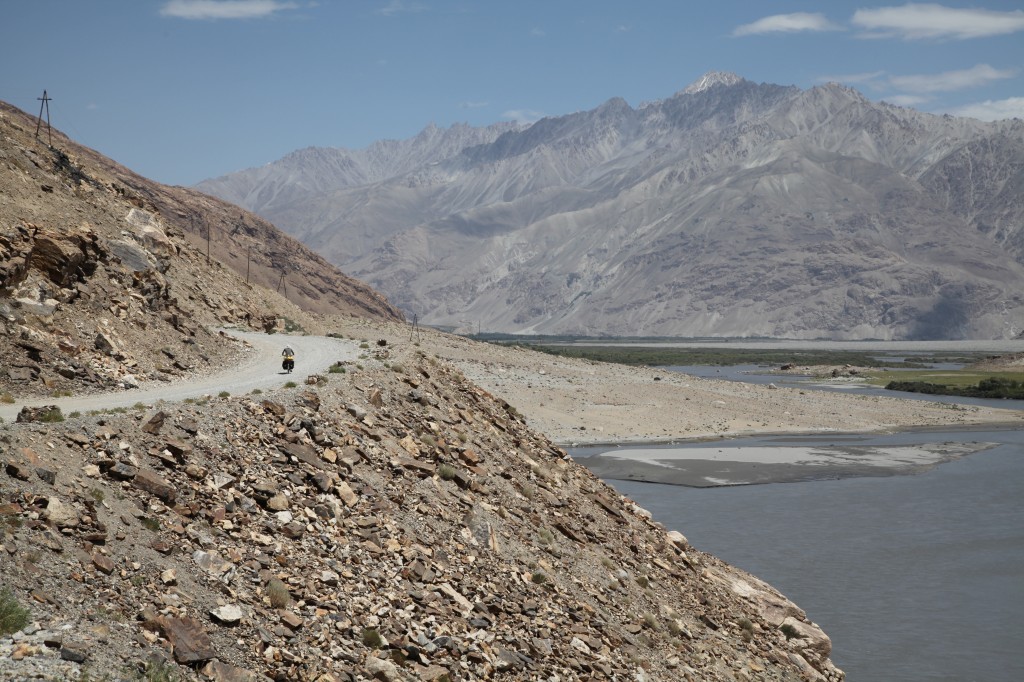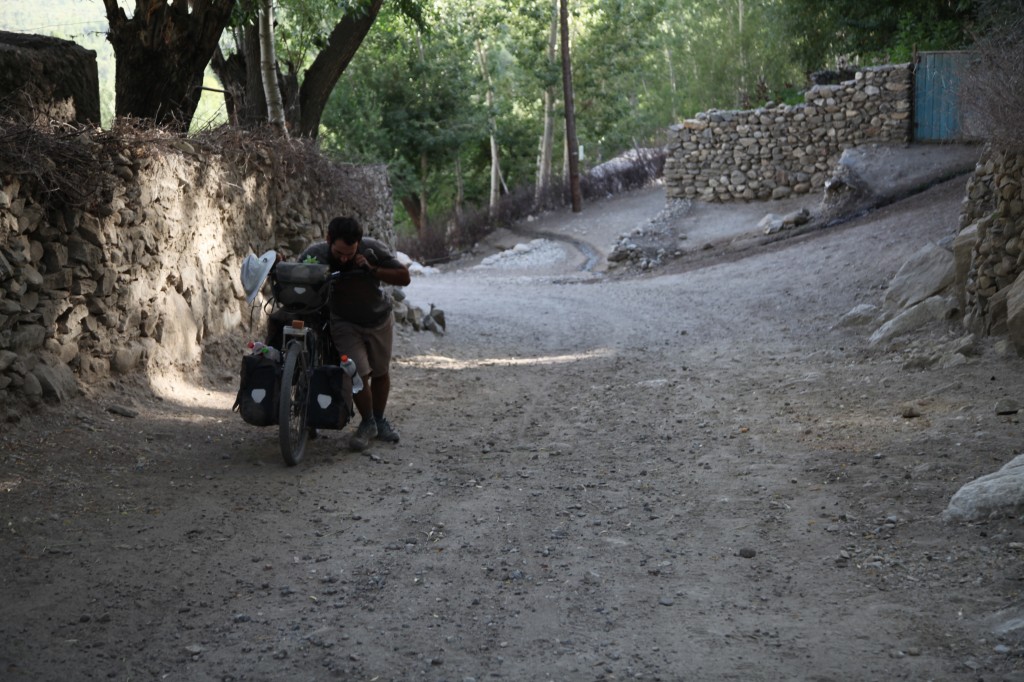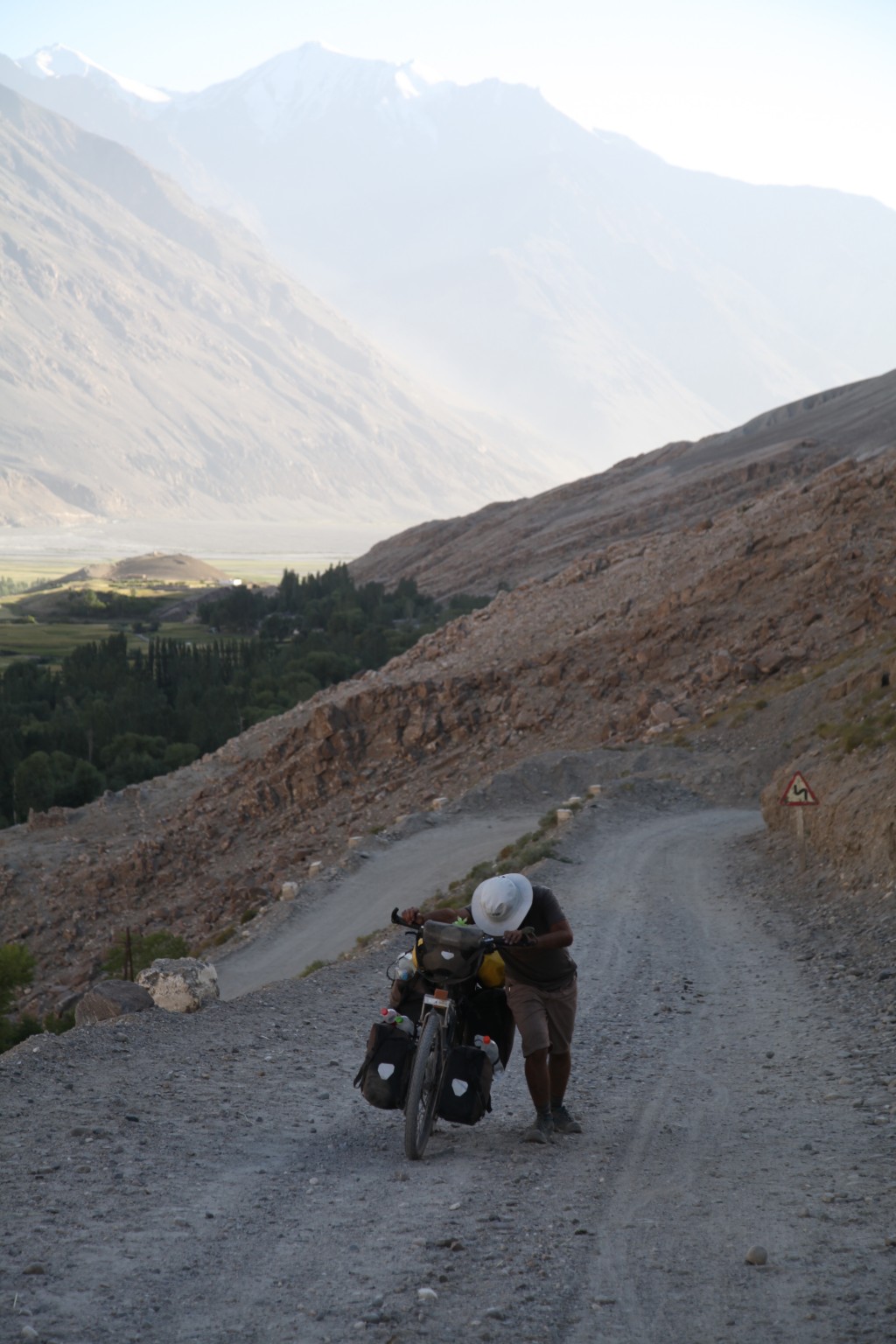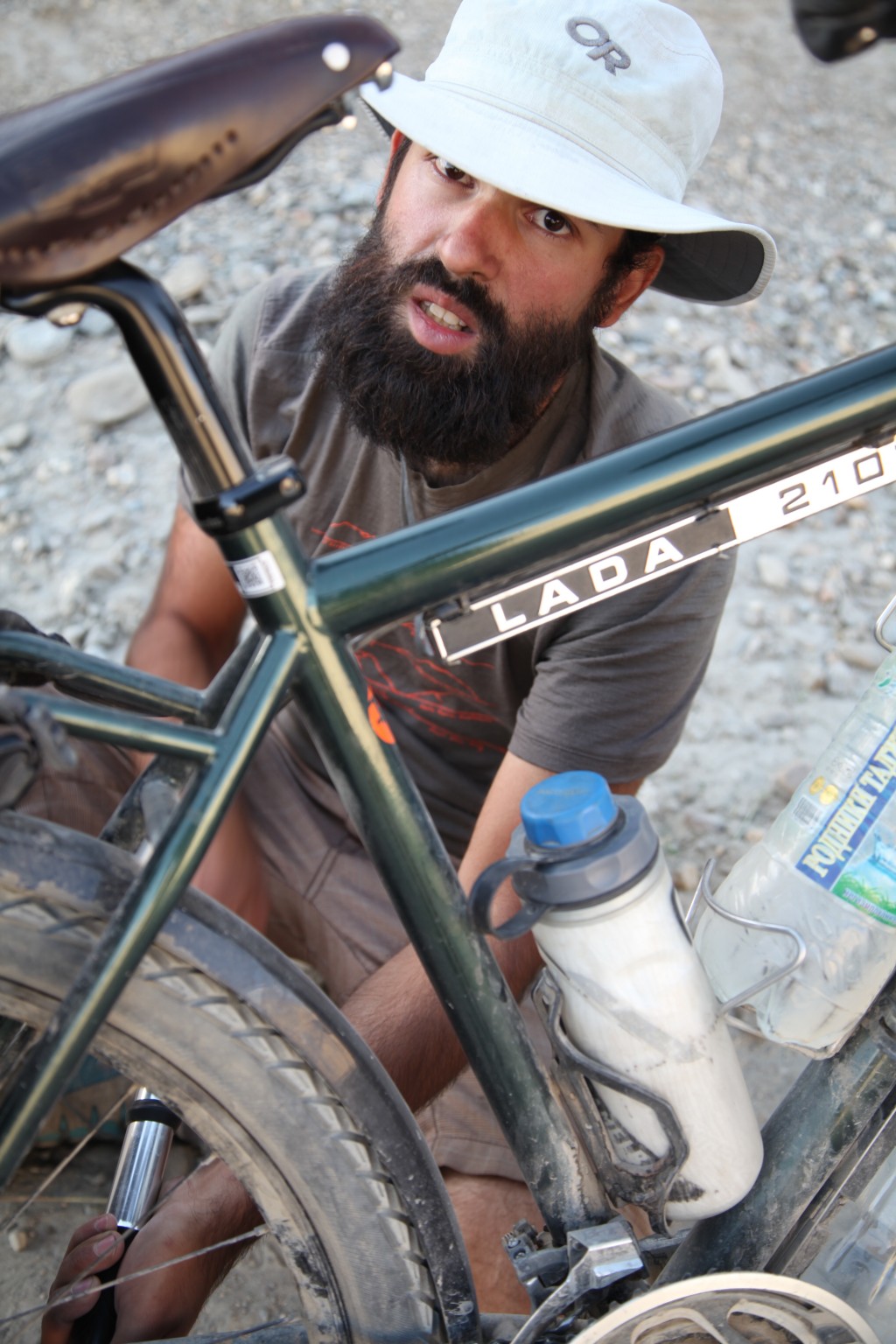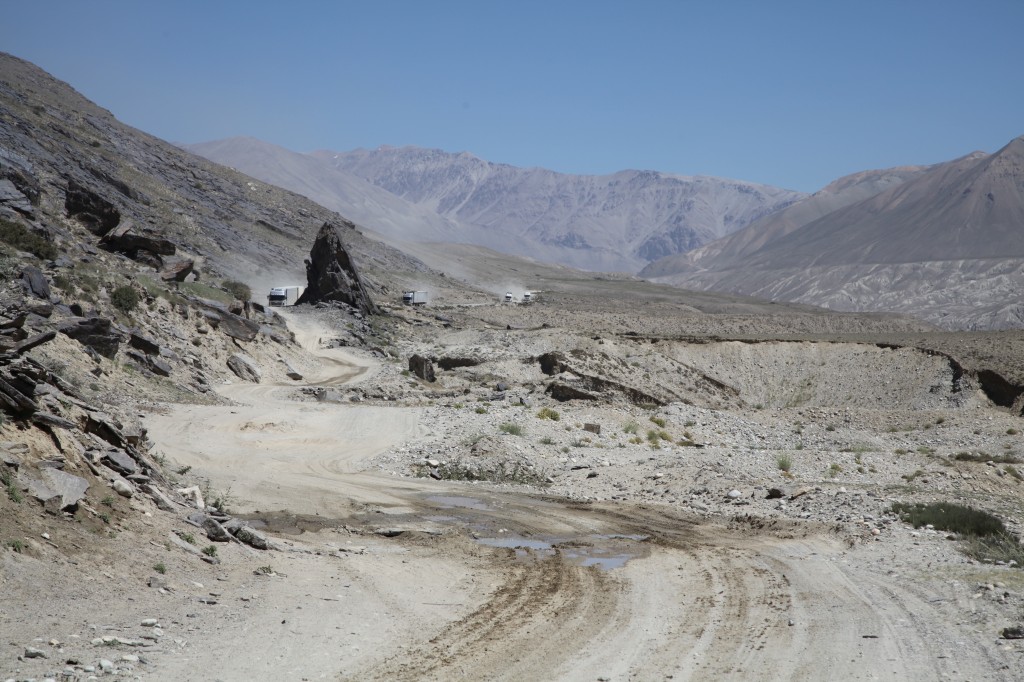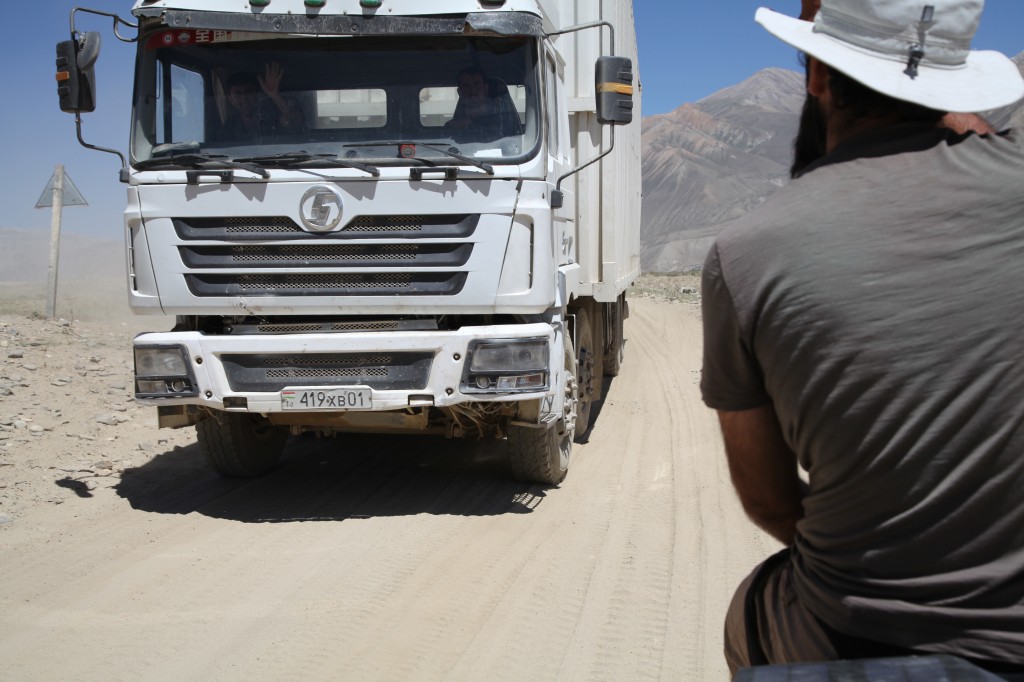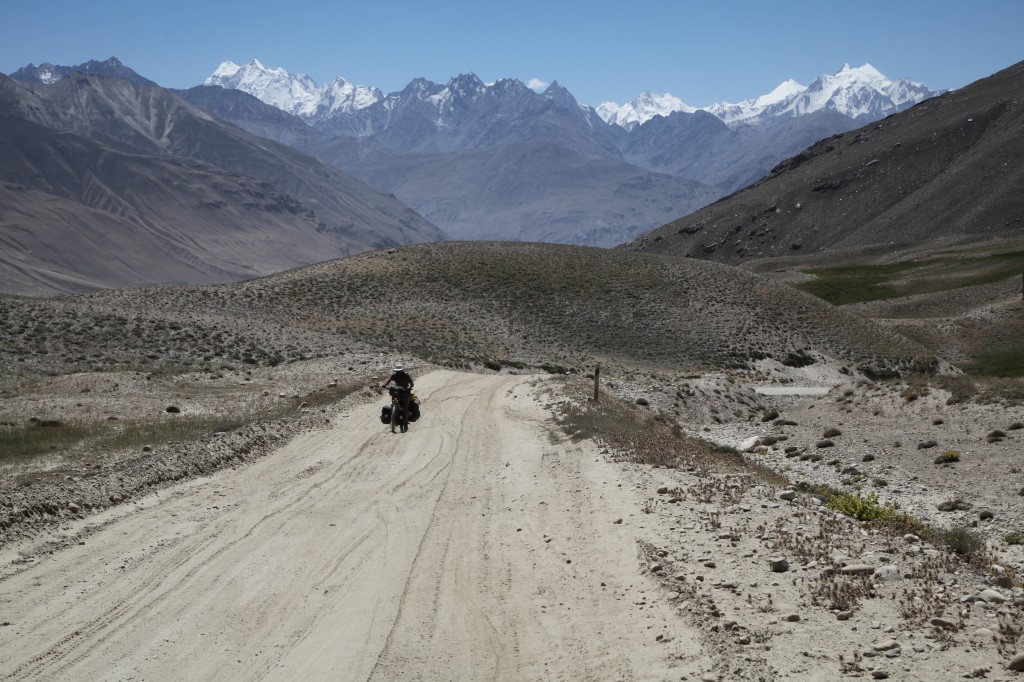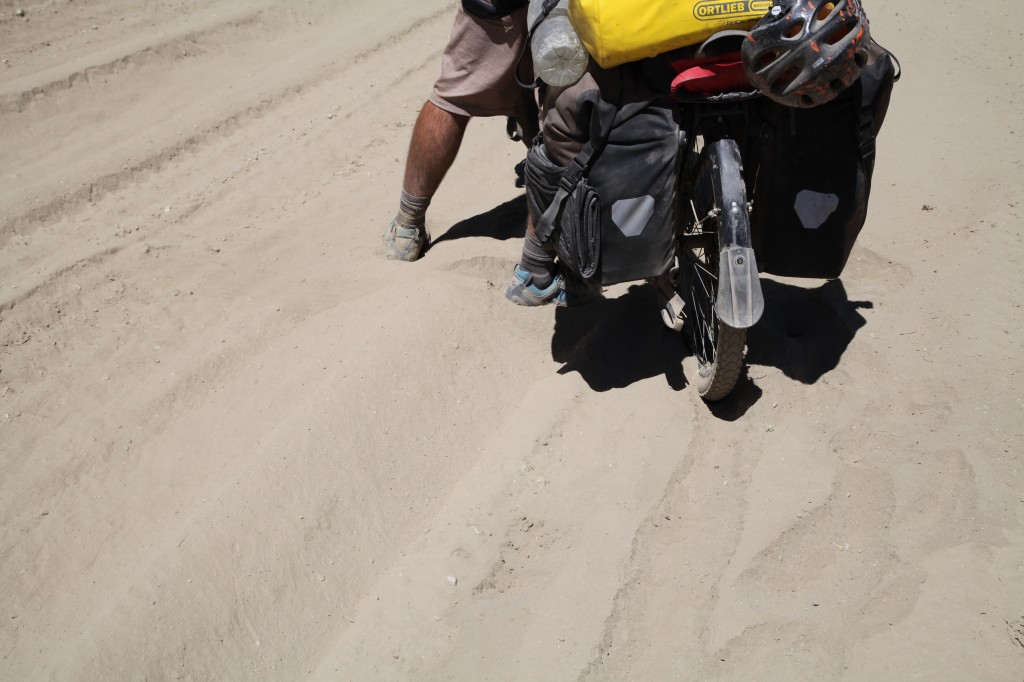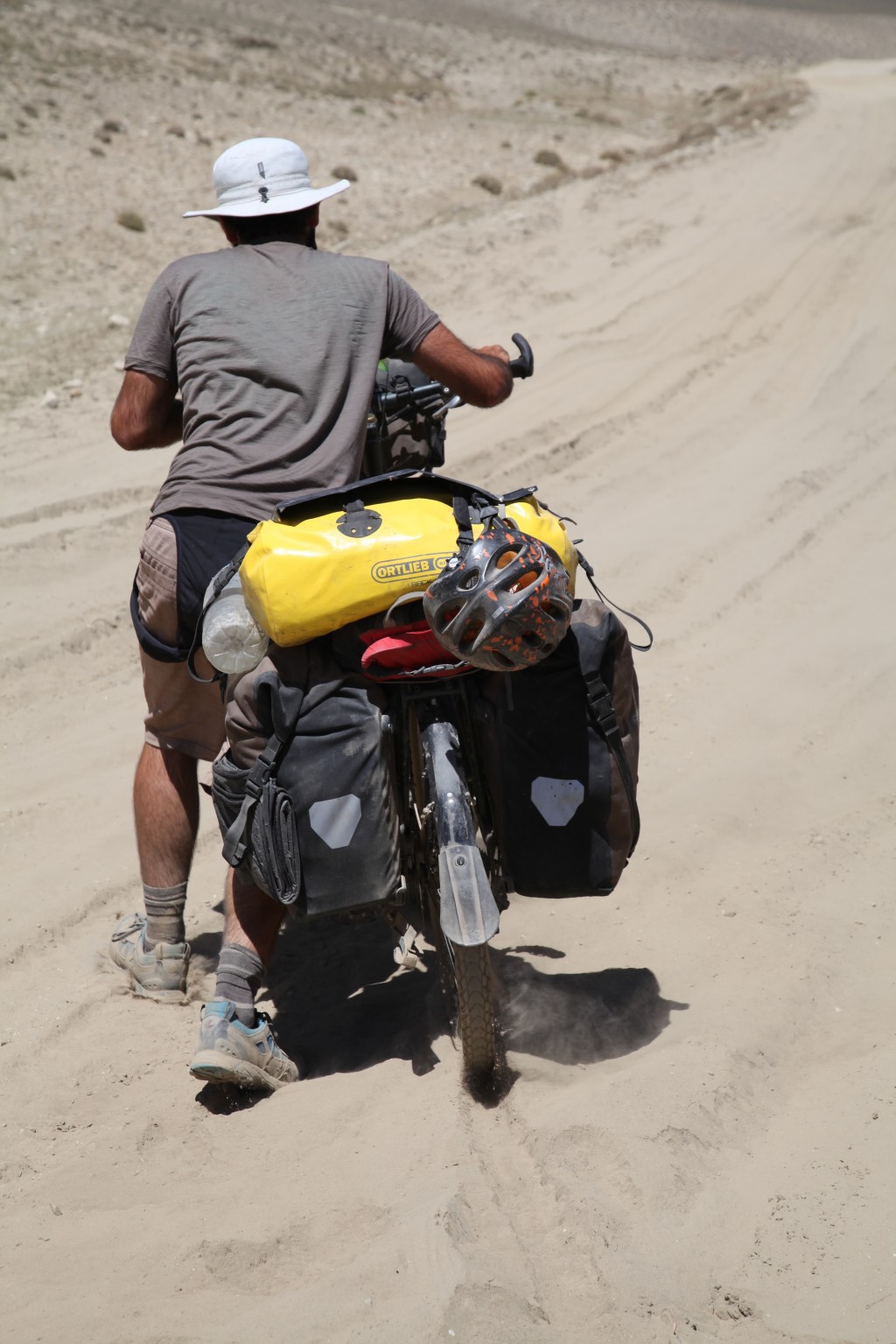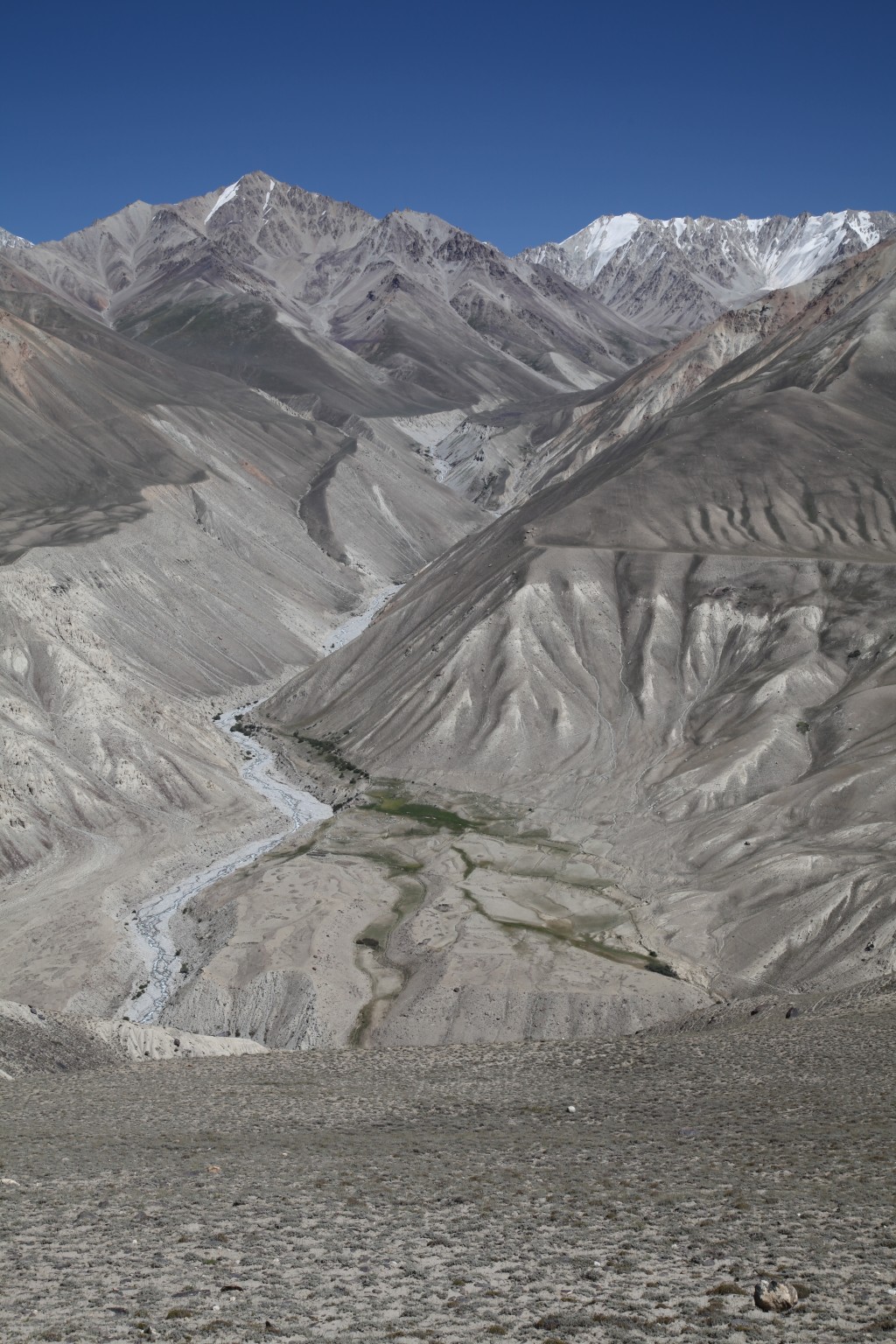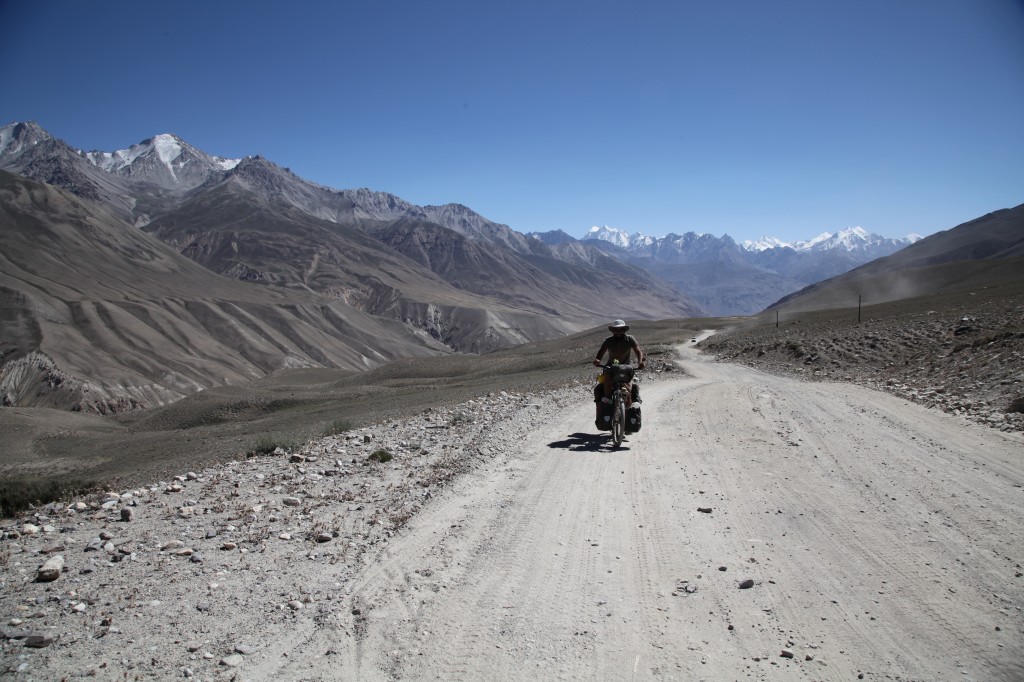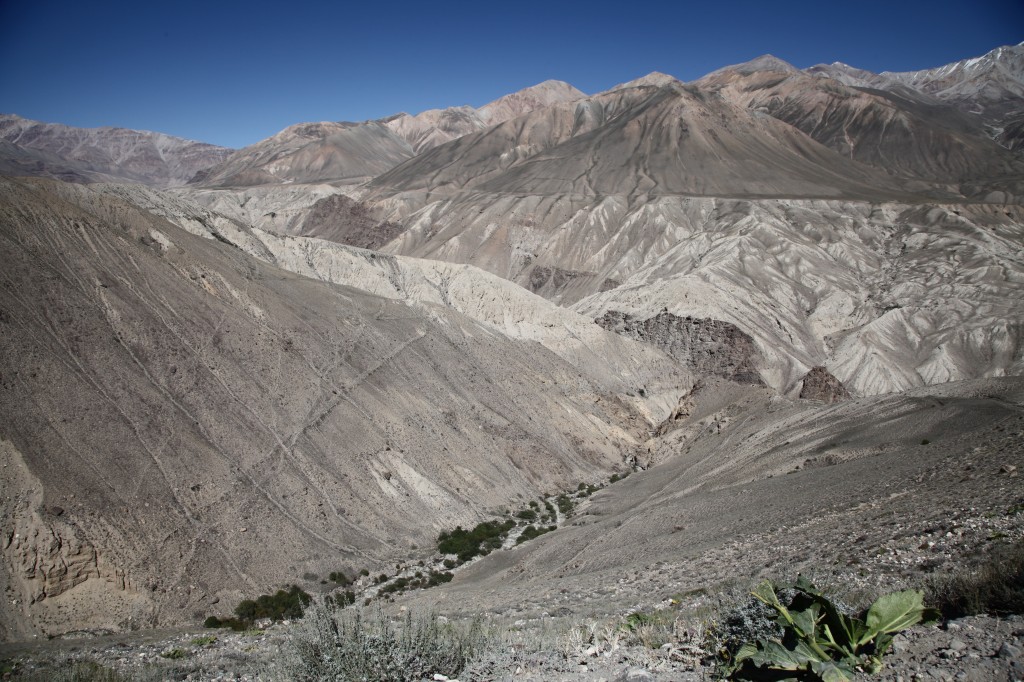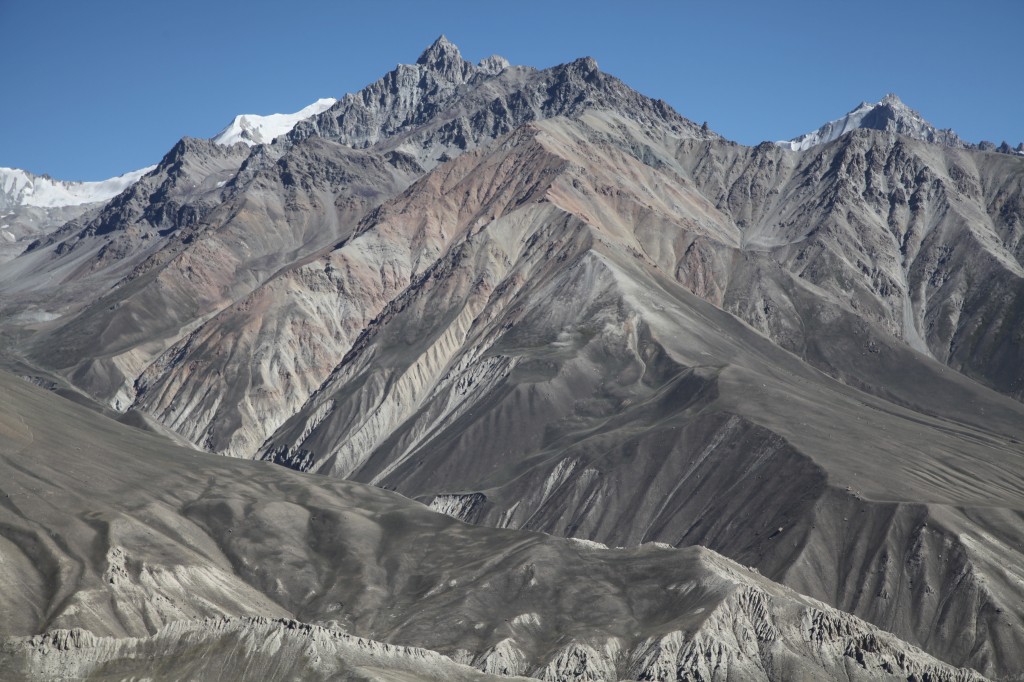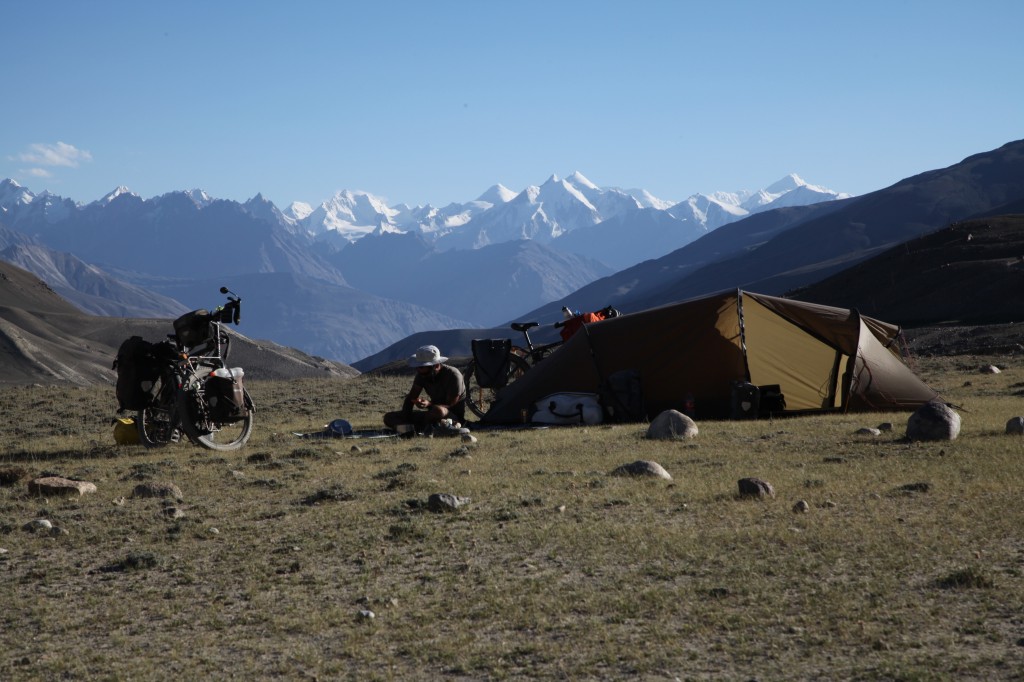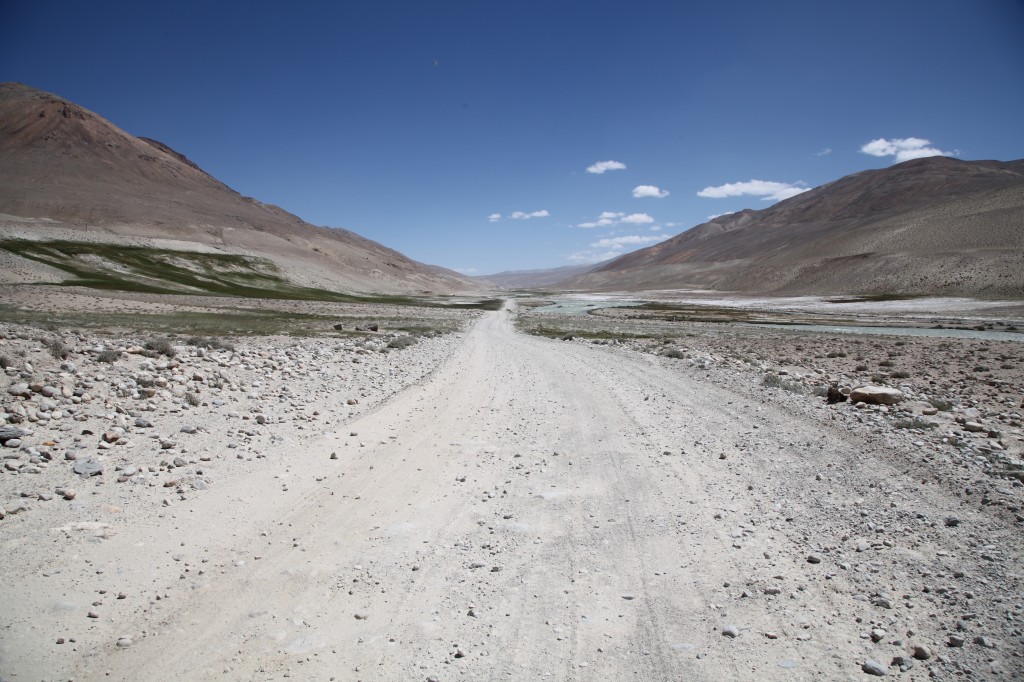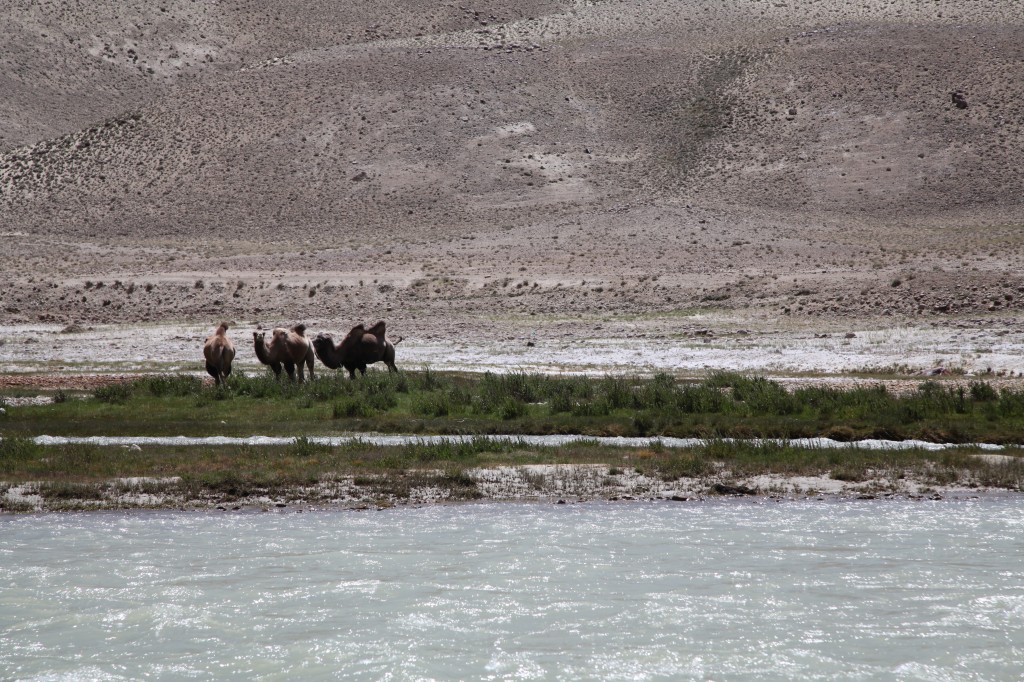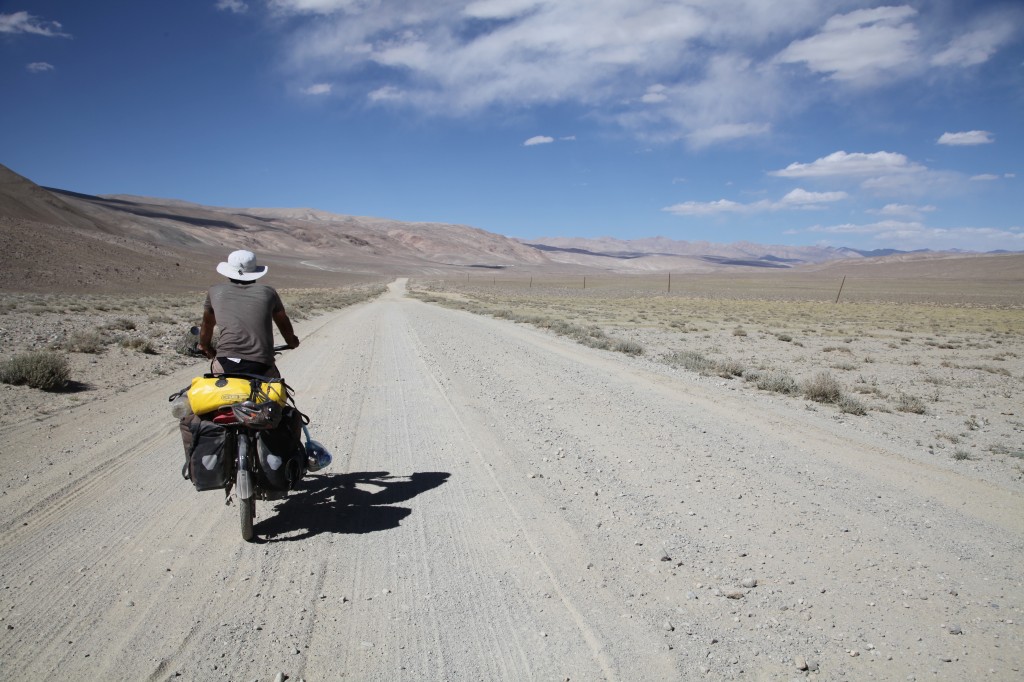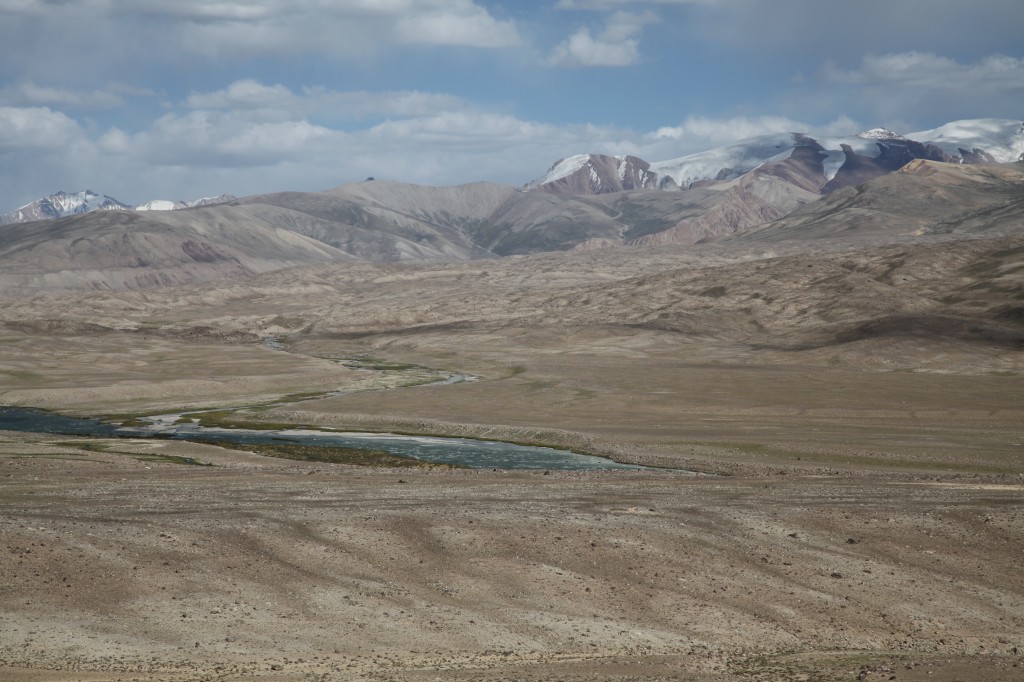 Our first 4000er was not a peak, no, it was a pass. Kargush pass in Tajikistan, 4344 m. Before that, we wanted to have a rest day in a National Park nearby, the Zorkul. Unfortunately the military guy from the checkpoint did not let us pass there. It was no problem for us, so we kept pedaling on to the pass and to another detour: Bulunkul.
Above 4000 meters, the air got very thin. When we were breathing it sounded like two donkeys – and we stopped to normalize our respiration and the heartbeat quite frequently. 🙂 Short side story: A boy next to the road once asked Kieran (more about him later), what his job was. Kieran replied truthfully "teacher", but the kid laughed and said "no, you're a donkey"! Hahaha, how true!!
On the way down we met three motorbikers from Switzerland; Dom, Tobi und Urs. Funny guys, and they decided spontaneousely to join us for a night at Bulunkul (a small lake a little further on). Of course, they arrived much earlier than us, but soup was ready as soon as we parked our bikes near the lakeshore. Thanks again guys!
This small lake Bulunkul is nicely situated between hills (all higher than 4000m, but the lake itself is already on 3737m). It was a perfect spot near the water to have our rest day – just the mosqitos were annoying… Urs bought three fish in the morning, as the fishermen showed up at the lake. Three fish for twenty somoni (three dollars) – not so bad! One was for us, and because it was still alive, we let it swim for a while in a fishing-net. Lunchtime was fishtime! Mmmmmmmh!!
The town Bulunkul (yes, lake and town have the same name) had not very much to offer. About 10 to 15 houses, a shop, and fresh bread in the middle of the town. Cool, that was even more than we expected! 🙂
It took us another day from Bulunkul to get to the highway M41. Another exhausting day. The road was not as bad as before (not the whole day washboard, just in some parts), but it was hilly. Up, down, up and down; the whole day. This fact itself would be okay for us. Better than boring flat without views. But… That area was completely crowded with mosquitos!! As soon as we stopped, they landed everywhere and started to bite. But as long as you kept cycling in a moderate speed, the just flew next to you. So – we cycled fast, almost with no breaks, to avoid getting bitten… pffff…
We rolled about ten kilometers on the main highway, as we bumped into two other cyclists going the same direction: Nita and Kieran from New Zealand. We have already met in Bukhara, Usbekistan, and now about one month later in the middle of the Pamir again. Cool! Toghether we "climbed" our second 4000er pass, which was not steep at all. And thanks to tarmac (YES, asphalt!), we rolled even faster! The landscape changed and was more canyon-like, and generally it was really very beautiful. At least as beautiful as the Wakhan, if not even more!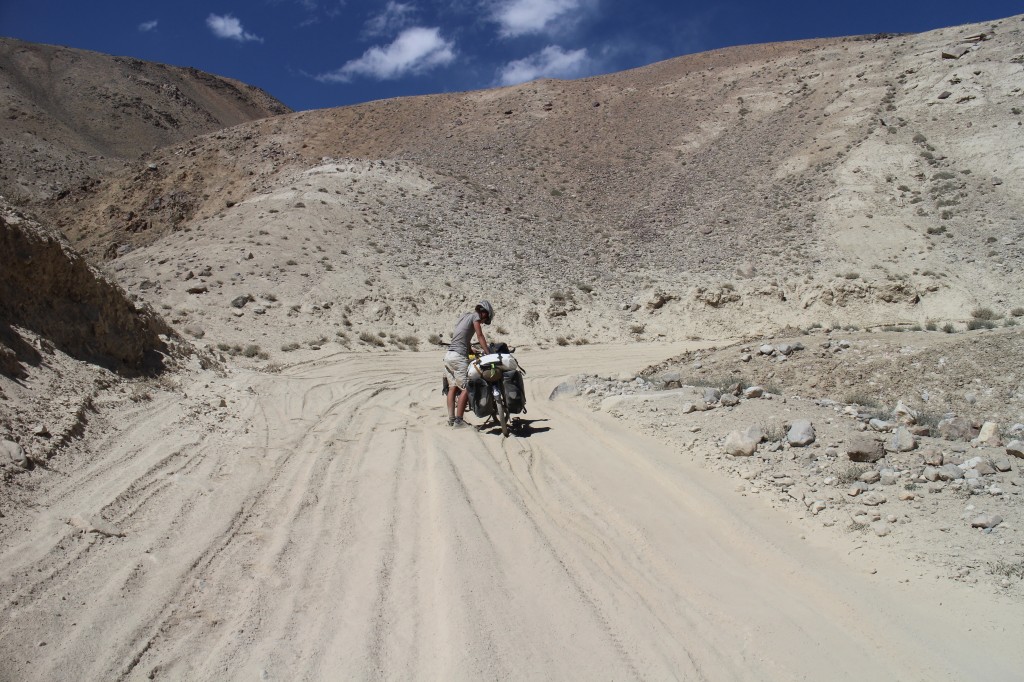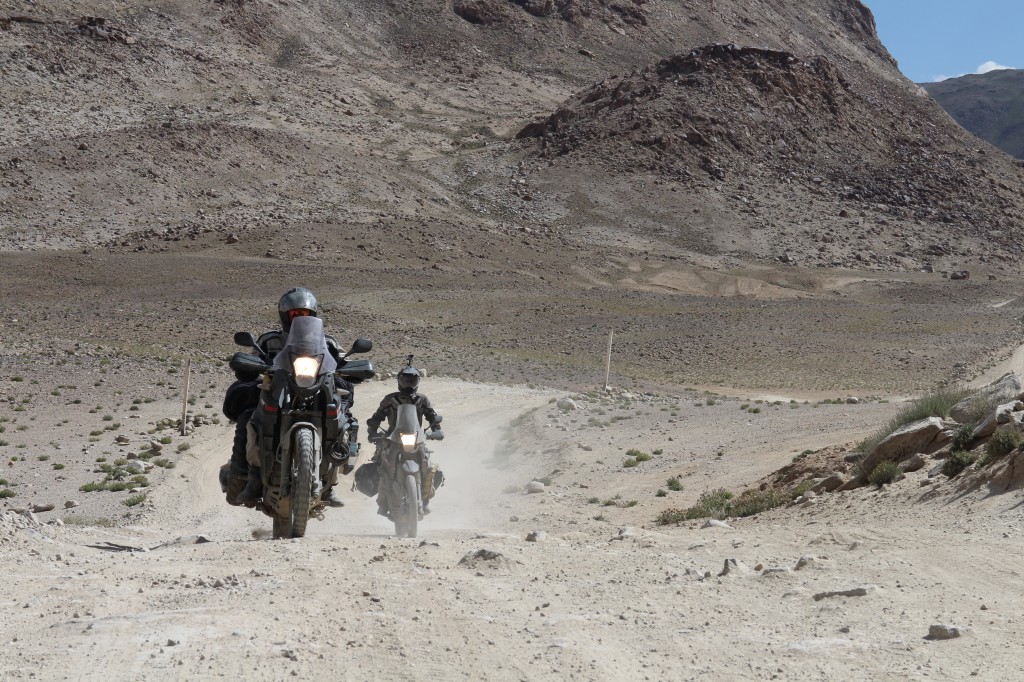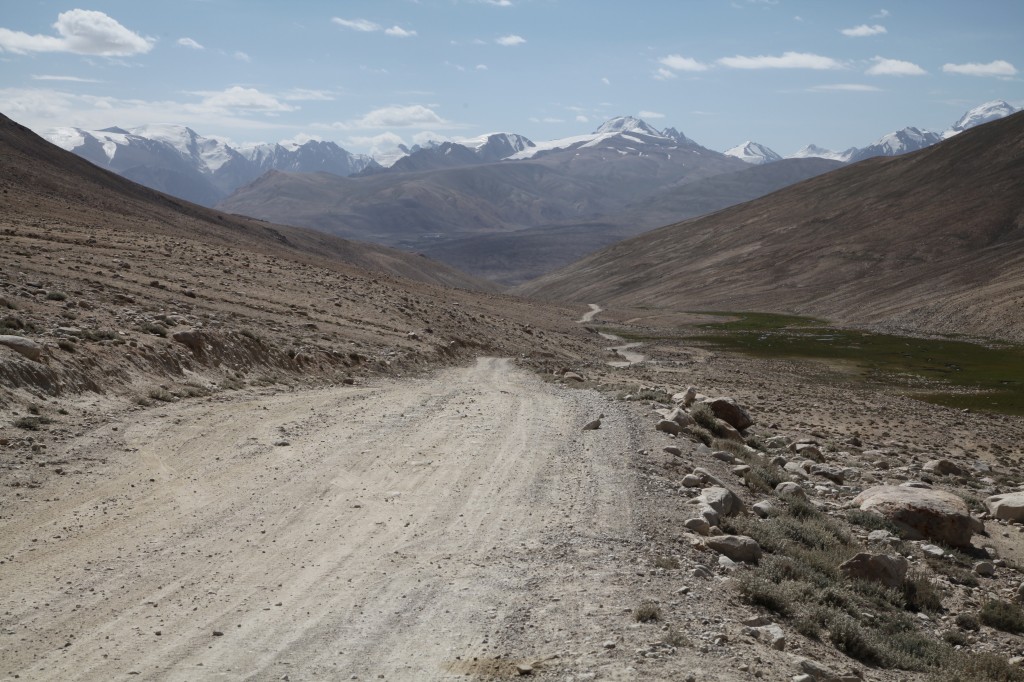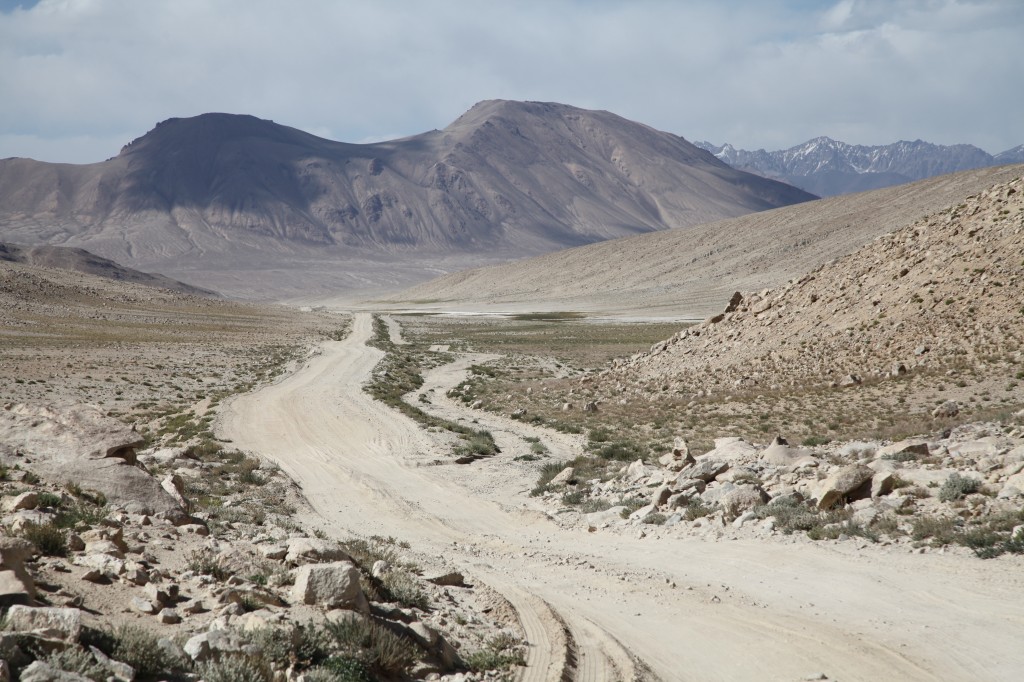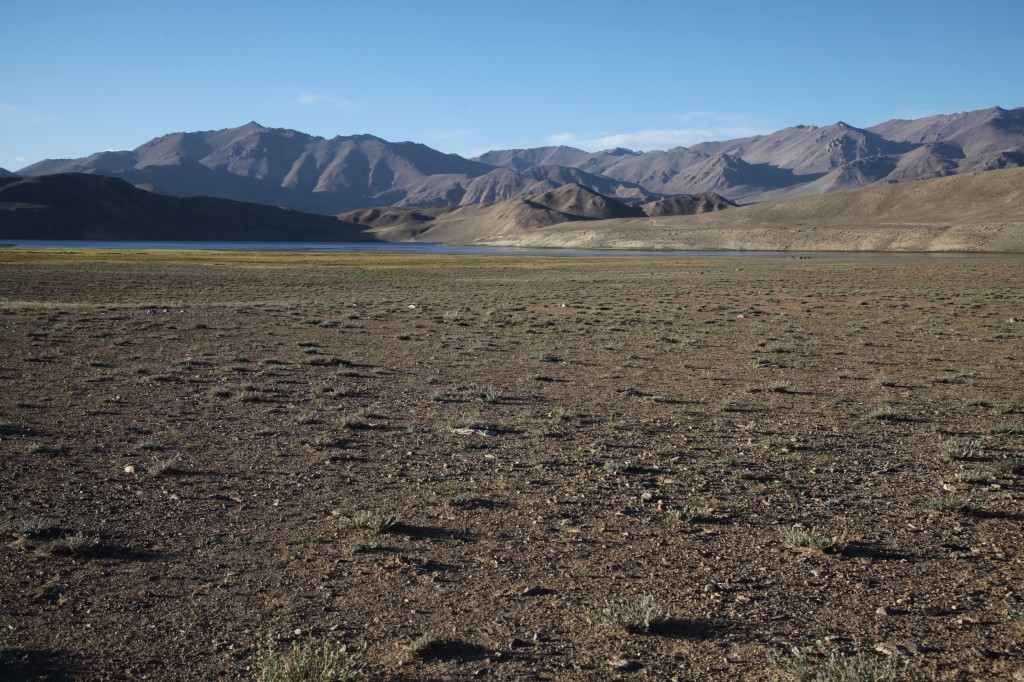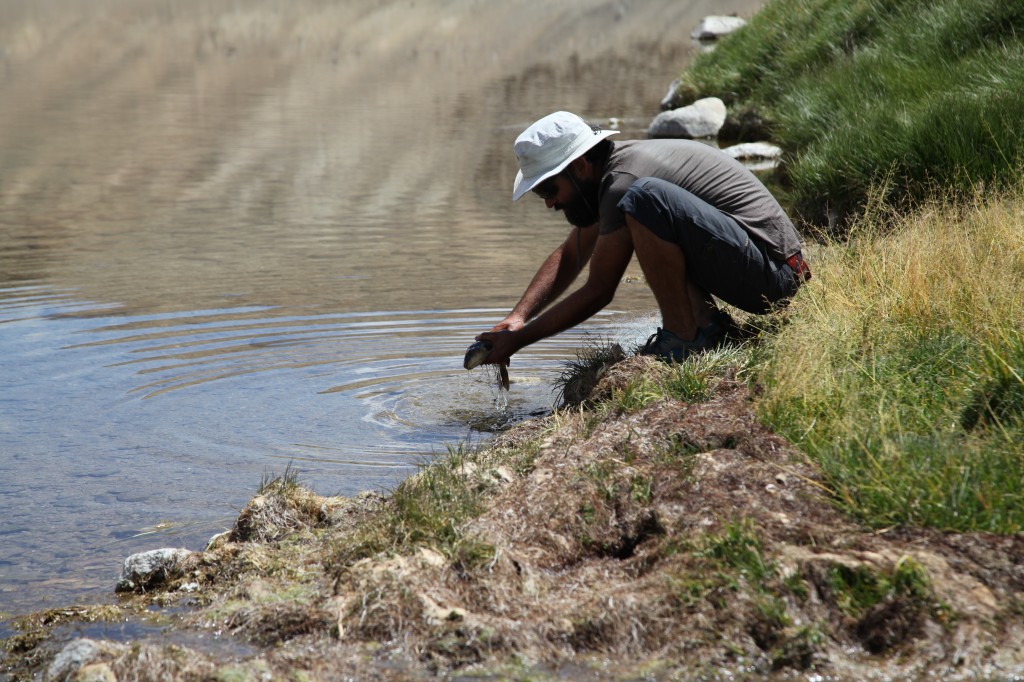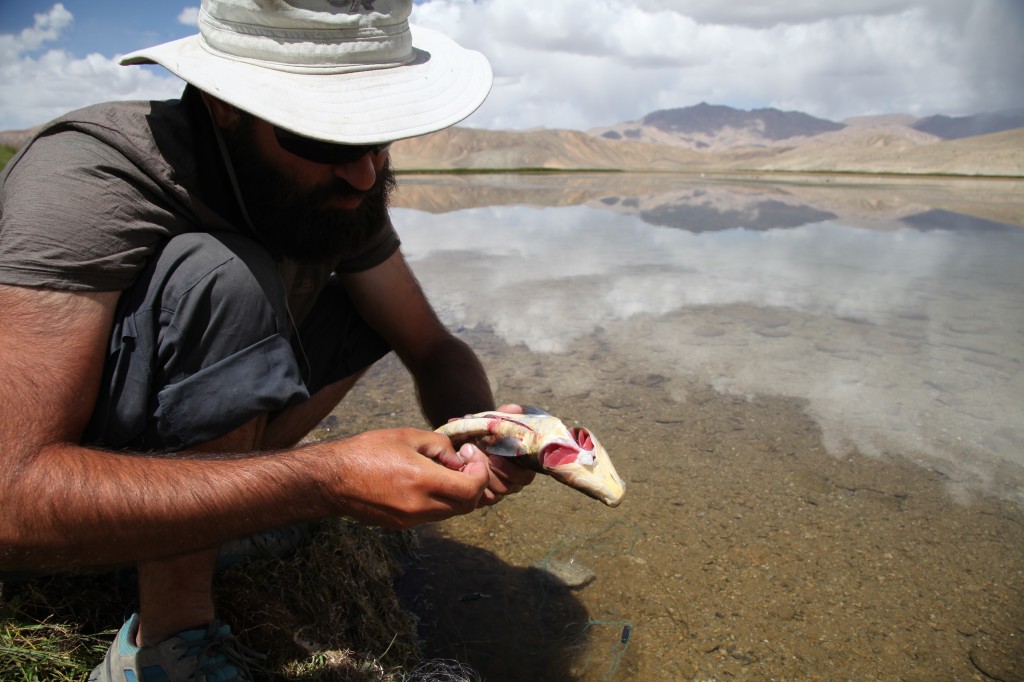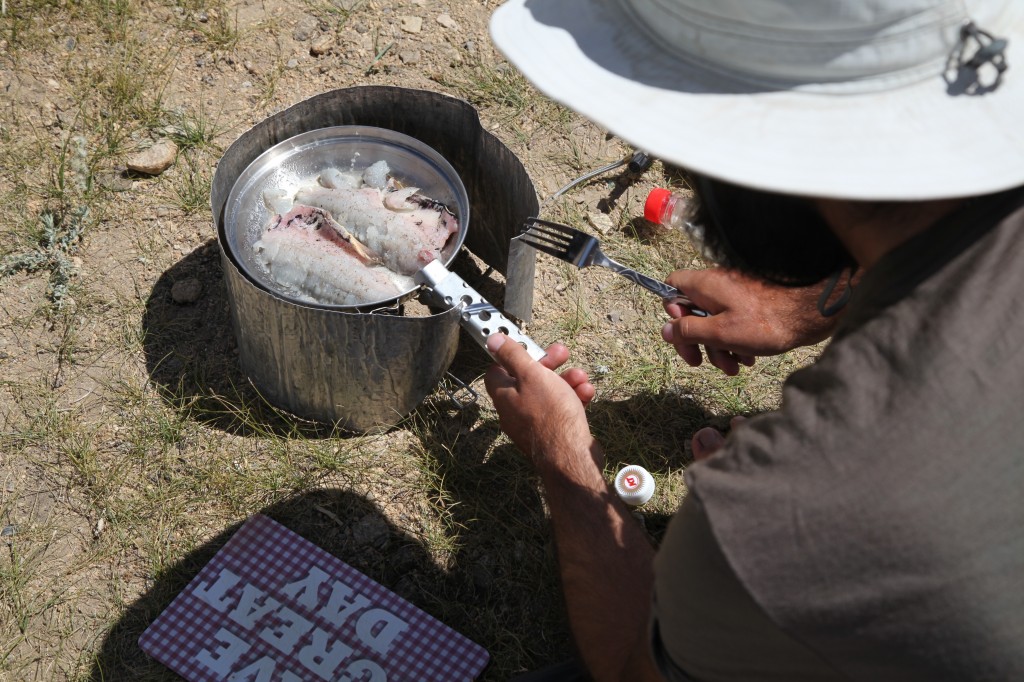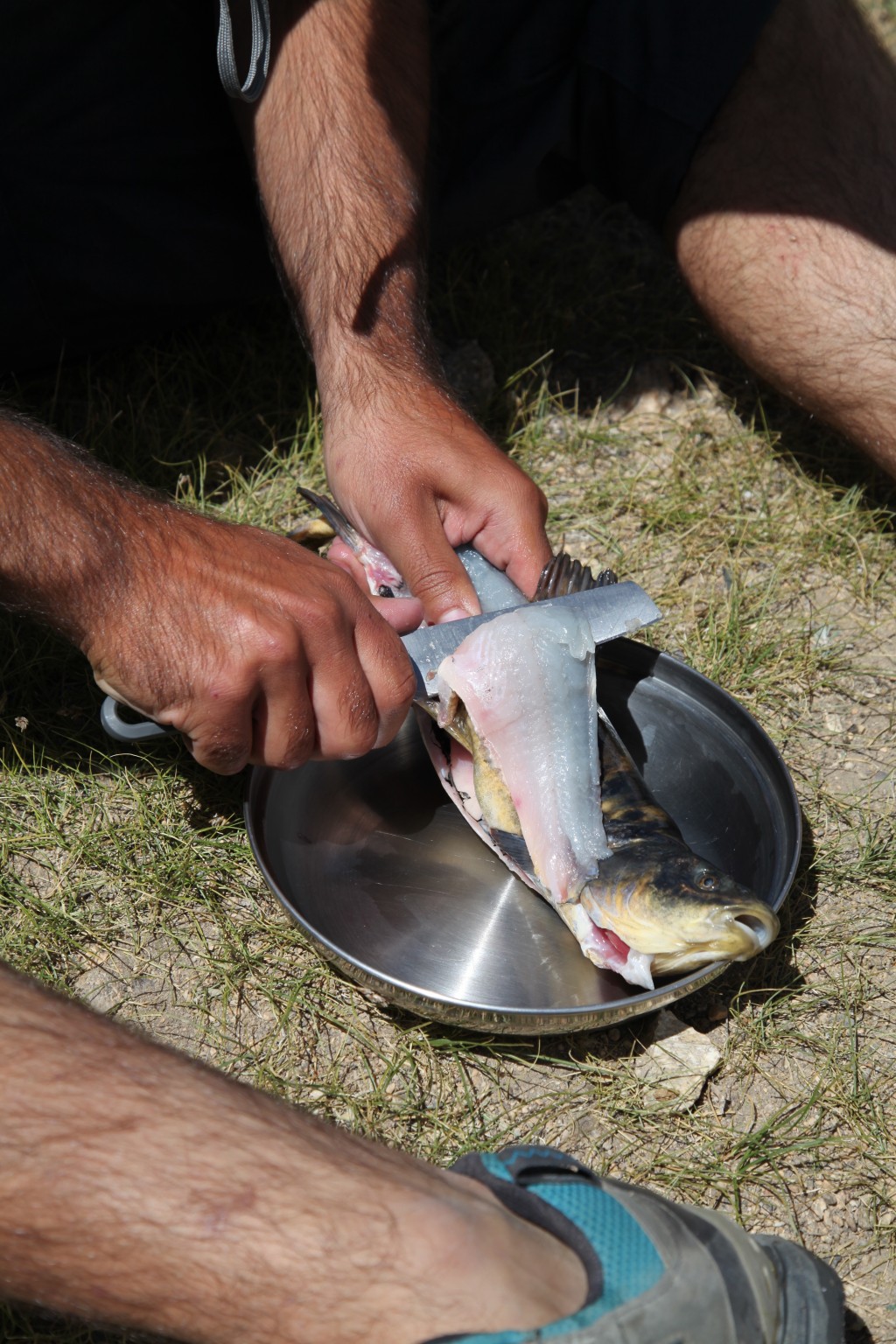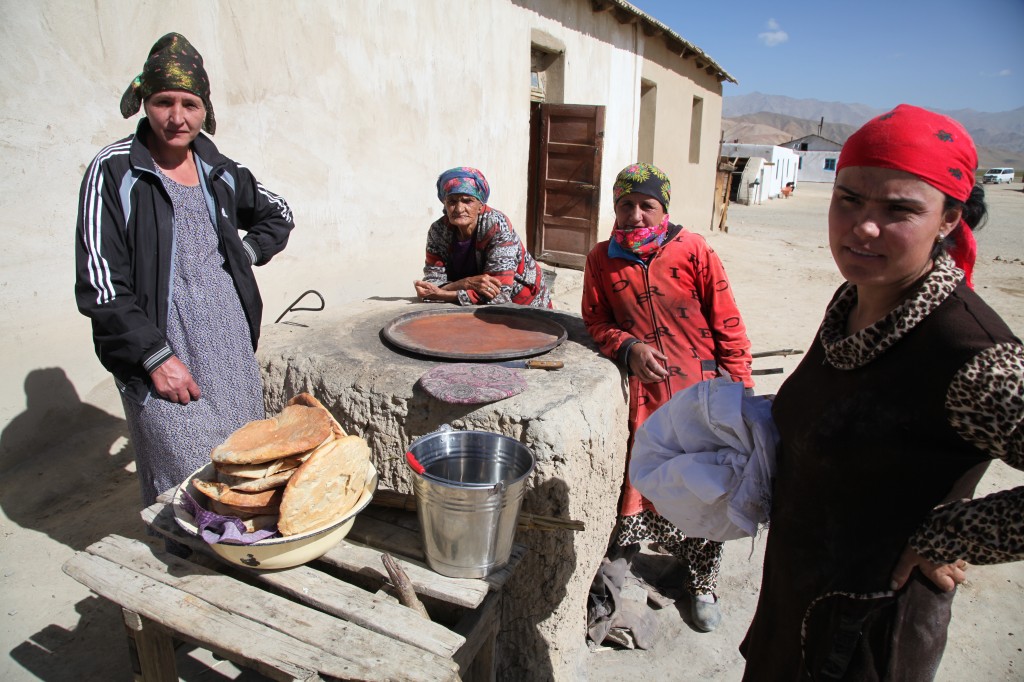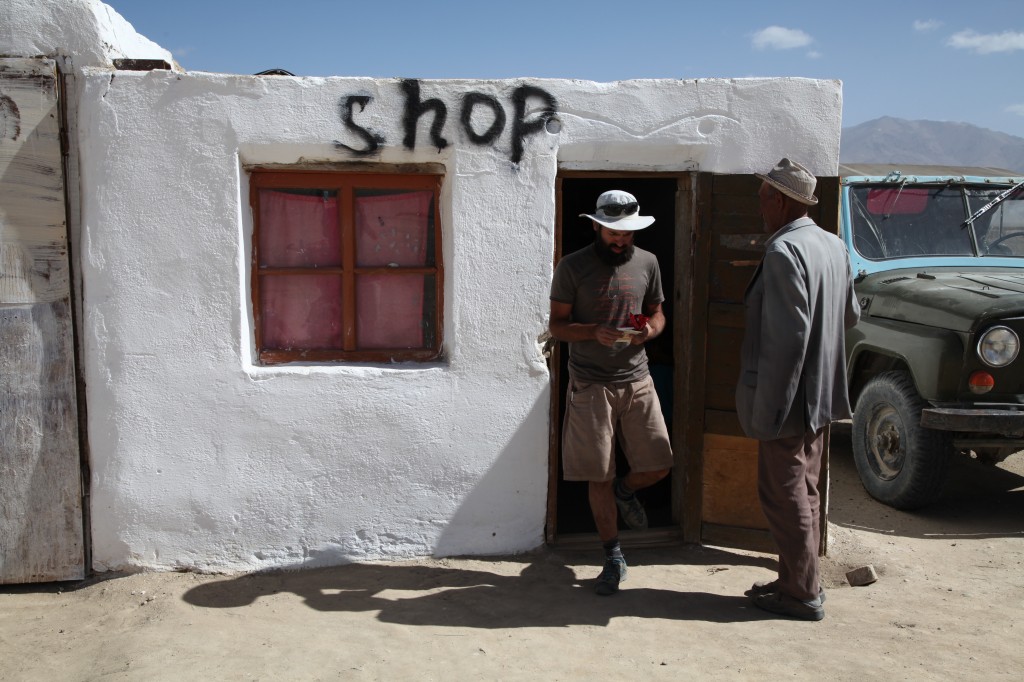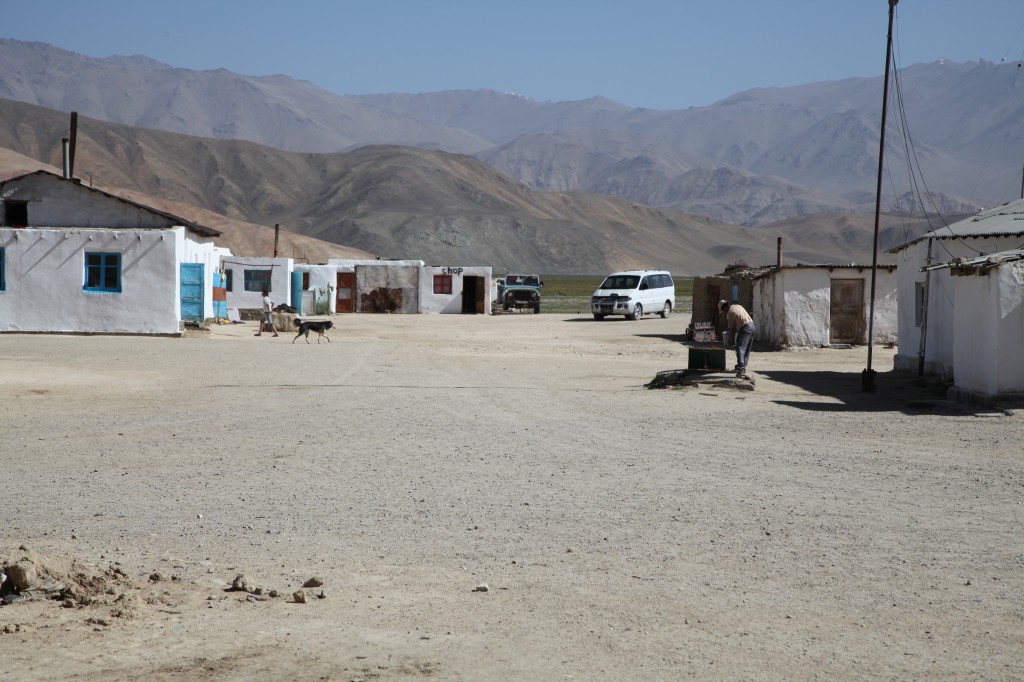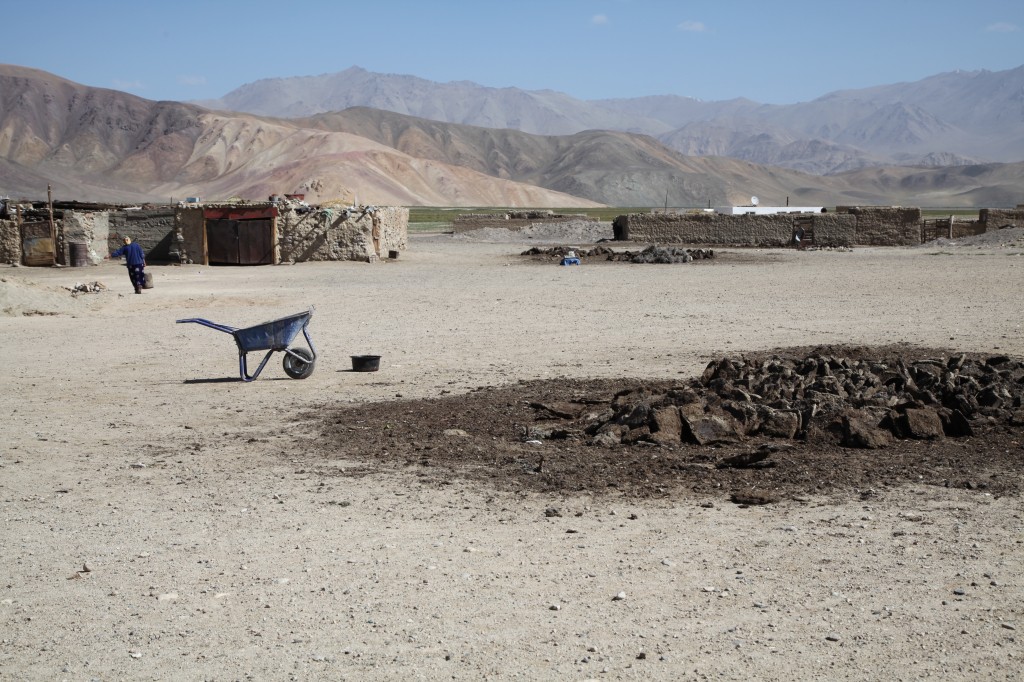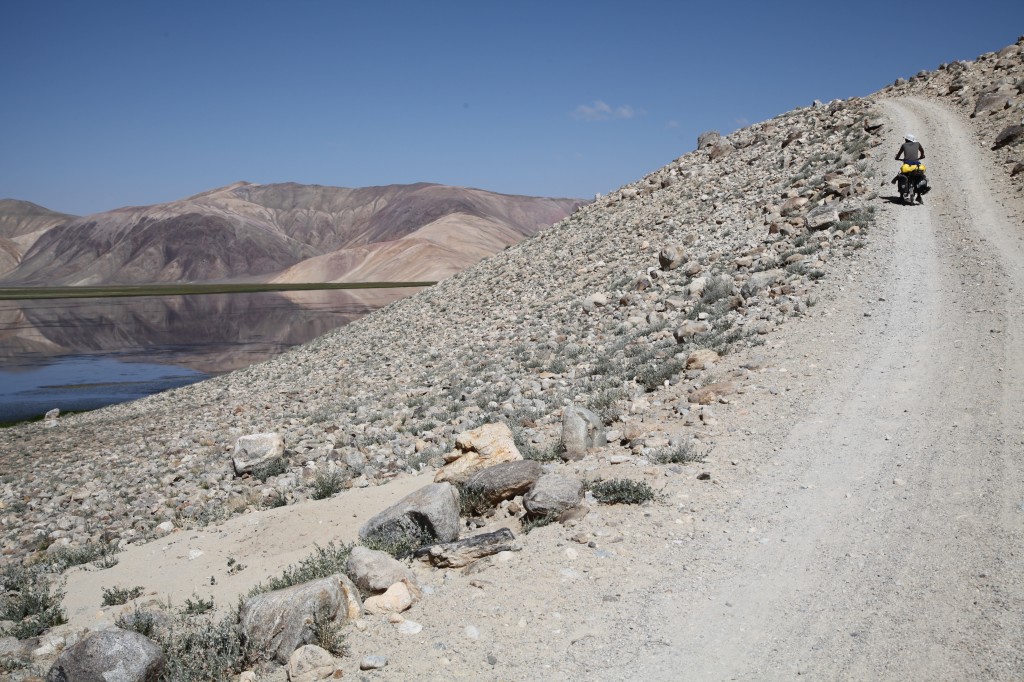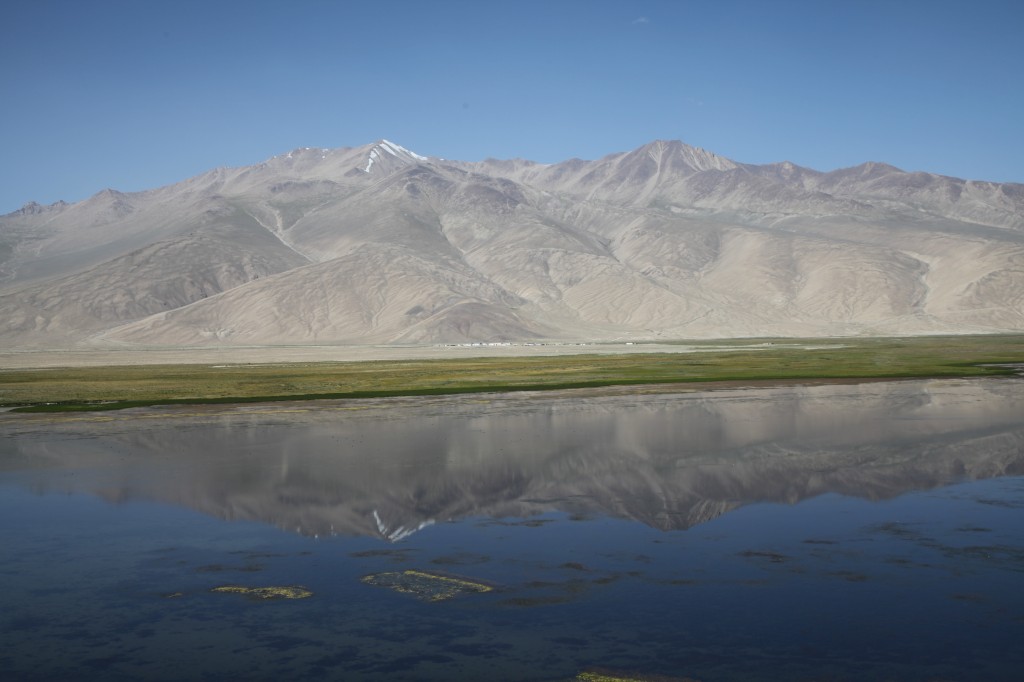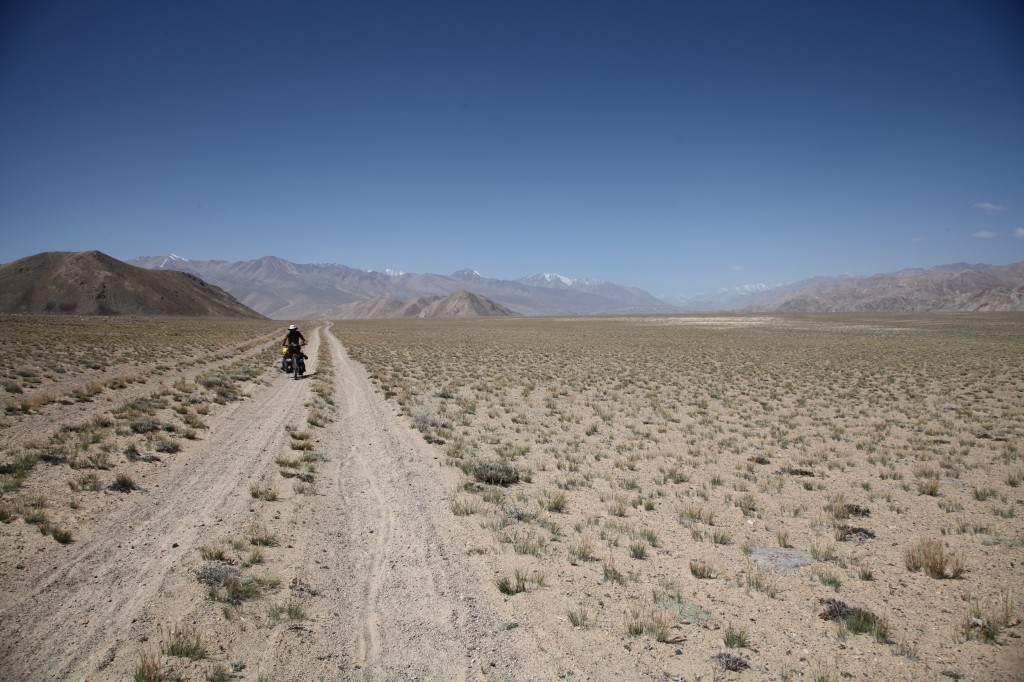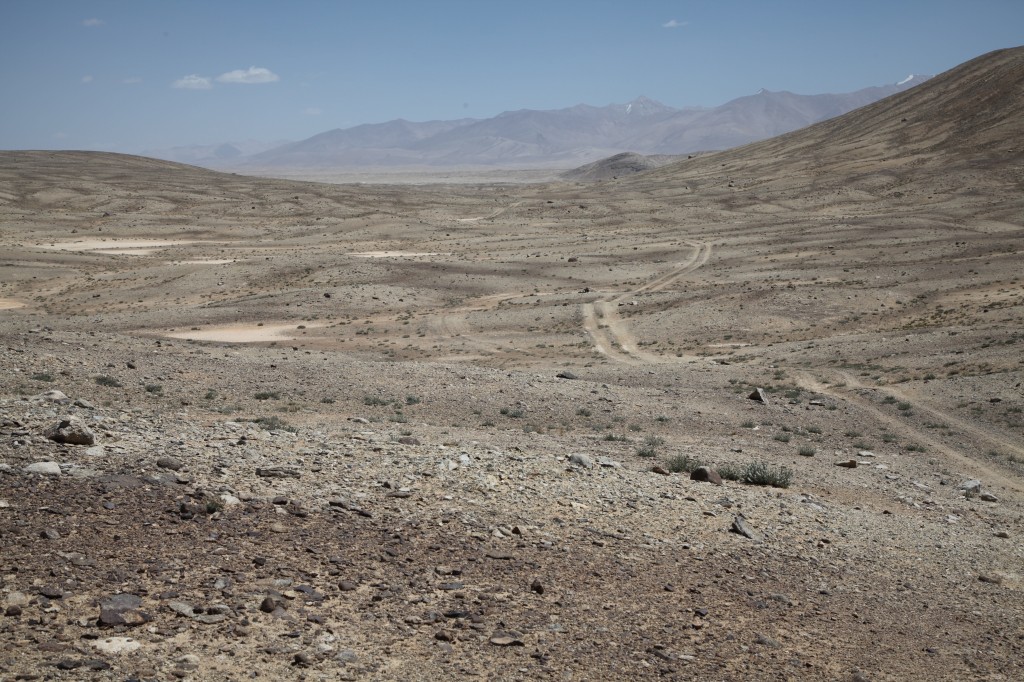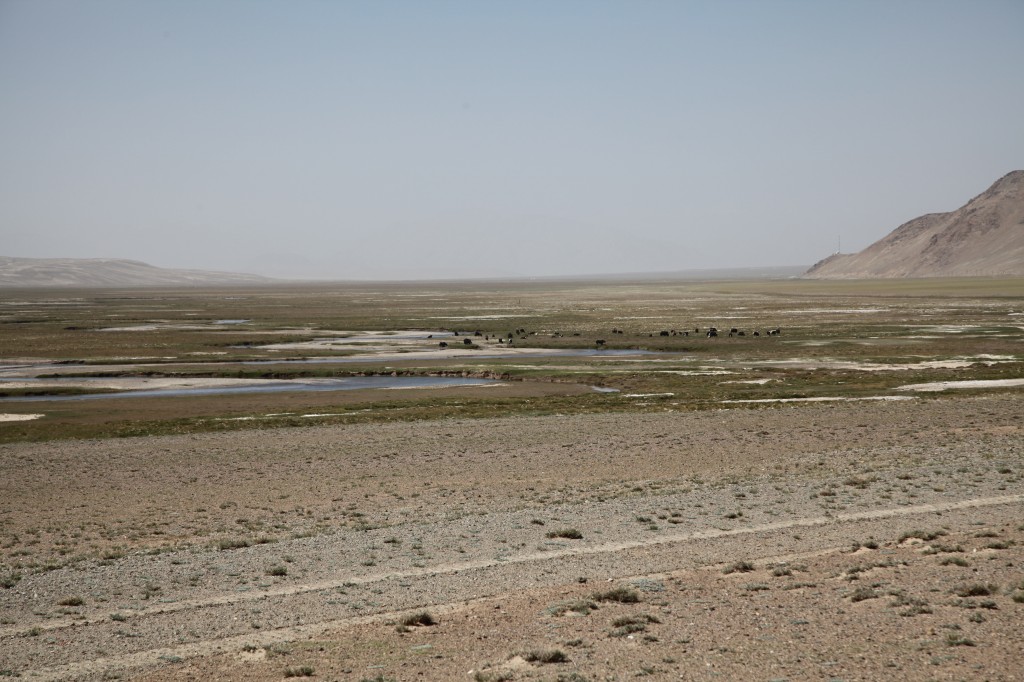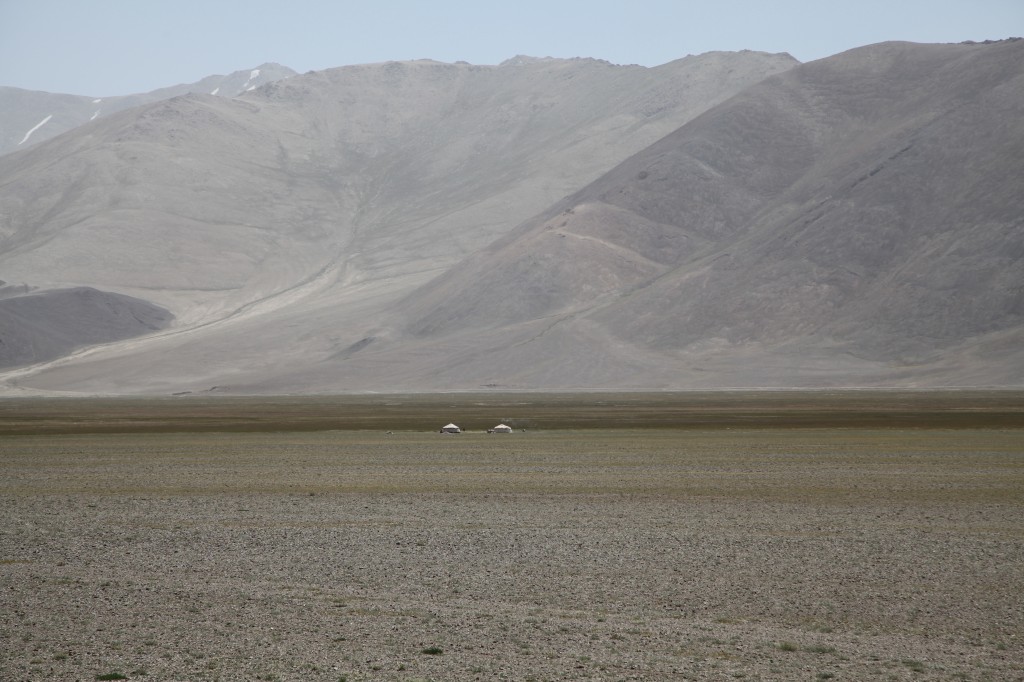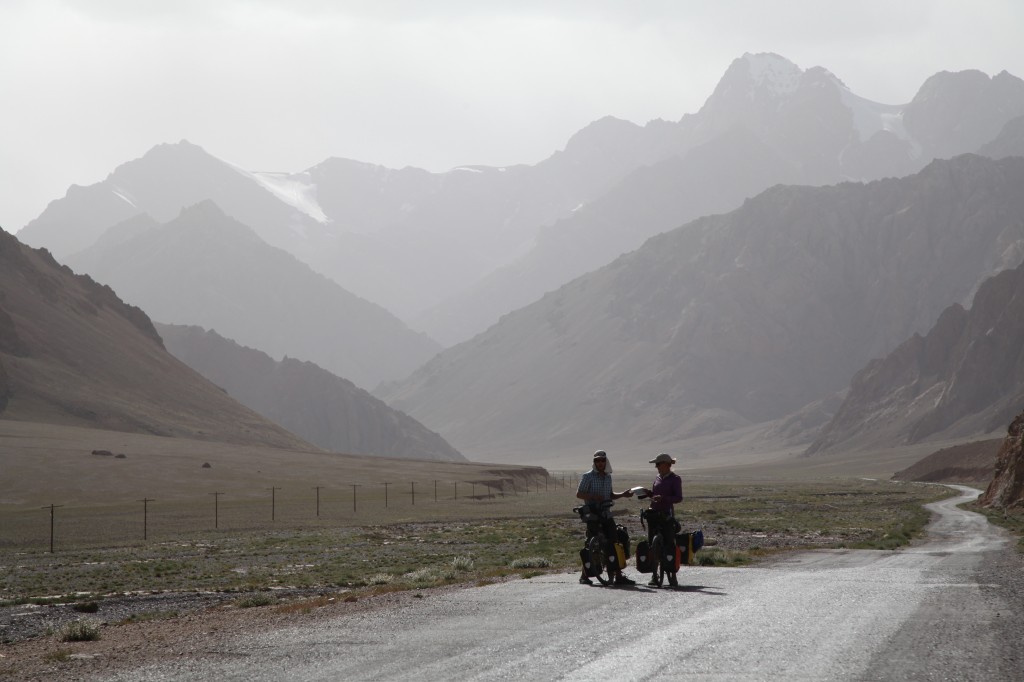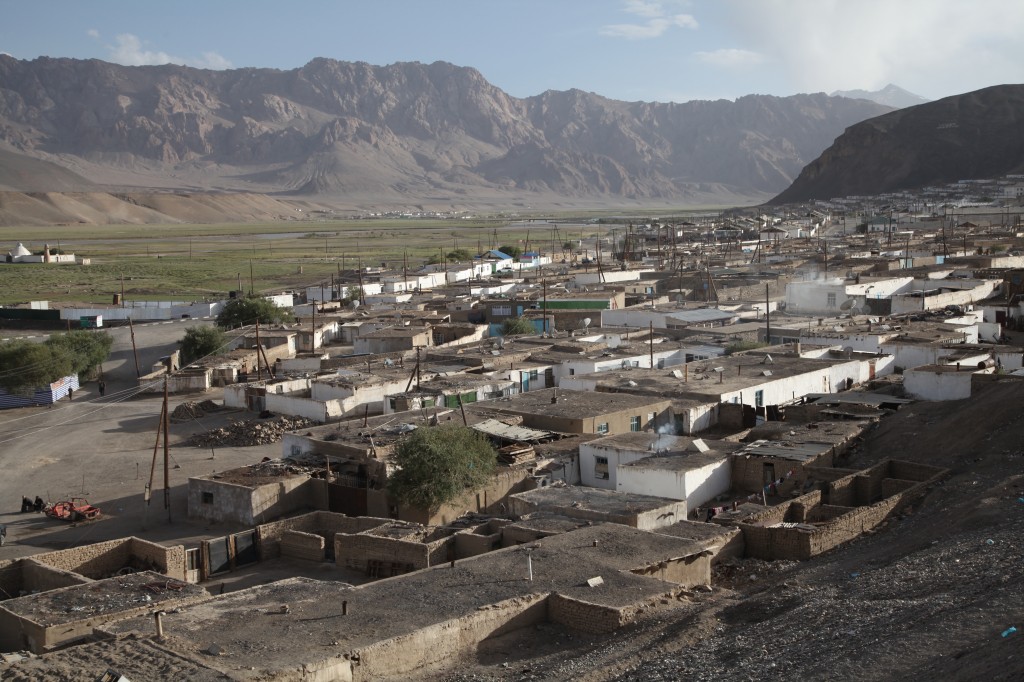 Murgab. The biggest town in the higher Pamir, but not very charming on the first sight. The bazar seemed amazing after the days without anything fresh – but now looking back from Osh, it was pretty small… Ridiculous.
I guess, for this last strech Murgab to the border, I do not have to explain too much. Most you may see in the pictures. It was remote, great, cold, windy, snowy, even higher, etc. We cycled another three 4000er passes: Akbaital with 4655m was the highest one. On its top and the other morning further down it was snowing, brrrr.
Lake Karakol was just amazing. And windy. We had half day "off", and a rest near the shore. But because it was so windy we pitched the tents and hid inside… Well, it was just a really really super nice route.
The last about thirty kilometers to the border, the wind got even stronger than before. That part is already known as "where you can see the sand-tornados on your left" for cyclists… And because the weather was about to change, we decided to leave Tajikistan sooner than planned – and cycled the last two 4000er passes in one day. Exhausting again – but we were more than happy to have a nice campspot after the Kyrgyz border, where we met the four French Charlotte, Eric, Gokben and Nico. And The next morning we were even more glad to have done it until there: Not much higher up the mountains were covered with snow. Wow, welcome to Kyrgistan!
All the way to Osh we were cycling with Kieran and Nita (http://towardtherisingsun.wordpress.com/). It was a super relaxed time, pedaling with them was so cool. We hope to meet them again the next weeks, they left Osh earlier than we will do.