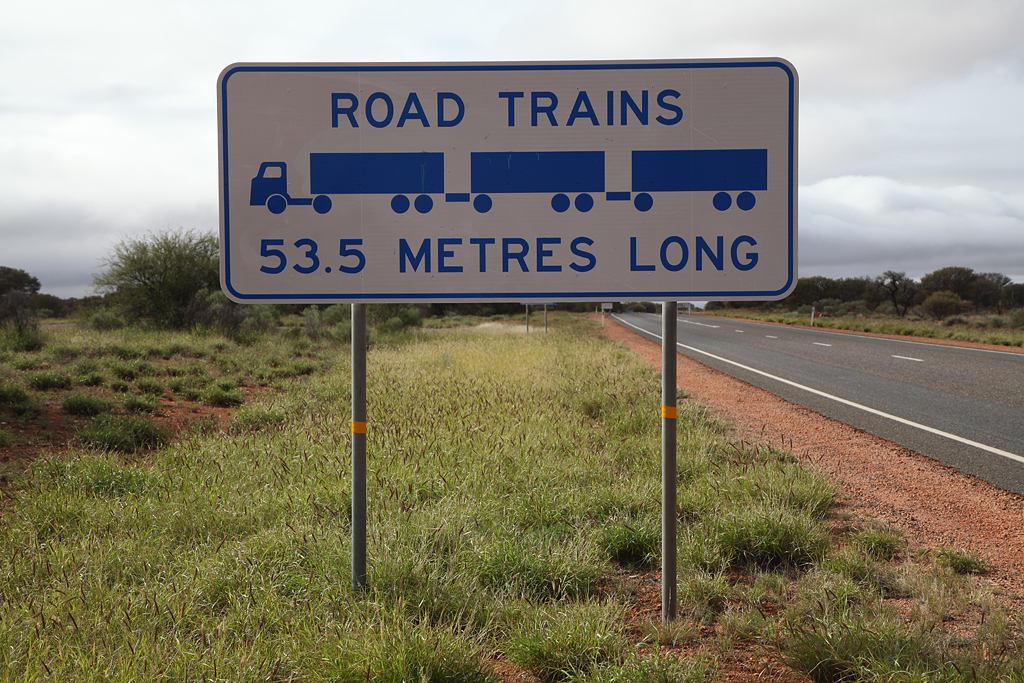 The American guy Brian who I met along New Zealands west coast, accepted my invitation to join me cycling across Australia. Hooray, how cool is that to keep a cycling buddy! Now looking back, the Australian Outback might be pretty boring on your own…
Sydney was our first destination. Back in January, I wasn't allowed to check-in for the flight to New Zealand without a return ticket. So I had to buy immediately a flight to somewhere – and Sydney sounded pretty alright. Thanks to Brian's Australian friends in the States, who still have lots of friends all over Australia, we got a place to stay in one of the quiet areas of the city.
Kieran (not NZ Kieran) was super relaxed and let us stay for about a week. Thanks! We explored the city with the famous opera house, the harbour bridge and visited some bike shops. I needed some maintenance like new handlebar grips, a new shifter and a rohloff service kit while Brian had to stock up on a lot of spare parts. Crossing a desert-like vast continent is somehow different than a ride in Kiwi-land, so Brian decided to get a spare tire, some spokes, some various bolts and nuts, and so on. Besides working on our pushbikes, we ate heaps of vietnamese pork rolls and visited the Biennale.
Because both our visas were limited to only three months, we had to find a way to shorten the planned route Sydney–Darwin via the center. It would have been too stressful to cycle all of it and arrive on time. Instead we took a train to Melbourne.
The ride took the whole day. We got up super early, like around 4.30 or so (I don't remember to be honest), packed up, rode to the train station and boxed the bikes. Yes, we had to disassemble and pack the bicycles to get on the train. Around 7 am we left Sydney, and arrived in Melbourne eleven hours later.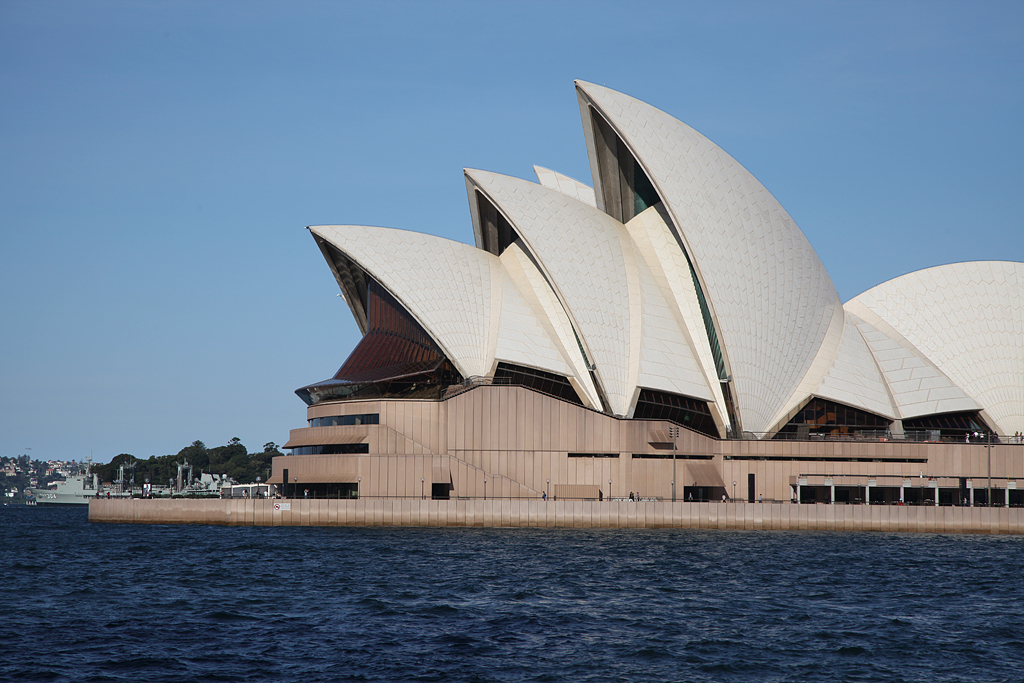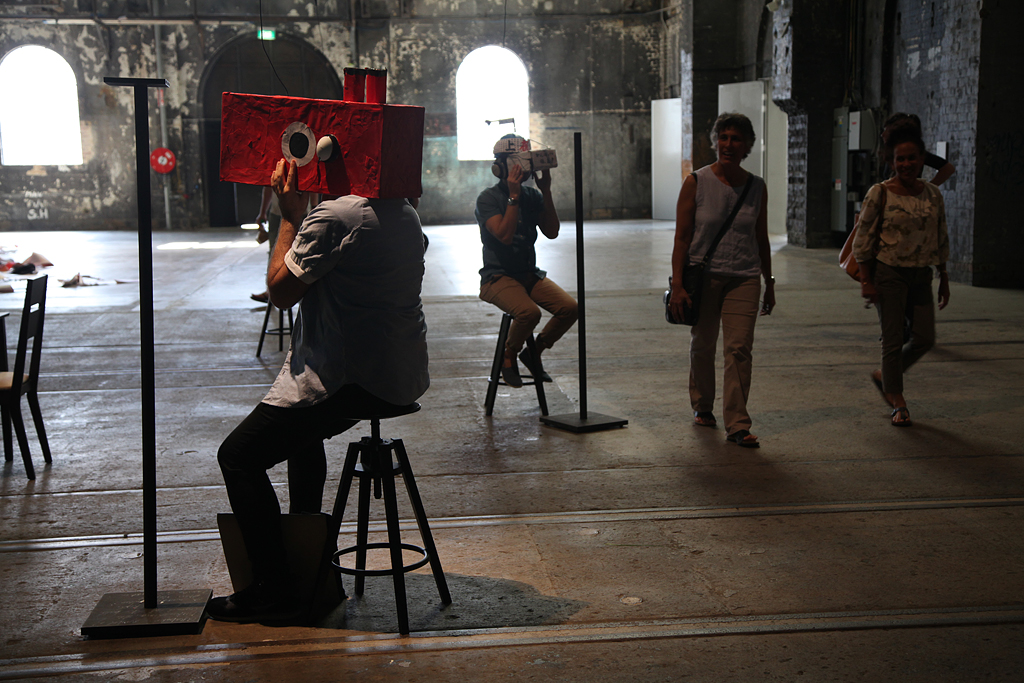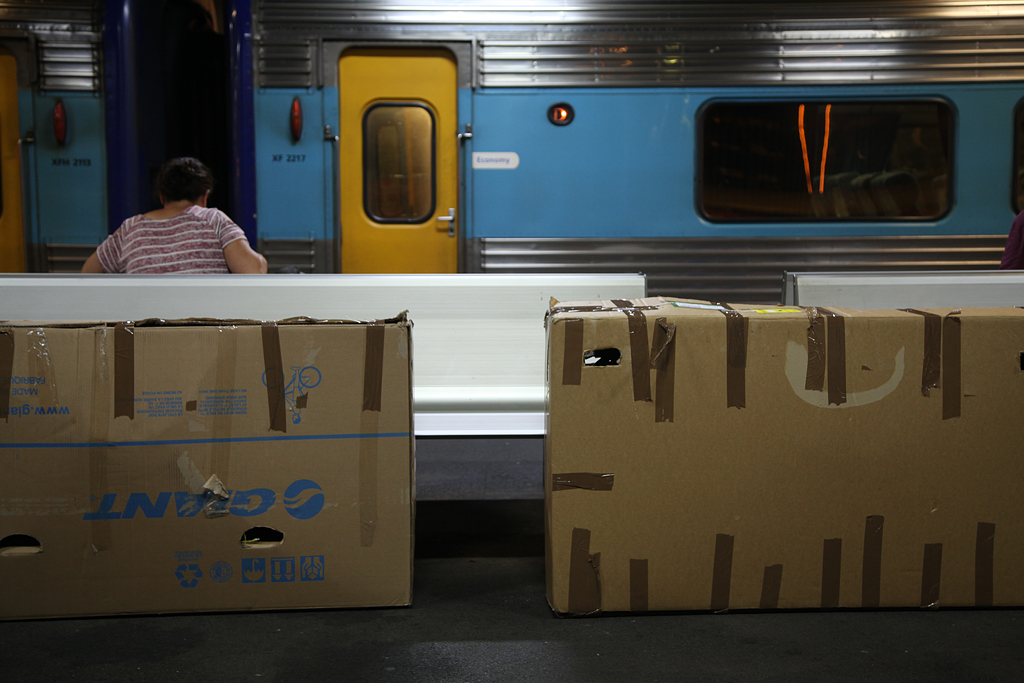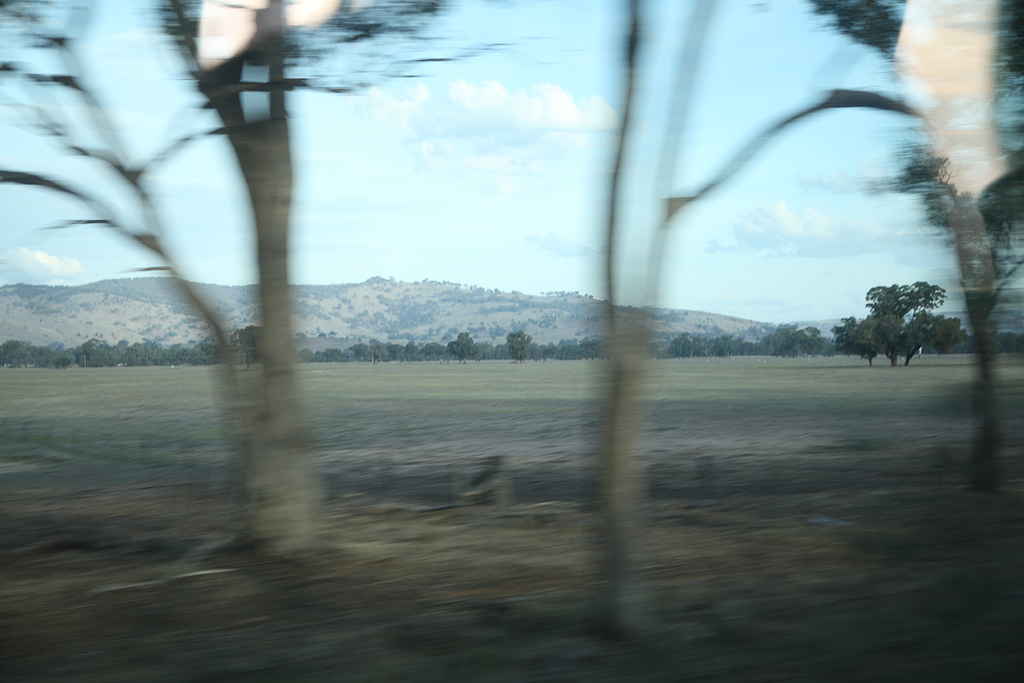 I have to say, Brian was really a lucky choice as travel companion! Like in Sydney already, he easily organized a place to stay in Melbourne. A friend's aunt and uncle live there, and they were so kind to host us for a few days! Dave and Ann were super welcoming, it was a lovely place that it took some effort to leave again. Dave even made a huge box full of fudge, so I had the chance to taste it for my first time. Thank you both so much!
Melbourne is a really cool city with a great flair and nice old buildings. And because every second person we met told us to go to an Australian rules football game, we went. In the Melbourne Cricket Ground, a stadium that takes 40'000 people!
Eventually, we found the energy to start pedaling again. It had been a while for me, at least four weeks since the last cycling day! But no, the start wasn't in the saddle. To get out of the city, took the metro train – just to get around the traffic. And from outside the suburbs we finally started cycling to the coast, and found a beautiful perfect (forbidden) freedom camp spot with sea view. Yeah, that's cycle touring how I like it again!
Following the Great Ocean Road was one of the best parts of Australia. A bit hilly, but always with amazing views over the sea, lunches and other stops at the beach and beautiful spots to camp. We saw wallabys and kangaroos, and heard the loud and awkward sounds of koalas during the nights. Near the famous twelve apostles we set up tents and rolled to the viewpoint for a long and big breakfast – perfectly timed before all the tourist buses showed up. Yes, life as a cycle tourist is great from times to times!
Our next lovely hosts were again friends of Brian's friends, Oscar and Alex in Port Fairy. We arrived on a Friday, so perfect timing to spend the weekend with them! And what a weekend: we went to the market, then drove through "Jurassic Park of Port Fairy" as they called the nearby recreation area where wallabys, emus and koalas live. Later we (except me) went surfing, and in the evening the boys went diving for abalones. In the evenings we cooked together and played board games. Sunday the weather made us stay another day, so we drove to the Grampians for a short hike. All in all, we had an awesome time with Oscar and Alex, they were such amazing hosts! Thanks a lot!!
From Port Fairy the road got a bit less exciting. More farmlands, flat and a strong headwind. One day it poured down heavily, that we had to stop underneath trees sometimes and wait for the rain to die down a little. It was cold, autumn had begun.
Besides being hosted by the wonderful friends of friends of Brian, we were living like hippies. Only wild camping and sometimes we treated ourselves with a cold shower in a public bathroom at a beach. But it felt perfect, finally not staying on a campground every night anymore. Absolute freedom, just a good life!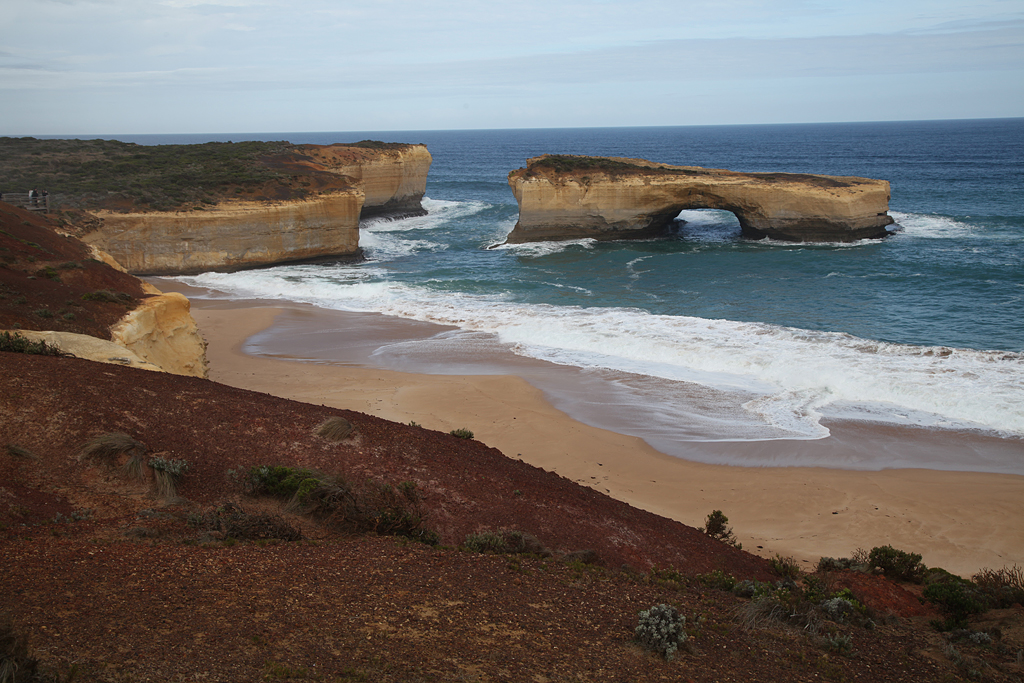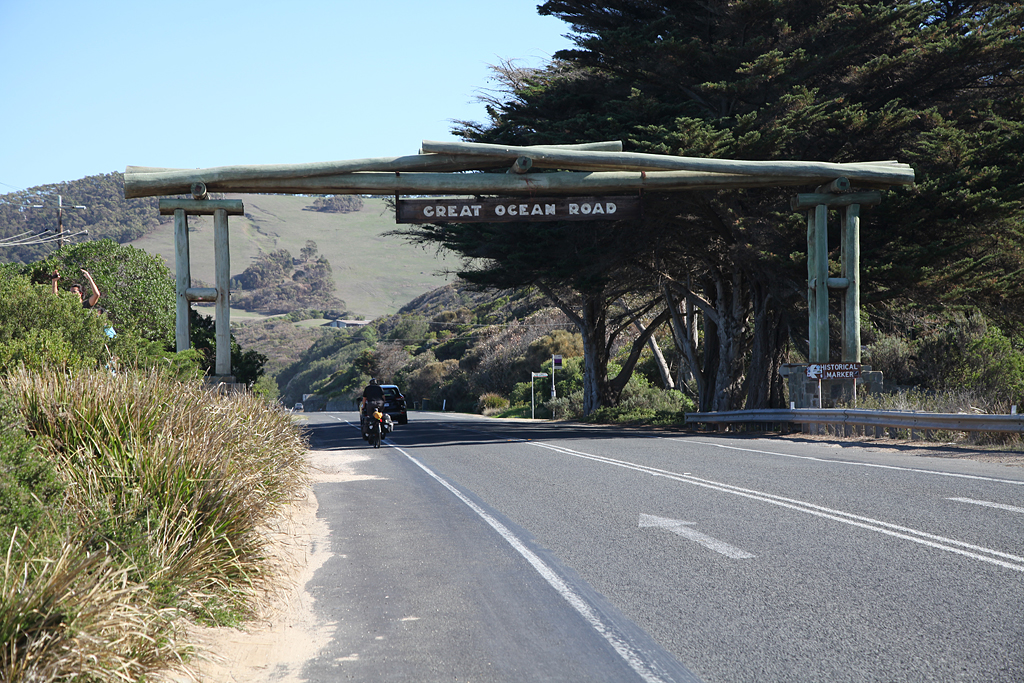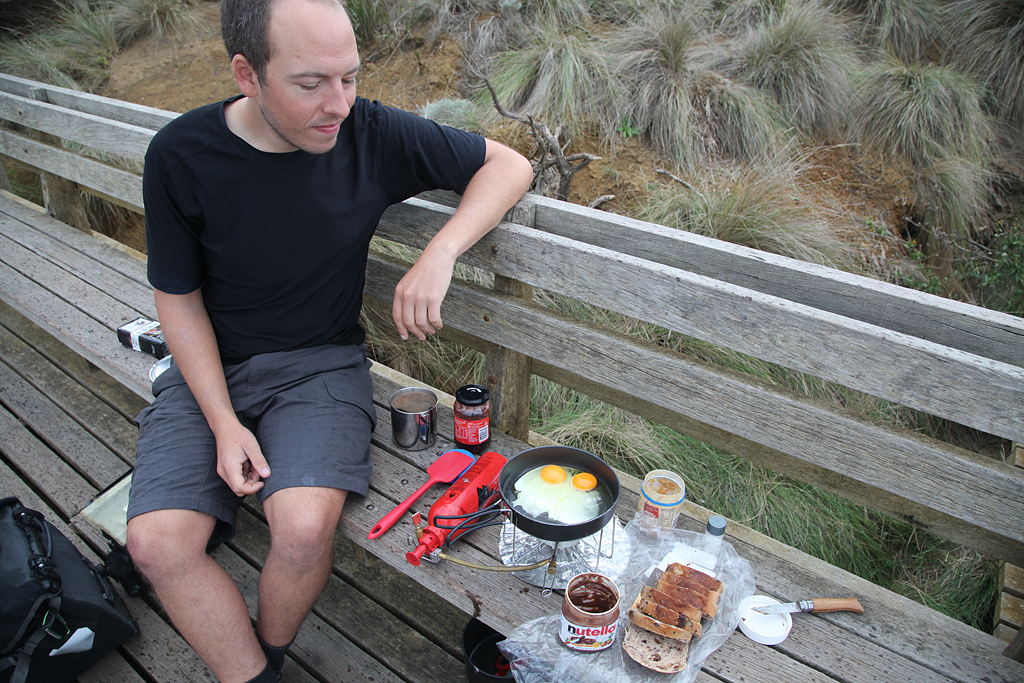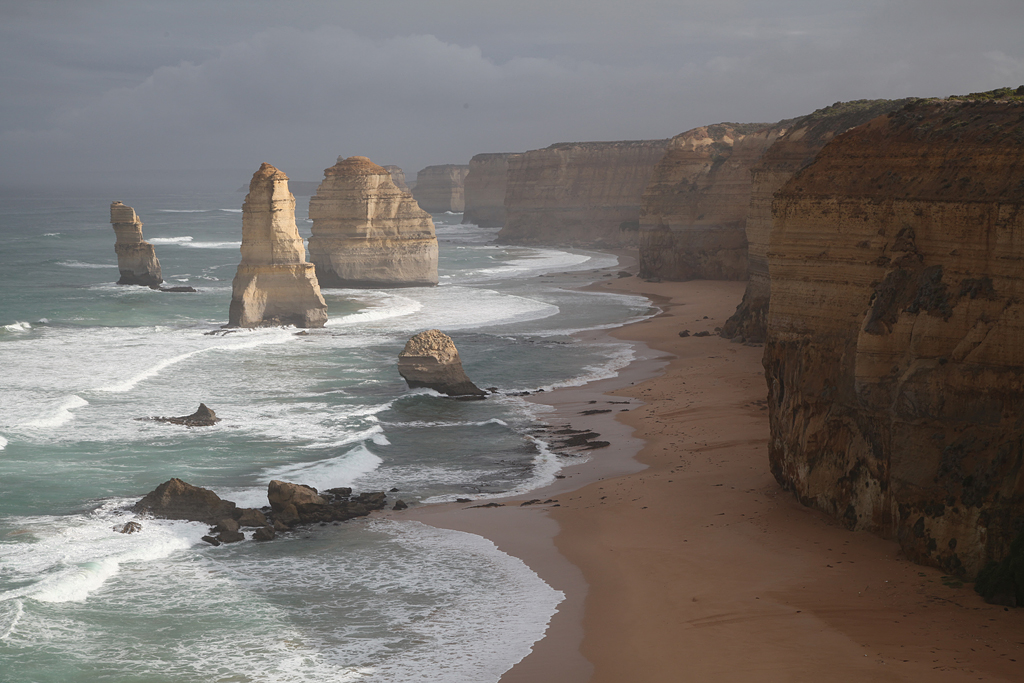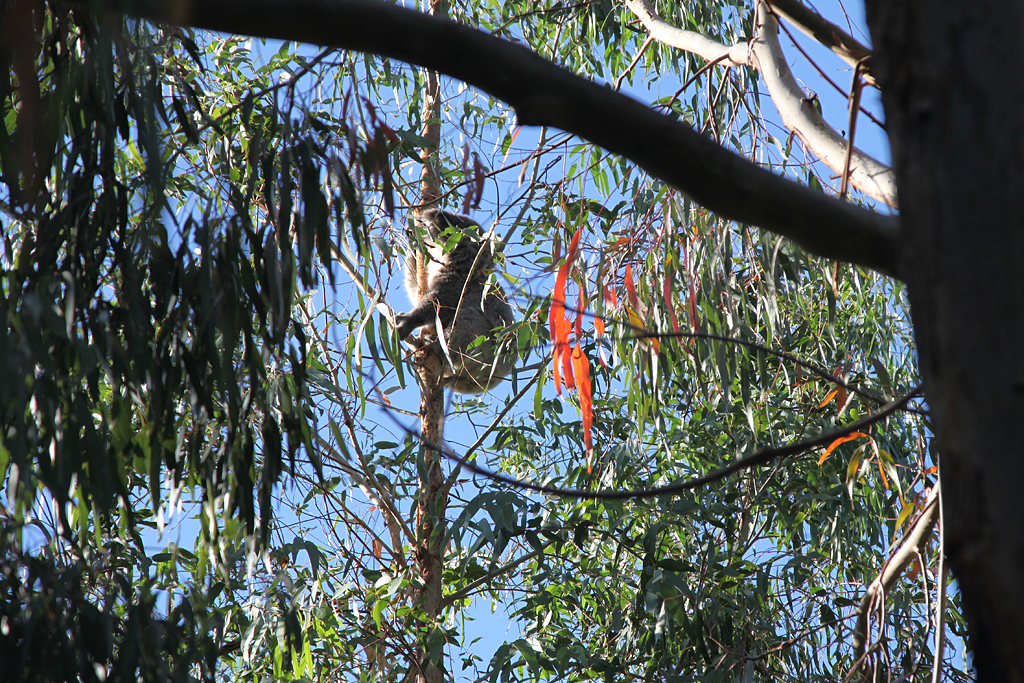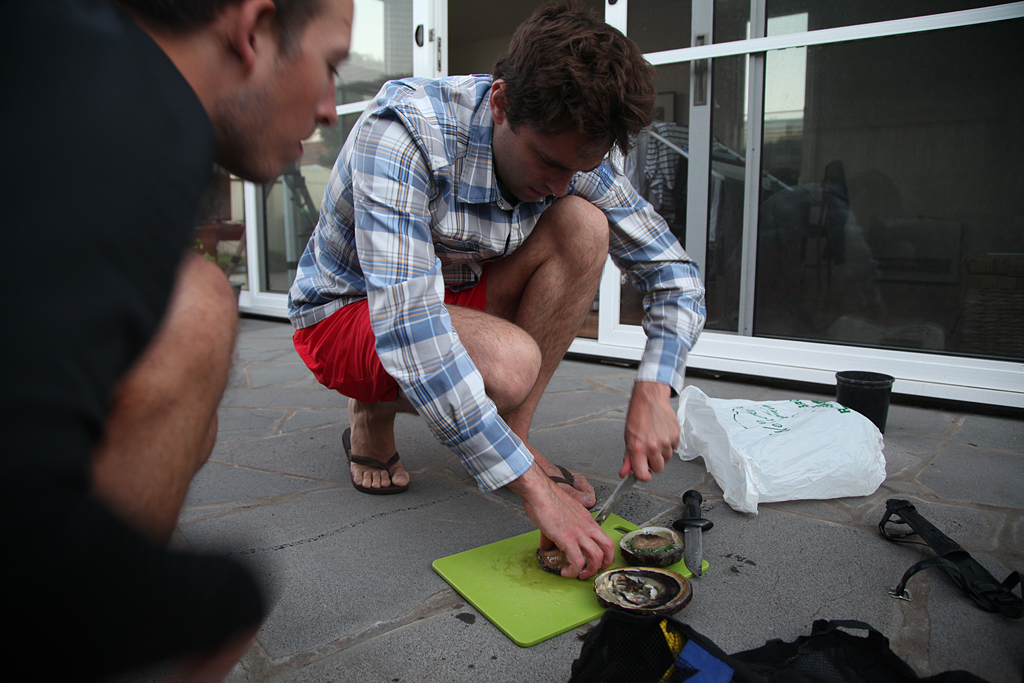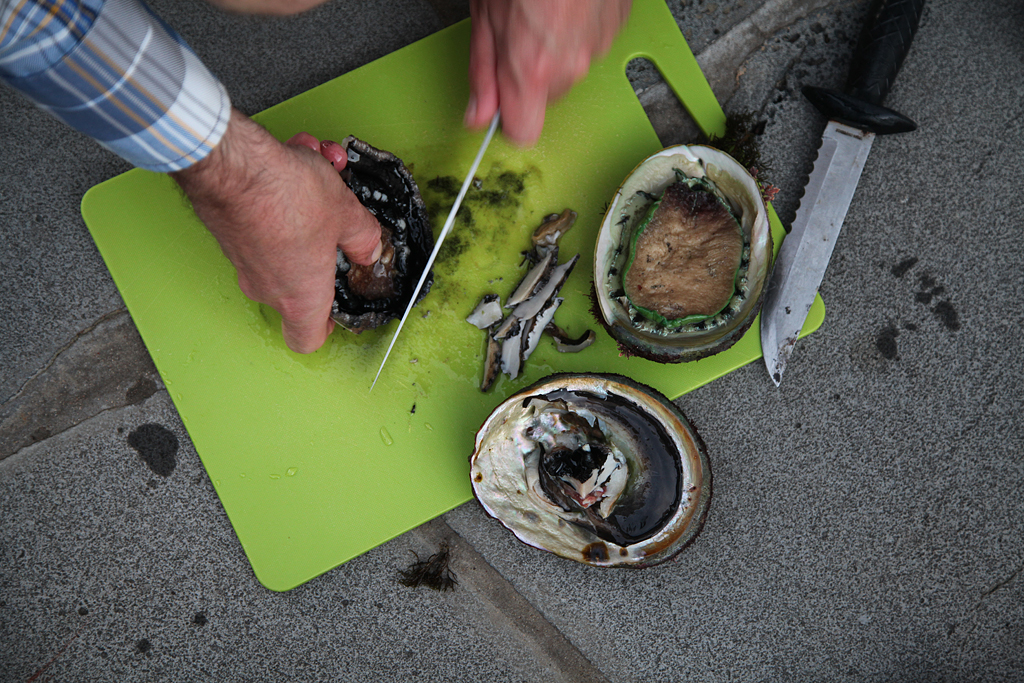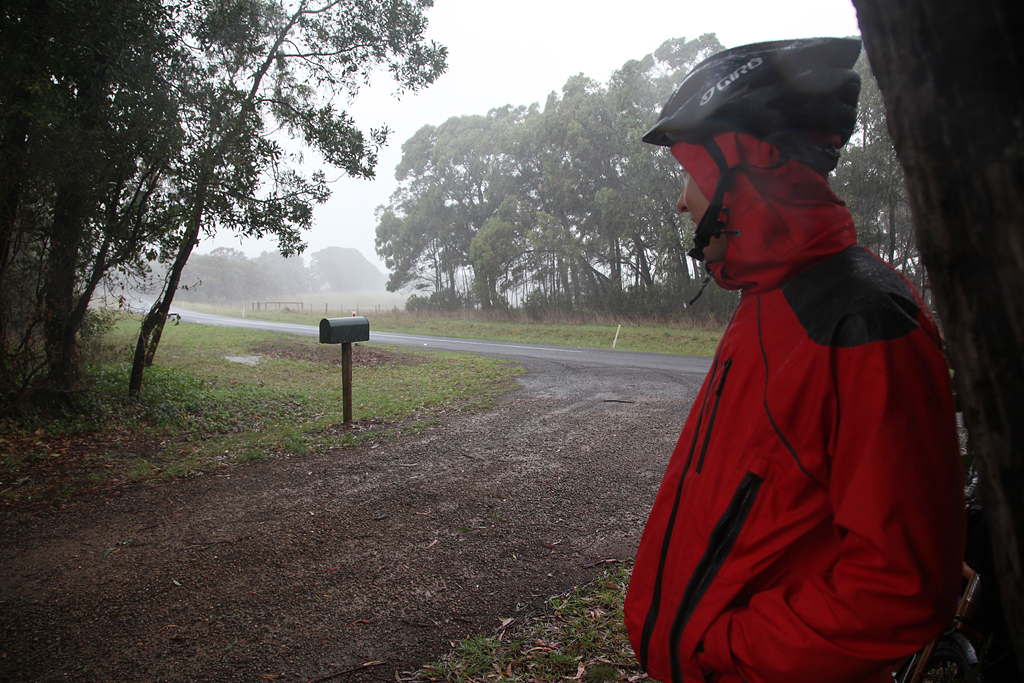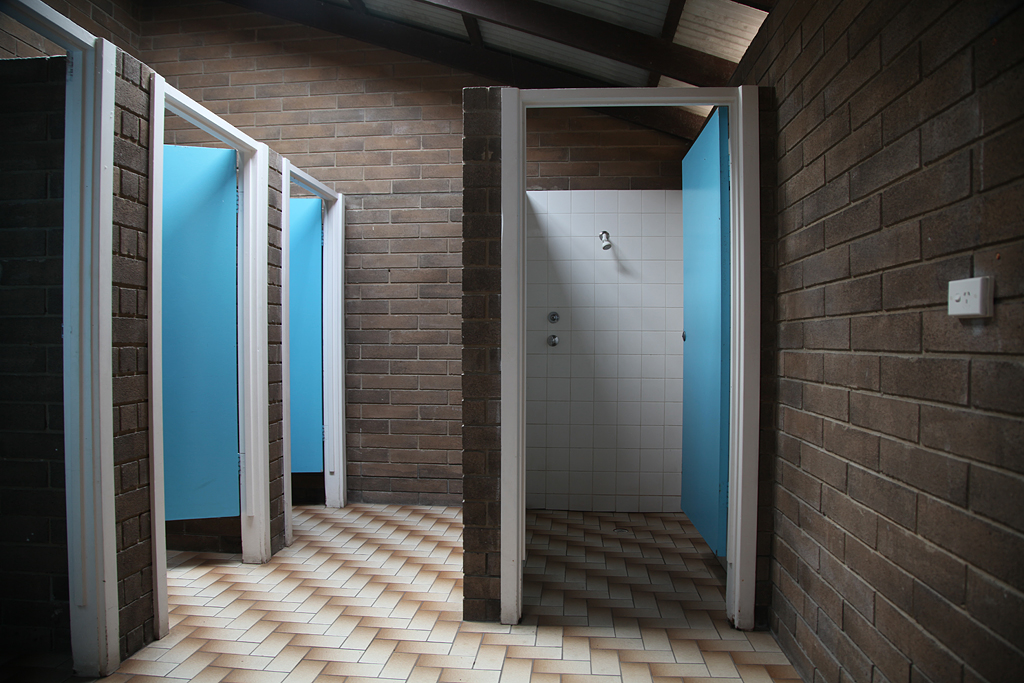 Adelaide: Once more, we got hosted thanks to Brian and his friends. Julian and Carina made us feel like at home, in their cozy house up in the hills above the city center. Most of the time we spent planning the outback stretches, like calling roadhouses to find out if and what they sell food-wise. And marking all the points where we expected to get water. Plus, we spent a lot of time using the kitchen with baking pizza and cheesecake. Yummie!
Another big task was to go grocery shopping. Not for the following days, but we bought a lot of dried fruits, nuts, oats and other delicious supplies which we shipped ahead to two roadhouses on our way as poste restante. We wanted to make sure that we'd have enough good food, once we hit the Oodnadatta Track up to Alice Springs. In case we would have followed the whole length of the track, we wouldn't have seen a supermarket for probably more than two weeks.
North of Adelaide the landscape changed quickly. It was dryer than along the coast, and we rolled through a big wine region. The Barossa valley to our right we cycled through the Riesling region. If we wanted to reach Darwin on time, we couldn't really spend much time snaking around on the Mawson cycling trail to and through the Flinders Ranges. Instead followed pretty much straight north, passing the ranges to our right hand side. It became slightly hilly but sparsely populated and thanks to that with magnificent views over the open landscape. We found easily camp spots every night, and it started becoming easier from there on. Lots of kangaroos and their smaller relatives wallabies, and some emus were running or hopping with us for a while next to the road.
A day before we reached Leigh Creek, the last town with a proper supermarket before heading into the unknown, it happened: As I was dreamfully looking at the landscape while drafting, I hit Brians rear wheel, couldn't equilibrate anymore and slammed on the asphalt. I was extremely fortunate that nothing serious happened! Some scratches on knees and hands, and being a little shocked was all I got. Uff, that was a close call!
Leigh Creek seemed to be built like a compound. No life in it, and most of the shops and cafes were closed down. Scotty, the manager of the campsite was drunk all day long, and we found one single shop (the petrol station) who served coffee. We had to stock up on food, but we arrived on Sunday and Foodland was closed. That's why we stayed on the campsite for one night, before we could set off towards Marree and the Oddnadatta Track.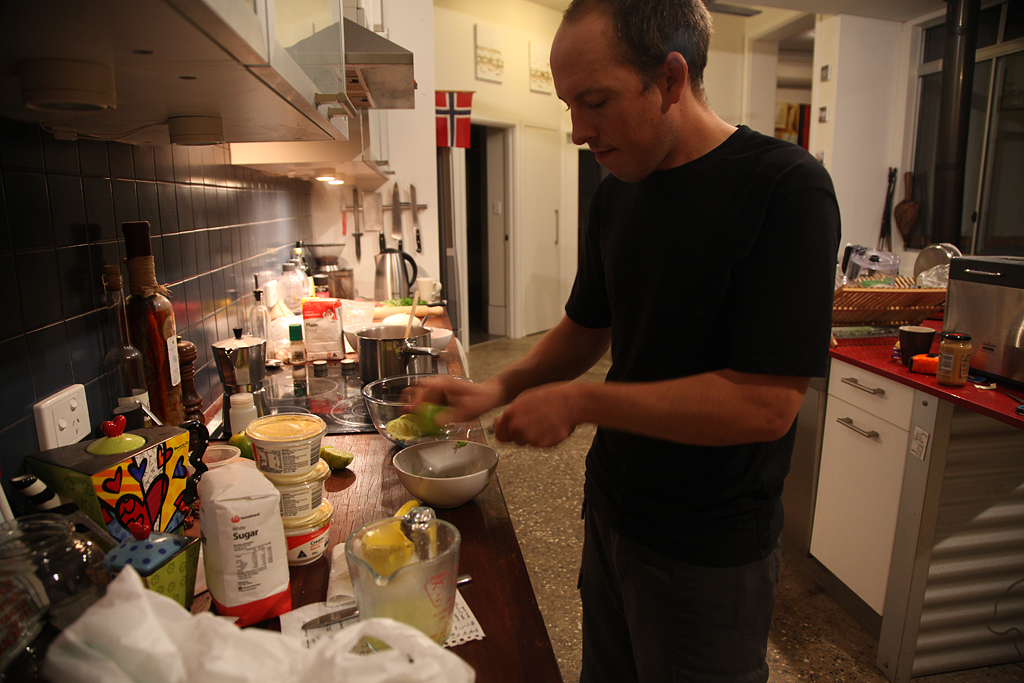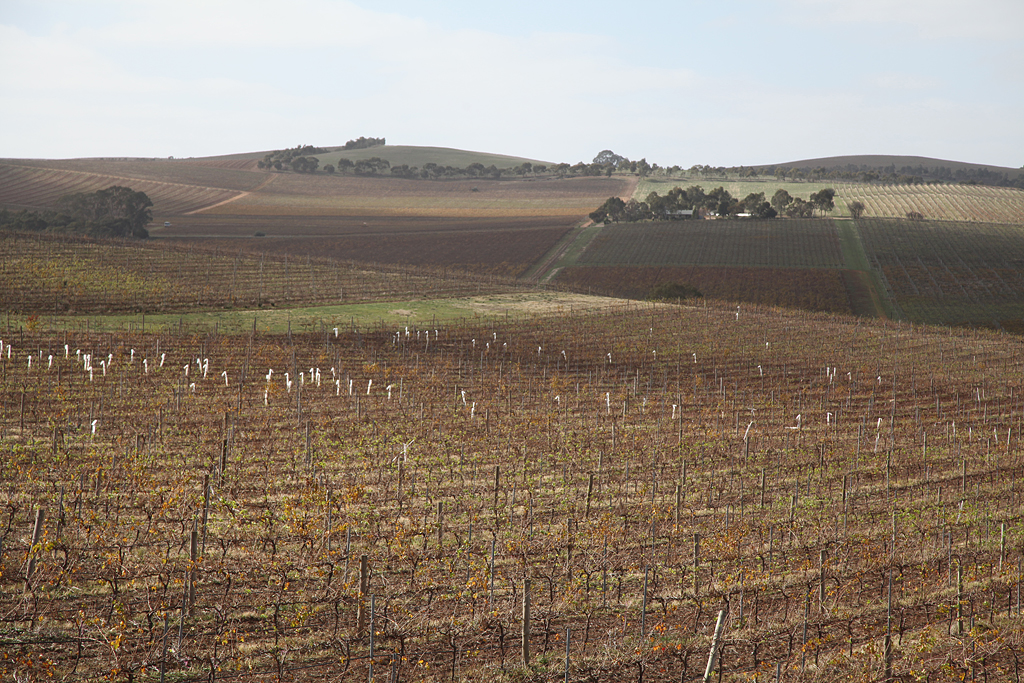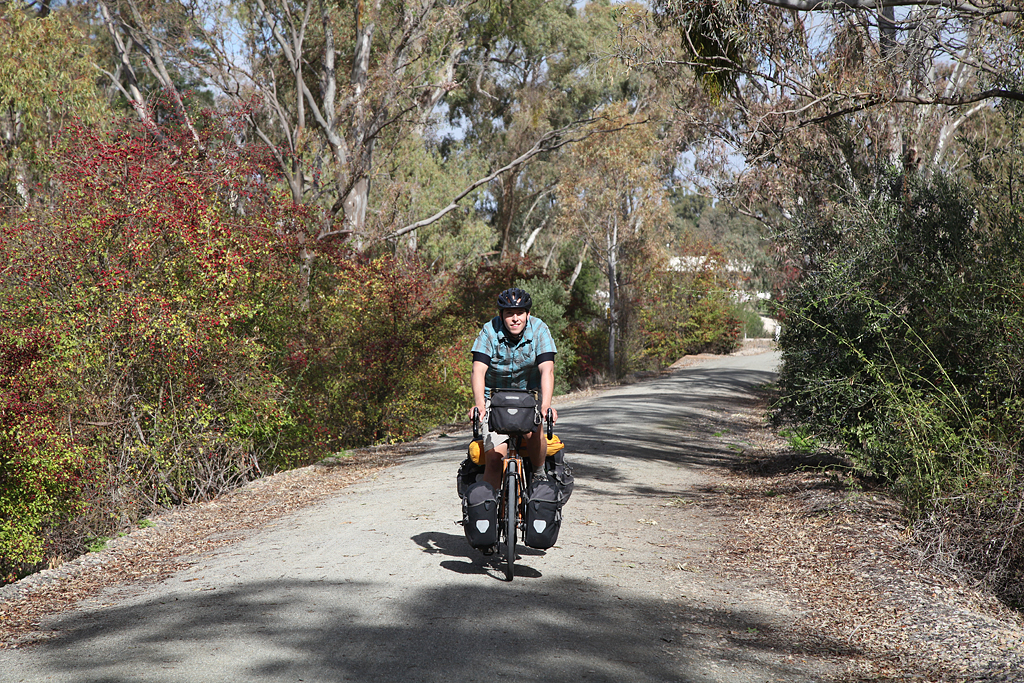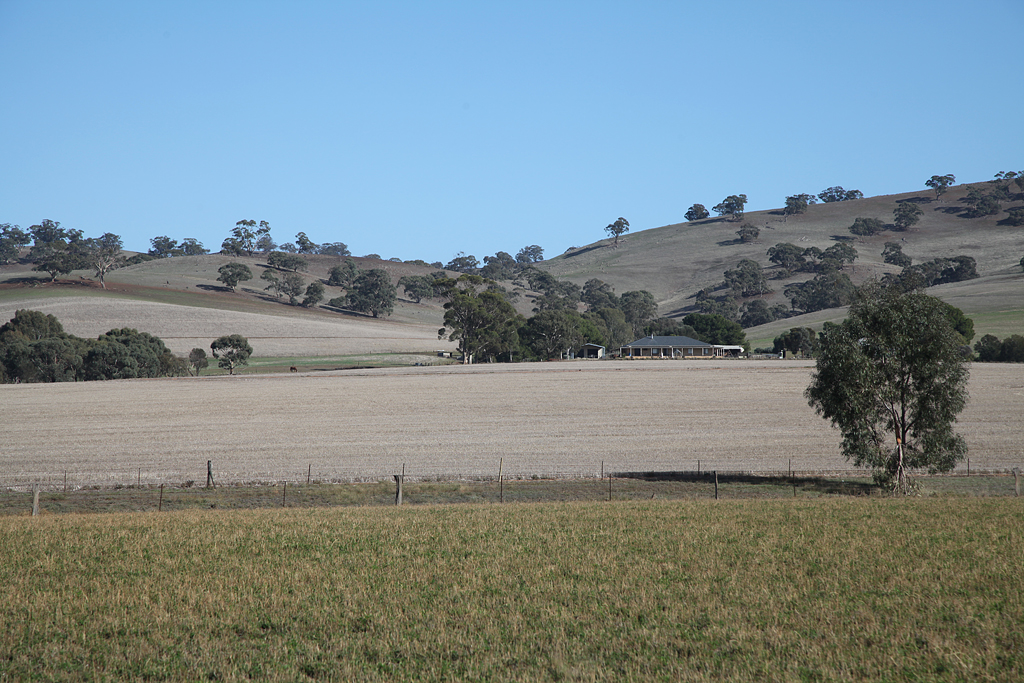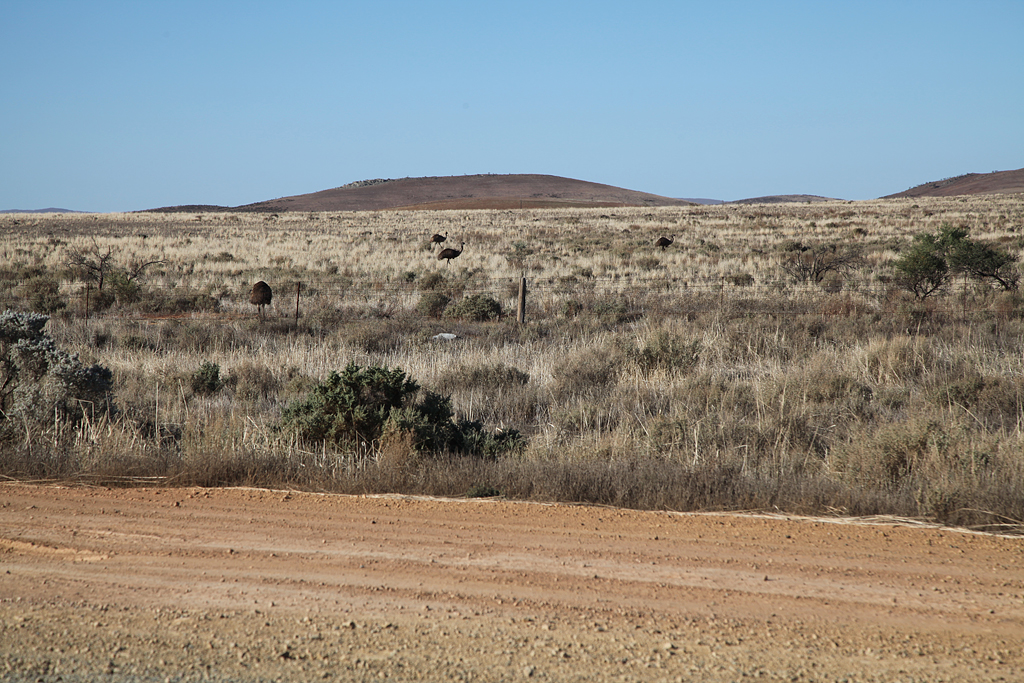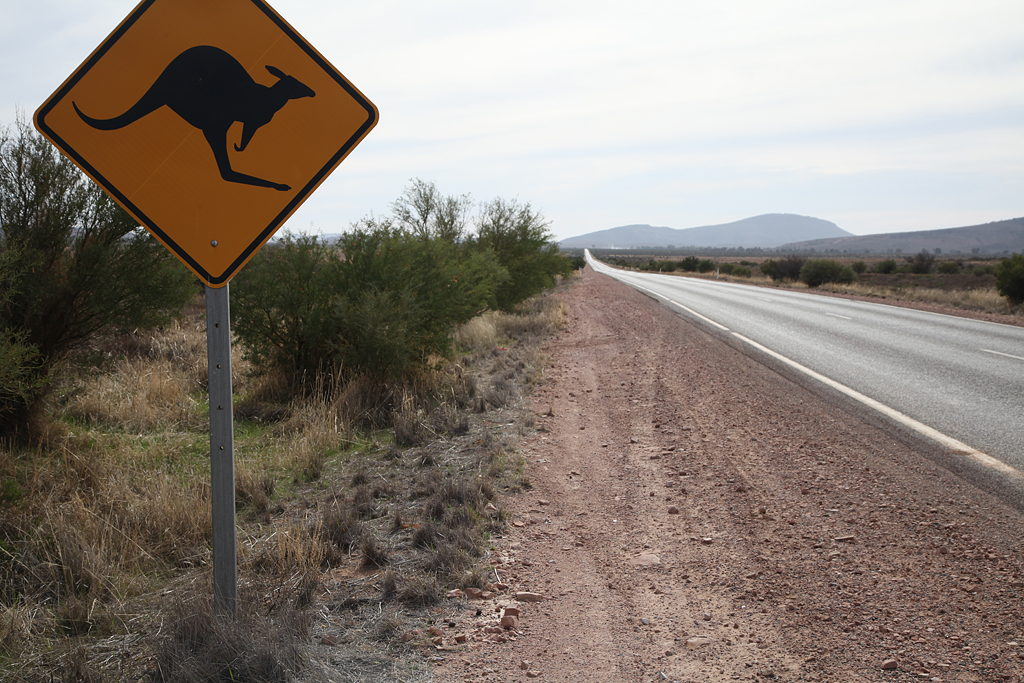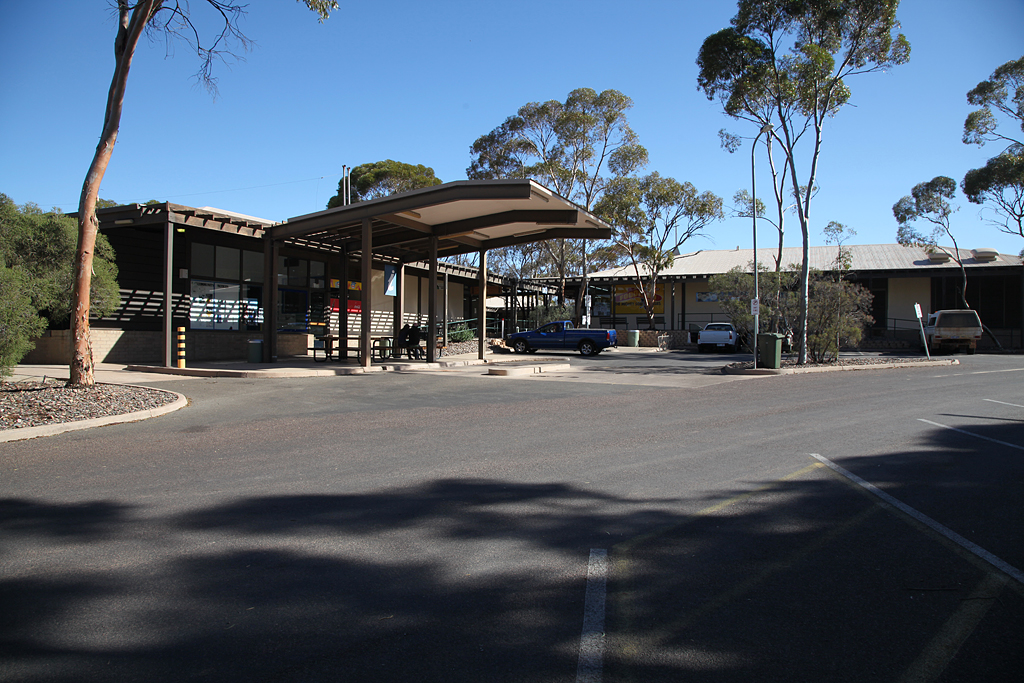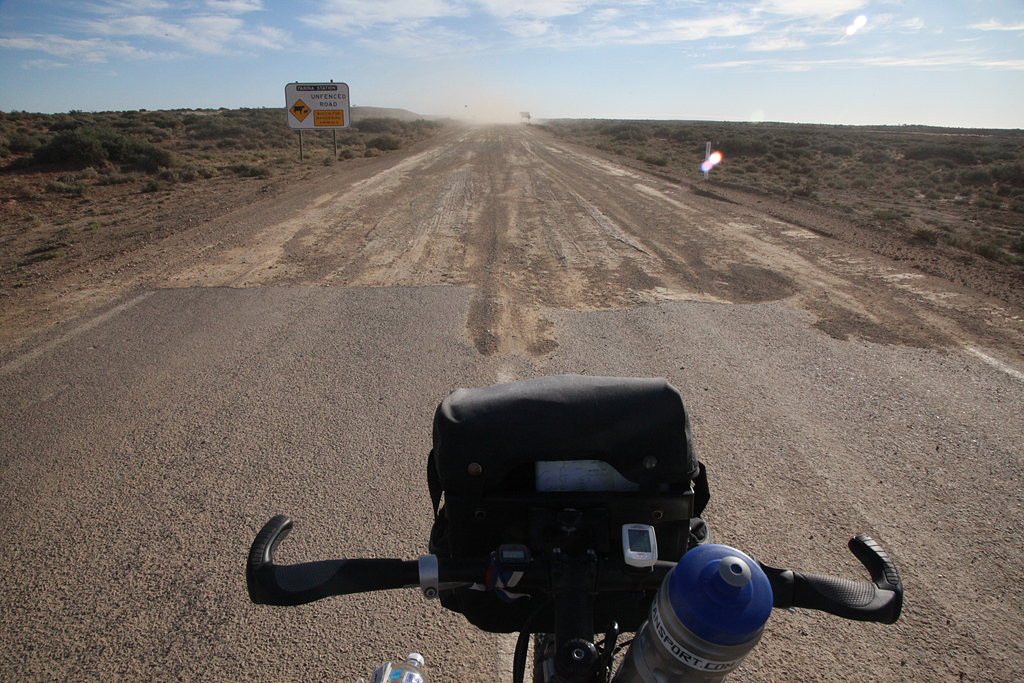 The Oodnadatta Track is a dirtroad that follows the old railway line called "The Ghan" which used to connect Port Augusta with Alice Springs. The Ghan was called like that because of its history: Before it had been built, cameleers from Afghanistan operated along this route. Nowadays the old ghan line is closed down, and goods are carried by road trains on Stuart Highway. There's a new ghan railway starting in Adelaide and going all the way up to Darwin. But it's mostly a tourist train with tickets up to 4300.- AUD!
Following the Oodnadatta was suggested my a Swiss friend Loisi, who cycled it as part of his trip around the world. Besides him, all the bike mechanics encouraged us to to so, while everyone not riding a bike thought we were crazy. "People in cars doing this die!", they told us. But I managed to come here (most of the way) by bicycle, so why not?!
We didn't get disappointed of the track, exactly like this I expected the outback to be. Maybe just a little warmer. A lot of "nothing", flat like a pancake, dusty, little traffic and unlimited possibilities to camp. We literally dropped off the road at 4.30 pm, and were always happy with the spot we chose. In addition, every night I was blown away anew by the absolutely amazing starry sky!
The weather was mostly overcast, luckily, and thanks to that the temperature rose only up to about mid 20ies degrees celcius. In general we encountered a pretty decent road quality. The grader recently passed through, so only few sandy patches and a little washboard was left over. But the road was always wide enough, so we could easily find a good line to ride.
The flat landscape reminded my strongly of Uzbekistan, with the beige colored dust and small shrubs. Our road seemed to never end, you could see that far. The only buildings we passed were ruins of stations and "Plane Henge", an open-air exhibition of junk art. Drinking water we were able to get from rainwater tanks in Marree and Coward Springs (a campsite). The bore water was not always tasty due to a high amount of minerals in it. We also got offered water from a lot of passing cars, but since we were carrying enough for at least three days, we never had to accept. But it was nice to know that we would die of thirst!
The most annoying thing in Australia were definitely the flies!! Flies that crawl into your eyes, nostrils and ears, trying to get into your body at any cost. While riding the bike, the flies even managed to sneak underneath my sunglasses, which was so pesky that I started wearing a headnet keeping them off. Lunch breaks were more exhausting than riding. Keeping the flies away from every bite and not getting upset about the crawling beasts on every bit of your body takes a lot of energy. Brian ate two flies by mistake.
William Creek Roadhouse was the first of two places where we had sent a package to ourselves. Somehow we felt like we should at least have lunch there (absolutely fantastic homemade burgers!) since they kept a box full of food for us. The charm of the roadhouse you can compare to a skiing hut in the Alps. We got a little lazy, haven't decided yet which road to take (further on the track to Oodnadatta or left to Coober Pedy) and finally stayed one night at the campsite of William Creek.
Looking back, it would have been better not to camp there. It wasn't worth it. Okay, we had a shower – but the campsite itself was a parking lot full of campervans. Lights were on the whole night, and so was a loud generator. In moments like this, I realize how precious the nights on our own in the steppe were!
Staying at William Creek also had its advantages. We got to talk to the locals / workers, who knew about the weather forecast. Rain was coming, most of it north in Oodnadatta in a few days time. This fact made it easy for us to decide about our route: we headed west to Coober Pedy and Stuart Highway.
In rain the dirtroads turn into mud pistes or better mud holes, and it's impossible to move. Usually the roads get closed for traffic, not for the good of cars but to protect the road of being damaged. As a cyclists you have only one choice: pitch your tent and wait for it to dry off. And hope you have enough food (and water), because there is nobody passing by… We didn't want to get stuck for days, altough we would have been fine food-wise.
Towards Coober Pedy we indeed got some drizzle for about an hour. It was enough to clog the mudguards up completely that it was even hard pushing the bikes. The mud was as sticky as clay. All we could do was waiting until the shower passed and the sun dried the road a bit. Fortunately it was not more than just drizzle that day!
The scenery got very barren. There were no shrubs or grassy patches anymore, just a huge gravel plain. The soil was already much more reddish, and somehow it felt like cycling on mars. After about 500 kilometers on gravel we reached again civilization in the form of Coober Pedy. The town is famous for its opal mines and as well for people living under ground. Especially in the 1960ies when mining was a booming business, people started living in dig-outs to hide from the burning heat on the surface. For some reason it attracted a lot of Italians and Greek, that there is still a big community of Europeans. Therefore, the local supermarket was very well stocked with for me familiar products such as delicious prosciutto, feta, european style bread and many more.
Brian and I were told to stay in a dig-out was an experience we shouldn't miss. So we went to a bed & breakfast and stayed there for two nights. Having visited amazing Cappadocia in Turkey with its hostels in caves last year, I instantly compared the two places with each other. No question, Coober Pedy wasn't able to hold a candle to Cappadocia at all! A bit disappointed we tried our best going sightseeing and simply relaxed on our rest day.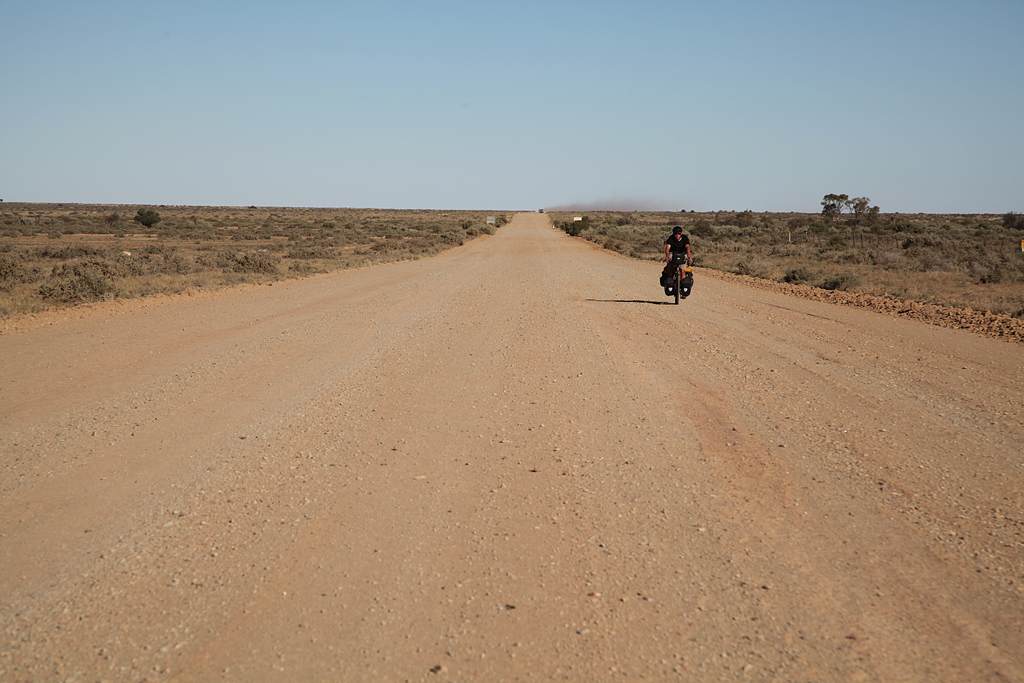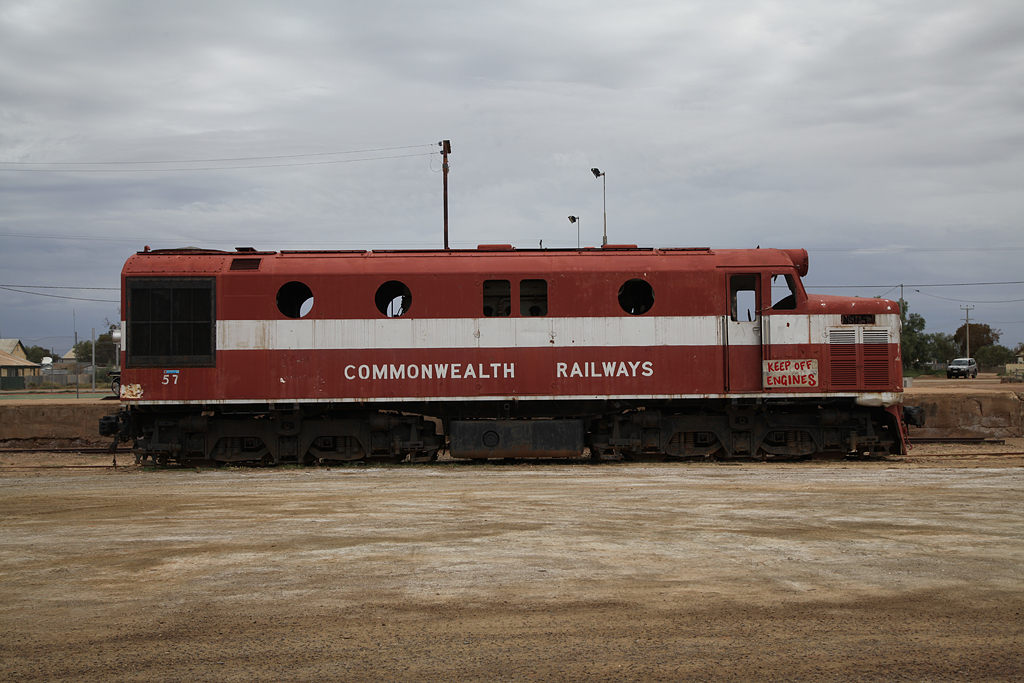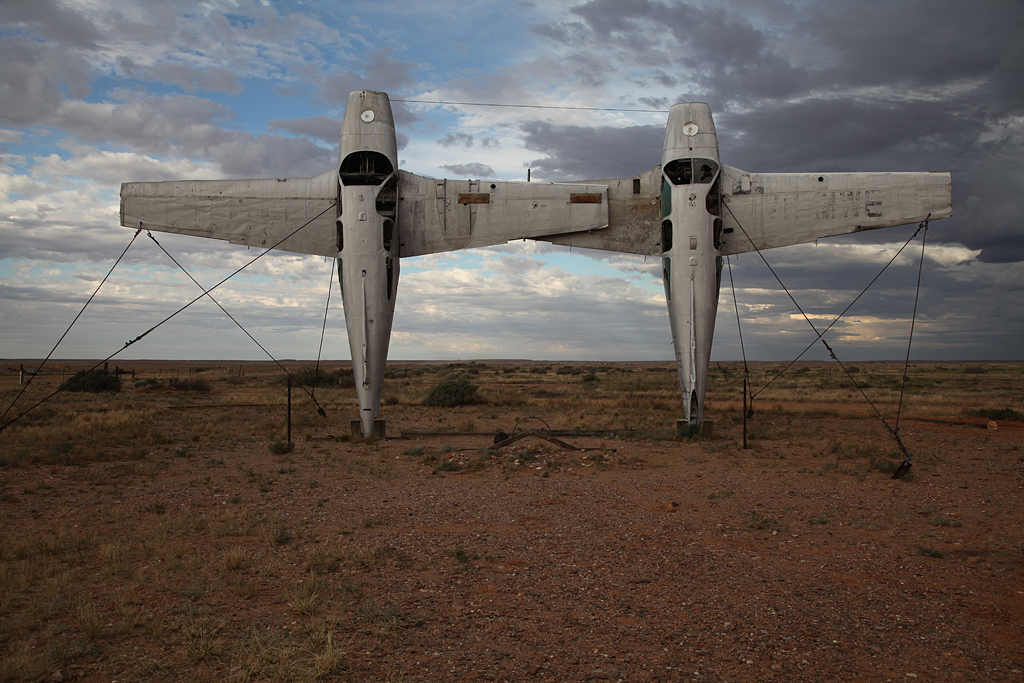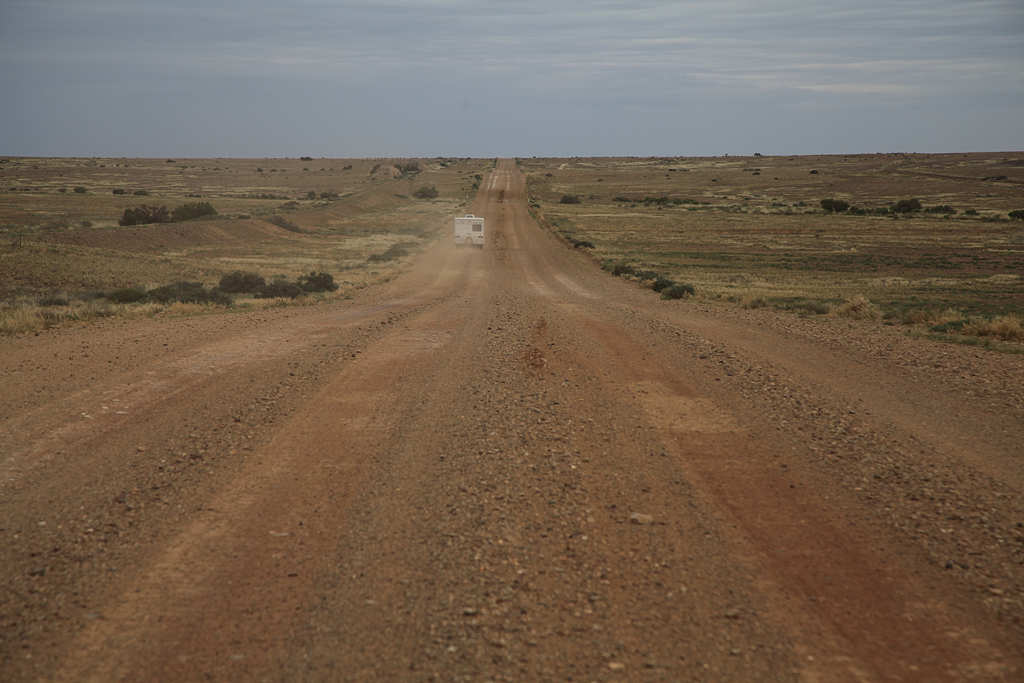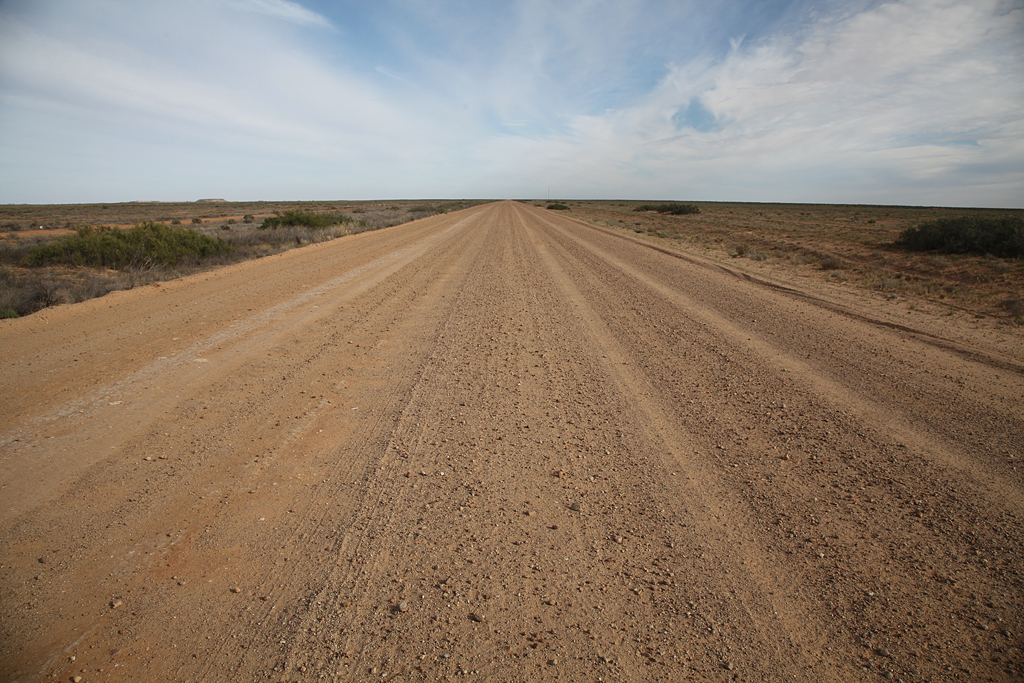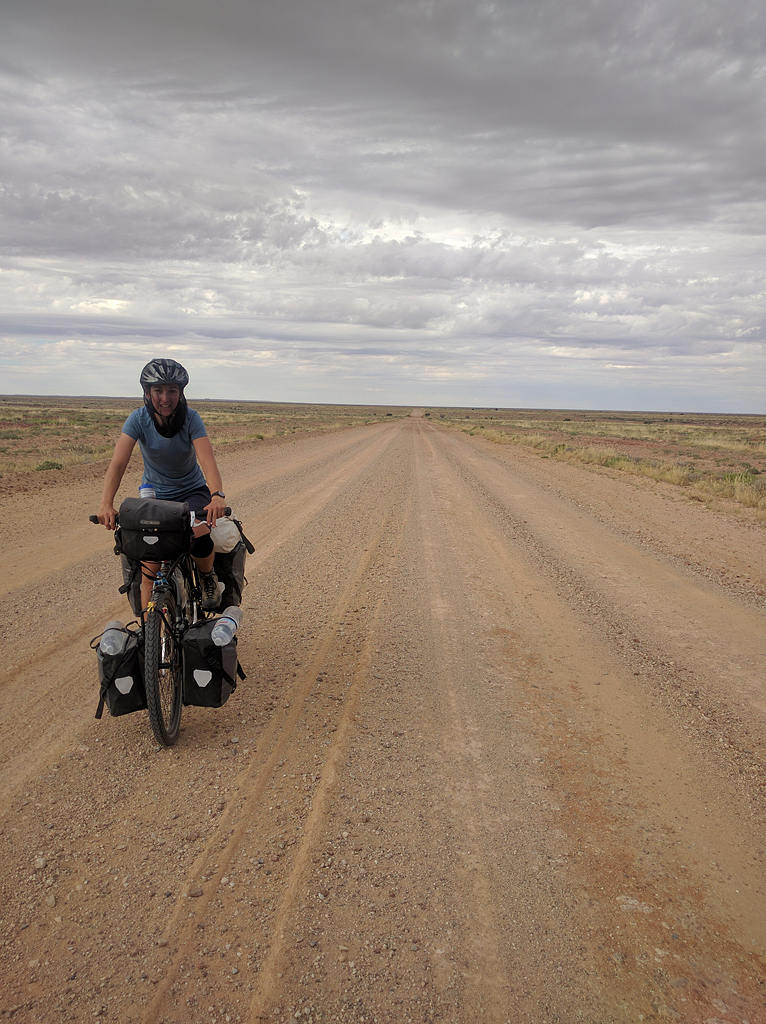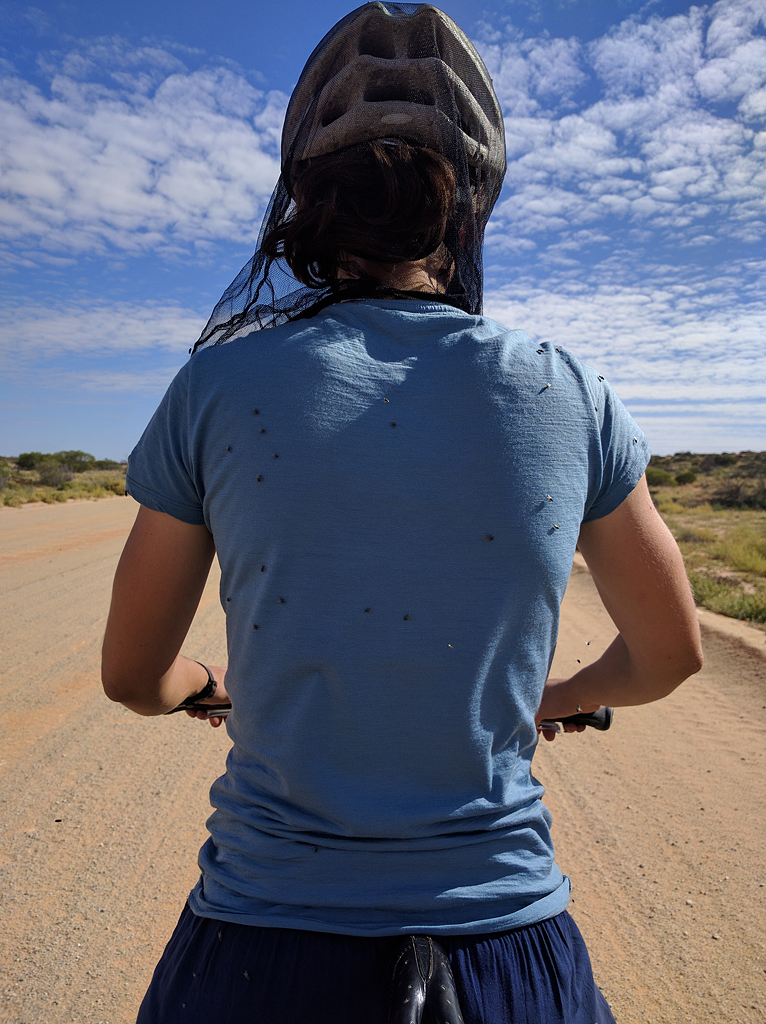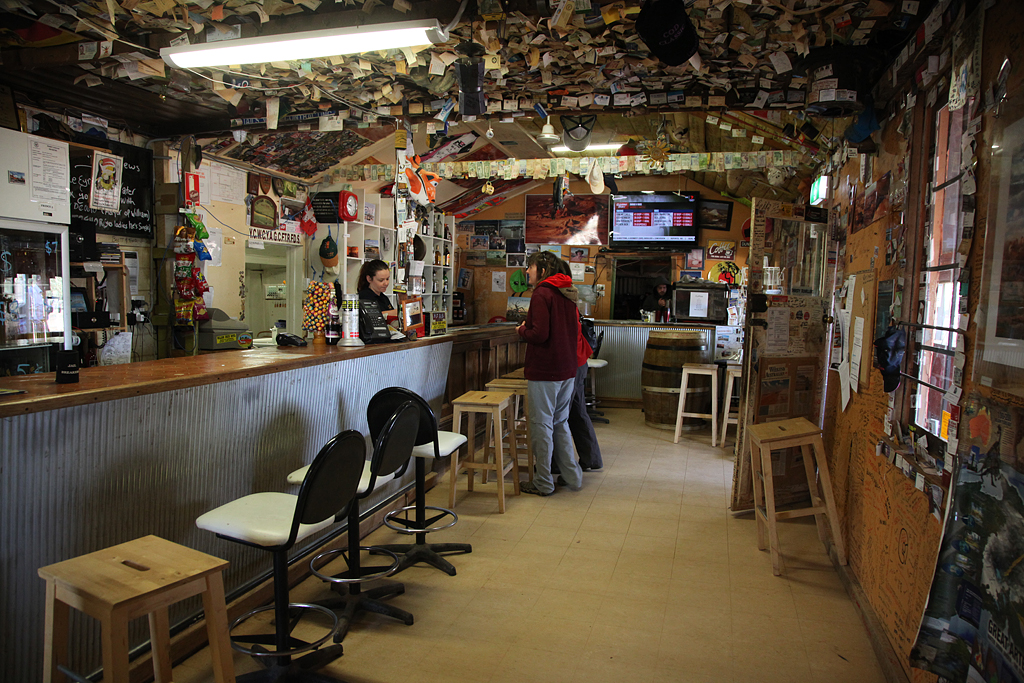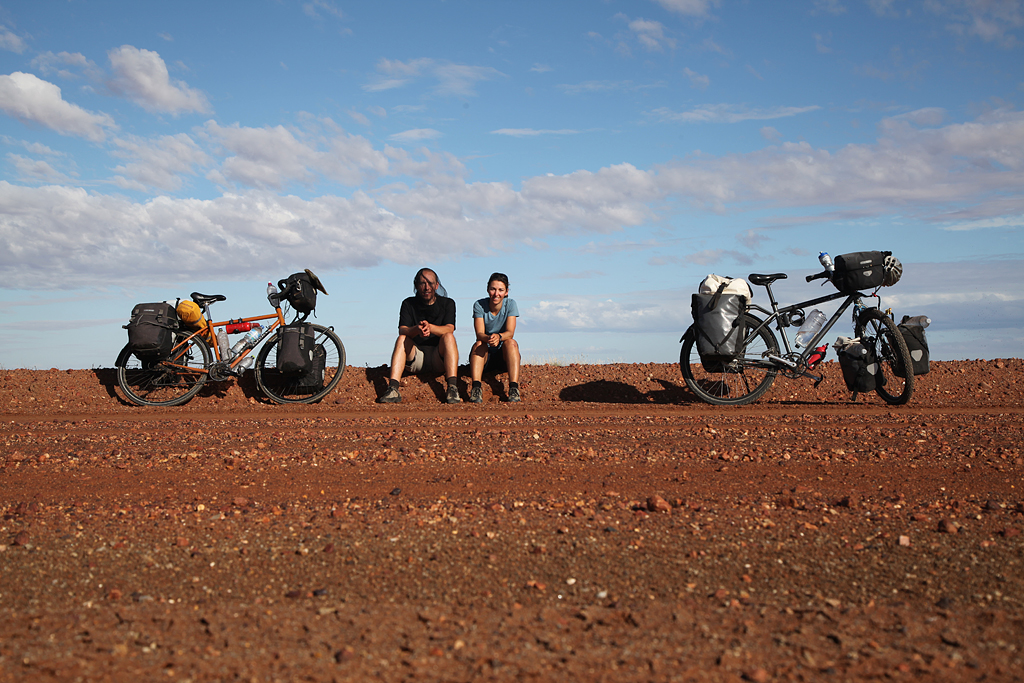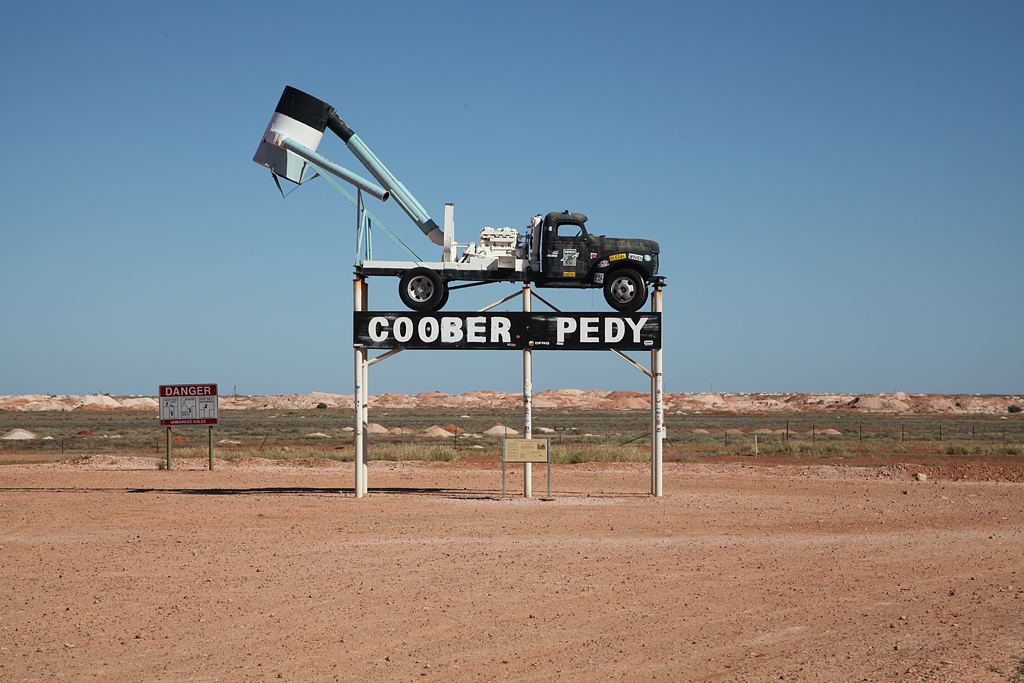 The day we planned to leave Coober Pedy it rained. The whole day. Not really motivating although from there on we only rode on tarmac. First we waited for the shower to pass, but as it still hadn't stopped in the afternoon we checked in at a hostel. We simply didn't feel like riding in the cold rain.
Stuart Highway: From here there's only one road all the way to Darwin. That's quite simple to navigate! With strong tailwinds or sometimes crosswinds with a big tail component, we pushed new daily cycled kilometer records. Our average rose up to about 110km or even more per day! Now and again we got invited for a cup of instant coffee at rest areas, which work as free camping areas and were crammed with caravans from noon on.
Traffic on Stuart Hwy was actually okay, even road trains gave us the full lane when passing. Road trains are basically just trucks, but with up to four trailers. Depending on the load and speed, the last of the four can wobble quite a bit… The road however was not what we conventionally know as a highway. Stuart Hwy is a two lane road without any shoulder. The speed limit on the other hand is with 130km/h slightly higher than on "proper highways" in Switzerland. In the Northern Territory there are even sections without limit. Open speed zones were established because some people dozed off while driving due to boredom – that's what people told us.
To Erldunda, not more than a roadhouse at the turnoff to Ayer's Rock, it was a short ride of four and a half days. The last of them it was raining buckets. And for the more than 70km in the morning there was no roadhouse or not even a tree to find shelter from the rain. The only way to have lunch in the dry was to push to Erldunda. Behold, the rain stopped just with arriving at the roadhouse. And with that, the wind picked up. After turning off to Ayer's Rock / Uluru, this resulted in a tailwind and two super happy touring cyclists!
Why should you cycle a detour of 250 km per way (dead end road, so twice the same!), to see a hill in the middle of nowhere? Because you're already almost there, and it's a must-see. Alright!
Long story short: We were disappointed. In reality it really is nothing more than a hill in the middle of nowhere, where you have to buy a three-days-ticket to get close to it. The resort-style town nearby called Yulara is nothing more than an accumulation of hotels and apartments (plus one expensive campsite). And the 250 kilometers back the way we came were not very tempting. There would have been another route to Alice Springs, via Kings Canyon on a dirt road. But due to the recent heavy rains, we were not drawn towards it…
What was the solution? We cheated – as the Italian cycle tourist Davide would say. 🙂 The road really is boring enough to do it to ourselves only once. Instead we hitch-hiked. With two bikes, twice luggage and two people it wasn't easy! (No poor lonely girl bonus anymore…)
Initially we were counting on the many campervans. We thought, they'd have enough room in the back, to fit two bikes plus ourselves – just for a two hours ride. But we were wrong. The few cars towing a caravan only stopped to ask if we had a problem, to tell us then that they couldn't give us a lift. "No room in the back."
A guy called Linden gave us the first lift. In the back of his already pretty fully loaded small jeep we squeezed in the two cycles and all the panniers, and then both of us onto the passenger seat. 150 of the 250 km we got like this, to the turnoff to Kings Canyon. The chances getting picked up there sunk to about zero. But a strong headwind hold us off cycling. Only one hour and a quick lunch later, we struck lucky: A car towing a flatbed trailer stopped! The German-Australian couple was going to tow the son's broken down car from Stuart Hwy, what a chance for us that their trailer was empty! Just when the topic of conversation changed to religious faith, I realized that that was gonna become the longest hour I've ever been in a car… Anywho, they were kind people and dropped us off at Erldunda again.
In Alice Springs we wanted to have a well-deserved rest. Wanted – but that did not happen.
To be honest, in my opinion this city is a dump. Sorry to say that, but we had a rough time there. The city center was crowded with intoxicated aborininal people, I got the feeling like lots of them were homeless. Probably it's not true, but that's the impression I got.
Brian had gotten a bad rash on his hands, that he had to go and see a doctor. And later that day he got hit by a car in a traffic circle – not his day at all! Luckily Brian only scratched up his knee and elbow a bit, plus dropped the groceries which ended up in minus 1 liter milk and minus 1 liter beer. That was all, thankfully!
The morning we were leaving Alice Springs, we got up early. I had a shower at 7 am, and when I stepped out of the cubicle I couldn't find my shoes anymore. I had placed them in front of the door, but they weren't there?! At first it took me a while to realize, but my shoes were stolen! My 1.5 years old, worn out, smelly shoes! Stolen out of the shower of a campground!! It was quite cold, just two days before that we had frost in the morning.
Not very amused with such a start in the day we packed up, had breakfast and – I had a flat tire. Fantastic, exactly what I needed!
We rolled down into the city to find a new pair of shoes. The first bigger of two outdoor shops with its slogan "what we don't have, you don't need" – of course – didn't sell any shoes. The second shop came up with exactly one pair in my size that fit. In purple, what a bummer! But I needed some shoes, there was no way around… After all this, we left Alice Springs with only few good memories and much frustration. Despite the shoe debacle we still pushed the required 100km+ out into the peaceful outback.
The supposingly red center respectively outback was very green this year. Exceptional green because there was a lot of rainfall, exceptional much rain. A bit sad for us, at least I wanted to see the red center as how it is known.
Brian and I followed two weeks Stuart Hwy. Long straight road, lot of drafting, tons of termite mounds, lots of pies & chips in roadhouses, and the more north we got the more often ice cream in roadhouses. Blue sky and rising temperatures, it got as warm as 35 degrees celcius. We averaged more than 100 km a day, passed at least one service station, hence it was no problem to refill water.
About halfway between Alice Springs and Darwin it got really hot. To prevent massive bushfires, the territorial government sets controlled fires and cuts firebreaks. Amongst other places, those controlled fires were set along the road – and we had to pedal through burning corridors. The thick smoke made it a dangerous section, cause we weren't visible from far away anymore. It was hot and the fume was burning in the eyes.
I wouldn't call these fires actually "controlled". Because they were set during daytime and just left and hopefully died down. In case the wind picked up, they could have traveled quite far – even during the night! The first time we encountered bushfires, we got a bit concerned. We didn't want to get warm feet at night, so we kept cycling until we got to a roadhouse. 135 km we pushed that day! Like this we were safe from fire and able to treat ourselves with a well-earned beer during happy hour.
From there on we followed a different strategy. Where the fire already went through, there's nothing anymore that can burn. Like this we chose spots to camp that were already destroyed by fire to be safe.
Katherine, three days before Darwin, had already much more of a tropical climate. And a very nice hostel with a big discount for cyclists. We went there thanks to a suggestion from another cyclist – and met Davide, the Italian I had met in Turkey back in March 2015!
The rest of the way to Darwin was done in a short time, even though we took a little detour out the peninsula. Like this we avoided the busy traffic entering Darwin, and enjoyed a boat trip instead. Reaching Darwin and thereby having crossed an entire continent on a pushbike made me feel very proud. In addition I just cycled my 20'000th kilometer on this trip shortly before! It was an amazing feeling!
Darwin is a big city how we haven't seen one for a while. Although situated at the ocean, it's strictly not advised to go swimming. Either you'd get burnt by a jellyfish or eaten by a saltwater crocodile. Both not amusing…
Thanks to the Swiss motorcyclist Urs "Sturzi" who I'd met in Tajikistan in August 2015 (and for a short time in Katherine again!), we got in touch with Dave in Darwin. Dave is member of "horizon unlimited", the motorbiker's equivalent of the warmshowers.org community. Dave is a very nice guy, told us thousands of stories about motorbiking in Europe and hosted us for the couple of days until our flights left Australia. Thanks a lot, mate!
Big thanks also to Brian, one of my best travel mates ever, for the really awesome and fun time together! In Darwin we said goodbye, my trip continued in India while he went back to America.