More than one year after traveling India, I finally found some energy to write about this awesome place. The Indian Himalaya is definitely one of the best bits of my route I had cycled. Landscape-, people- and food-wise simply fantastic!
I struggled writing about these three weeks because of a personal reason. But that's just as a side-note.
Franci took 3.5 weeks vacation to come see me in India, and cycling together in the Ladakh area in the north of the country. It was early July 2016 when we met at the airport in Delhi. Franci came on a long and overbooked flight from Zurich, and I had flown from Australia via Malaysia. We both had do adjust to the new country at first, and to the humid hot climate of busy New Delhi. Fortunately Franci had already planned our stay in a nice hotel, to give us the time for getting used to the impressions – and to get and get over the obligatory "Delhi Belly"…
Our initial plan was, to fly up to Srinagar, the capital of the district Jammu and Kashmir. From there we wanted to cycle the few travelled and spectacular roads towards Ladakh. As mentioned, that was the initial plan. But as you travel, you learn that things change as you go… Surely, it all came differently than we expected!
The flight to Srinagar was short and uneventful. Maybe just the fact, that most people were carrying hand-luggage despite an interdiction irritated us. Looking back, it seems normal that people would do that. I learned ignoring these "guidelines" just as well as the locals; and didn't even feel interrupted by the tourists vexed gazes at me anymore when flying from Leh back to Delhi. But about that later in the text.
When we landed in Srinagar, the valley was filled with smog. Uncommon for that place, as we read beforehand, since it is known for the clean air compared to the cities. A bit disappointed we left the plane, hoping for better views to the mountains the next days. Already at the airport we were impressed by the high number of police and military. But since it is a military base partially used as a commercial airport, we thought that it was normal.
Riding the bikes into town, we kind of started to question the situation: An officer as well as a taxi driver told us to better not cycle by ourselves through Srinagar due to the momentary political situation. As far as we understood, there was somebody shot that day that we arrived. During the last couple of years, the area was relatively stable and not many incidents had happened. That's also why we chose traveling to the area at the border to Pakistan – it had been considered to be safe for quite a while.
Along the streets to the center of town we hardly saw anybody else than policemen and soldiers. The streets were mostly empty, and every 50 meters some armored gun-toting guys observing the neighborhood. Every now and again an armored car with a crenel was driving past.
Franci and I found a guesthouse a bit outside along the river, and realized what was going on. The police or military had shot one of the heads of the separatists in the area. Right that day that we flew to Srinagar. It all happened in a city south east of there, in Anantnag precisely, but the people were upset and started unrests in the bigger area and especially in the capital which was Srinagar. The local government imposed a curfew and the locals started a strike. The formerly called smog turned out to be smoke from burning tires. Separatists had built barricades in Srinagar out of barbwire, stones, and whatever they found on the streets. One took place exactly in front of the guesthouses gate. Electricity was on and off throughout the day, and internet was shut down for most of the time by the government. No buses nor other public transport worked, most people couldn't leave the area. No shop was open, and no restaurant either. Since we just got there, we were hoping to stock up on food for cycling. But it was even hard to just get something for lunch!
The owner of our guesthouse was nice and explained us a bit the situation. The rest we read online when we got the chance to log in the internet throughout the day. Anantnag where the worst unrest took place was the first stop on our planned route – time to reconsider! Franci and I had a short tour around Srinagar, trying to find some groceries (not lucky to find). It felt like in a war… The armored cars each had two policemen with rifles pointing out the crenels, and at the barricade in front of our guesthouse the separatists (or just one of the groups fighting) lit a wooden shed on fire. We just saw the dark smoke ascending from behind the fence where we were staying.
In the end, we stayed two nights in Srinagar. The day in between we spent exclusively at the guesthouse. Booking a flight away from there took the whole day. The internet was that patchy! To be honest, we were lucky to have a "fat wallet" and being able to book a flight. Locals cannot easily afford a flight out of there for 100.– $, and buses did not move anymore because of the curfew and strike. Low budget travelers went to the bus station every morning around 5 am, trying to have a ride away from Srinagar. But they ended up staying for several days to weeks before actually getting on a bus. I was honestly very thankful for being in this comfortable situation of having enough money to easily leave. I guess it was the first time, that I was in an actually frightening situation on my travels.
Back at Srinagar airport: Chaos. Security checks: Four (quantity over quality). Bike boxes: One and a half, time to craft something.
At Indian airports you cannot enter the building earlier than about 1.5 h before your flight. At the door, your luggage gets scanned. But before that, along the road up to the building, the luggage got scanned once already. At the check-in: pure chaos. We had to pay overweight for the bikes, but since internet was shut down payment with cards and ATMs didn't work. The staff wasn't even able to look up the exchange rate for dollars. Ten minutes to boarding time, some very nice staff members agreed to exchange privately some dollars to rupees for us, and check-in finally worked out. Our luggage was accepted and we could proceed to the flight. But we still had to go to the gate, which fortunately was close by. After security (another luggage scan and body check although hand luggage was forbidden once more) we passed an unusual luggage check before the actual boarding: One of us went to the airfield, and had to point on our luggage. Only after this it was put on the plane… If you learn something in India, than it is that time doesn't matter. Just relax, it will be alright! The flight was late one hour anyways.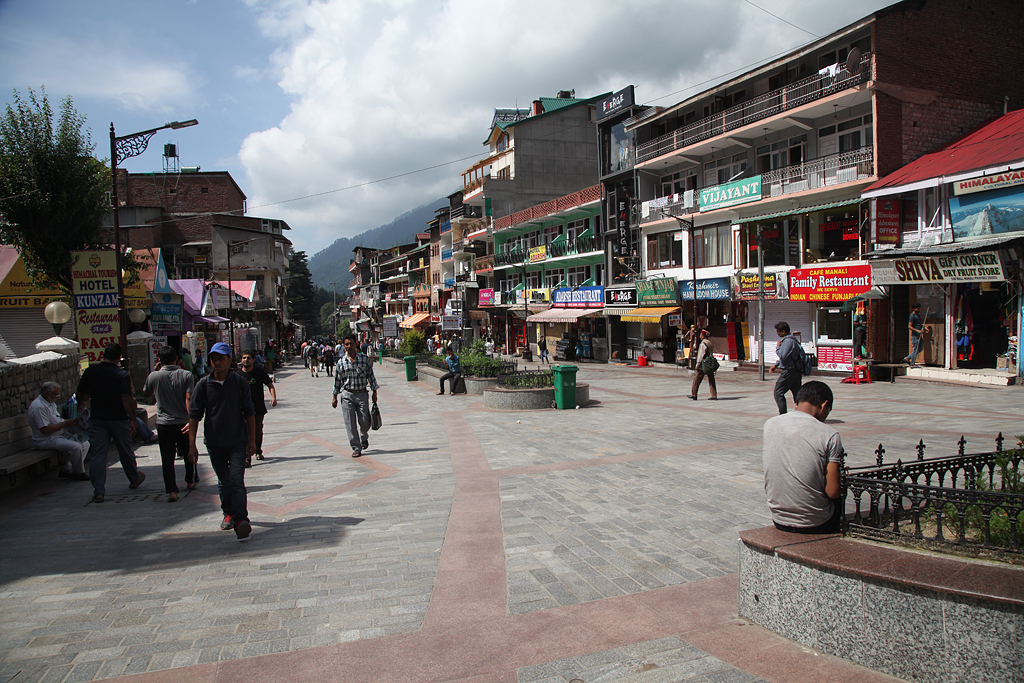 Instead of New Delhi, we flew to Chandigarh. That is a city of about 1 mio. people north of New Delhi close to the mountains. Buses from Delhi up to Himachal Pradesh go through there, so it was more convenient to fly to Chandigarh than all the way to Delhi.
From the center of Chandigarh we took a bus to Manali the same evening. Manali is located in the state of Himachal Pradesh at the bottom of the indian himalaya. It wasn't on our original route, but it is known as the starting point of the probably most famous road in the north of India: the Manali-Leh-Highway. Part of this we wanted to cycle anyways, and starting in Manali was totally safe in a political way.
The bus was a local Indian bus with not much comfort. We tied the bikes onto the roof by ourselves, and paid 440 rupees (ca. 6.50 CHF) each for the 10 hours bus-ride. What a rollercoaster ride! The road was curvy like swiss mountain passes, and the driver never slowed down at all. Not even for people getting on or off he stopped completely… Other countries, other drivers! 🙂 At 6 am we arrived in Manali. Sick as hell, but luckily in one piece. Haha! That day we just searched a guesthouse, slept in the morning what we couldn't on the bus, and had nice indian food for dinner.
Manali is a touristic little town in the mountains, and it is very similar to a swiss town in the alps. It lies on about 1800 meters above sea level and is surrounded by conifer forests. In the area it rains often, so the mountains are nice and green with forests and pastures. Franci and I took another rest day after those a-bit-nerve-wrecking ones in Srinagar. We went to the market and stocked up on food. And of course we sent some messages to our families, assuring them we were fine and changed our plans. Unsurprisingly, there was not much in their news about the north of India, since it is considered to being an ongoing conflict. All you could find in Swiss media was this: https://www.nzz.ch/international/konflikt-in-kaschmir-15-personen-bei-ausschreitungen-ums-leben-gekommen-ld.104899
Finally Cycling!
From Manali to Leh, the most busy stretch is leaving Manali. A lot of Indians travel to Manali and take a taxi or bus up to the close-by Rohtang pass. There they usually see snow for the first time, and it is a common honeymoon trip. Along the road, lots of rental stores hand out skiing clothing and gumboots. Although a good percentage of the people throw up either straight out of the windows of the car while driving, or at the top of the pass, it seems like a travel of their life!
The road gets washed away frequently in some parts due to landslides, but workers keep fixing it continually. Traffic slows down every now and again, but with a bicycle you can easily pass over rocks as long as you can deal with the exhaust gases… Many switchbacks later, after a whole day of cycling uphill through fog and mist, we finally set up camp just underneath Marhi. The following day we crossed over Rohtang La, left the snow-tourists behind and descended down to the last bit of the Spiti Valley.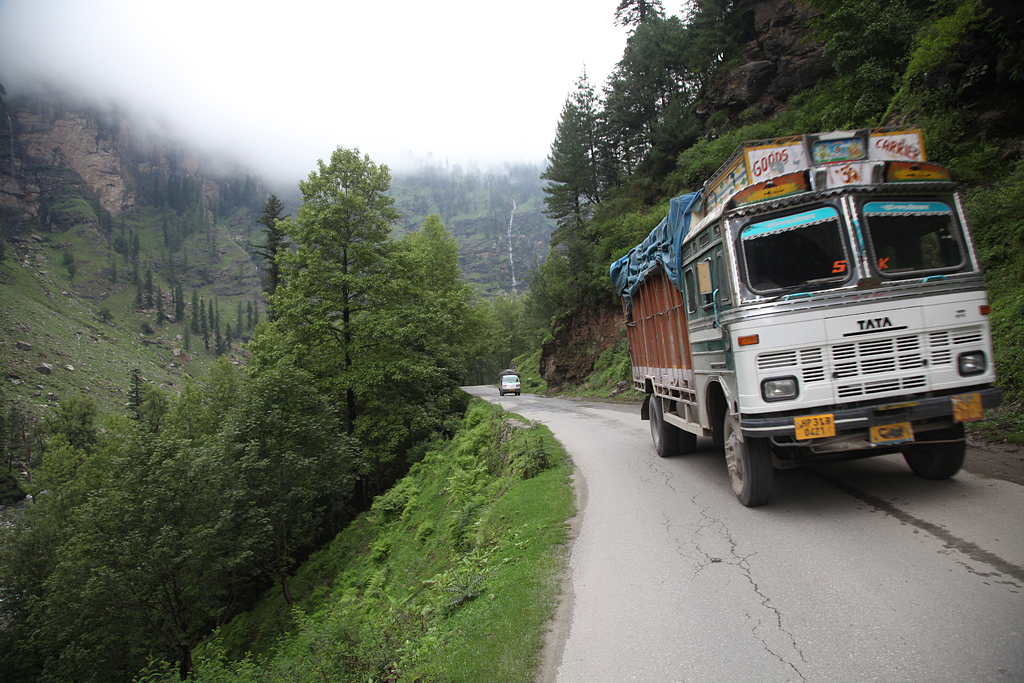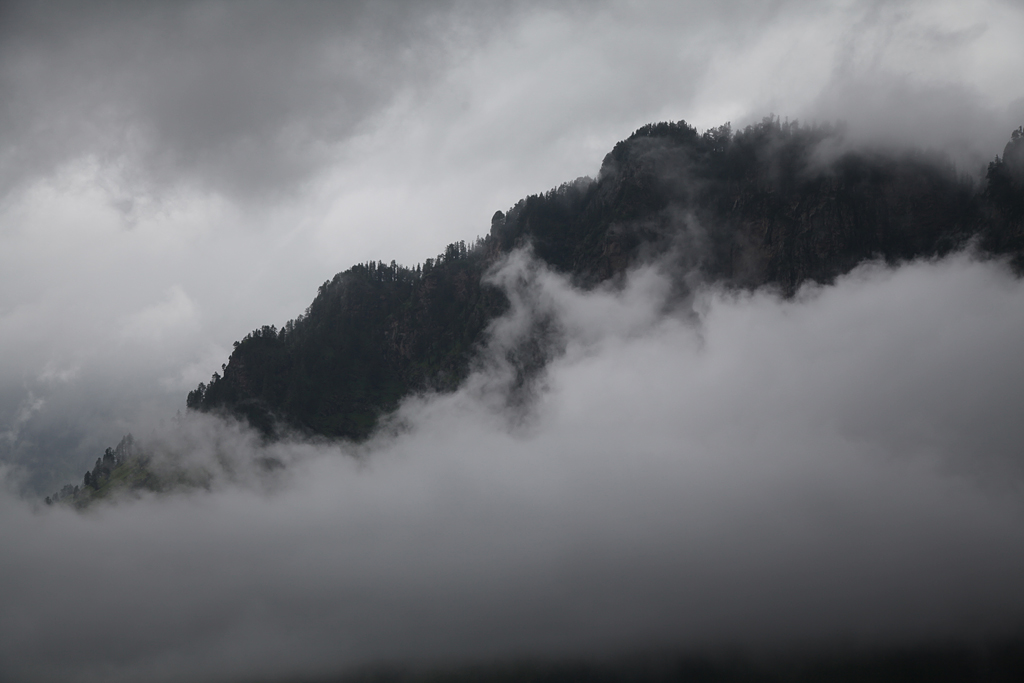 Fortunately the weather was slightly better on the other side of the mountain pass. A good downhill on the worst road of the highway was awaiting us. Lucky us, to go down instead of up!
The landscape became more meager, but was still green. Some people use terraced fields for growing crops and vegetables, others work in road construction crushing stones by hand with a hammer. Keylong, the last city along the road until Upshi in the Indus valley, was a nice stop. We were kind of still getting used to the culture, prices and stores – but on the other hand we knew that it would be the only and last stop for buying food to cook. We got some (way too expensive) vegetables and noodle soups for the upcoming days, but in the end we realized that we wouldn't have needed them. Every day we passed at least one "Dhaba", a small restaurant that is open only during the summer months. Most dhabas are only tents, so people take them down at the end of the season.
From Keylong the road ascended along the river. Mountains seemed to be higher the further we came, and the climate more dry and more rough. Distances between towns got bigger, and soon we left the last little town behind us. Nobody lives on the high altitudes all year round, so people live in tents during summer. Just some roadworkers live in a few buildings called Zing Zing Bar, and some Dhabas have nowadays stone walls and plastic or fabric roofs.
Along the road we met a big group of Indian cyclists, who were on their way to Leh as well. The Indian Youth Hostel Association organized a cycling tour from Manali to Leh for 150 persons. They all started on three consecutive days, 50 people per day. Every group was accompanied by a doctor, a mechanic, a cook and a minivan which carried the luggage. As they had more or less the same distances planned per day, we mostly camped in the same general area and met them during the day cycling. It was a lot of fun to meet so many excited locals (in a greater view, not locals from the Himalaya) cycling long distance (most of them) for the first time. The weather, the altitude and the sportiv aspect was a challenge for everbody – us included – and an awesome cohesiveness built up. The stop at the Dhaba in Patseo on a rainy noon I will especially keep in good memory: While waiting for the rain to stop, we had lunch and tea with a lot of YHA cyclists. Two other tourists started playing Ukulele, and soon everybody was singing and dancing and clapping to the rhythm!
The next day the weather got better. It also meant though, that the roadworkers could start work on the bridge above Zing Zing Bar… Just on time, we could pass the bridge with still half of the planks on it. Just for half of the way we had to balance the loaded bikes along the narrow steel girder. Cars, trucks and motorbikes were less lucky, and had to cross the river… And of course it needs only one to get stuck to block all traffic!
In zigzags with a gentle incline we rode up to our first 4000er in India: Baralacha La 4850-4940 m a.s.l. (depending on resource). The air got noticeable thinner, we reached the high plateau! The scenery started looking moon-like, and vegetation got less.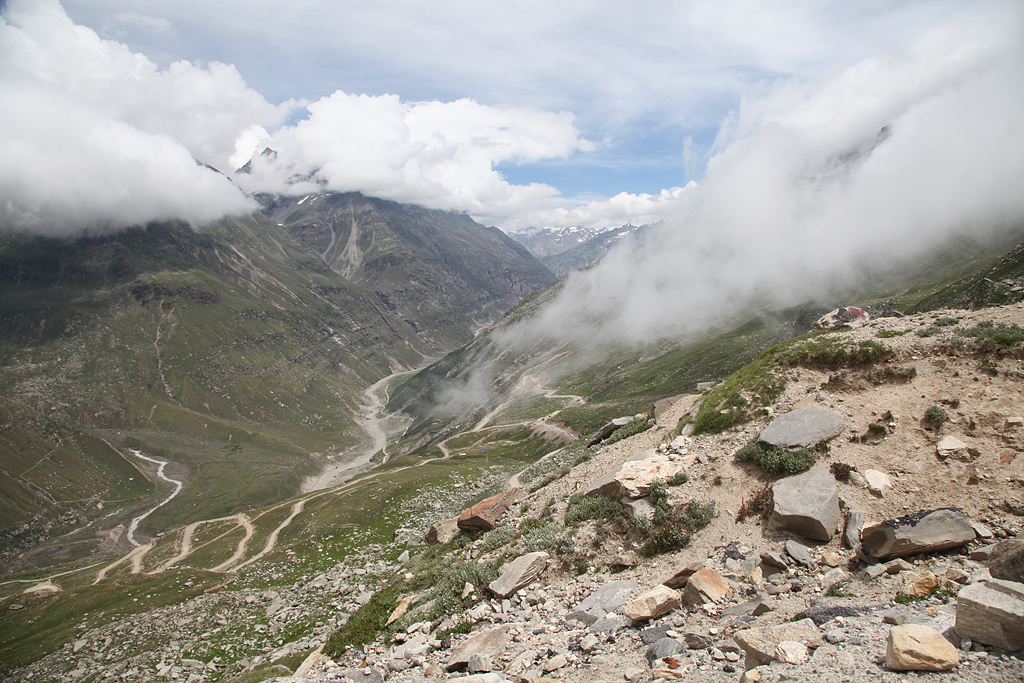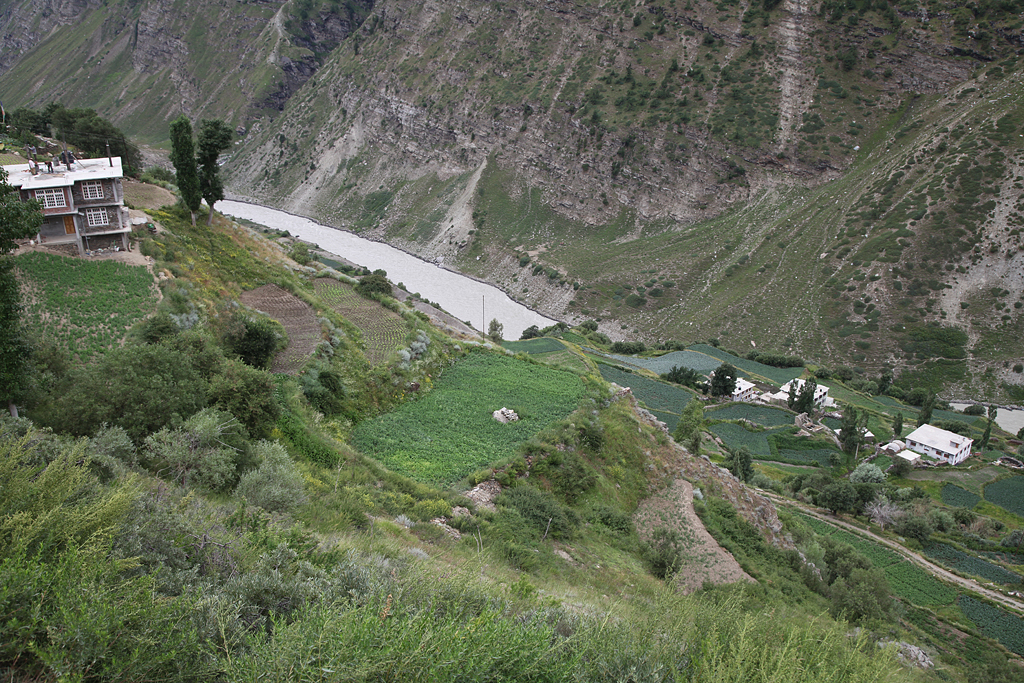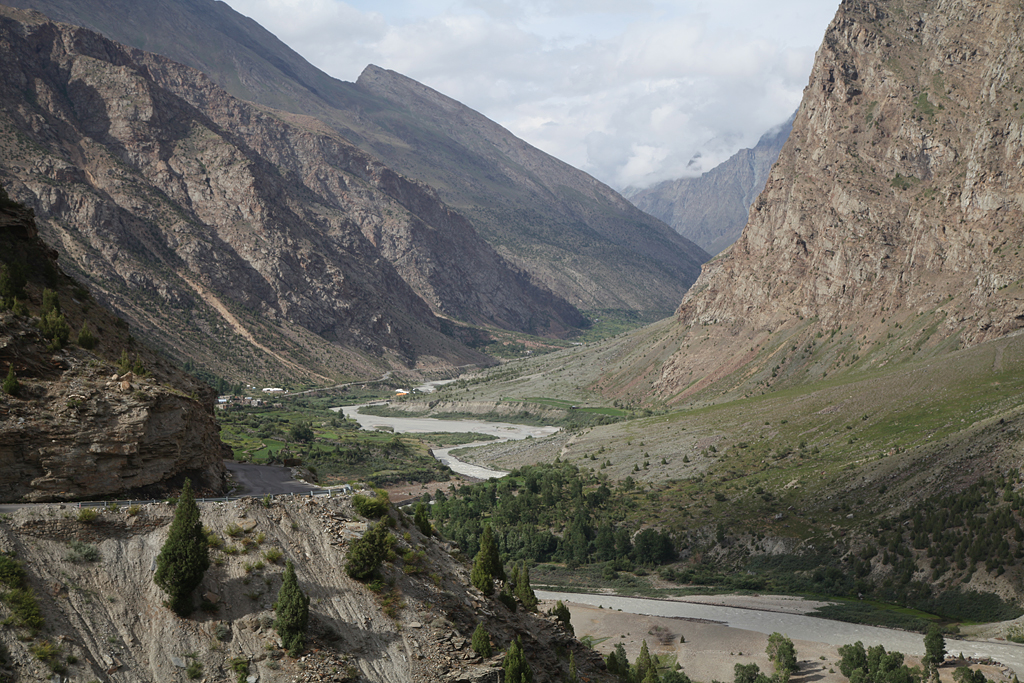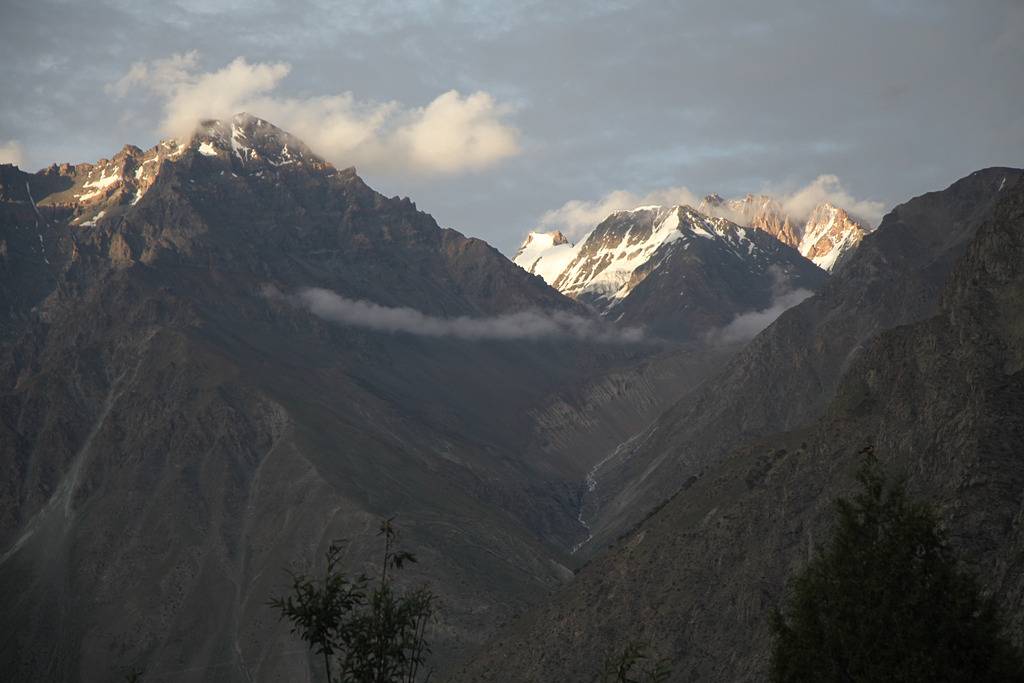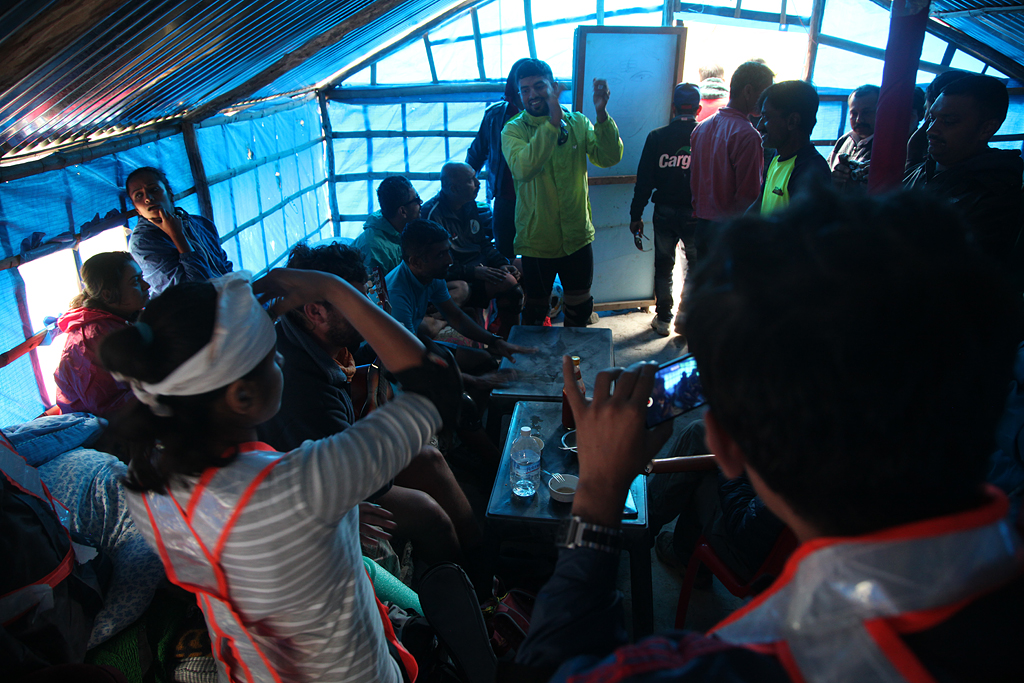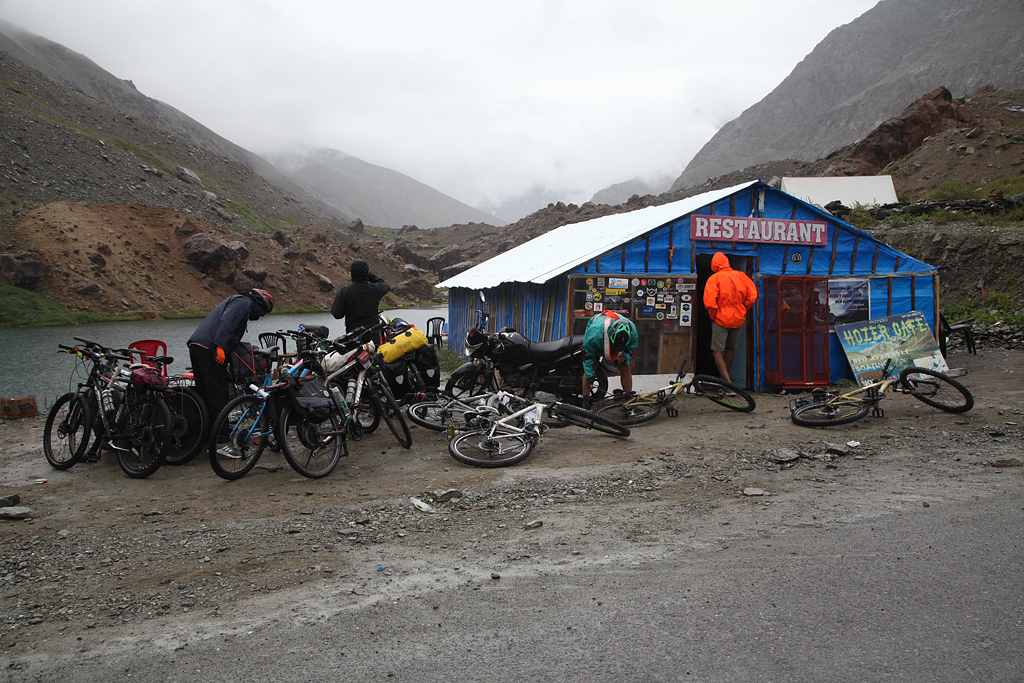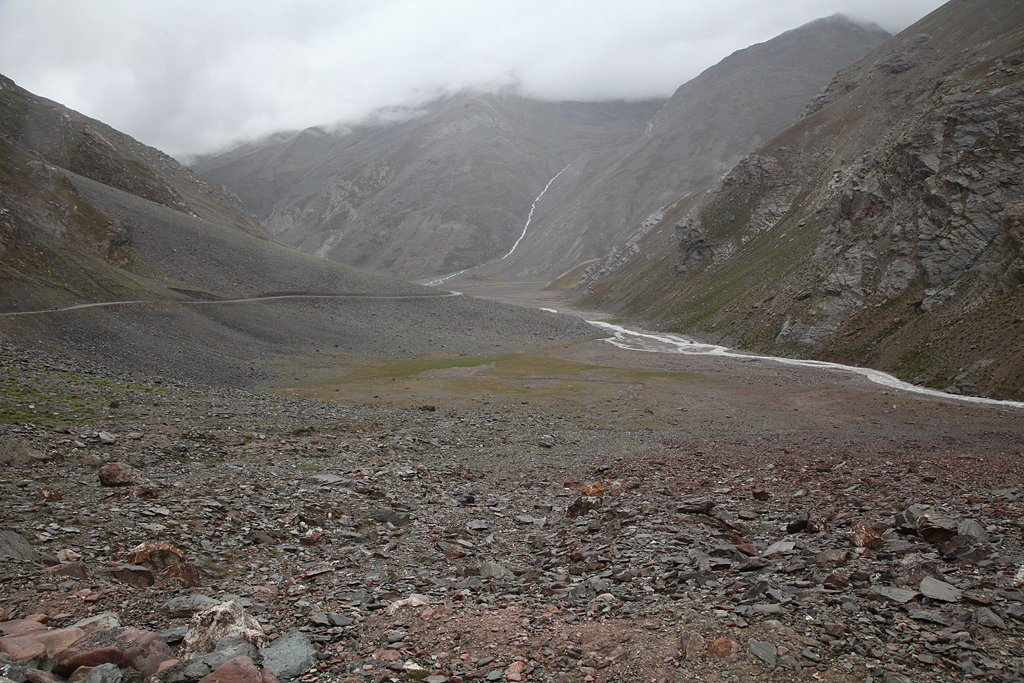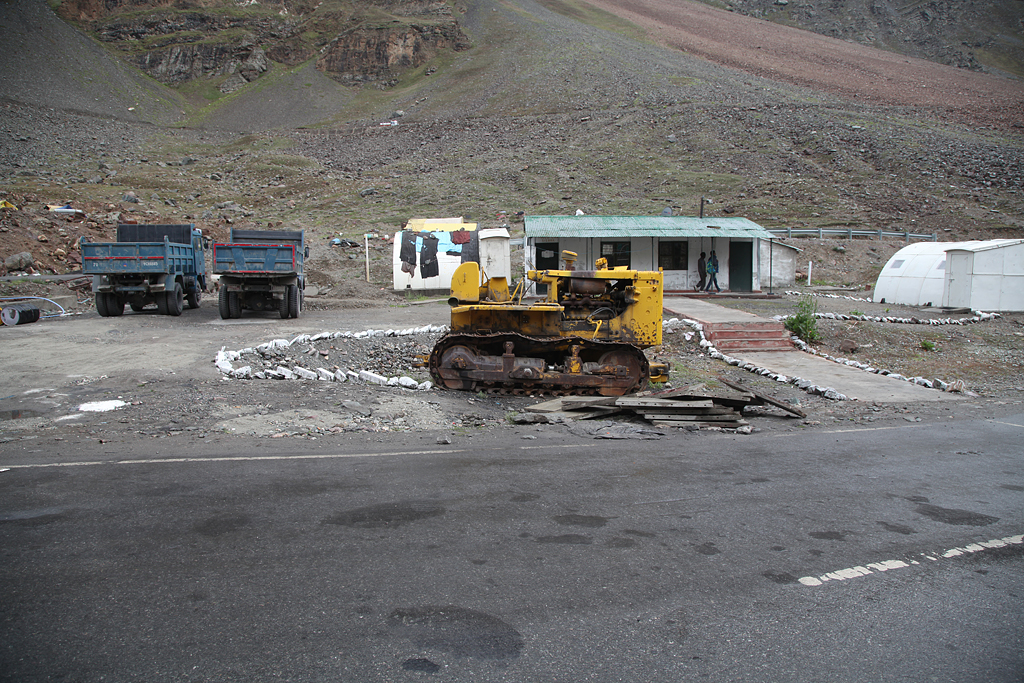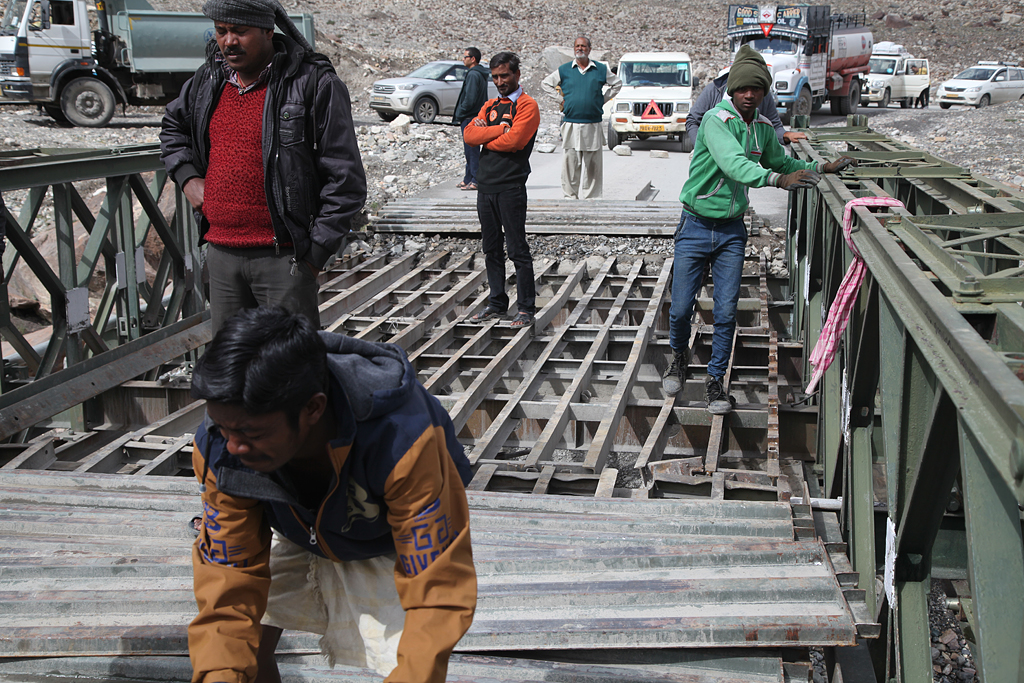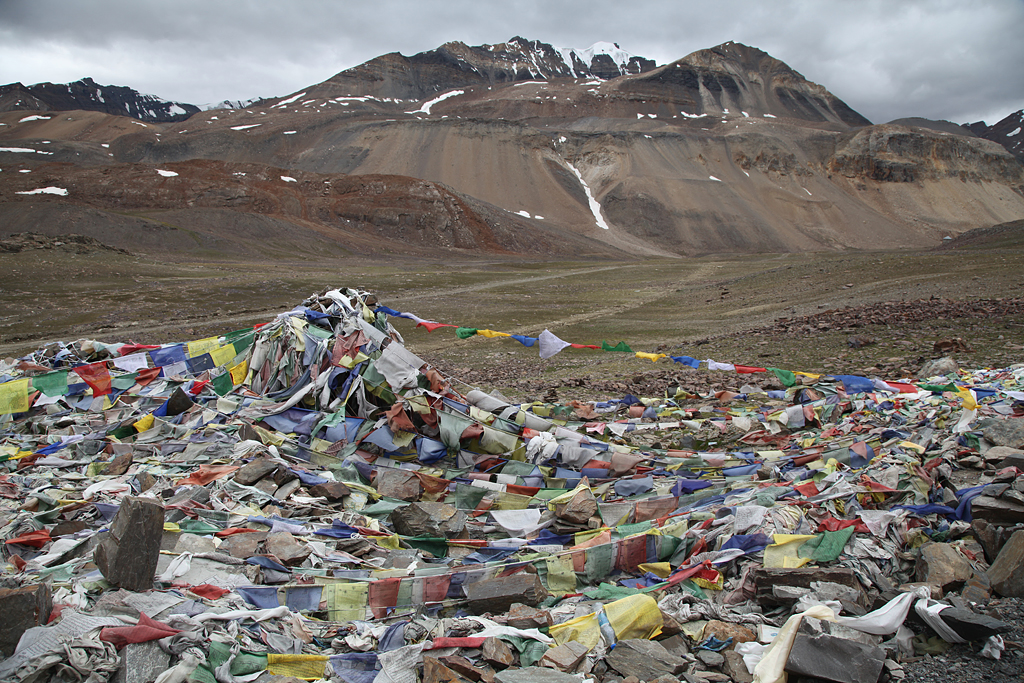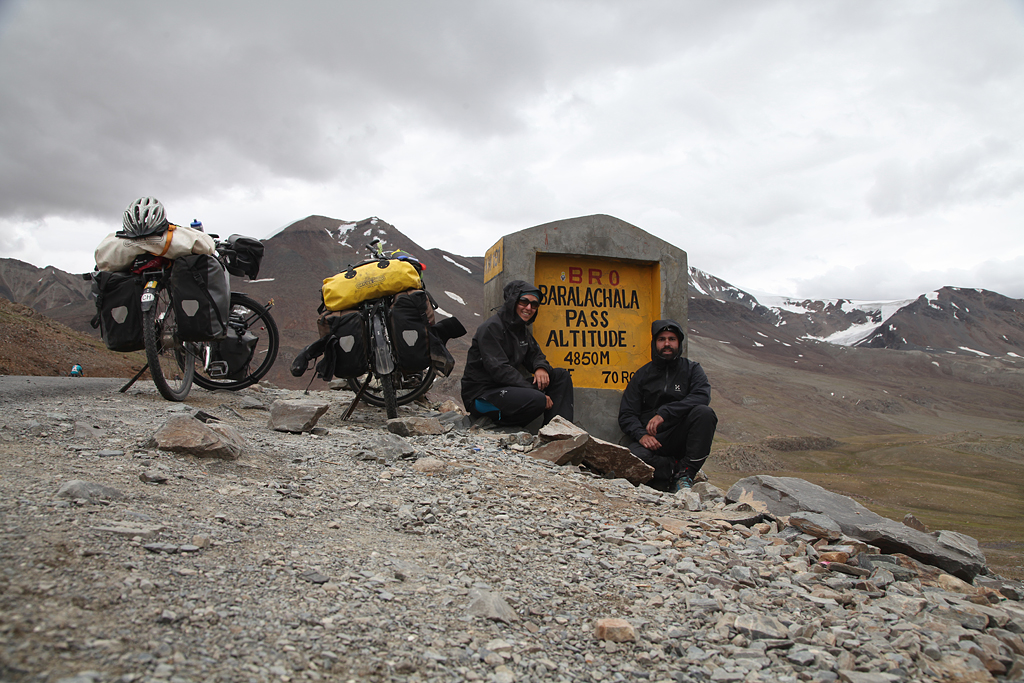 On a bumpy and holed road crossing a few creeks, we descended from Baralacha La to the teahouses of Bharatphur located on 4750 m. Happy to get lunch in late afternoon, we were super excited about some rice and egg-omelette with tea. Dhabas usually serve very basic meals: Toast and omelette, chapati (flat bread), Maggi noodle soup, rice, tea. Closer to Leh most dhabas as well serve a Thali: That's an all-you-can-eat menu consisting of rice, dal (lentil soup), vegetable curry and chapati.
I did not want to stay much longer in Bharatphur, because I had a headache which started becoming stronger paired with feeling sick. High altitude is a risk for getting mountain sickness, also called AMS. The body does not get enough oxygen, and in the worst case one may die. First signs of altitude sickness are headache, dizziness and the loss of appetite. The best prevention (besides not going to high altitudes) is a slow acclimatization. One should not sleep higher than about 200 meters than the night before. Passes can be climbed, but for the night one should rest at lower altitude. For me, it meant that I had to get to lower altitude as fast as possible and drink a lot of water.
We descended another couple of hundred meters to a small mountain lake on ca. 4550m and put up the tent. I had pulsatile headaches and felt very sick like when suffering from migraine. But I think it was due to the altitude.
The next morning my headache was gone, and we rode on mostly flat ground a little downhill. In Sarchu we enjoyed a long lunch break with some Thali. Only 40km we did that day, and most of them downhill. But nevertheless, the headache started to appear again in the evening. Because of that, we decided to stay a night on "low" 4200 m at the bottom of the "Gata Loops". The other option would have been to cycle across a pass and camp on a plateau on 4700 m. But that seemed impossible for me.
The famous Gata Loops are 21 switchbacks from the Tsarap river up to the pass Nakee La 4903 m. We pedaled up on a perfect blue sky day with great views. From the top of Nakee La the road descends to Whisky Nalah, a rest area with a handful parachute tents which are restaurants and basic guest accommodations. Whisky Nalah lies on around 4700 m, and with my upcoming headache it was a good idea to descend further to lower altitude. The way to get there lead over another pass, the Lachulung La, our first 5000er. The switchbacks up there we could already spot from the top of Nakee La. And suddenly you regret every single meter downhill, while you see the uphill on the other side of the valley.
The air in such high altitudes is quite thin. I was breathing deeply, and still my body was not as capable as down lower. Some people that suffer from headache and other indicators of AMS (mountain sickness) take oxygen for immediate relief and performance enhancement. For the moment it helps to feel better, but for long term it harms your body more than it helps. The oxygen enables your body to go on (cycling or other activities), but in fact your body needs rest for recovery.
In Whisky Nalah some travelers stay overnight, but Franci and I wanted to go to Pang, 200m lower. That meant two high passes to cross in one single day… In a parachute tent we stopped for some ginger-lemon tea and a Thali for lunch before heading up the next mountain.
Not so much later we finally stood at the top of our first 5000er pass: Lachulung La, 5077 m. This feeling was incredible! Having ridden uphill, with my own muscle power, on a bicycle – above 5000 m. I felt so proud and very very happy!
Since it was a bit late in the day, and my headache was hammering again, we didn't want to loose to much time… With an aspirin and a lot of concentration we started the long downhill towards Pang. The valley respectively canyon was absolutely beautiful! Especially the last bit, when the sun was just about to set, with few traffic, was magical.
Pang is a transit location with some Dhabas and guest houses. We reached it after sunset, and met other touring cyclists Karan and Mussarat as well as the group of YHA. We were simply too tired for cooking and camping, so we got another all-you-can-eat Thali for cheap, and took a room in one of the guest houses.
I had had a headache for three consecutive days, but usually in the mornings i felt fine. Franci was doing well at all times. Since we knew, that there was no possibility of descending to lower altitude after Pang for some days, we decided to have a rest day. A day on the same altitude would let my body acclimatize more, and hopefully I'd feel better on even higher campsites.
We did not do a whole lot during that day. We were reading books, eating at the restaurant, played cards, had bucket-showers, and watched the tourists pass. There is nothing else to do in Pang, since it is not even a real town. But more than you would expect, it is quite an interesting place! I was actually happy to experience daily life for one day. The mornings are quiet and relaxed, only a handful of locals live "in town" and start preparations for the day. At around 10 am the hullabaloo began: One minibus after another stopped. Travelers came and went like in a beehive, had food and drinks, or just used the bathrooms. Somehow it felt a bit like in a mountain hut in a swiss ski resort. In the evening, a peaceful silence entered Pang – until the next morning…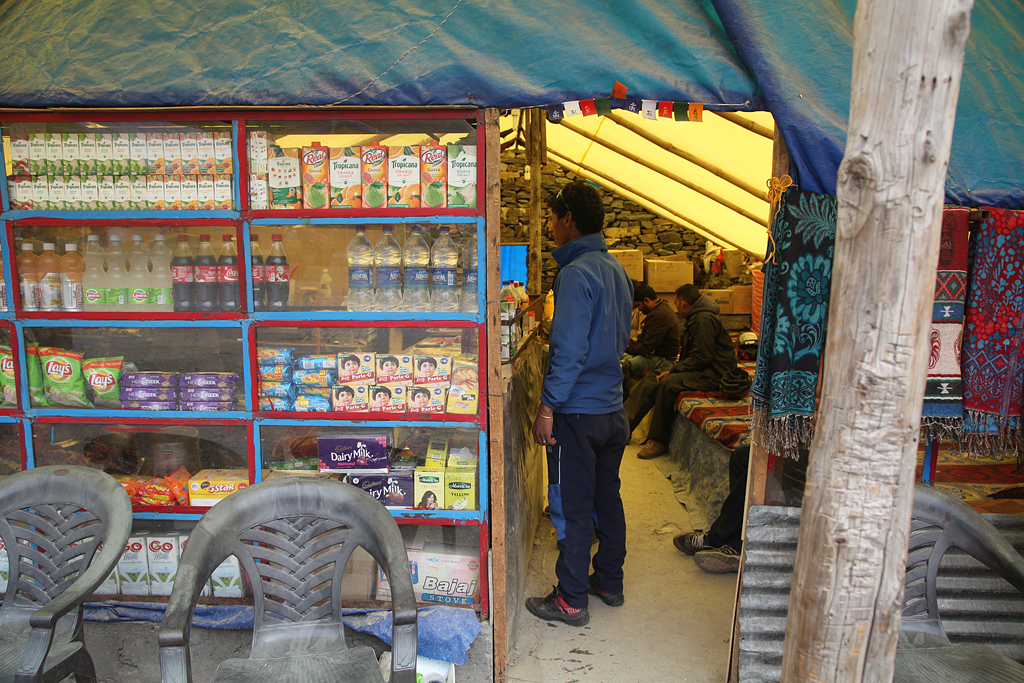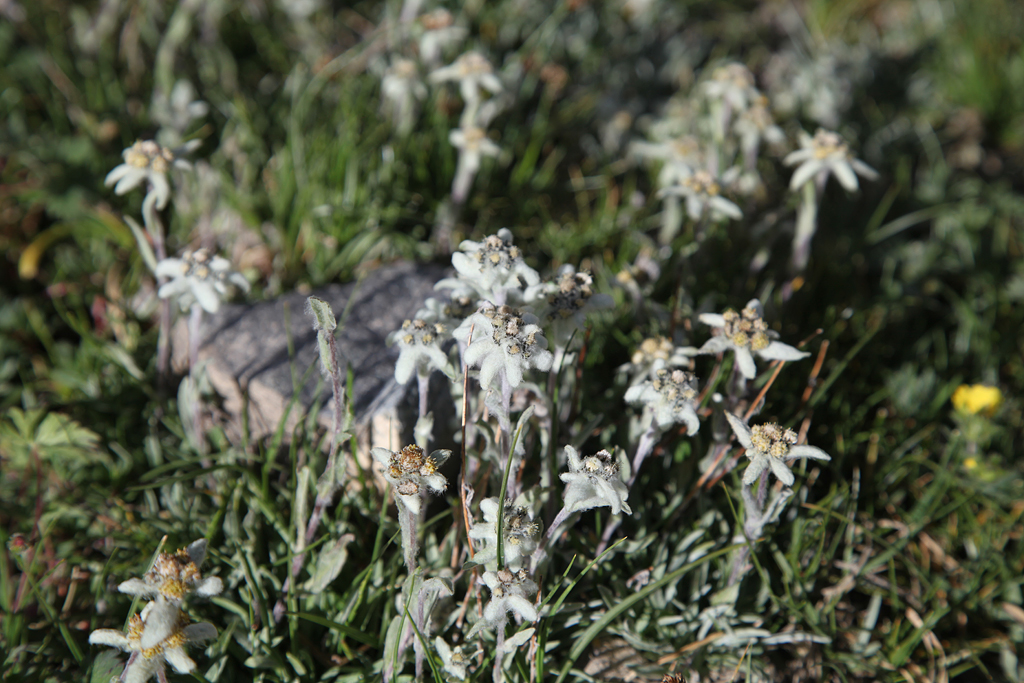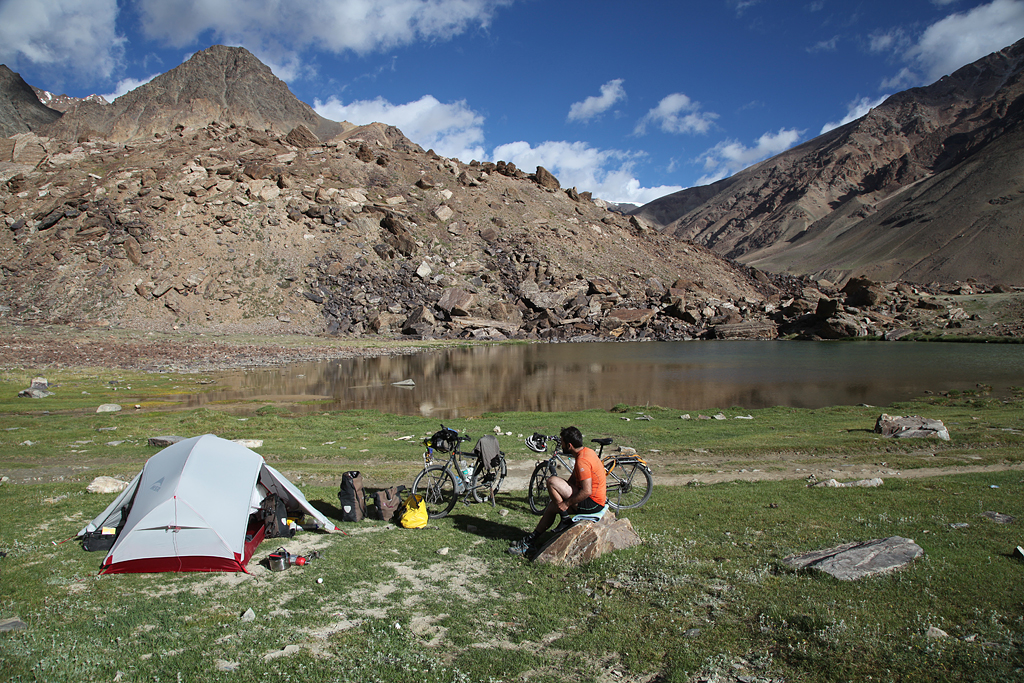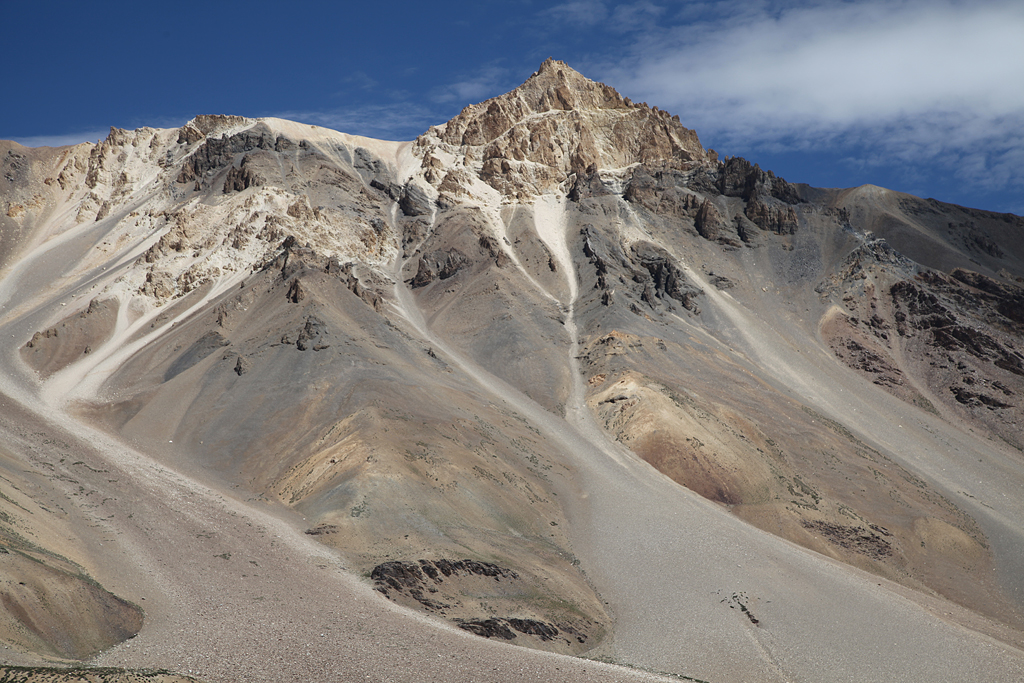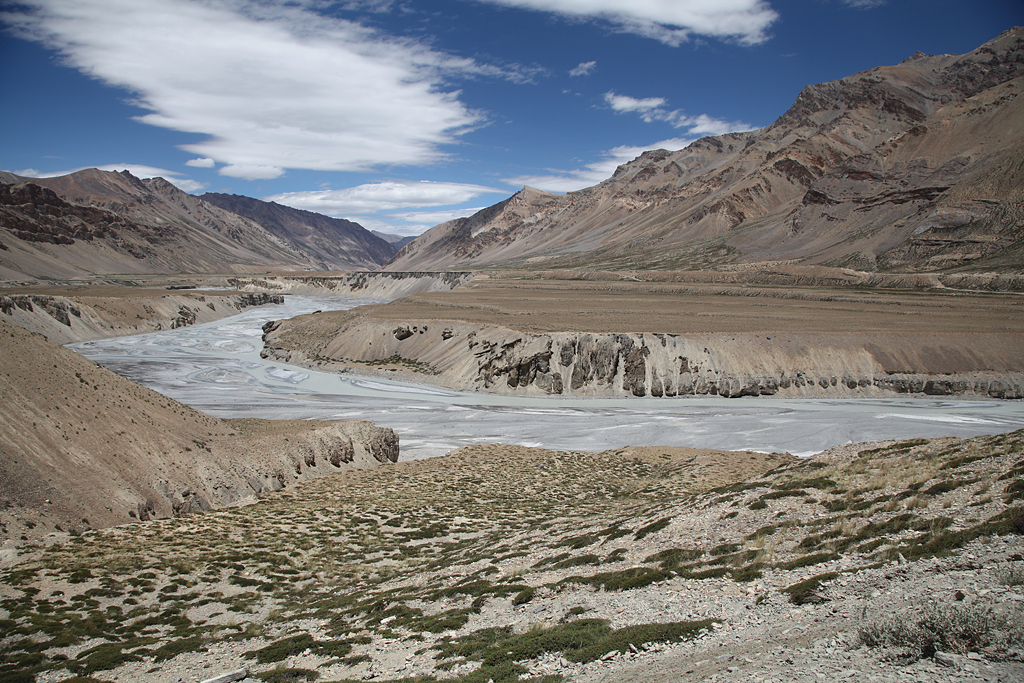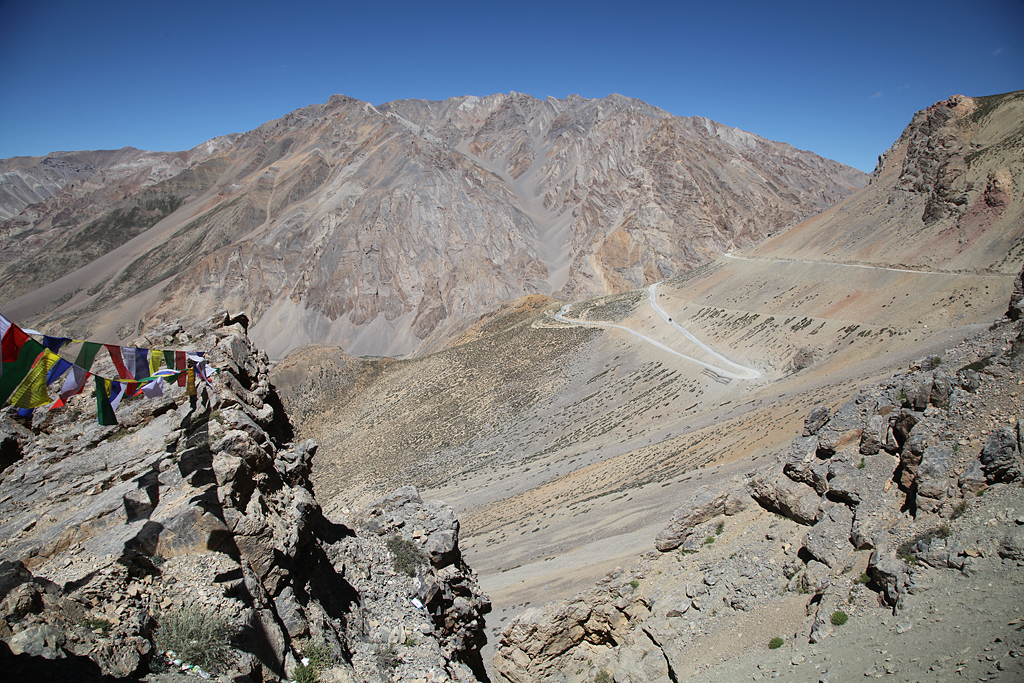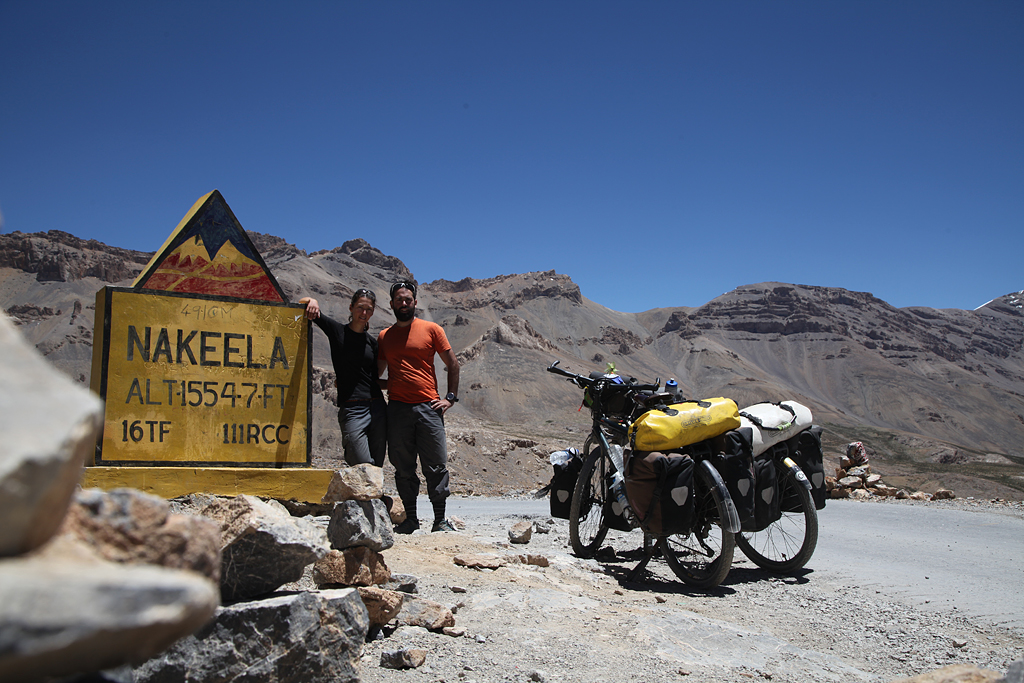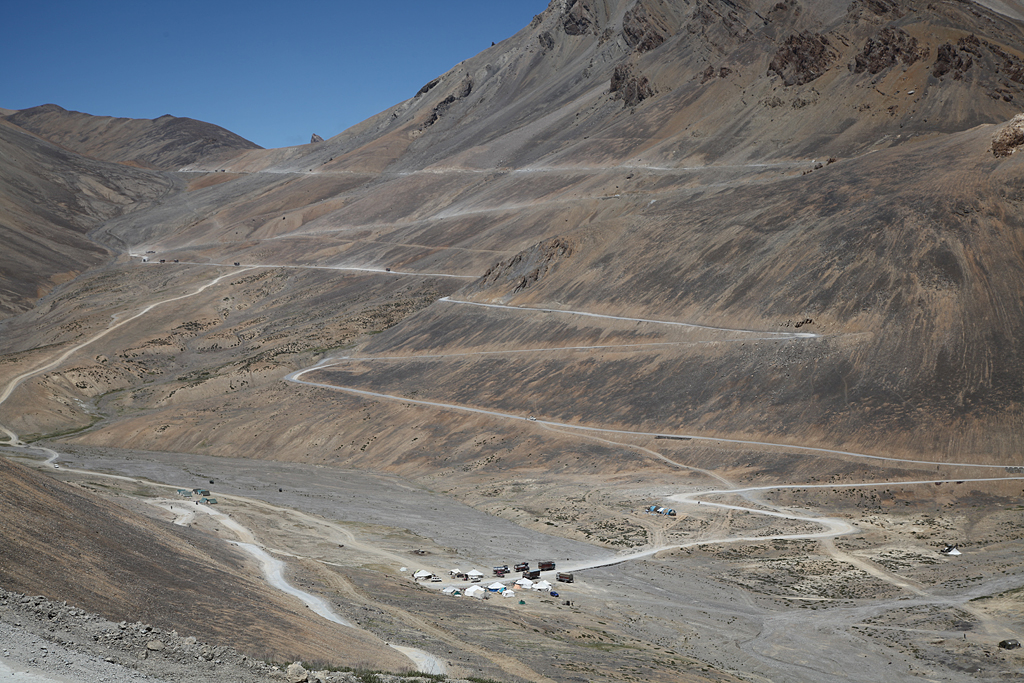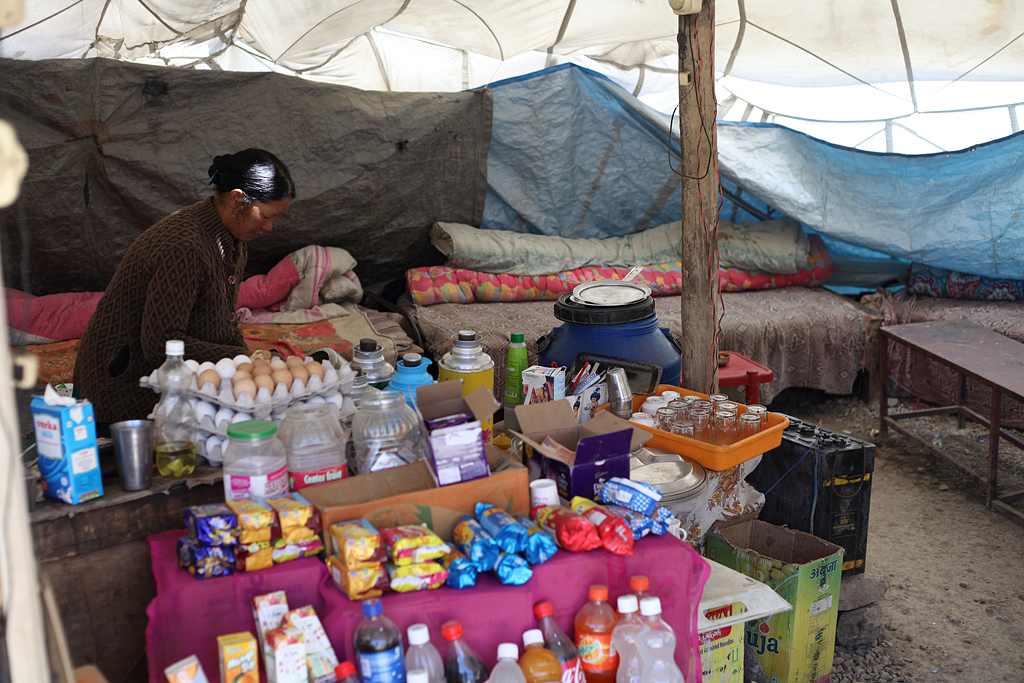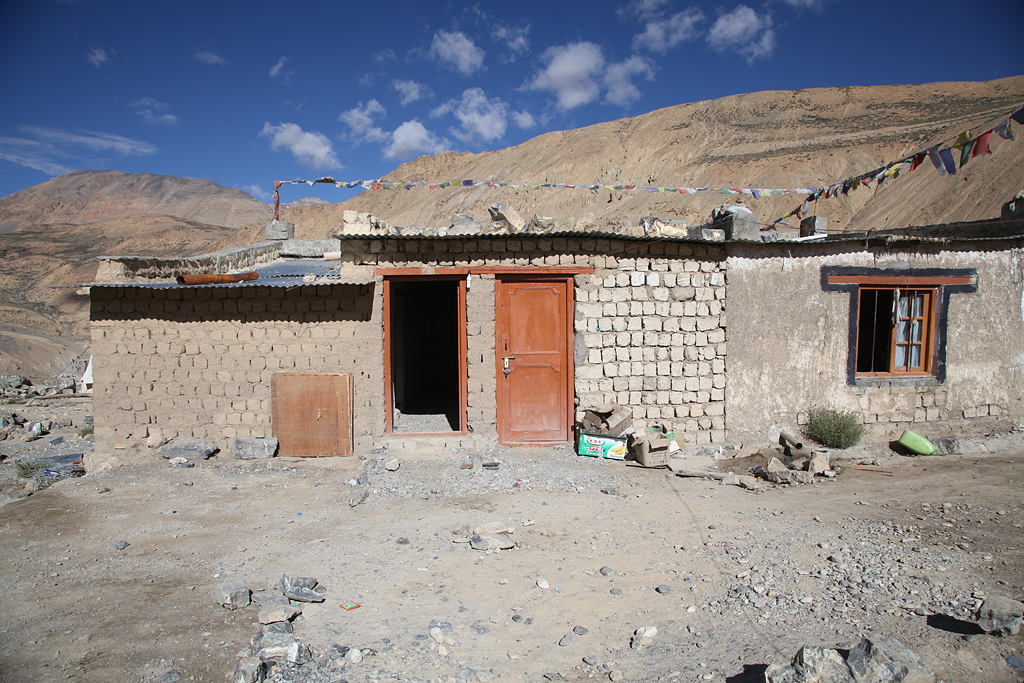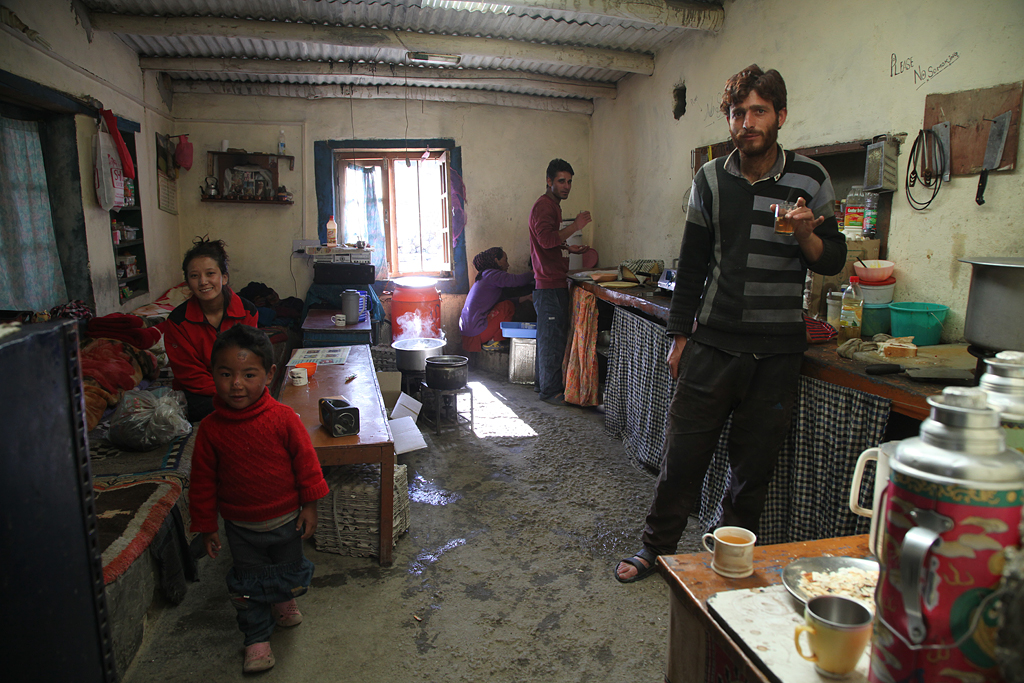 Starting from Pang, the last and final stage of the Manali-Leh-Highway began. A zigzag led up to the More Plains, where we had a last view to the canyon in which Pang was located. The plains are a high plateau on around 4800 m. It's vast landscape reminded me a lot of the Pamir (Tajikistan), which we were riding in 2015.
A well known resident of the Indian Himalaya is – besides the pashmina goat – the wild ass. Despite it's name, it is a friendly but shy kind of a donkey. We saw a few of them galloping in the distance, but never got really close to them.
Different than what you read in guidebooks or online descriptions, the road was perfectly paved. And because there was an awesome tailwind and a slight descend, we had the easiest stretch of cycling in the more plains. As we had the day off in Pang, we met 50 "new" members of the YHA group: the 50 people that we used to cycle with left on our rest day, and the next batch of 50 people arrived in the evening. It was a lot of fun, meeting again 50 super excited cyclists that were thrilled to do the challenge of cycling to Leh. Lots of them took the chance and asked a lot of questions, most wanted at least a picture with us.
From the More Plains there is a dirt road leading to a small lake called Tso Kar. We read that it was a picturesque little mountain lake where it was very nice to camp. We arrived early in the day at the turnoff (thanks to the tailwind), and decided to have a look at the lake. We somehow were a bit spoiled by having seen lots of stunning places, which of course raised expectations for new ones. Franci and I thought, Tso Kar might look like Bulunkul in Tajikistan, were we stayed 2 nights in 2015. But unlike expected, Tso Kar was mostly dry and not well visible. The sandy and bumpy road to get there turned around a mountain range, so we had a good amount of (head-)wind when getting there and at the place itself. We were a bit disappointed when we arrived, and decided immediately to turn around…
Back at the highway we stopped at the road workers camp called Debring. There was also a parachute tent Dhaba, where we found shelter from the wind for some nice warm cups of tea. Although the weather was mostly nice, it was quite cold once the sun set. The group of YHA stayed very close also in Debring, and they invited us over for dinner. It was a very nice of them, and we enjoyed a delicious Indian dinner in good company!
For breakfast we got some Chapatti omelette and Parantha at the restaurant for a good start in the big day: the highest pass between Manali and Leh had to be climbed! Right around the corner after the road workers camp, we passed actual Debring. There was a long row of restaurants and actual small buildings, which probably were built after our guidebook had been printed… The incline towards the pass was gradual, and the surface of the road pretty good. Most parts were paved, only few bits and pieces we had to cycle on dirt. But still we reached the summit not until after lunch. These high altitudes with little oxygen in the air request some more breaks than usually.
Taglang La, 5328 m, we reached the highest point along the highway to Leh with our fully packed bicycles. What an amazing, unbelievable moment!! The arrival on the summit was extraordinary!! A super vibe was around the group, and everybody congratulated and hugged everybody else. I felt very very happy and proud, to having come this far. I did not even have any health issues like headache, and just felt great!
Up at the top there was even a Dhaba that served tea to all the tourists. It seemed like an obligatory stop along the route for every Minibus, so opening a restaurant was probably a logical decision. Franci and I were told to drink a local kind of tea – Qawa – which was green tea seasoned with cardamom, cinnamon and shredded almonds. With crossing the pass we entered the Ladakh region of the Kashmir.
Apart from this incredible emotional moments, the views were spectacular and the downhill superb. The surface of the road was very good, so we rode fast to the bottom of the valley. At the river we found a nice grass patch after a long time without green scenery, and pitched the tent. As a reward for this great achievement of the day, we cooked delicious dinner and drank a small bottle wine which Franci had brought from home. Yeah!!
For the final part to Leh we followed the Gya river through a few villages, fields and a stunning canyon. At the bottom of the valley we reached Upshi in the Indus valley on about 3500 meters above sea level. Compared to the mountains it was nice and warm – time for a quick change to shorts and t-shirt. Upshi itself is not a big town, it is more like a transiting place with a police checkpoint.
From there along the Indus river the road was a smooth downhill with a few little ups in between. We passed a lot of military camps on both side of the streets as well as the famous Thikse Monastery and ate an ice cream along the way, until we finally arrived in Leh. The last 5 kms were the hardest ones of the day. Busy traffic and a partly steep incline to the center of the city made it hard to breathe for me.
The military bases are in the area mostly because of the ongoing conflict with China and Pakistan about the borders. The lines still haven't been drawn definitely, and so on both sides the soldiers are watching their enemies. The camps in the Indus valley are more like base- and training camps for the soldiers which are stationed more north.
Leh is the capital city and the biggest place in the region of Ladakh. The former royal palace overlooks the city. Leh has an airport, and its surroundings are well known for mountaineering. Therefore there is quite a lot of tourism in that industry, but also lots of backpackers visit Leh during their stay in India (while it is too hot or wet in the flatlands). A lot of shops sell cheap copycats of outdoor brands, such as all the well known high quality ones from the west. Tour companies offer trekking and mountaineering tours, and deal with getting permits for different border areas.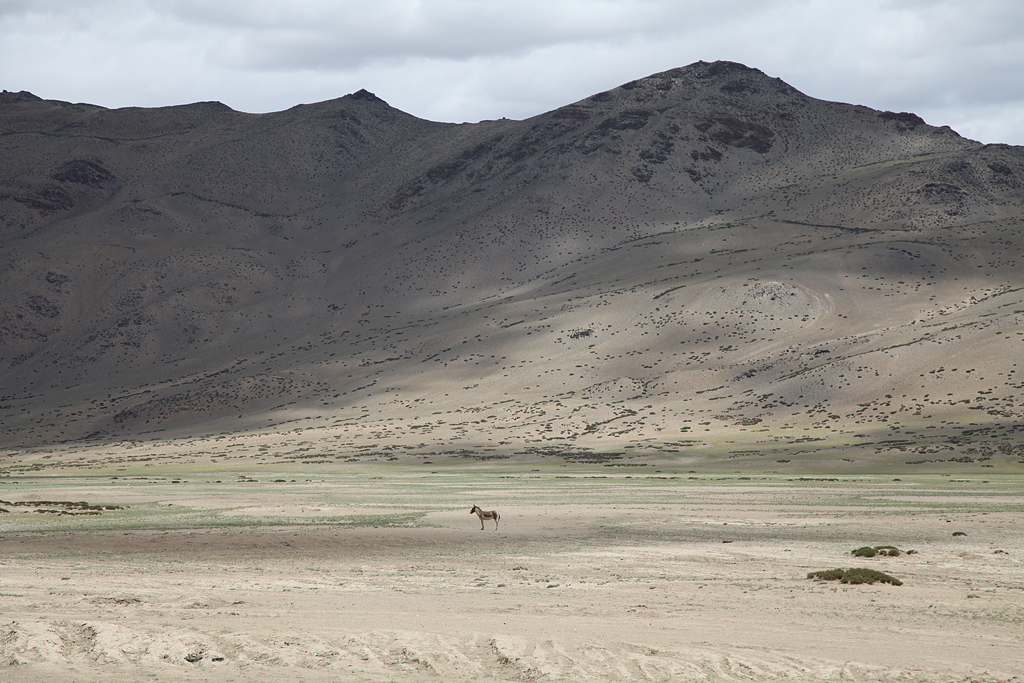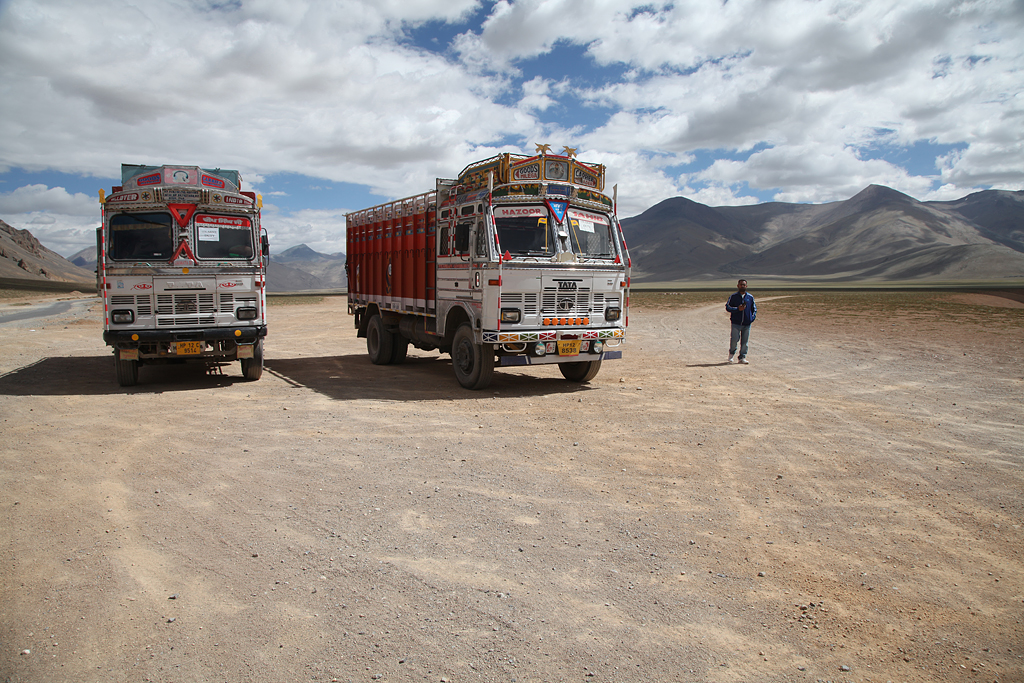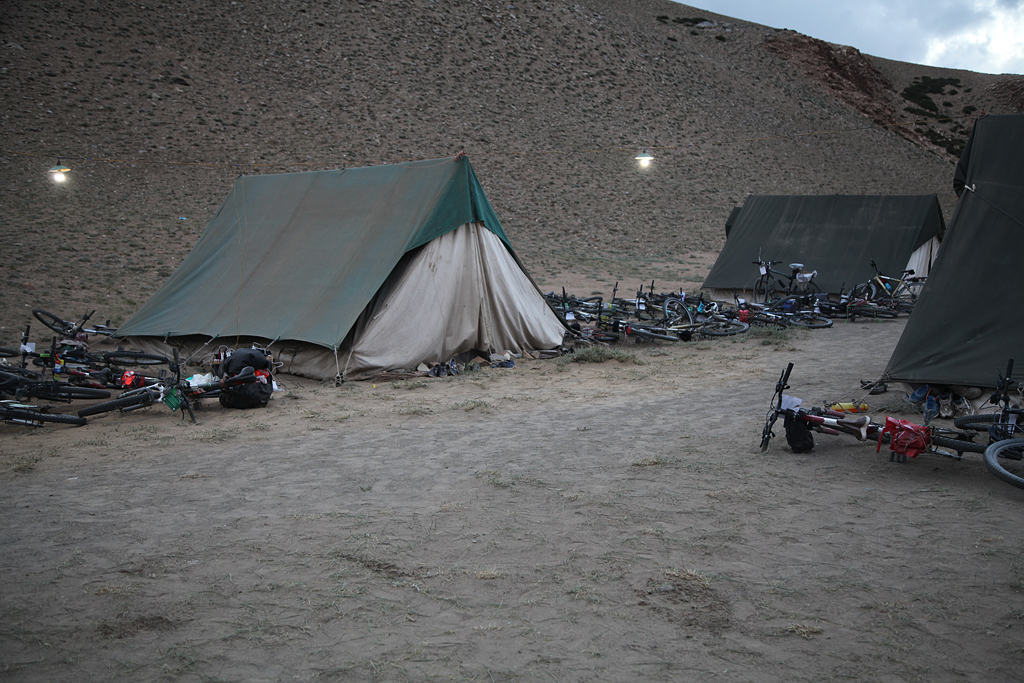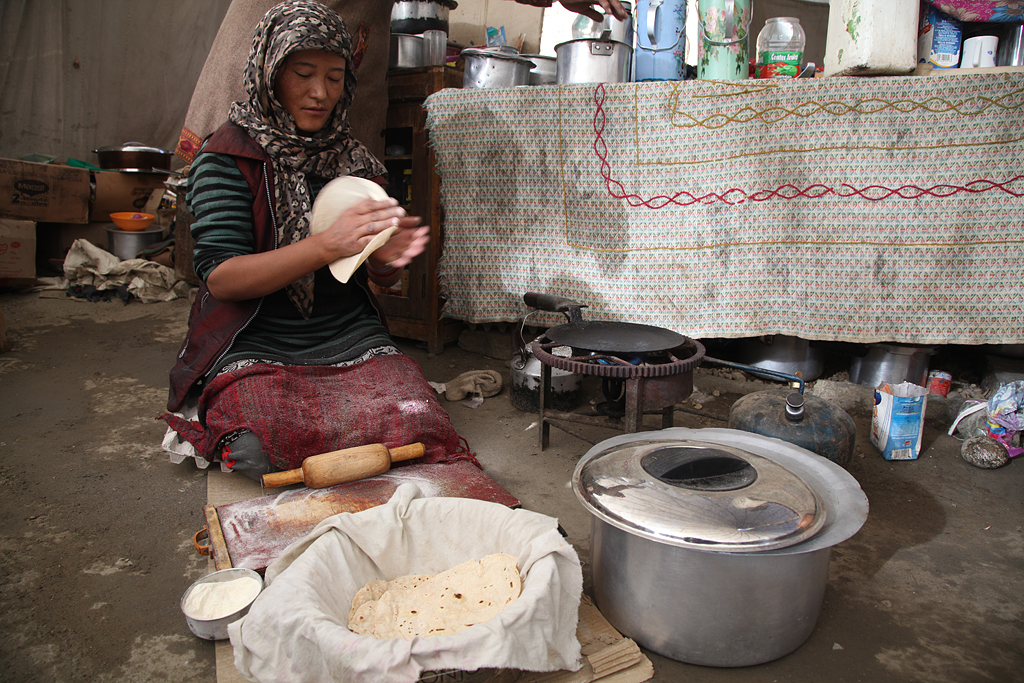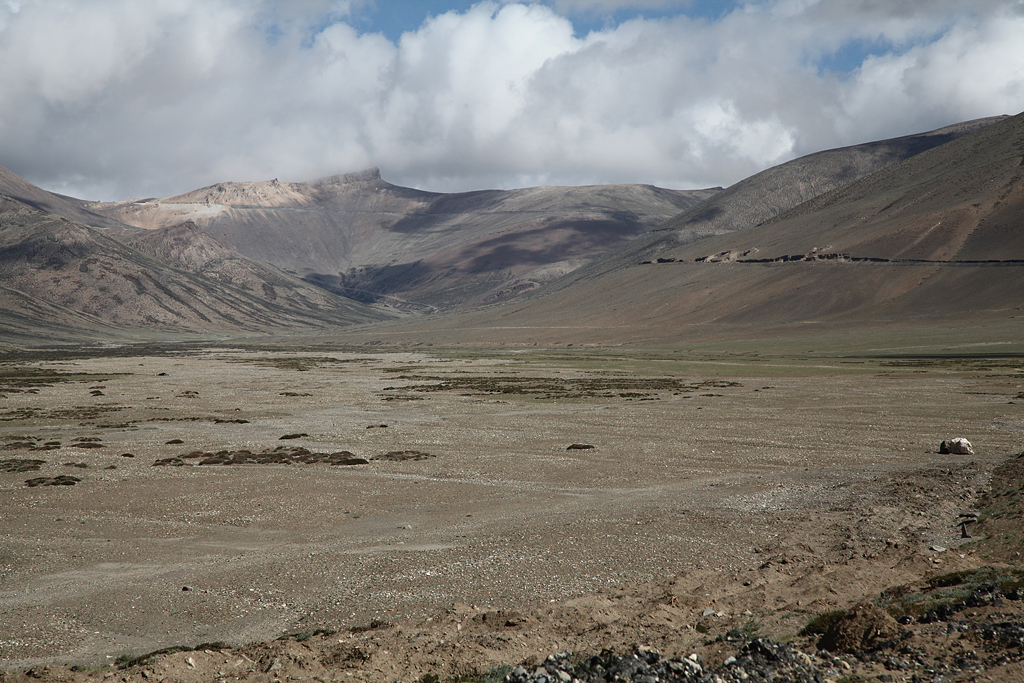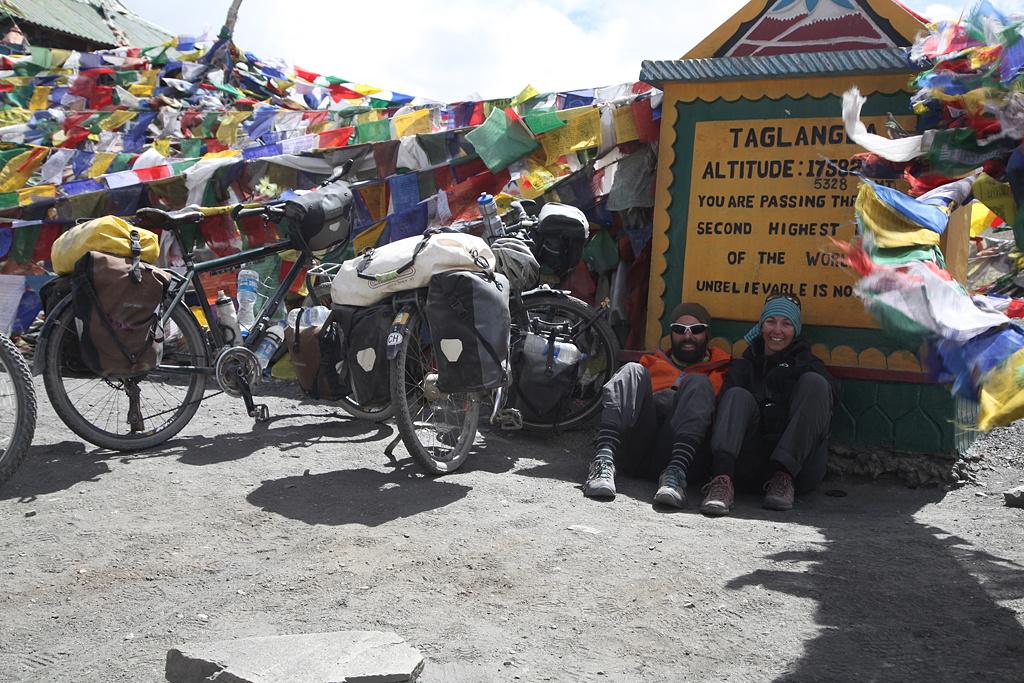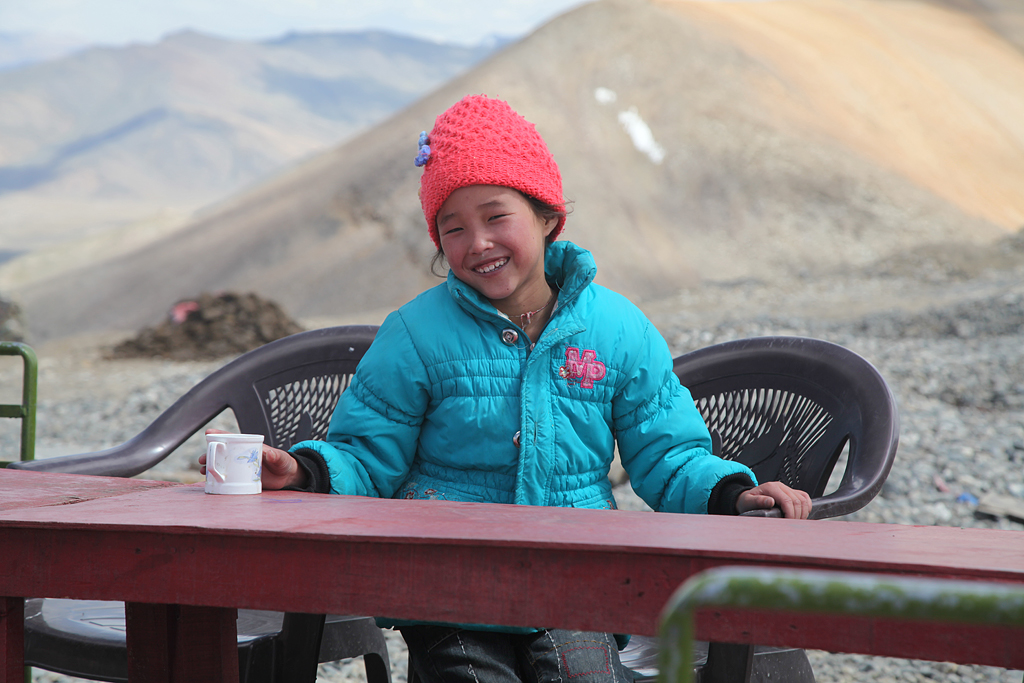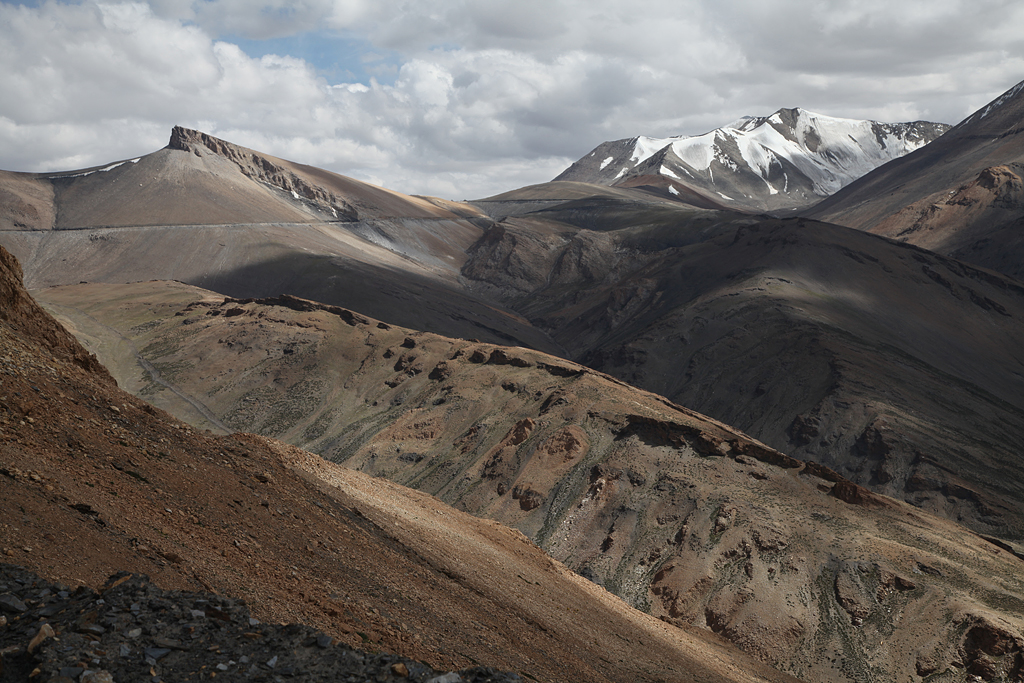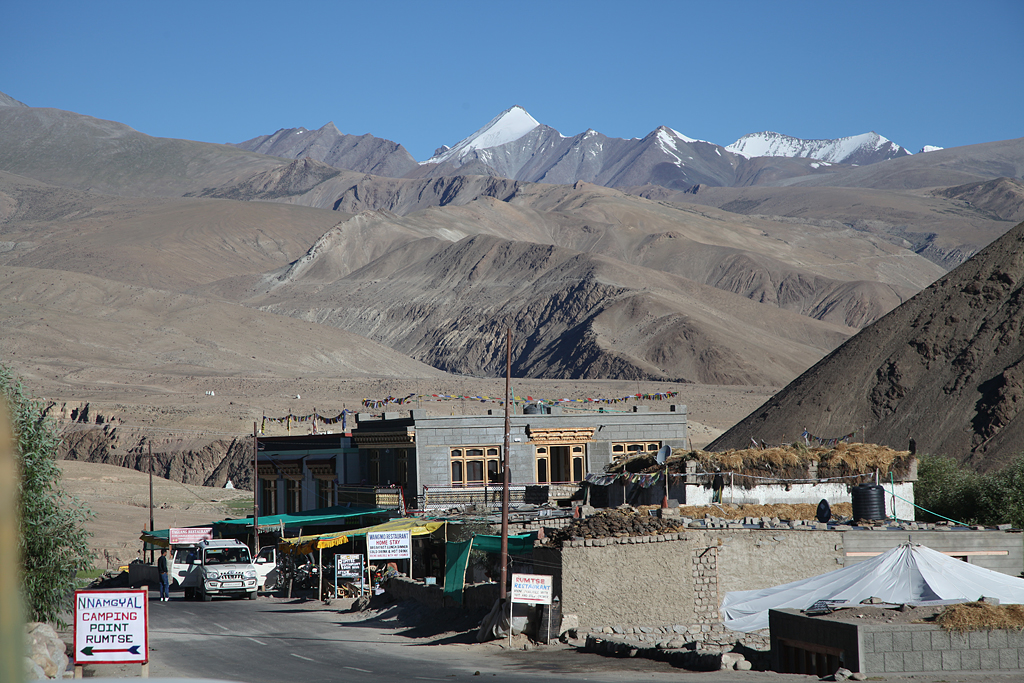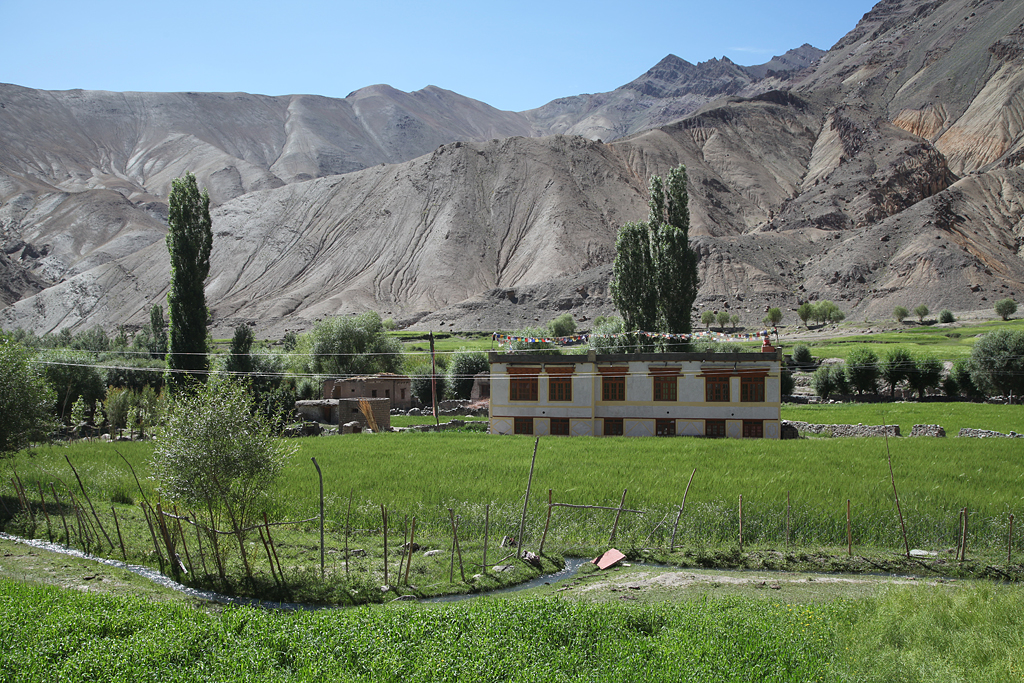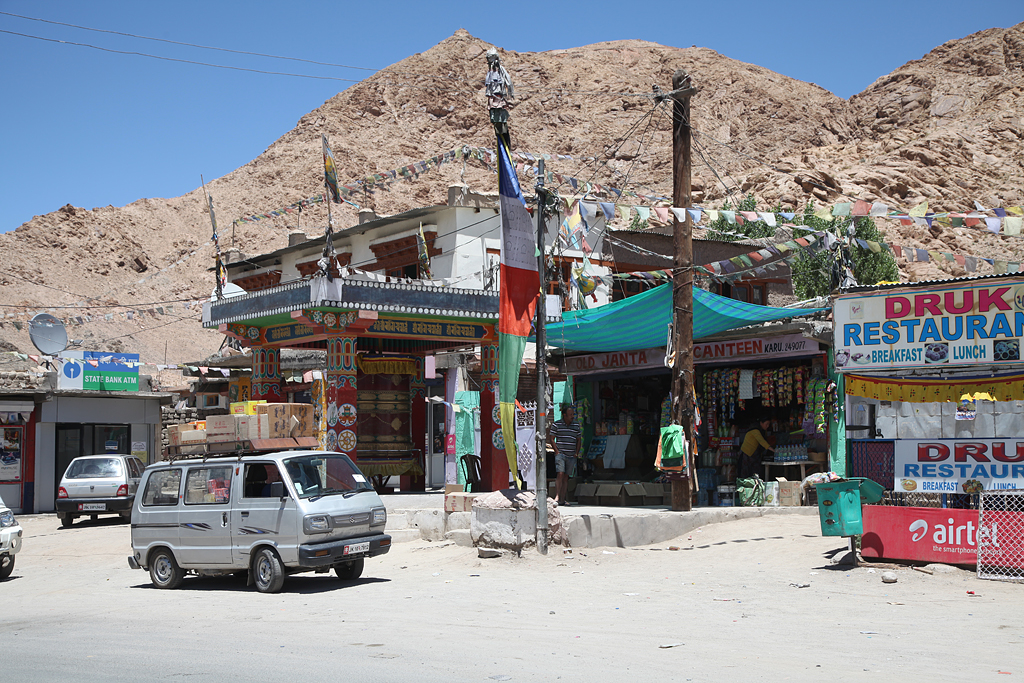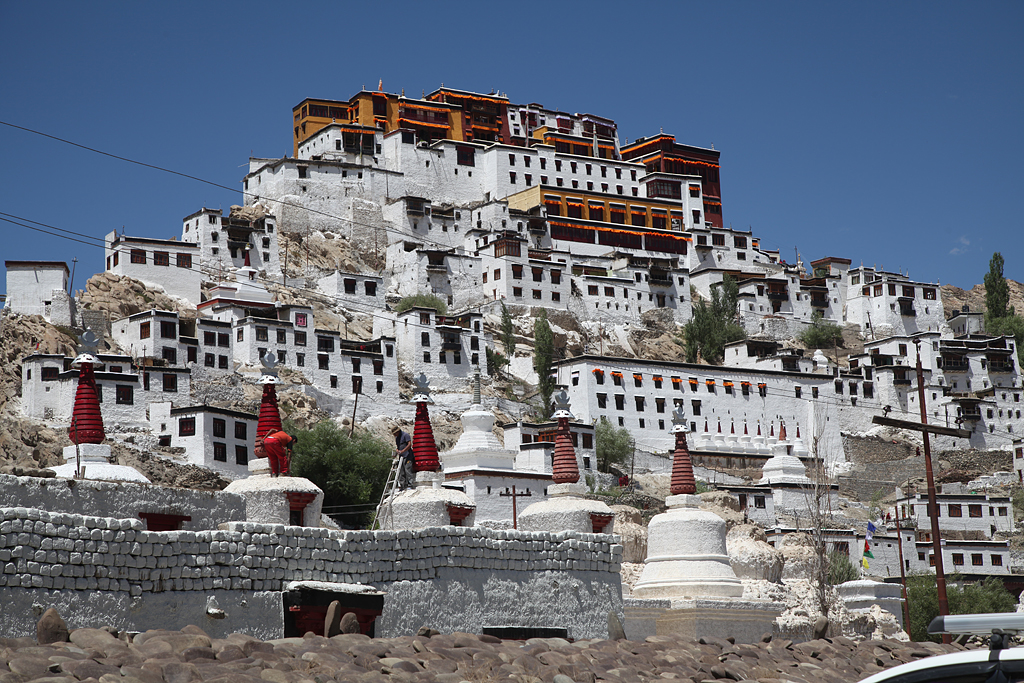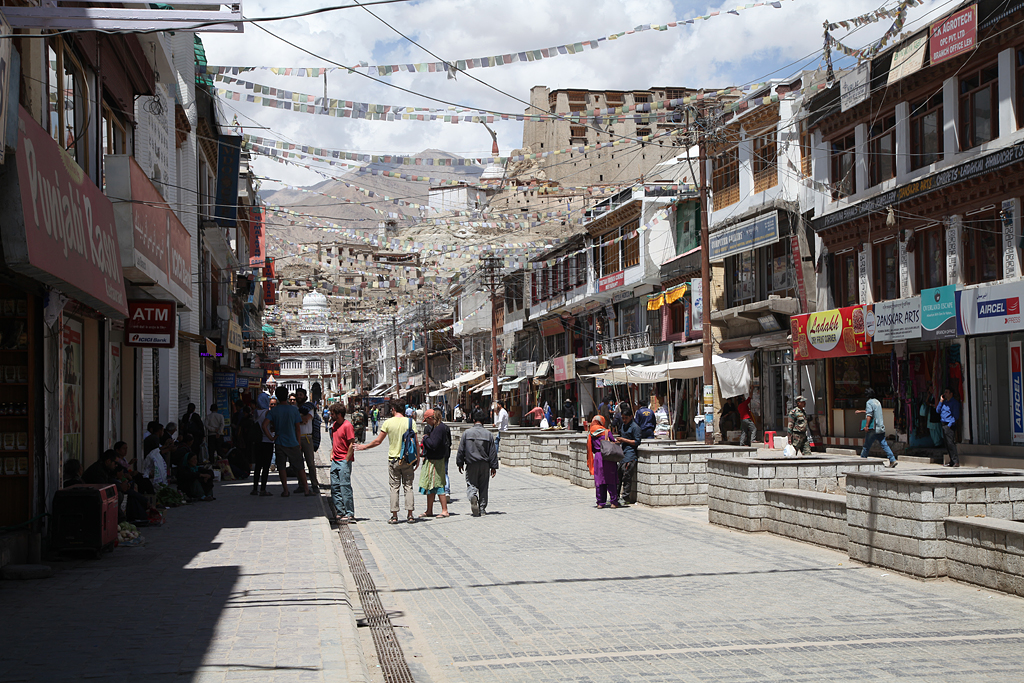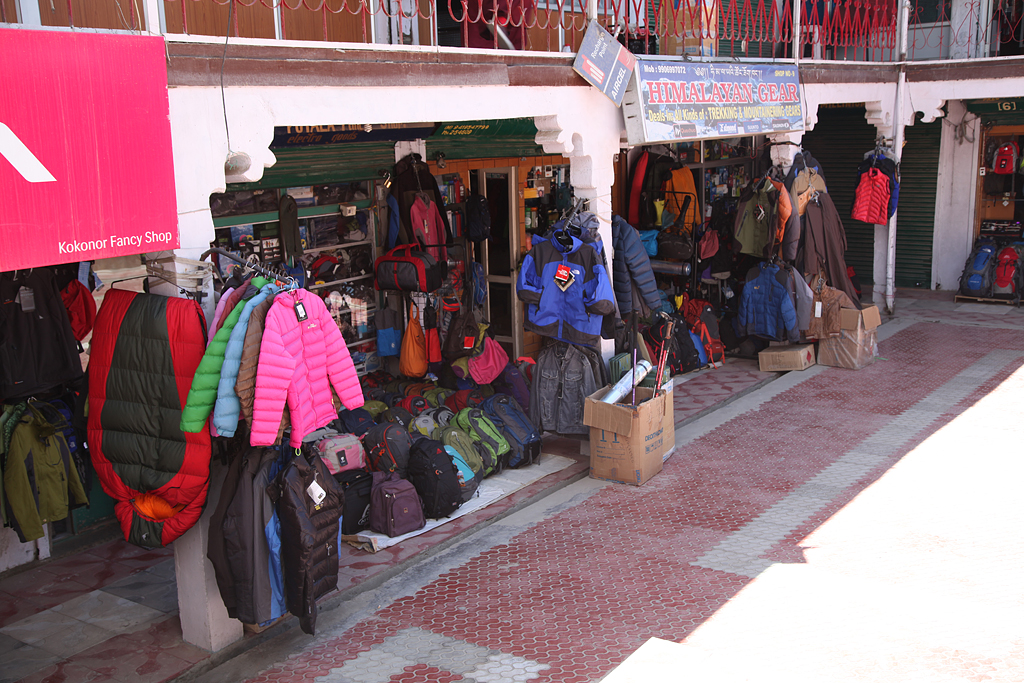 The vibe of the city Leh was disturbing at first. Loads of backpackers rushed through the center, and one souvenir seller next to the other tried catching our attention. "Hello, Pashmina!" – "Good price! " – "Handmade!" Along the Changspa road leading north west from the center are many restaurants, guesthouses, tour companies and souvenir shops. The most heard language was probably Hebrew before English. Restaurants served Israeli food as well as Indian and "western food". Towards the end of Changspa road we finally found a small cozy guest house run by a Ladakhi-German couple with two young kids.
Franci and I took one day to relax, recover, and visit Leh. The following day we hopped on the bikes again, early in the morning but without any luggage, to do a daytrip on the "highest motorable road" to Khardung La. A lot of sources as well as the sign on the pass say, that Khardung La is located on 5602 m, and therefore is the highest motorable pass in the world. Measurements have shown, that Khardung La is actually on 5359 m, but still in the top ten of the highest passes which you can drive up to.
The tourism industry does not sleep in Leh, and so tour operators offer bike rides from the "highest pass". Minivans full with bikes and backpackers drive up in the morning, that the unathletic tourists can enjoy a bumpy ride down from a cold mountain pass. Haha, somehow it was fun to see… Franci and I got up early in the morning, and rode up to the summit. The road was in very good condition, and workers were paving the last few kms to the top. Until we finally reached the summit, the sun was close to setting. It was exhausting, but definitely worth the effort! Standing on one of the highest passes on earth, having ridden up by bicycle, felt just great!!
Even though there was a sign on the pass that said you shouldn't stay for much longer than 20-25 minutes, there was a restaurant-dhaba. We had some tea, warmed up, and soon rolled down the partly bumpy and cold way back to our guesthouse in Leh.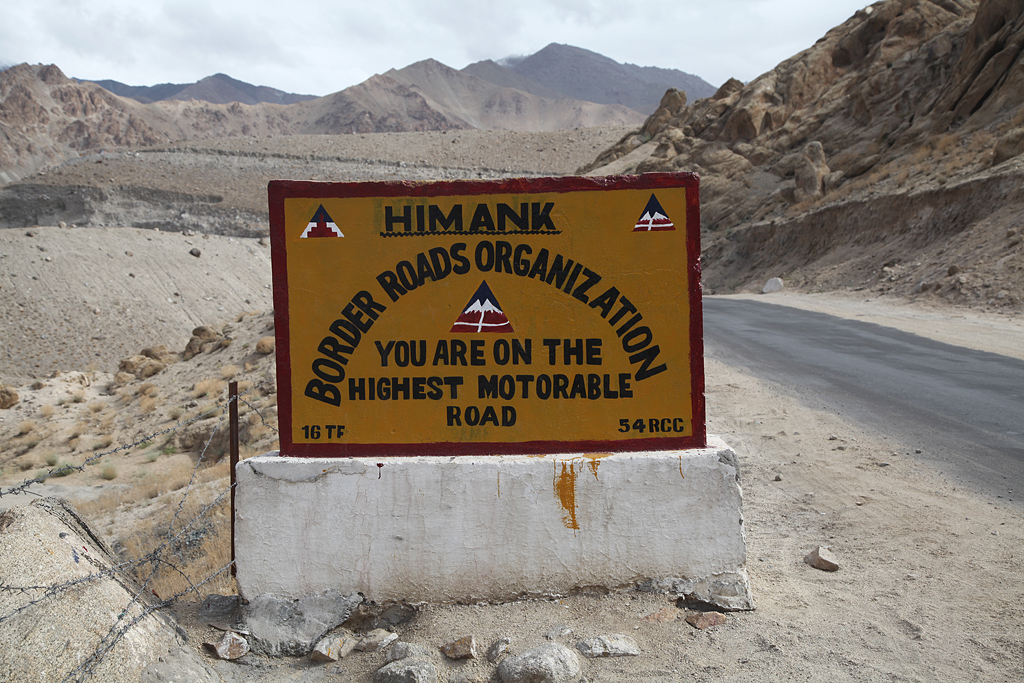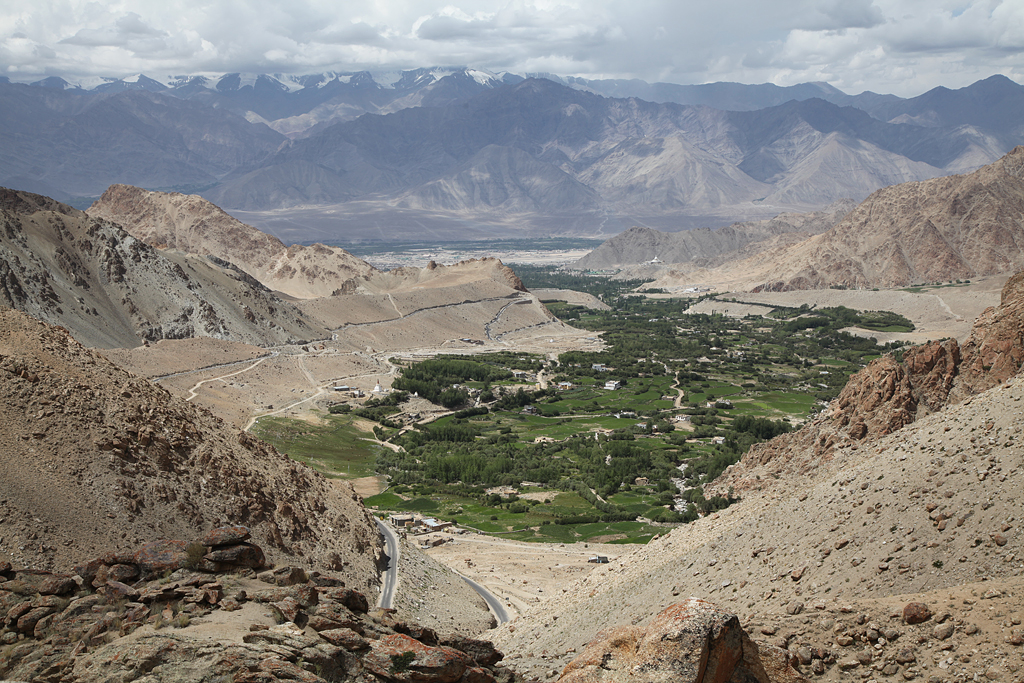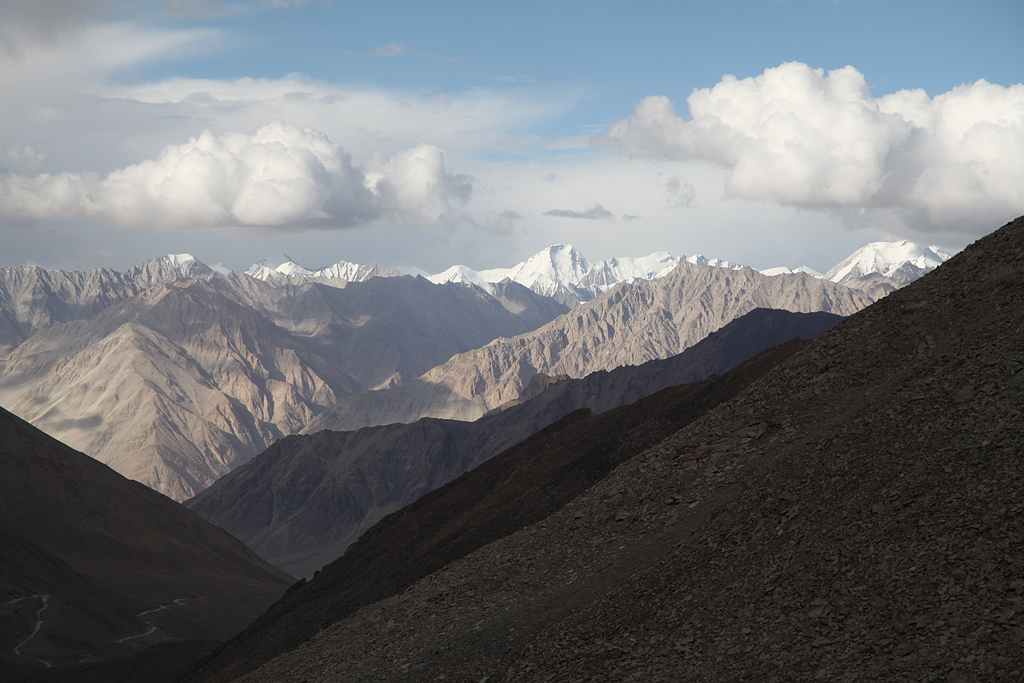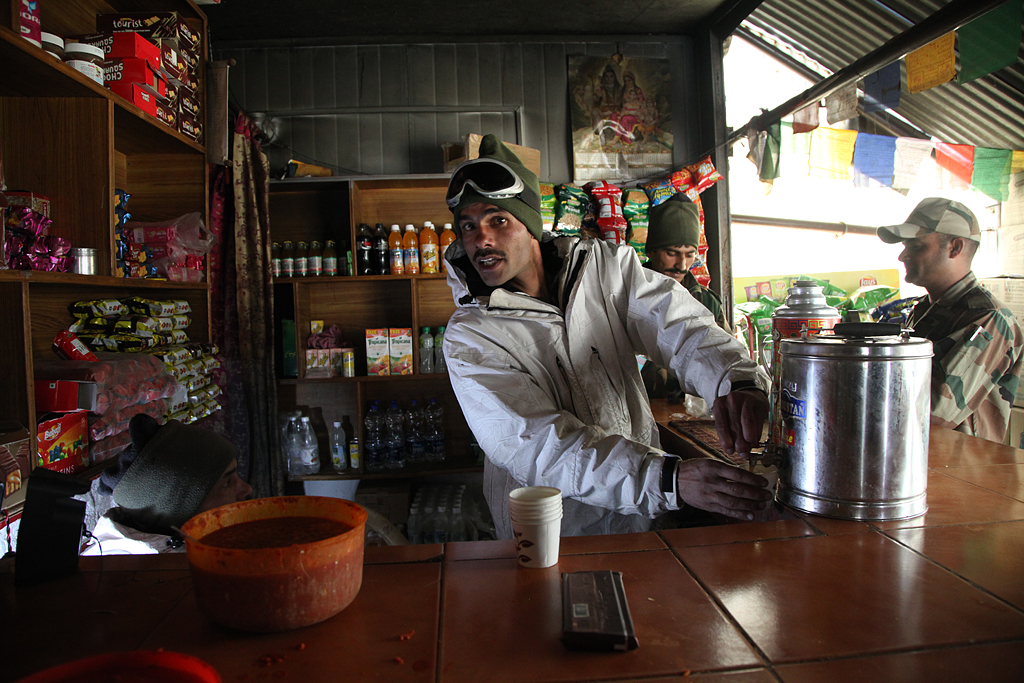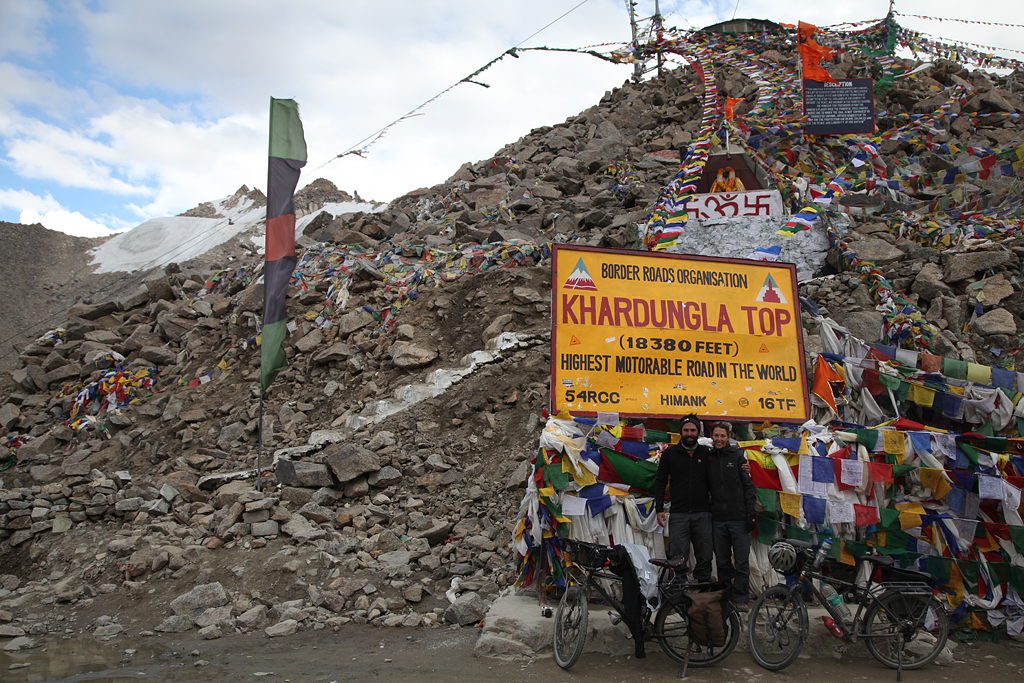 Two days later, we were standing on Khardung La again. We had rented an Indian motorbike, to be exact a Royal Enfield type Bullet 500. Pretty much every motorbike you could get in Leh and surroundings was a Royal Enfield – it is the most common brand in India.
We rented the bike for three days to get around the area a bit further and faster compared to our bicycles. Behind Khardung La we descended into the Nubra valley. Landscape, climate and flora reminded me a lot of the Wakhan valley in Tajikistan, which lies only roughly 500 kms north of the Nubra valley. Grey sand dunes dominate one part of the valley along the river, mulberry trees grown along the roads, and at one place there was a natural hot spring turned into a kind of spa.
We went as far as we could towards the Chinese border, until a military checkpoint made us turn around. On the ride back, we stopped at a town festival, that we had passed earlier by coincidence. We were probably the only tourists, which I absolutely loved! People were dancing and playing music on stage while others tried their luck gambling.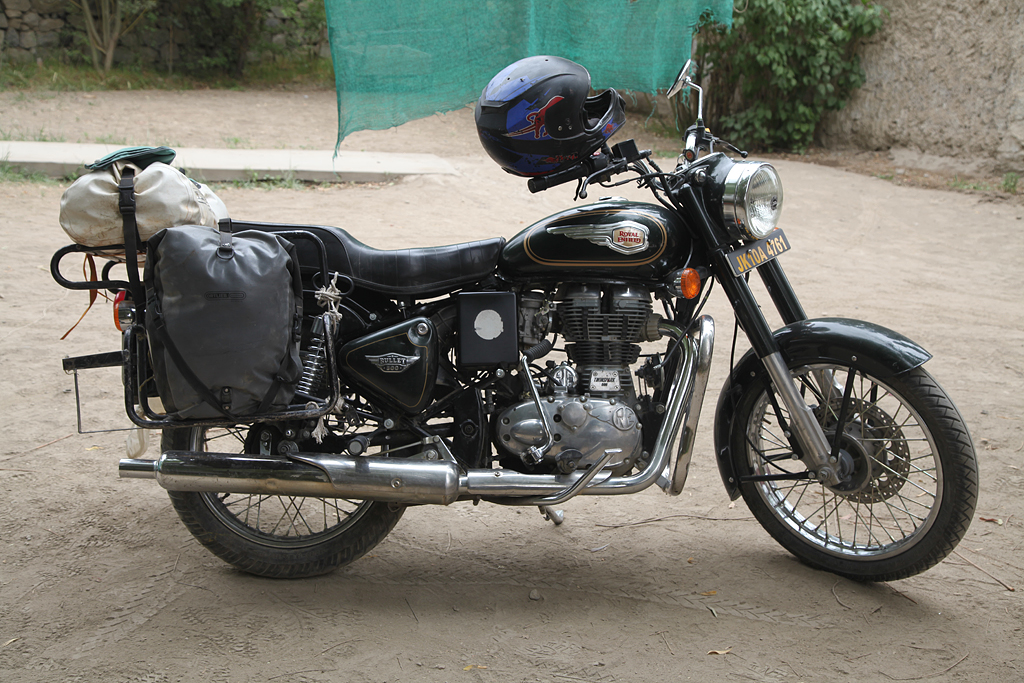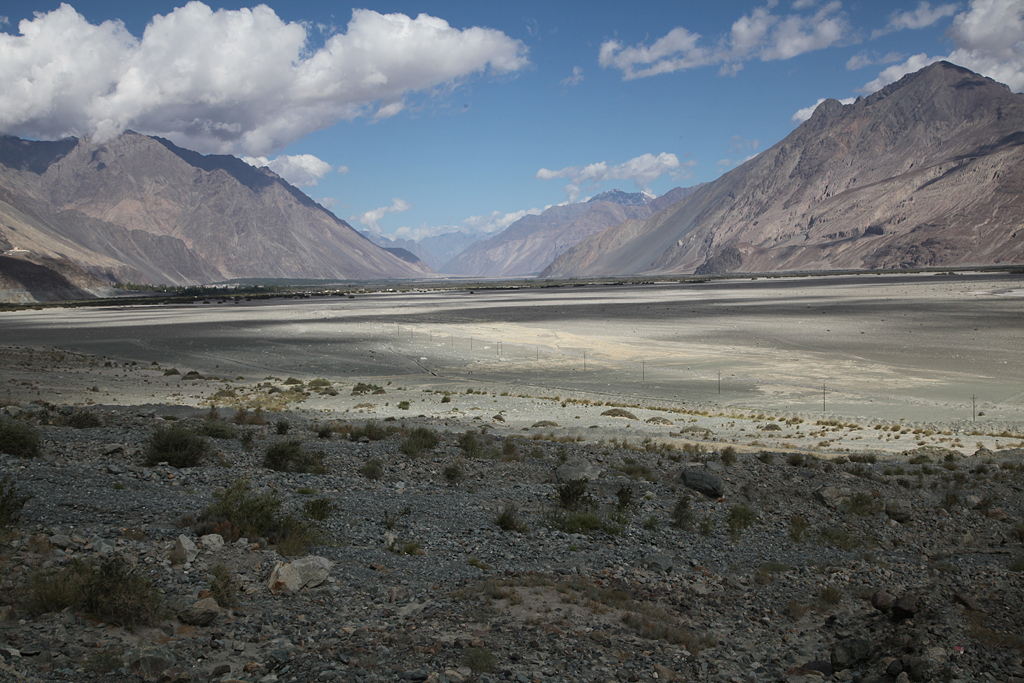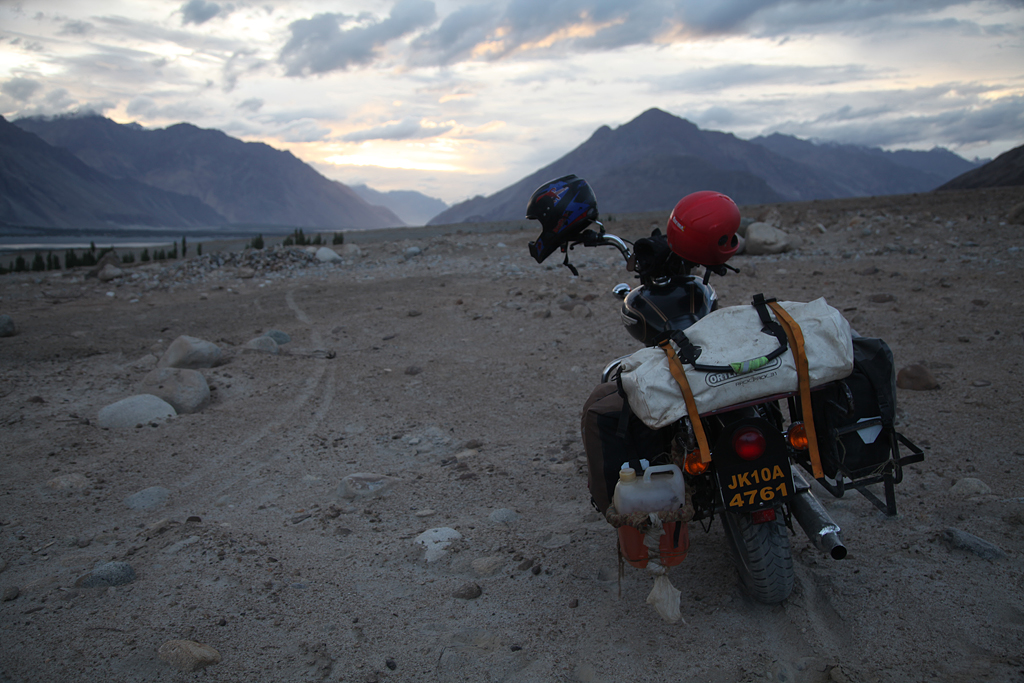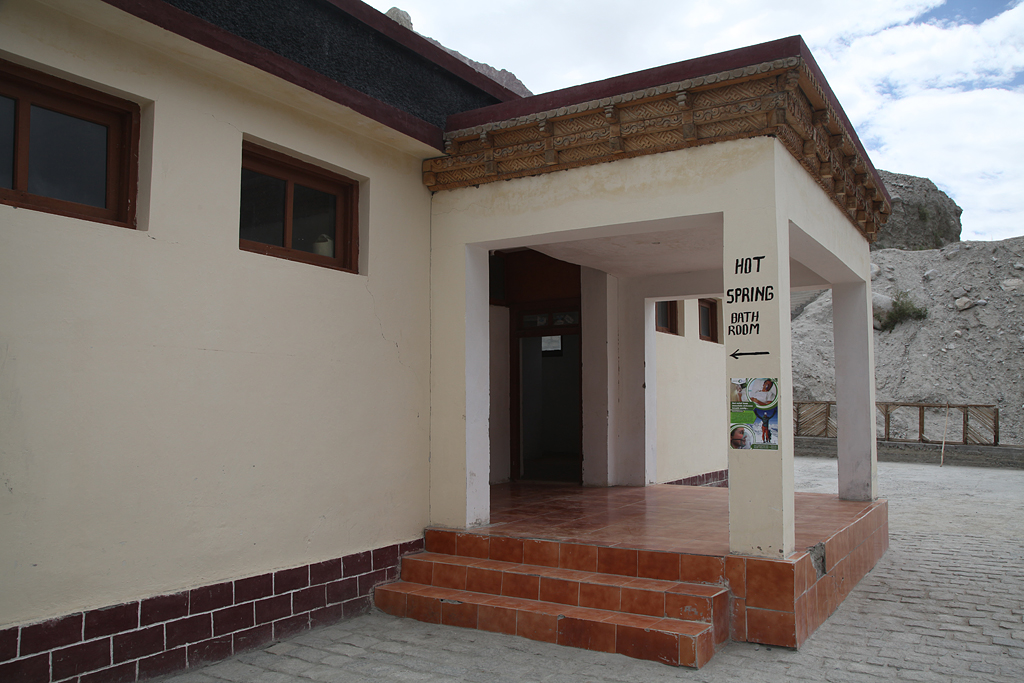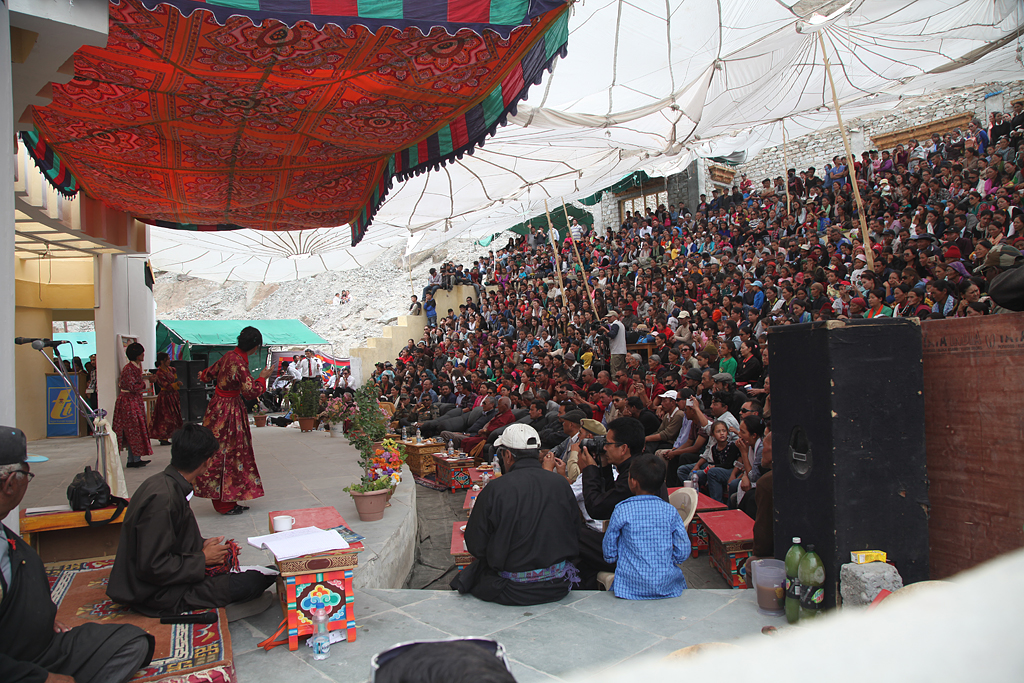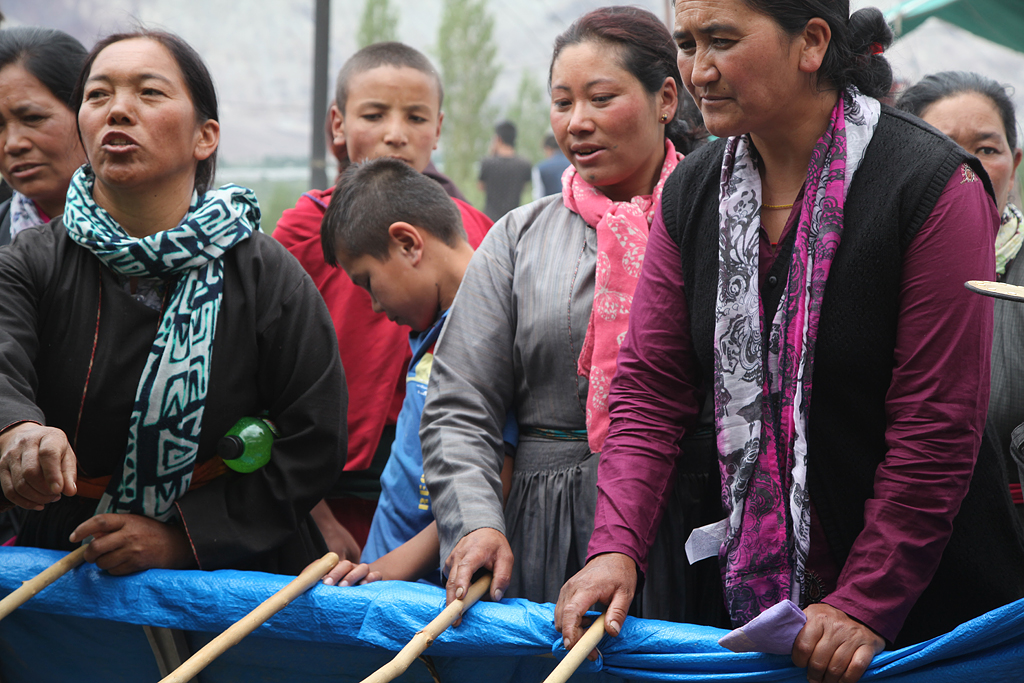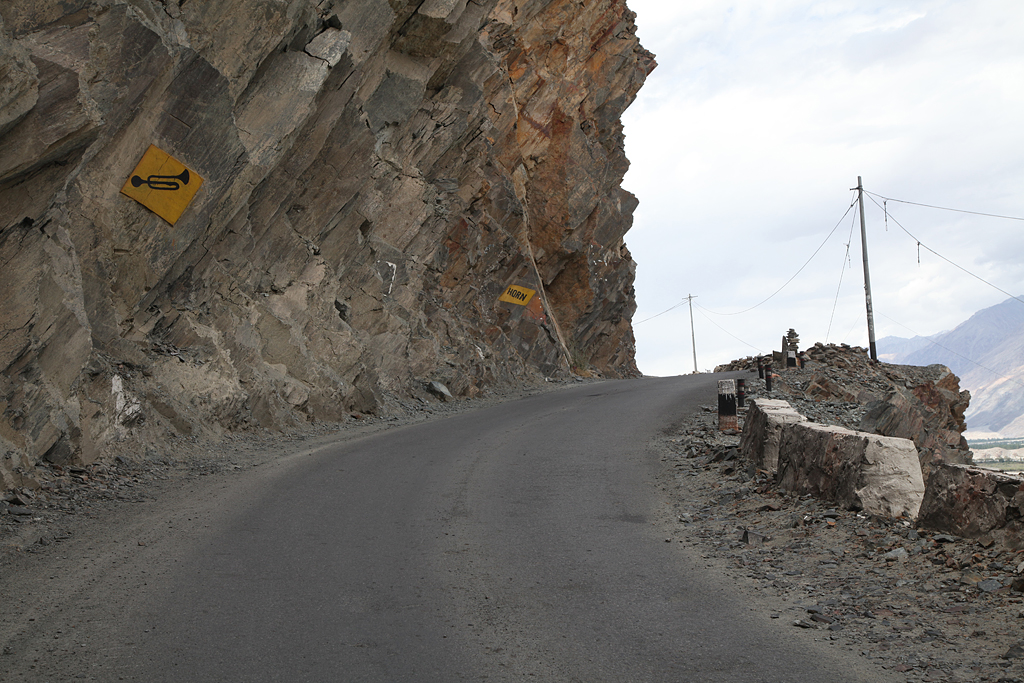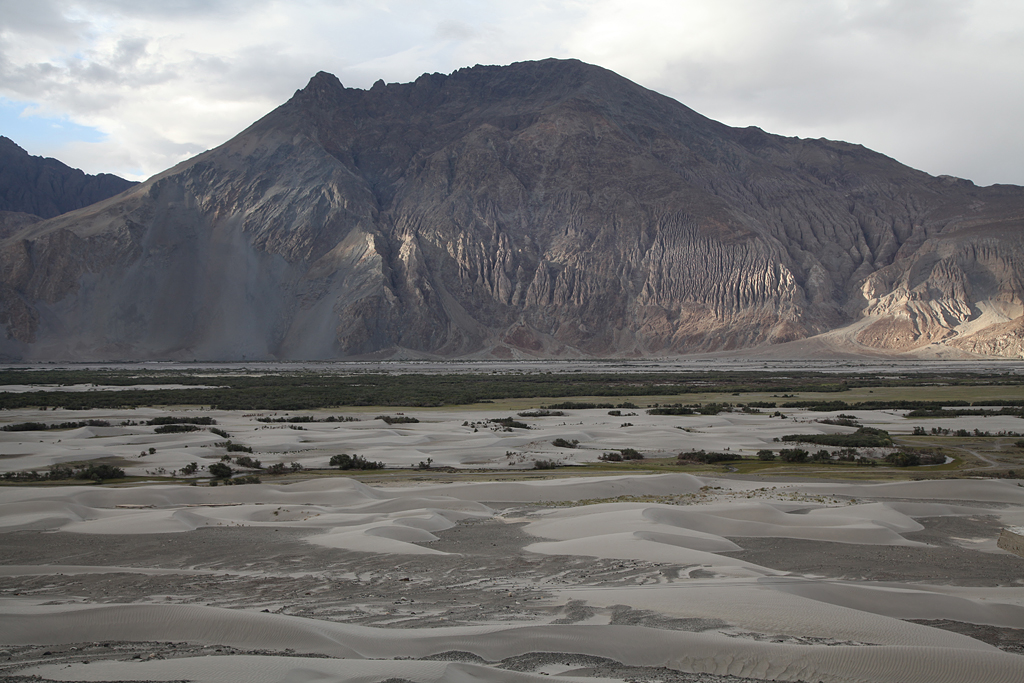 After the roadtrip by motorbike it was time to say goodbye to Franci. He had to go back to work in Switzerland. I stayed a couple more days in Leh, and thought about how to continue. In Leh I was kind of stuck in a dead end. To the west was Srinagar, but the problems in Srinagar still continued, and the end wasn't near at all. To the north lies China and Pakistan, so nowhere to go there since the borders are conflict zones. From the south-east I already came…
I had a hard time deciding on my next steps. Several different options were crossing my mind, but in the end one was overweighing the others: Since a long time traveling, I had been thinking of buying a special car. And since I was not super motivated anymore of cycling alone, I decided I wanted to try buying it. Part of this decision was definitely as well, that I was missing Central Asia. The culture, the people and the food (yes, I had been tired of it at one point) fascinated me, and I wanted to go there again. Anyways, during those days alone in Leh, I booked a flight to Delhi, and further to Almaty in Kazakhstan; back to the point where I started my first flight.
The days in Leh until my flight I spent updating my blog and eating out along Changspa road. Soon after Franci left, our touring cyclist friend Dan Calverley showed up. We had met Dan in Kyrgyzstan back in 2015, and he had been cycling since as well. Dan stayed in the guesthouse next door, so we enjoyed meals and good talks together. It is always nice to meet other cyclists, especially those you've met before. Because to me it felt like a bit a cyclists family, all the crazy people that cycled Central Asia in 2015!
Dan soon took a bus to Delhi (he didn't want to fly at all during his journey). I went on a short three days cycling trip in the area. Parts of my luggage I could leave at the guest house, but the tent and some things I took with. My destination: Chang La, 5360 m, the actual highest motorable pass that is open for individually travelling tourists. It is exactly one meter higher than Khardung La, motivation enough to climb it!
Two nights I camped at a "campsite" along the road to Chang La. This was my base for the day that I cycled up to the summit, so I could leave my luggage. When I asked the host of the campground if I could set up my tent, he just looked at me confused. After some pantomimic explanation he let me set up camp, and refused to take any money for the safe spot with toilet. What I realized is, that a "campsite" there means that you rent a bed in a tent – not a spot to camp. Nice that he let me stay! Because I was too lazy and food was good, I also ate at the place and did not cook at all. Like vacation!
Up to the pass I cycled without any luggage. As usual, the air got pretty thin over 5000 meters. Fortunately the road was pretty good for most parts, and in others there were people working on fixing it. Unlike here in the western hemisphere, road work is manual labour! So instead of big machinery, you pass hundreds of workers smashing rocks with nothing more than just a hammer.
The last ca. 10 kms were not paved, and signs placed every 200 meters reminded me of the danger of falling rocks. I was unlucky and just on my last bits to the top, a storm caught me. Thunder and lightenings with strong winds and snowfall; in a section with big danger of rockslides – not particularly my most favorite place to be! I arrived on Chang La, took some pictures, and then quickly checked the situation on the top: there were two cars parked in front of the small restaurant, facing the direction back down towards Leh. From my point of view, that was at the time probably the safest and fastest way down… So I went inside, and asked around where I could find the people with the cars. It turned out to be a group of Indian tourists with two drivers. When I asked the drivers, if I could have a ride with them to lower and safer altitude, they declined. I must have looked a bit desperate, because the tourists insisted on taking me and the bike by car! Very very nice people!
After some discussions with the drivers, the guys from the tour group tied down the bicycle on the roof of one car. I found half a seat in the back of the other car. I was so thankful to get out of this storm as quickly as possible, and that those strangers offered their help immediately.
The ride in the car, in the end, was probably worse than a ride on the bike would have been. The road was so bumpy, that I felt sick very soon. But, I survived, and felt very good once we reached the sealed road and more open valley again. There, the storm and danger of falling rocks was behind us, and I started riding my bike downhill again.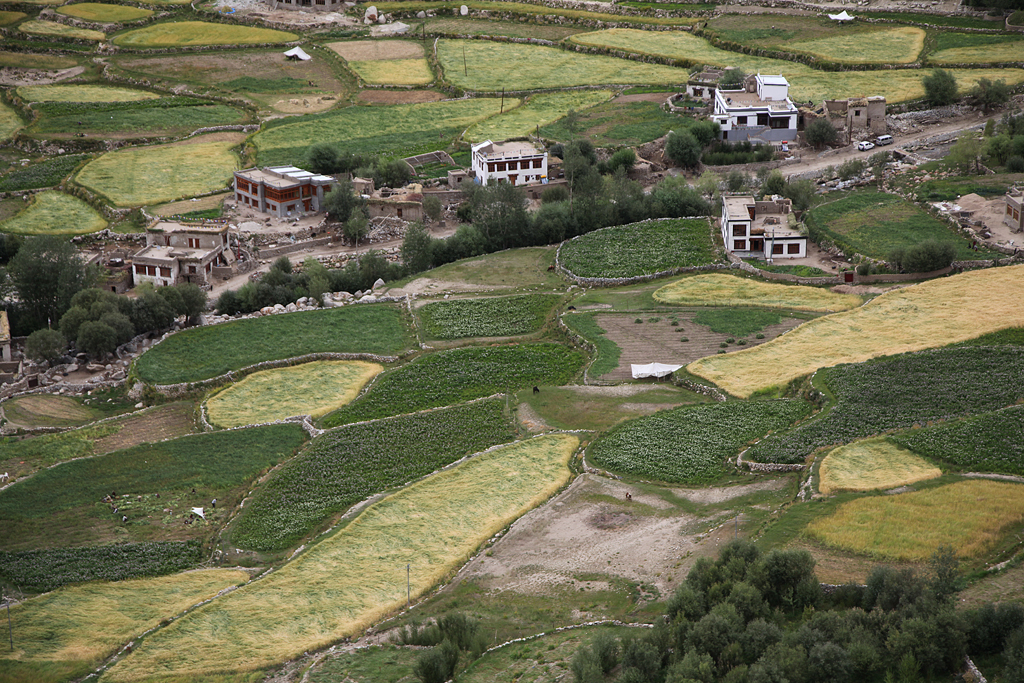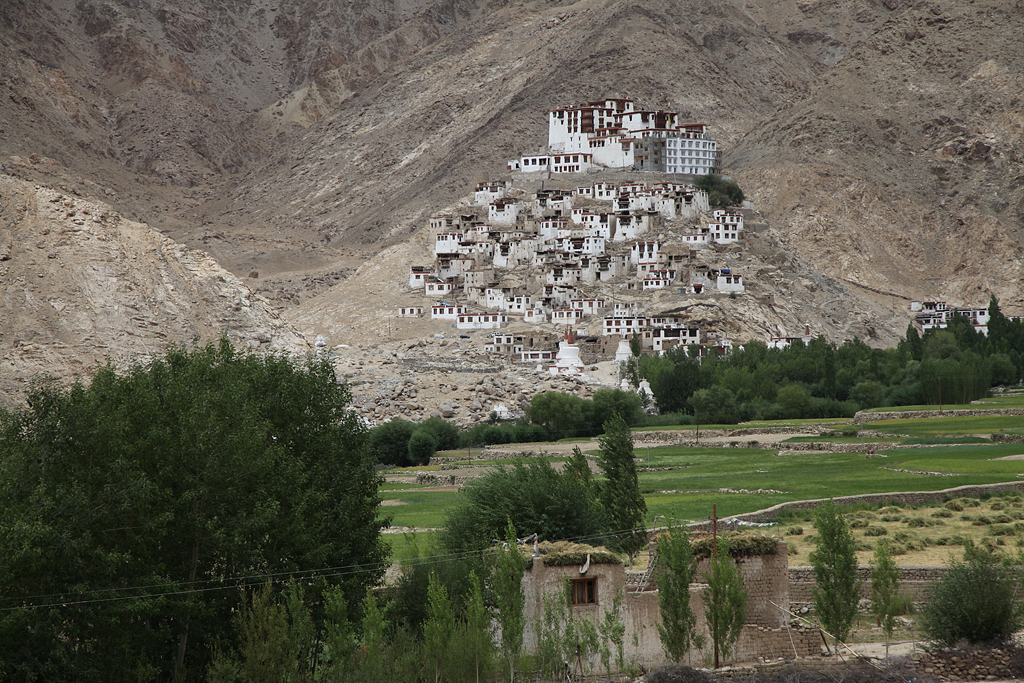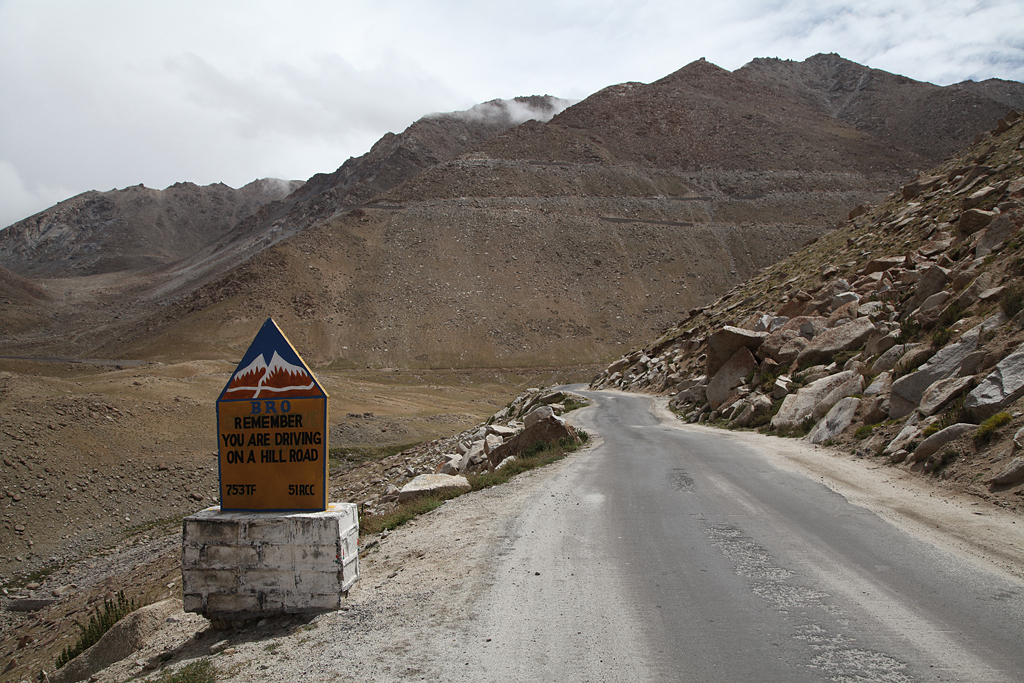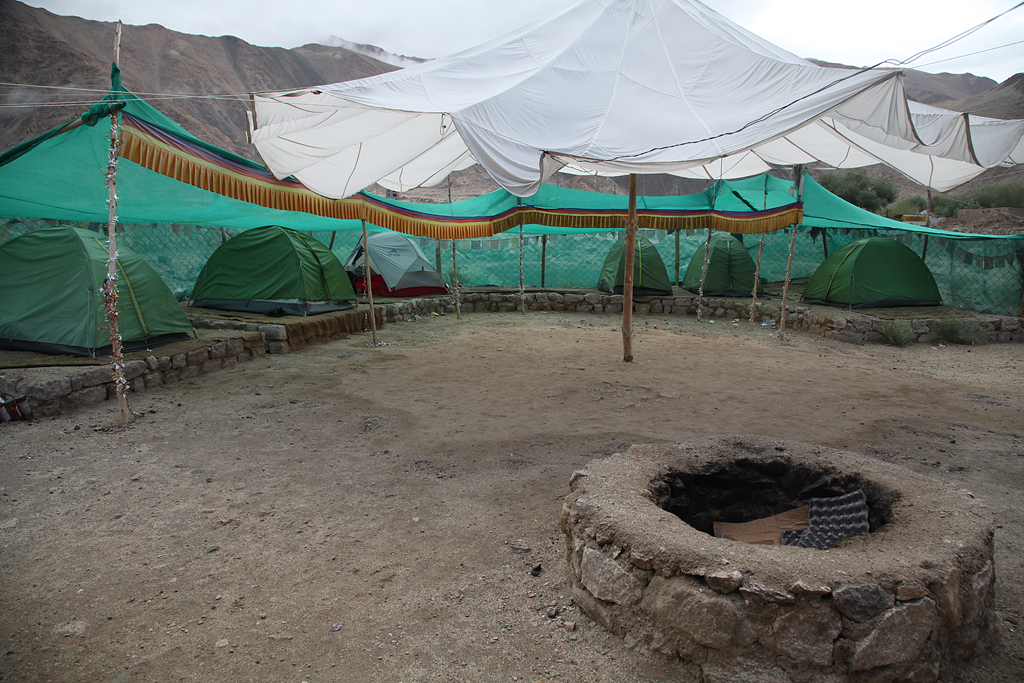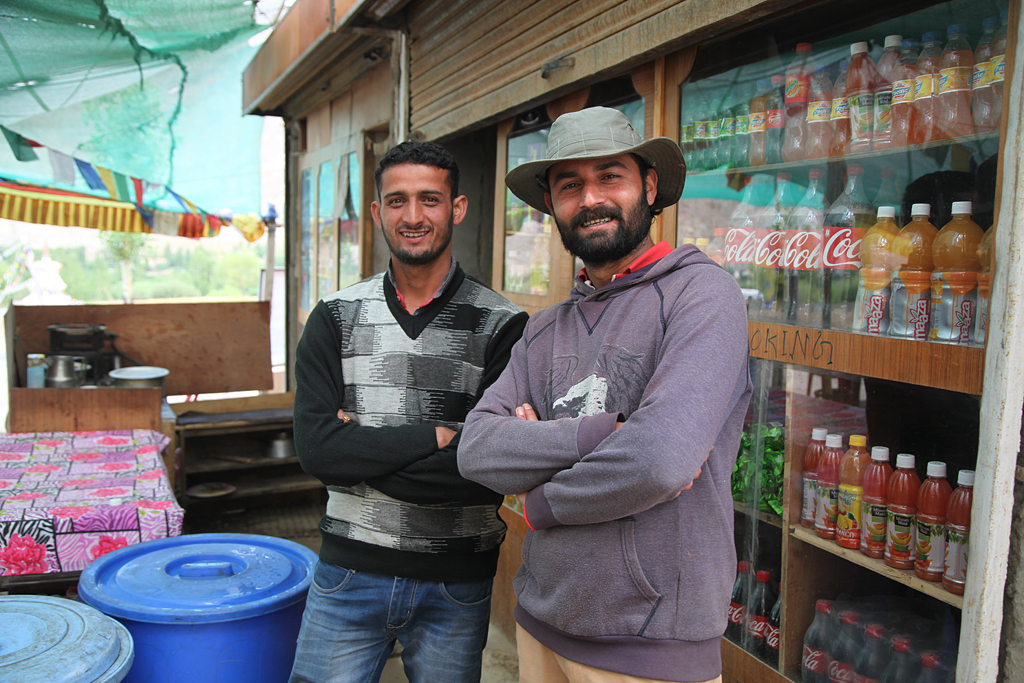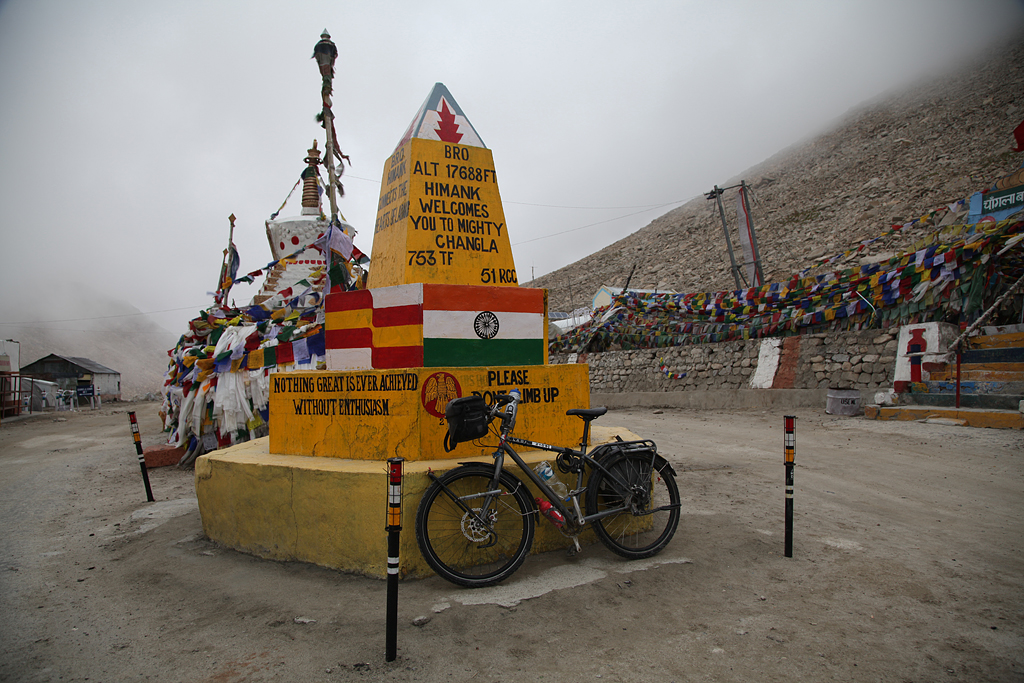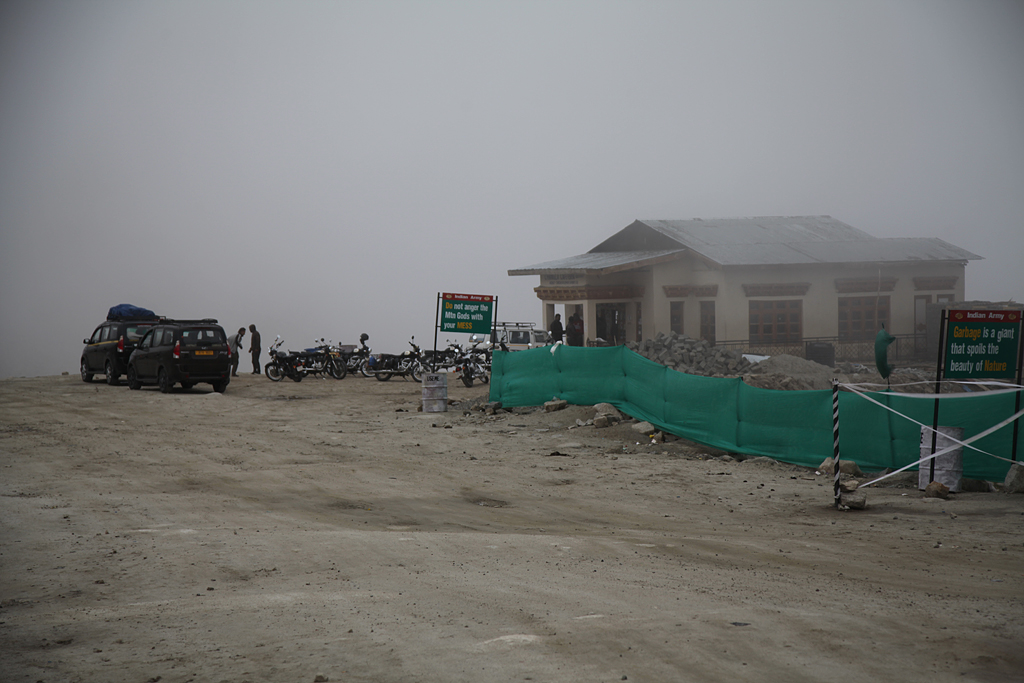 Back in Leh I spent the days eating good food again. After only a few days, I got on my flight to Delhi. To my surprise, I was not the only cyclist at the airport. Lots of groups of people take this great route as a challenge during their vacation.
At the airport, I was already kind of used to the Indian attitude of getting things done. Very relaxed, I queued with my overweight baggage and hand luggage; on a flight where again no hand luggage was allowed. The counter sent me somewhere to pay for overweight, and in the rather small building it still took me a while to find the place. Close to the scheduled time of the flight, I finished check-in, and went on through security. Nobody than just the tourists said anything about my 8kg hand luggage. But I just made one mistake. I forgot to put the tape (with which I taped the bike box closed) from hand to regular luggage; and same with the rope that I used for attaching the box onto the roof of the taxi which brought me to the airport… You can imagine how that looked to a worker at security! Without tape and rope I passed more checks and screenings, and again the suitcase check on the airfield. I enjoyed knowing the procedure from before, it made me look like a local! Haha!!
After a short flight I arrived in New Delhi again. Mussarat and Karan, the two cyclists I had met along the Manali Leh highway and later in Leh, were super kind to host me for a while until my flight to Almaty. Dan Calverley was there already, and so we had a very diverting time amongst cyclists. With Karan and Mussarat we could see and enjoy the center of Delhi, and meet some of their friends and cyclists. Dan and I also went to Agra for one day, visiting the Taj Mahal. Mussarat and Karan, thanks a lot for your awesome hospitality!!