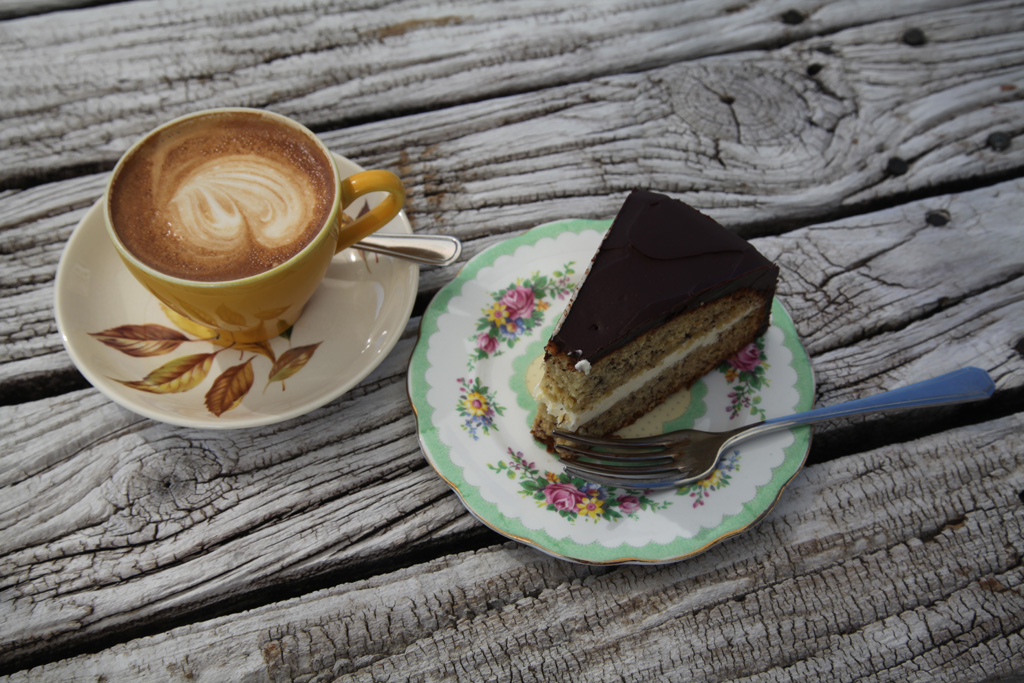 Life is great! Trust me, I am having a really good time here in NZ!
It's been a while now since I landed in Wellington, and I could tell you heaps of stories. Probably you'll read here just a part of them.
Having traveled the north island already, I find myself now at the wild west coast of the south island. In Westport, where I enjoy the hostels facilities such as a shower, a comfortable bed and a fully equipped kitchen including an oven (yes, I miss baking!).
The start in New Zealand was great. Patrick and Dolores who I met in Uzbekistan and Tajikistan last July and August, hosted me some days in the lovely small capital city Wellington. As it's summer over here, lots of events are happening. One evening, we went for a picknick & concert to the botanical gardens. Orchestra of Spheres was playing, a wonderful night. Another evening we went to the waterfront, where an open air cinema was installed… I already fell in love with New Zealand! Finally in a "western country", where I enjoy all the well organized cultural events.
On the weekend, Patrick and Dolores took me to a new cycling path along the coast. The official opening ceremony took place, and we cycled the track forth and back, and a bit further – with stops for coffee and ice cream in between. This day was awesome – and I felt like I had to get out there and cycle/travel again. The climate, the weather, the sea, the hills, the nature, … I just wanted to hop on my bike and see & feel it. It's like I discovered the spirits of cycletouring again, after a loooong gap in south east asia…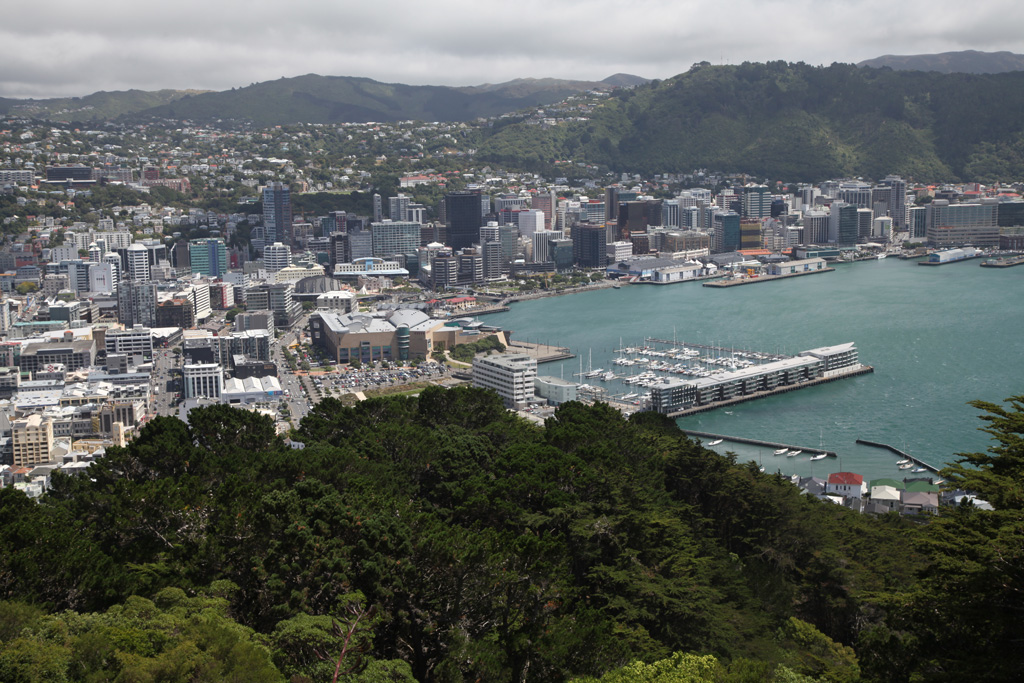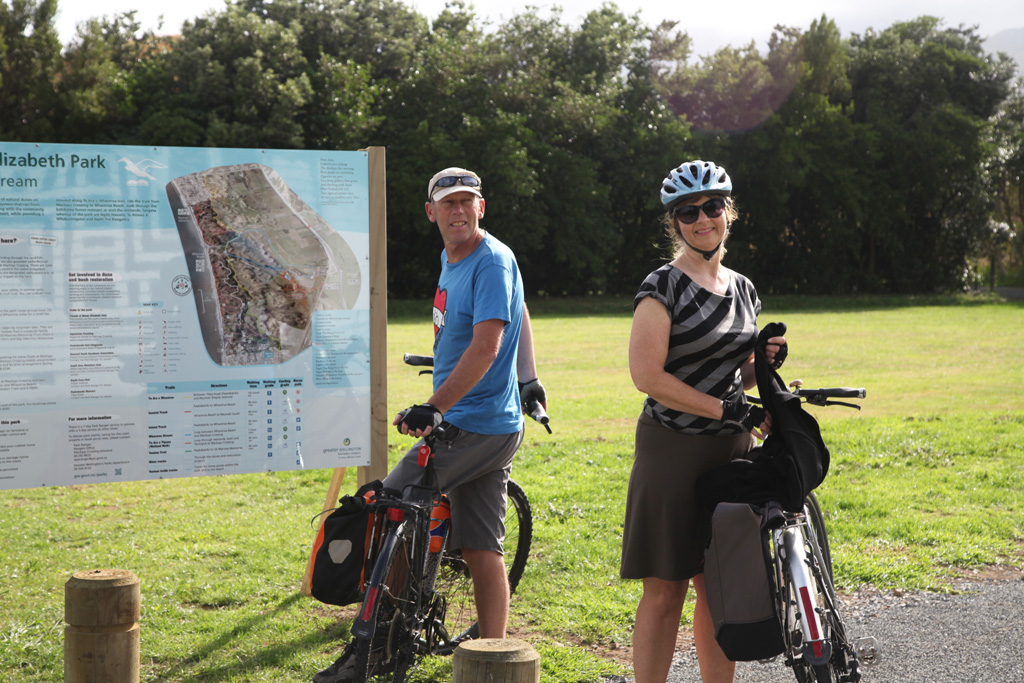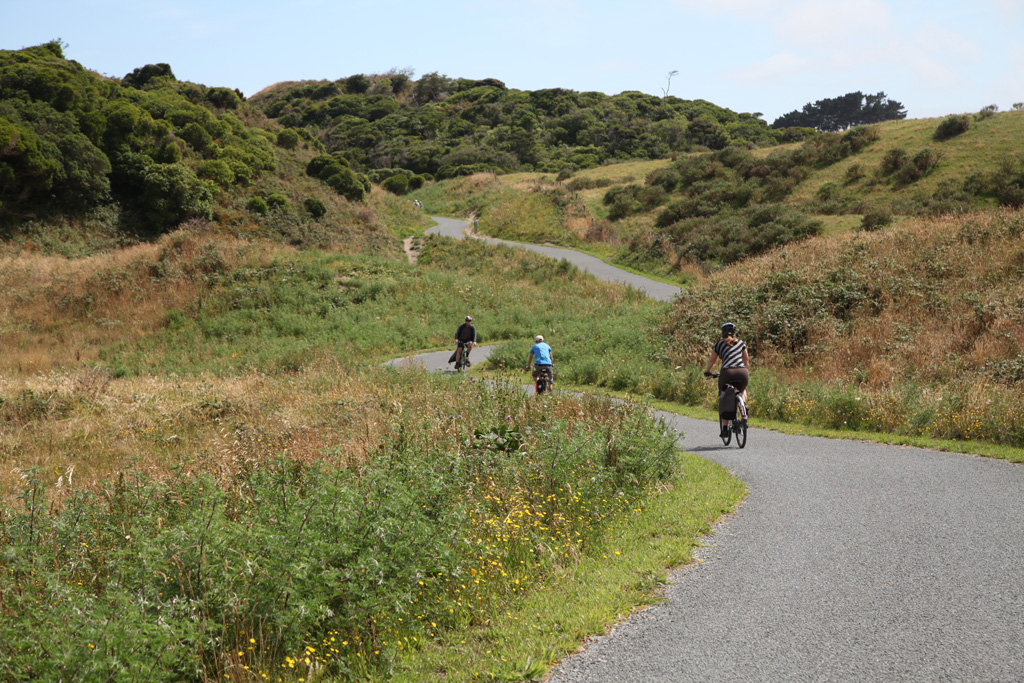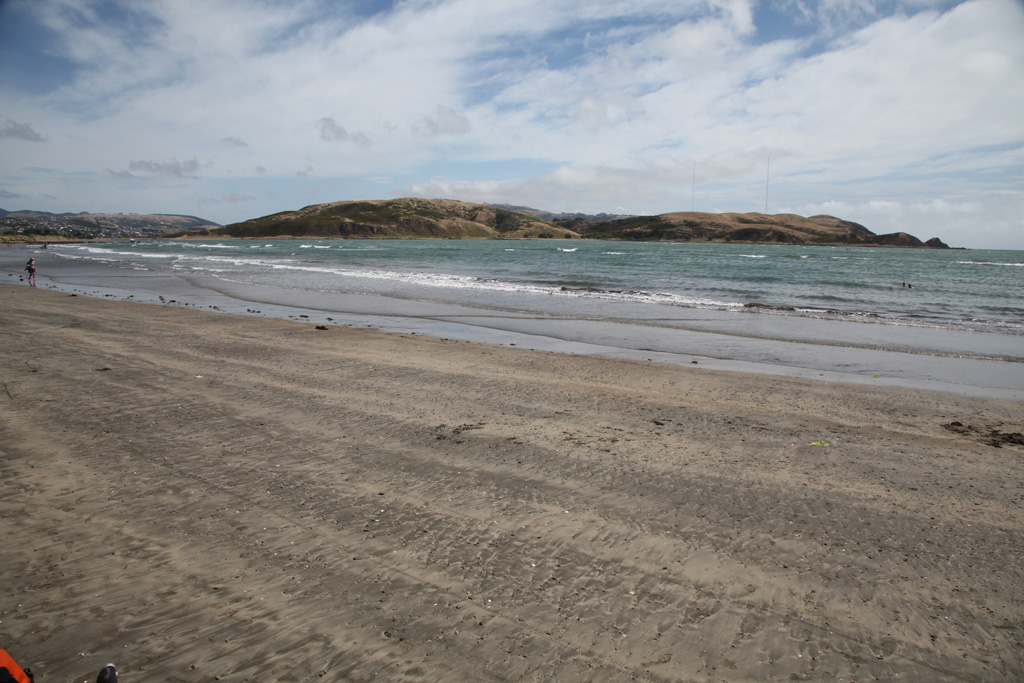 So I left Wellington quickly, I think I stayed there three days in total (plus the day that I arrived in the afternoon). One day to recover from my jetlag and build up the bicycle, one day to see the city centre and one day cycling. The day I left, it was Sunday, I stocked up with food on the market at the waterfront and in the supermarket. Wow, I was simply amazed by the variety of fresh veggies and fruits – and it was extremely hard for me to focus on buying only few things. You know, I haven't seen a market like that for a long time. And when I stayed in Switzerland, due to winter season there weren't many vegetables growing (or the ones grown/produced out of season had no taste). With approximately 5kg more on my left back pannier (=kitchen; it felt like 5kg, probably it was less) I finally started pedaling again.
The first day was hard work for me. I hadn't really been cycling since Bangkok beginning of November! It's like restarting again. But it was fun!! Once out of the city I followed the coastline to the end of the bay and the up the river. A big hill appeared (nobody told me about the hill before the campsite, only about the big hill I'd have to climb the next day!?), and I ate about half of a cake on the way up there. Yes, I'd bought a cake on the market…
On the small regional campsite I was invited to stay with Miranda, a friend of Patrick. Four families were staying over the extra long weekend, it was a public holiday on Monday. As I arrived they were preparing dinner – and invited me to join as there was plenty of food. Thanks a lot!
Here in New Zealand I haven't been wild camping so far. Freedom Camping is allowed, unless there is a sign or it's private land. And until now, it was mostly private land (with fences around it). Or the few places where it looked like nice campspots, there were signs that said "no camping or overnight parking". But one main reason for me is, that it seems that New Zealanders are tired of all those tourists that camp wherever they like. There is a good infrastructure, like there are heaps of very cheap regionally or nationally run campgrounds where you have a tap and a toilet for 4.– us$ a night. I don't mind paying that, and usually these sites are in phantastic locations. And where there was no campsite, I was allowed to stay on the domain. That's the public lawn in a small town.
So, on my second day in New Zealand I had to cycle across a big hill. And when a kiwi says "there's a big hill", there really IS a big hill. Same with other descriptions: If someone tells you, "there's nothing in between", like shops or cafes, there IS NOTHING in between. Okay, back to the hill. The Rimutaka Trail, now for tramping and cycling, used to be a railway track. Uphill a smooth gradient, gravel road, and phantastic scenery. Downhill was a bit rougher, the path was steeper and there were several tunnels without any light. And at the very end, the path turned into a single track for mountain bikes. I didn't mind, it was even fun to ride, but because of my heavy load I broke my first spoke there (and lost a screw from the front rack).
The weather in the east was much warmer and nicer than in Wellington. Better for me, coming from Malaysia, to adjust. People told me, those were the hottest days of the year, but I felt very comfortable. I rode through the beautiful hills along the "old road 52". Hundreds of sheep on both sides of the streets, and huge distances between the towns. Just stunning for me, amazing! It was exactly, what I was looking for…
Okay, there was one day with heavy rain and wind. It was so strong, that the rain came even through the screws of the Ortlieb panniers! But I tried to keep smiling, and waited for a bit better conditions.
Here in New Zealand, I experience great hospitality, too. People are very kind, and try to help out without I even ask for any support. Like one day, when I asked a lady in a small museum if she knew about a domain or an area to camp in one of the next villages. She didn't – or so to say, there wasn't – and she invited me to stay with her and her husband. The funny thing: Hazel and Michael weren't at home that night, they were invited for dinner! So I was allowed to stay in their house, have a shower, and sleep in their guest room – and met the amazingly welcoming couple the next morning for breakfast in their kitchen. Hazel and Michael own a vineyard near Hawke's Bay, and as they had been living a couple of years in Italy, they know and love their work well. Thanks a lot!!
Napier is famous for its art deco city centre. An earthquake destroyed a big part of the city, so it was all rebuilt at the same time in the same style. I think because I am quite spoilt as European, it didn't seem to be very special to me. Now looking back, it's special for New Zealand. Because the country doesn't have a long history of settlement, most of the towns look very similar. And Napier is kinda unique. But I didn't appreciate it, when I was there – probably because we have heaps of lovely old towns and also all kinds of unique architecture from every century/age in Switzerland.
From Napier there are two roads that lead inland. The main highway and the backroad called "the gentle Annie" which used to be gravel but is now sealed. I rode the gentle Annie – that was definitely NOT gentle… Several very steep uphills, I mean really steep uphills, and of course the matching downhills for two days. I was super glad that I mounted a smaller chainring beginning of January!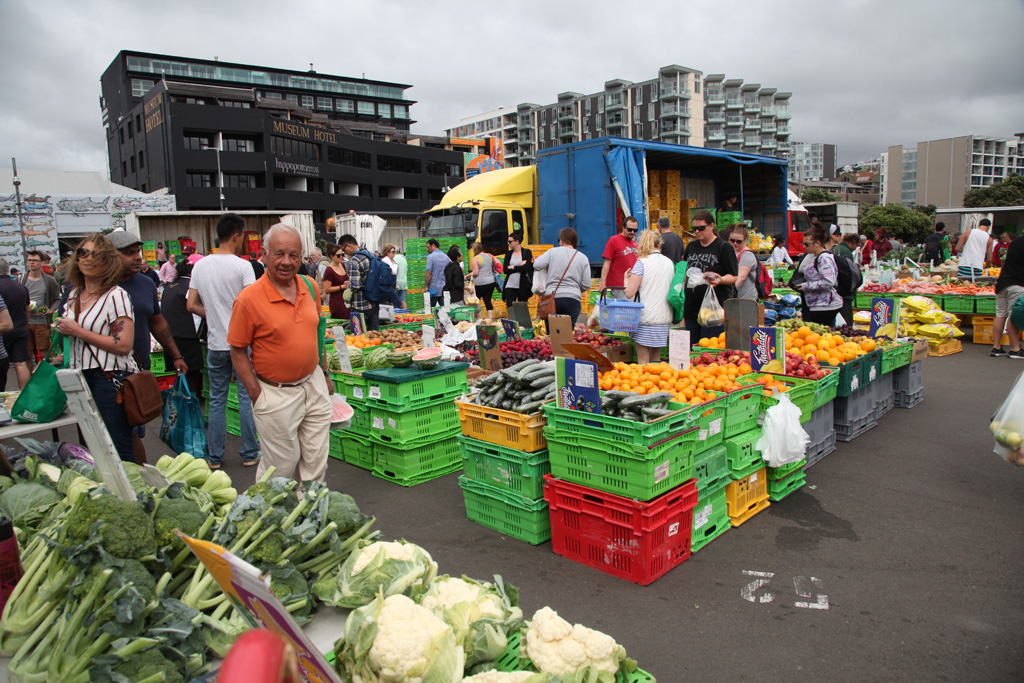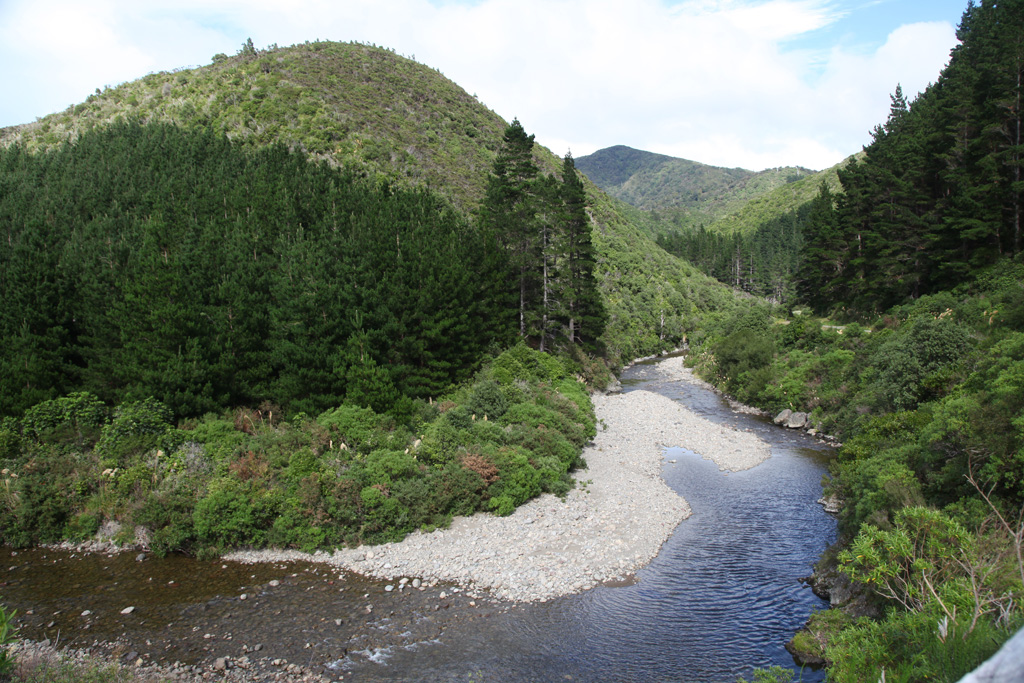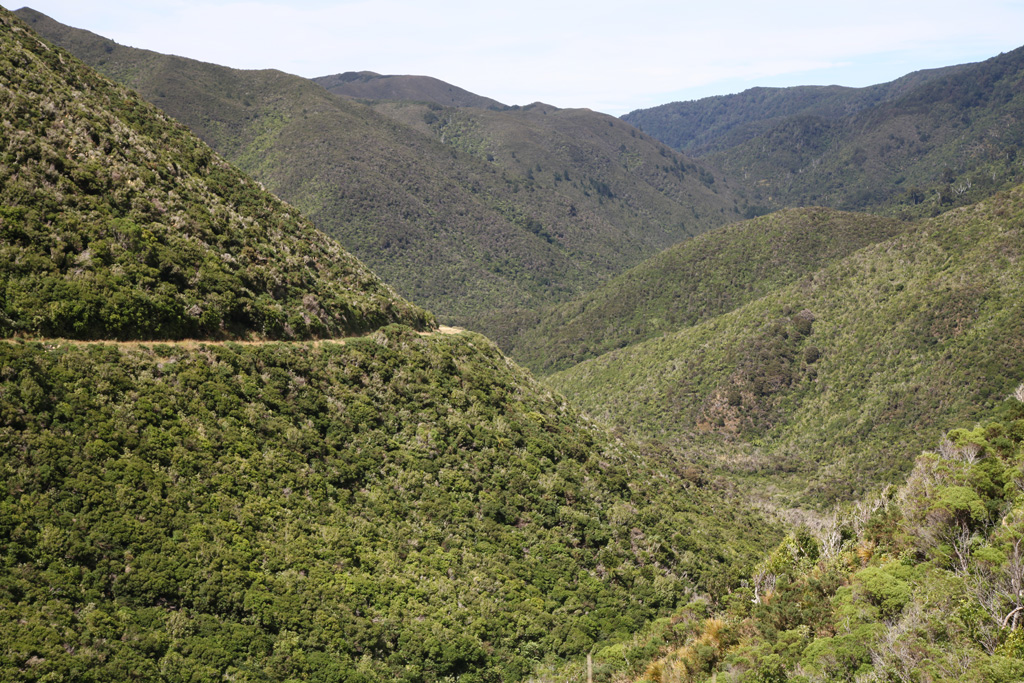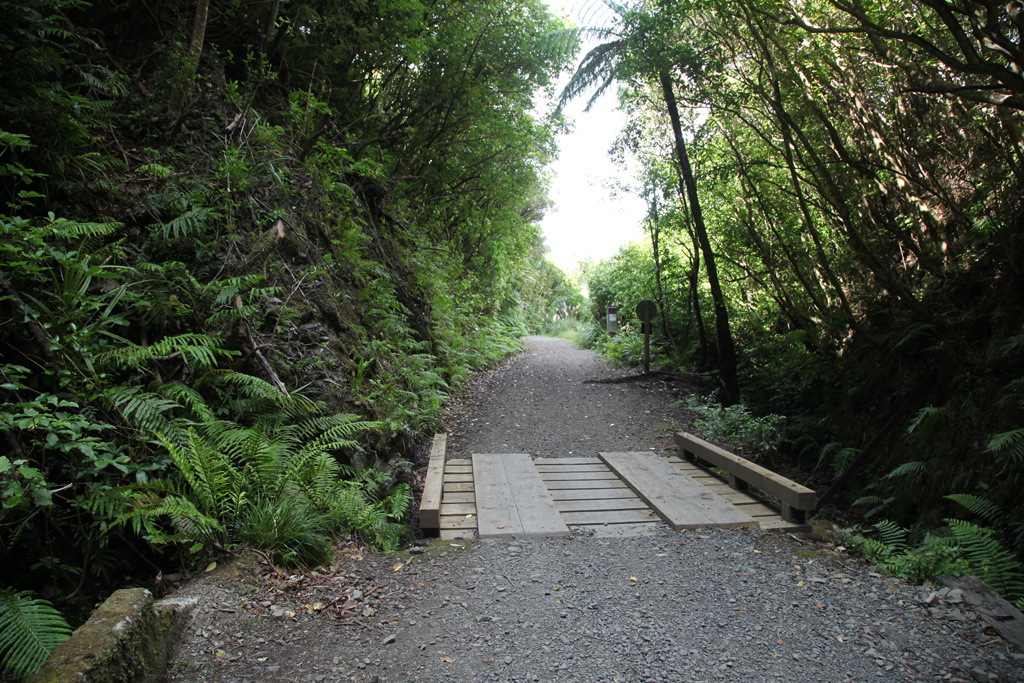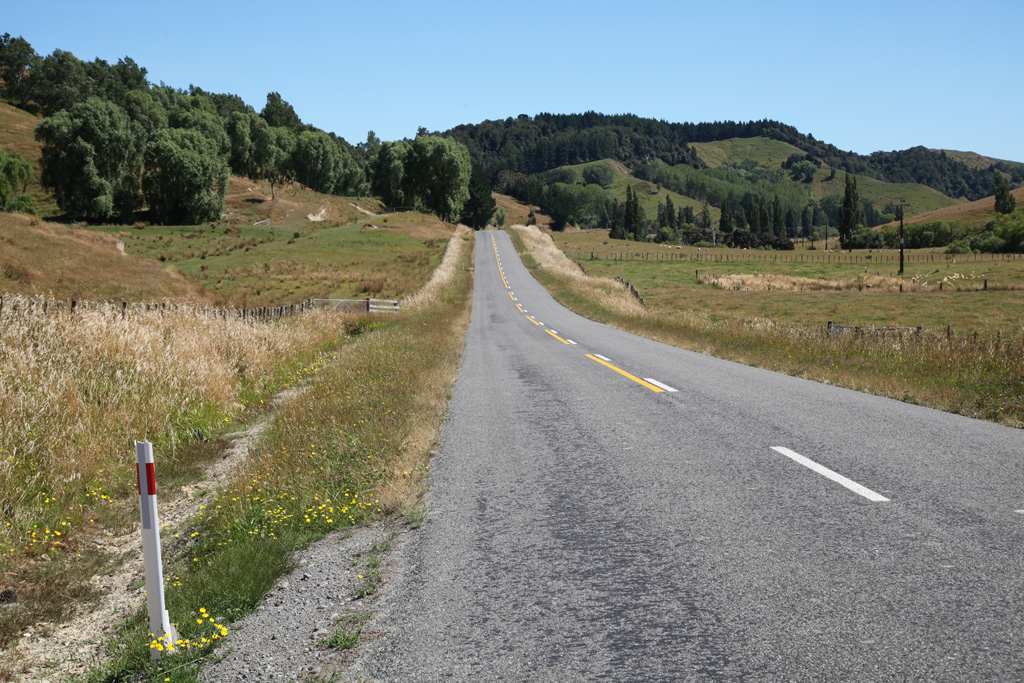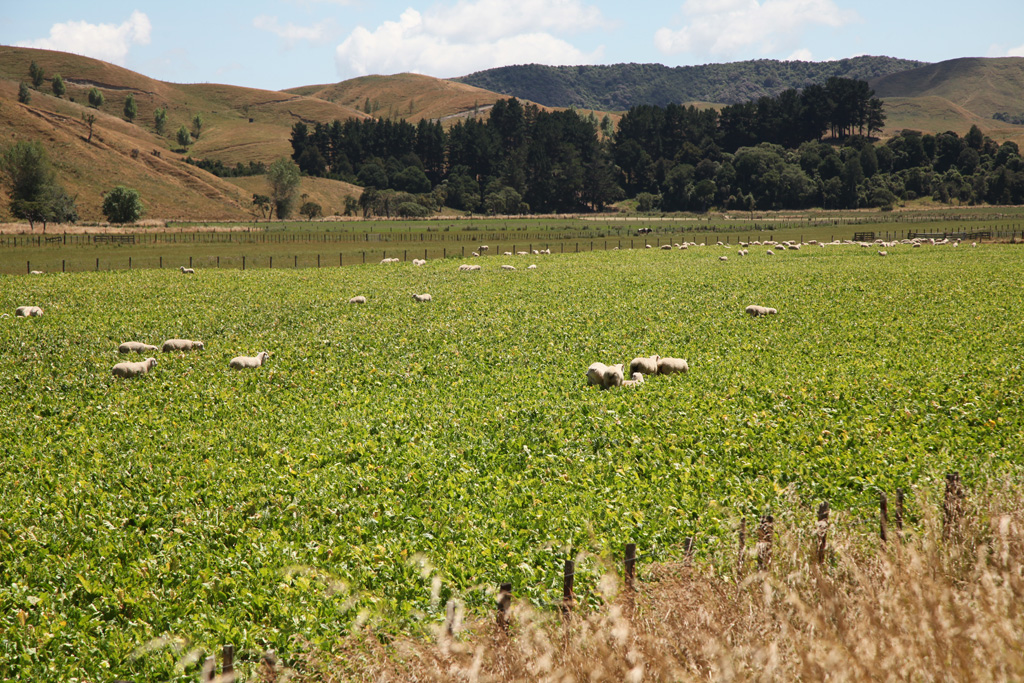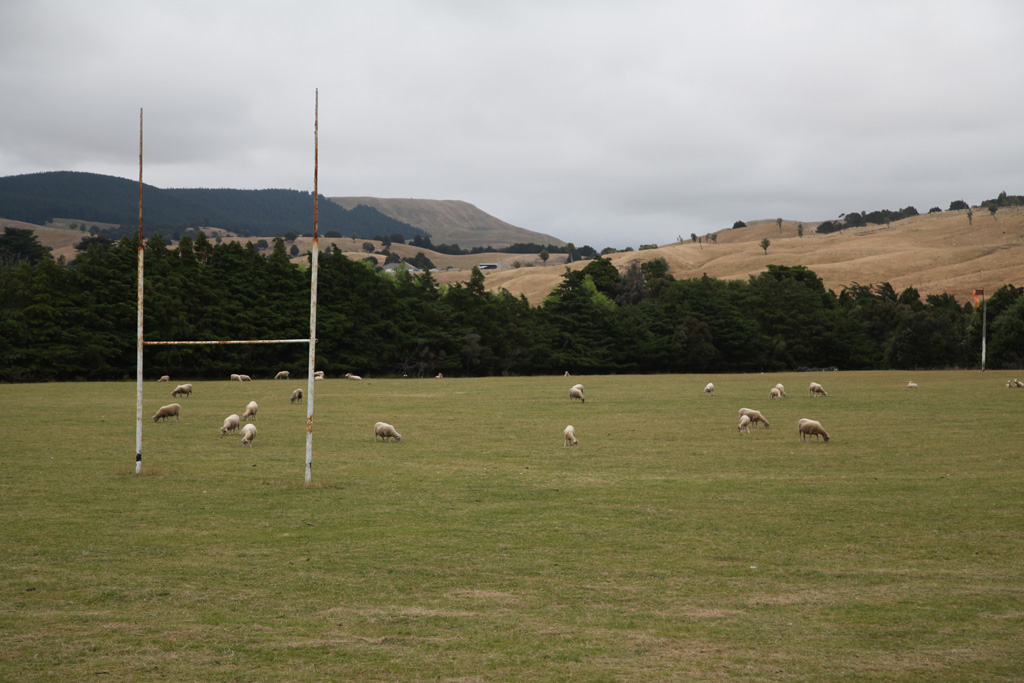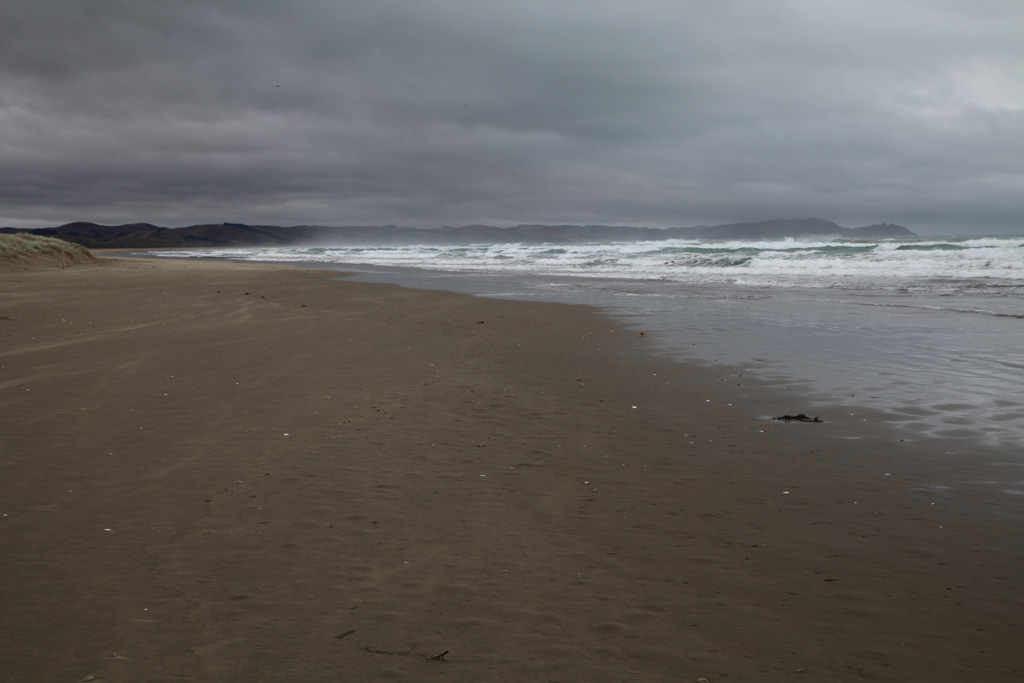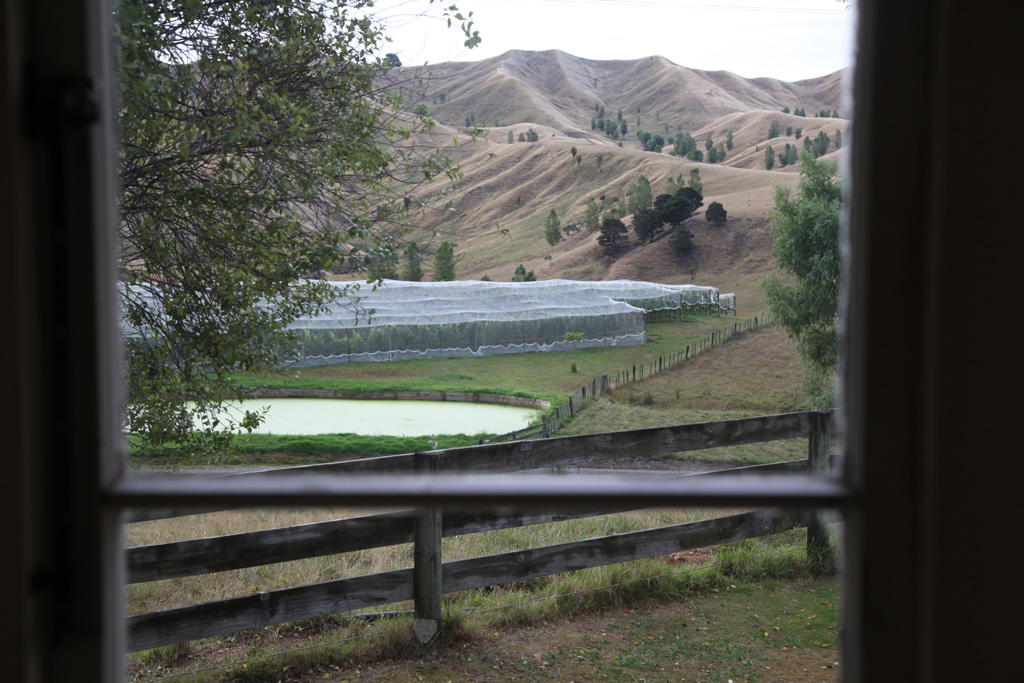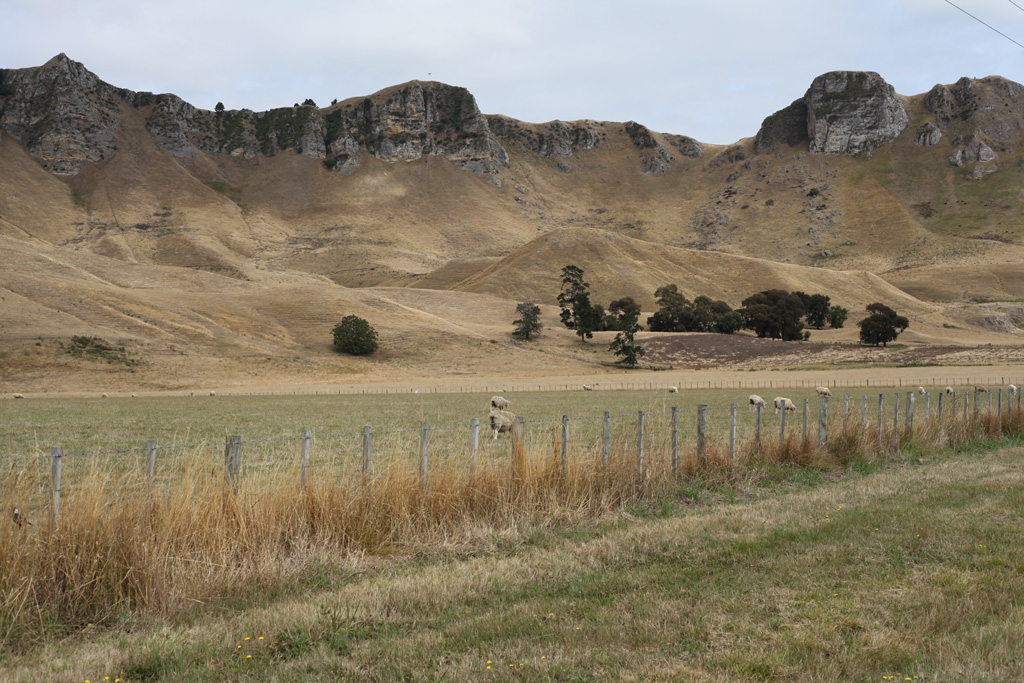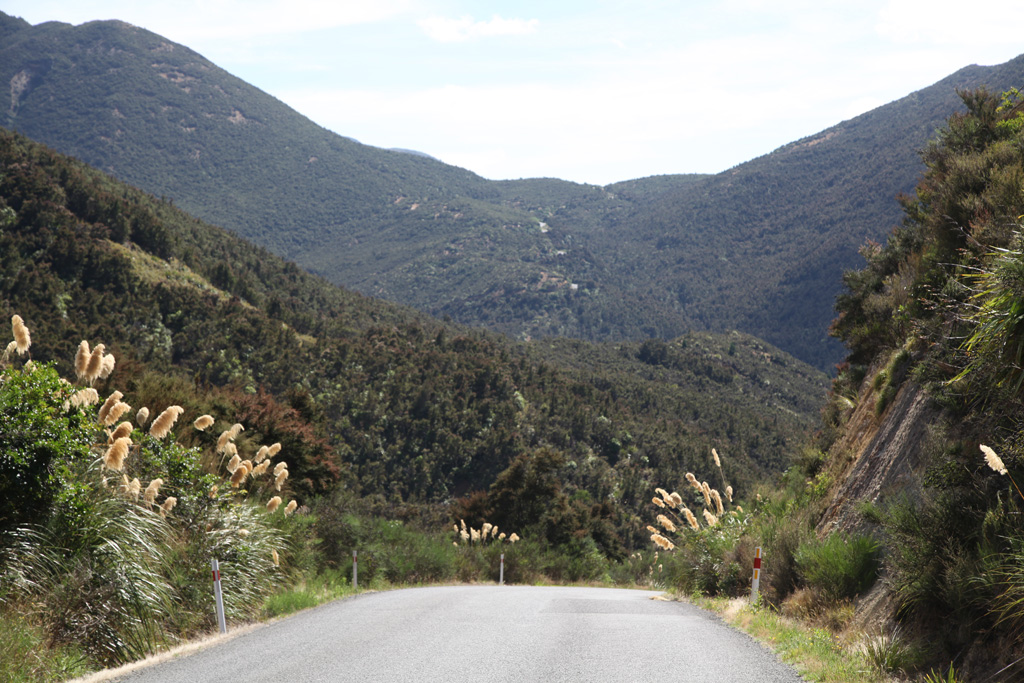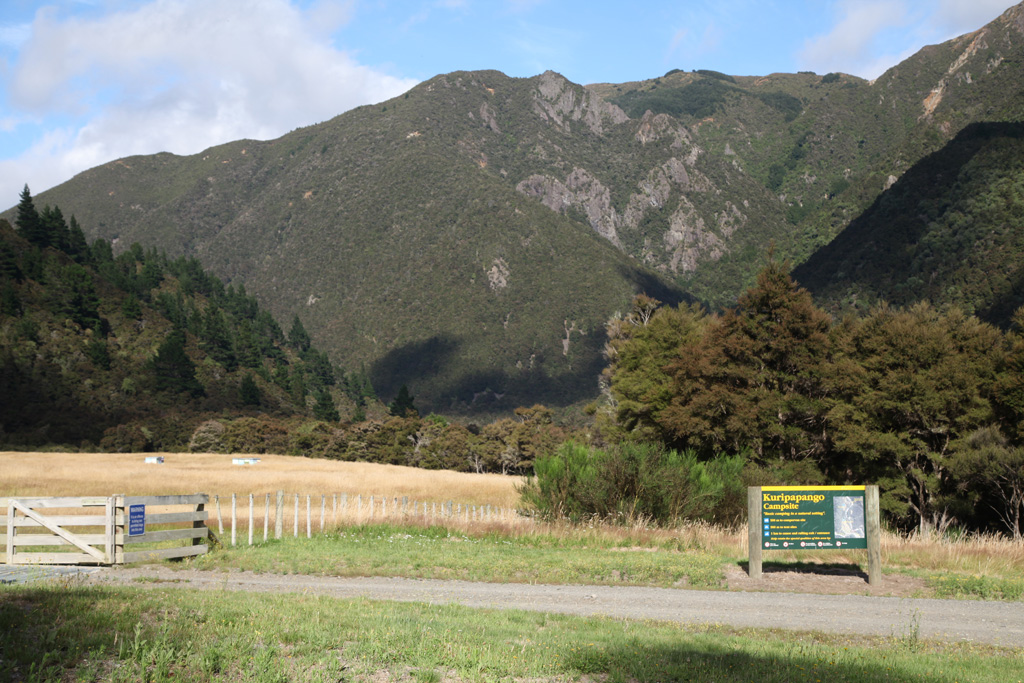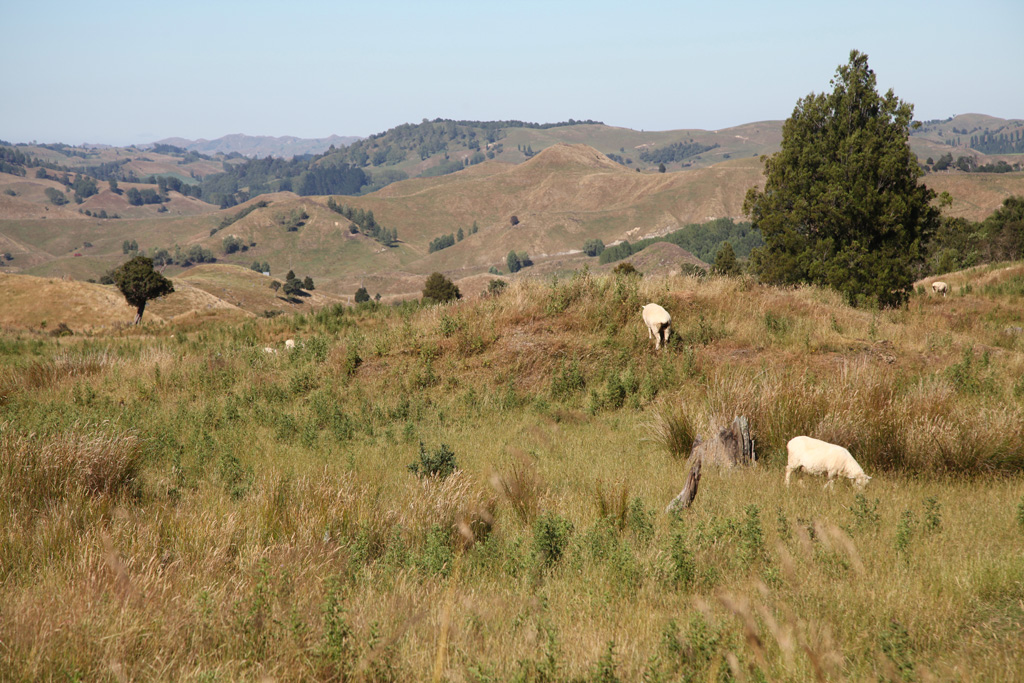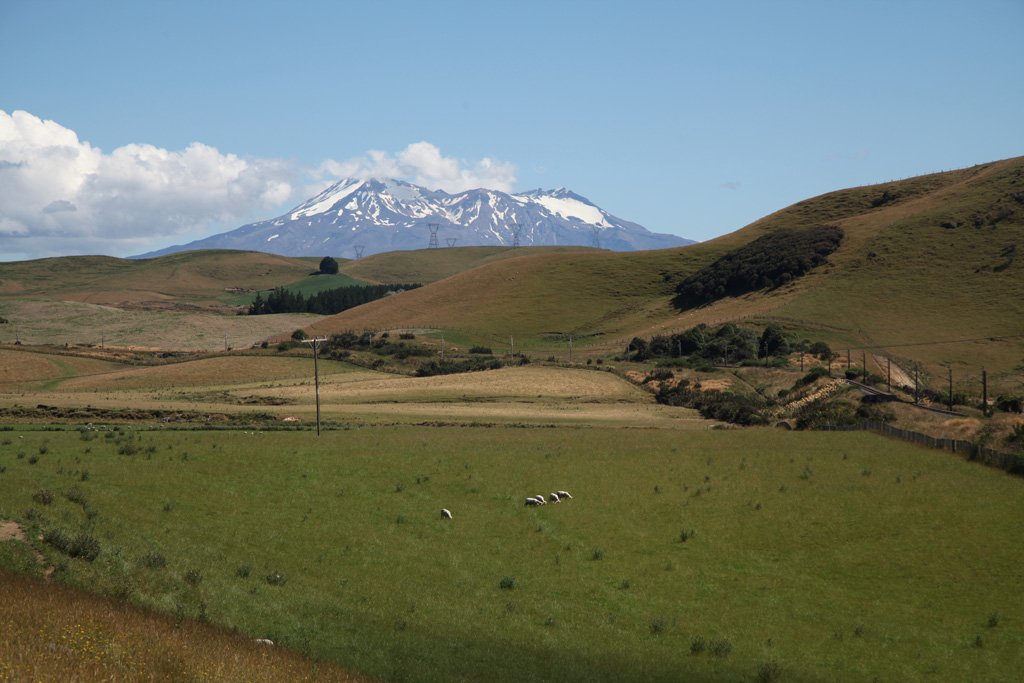 I would say, New Zealand gave me a good portion of energy and motivation back. Super comfortable climate, stunning scenery, cute little towns and cafes, well organized infrastructure and services, and heaps of familiar food (e.g. dairy products, european cuisine, …). It took me about three weeks to realize, that I do not have to buy all the food I had missed for a long time at the same time. I want to say, that I bought way too much stuff the first three weeks! Just, because it was available! 🙂
After the gentle Annie I cycled to Okahune, which is located on the south end of the Tongariro National Park. Okahune is a small town with a supermarket, and I think peak tourism season is in winter. There were some ski rentals and outdoor shops. The most famous dayhike of New Zealand is the "Tongariro Crossing", and the images looked tempting, so I wanted to see it in reality. The weather was meant to change, so I stopped in Okahune instead of going further north, and took a shuttle bus to the track (and back) from there the following day.
It was amazing! Perfect blue sky, almost no wind, stunning volcanoes and volcanic terrain; exactly as it looks on the advertisings! I enjoyed the seven hours walk very much.
It wasn't hard to find the way. Because it is the most popular walk, the DOC (department of conservation) did a lot of effort to make the path easy to walk. Wooden stairs led up the lava fields, and some poles marked the way through the craters. And actually, you couldn't miss the way: hundreds, no more like thousands of people walk in front and behind you. You queue at narrow uphill sections! Nevertheless, I didn't mind the crowds. The scenery was just mind blowing, it looked like on the moon (or on the plateau in Tajikistan).
On time at four o'clock the shuttle bus waited at the end of the track, and drove back to Okahune.
From Okahune on I followed lots of highways. There are not much to no alternatives… The weather changed as predicted, and i rested a day on a tiny DOC campground in the National Park. I hitch-hiked to the nearest café for a hot chocolate, and had some nice chats with other campers. That was a nice cosy place.
Around Taupo I ran into lots of cycle tourists. That was the first time in New Zealand for me, that I met other tourers. First I was excited – but now I realize that most cyclists stay on the highways, and that's the reason why I hadn't met any of them until then. With a guy from Hong Kong I cycled along lake Taupo and tented with him in Taupo town.
The next days I spent in the area around Rotorua. It's famous for hot springs, mud pools, geysers and geothermic activities. One night I tented right next to a natural hot pool, and because the weather was a bit misty and colder, a dip in the pool was the perfect start of the day. Later that day I passed some touristic "geothermal parks" and met the Hong Kong guy Adis again, who knew about a gorgeous warm waterfall in the bush. It was like in a spa – but even more relaxed and without entrance fee!
In Rotorua I checked into a hostel. Main reason: I needed a shower, because I wanted to hitch hike back down to Wellington. And nobody will offer a lift to a smelly cyclist! Rotorua was not too exciting.
What exciting was: Hitch hiking! I cycled out of Rotorua, to the road towards Taupo (Wellington). There I placed myself next to the fully loaded bike with a huge cardboard sign saying "Wellington". Believe it or not, in one day I made it from Rotorua to Wellington – with three different rides! First, a minivan took me to Taupo and dropped me off just after town on the road south. Then, only 15 minutes later, a guy with a campervan with two horses in the back picked me up. We had to drive slowly and carefully, and every now and then we had to stop and feed the horses. The guy drove me down to Bulls, about two hours from Wellington. It was getting easier, just ten minutes until a young guy pulled over with his minivan. To meet all these three different characters was a lovely experience. I think I wouldn't have met them, if I was only riding my bike…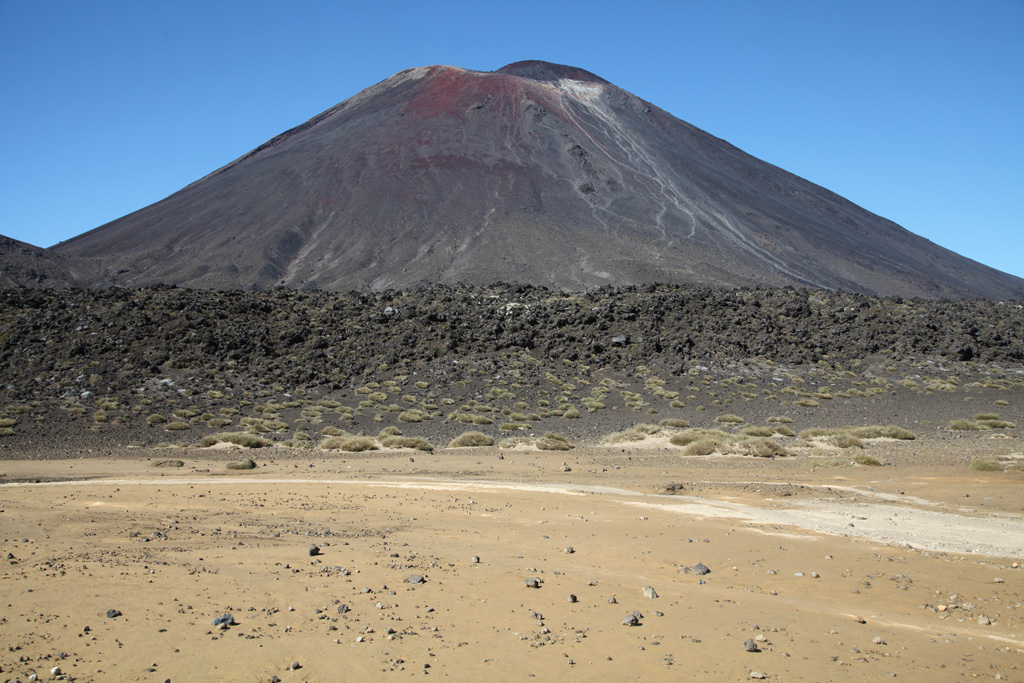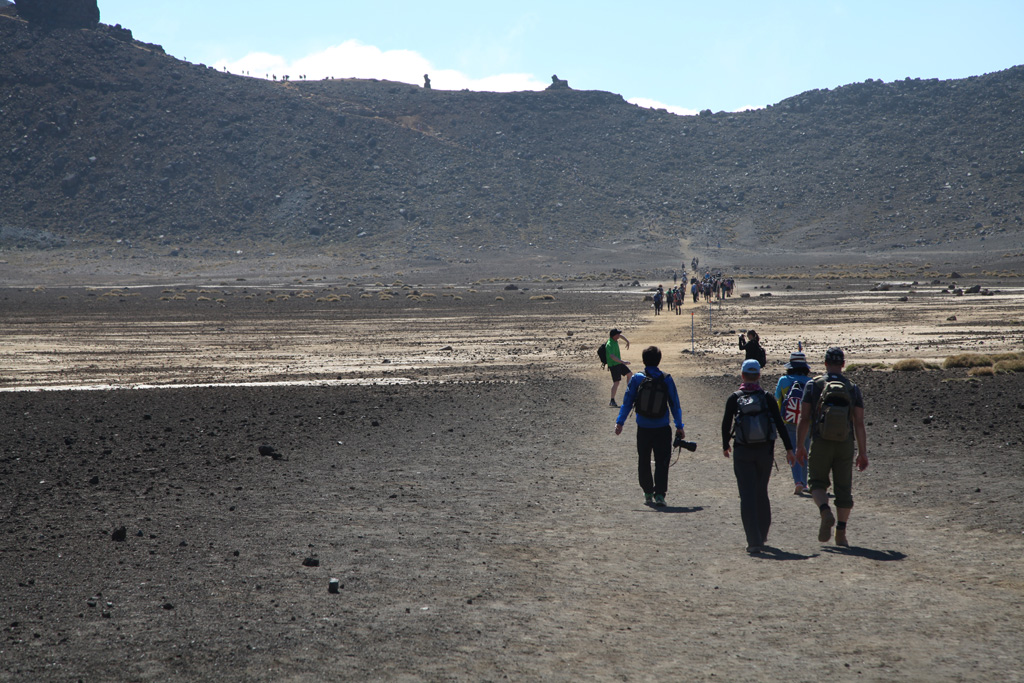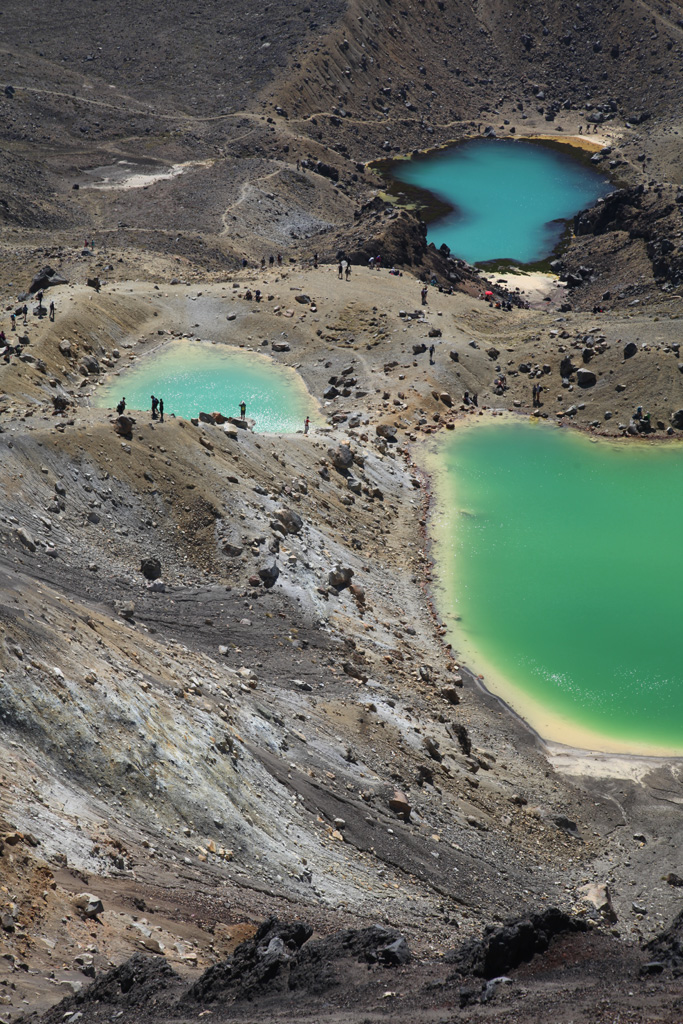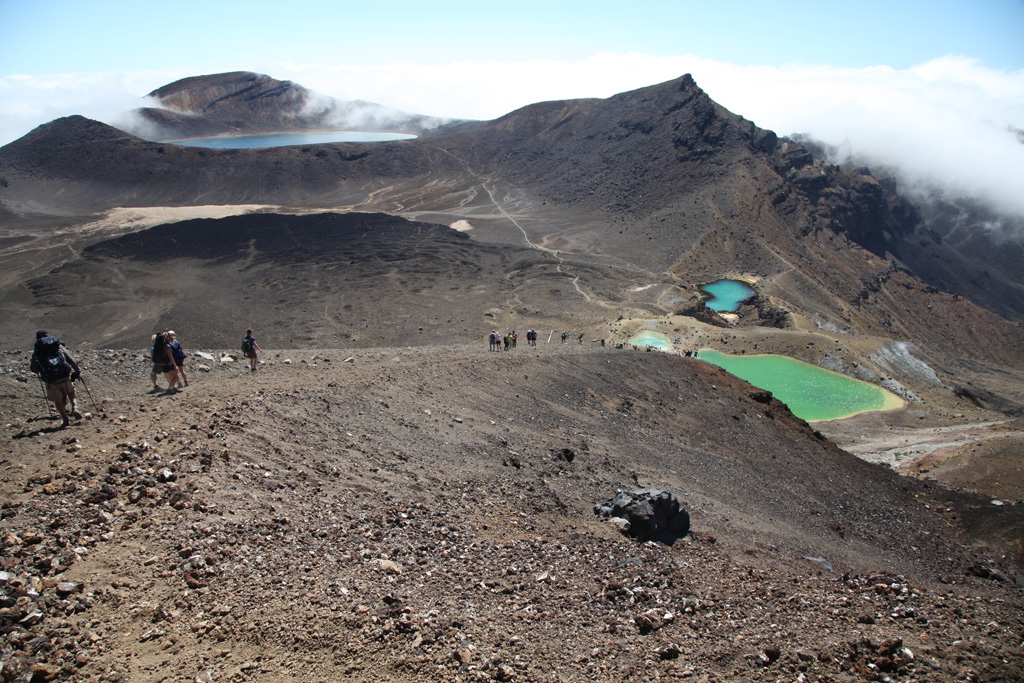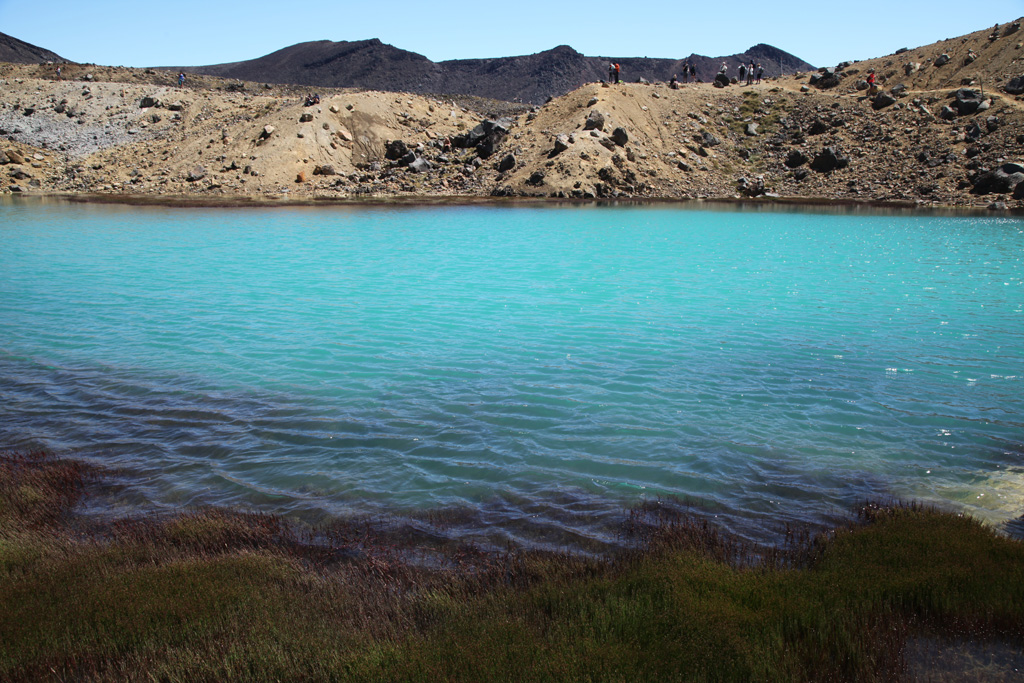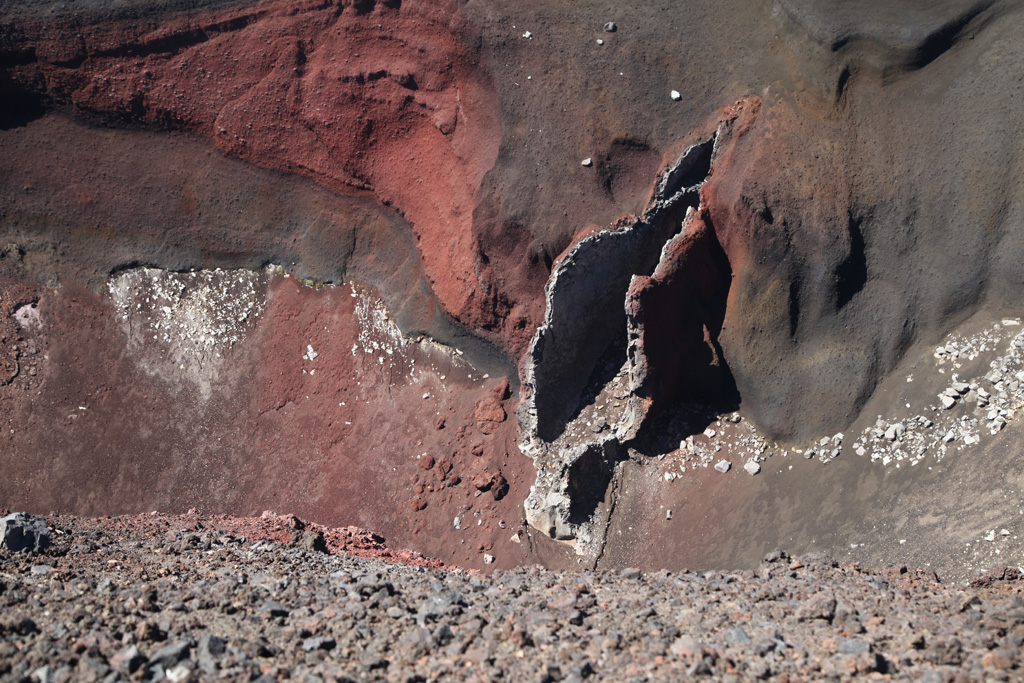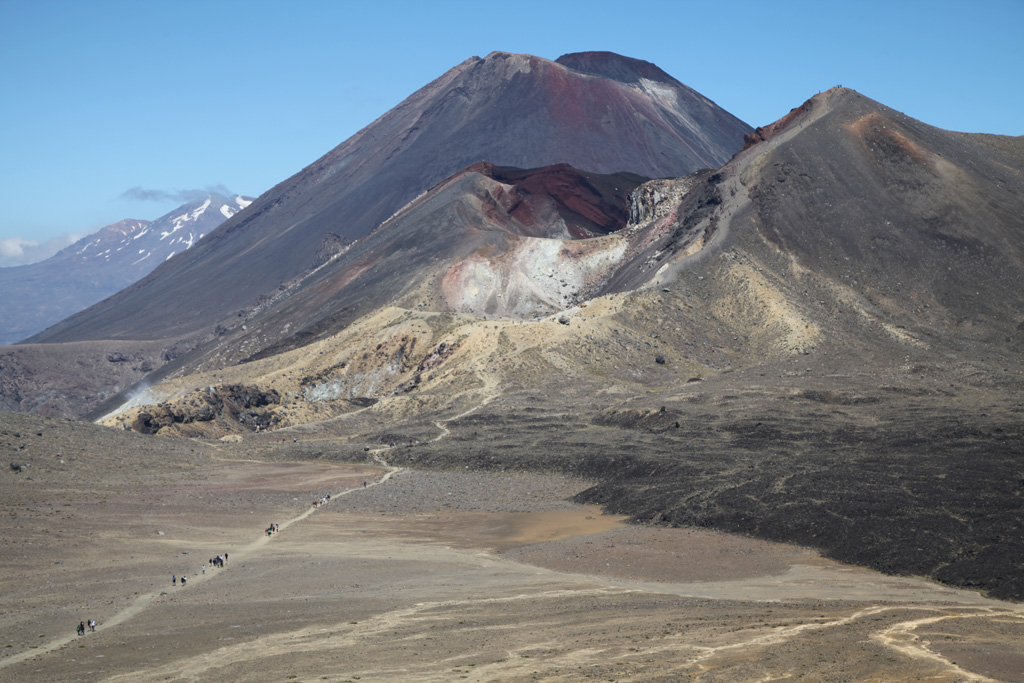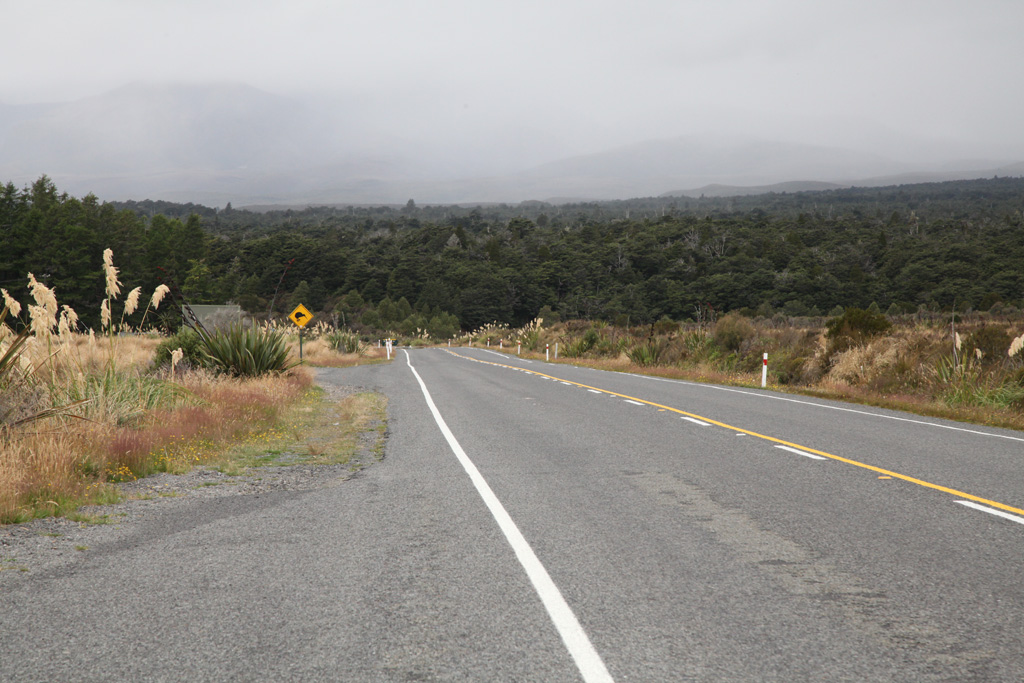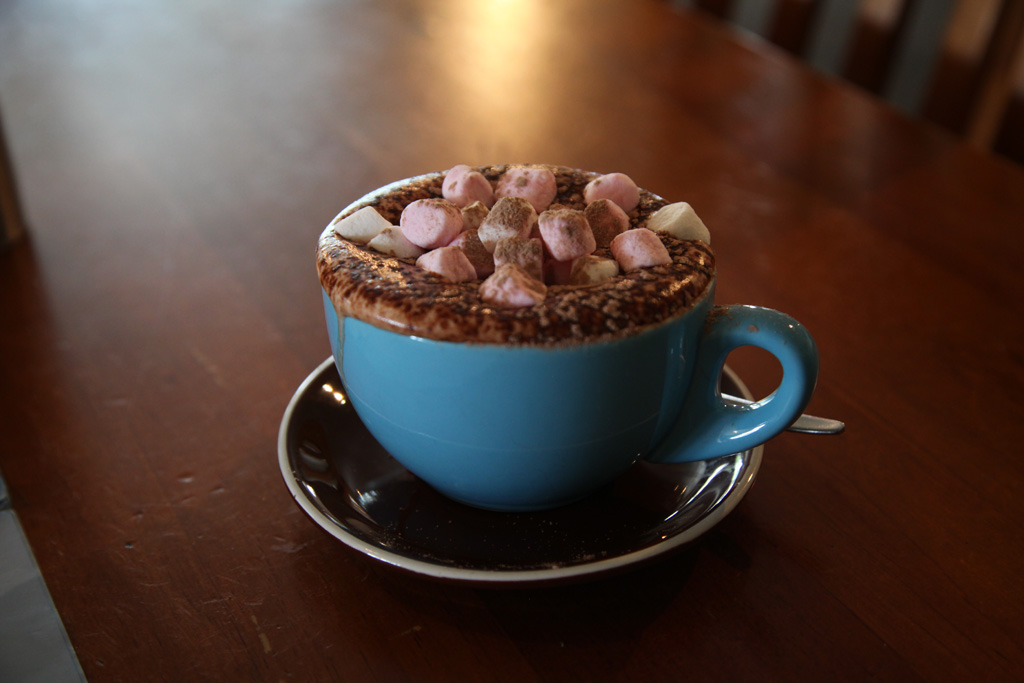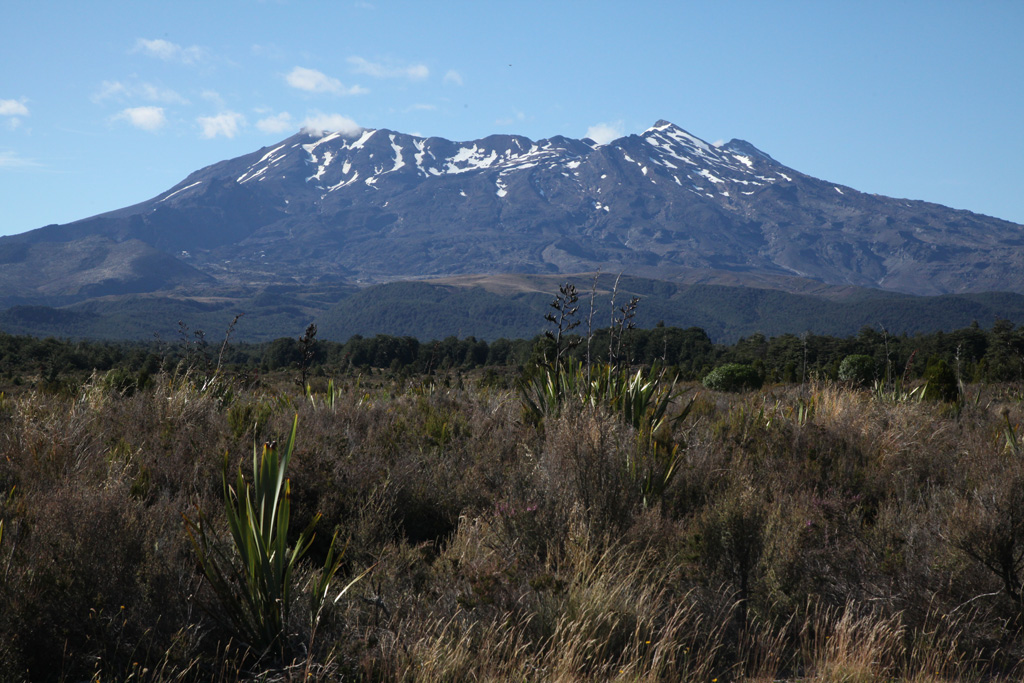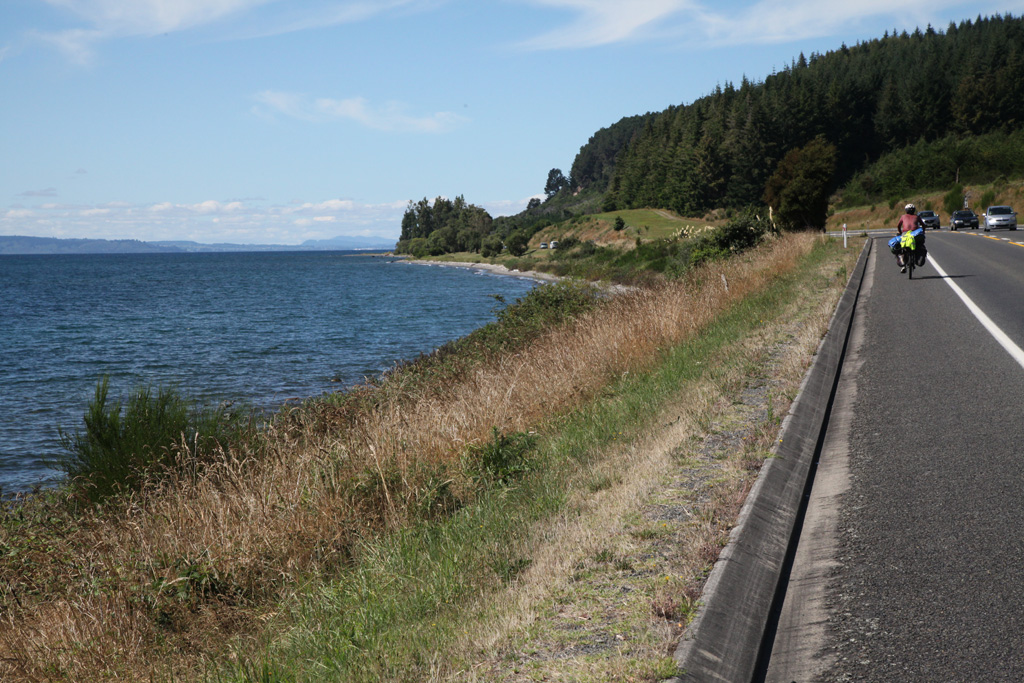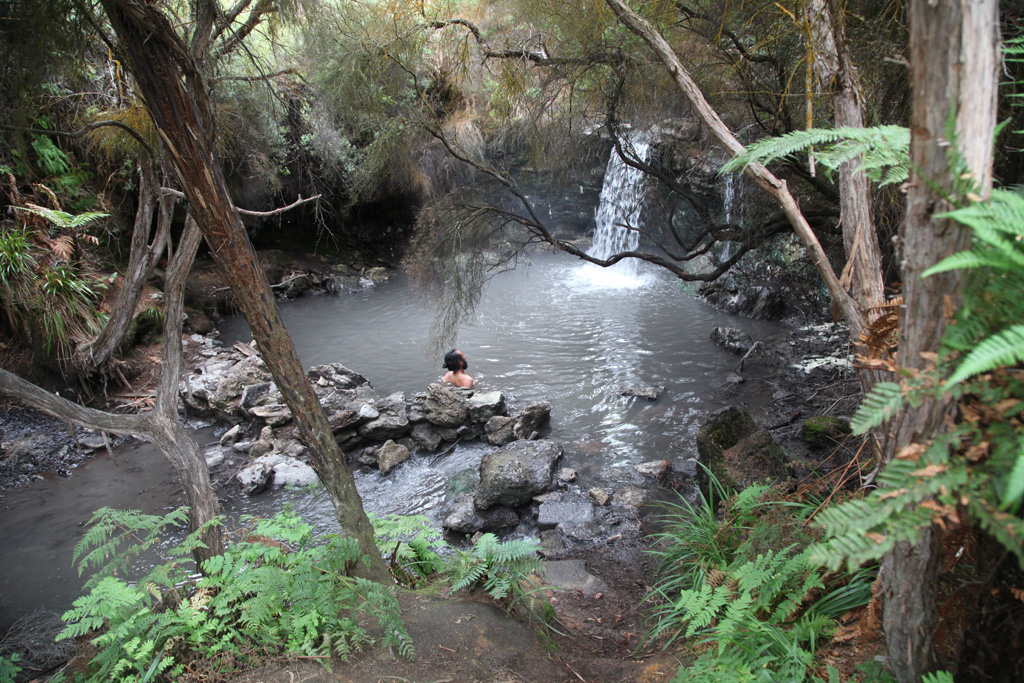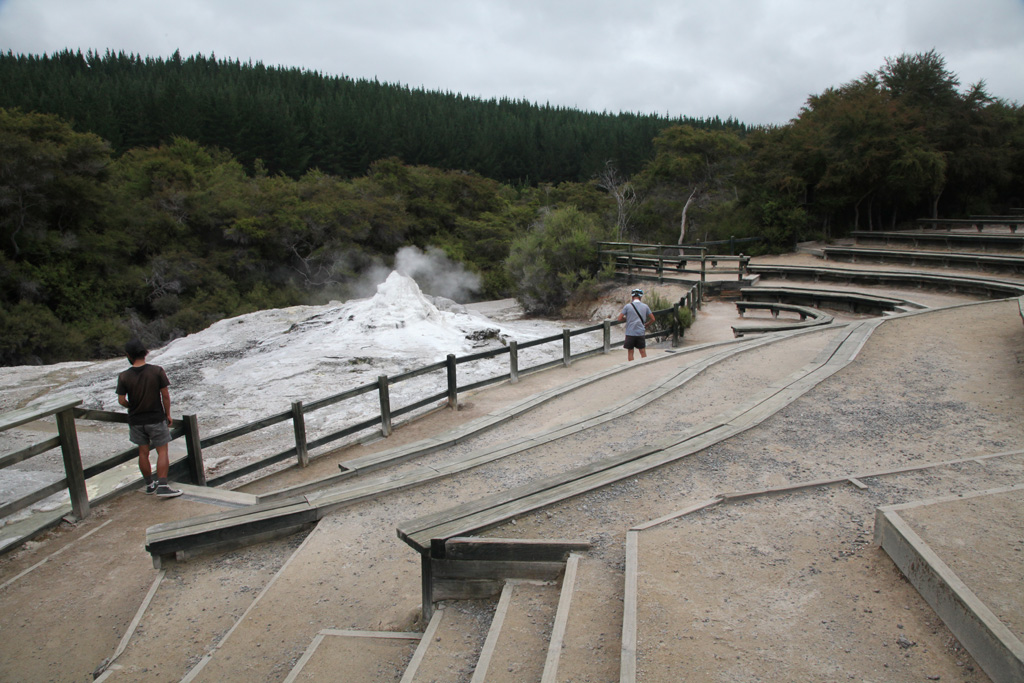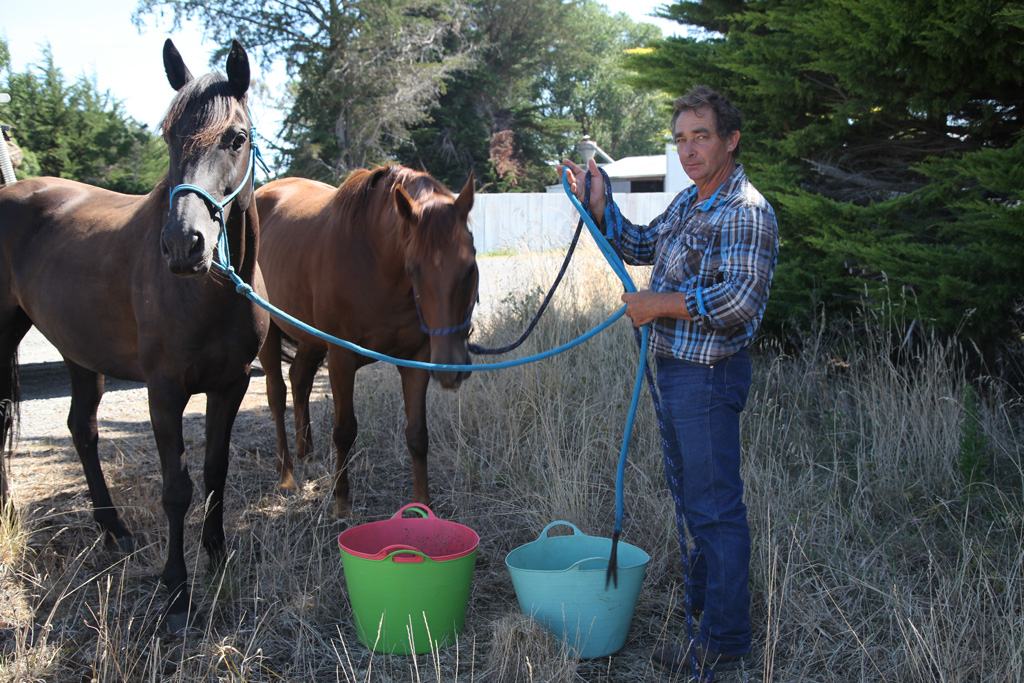 Back in Wellington, it felt a bit like returning home. Patrick and Dolores invited me to stay with them again, although they had already two other cyclists staying with them. This time I stayed for three nights – the south island was waiting for me!
Since I'd walked the Tongariro Crossing, I was really into hiking. Already two days after that walk, I booked one of the "great walks", a four days tramp in the Fjordland after eastern. And then, in Wellington, Dolores told me for the second time about another very beautiful tramp: the Heaphy Track… It took me only a couple of hours for my decision: I counted kilometers, compared routes, emailed to shuttle bus companies, and finally bought a 50l backpack the same afternoon! My plan was the following: I would cycle along the north coast passing Abel Tasman to Golden Bay and then further to the start of the Heaphy track. The shuttle bus which usually transports people from one end of the track to the other, would bring my bike and luggage around, so I could walk for four days. Sounds good, doesn't it?
The rest of the time in Wellington I spent around the house, baking bread and washing clothes. Nothing special, but very relaxing for me. And I think, here is now the place to say thanks to Patrick and Dolores: Thank you very much for your hospitality, your awesome travel tipps, the delicious dinners and for the time we spent together at all the events. Thanks a lot, it was amazing!!
Monday morning, my ferry to Picton left at 9 am. How stupid, I did not hear my alarm clock, and almost missed the ferry! Fortunately I made it there on time, but had breakfast on deck. Time flew by, as I had good company of another cycle tourist.
Arriving in Picton, I met Maya from China (first Chinese cycle tourist I've seen ever!) riding from the ferry. It was a spontaneous and quick decision, that we left together in direction to Nelson. The first night we camped on the beautiful tiny DOC campground called Aussie Bay in the Marlborough Sounds. A lovely place, but there I met the mean birds called Weka for the first time. These beasts steal all your food and rubbish as soon as you don't watch them!
Riding with Maya was a very interesting time, I learned a lot about China and Chinese culture. I think we see things in a different way, have other cultural backgrounds, but on the other hand we have a lot in common – like for example how we want to travel and what's important for us on travel. Mayas bike got stolen on the north island, but thanks to amazing help from New Zealanders, she got a complete new setup from donations. Lucky Maya!
Rain came up as we cycled towards Nelson. And the forecast for the next day was pretty bad. My friend Ulli from home organized a fabulous place to stay: His friends Tom and Cheryl had been cycling from Switzerland to New Zealand in 2015 as well, and recently moved into a flat near Nelson. Tom and Cheryl were such wonderful hosts, although they didn't even know me nor Maya, and had settled down very recently. As they had been cycling themselves, they understood exactly how we felt as we arrived. Cheryl and Tom, thank you very much for the great hospitality those two days! To stay inside in that horrible rain and storm was simply perfect!
After Nelson, Maya and I went different ways. I turned off the main road towards the Abel Tasman National Park, where new adventures were awaiting. Together with Zsofia, a cycletouring girl I'd met in Kyrgyzstan, and Matthieu, a French backpacker, I went kayaking for three days. Three awesome days!
We had perfect weather, blue sky, warm temperatures and flat and crystal clear sea. With the kayak we were super independent and tented in small bays that were only accessible by kayak or boat. We saw seals and penguins, picked fresh mussels and clams and went swimming in the beautiful turquoise colored water. We simply had a good life!
Without having a break I continued my cycling to the Golden Bay. I had to cross one of those "big hills" the Kiwis told me about… But after every uphill there is a downhill! And what a good one this time! In the famous old Langford Store I recharged myself with good coffee and a big piece of cake before disappearing into the woods. The Heaphy Track started…
From Brown Hut to Kohaihai I hiked four days on this great walk. In total it is about 80 km long, but easy grade. The Heaphy is well known for its changing scenery. Every day the landscape changes from beechwood forest to the downs into kinda rainforest with neeka palms along the wild west coast. I loved it! Mostly you walk in the forest, but like this I felt like very much in the nature. Heaps of birds sang and followed for a while along the way. One day I even saw two kaka (bush parrots) flying by, which is quite rare.
The great walks are popular during the season, so most of the huts were fully booked. A good group of people walked the same distances day by day as I did, and we always met for lunch and in the evenings. Although I'd say I am fit thanks to cycling, I wasn't used to walk 5-6 hours a day with a heavy backpack. Maybe it did not really help, that I am used to carry fresh and heaps of food, so my backpack wasn't light… The first day, my feet, hips and shoulders were hurting. But from day to day it got better, as my food in the pack was getting less. 🙂
On the fourth day, the shuttle bus arrived at noon with my bike and luggage in the trailer at the last campsite. It worked out perfectly. I stayed there, to have a bit of a rest before I cycled south to Westport.
The coast in the west is very wild with huge waves. Sandy beaches alternate with cliffs, and in your back there are hills (and further down south there will be the highest mountains of New Zealand). The climate is rougher and colder, so far I was lucky and haven't had any rain (yet). To hear the sound of the breaking waves, and the inspiringly different birdsongs as I wake up in my tent in the morning, gives me this wonderful feeling of freedom. Also here, I have a good sleep again, probably because of the temperatures. It feels just like, this is the place where I feel comfortable…