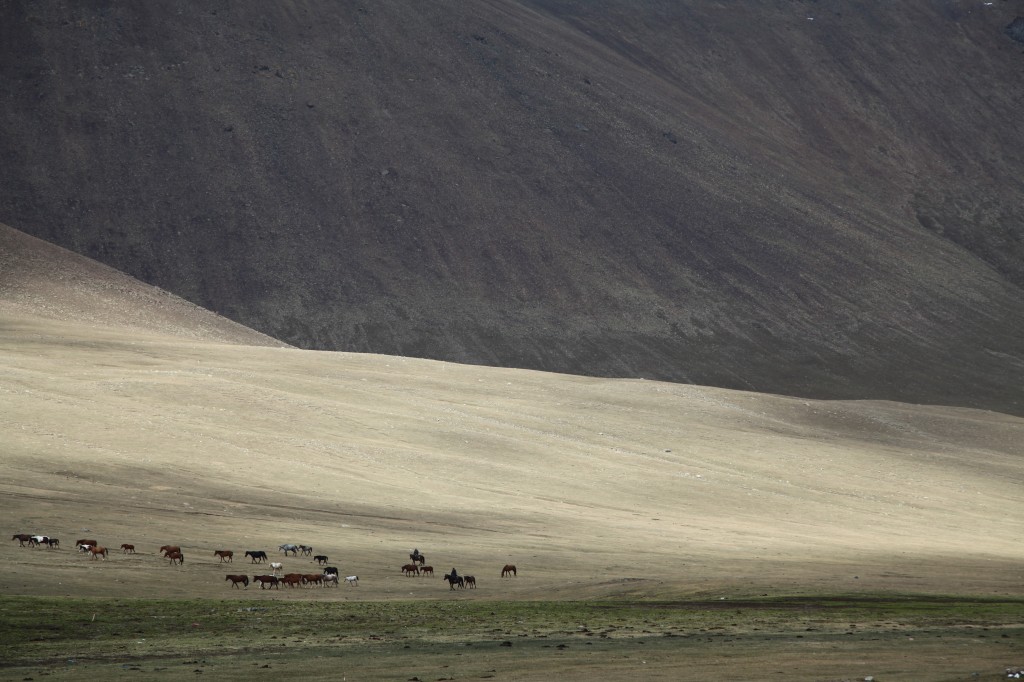 It's been a while since my "real" last blogpost. It's because I wanted to enjoy the company of Franci and everyone else in the places I would have had time to write. Yesterday, Franci left South-East-Asia. He flew home, because he will start his new job on December first. Right now it feels strange to be on my own again… At the moment I am staying on an island in Thailand. Relaxing, writing and accustoming to the new situation.
Where to start? Kyrgystan. Uff – a long time ago… And weird to tell you about it with the sound of the ocean in my ears…
Kyrgystan, a green country crowded with yurts and horses – that was my expectations first. And yes, indeed: With the Tajik-Kyrgyz border, the landscape changed immediately! The gray moonscape turned into green pastures. Unbelievable, from one side of the pass to the other! With Nita and Kieran we rolled down late in the evening, hurrying up because of a storm coming up. We decided to leave Tajikistan that day and cycled two fourthousanders in one day just to reach the lower altitude in Kyrgystan. And we were right: Tajikistan in the back of us was covered white the next morning! So far I already told you last time. The road to Osh crossed several smaller passes, and we bumped into the four French/Turkish more than just once.
In Osh we stayed a long time to recharge our batteries. We were overwhelmed by the big and busy bazar, the fresh and good food, the chaos on the streets (compared to the Pamirs, Osh was the most crowded place for weeks!), the supermarkets with Western food (yes, after the Pamirs you're allowed to shop "Western-ish" food) and the burgers&pizzas (same). In the guesthouse we used the big kitchen a lot, prepared delicious meals that made everyone jealous, made some fresh jars of jam and celebrated Nita's birthday with a chocolate cake. It felt a little like at home somewhere far from home.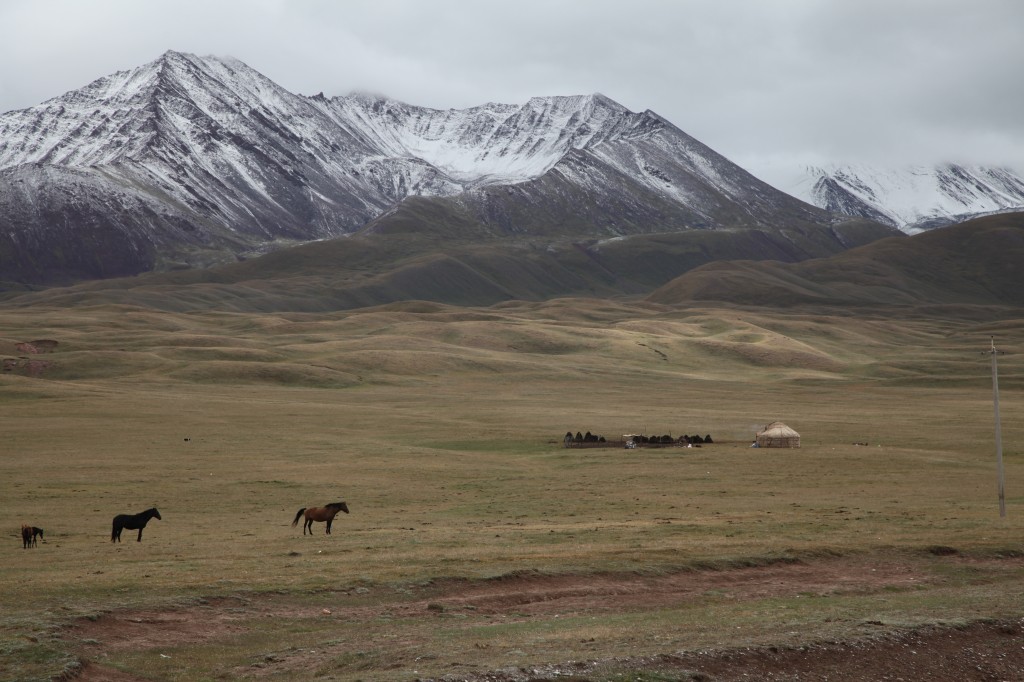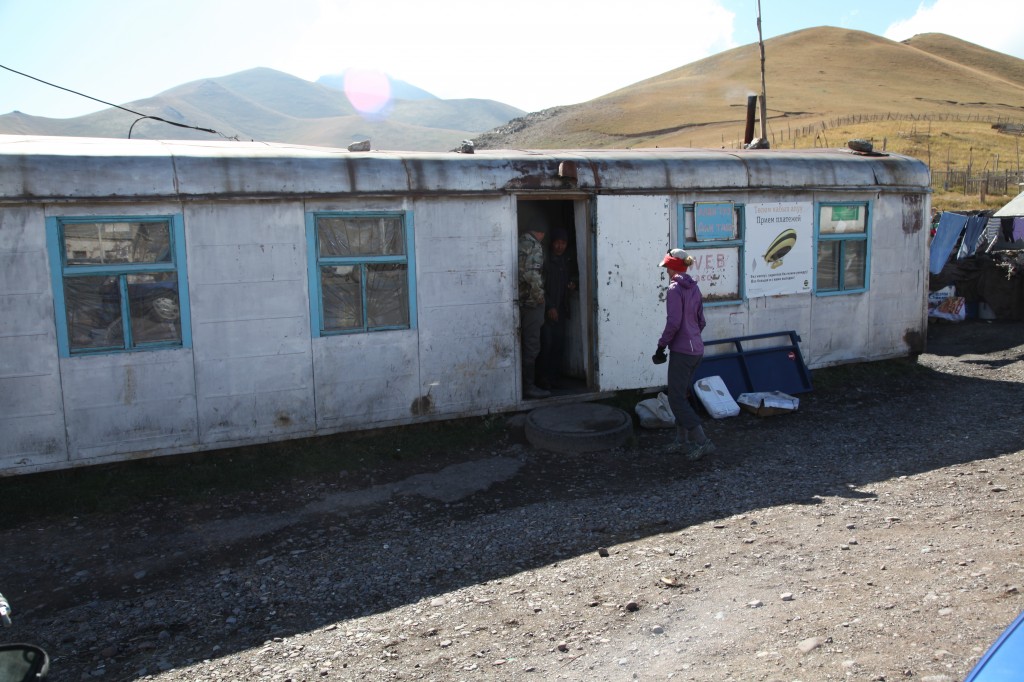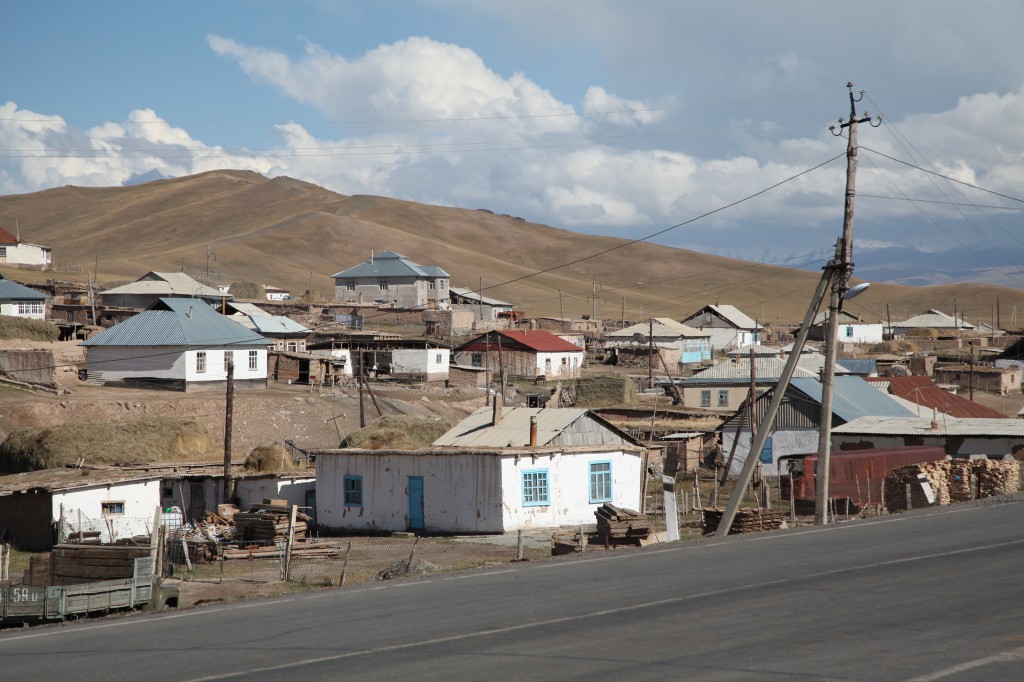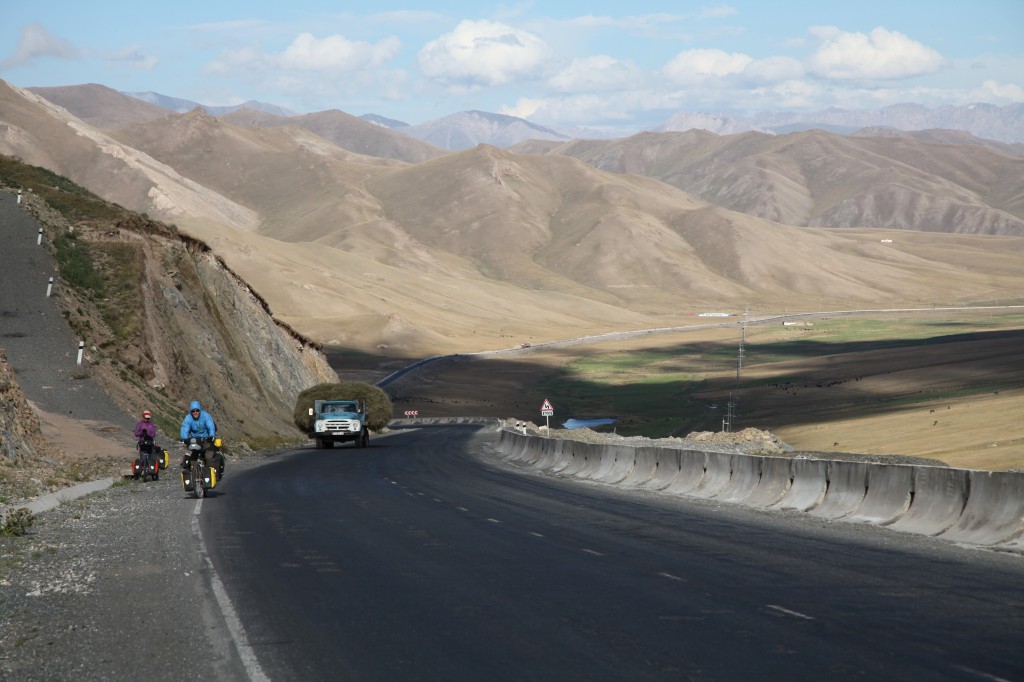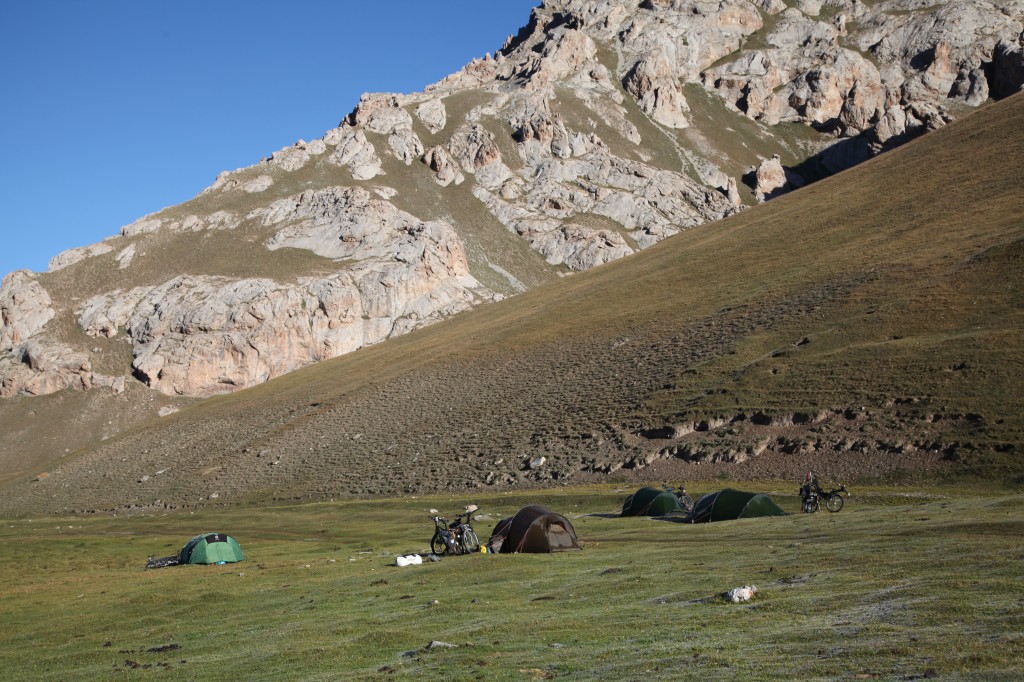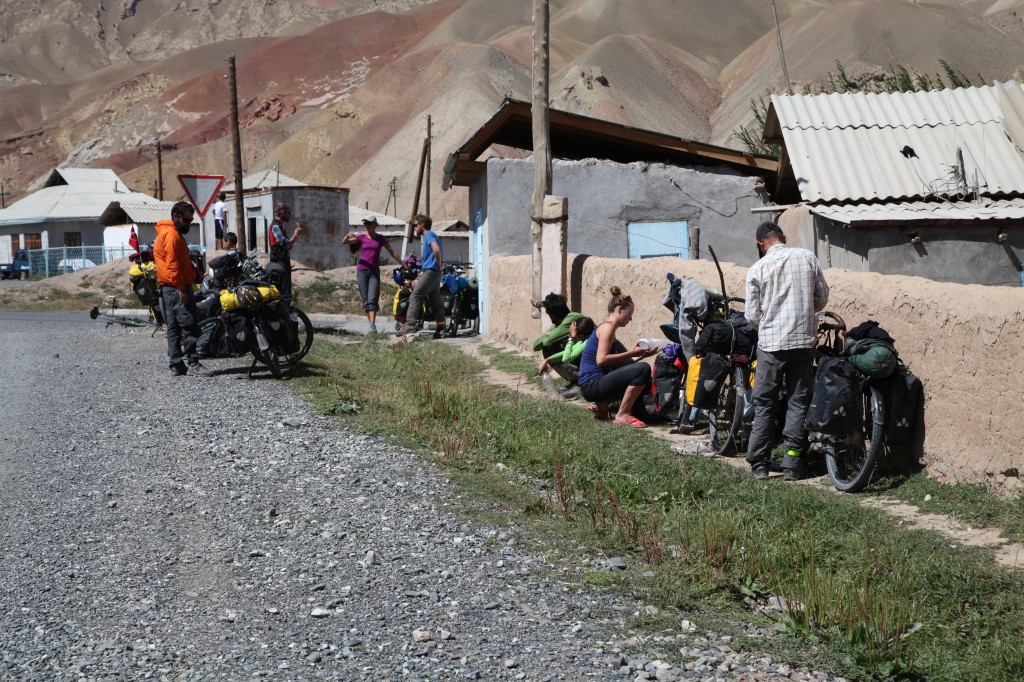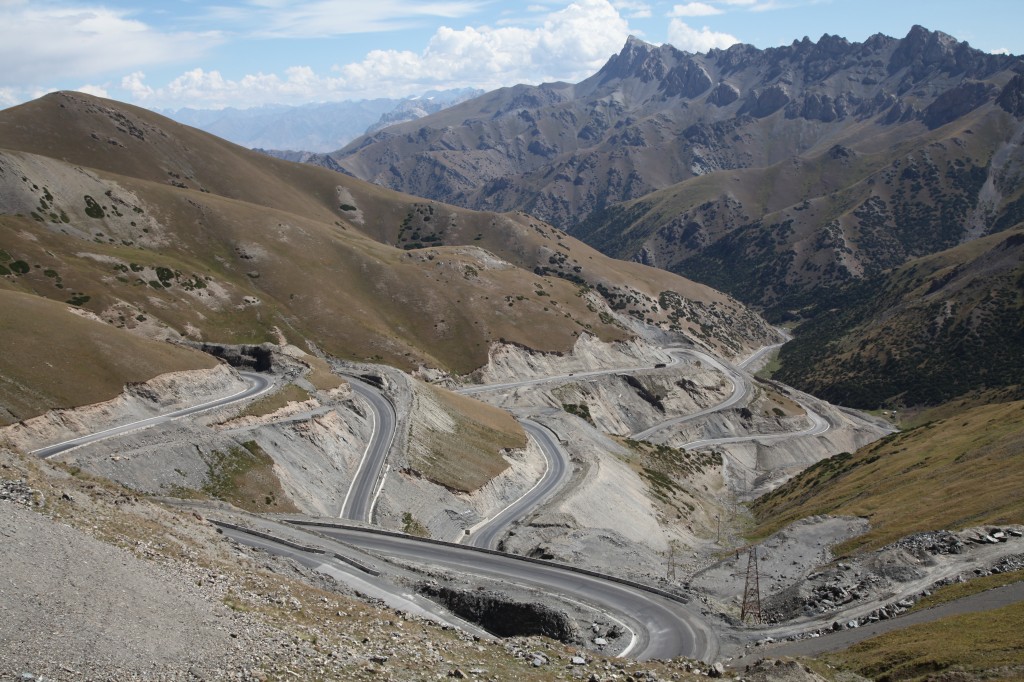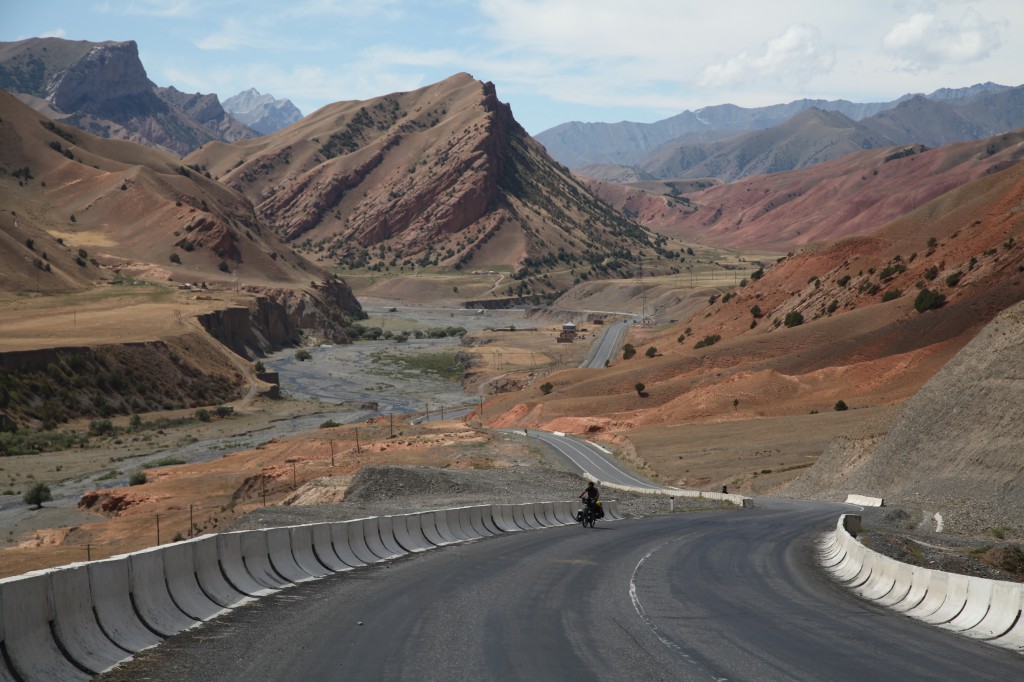 The days after Osh were like we've accidentally turned back time. Or like we'd have cycled the wrong way at the intersection "Uzbekistan left – Kyrgystan right". The Fergana valley, the greenhouse of Uzbekistan with a small strip of Kyrgystan along the foothills, reminded us a lot of Uzbekistan. Heat, dryness, melons and pumpkins (it's autumn), dangerous traffic and loads of trucks. Yes, this must be Uzbekistan, not Kyrgystan! Especially when you expect green pastures all over the country, you get really confused when you realize that these postcard images with yurts and horses do not represent even 50% of the land… Well, we changed the merinowear and fleecejackets to shorts and shirts. Fortunately we know now how to deal with that climate!
From Osh there are basically two roads through Kyrgystan. One is supposed to be even worse than the Pamirs (concerning road conditions) and leads to the most touristic pasture called Song Kul, and the other one is the main road towards Bishkek, smooth as a baby's butt and with a little more traffic around big towns. Guess which one we chose: sure, the smooth tarmac! 🙂 We've had enough off-the-track experience at the moment, so we followed the main road through the country.
Smooth definitely does not mean flat, we had to learn. Hill after hill appeared without gaining any height… But the change of the landscape was amazing. After "boring" Fergana valley we followed several water reservoirs through a pretty narrow canyon up to the stunning Toktogul lake. The lake itself was ridiculously warm, so a swim in the evening was more just to wash ourself than to refresh. In Toktogul town we tried the first time to buy a sheepskin – some travelers we met in Tajikistan told us you could find some for about 200 som per piece, which is about 3 $. But this time no luck. Just the freshly cut off skins were offered us from the butchers for 20 som each. Uhm, probably not the best idea to carry one of that. Instead we restocked with loads of vegetables and fruits like we usually did in Tajikistan. We're still not used to the frequency of markets and shops with a reasonable variety in Kyrgystan…
After Toktogul the landscape changed again, and so did the weather unfortunately. I know now why Kyrgystan is that green compared to all the other Central Asian countries we've visited… 😉 The road followed a crystal clear and bright blue river which was bordered by broadleaf trees at the bottom and conifer trees higher up. Just beautiful! The rocks and cliffs in addition made us feel like being in the south of Switzerland. The higher we got, the more yurts we spotted between the conifer trees. Another summer pasture with thousands of sheep, cows and of course horses. We could watch women milk horses and preparing the national drink "Kymys" as well as men salting and process freshly cut off sheepskins. On top of another 3000er pass rain turned into snow and we warmed up in a cayxana (restaurant) where we ate the best lagman (central asian pasta) we had since months. Kyrgystan does not only have more fresh food than Tajikistan, the people also know what to do with it: the meals are so much more delicious – altough they're still the same!
In the higher part of suusamyr valley hundreds of yurts are placed along the road, selling kymys (fermented horsemilk) and other various diary products. A lot of yurts were already gone, summer was over, and the people moved to the city or town down in lower altitude for winter. We followed suusamyr valley and left the main road which led to Bishkek. Our next destination: Song Kul, the postcardimage-lake surrounded by yurts, one of the most touristic places in Kyrgystan. Franci called the suusamyr valley fondly "the little Pamir" due to the lack of tarmac. The trees along the river turned yellow, orange and red – such a wonderful change! I loved it to see the change of the season. Thanks to our bad routing, we couldn't arrive at Song Kul at the end. The road marked on our map was effectively not more than a footpath across mountains, with a pass on around 3800 meters. On the other hand, thanks to that small excursion/detour we got in touch with locals and were able to buy a sheepskin! Which was very useful the other night…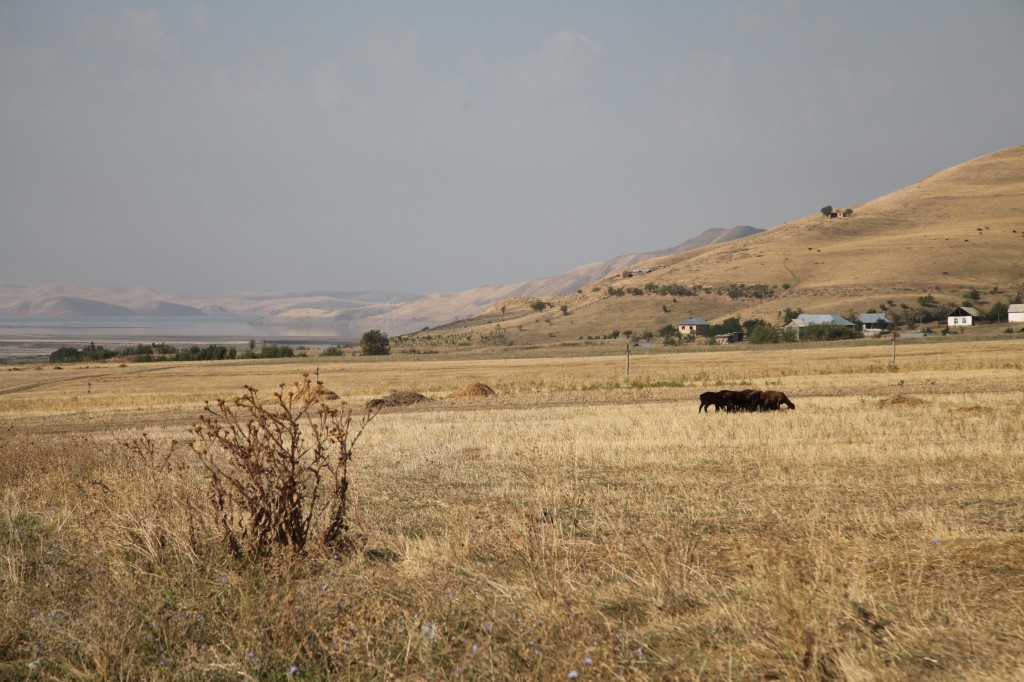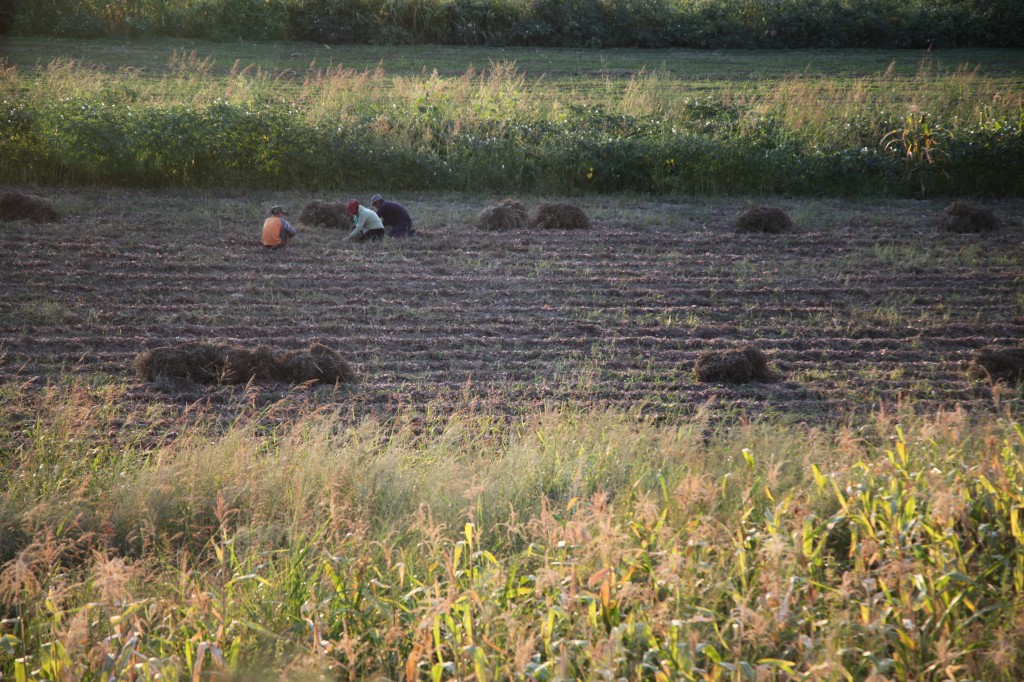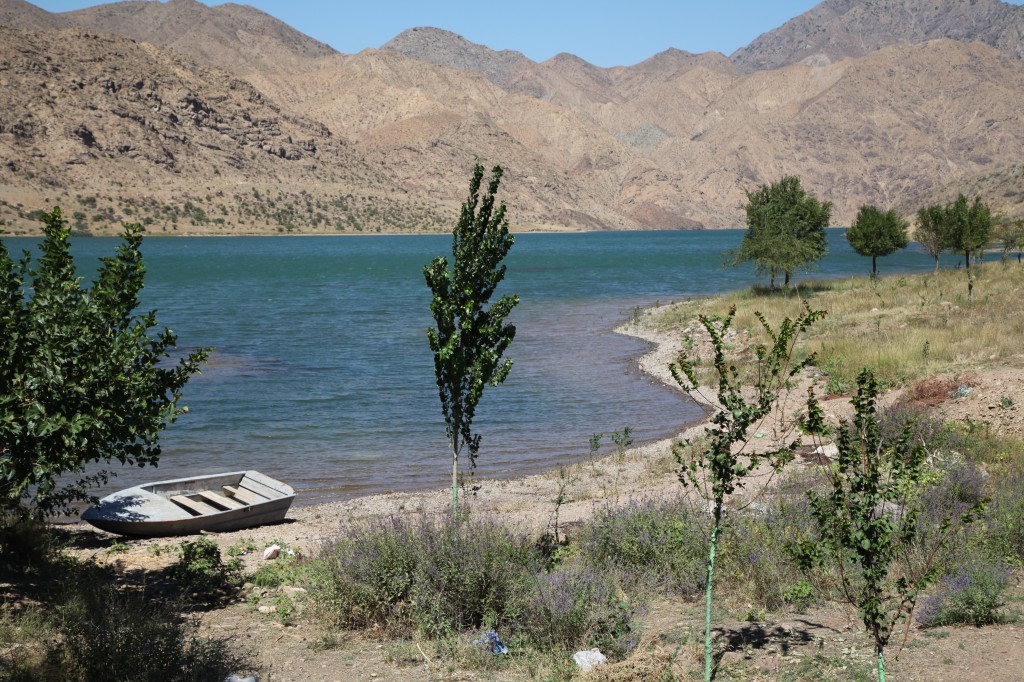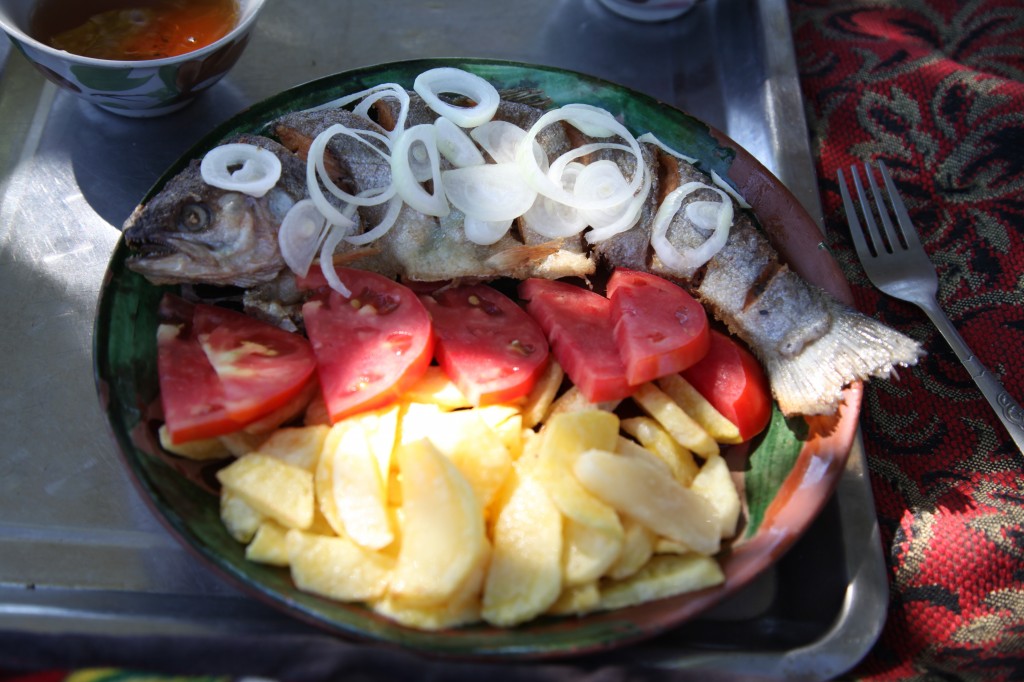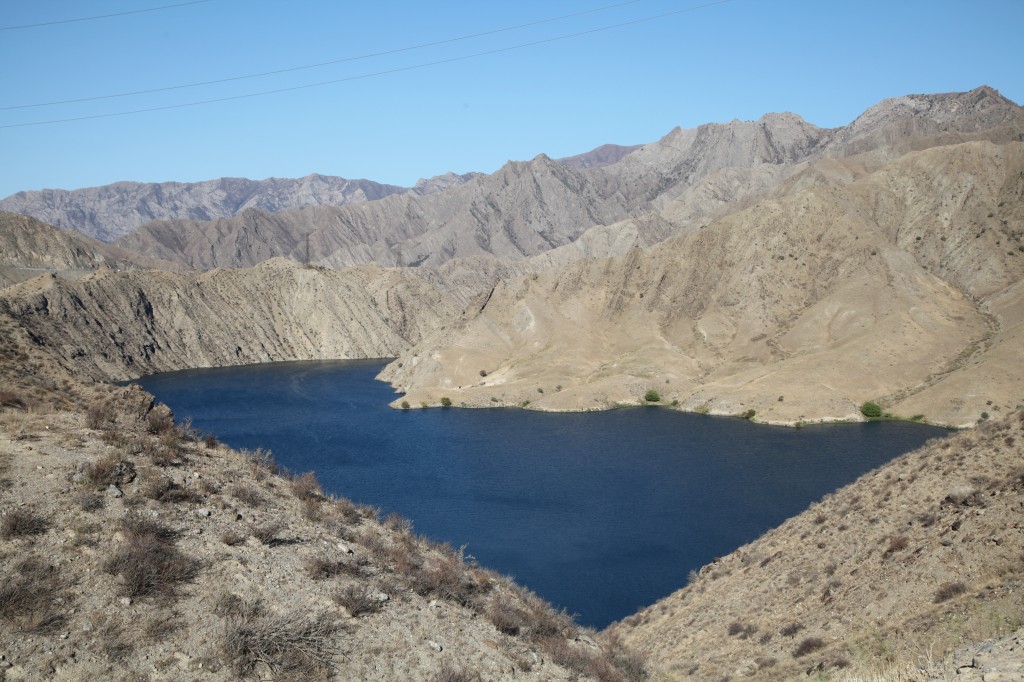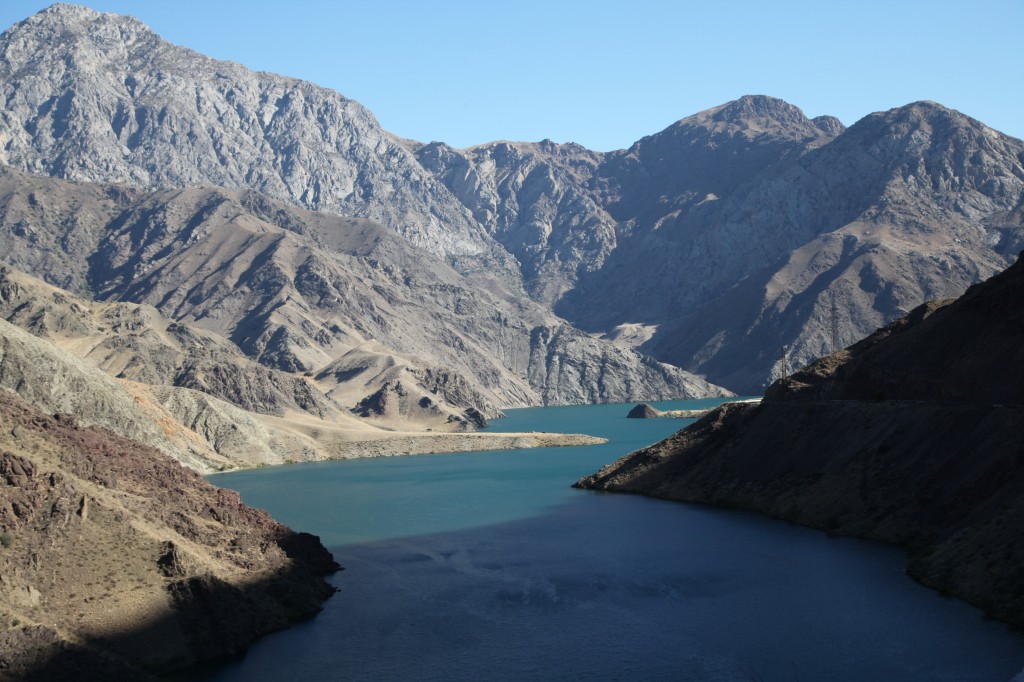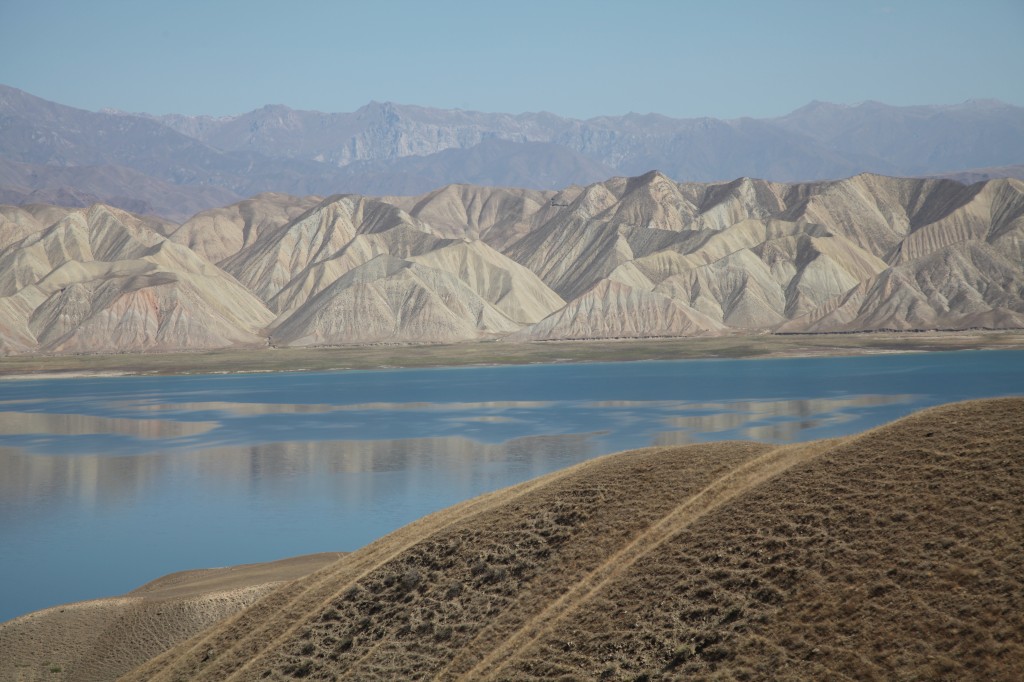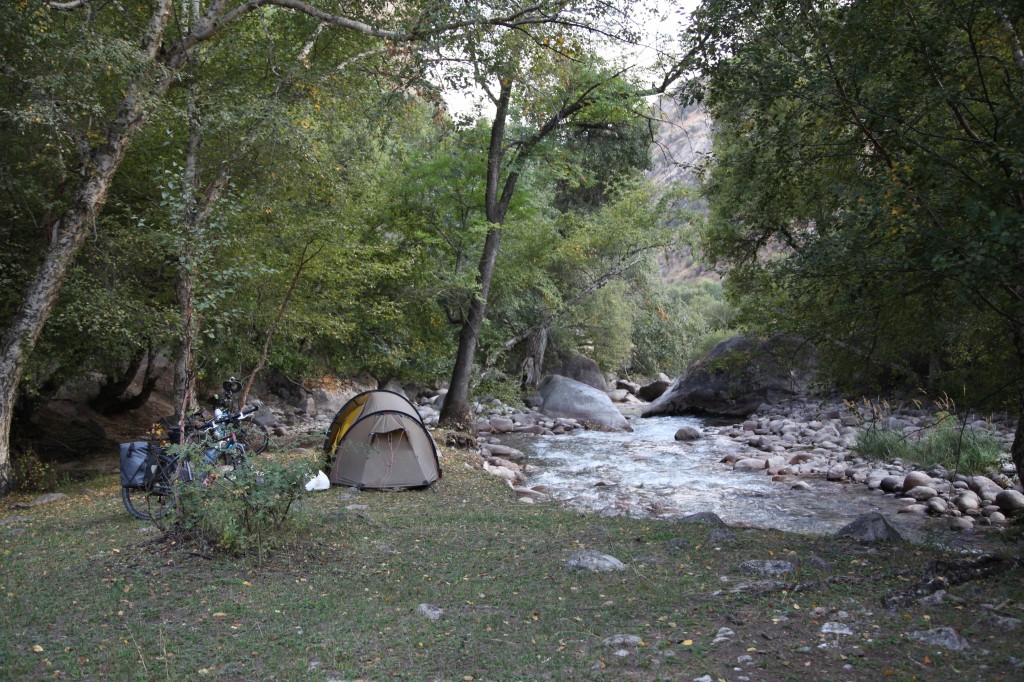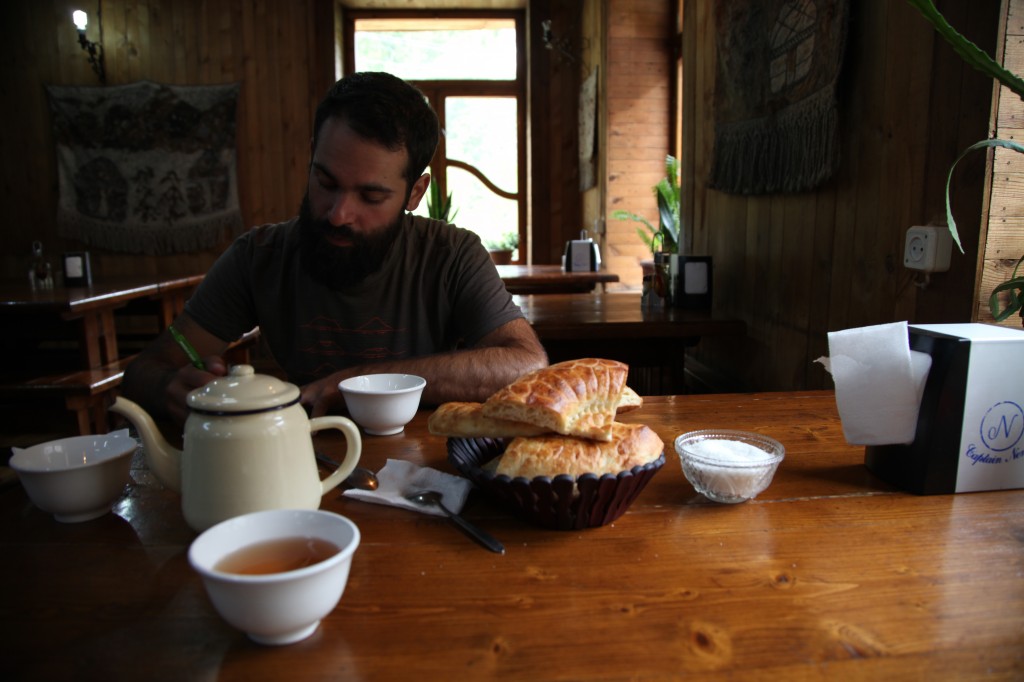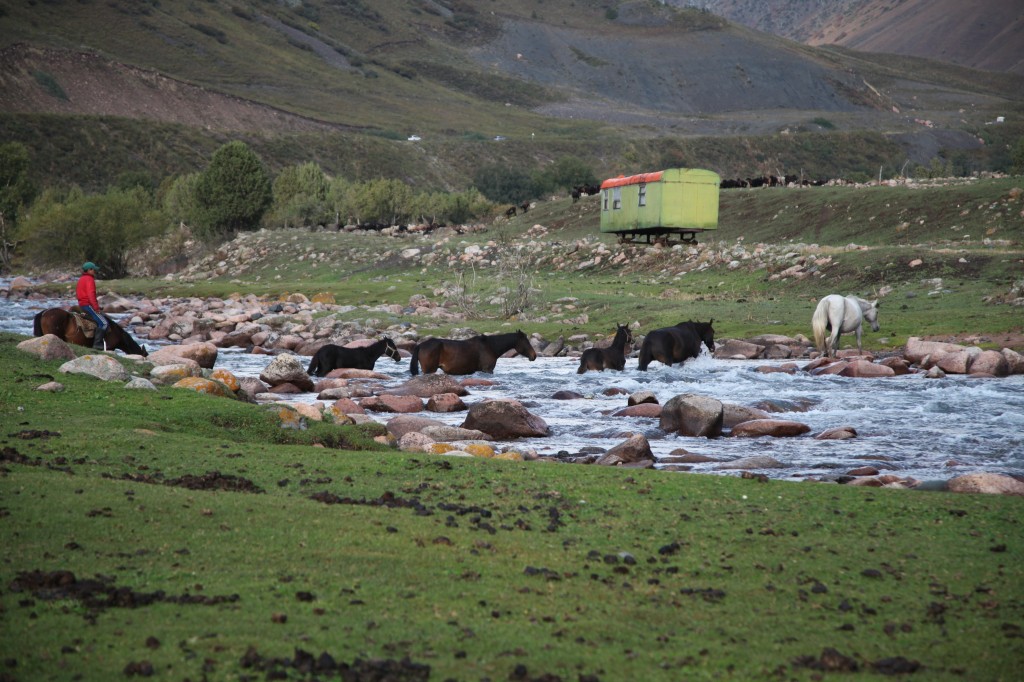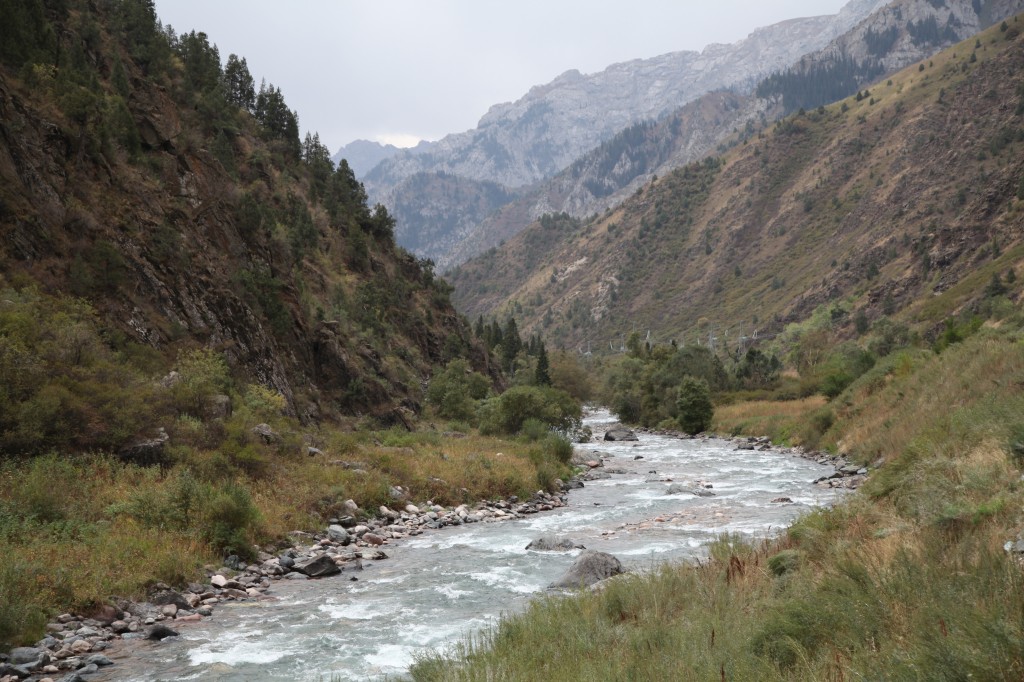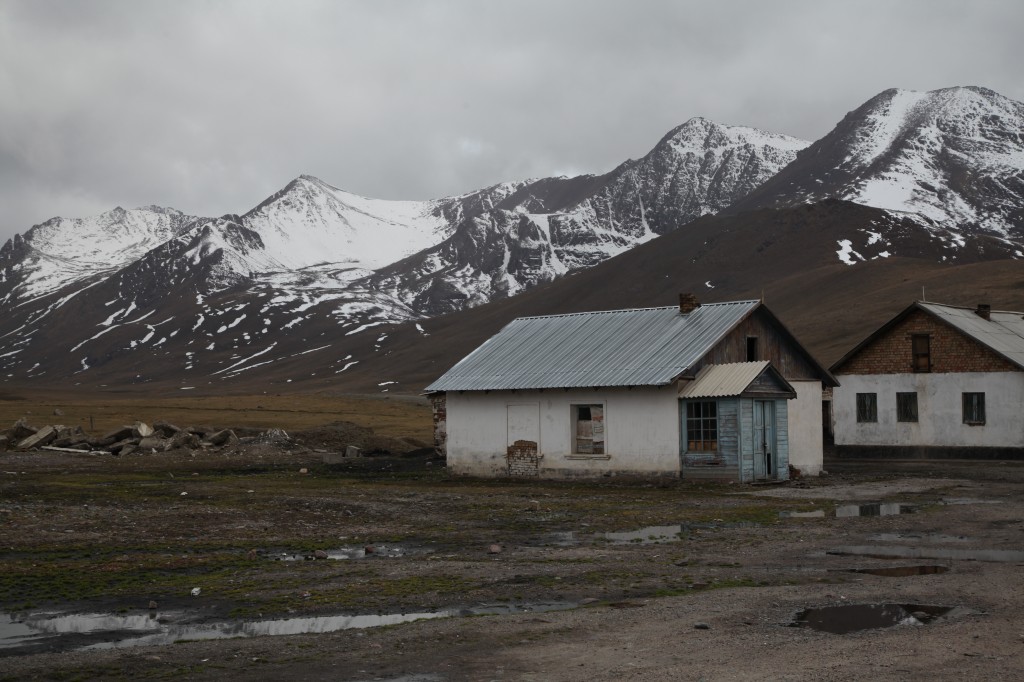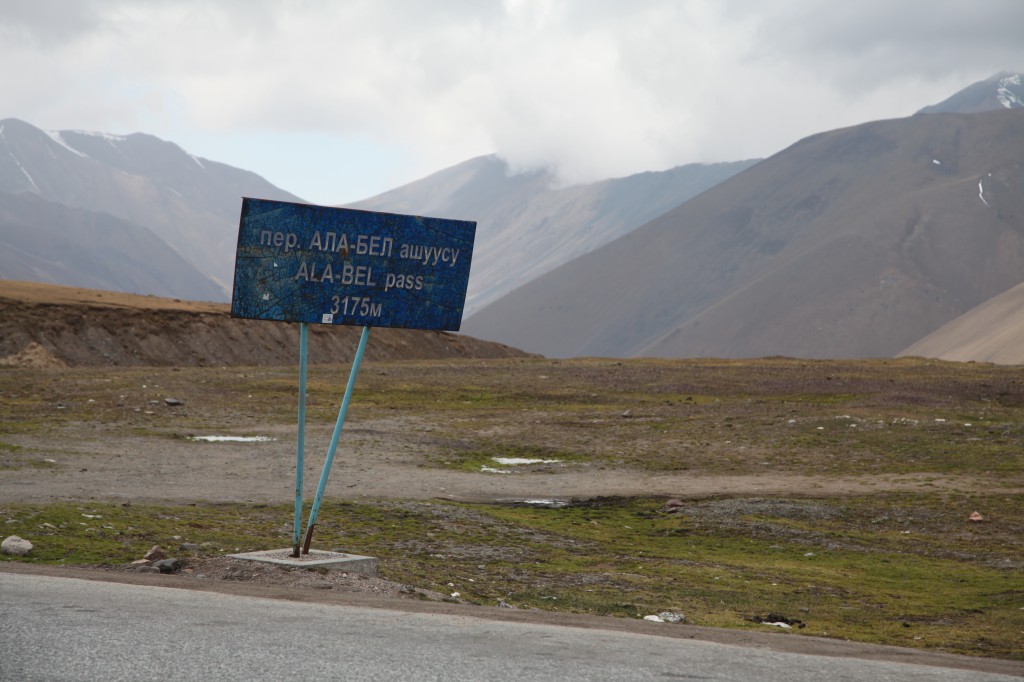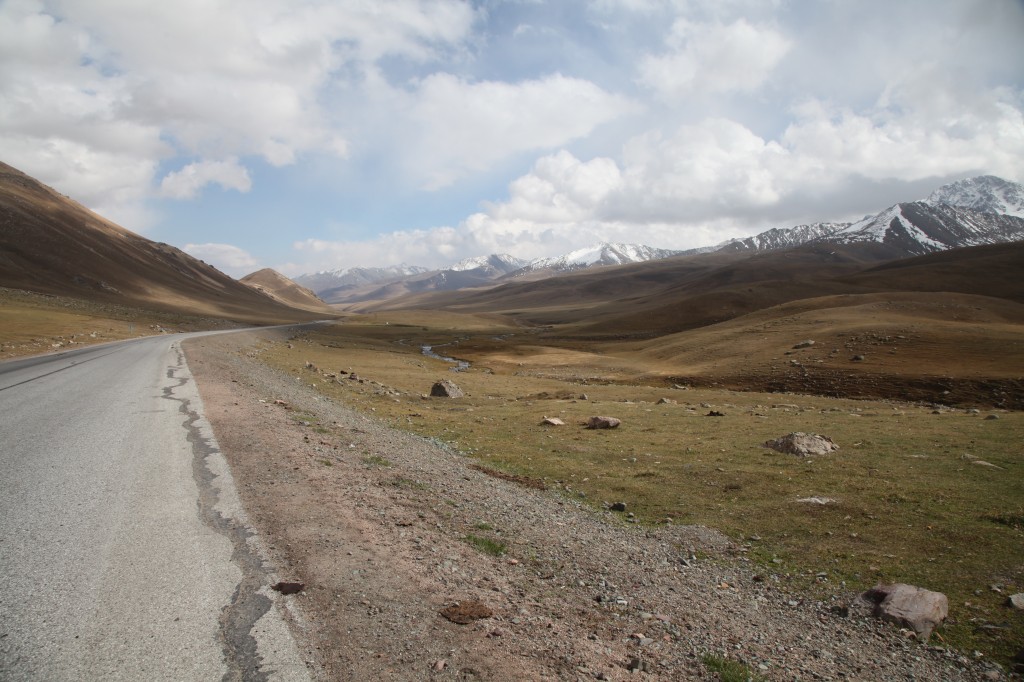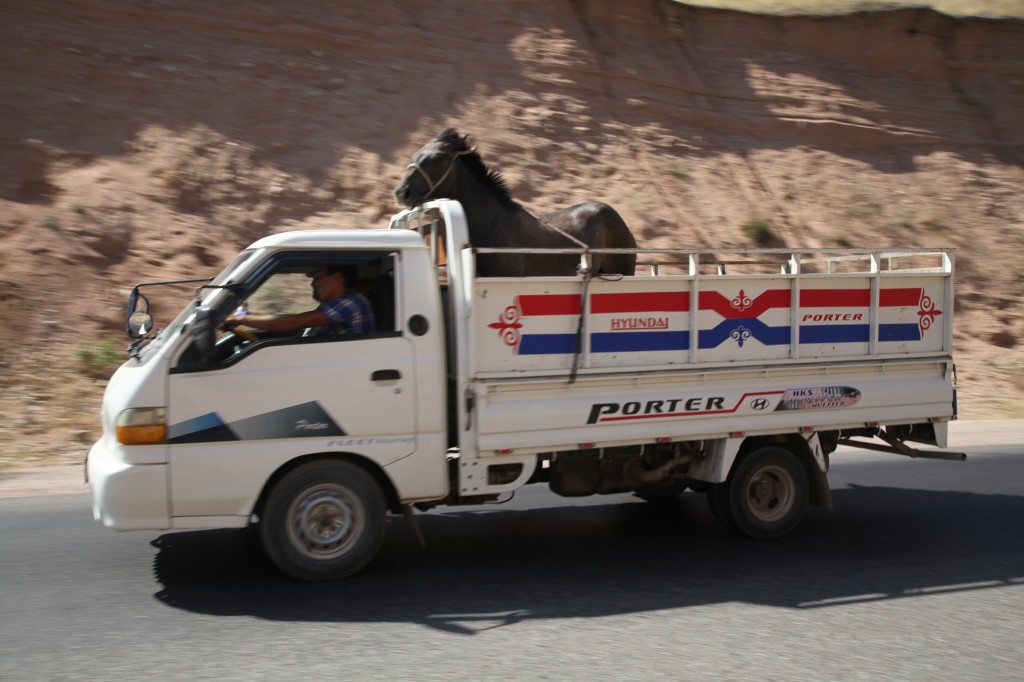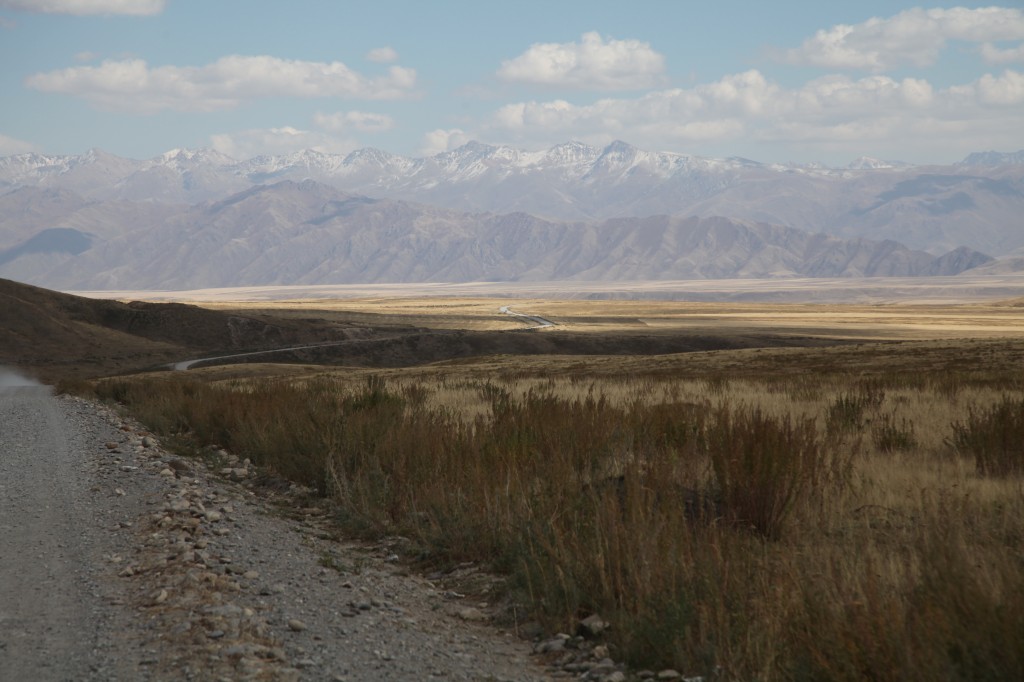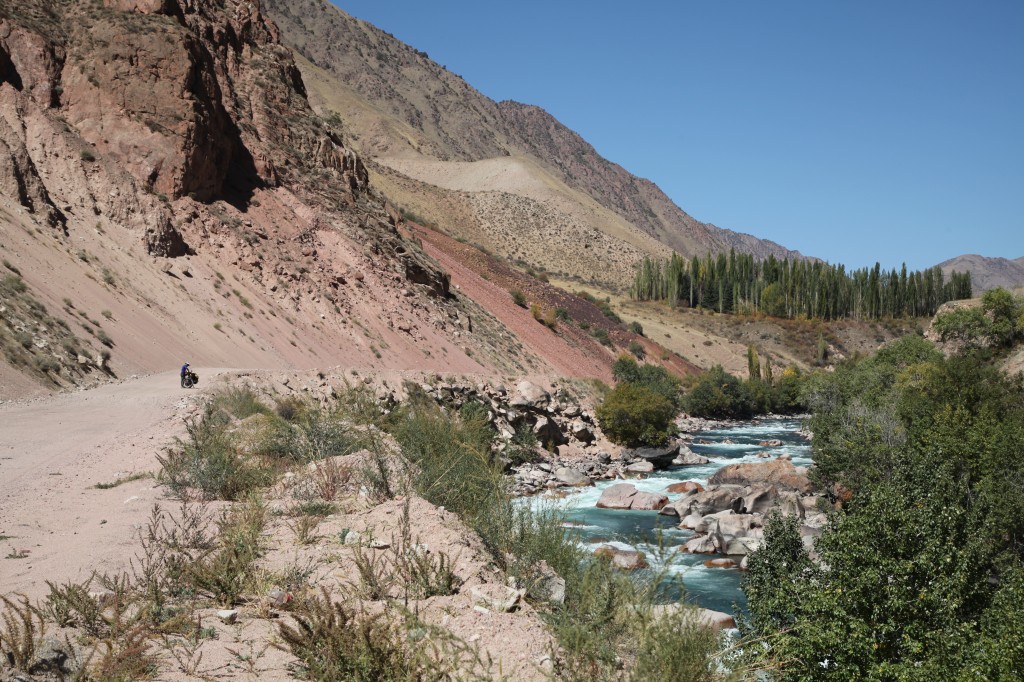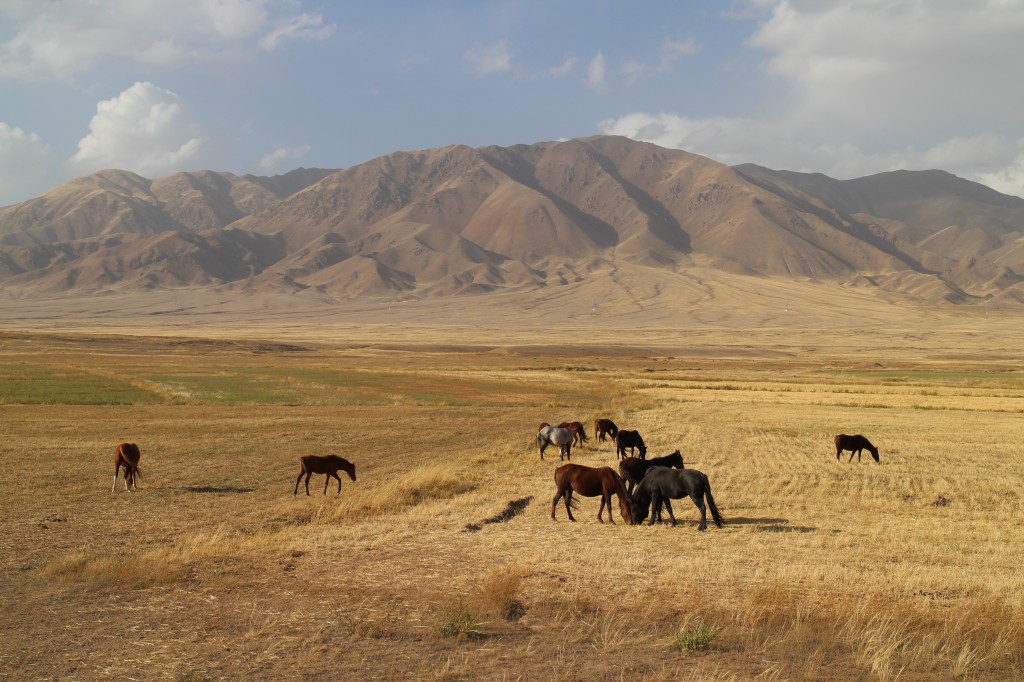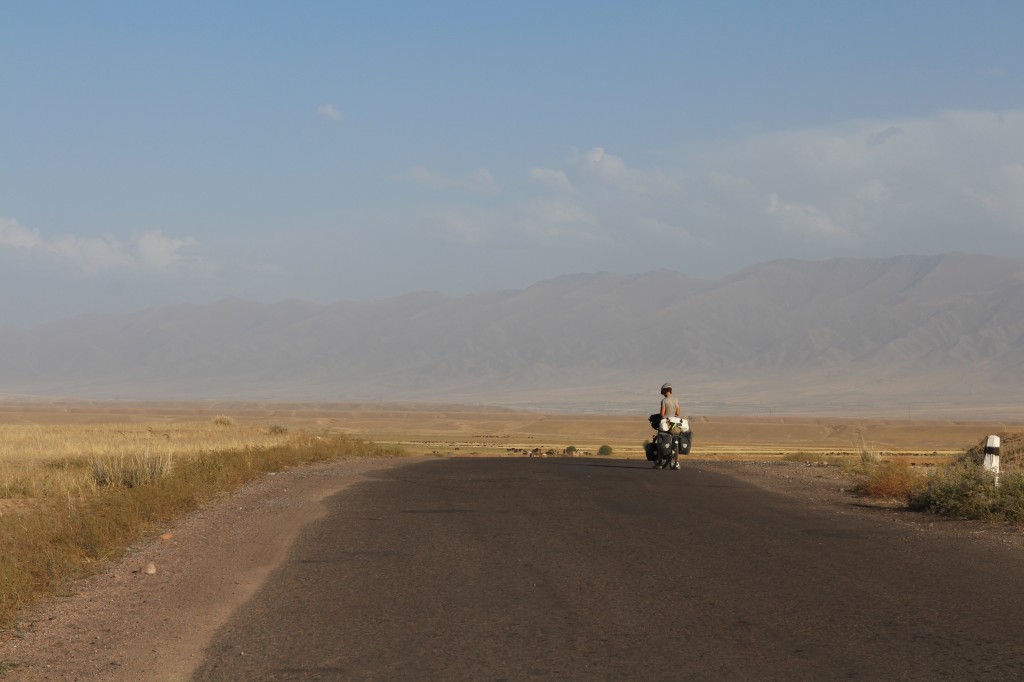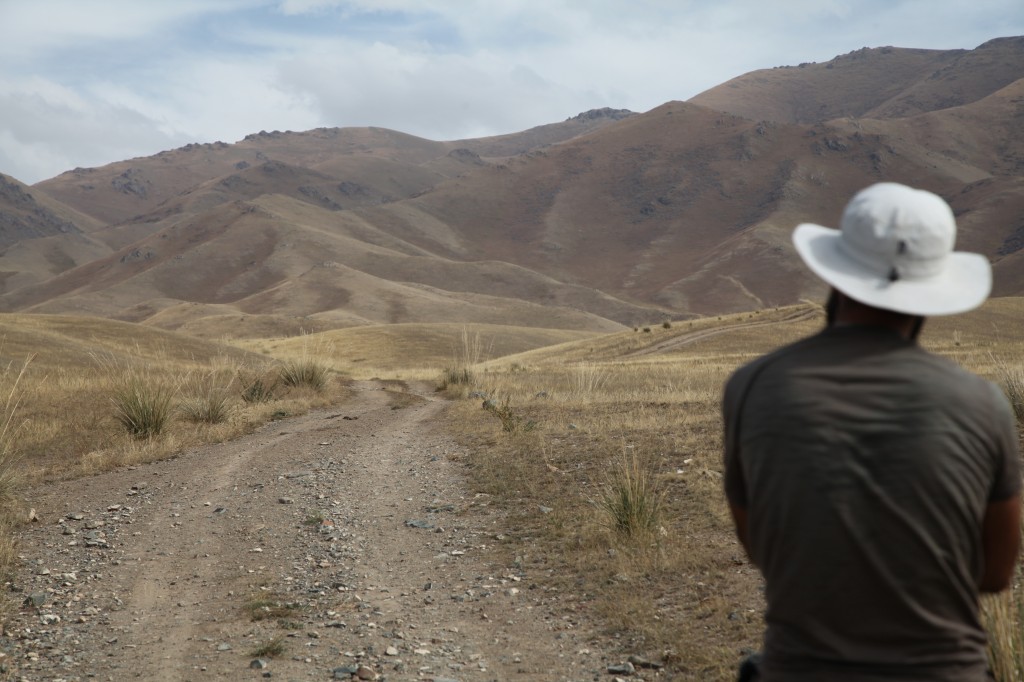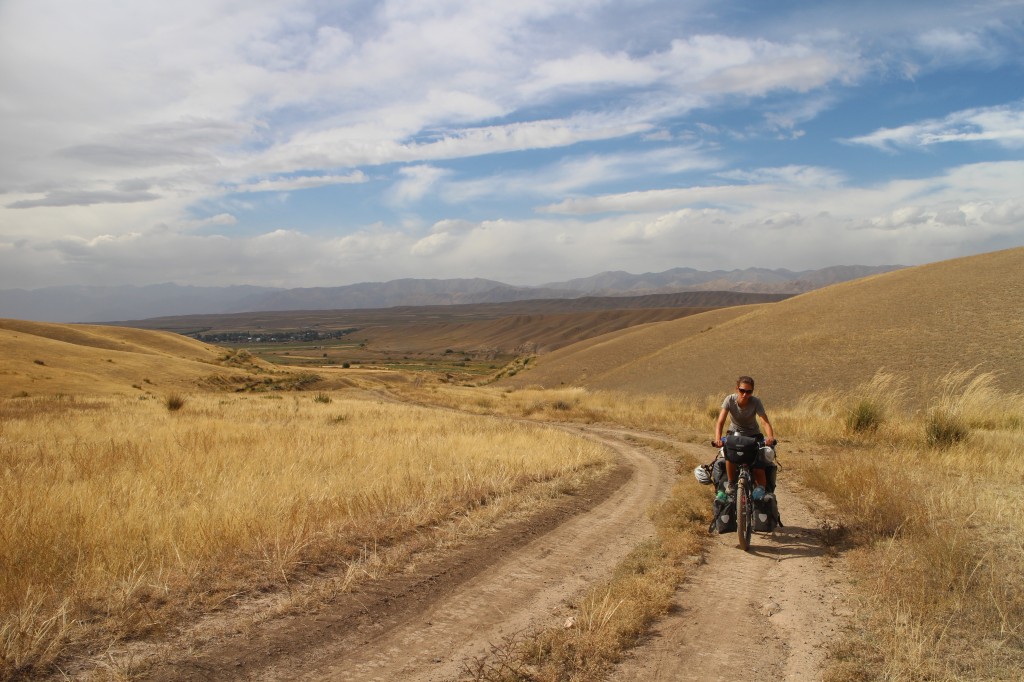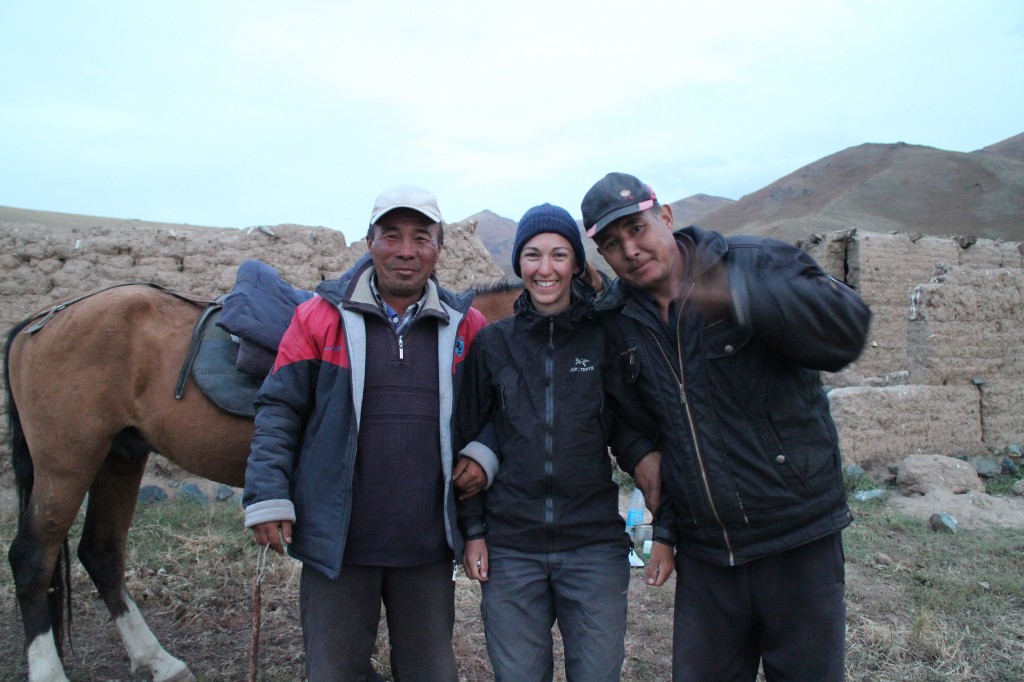 After another smaller pass (only a higher 2000er) we pitched our tent in the rain. Quite high up because heavy rain began just as we went down the pass. It got very cold, and to protect against the cold ground, we sat on the sheepskin like on a carpet. Perfectly luxorious! 🙂 The next morning the surprise (no, actually it wasn't): Snow! For me the first time whilst camping – but it won't be the last time… Wrapped up warmly we rolled down the hill into one of the bigger towns in Kyrgystan: Kochkor. Kochkor is one of the centers where women produce Shyrdaks, the typical Kyrgys felt carpets. We strolled around and visited some shops, but I wasn't able to make a decision. So no carpet for me – better for the bike and my legs. 😉
We pedaled on towards the big lake Issykul. Not so far after Kochkor we realized that my back tire was broken. The sidewalls bursted and the whole wheel got a big bubble at that point. We stopped immediately and I put my extra tire onto my bike. Now I know why I carried that with me from Europe! The broken tire I tried to fix. Every evening I added a layer of seamgrip onto the broken area and let it dry 24 hours. After some days, in Karakol, I put it back on and it brought me to Almaty. But definitely not further – it looked quite dangerous as we arrived.
Lake Issykul was amazing! Autumn has arrived, we had perfect blue sky with yellow to red trees. The lake looked like a sea with its sandy beaches. Nobody was around, almost zero traffic and of course no tourists at the shore. On the other side of the lake we saw snow covered peaks, simply beautiful!
Karakol: We take a rest. Karakol is the fourth biggest city of Kyrgystan, but with even less population than St.Gallen. Karakol is the most touristic place we've seen here – some souvenir shops, some travellers, and one coach of a German tourists group. So, not really touristy… Here we had one day off, before our horse ride started. We've booked a six days horse trek in the Tien Shan mountains. Because Kieran and Nita had some troubles with their Chinese visa and there's a Chinese holiday (for one week where they close the borders) exactly when they wanted to enter, they decided to join us spontaneously. Cool!
Day 1: Start. The driver picked us up from the guest house and drove us first to the bazar (we bought gumboots and a poncho) and then to the starting point. There we met our guide Almaz and his assistant (we never found out his name). Some short instructions (left/right, stop and go) should be enough, so we started. We climbed high up the mountains, and I was really glad to sit on a horse instead of my bike. The weather was great and the landscape even better. With all these conifer trees turning yellow next to the evergreen ones, surrounded by peaks, I felt like at home. Yes, Kyrgyzstan deserves it to be called "Switzerland of Central Asia". We booked this trip with food included, and were really impressed about lunch! Unbelievable what Almaz and his assistant conjured up! A real kyrgyz style lunch with lots of sweets, dried fruits, sausage and cheese as well as vegetables and loads of bread. In the evening we pitched up our tents in a valley a little further down – but still high up… We prepared dinner all together, this was part of our arrangement that we'll help cooking, and it got really cold. Right as we finished dinner snow fell from the sky…
Day 2: It had been snowing during the whole night. From time to time we bashed against the tent to remove the layer of snow. In the morning we'd got about 10-20 cm of fresh snow… We packed everything and Almaz prepared breakfast in his tent in the meantime: fried eggs, sausages, bread, jam, tea, etc. Amazing, considering the circumstances. Big snowflakes were still falling as we started our ride through the woods and bushes. The whole day was like in a fairytale, riding through forests and plains covered with a thick layer of snow. It was cold and wet, and sometimes we had to hop off the horse and walk to keep warm. Half an hour for lunch was enough, nobody really enjoyed eating and standing around in that weather. In total we were about 8 hours on the horseback until we finally reached the valley bottom below the snow line. Almaz was quickly convinced to return to Karakol for one night instead of camping. For us an evening with monopoly, a hot shower and a place to dry our clothes and tents – and for Almaz a night with good sleep. We guess he couldn't really sleep in that cold, because we heard him walking around very early in the morning; and because we saw his gear…
Day 3: Relaxed morning, super delicious breakfast as usual in our guest house Riverside in Karakol. Later we returned to the horses by taxi and than rode up another valley to a famous place with some basic guest houses. The snow was already melting, the weather was good, but we decided to stay in one of the huts. A bath in the private hot springs completed the day.
Day 4-5: Two days with two one-day-sidetrips. We visited two different viewpoints by horse, extremely beautiful scenery! Besides that, we had funny evenings playing cards and of course more baths in the hot pool. The hut was very basic, but I enjoyed that a lot.
Day 6: We returned tired but enriched with loads of impressions back to Karakol.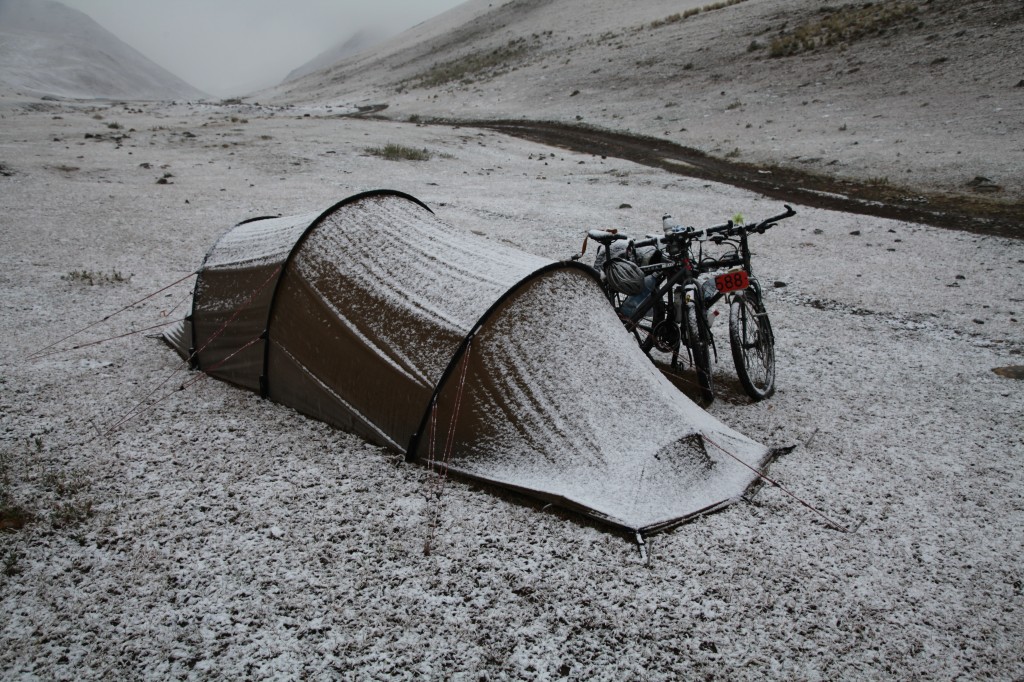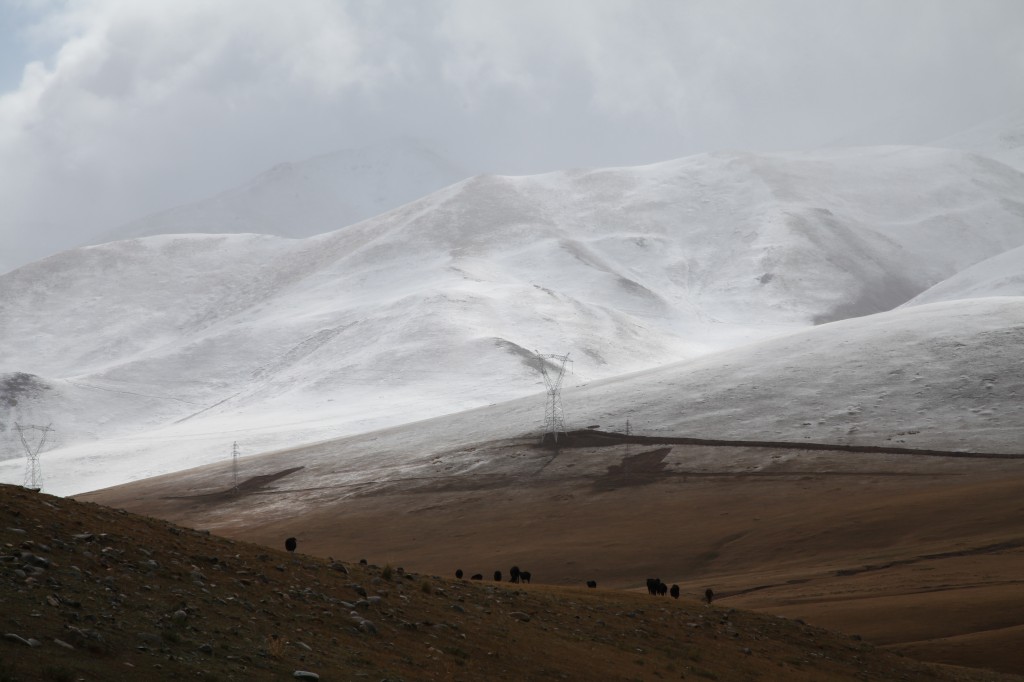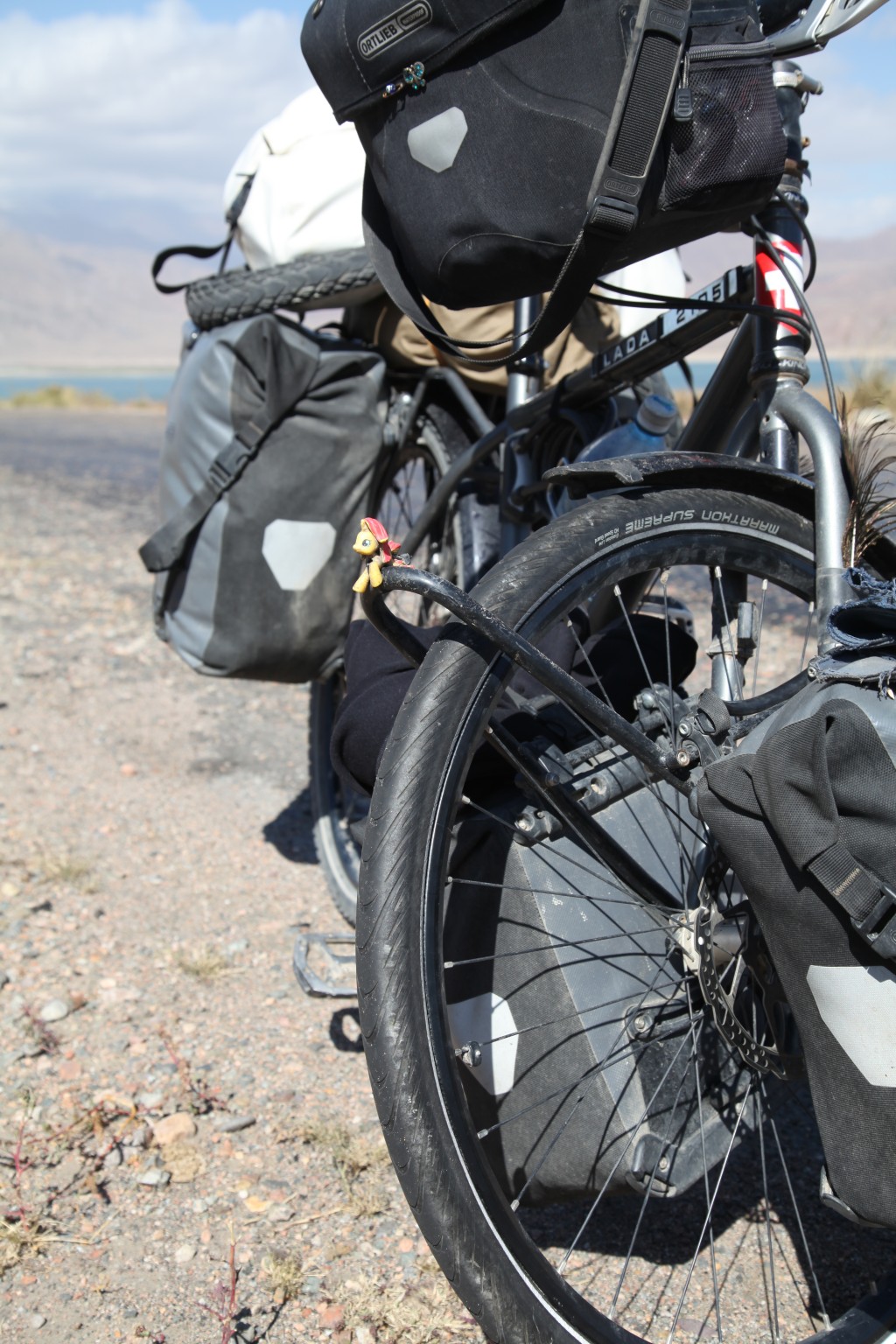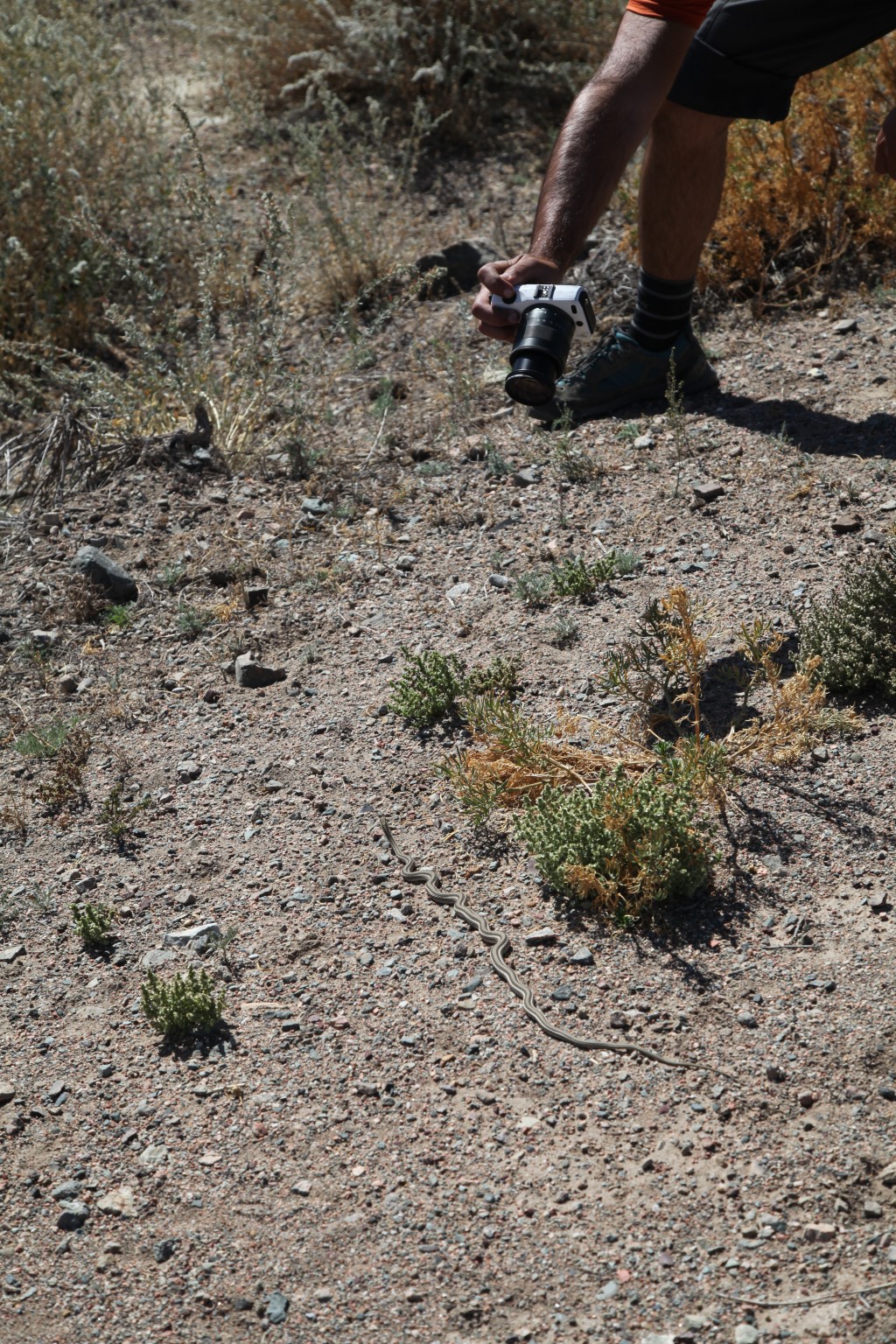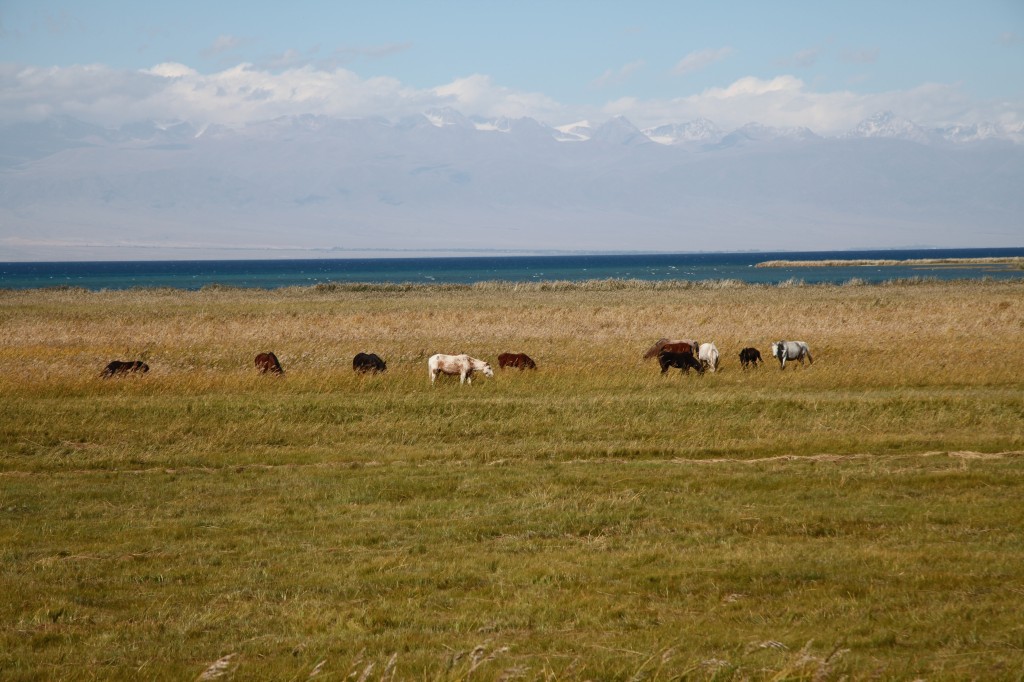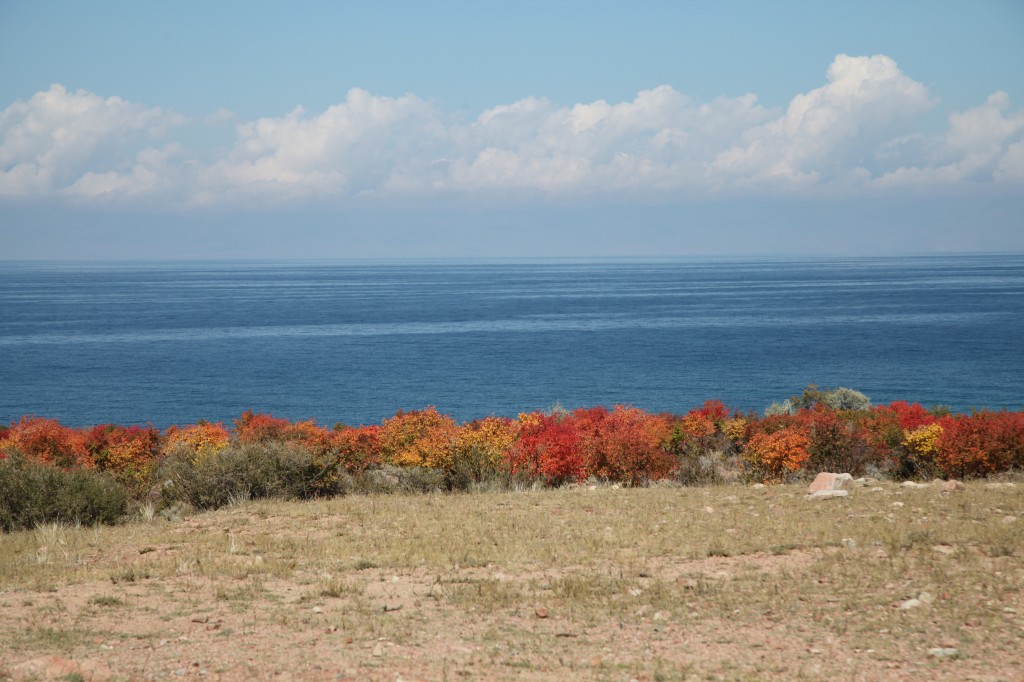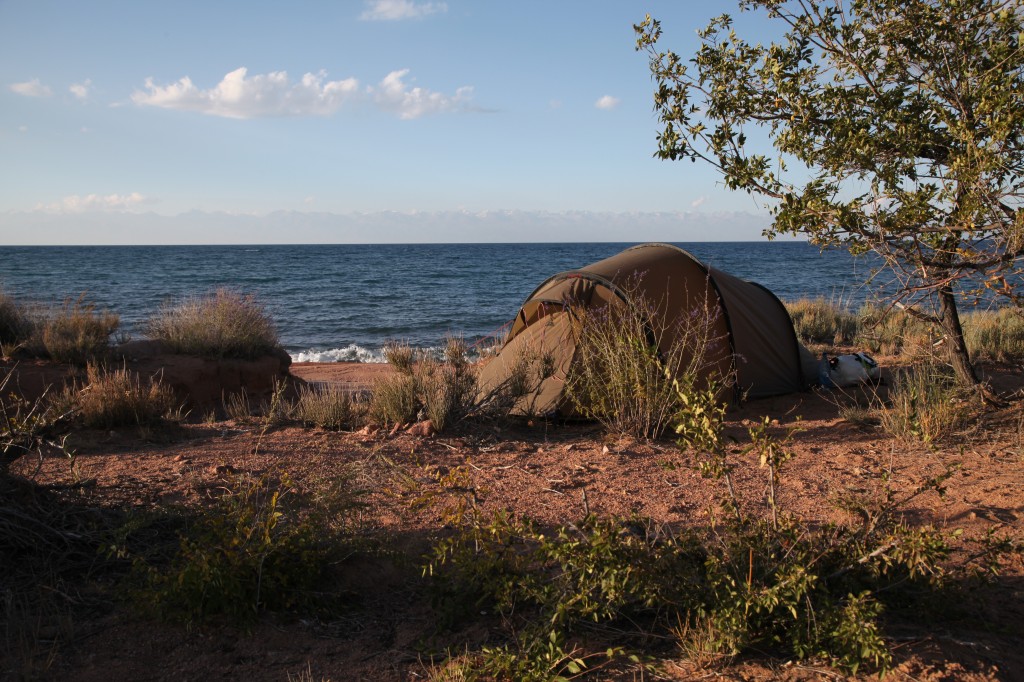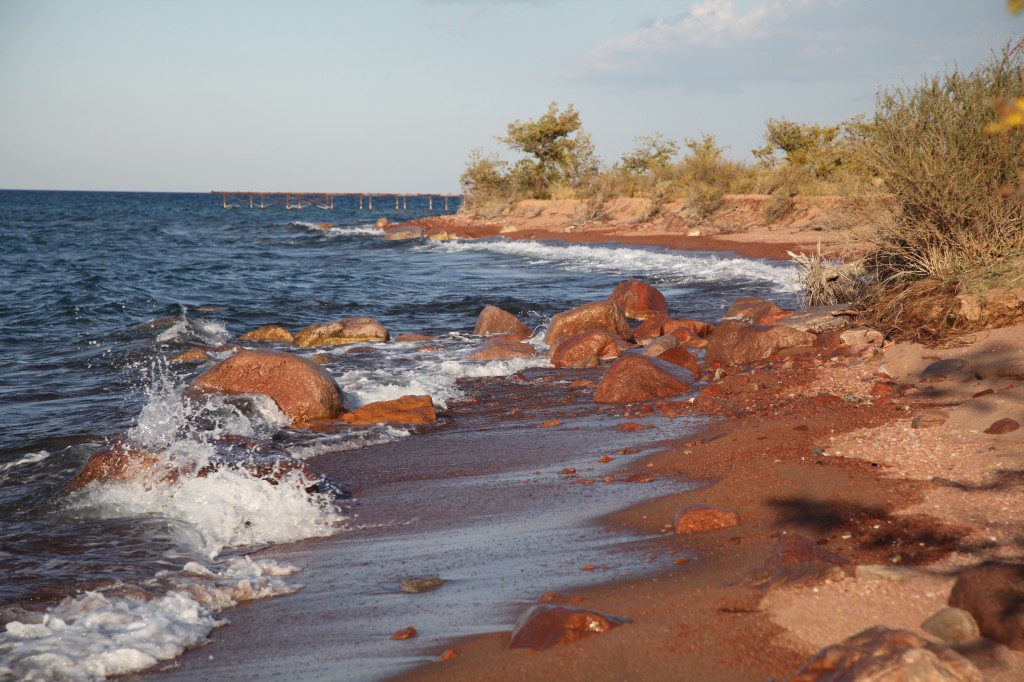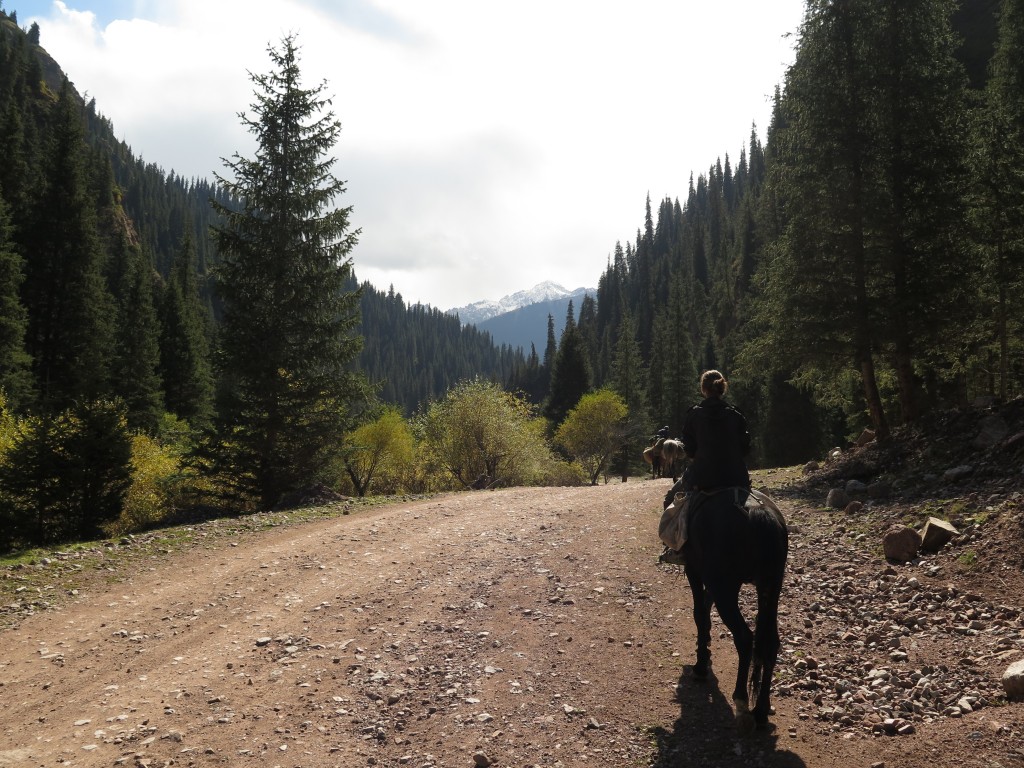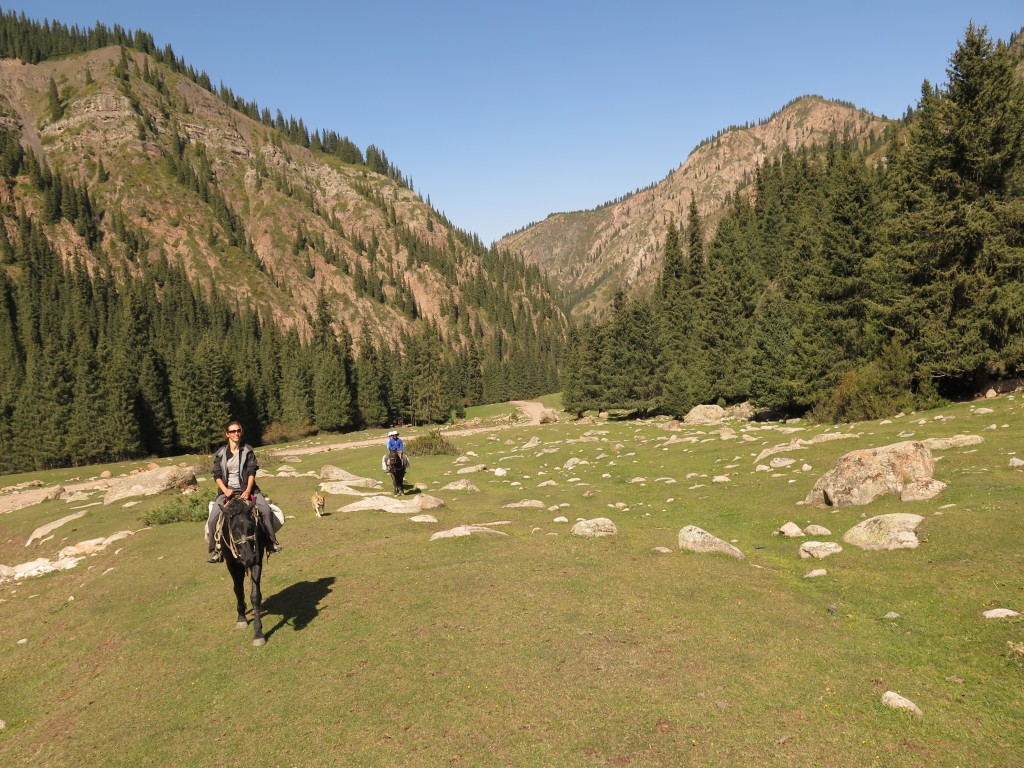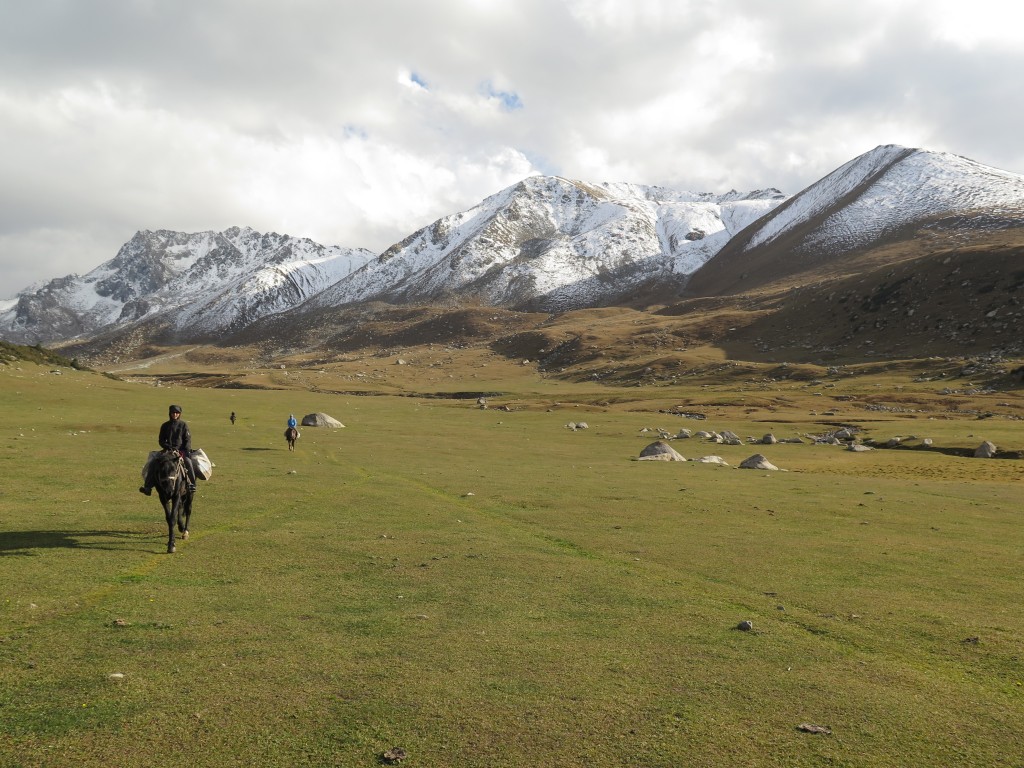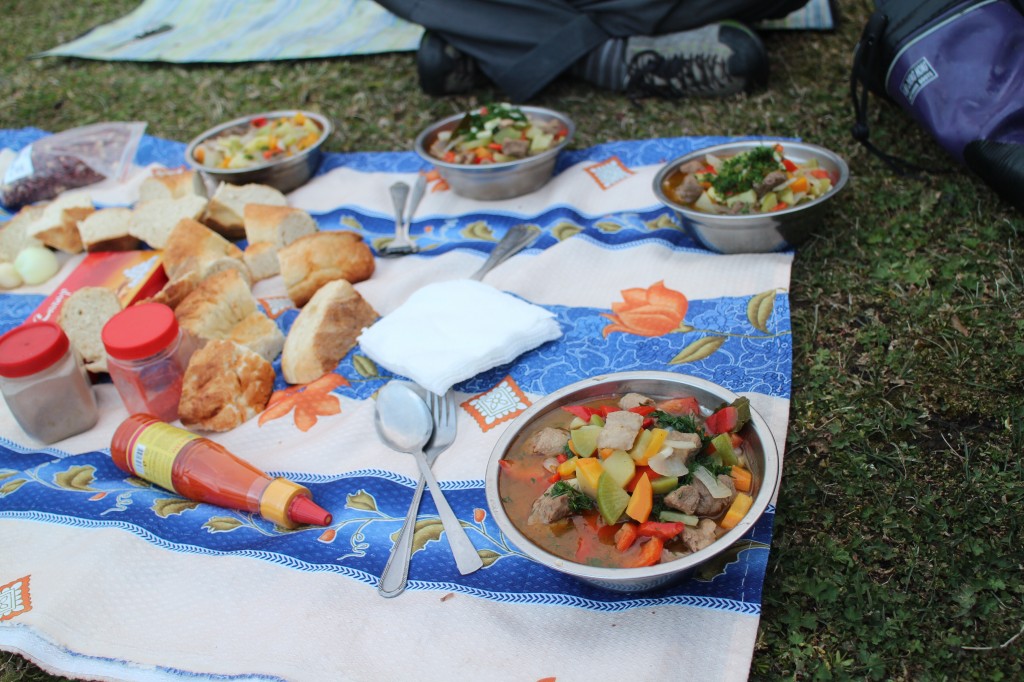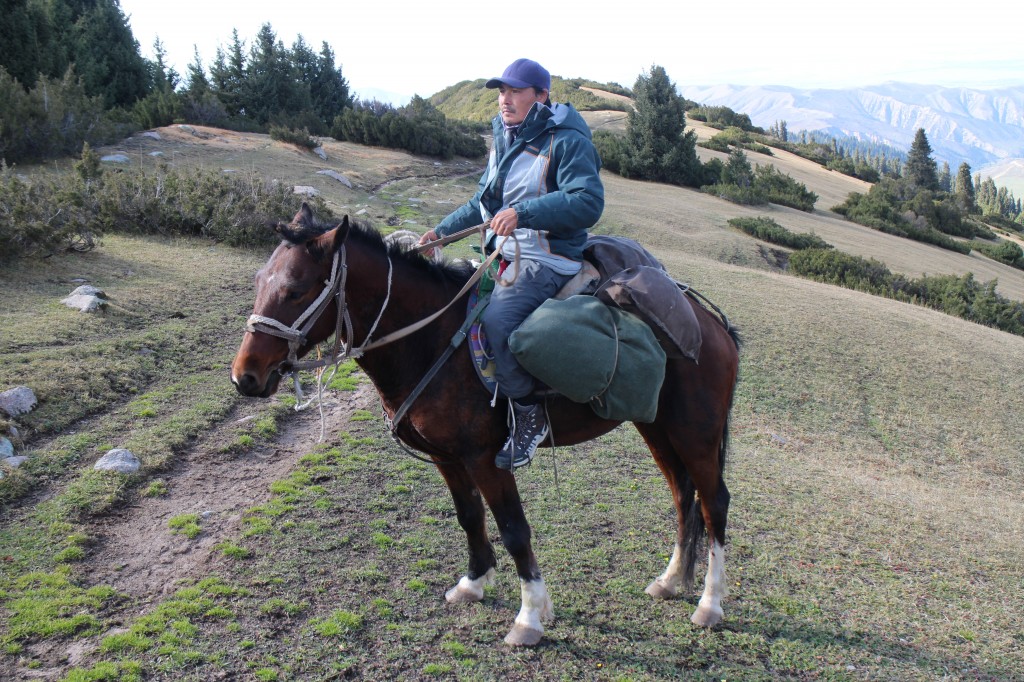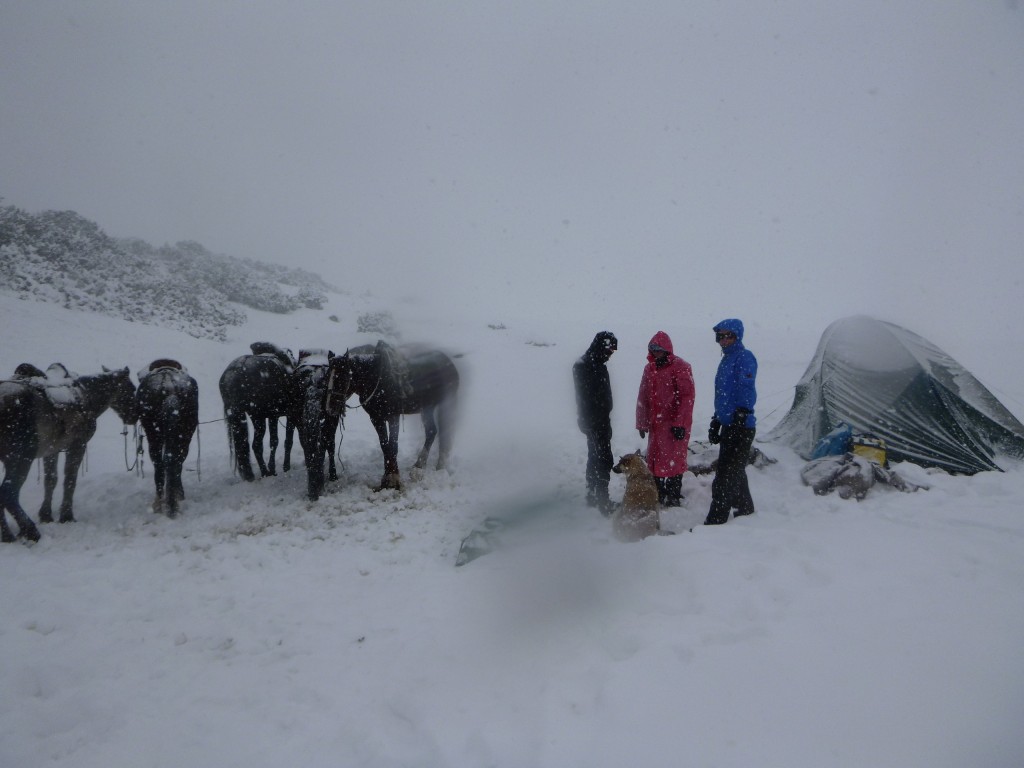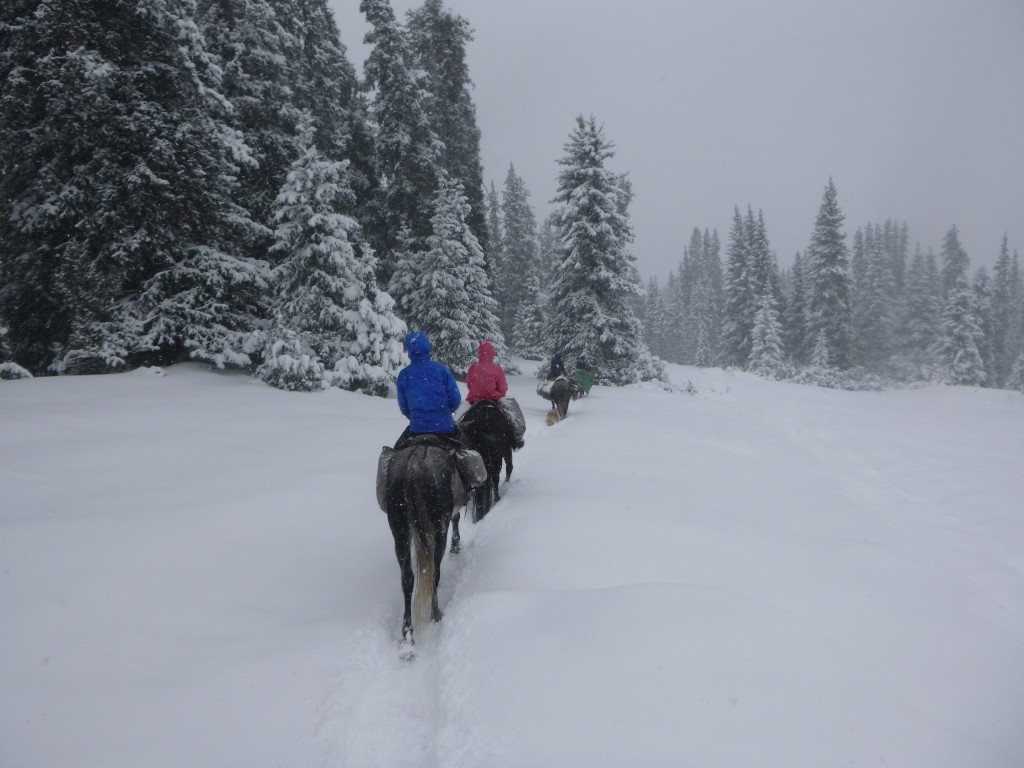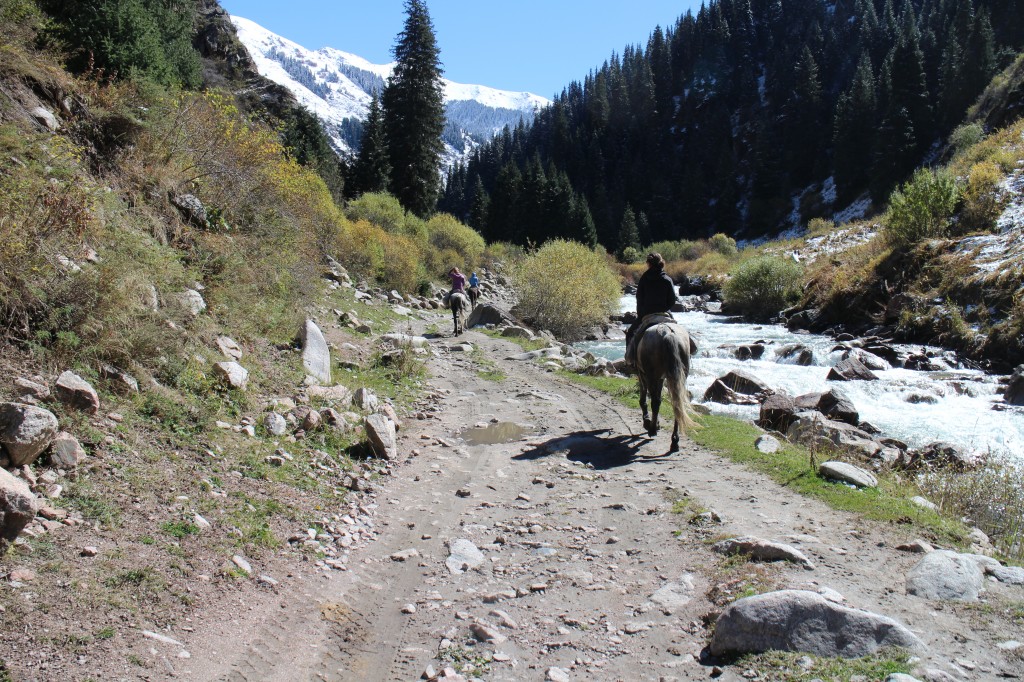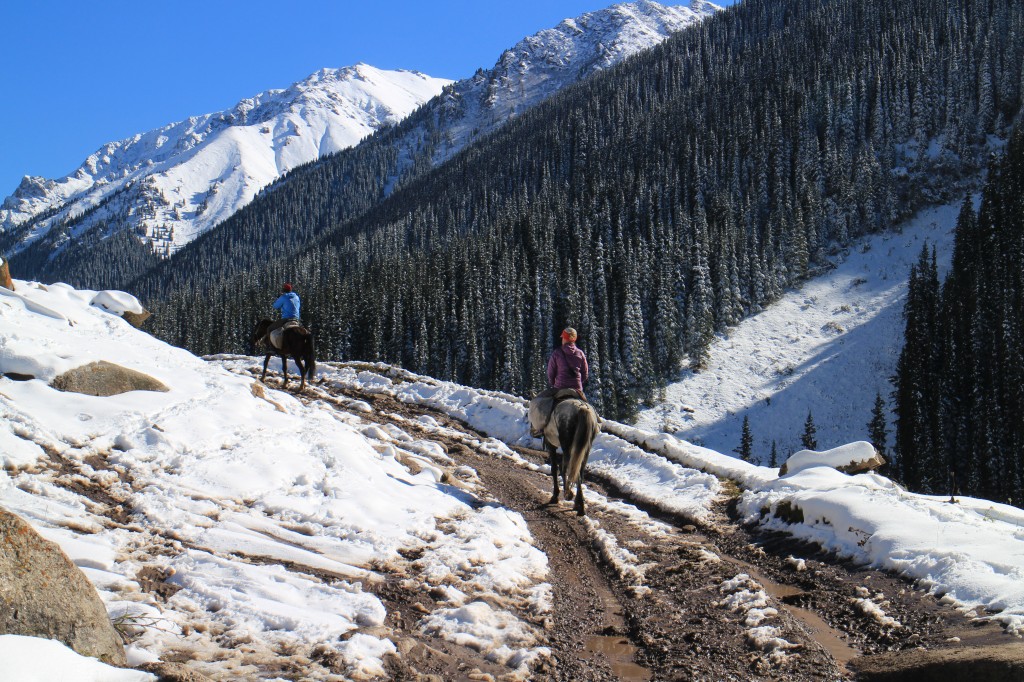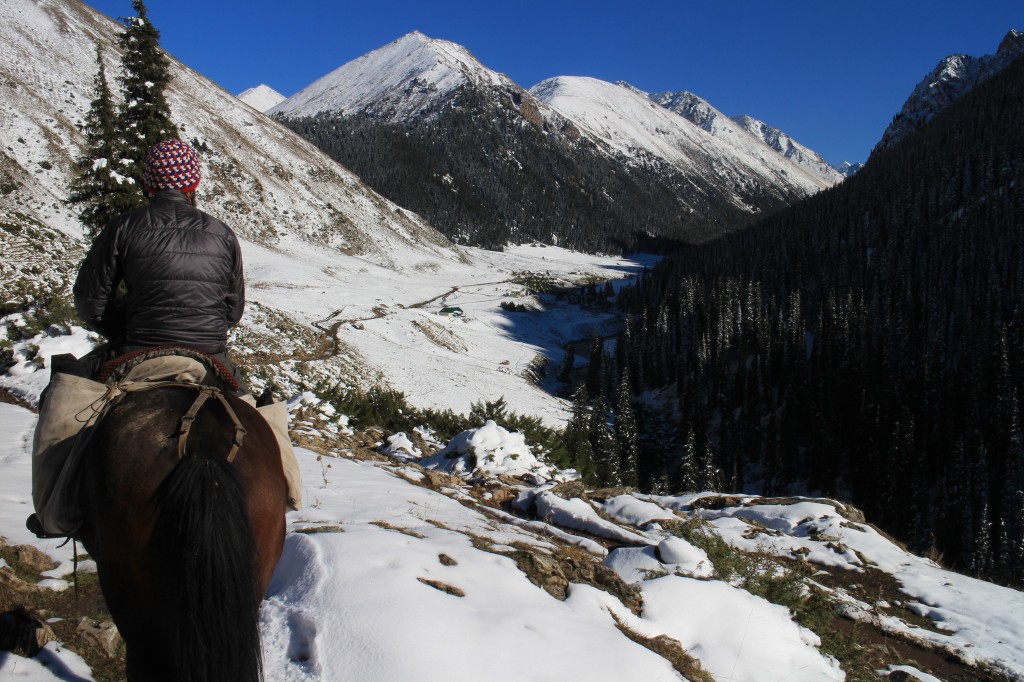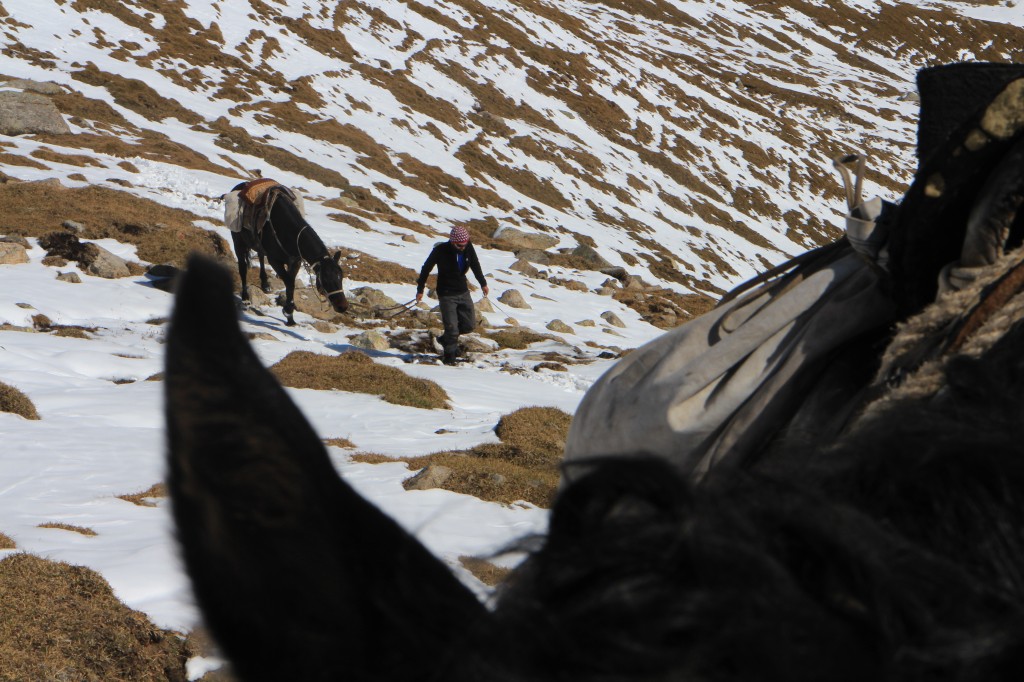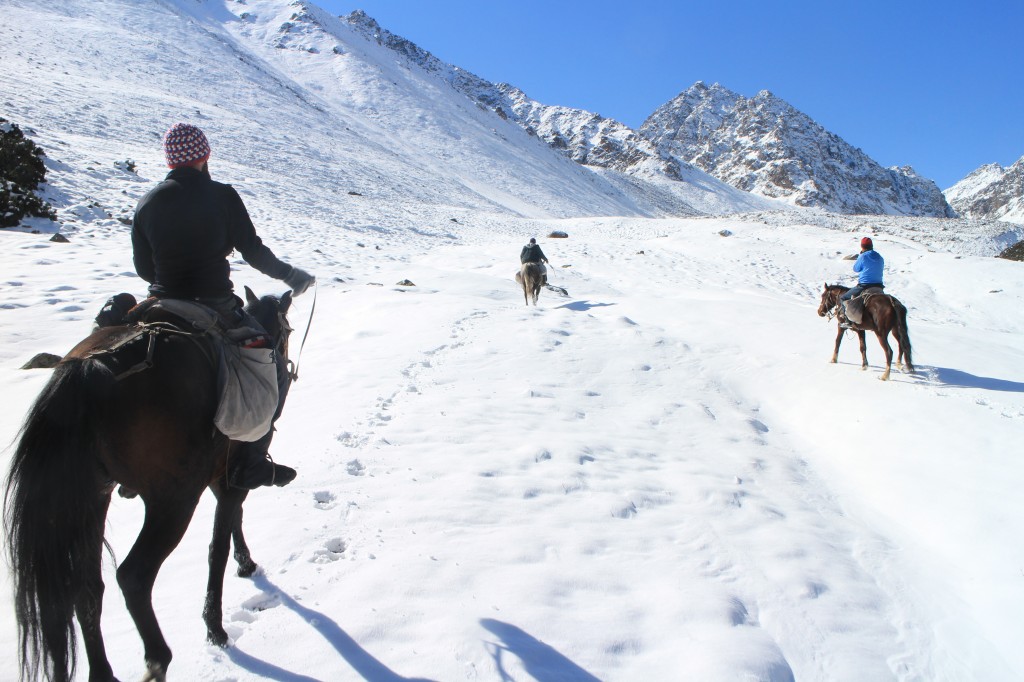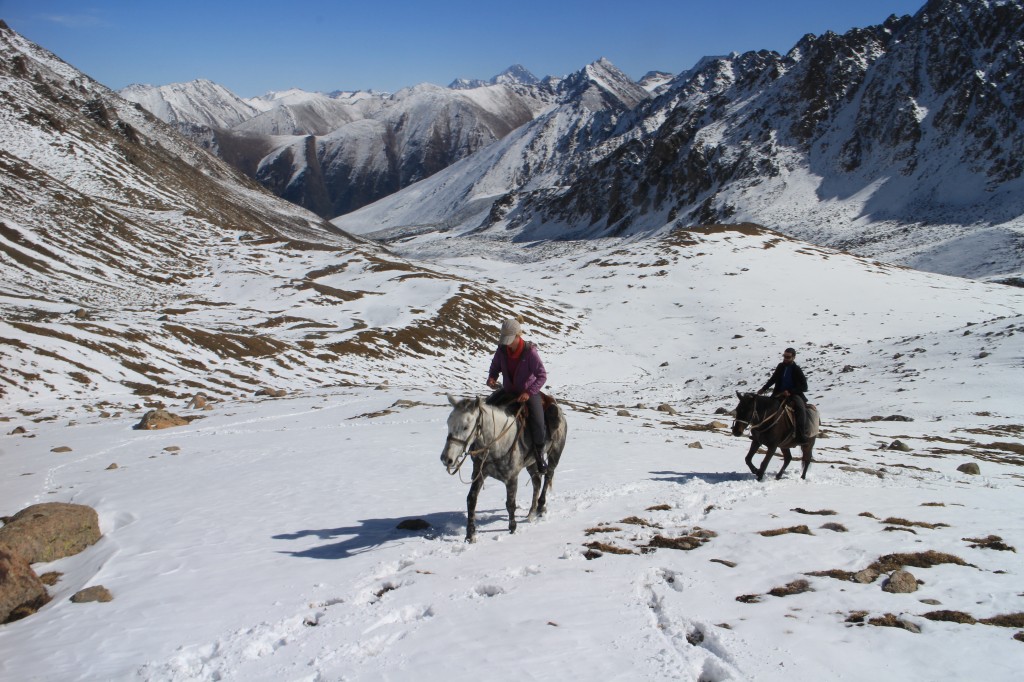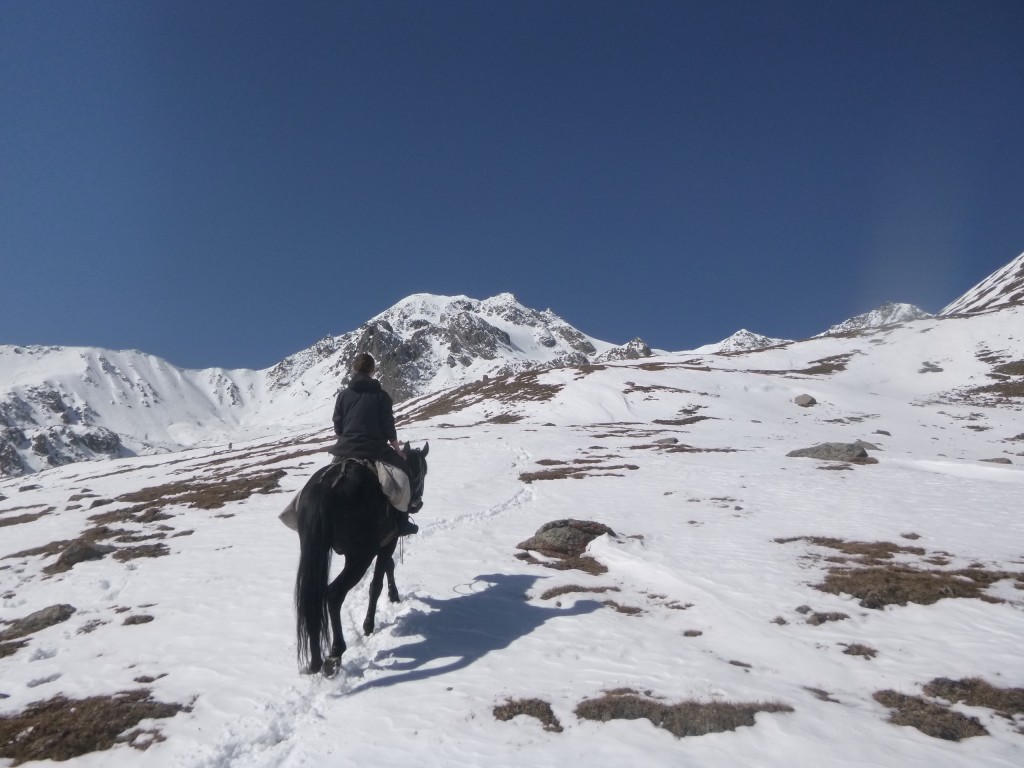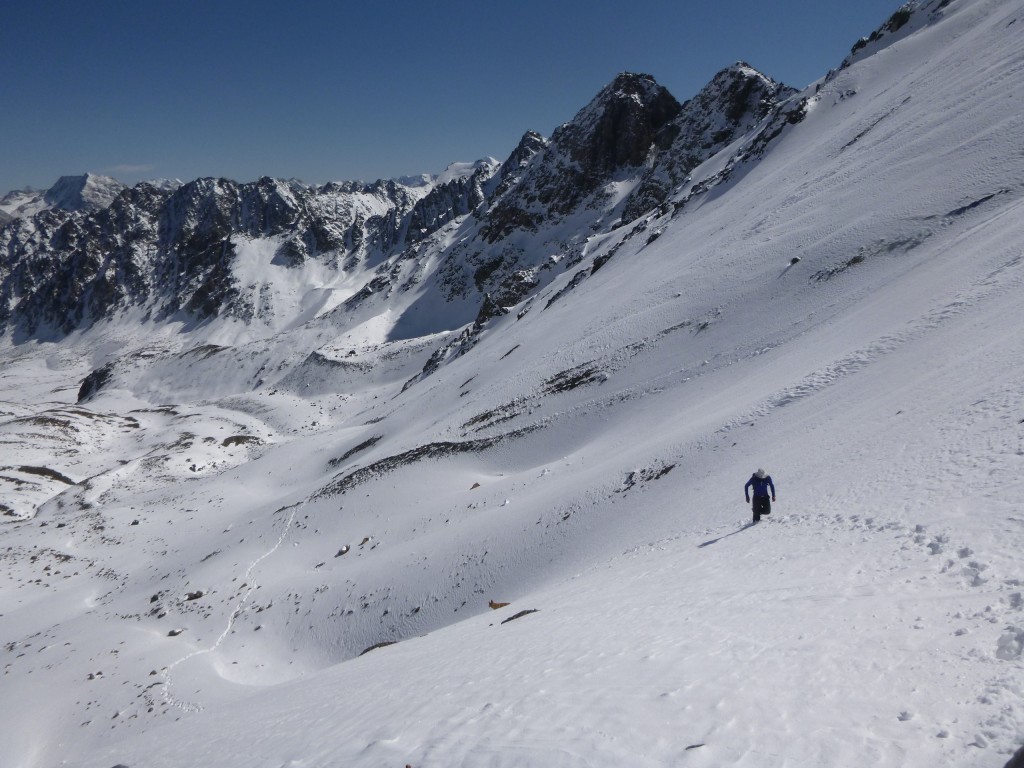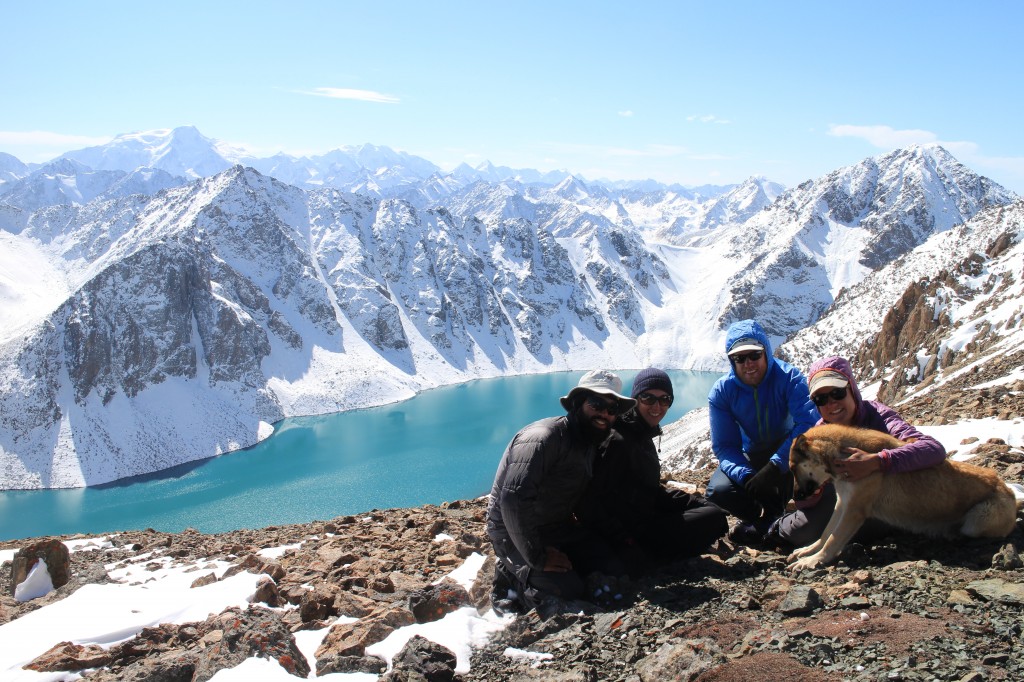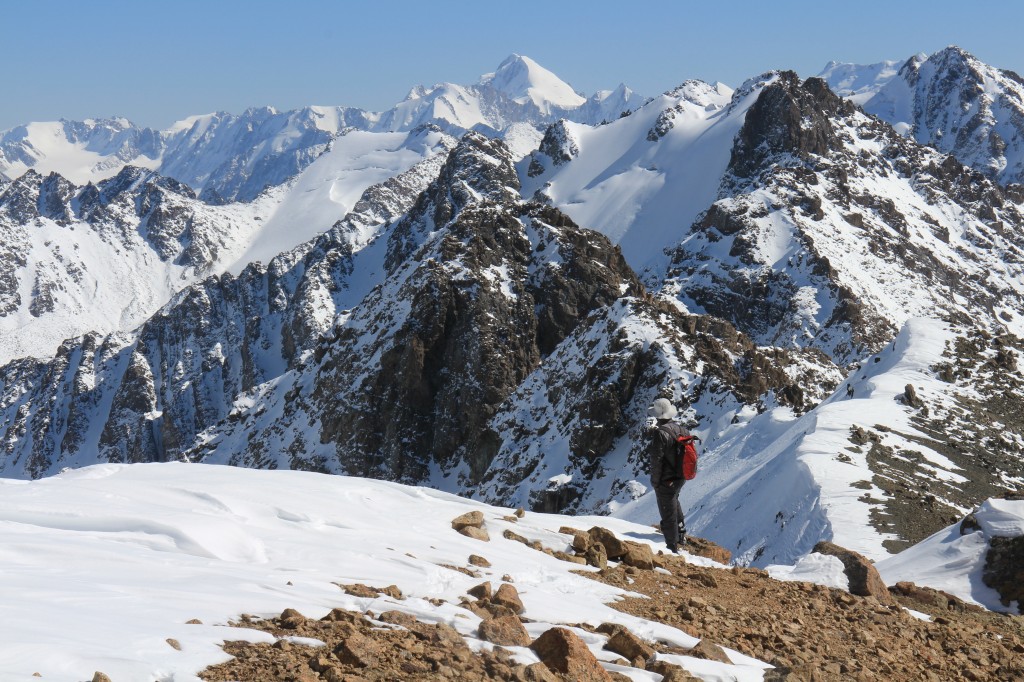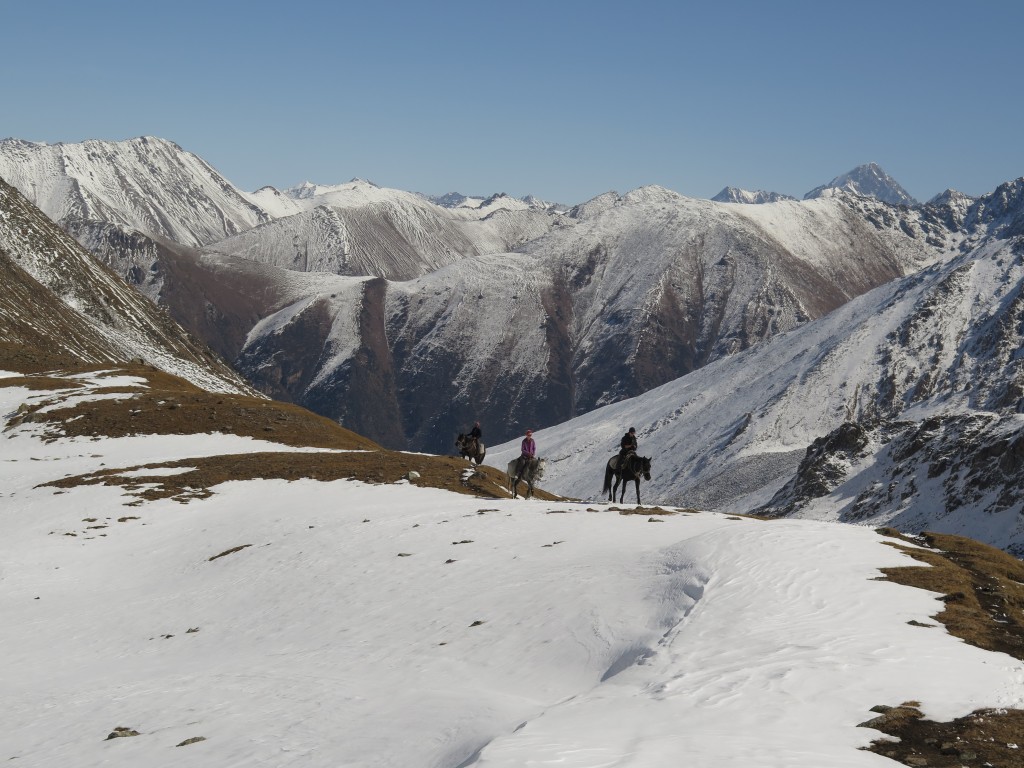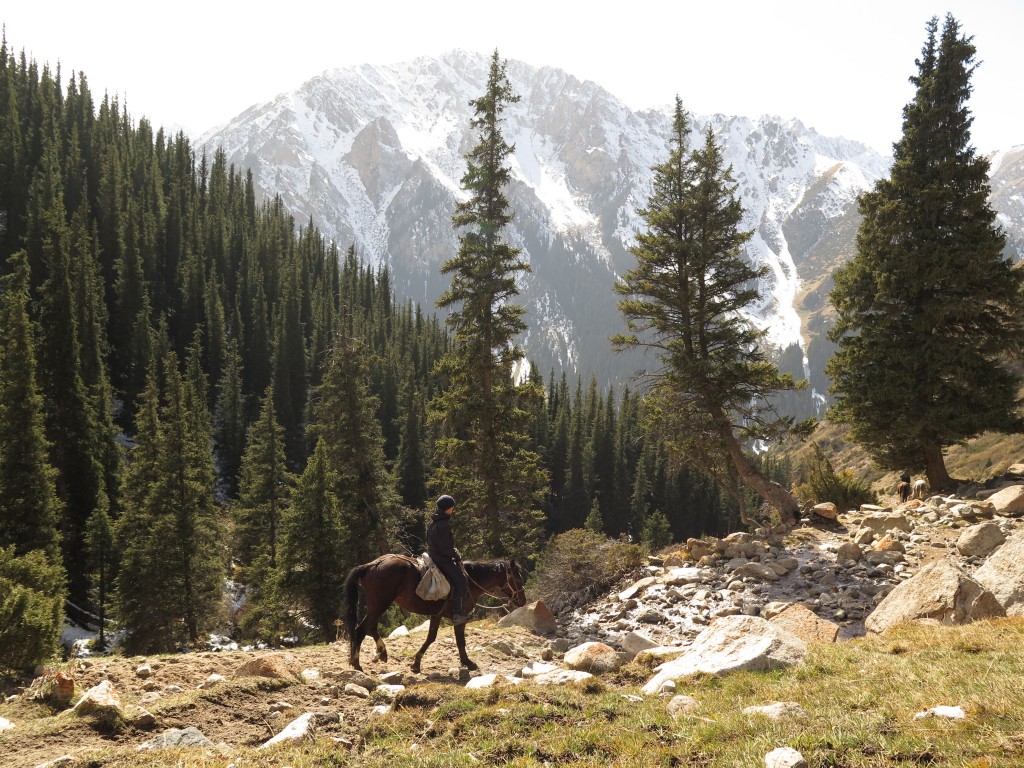 In Karakol we stayed some more days before we set off to the Kazakh border. Time for sightseeing, strolling around the bazar and drinking coffee. Every day we landed in Karakols Coffee – for a cup of good coffee, a slice of delicious cake and for visiting the kitten.
The ride to the border was more or less the same as riding in Kyrgyzstan before. But I couldn't really enjoy Kyrgyzstan anymore, I was too excited to fly to South East Asia. Somehow I was fed up with Central Asia. I couldn't relax and enjoy it really, because for me it felt like being in one big country for about four months… It was definitely time for a change, and I was ready to fly to a different climate/region/country!
We pedaled over our last small pass in Kyrgyzstan, another small summer pasture with conifer trees and places for yurts, and landed in a very secluded area. The mountains disappeared behind us, and the flat, dry, warm lowlands of Kazakhstan came into view.
Don't forget to have a look at towardtherisingsun.wordpress.com for Nita's and Kieran's view about our travels! – Thanks for the photos!