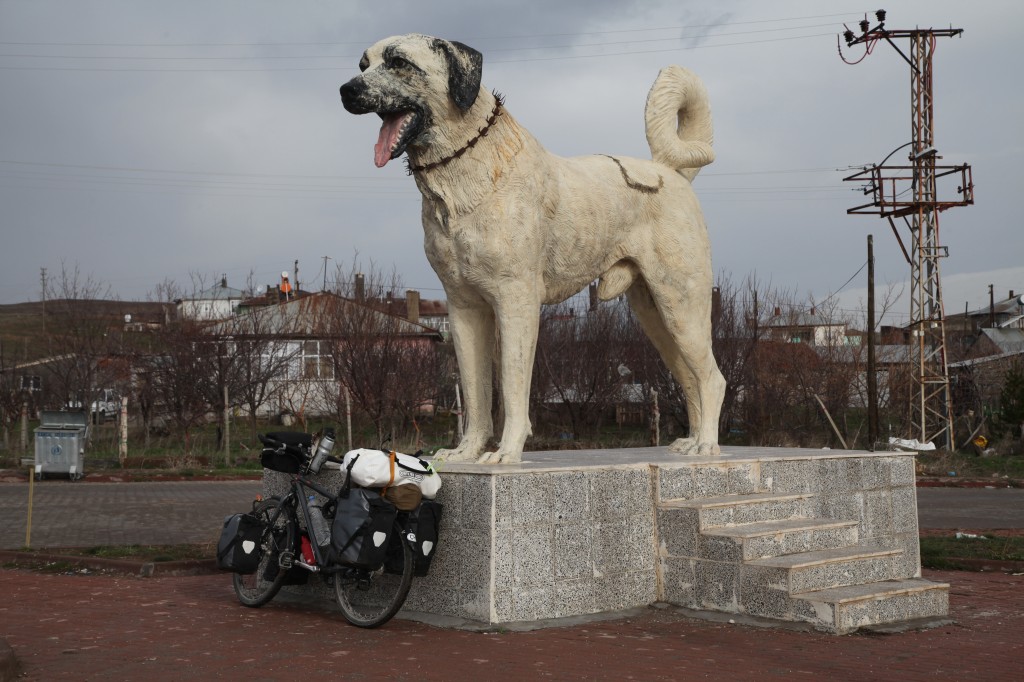 WOOOW, turkey i love you! It's impossible to tell everything, cause so much happened every day! I met so many very welcoming people, the landscape is amazing, and the food delicious! It's a long time now since my last blogpost… I hope i can give you a good overview of my journey through this beautiful country (which is still not finished yet).
Uff… Where to begin? The resting day in Antalya was great: We walked through the old town, had döner for lunch, than ate a bunch of sweet-sticky things for dessert, met Miço in his store and learned a lot about carpets. For dinner we went to a local restaurant: huuuuge dishes full of different delicious turkish food. "The waiter speaks English" we heard in advance – but we learnt that this meant that he speaks one sentence ("Can I help you?"). Haha! Of course, we were the only strangers that evening…
The day after Antalya, the two French and I separate. I think I chose the longer route to Kappadokia – but with less passes. I had to climb only one, while Eric and Charlotte had at least three or four times this pleasure. We said goodbye – but we knew that we will meet again. Either in Kappadokia or in a Stan-country, probably somewhere in the Pamir…
I cycled northwards, first in the flat area between another growing houses, with – of course – frontwind. I knew that it will ascend soon, so I had lunch between some orange trees. A farmer came back from the harvest just as I finished lunch – and gave me four oranges. Then he went to his car, returned, and gave me another nine oranges on top. As if frontwind would not be enough – no! – now I had about 3 extra kilograms of oranges to carry up the mountains…
About in the middle of the ascending section I reached Eğirdir lake. A very beautiful, turquoise coloured big lake surrounded by snow covered mountains and a lot of apple plantation. One of the most beautiful camp spots so far, that's for sure! But it got a little colder than near the sea – and the tent was frozen in the morning once again. On the way, i was invited to join a break between apple trees (with tea and lokum) and later i got a bag full of apples from a storage house. Cause I still had lots of oranges – and I didn't want two extra kilos more – I managed to exchange the fruit 🙂 I got apples and gave them oranges – perfect deal!
The peak of the pass on 1600 (or 1660 ?) I reached without any problems. Pretty steep road though… And after that, the landscape changed completely! Already while looking down from the mountain I realized that it would be difficult to find spots for wild camping. FLAT – just flat land. Some small hills, but you could see everything far away. No trees, no rivers, hmmm. And in the middle of this no man's land: the 4-6 lanes main road. I think I found the "Silk Road"! Every 30-40 kilometers there was a Kervansaray; and every 5-10 km a gas station – the "kervansaray from nowaday"… I already heard from other touring cyclists, that usually it's no problem to camp next to or behind a gas station. So, my travel from station to station began.
After Aksaray I was really happy to reach hills again. Some days on this highway, with strong head-/sidewind and no good view and only gas-station-camping made me feel a little bugged out. So, not much to tell about those days… Until I reached Kappadokia!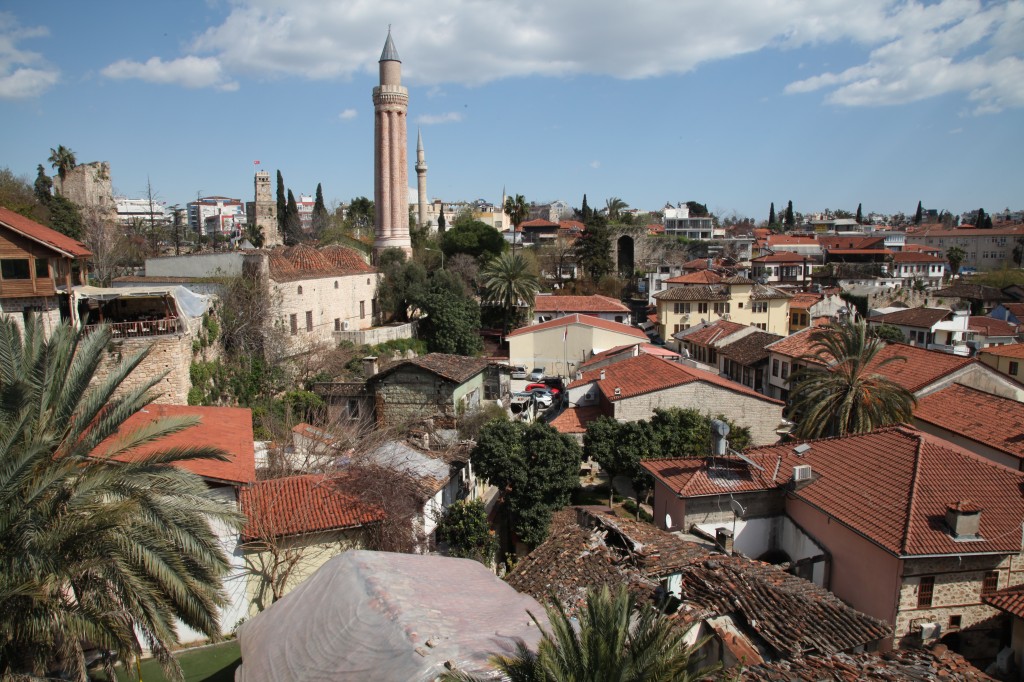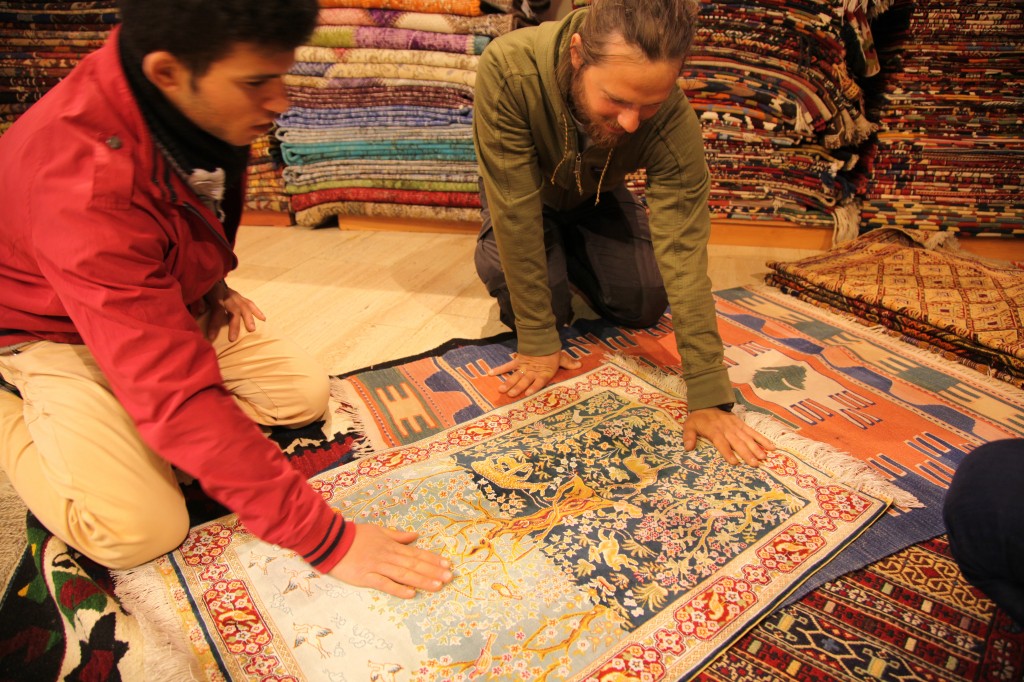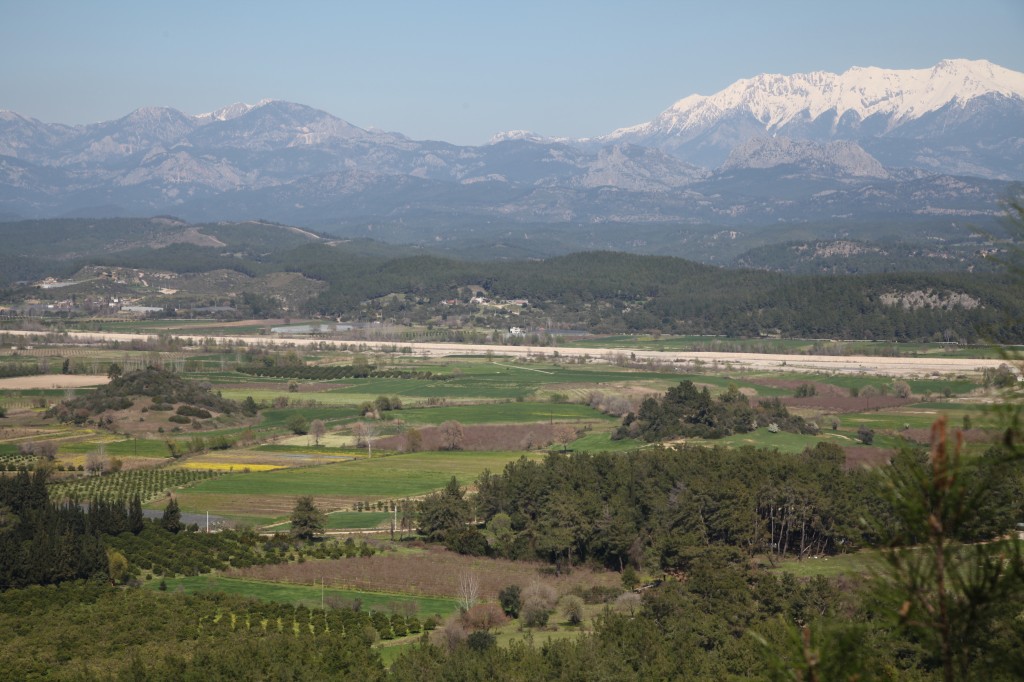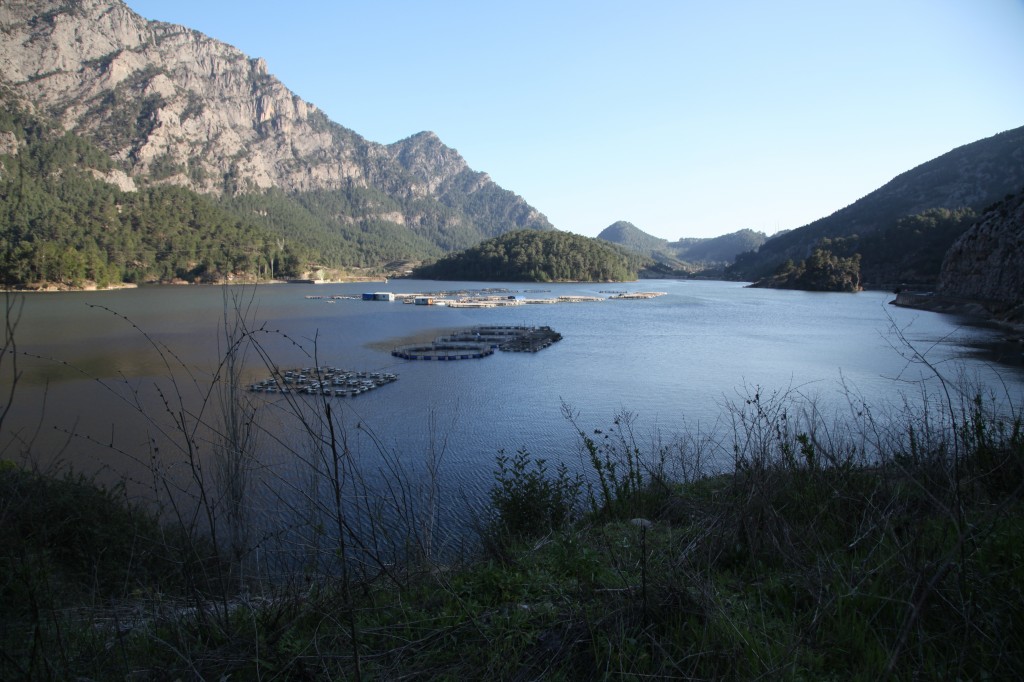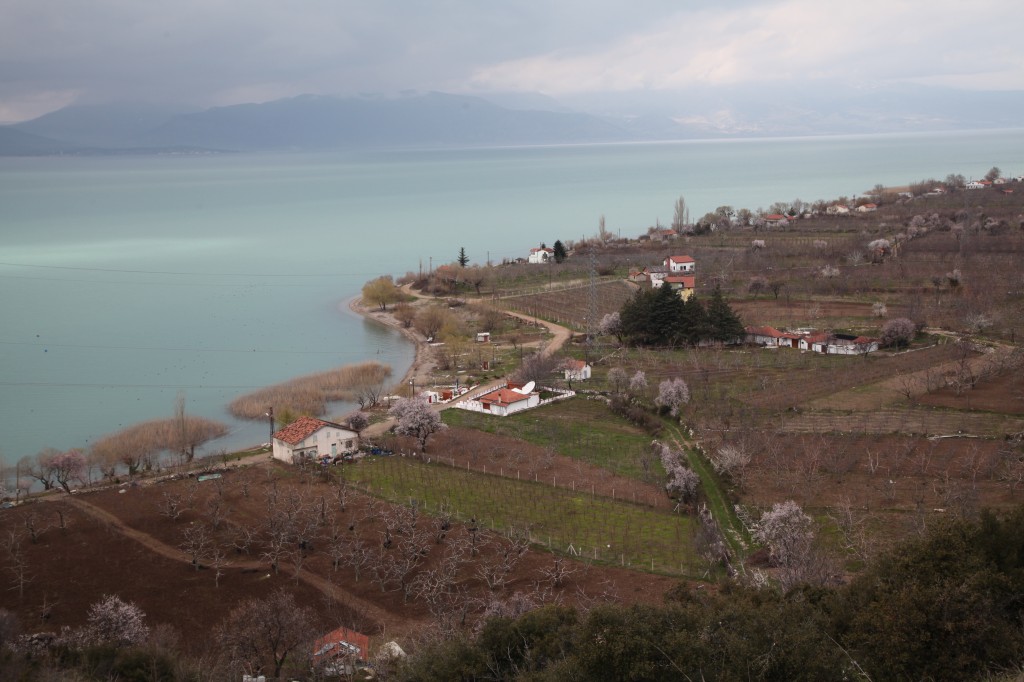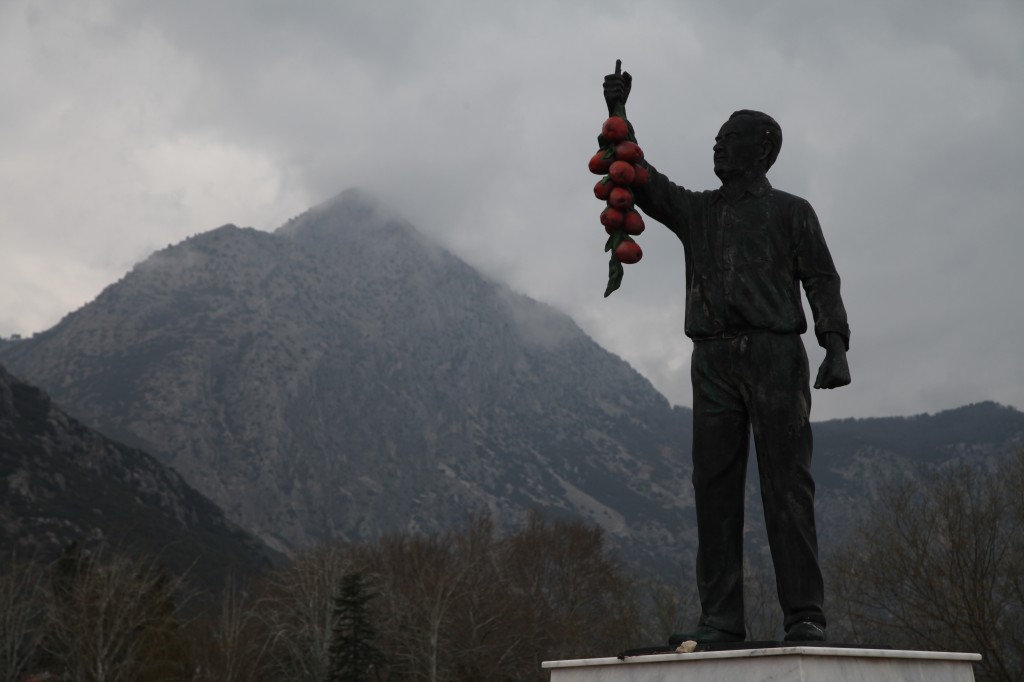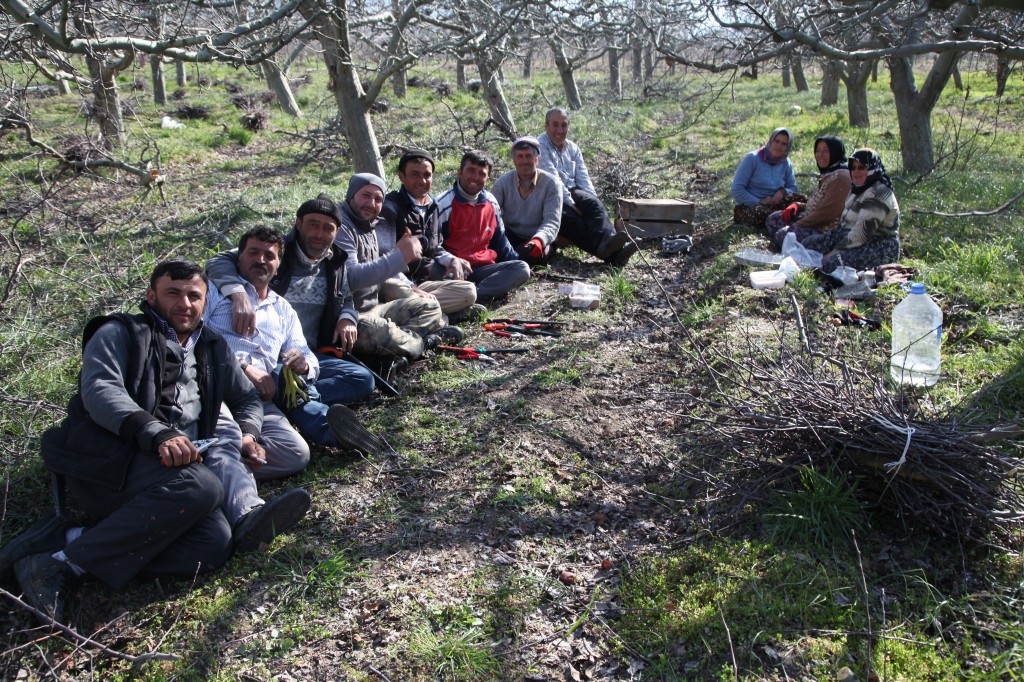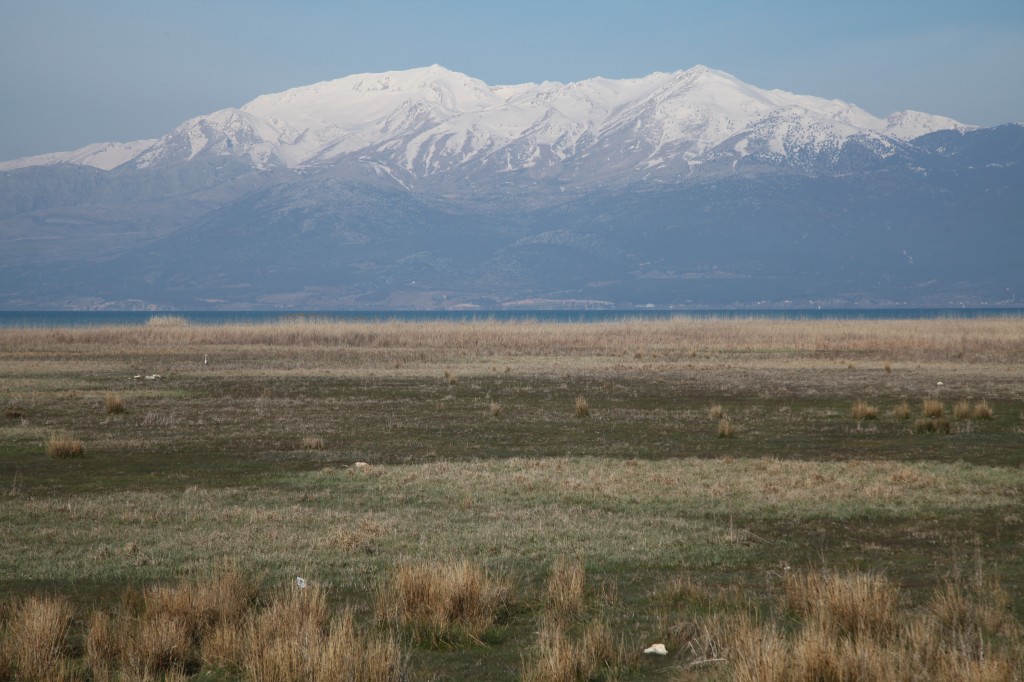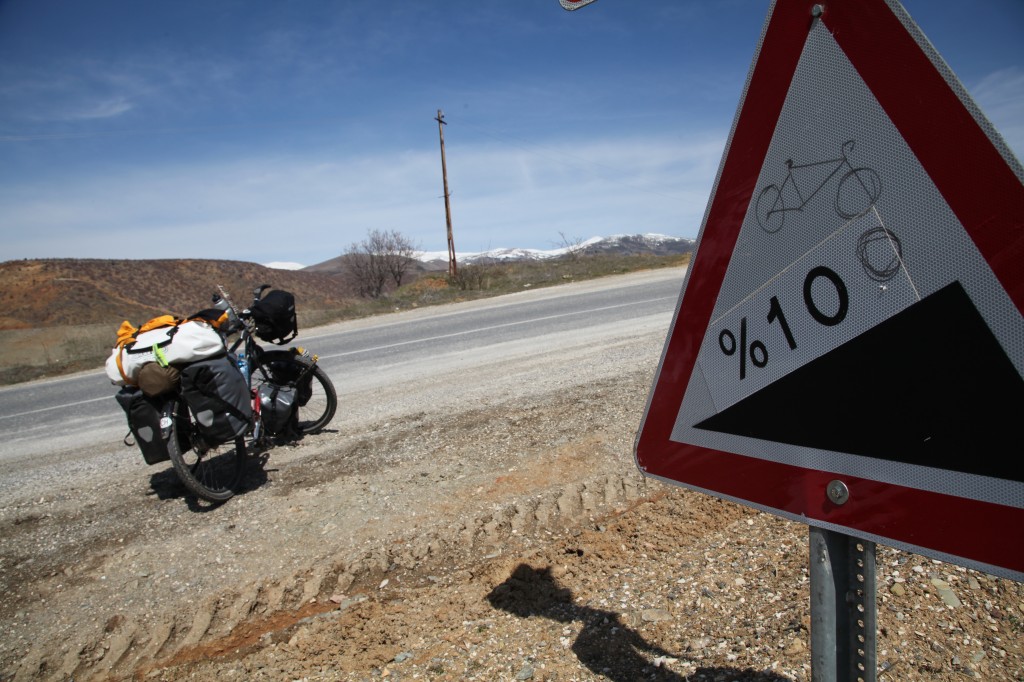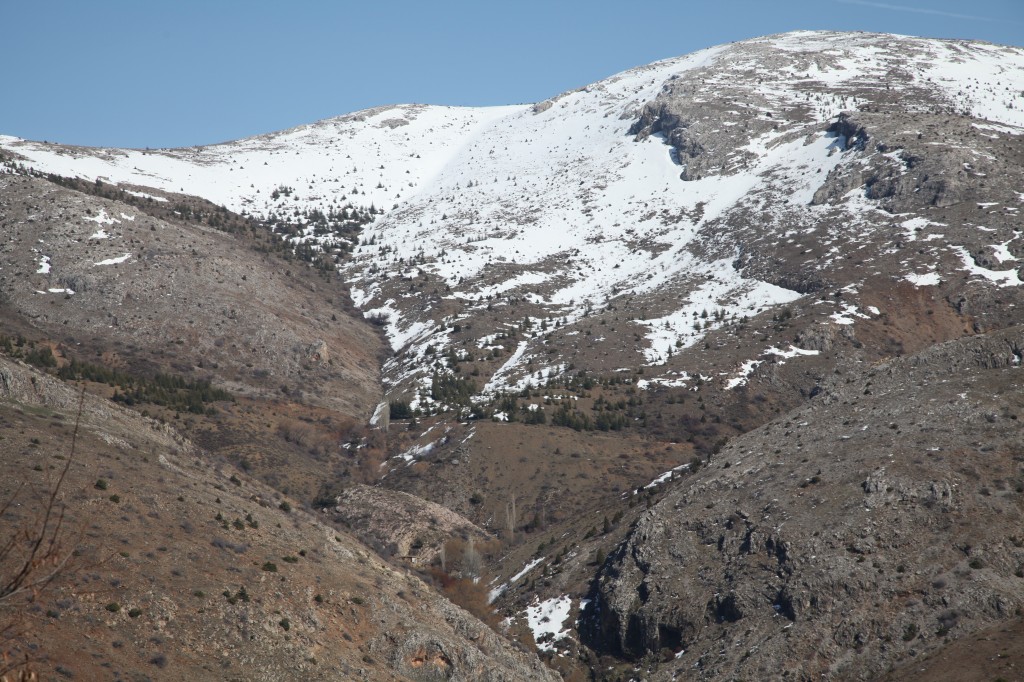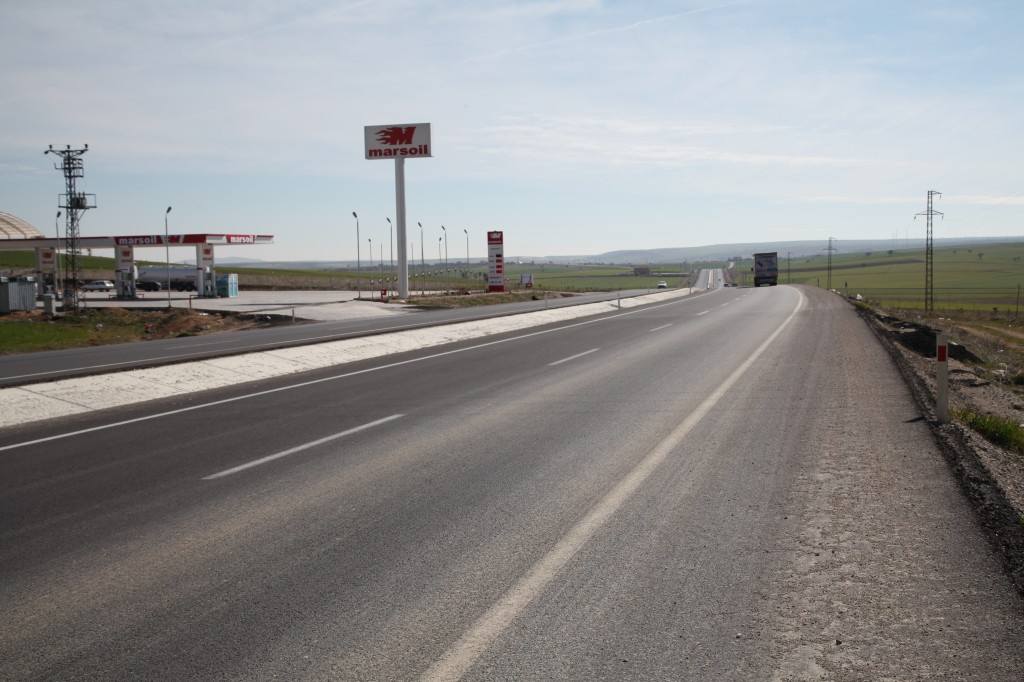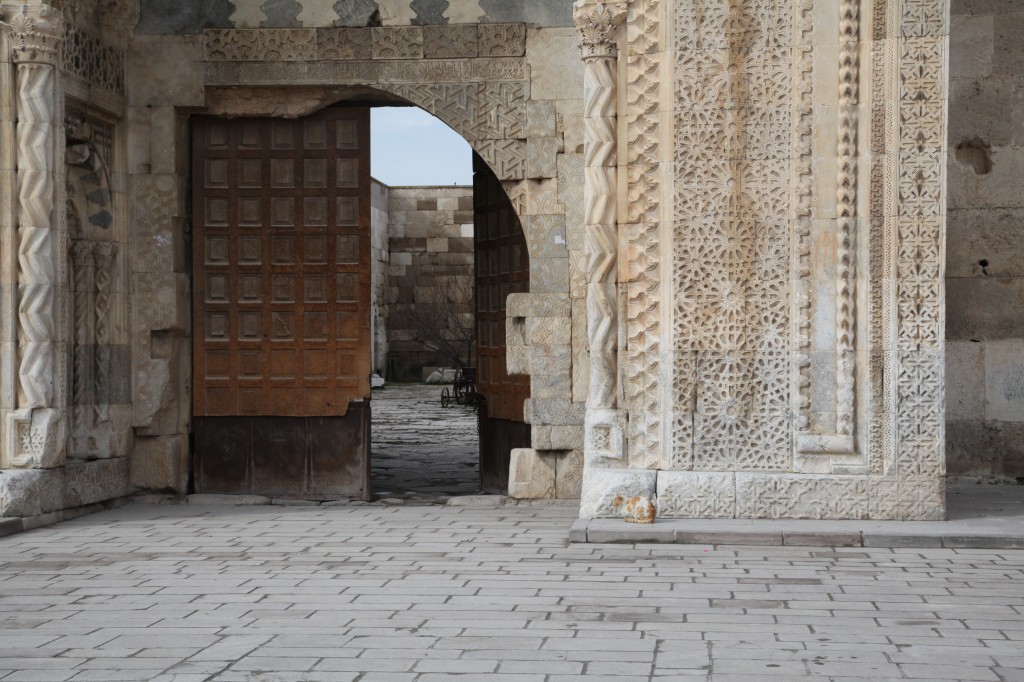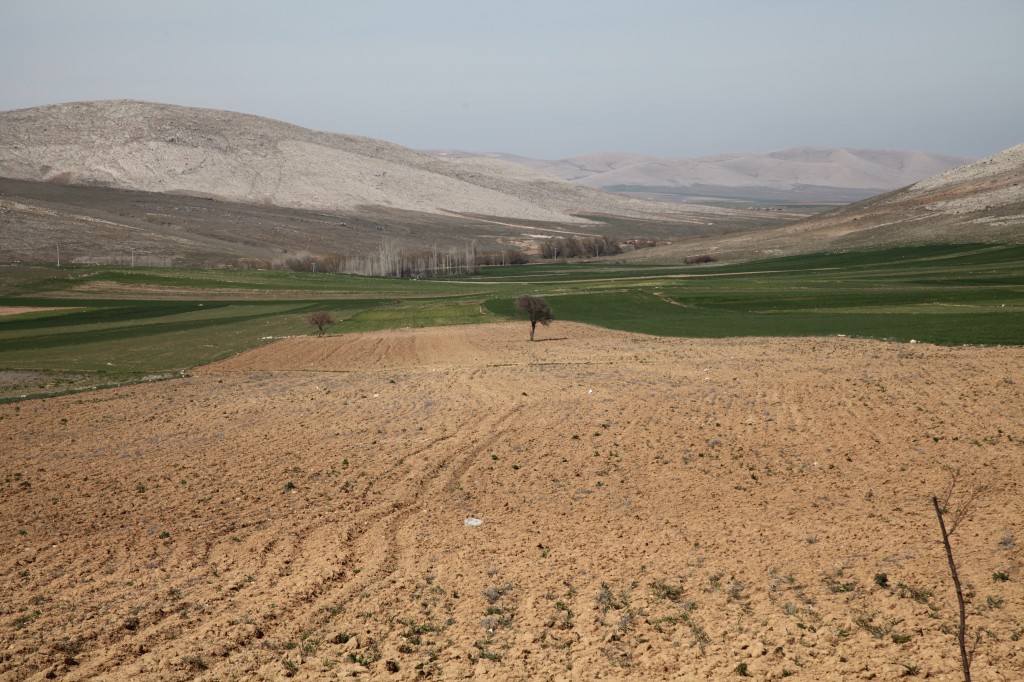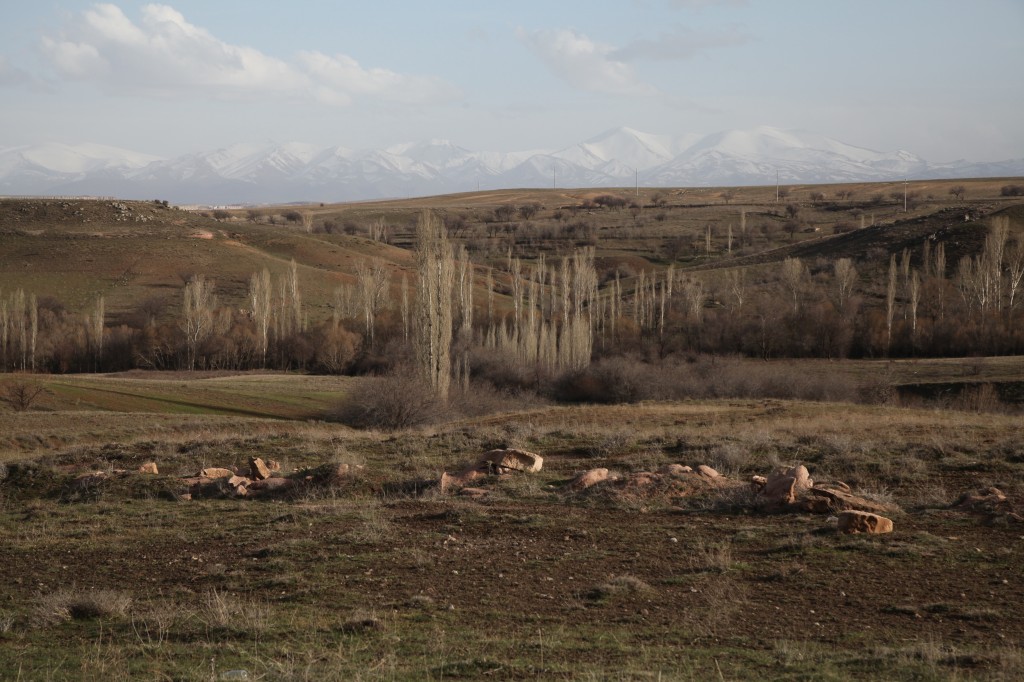 Kappadokia!
One of the checkpoints of my route. Kappadokia is famous for its caves and underground cities – and the landscape itself is already amazing! I stayed four nights in the central stone house, a very nice hostel in the centre of Göreme. Emre and his family are very welcoming – and breakfast & dinner is delicious! 🙂
After cycling already a very long time without a long rest – and especially after those horrible days on the highway (wind, rain, trucks) – it was like holidays for me in Kappadokia. I hiked through the valley, cycled around the area, read a lot on Emres rooftop and washed all my clothes… But after those four nights I was not in the mood for cycling. a) I wanted to sleep at least one night in a cave and b) Charlotte&Eric would arrive that day and c) I was just not in the mood for cycling yet.
Together with Charlotte and Erik I moved to a cave. Soooo cool! Together its just more fun, we lit a campfire and made pizza again the first night. I decided spontaneousely to stay another night there – but we moved to another cave. We spent the whole day cycling through the valleys with the fully-packed bicycles, sometimes carrying the down some stairs. But we found one of the best caves in whole Cappadocia which is easily accessible for cyclists! Bedroom, wardrobe, balcony etc. on the first floor (with great view; we slept "on the balcony" and not inside the cave) and a magnificent rooftop on top of the hill; with a pretty steep staircase to get there.
And: Easter bunny showed up in our cave!! I coloured some eggs with the natural dyeing technique with onion skin and leaves. Thanks Luca at this time for the stockings of his girlfriend he unfortunately packed and later gave to me… 🙂 they were very useful now 🙂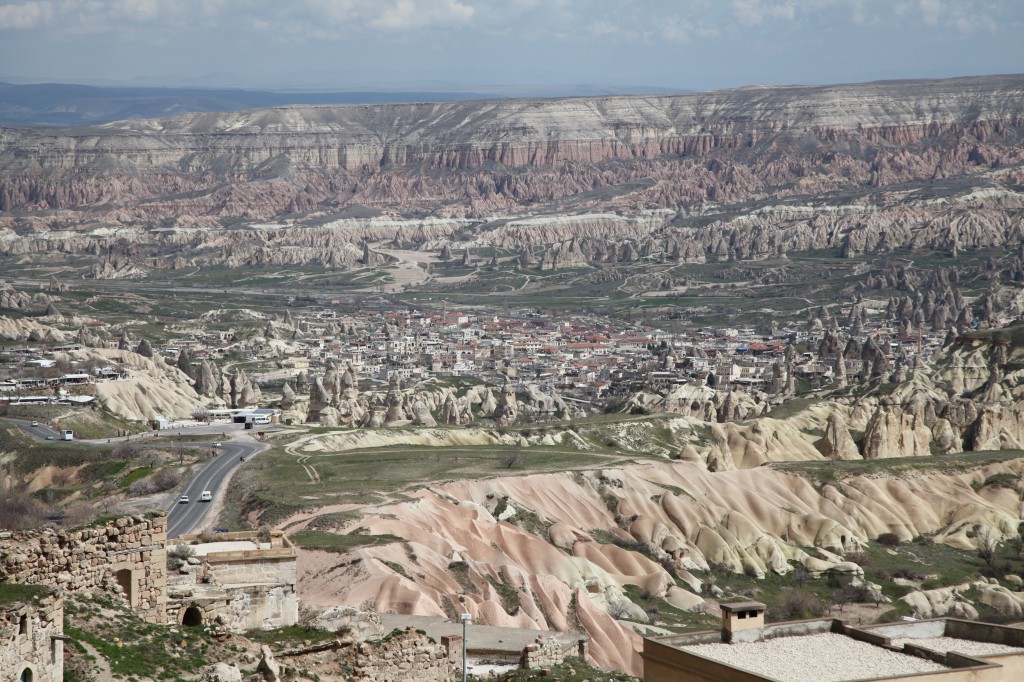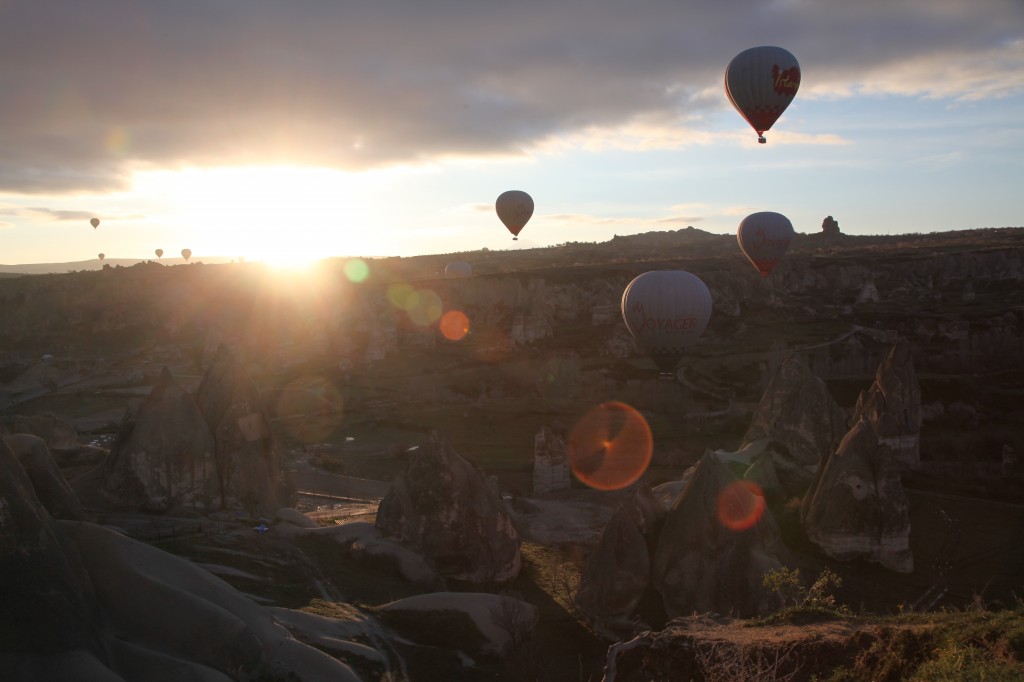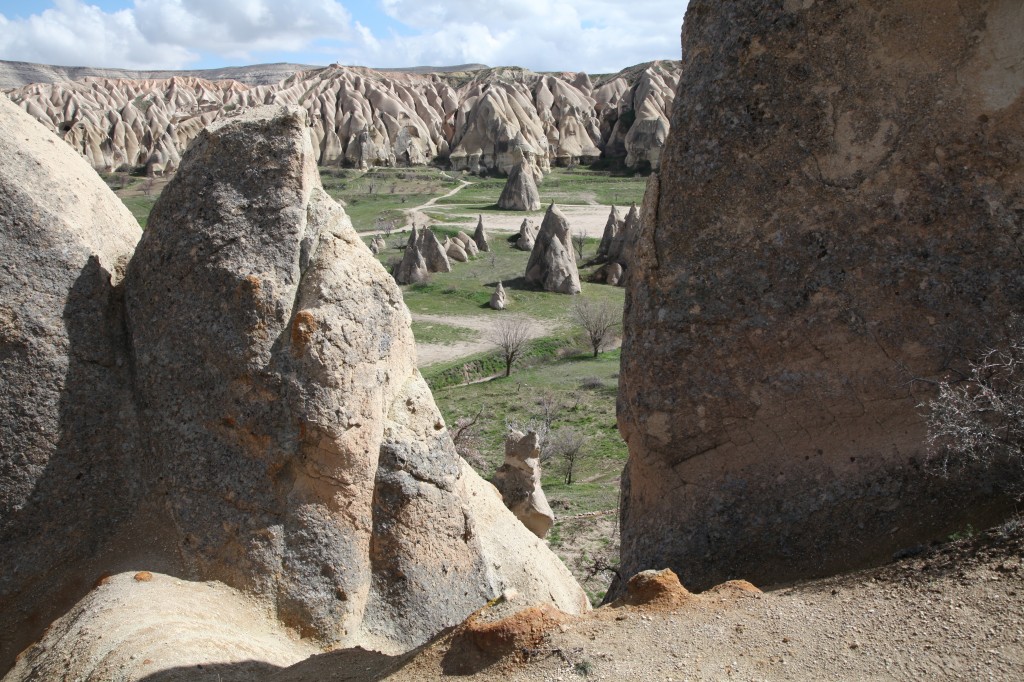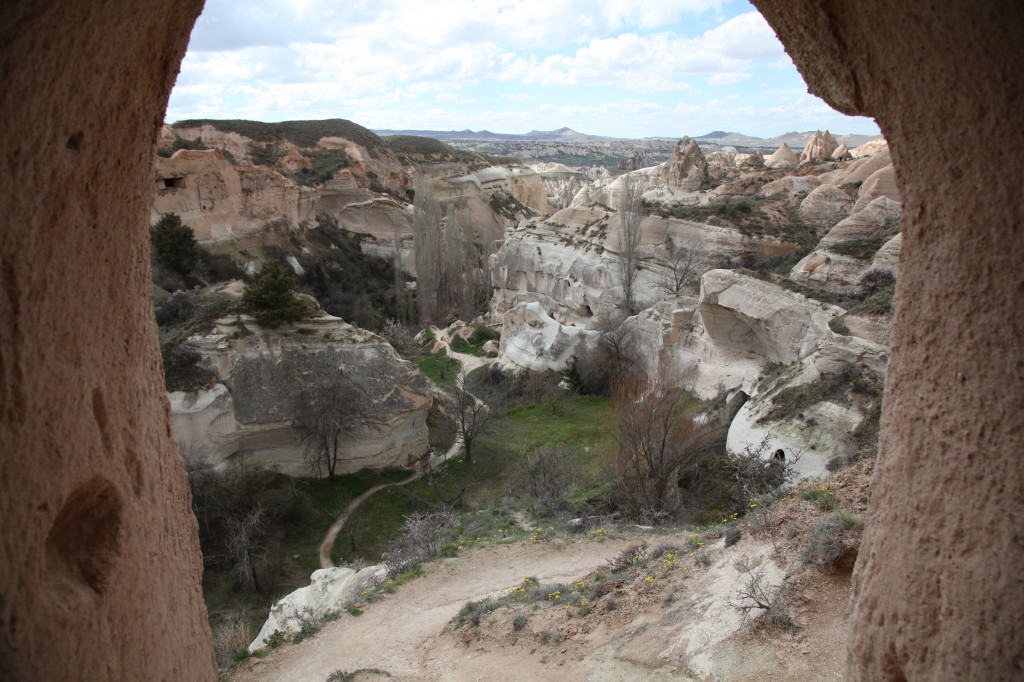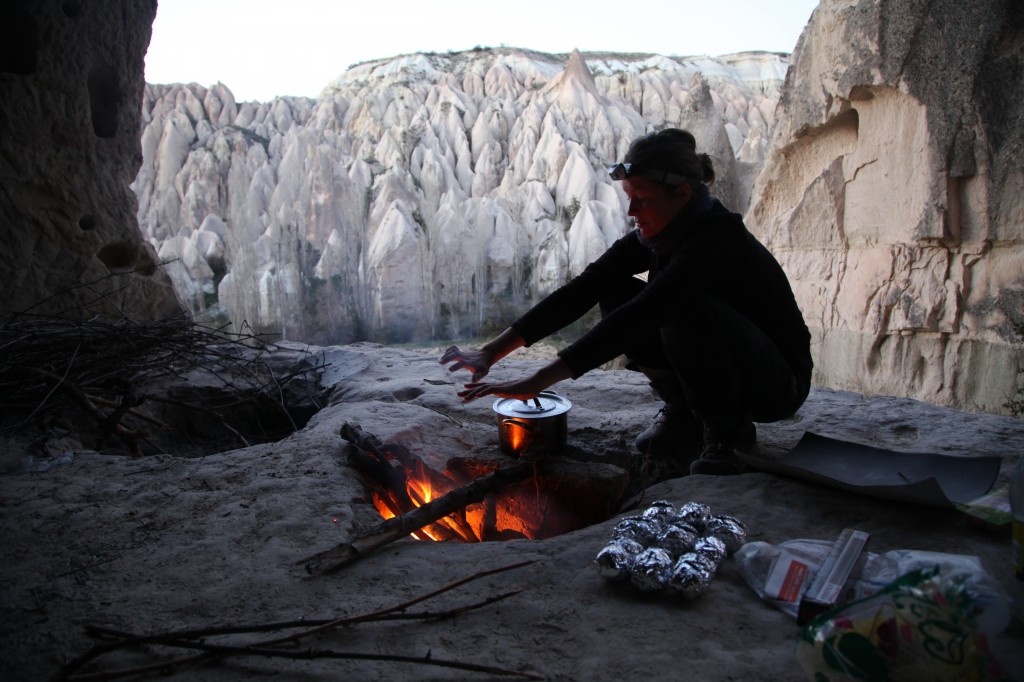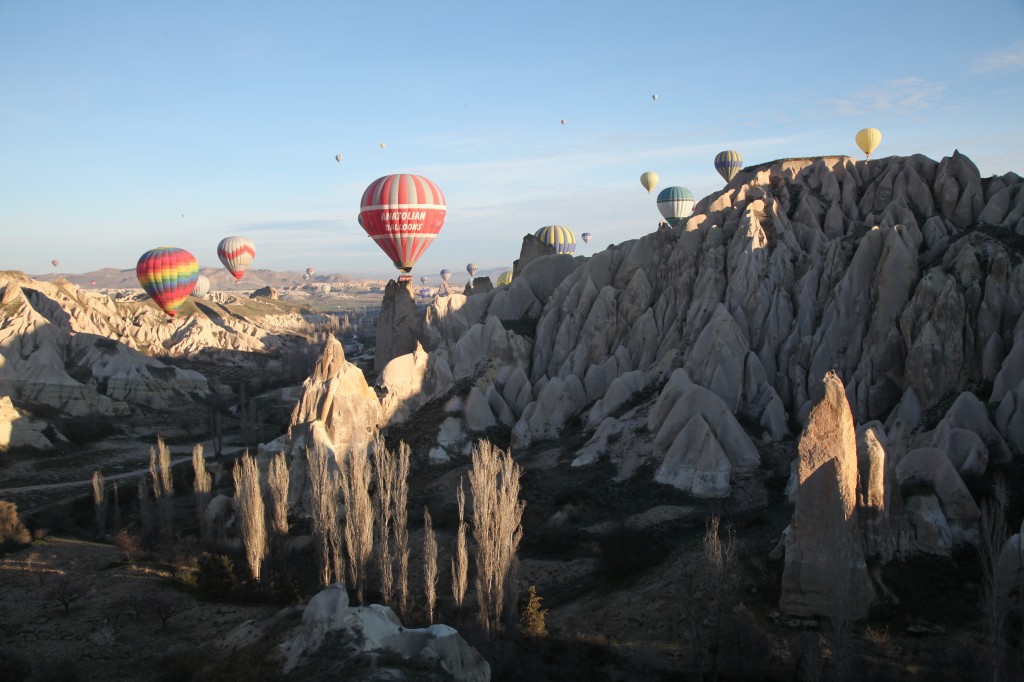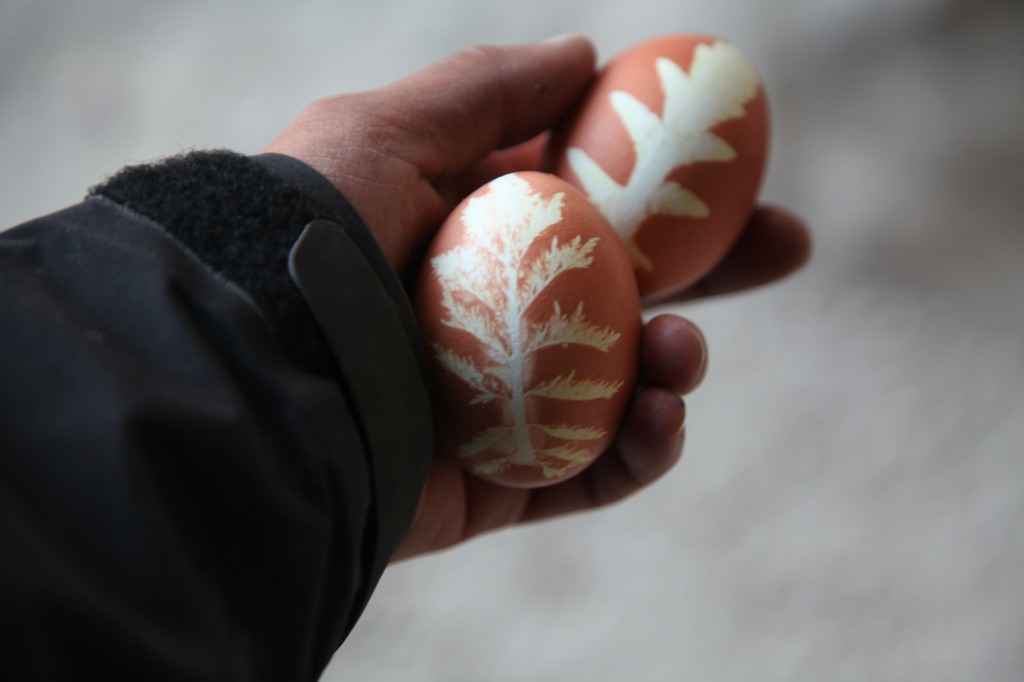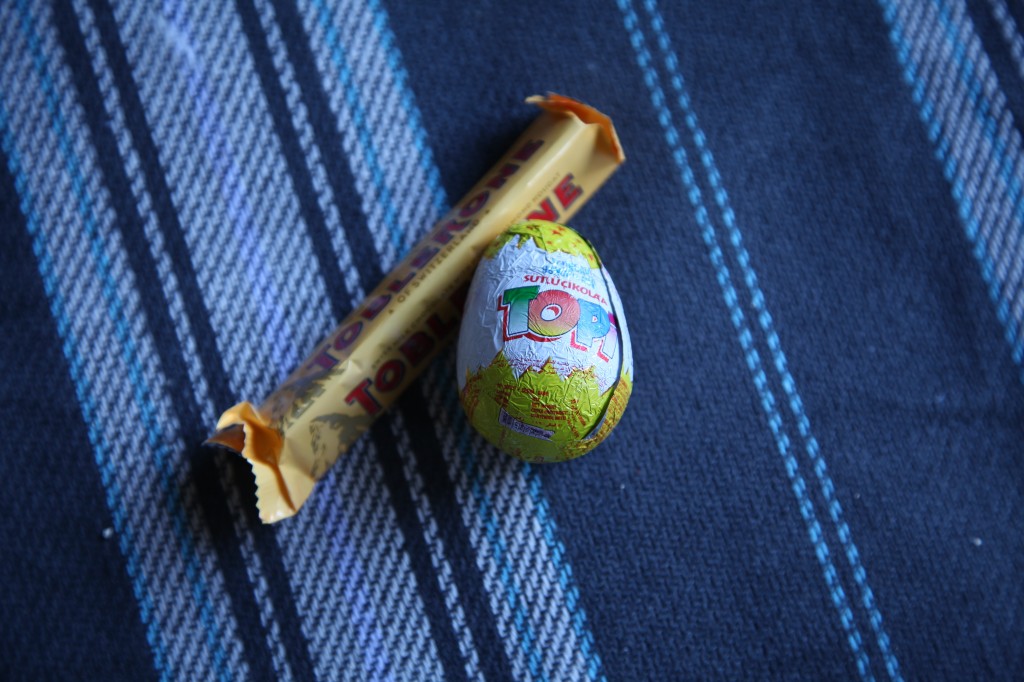 After two nights in the caves and a little fall of temperature, I got some energy back. My motivation is here again, and so i cycled (on the main road of course) towards Kayseri. But stop, what's that? A tent right next to the street? A hilleberg Nallo 2 GT?! That must be either a backpacker or a touring cyclist… I stopped, walked down and met Davide and his girlfriend; the touring Italian couple I already heard about some days before! 🙂
The same day I reached Kayseri and could spontaneousely stay at Bayrams place, thanks to warmshowers. THANK YOU very much, Bayram! So I was ready for the mountains, that will come now. After Kayseri the road already ascended up to about 1600m, and after Pınarbaşı it would have gone up to 1900m. The landscape is very meager, kind of a high plateau, and guess what: there was a lot of wind. I started after lunch in Pınarbaşı with tailwind uphill 17km/h (uphill!!), but unfortunately the road turned that tailwind turned to sidewind. First I pushed my bike one or two kilometres, but as it started to get impossible, I hitchhiked.
The first truck stopped and picked me up. Wow, great! Together we managed to put all my stuff into the truck, it was very difficult because the wind was extremly strong! It was that strong, that my handlebar-bag was blown away when I placed it on the ground (and that contains my 1.5kg heavy camera and other stuff)! The lorry driver dropped me off 20km later, because I wanted to cycle small roads instead of following the highway again. In the small town on 1720m above sea level I could pitch my tent in the wind shadow of the gas station (once again). Hopefully the weather would be better the next day?
Yes, out of side-/headwind got tailwind. I flew the morning from town to town, until I could see no road anymore. Which way to the next town? I asked local people, and was invited for lunch. Uff… Thanks! But then they explained that theres just no asphalt – if I would follow the traces of the tractors I would reach the next towns. Well, it was a little difficult, but the direction was perfect.
In Kangal I had a blast with the crew of a Lokanta (small restaurant), where I was camping next to it. And I met a lot of dogs. Kangal is famous and I think the centre for its Kangal dogs… These dogs are huge, and they are the Turkish shepard dogs. That you can imagine their size: they are about as big as my bike. They look scary but they are very friendly and clever. So far no problems with dogs…
While speaking about problems: My already second kickstand broke. Hmmm, seems to be a heavy bike. Thanks to the great idea of Astrid and Jude – copied already by Charlotte and Eric – I made a kickstand on my own as well: Just put a large branch between the saddle and the road. Perfect!
20 Kilometers before Divriği, a car stopped in front of me. After the "where from, where go, etc.", Naciye and her father invited me to stay at their place in Divriği. Wow!! I wanted to visit the town anyway, and so I got a private sightseeing-tour around the famous mosque Ulu Cami. Then we drove to their house, I was invited to have shower and a very delicious dinner. I stayed two nights with this family, it was an amazing time! The showed me lots of old and famous houses of Divriği, we met the whole family and I was invited to eat lots of turkish dishes… THANK YOU VERY MUCH AGAIN for everything, teşekkür ederim!!
In Switzerland spring is coming. But here, I arrived in winter again. In Divriği, big snowflakes fell from the sky. And while climbing the passes, the temperature doesn't really climb with me… No problem, I still have my winter clothes with me – but it's unfamiliar to wear them again. 🙂
Today I did not cycle very far. Spontaneously as usual, I decided that I will take the train from İliç to Erzincan. There are not a lot of trains in Turkey, and I think it's something special. The route follows the Firath river (so the road does), and I think this will be a very beautiful ride. Tomorrow I will meet Davide who is already in Erzincan, and a German cyclist who will return from Trabzon with his Iranian viza. And right now, I stay at the train station in İliç, writing my blog, and hopefully camp here the night. The men from the station told me, there were two cyclists (French and Austrian) just two weeks ago! Okay, now I am really on the cyclists track!