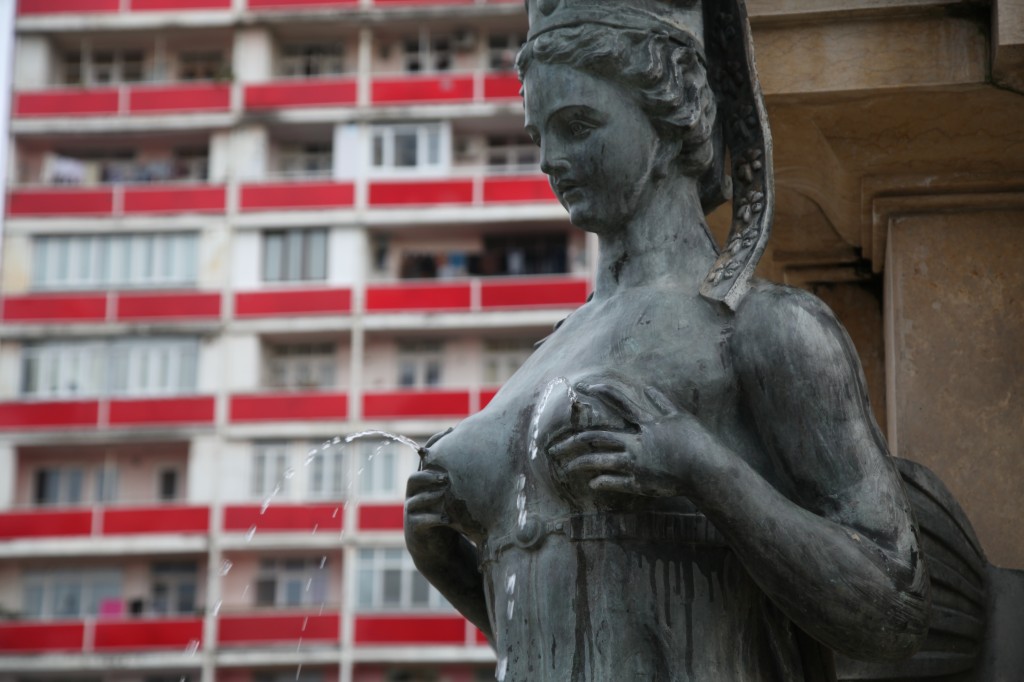 It has been a long time, since I shared some stories with you… A long time in which a lot happened. That's why I divide my post in two parts.
Let's start in Ilic where I took a train. First of all: No, this is not cheating. It's just a part of my travel. I do not approach to cycle every single meter to China. 🙂 No, I just want to enjoy every day on track and spend time with good people.
Ilic-Erzincan, 2.5 hours ride through an amazing valley, 5 Lira, breakfast easygoing in the train. Thanks again to Ihsan and Oguzhan for hosting me at the station, this was really just great! In Erzincan I spent the whole day with Davide (check Davide cycling the world on FB) at his couchsurfing host. Nice to speak again to another cyclist and learn about his way of traveling! We compared our gear, fixed some things (btw, I am becoming the Hilleberg-emergency-aid on the road…), cooked spagetti, etc. Later in the evening, Simon from Germany joined – and so we were three individual cyclists at the same host. Funny!
I guess, I saved probably one day by taking the train. But doesn't really matter…
After Erzincan, Petrus meant it very good. Four days of wonderful weather in a row: YAY! And this with perfect timing, cause I had to climb three passes, one each day. The weather was great and the landscape even better (I felt like in the engadin valley when I left Erzincan).
No. 1: Climbing up to 2120m, fit thanks to the day off, road in extremely good condition (recently built). Hidden campspot afterwards in the Valley next to a small river. Got the famous Koeme in Kelkit as a gift from the shop I wanted to buy them (expect this once in Switzerland?!).
No 2: Climbing up to 1910m, easily cause it was not very much of climbing and not really steep. Going down more on the other side than climbing up first (= climbing more on the next day). Landscape still amazing. Campspot right in front of a small village, near the river – it was one of the rare flat areas. I stopped pretty early, prepared some coffee, and relished the sunny day. Of course, the owner of the property showed up (and invited me to their house), but it was no problem to stay there: Aydiner and his family just dislocated their tea after dinner to my place. They turned up with a big plate with bread, olives, honey, helva and of course a big thermos bottle filled with cay.
No 3: Climbing up to 2280m, my map indicated only 2010m (thanks a lot Marco Polo publishers!), road under construction or just in a really really bad condition, in addition quite steep. For the last part I got asphalt again, but the last rise was exhausting. I had to push my bike because they rather built a steep slope than serpentines. Well… And on the peak, I realized that the road I wanted to ride down was closed due to snow. Oh, sh…! I missed Sumelas Monastiry and had to ride down another route to the black sea. That road condition: mostly okay but for about 15km horrible – speed approximately 8 km/h. Campspot in the forest, bird-concert in the morning hours. That was the moment, when I realized that I hadn't seen forest for a looong time!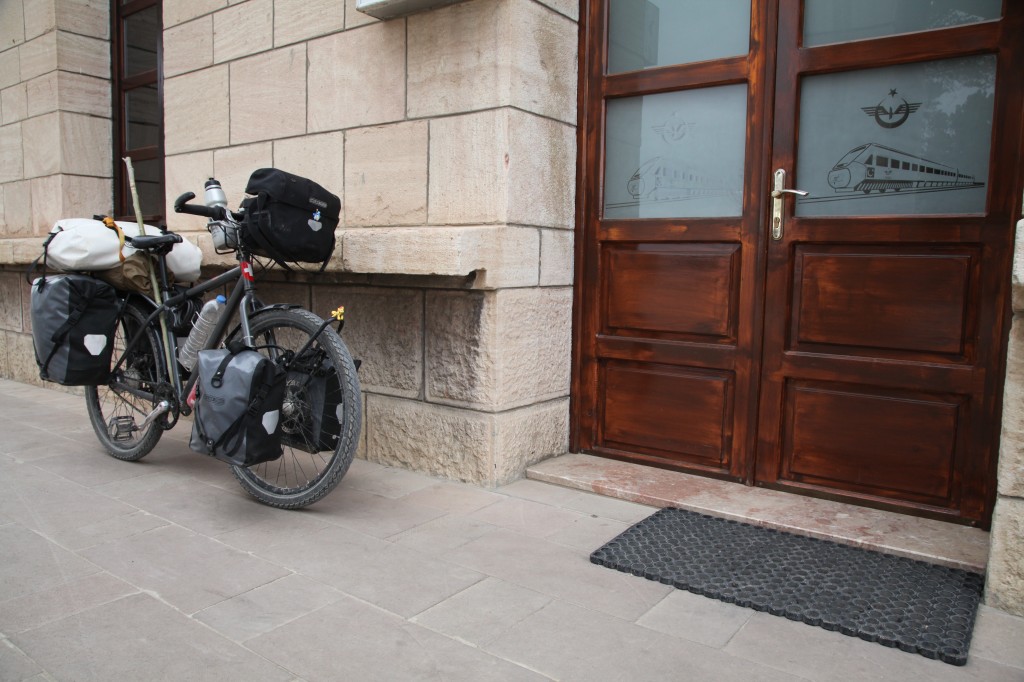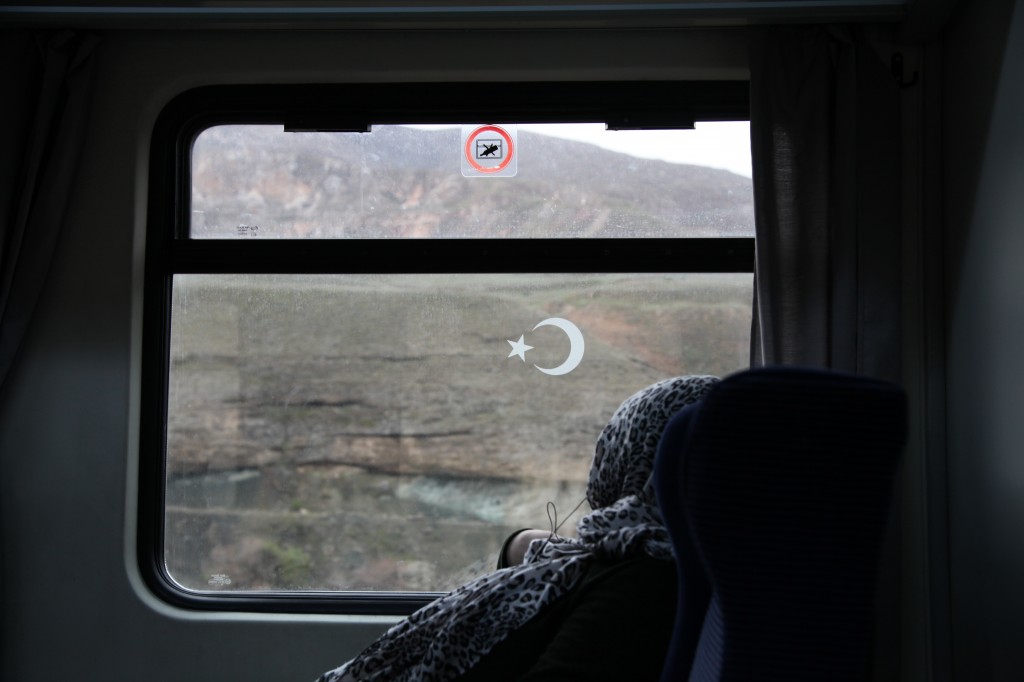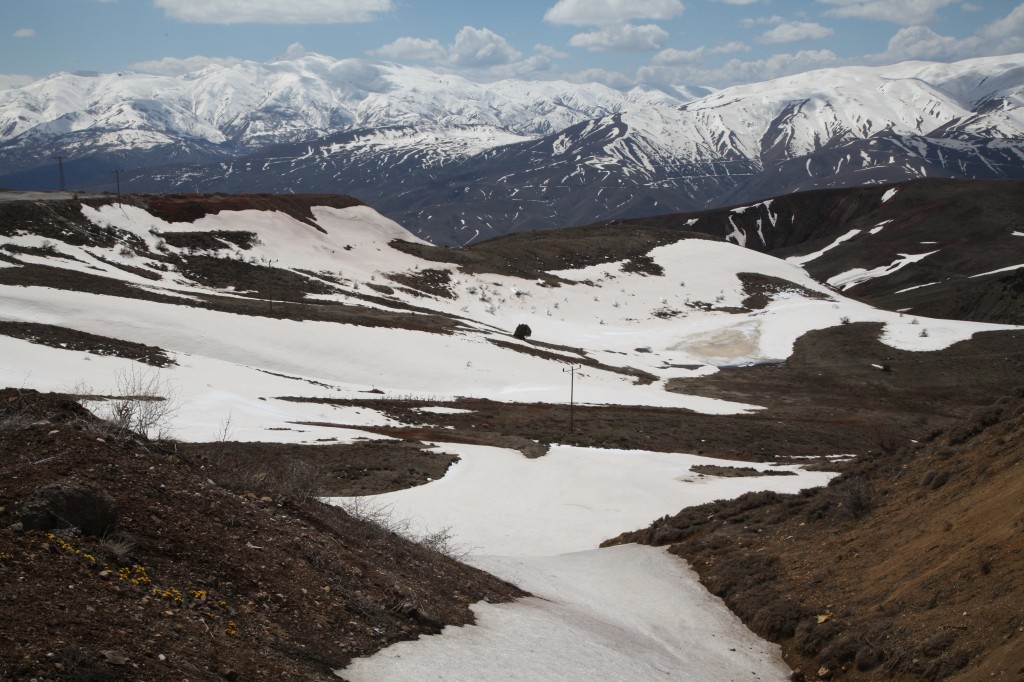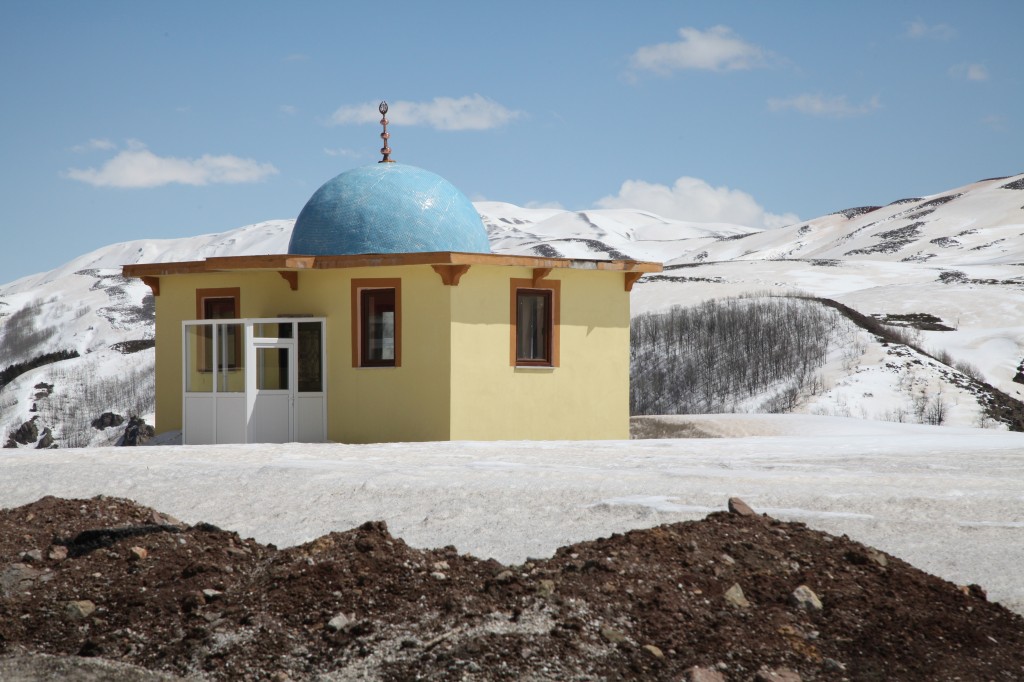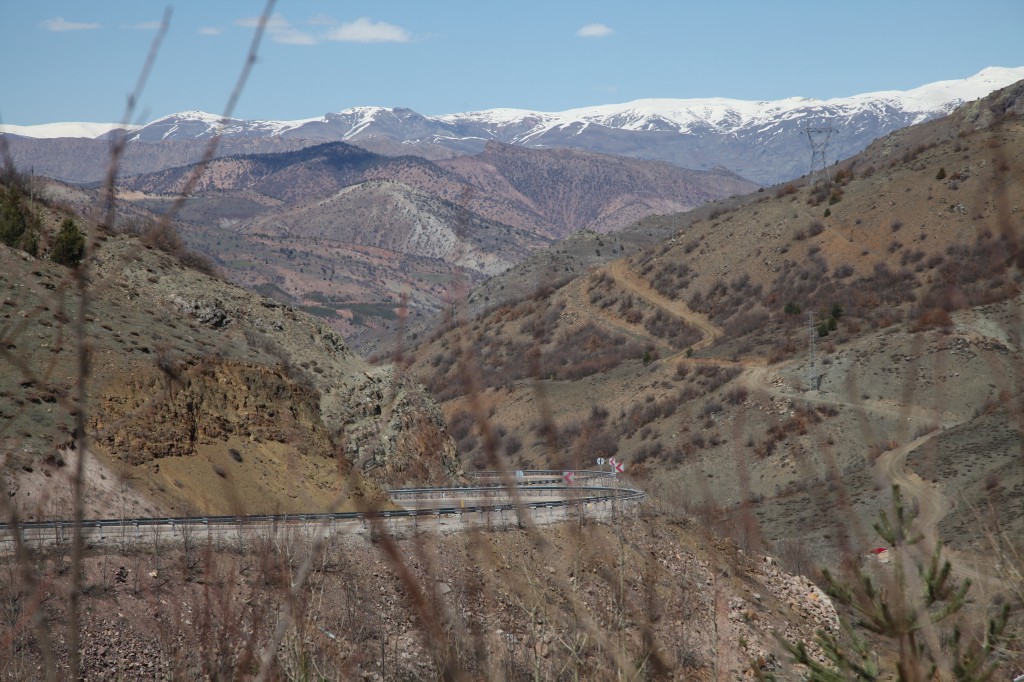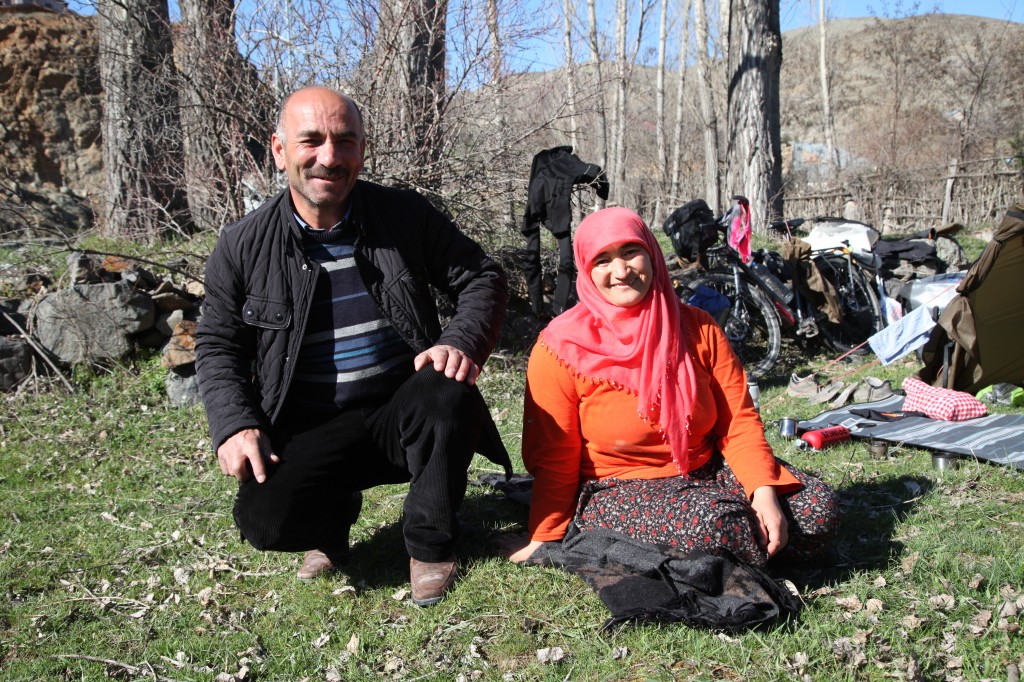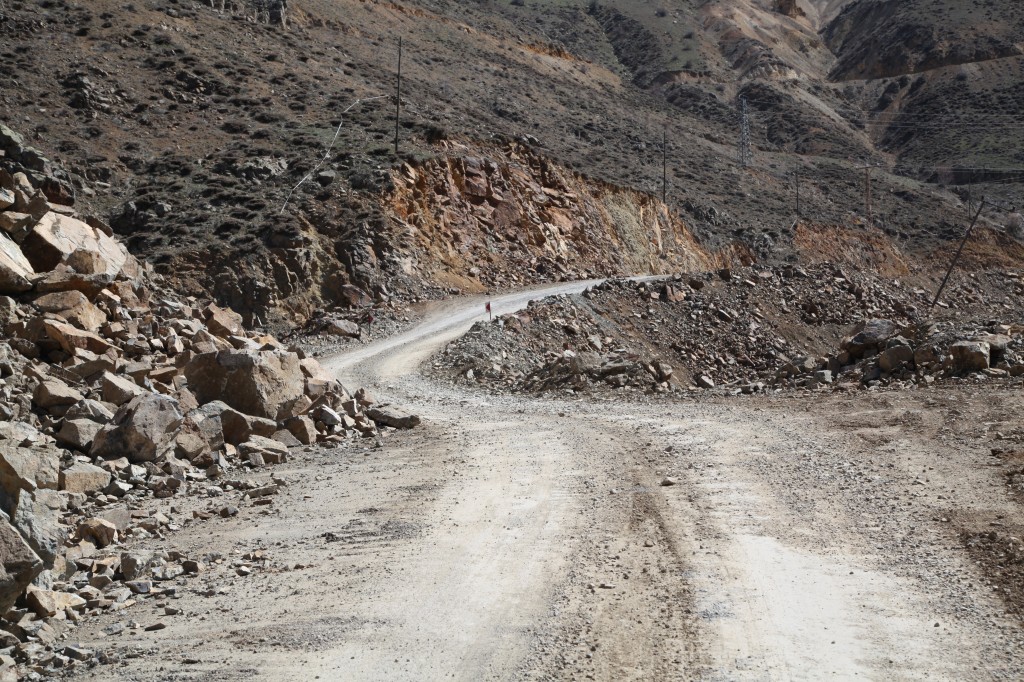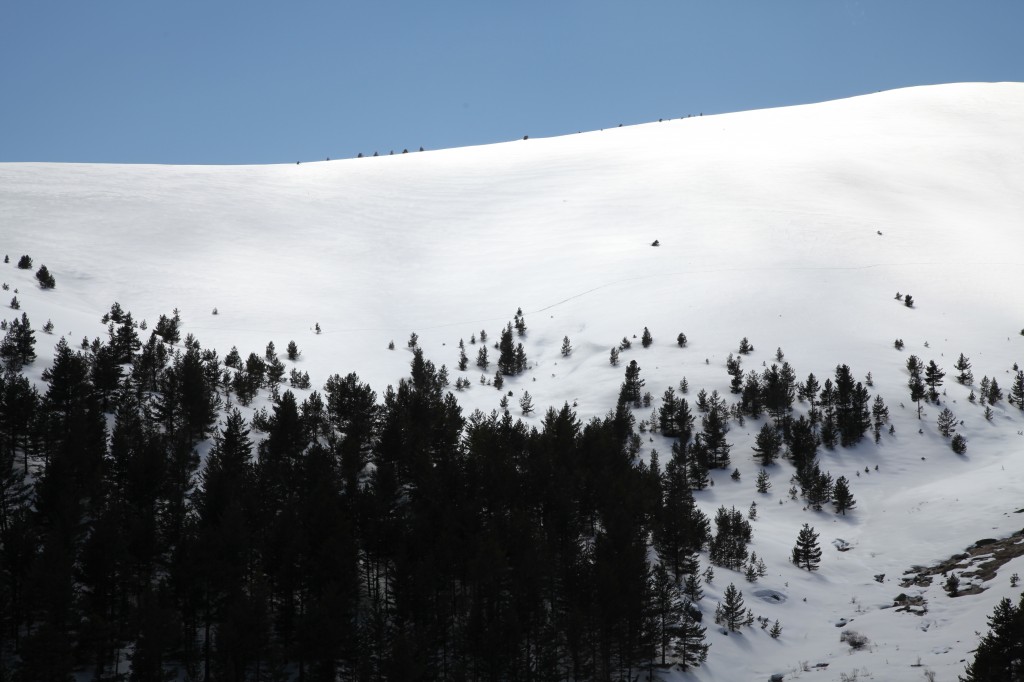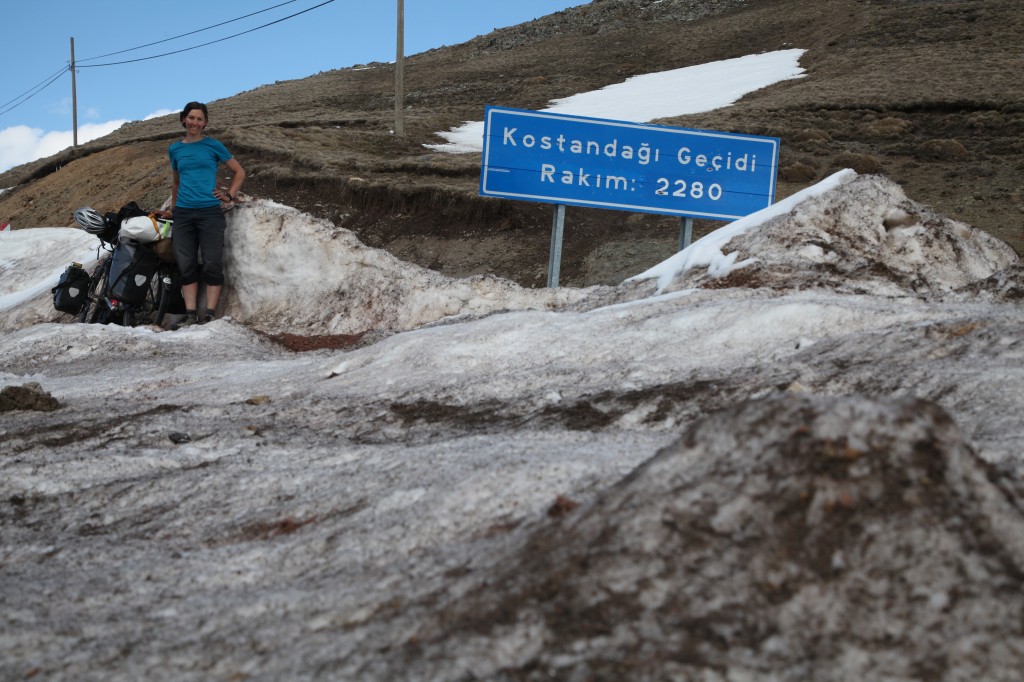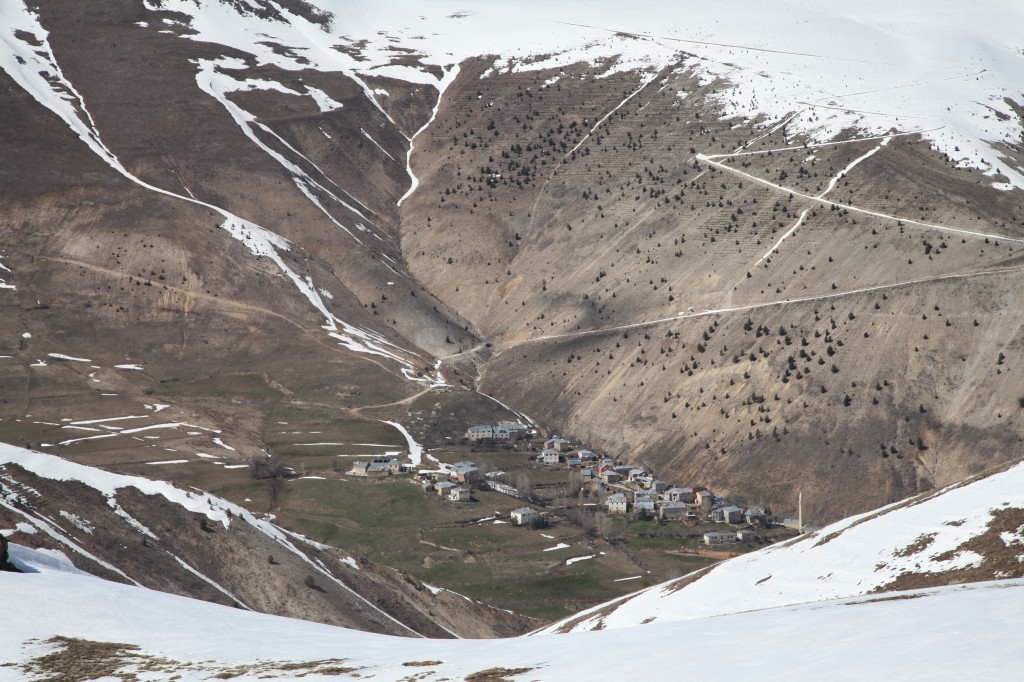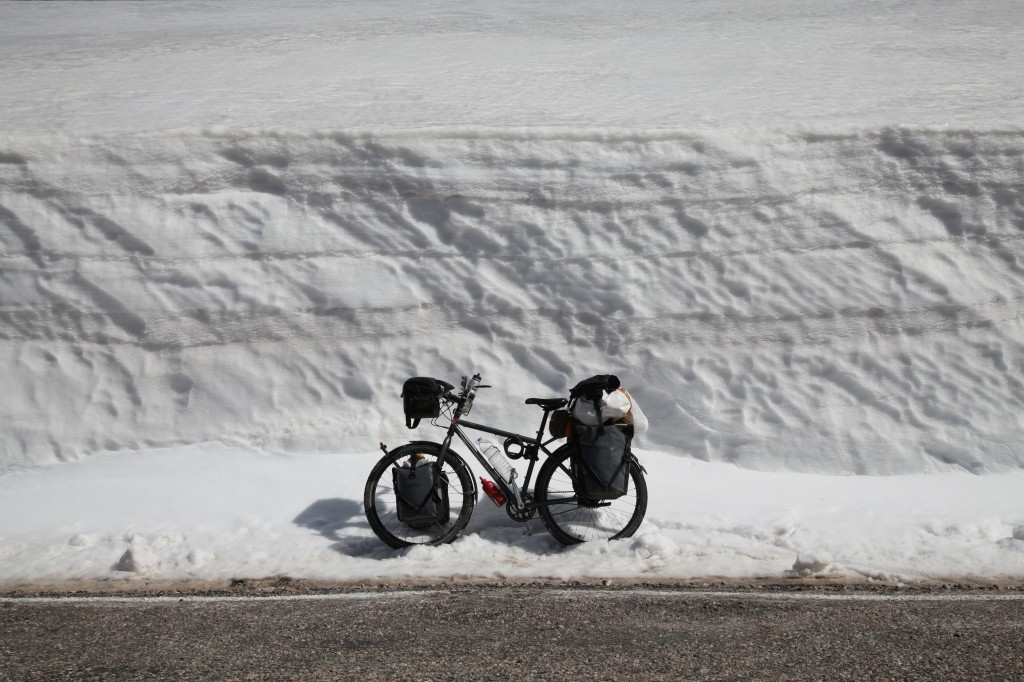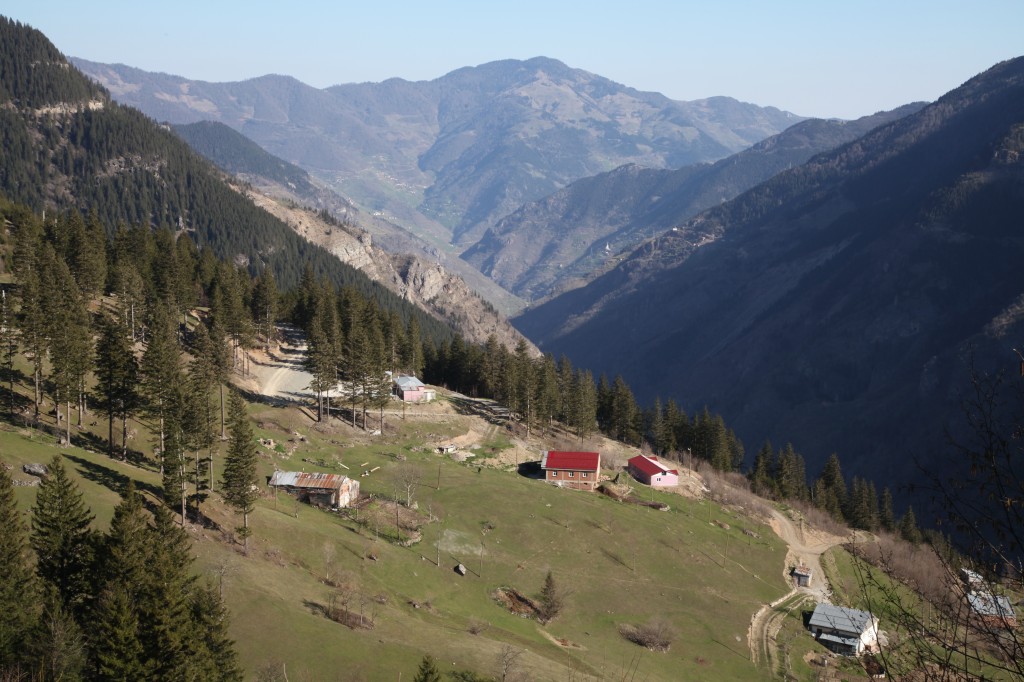 I woke up in the morning, rolled down around the next curve and had an amazing view: I felt like at home again! Mountains, green meadows, cows (no sheep any longer) and a bunch of scattered houses. Just great!
But soon I reached a different landscape. Coniferous woodland turned into hazelnut trees. Hazelnut everywhere – for one hour of ride. After that, hazelnut disappeared and cay (black tea) plantations began. And the temperature rose… The evening before I wore my down jacket and beanie – and now the chocolate in my handlebar-bag began to melt! It felt like an increase of twenty degrees from one day to the other. Already before noon I reached the coast of the black sea. Ice cream, please!
The ride along the coast was amazing. Hot (for the first time since the south coast again), sunny and with a view to the snow covered peaks. The sea on the left hand side, hills with cay bushes on the right hand side. In between the completely flat road – but unfortunately crowded with a lot of truck. The good thing about the highway: Mostly I had the emergency lane on my own. 🙂
While coming to the Black Sea coast, not only landscape and climate did change. No, I felt like i a completely different Turkey! I was quite used to the simple Anatolian way of life and the small villages. Rize, the first city on the coast I cycled through, was like too much for me. Such a change in one day of cycling! A very busy city, lots of young people and students, women who don't cover their hair, huge assortment of fruits and vegetables on the market, cars drive regularely on the marked lanes, and so on…
On my last evening in Turkey, I experienced Turkish hospitality once again. As I tried to hide in a small valley a little apart from the main road (means there was a small town), girls on their bicycle followed me. Of course, I could not camp on the spot I found – instead I followed the girls and their parents. I was invited to camp in their garden, guarded by their dog to protect against wild pigs. 🙂 Thanks again very much, Tarkan & family, for the great hospitality!
At this place I have to mention Simon. One of the first questions Tarkan, his wife Zeliha and his neighbour Yakup asked, was if I knew Simon. Simon who?! Simon, a French cyclist stopped exactly in the same village and camped in Tarkans garden just like me – approximately one month before I stopped there… Does anyone out there know him? Met him on the road? Well – dear Simon – regards from the town in Turkey, if you ever will read this once! 🙂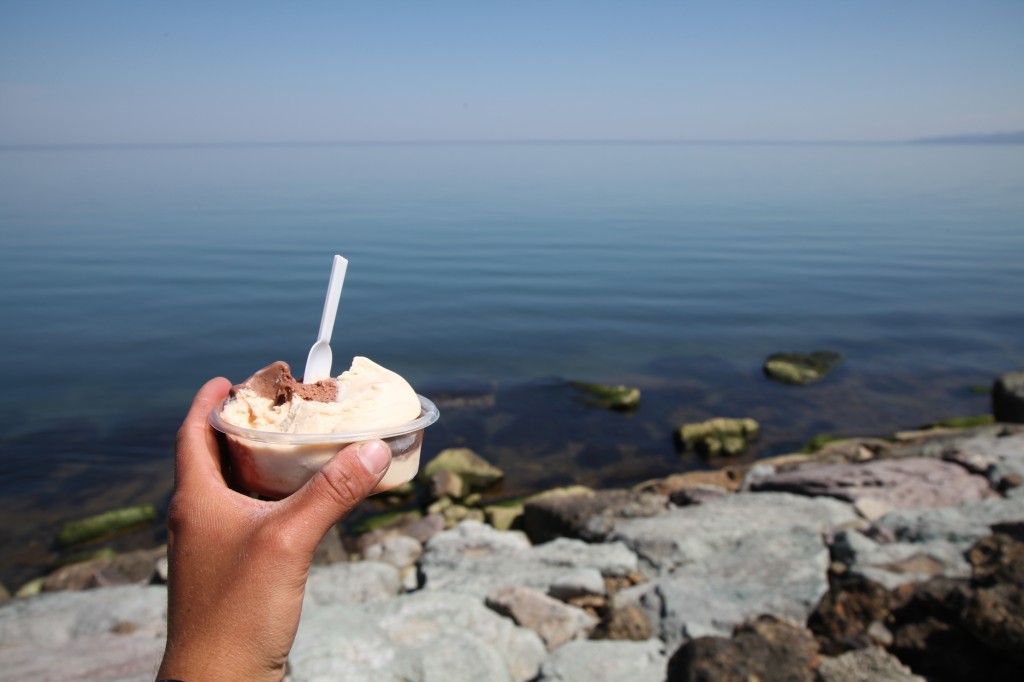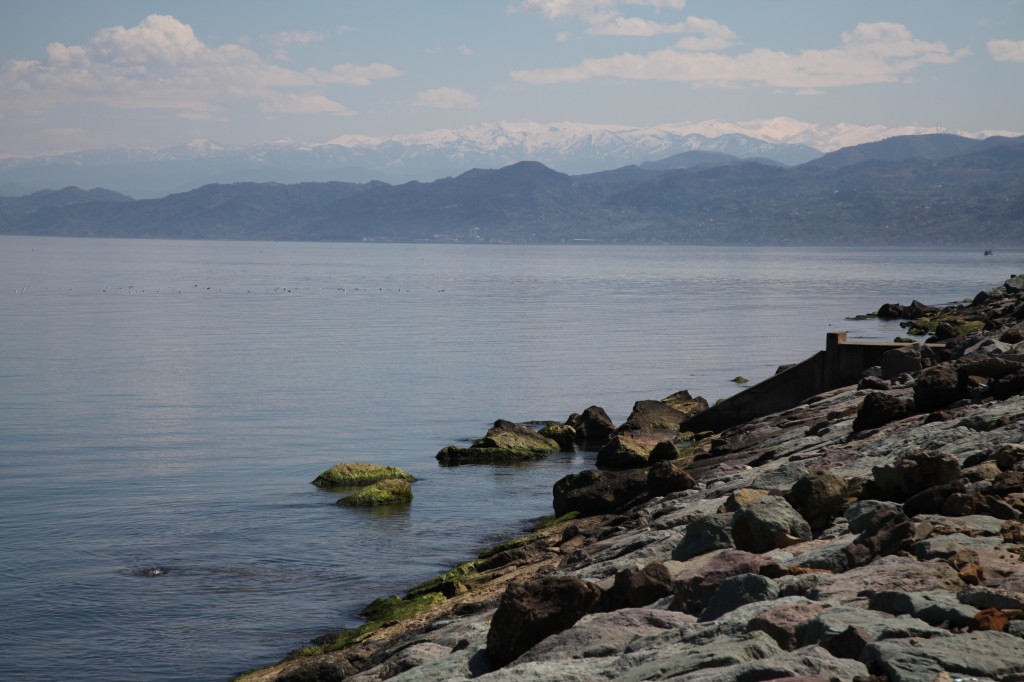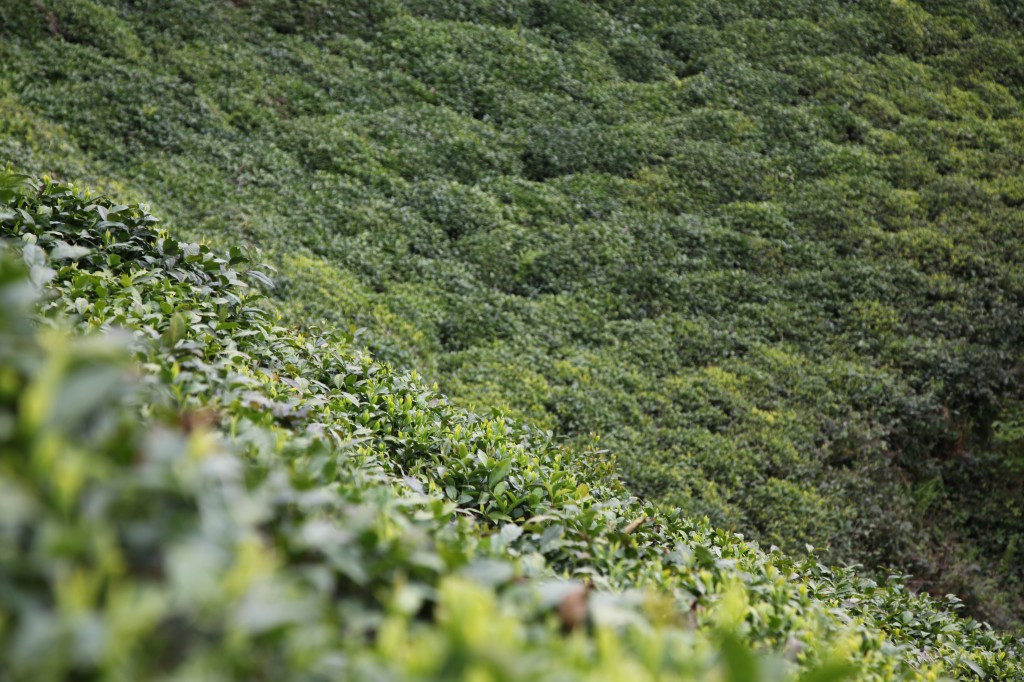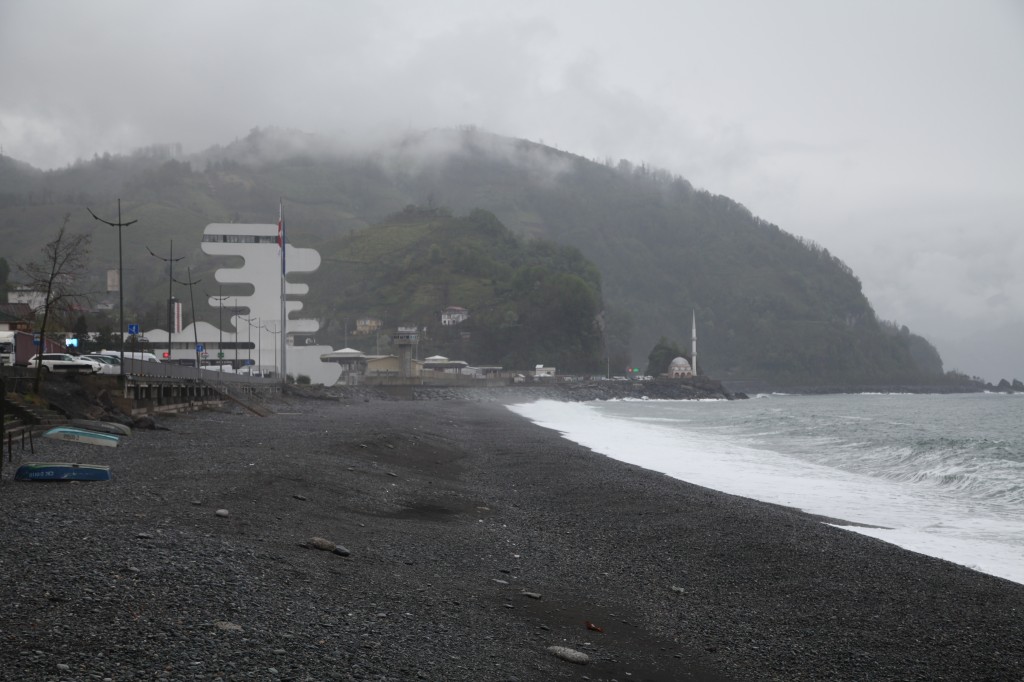 The (famous and architecurally special) boarder to Georgia I passed easily. First stamp in my passport, cool!! Batumi, ech Batumi. I spent five days in Batumi, waiting for the visa to enter Azerbaijan and for the rain to stop. Five days of rain meant five days of reading and drinking coffee for me. Coincindentally I met Sam, a fellow cyclist from UK, and his hostel-roommate Konstantin from Russia. It was a pleasure to meet you guys!!
Batumi was the first Georgian city I saw. Exciting – and at the first sight I had a small shock. Okay, I am definitely not in Turkey any longer: Women do not cover their hair at all, put make up and wear short skirts and high heels. Publicity next to the road is sexually explicit (is it like that in Switzerland?), cars are fairly damaged (is there a correlation? Well, later I found out that cars all over Georgia look like this – not only in Batumi where you can find ads) and traffic is crazy.
The city itself is not very old. I think, it began to grow around 1900 when the railway between Caspian and Black Sea was built. That's why the old town is quite new, and with a special charm. Along the seaside new buildings spring up like mushrooms.
After one week in Batumi I left with my Azerbaijan visa in my pocket. Unfortunately I changed my plan. I would have loved to climb up the mountains to Akhaltsike. That meant to cycle on an unpaved road up to something around a little more than 2000 meters. But cause it was raining one week in Batumi – it might had been snowing that amount in the mountains. Well, Charlotte and Eric did that way while the sun was shining – and they told me it was already tough. I did not want to experience that with snow or mud thanks to rain…
On the same day I left Batumi, I cycled my fifethousandth kilometer. Somehow it's awesome, somehow it's just a number like everyone I read on my trip recorder in the evening.
Georgian landscape was amazing. From the lowlands of Poti, you're always able to see the Caucasus. The road was not as nice as that. Lots of trucks again, lots of potholes, and old and stinky cars… Along the street you could always buy motor oil again, obviously one of the most important good in this country!
To avoid the main road connecting the Black sea to the Caspian, I tried to pedal on minor ones. I tried is maybe the right expression. First rolling up and down the hills through the countryside until Zestafoni was fine. To Kharagauli was okay, the road got smaller and the tarmac more crumbly. And after Kharagauli asphalt was lacking completely. Really, there was no surface at all! Potholes alternated with rocks, and of course I had to climb the whole section to Tsipa (on around 920 m). Not a long time after Kharagauli, I encountered this crazy guy with his horse. Altough my Georgian vocabulary was limited to Hello and Thanks, he stopped me for a talk and a glass of beer. Luckily I could refuse the beer, but instead he filled the cup with Chacha (= Georgian vodka). Gives me the energy for the ascent on that sh… road, haha! Chacha at half past ten in the morning – after that the slalom through loads of potholes got really easier… 🙂
The ascent to Khashuri took me more time than I thought in advance because of the road condition. Good about it: There was almost zero traffic. Probably about one car or minibus per hour. Fine for me! I enjoyed the green woods, good air and saw a snake for the first time in the wild.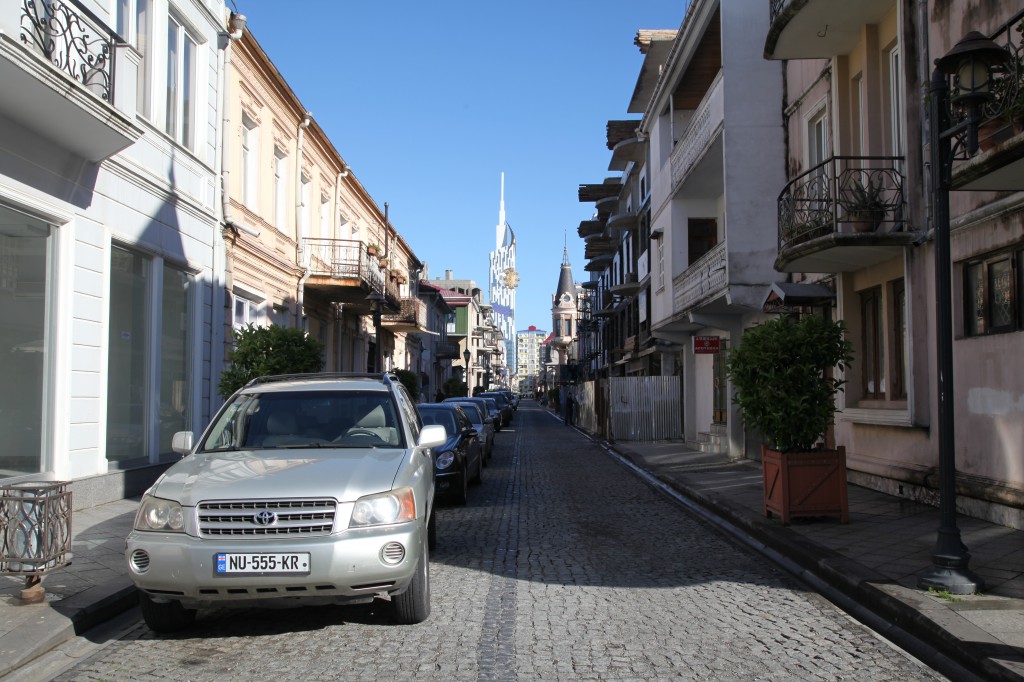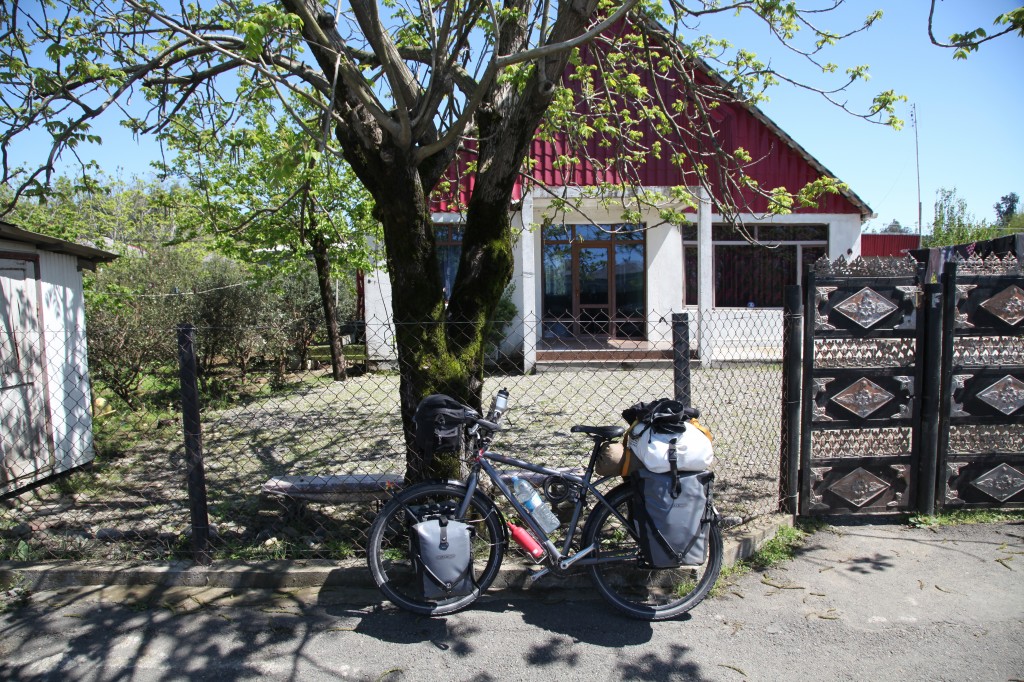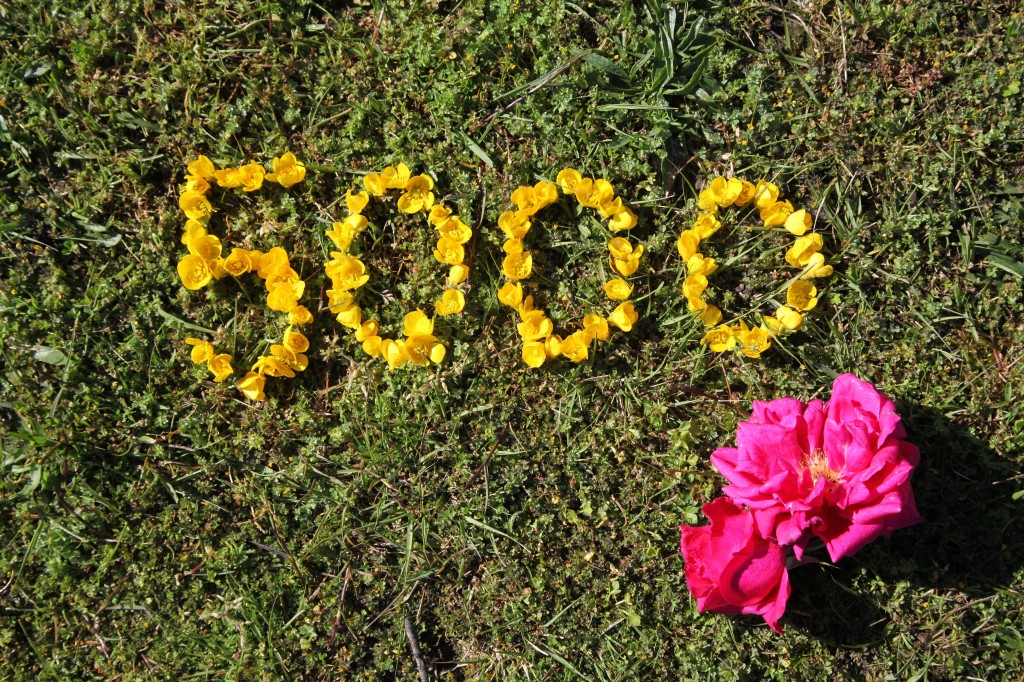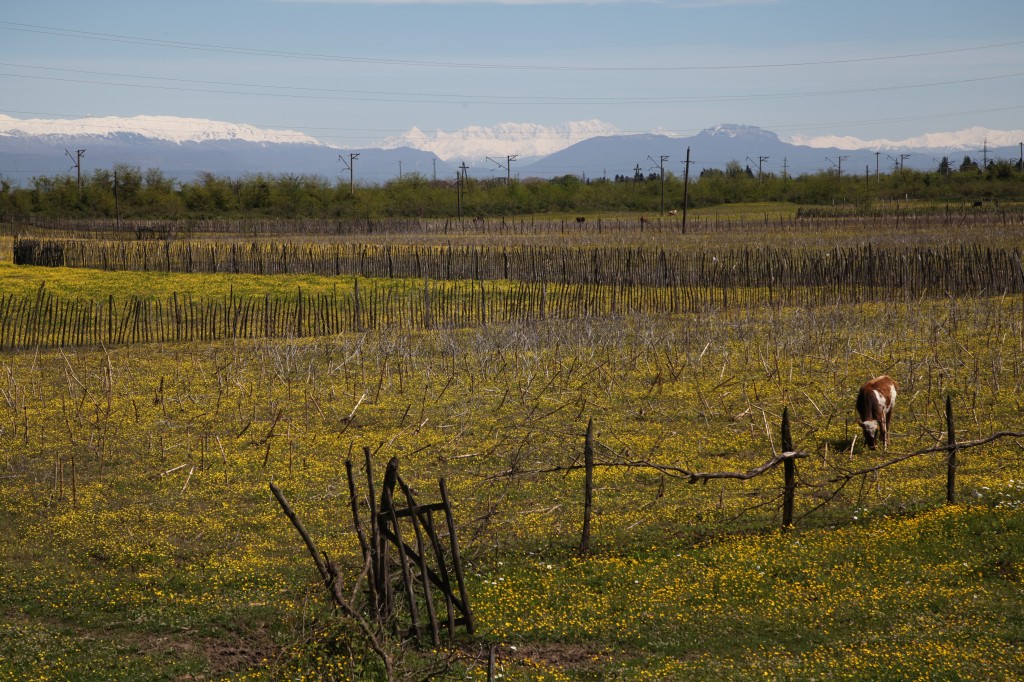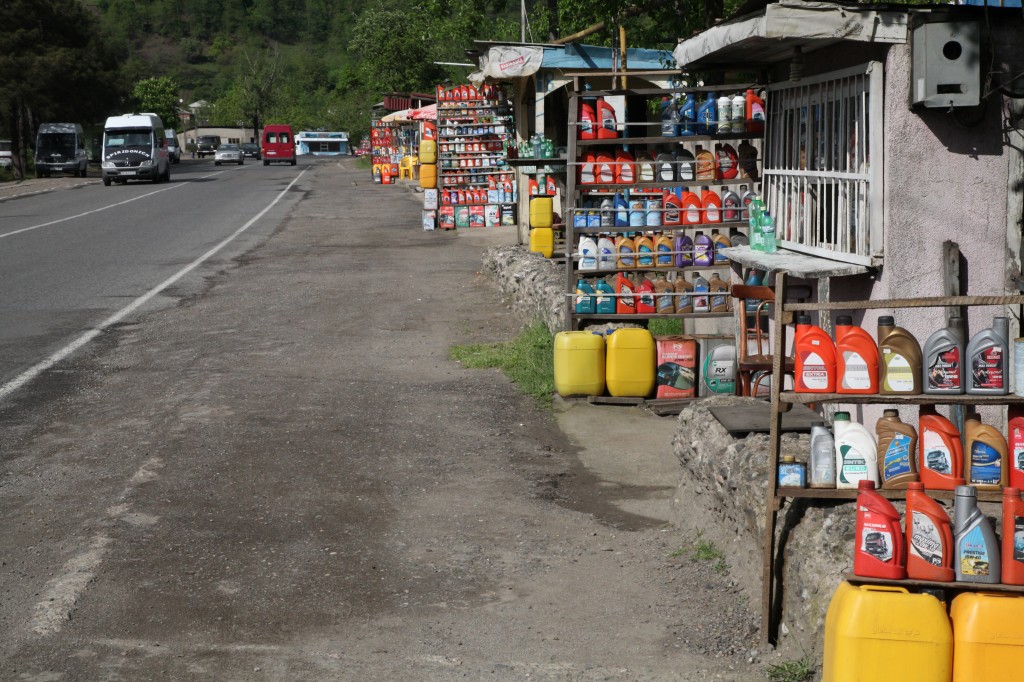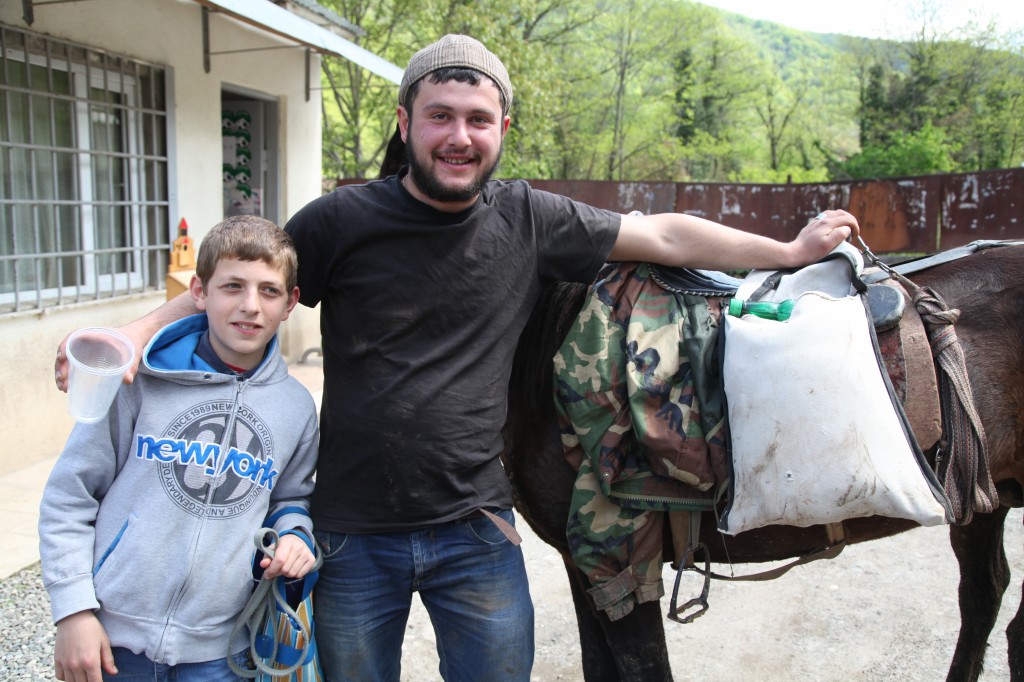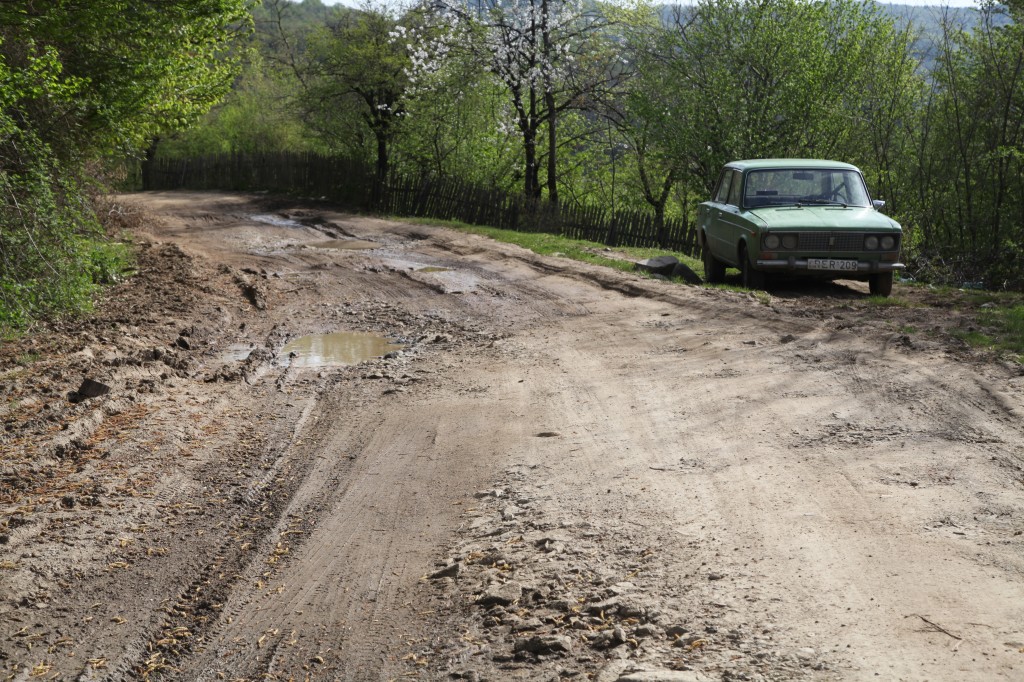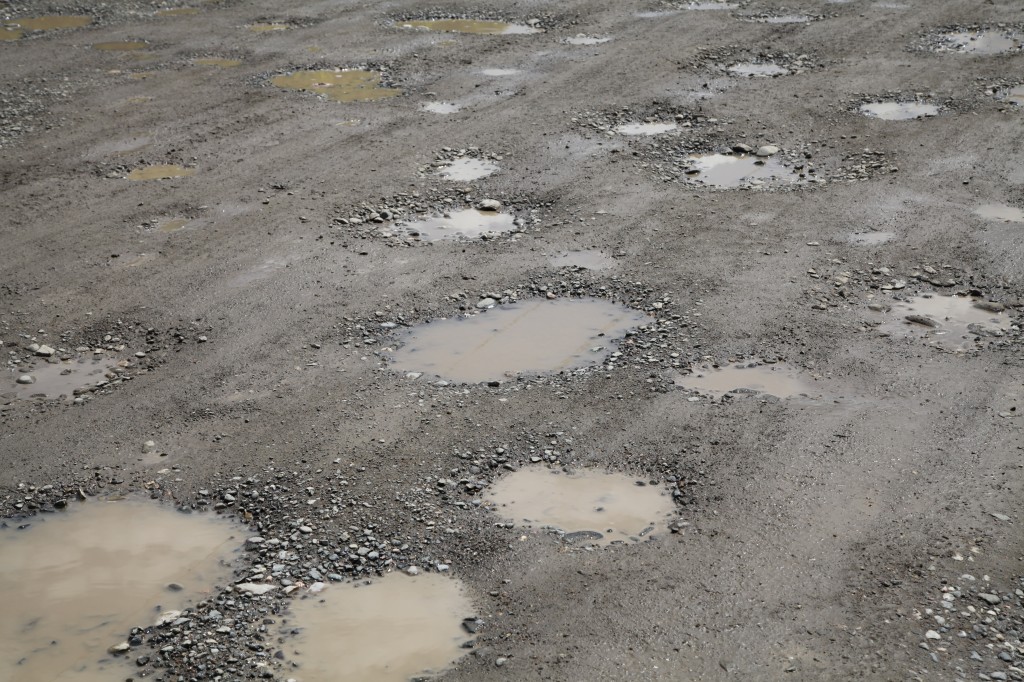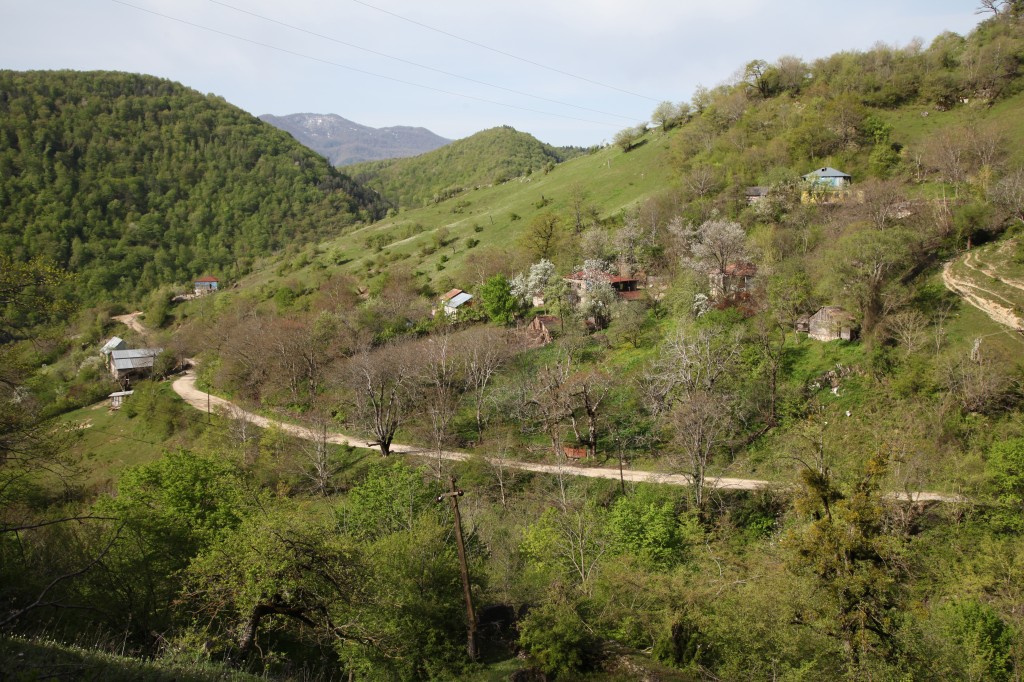 Borjomi. This decision took a long time… I wanted to see this huge national park, but on the other hand Franci would arrive in Tbilisi soon. Should I go or should I not go there? Tick tack…
At lunchtime in Khashuri, it was my spontaneous decision: Cycle the same day to Borjomi and stay two nights there. Then I would have to cycle a little faster to Tbilisi – but thanks to the really flat landscape and tailwind (!) it felt like normal daily distances for me. But let's return to Borjomi: I camped in the municipal park, the guy from the tourist office gave me this advice. 🙂 And the other day, I switched the saddle.
I spent one day on the back of a horse. Yay, the lazy option to wander around the national park! There were conifers again, and the hills were pretty steep and high, with great views to the small Caucasus mountains. Rain began to fall in the afternoon, I got really wet and cold, and so I went to a guesthouse for one night. Balm for the soul – and energy for the upcoming kilometers! At this place: Thanks for this really very funny spaghetti-and-wine-evening with all of you!!
The way to Tbilisi was amazing. The landscape was fairly empty, and the vastness impressed me. On some hills/mountains, churches survey the scenery.
Finally, I arrived in Tbilisi, and Patrick invited me to stay at his (or better at his sisters) place. I met Patrick & Irakli in Cappadocia, they were cycling as well. So cool, to meet them again! And THANK YOU VERY MUCH for the great hospitality, Patrick!!