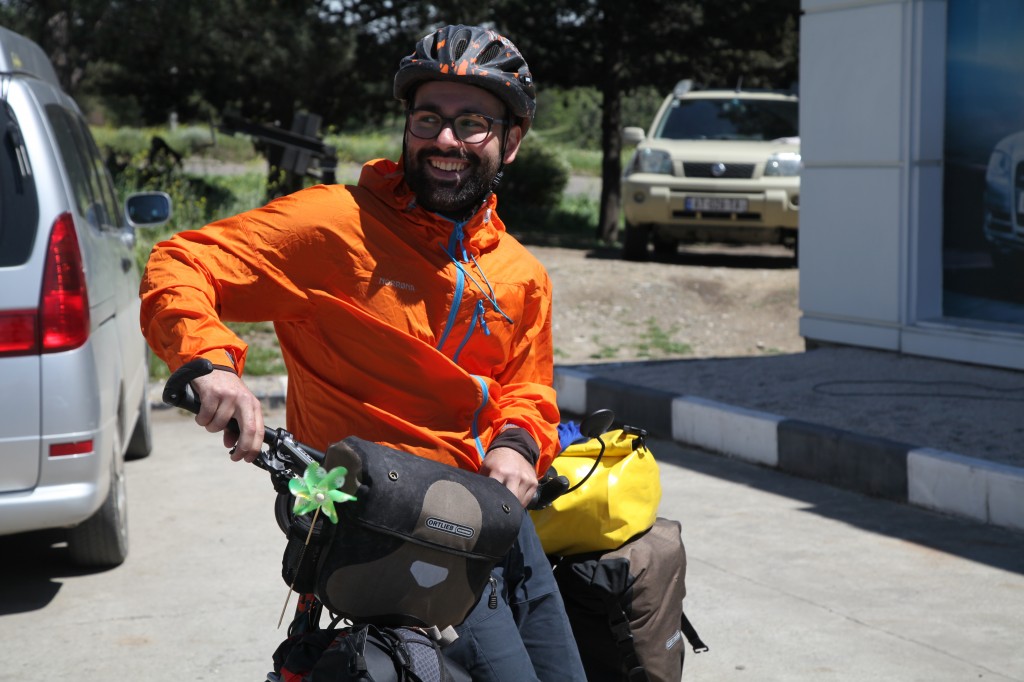 Welcome Franci!! Franci arrived in Tbilisi on the 3rd of May, he flew from Switzerland and will join me cycling at least to China. Yay, I'm looking forward to the time together!
In Tbilisi we had a good time. Patrik showed us around the city, some sights, and his family invited us for a delicious georgian dinner with homemade wine. This was amazing, thanks a lot again for the hospitality and your time with us!
Soon we left the capital city, Franci was really in the mood for cycling. Of course, I mean he joined me to cycle, not for a city-trip. So we left Tbilisi with good legs and very motivated.
I think, the first days were the hardest for Franci. I don't think about the physical aspect now. No, I mean he wasn't used to the traffic (it's really a mess, Georgian drivers a the worst so far) and the road conditions. And in addition, he wanted to pay attention to everything next to the road because everything seemed to be unusual/new/different to him – but he always had to keep an eye on the road. Okay, the two Lada's carrying coffins on their top looked also strange for me.
The first days we cooked a lot of Swiss food thanks to Franci. So cool, he brought even Fondue!!
We climbed a little up to Sighnagi, that was definitely worth to have a look. The panorama was amazing, and we saw the road for about the next three days down there in the flatland. Our route guided us through lots of typical Georgian towns and wineyards in Khakheti. Lovely! Thanks to the date on the Azeri visa, we had enough time to spend in that region, wine tasting included. And on our last day, we finally accepted an invitation to have a strong drink (in the morning). Okay, it was a missunderstanding, Franci thought that the guy next to the street was joking about his beard (but instead the gesture meant drinking) and stopped because of that. We got something like Grappa out of a fuel-canister for Franci, lemonade for me, and then a bottle of homemade white wine. 🙂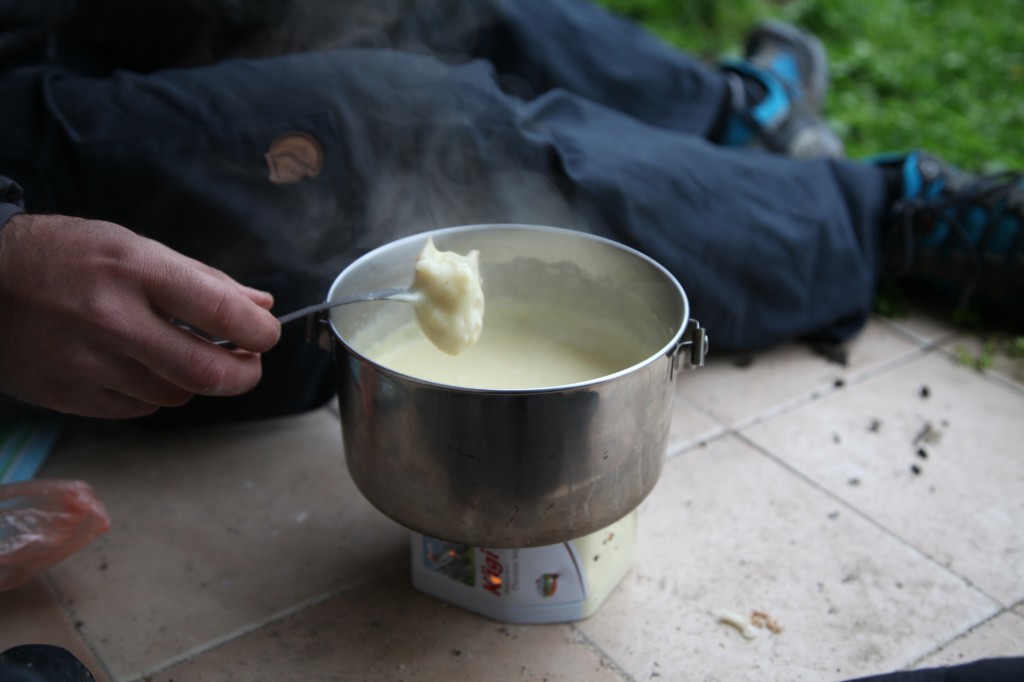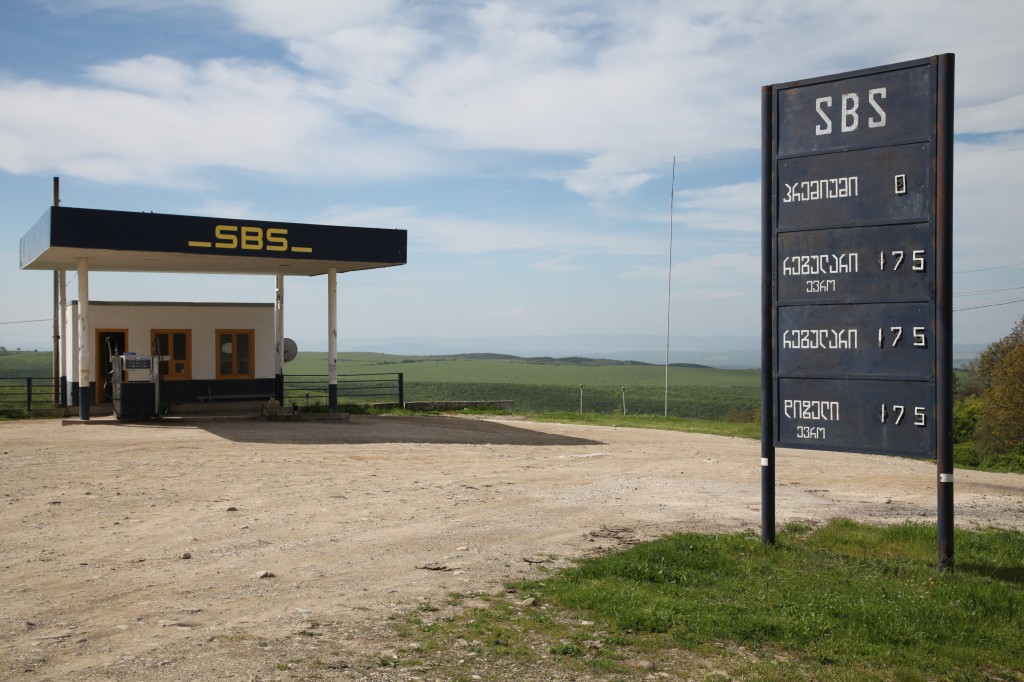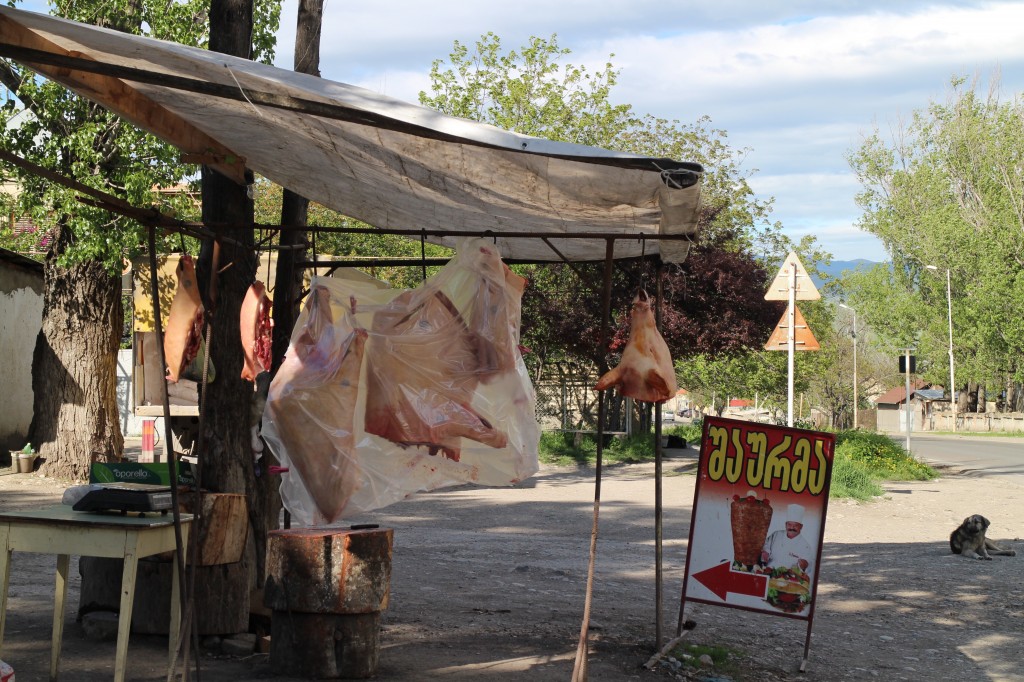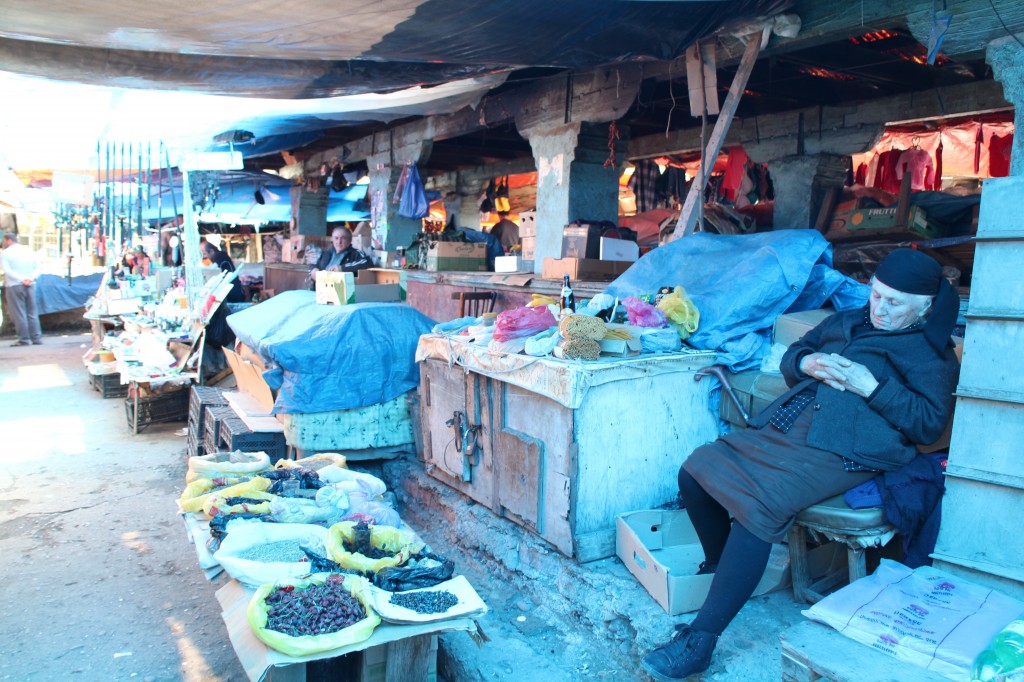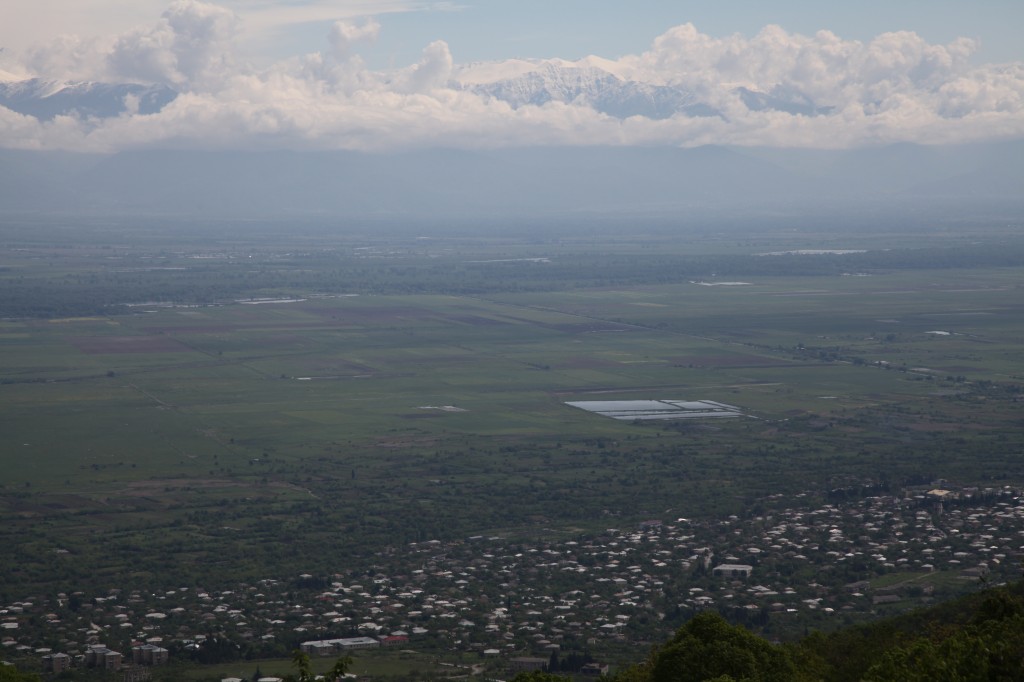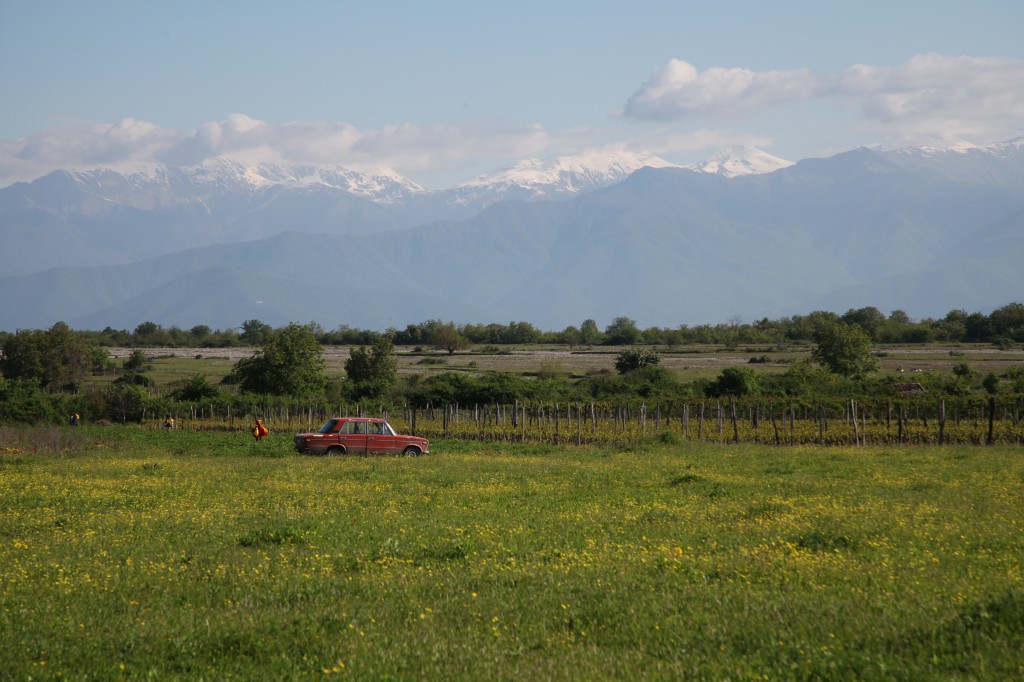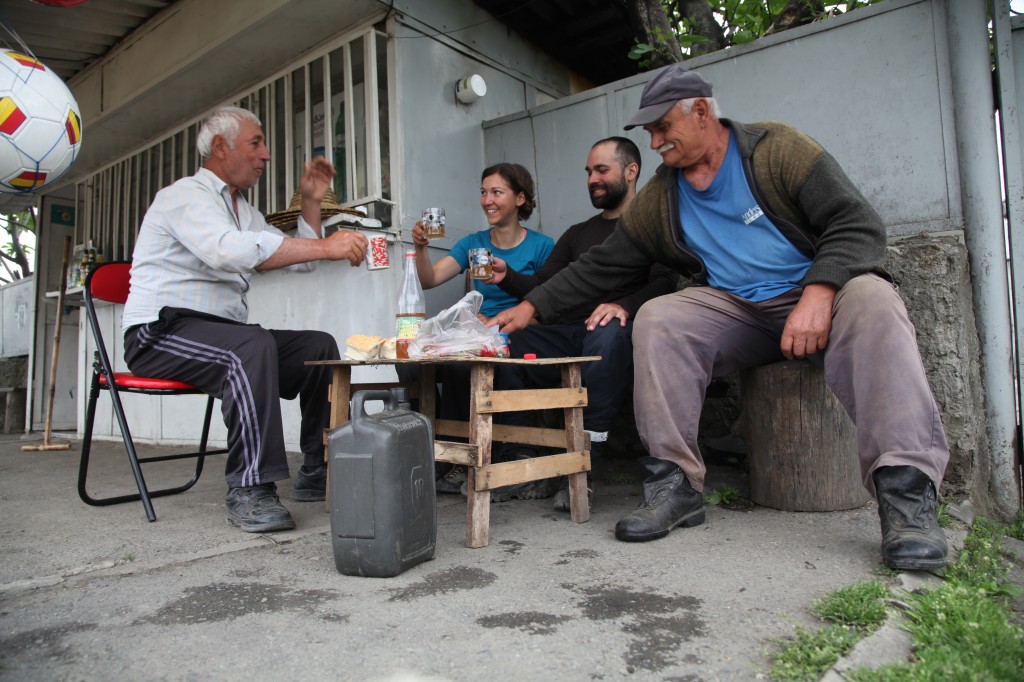 On the 9th of May we entered Azerbaijan. It's nice that we are able to read again.
Azerbaijan is a very diverse country, with high mountains and also desert-like flat parts. We chose the more interesting road along the mountains, expecting good views to peaks. Well, the road was okay, and everything looked more or less like in Georgia. But the weather could have been better… Right on our first day in Azerbaijan, it started to rain. Rain the next day, and as if it wouldn't be enough, fog as well. So no view to the mountains yet… We went slowely, had long breakfast in the morning to wait for the rain to stop, but guess what: Rain also on the following day. Day by day the same. But at the end, after six rainy and foggy days in a row, the sky cleared up as we left the mountains. What a pity! But we couldn't change, and sometimes you just have to deal with what you get…
There are some nice stories to tell, but there were also some not very funny moments… I mean, Azeri are very hospitale as well; but if you pay for something, don't expect any service! We went to a hotel once, the old kervansaray in Seki – a very interesting and historical building – and the manager was extremely rude. Same in supermarkets/shops, people do not really want to help you if you want to buy anything…
On the other hand, ther were quite a few nice moments. For example the registration in Seki. If you stay longer than 10 days in Azerbaijan, you have to register at the Migration Office. We went there right at lunchtime, of course the office was closed. After talking for a while, the chief took us with his car to a very small local restaurant. Was fun to order something, because nobody could neither speak nor understand English – and our Russian and Azeri is still limited… Well, the food was delicious (some salad, some soup and then something with lamb and chickpeas), and cheap. 🙂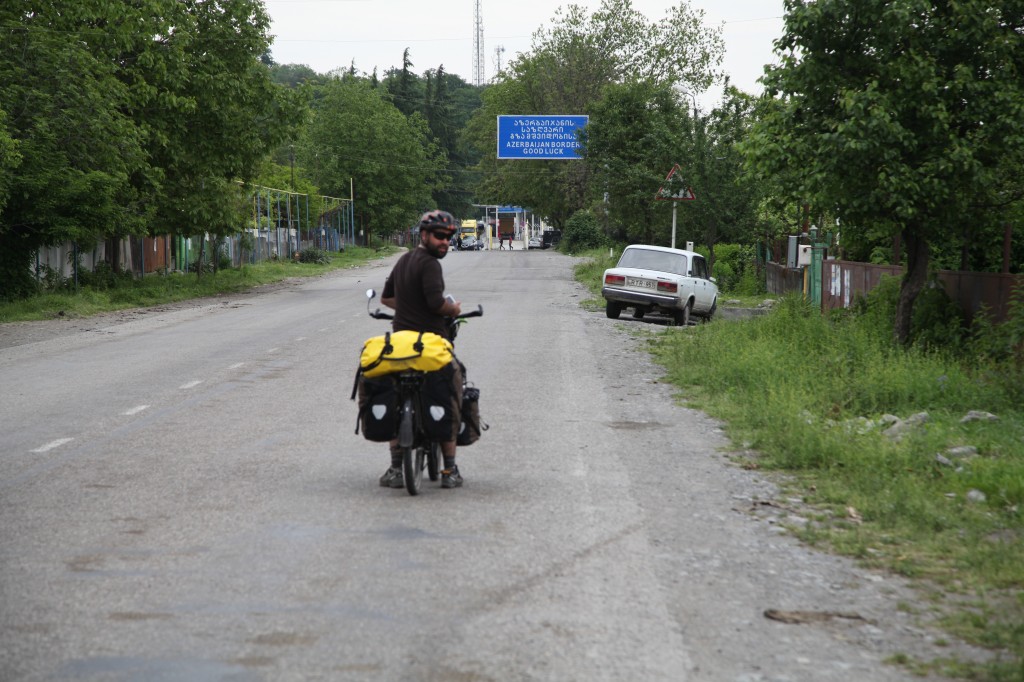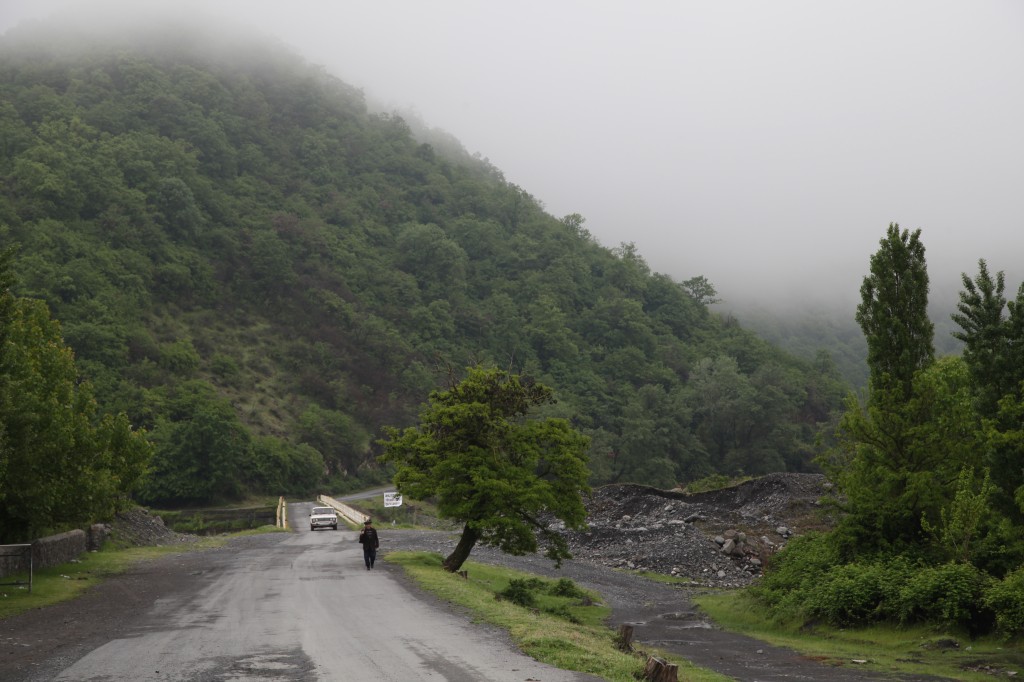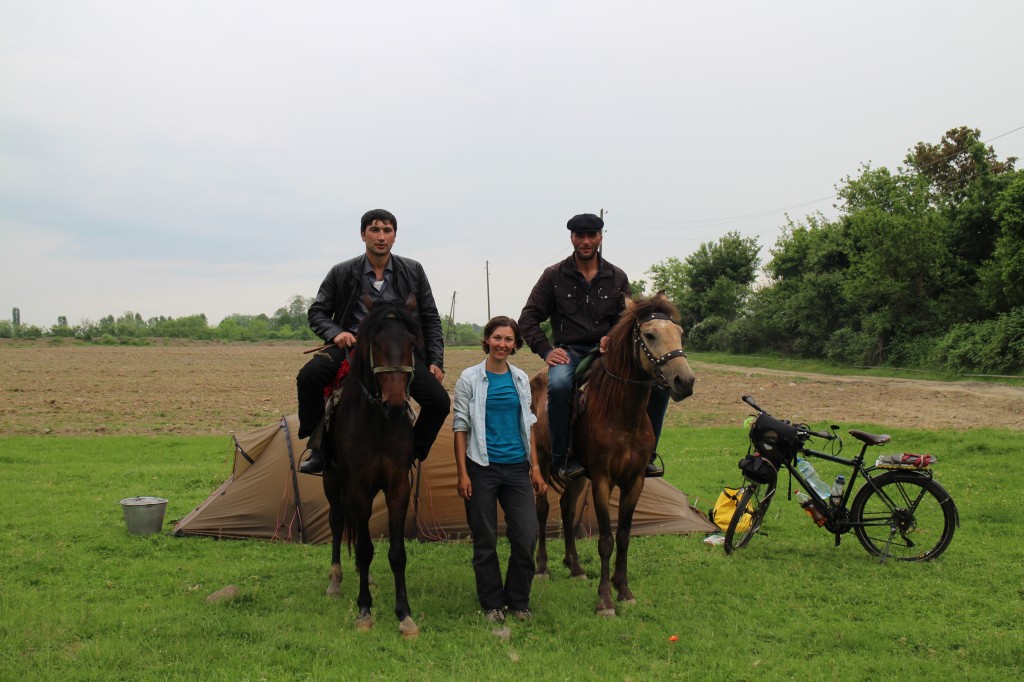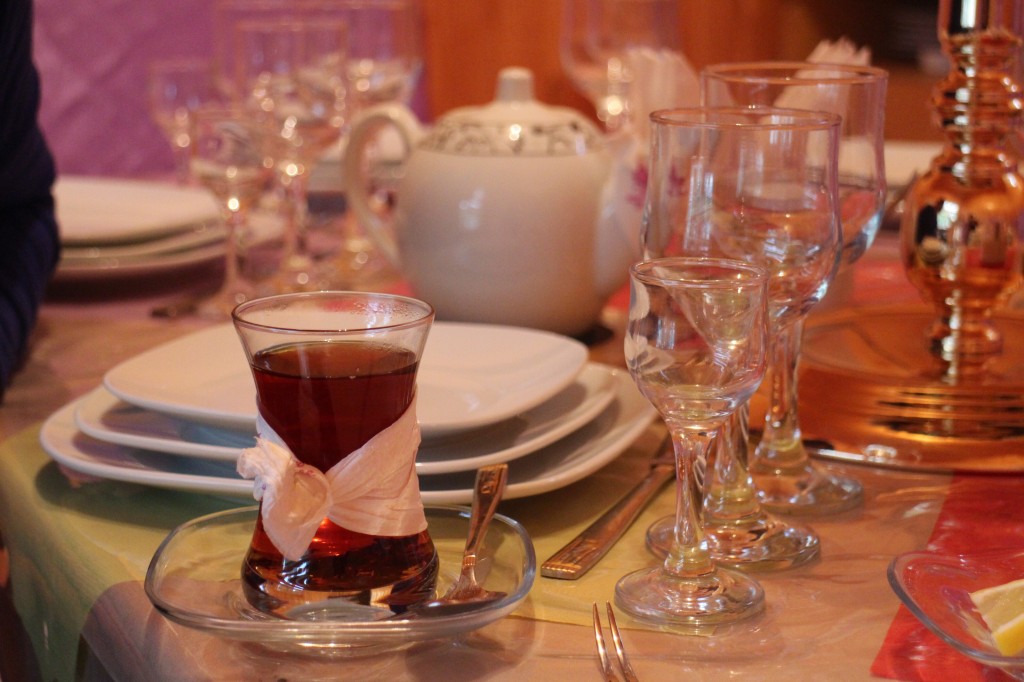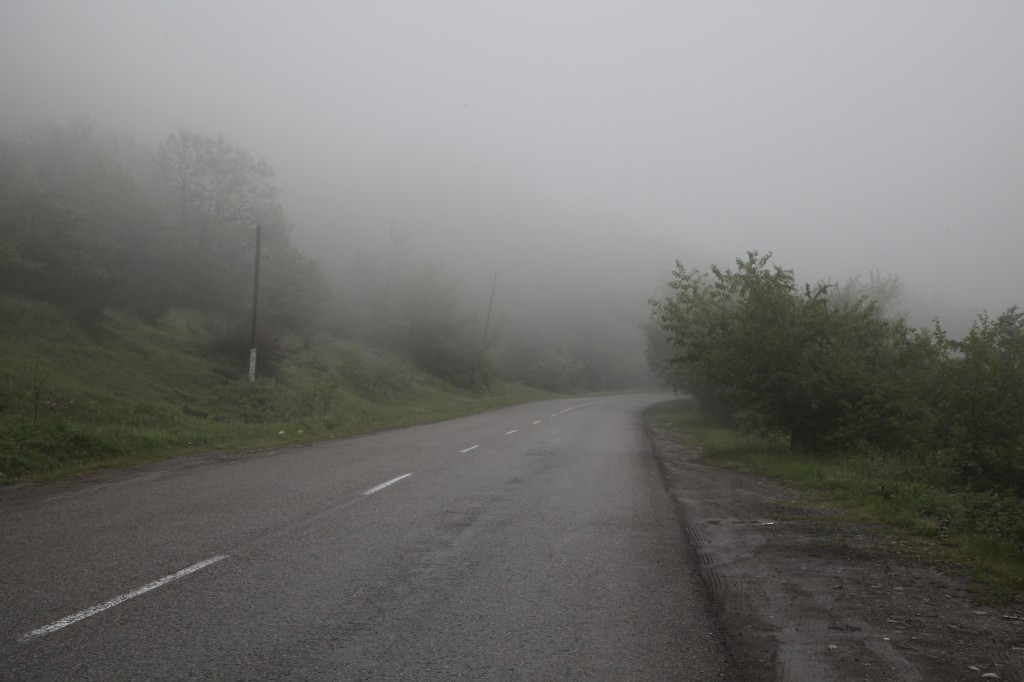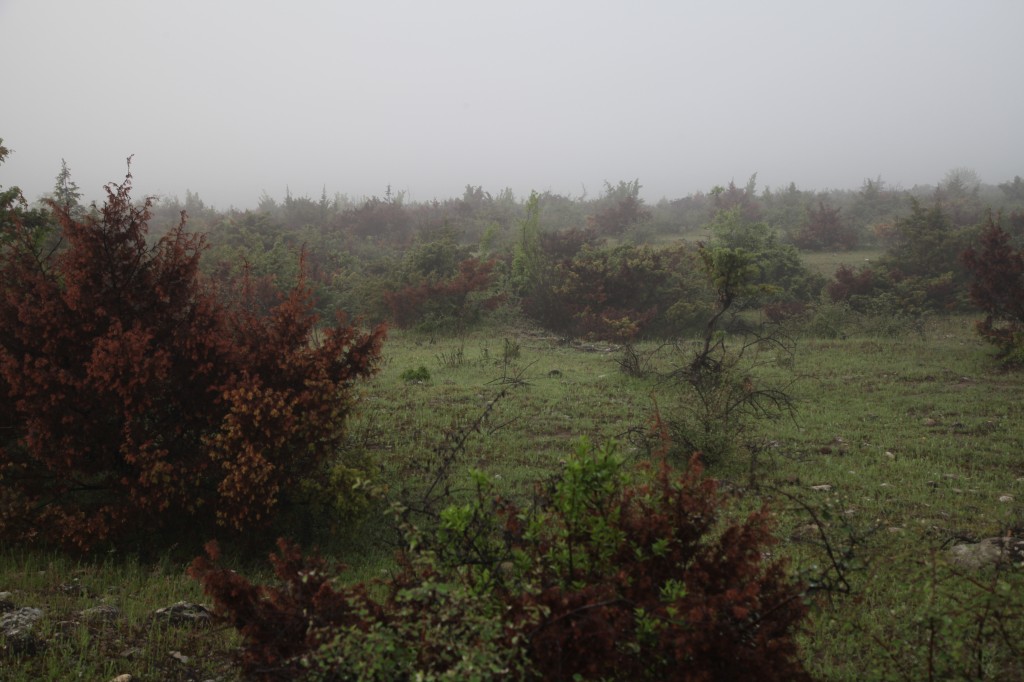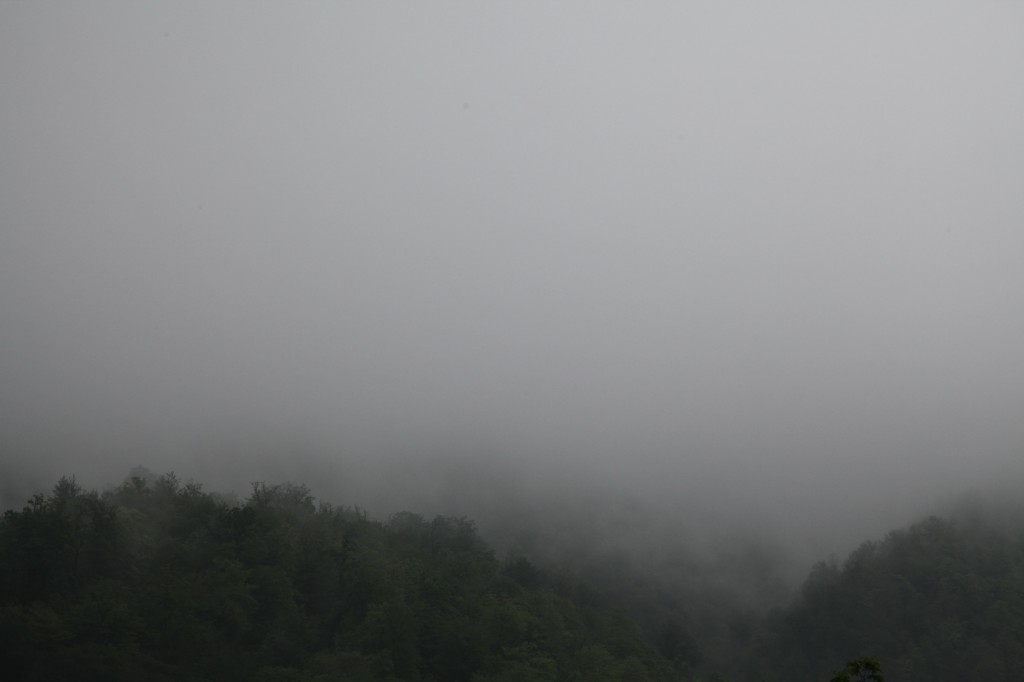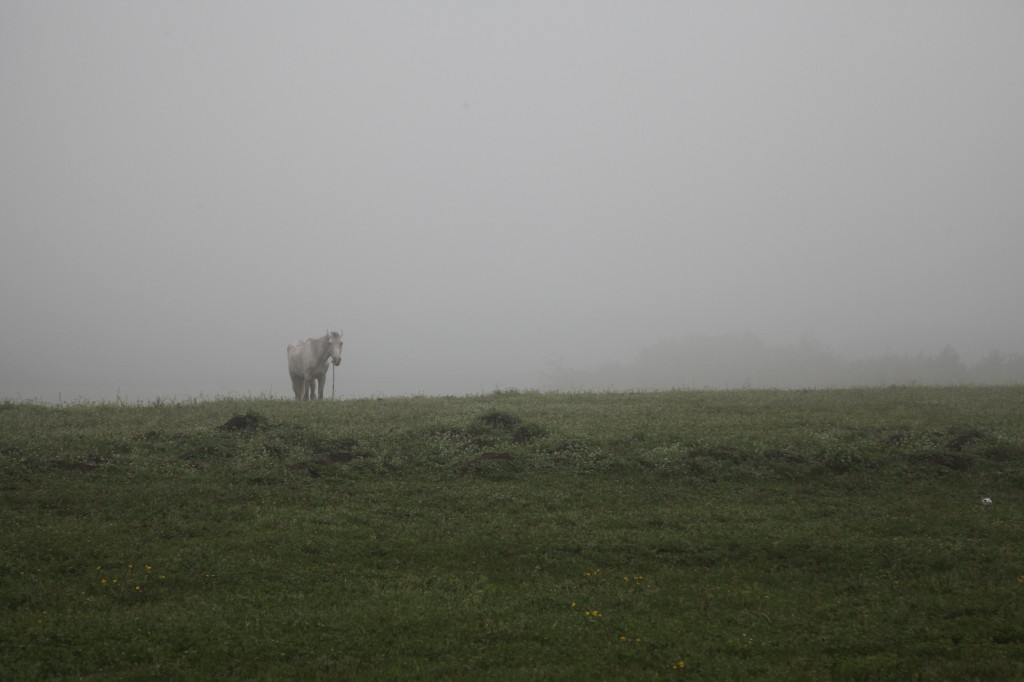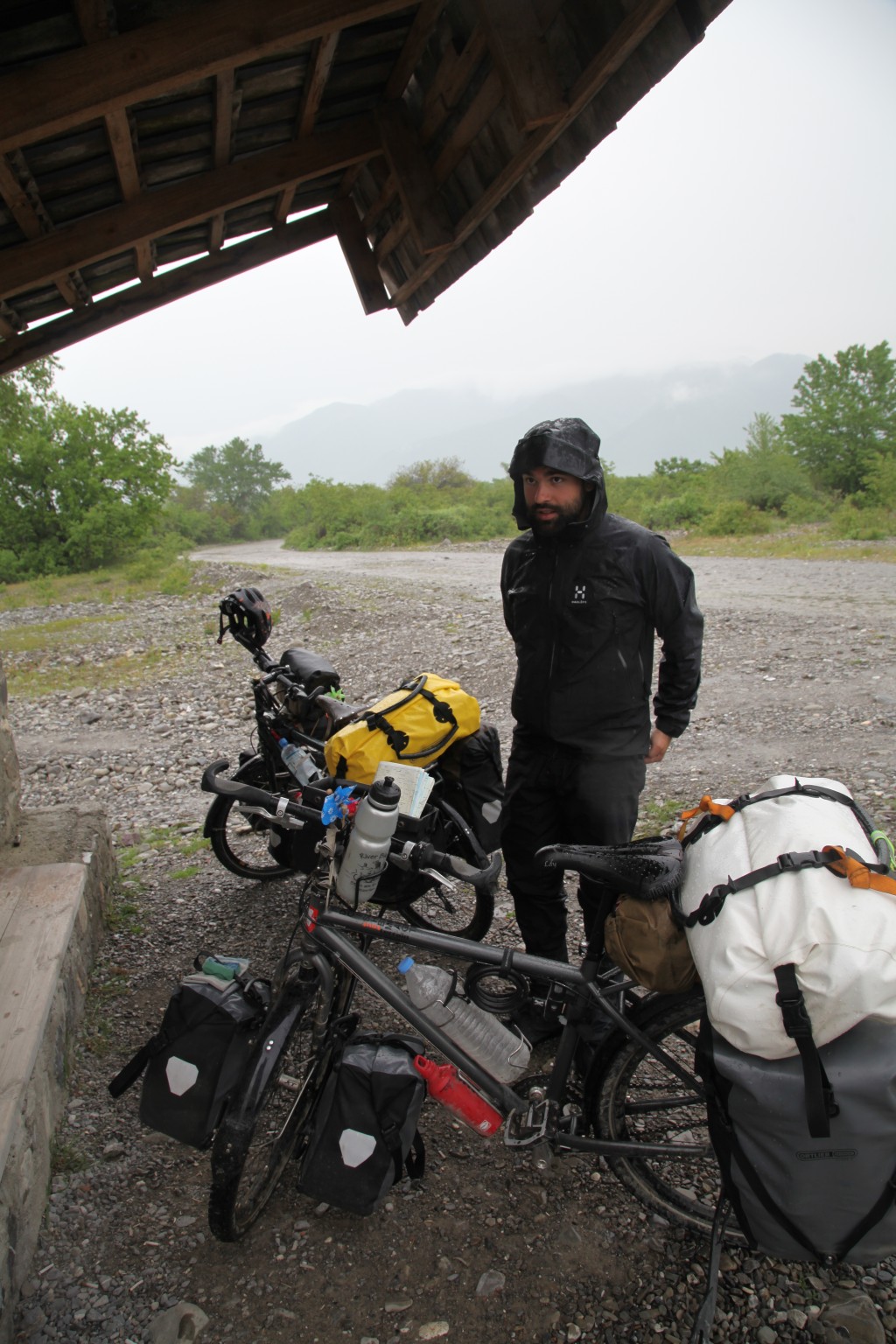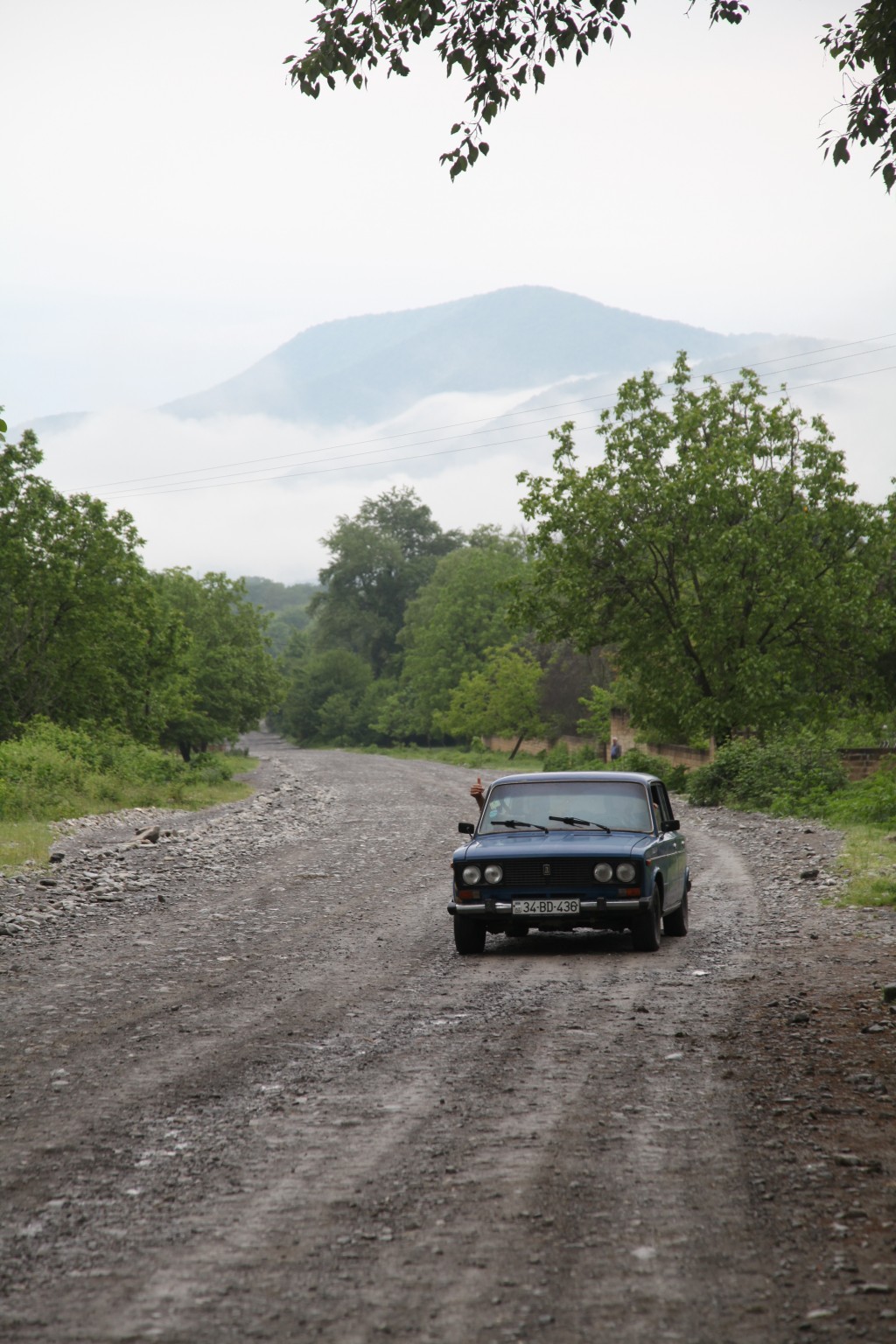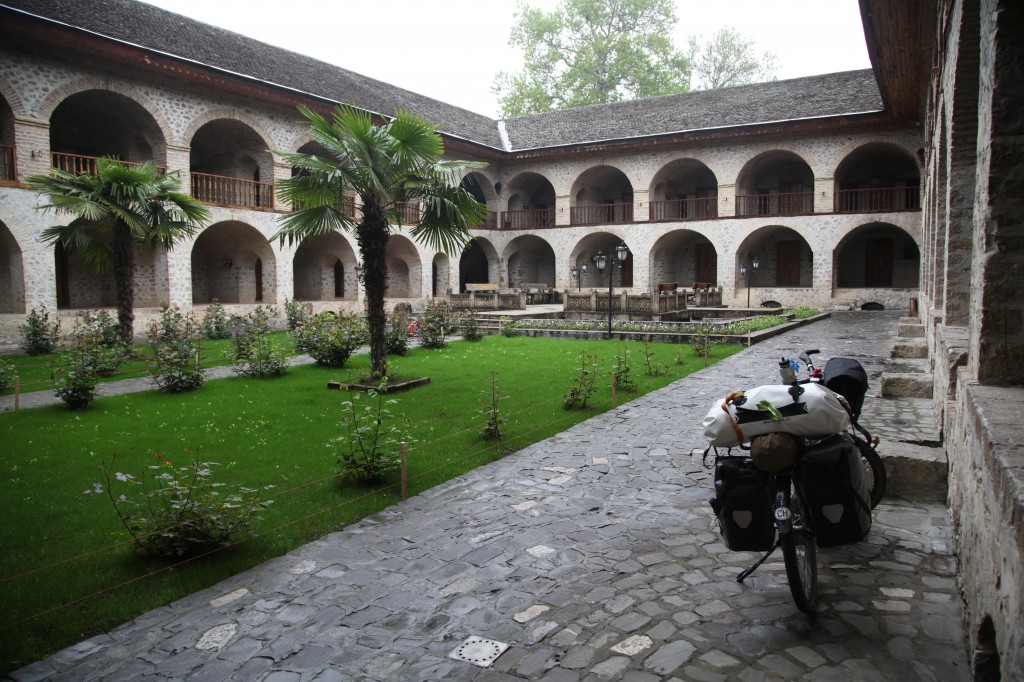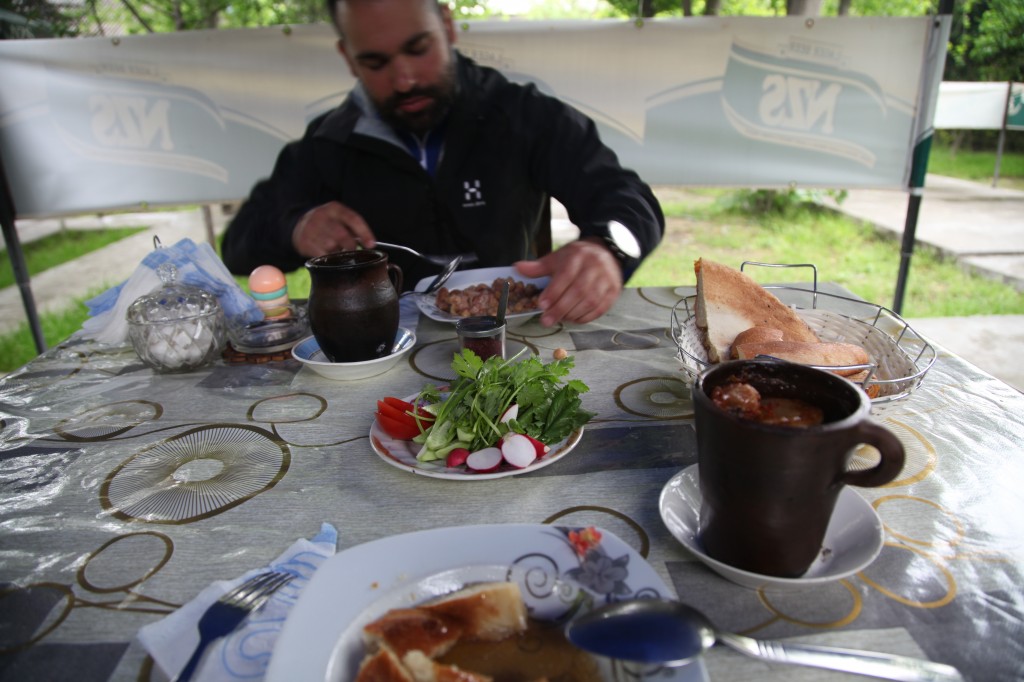 The closer we got to Baku, the more changed the traffic. More and more brandnew SUVs and other shiny cars appeard on the road. And the landscape and climate changed as well. Green meadows turned into a desert like steppe. The sky cleared up, the sun was shining, and all of a sudden we had around 25-30 degrees. Ugh, after those foggy days with 12 degrees, that was quite hot! Okay, the temperature will rise even more the next month. It's time to get used to it!
On the 9-lanes highway we entered Baku pretty relaxed. And in the centre we bumped into a group of local cyclists. Very funny coincidence, they were part of the Baku cycling club and took us to their weekly meeting in the park. Surrounded by fifty cyclists we had a great welcome to the capital city.
In Baku we stayed 9 days to get our visa for the next countries done. Rovshana and her sister Yegana hosted us for the whole time, helped us a lot to catch the right buses and cooked very delicious Azeri meals for us. THANK YOU VERY MUCH for these amazing days with you, thanks for your hospitality, your help and the funny time! While we were waiting for the visa to be accepted, we joined the Sunday cycling tour in Sumqayet with the cycling club. So much fun, it was a special event to support the no-smoking campain. That's why we were accompanied by five police cars while cycling 16km through the city – Azeri style of course – means with blinking lights, alarm, honking and a magaphone. Funny!
The first (and maybe last?) European Games take place in Baku this June. These games are something like Olympic Games, but just for Europe. The complete country is excited to be the host (and lots of people asked us if we'd go to Olympia), but for people living in Baku it's kinda disturbing. Busses were changed, taxi-&-bus-lanes were marked on the streets (exclusivly for traffic depending the Games) and a lot of facades next to main boulevards were covered with cheap (inflamable!) plastic to let the houses look pretty. Unfortunately, a 16-floors building with such a facade got fire the time we were in Baku, around twenty people died. Two days after that, we saw that the government everywhere dispatched the plastic again – Baku was covered with a cloud of dust.
Our visa we got quite easily. The first day we applied for Uzbekistan, and met Mirko and Jacek in front of the building. Mirko is a cyclist from Italy, easygoing with no plan where to go. And Jacek is Polish, traveling around with his minivan filled with outdoor and sports equipment. Funny guys, we applied together for the visa and had some cup of tea afterwards. We bumped into each other several times during the week, mostly in front of embassys. I really hope, we will meet again in Tajikistan or Kigistan!
As soon as we got our visa, we started to look for the ferry to Aktau… More about this famous ferry-tale in the next blogpost!