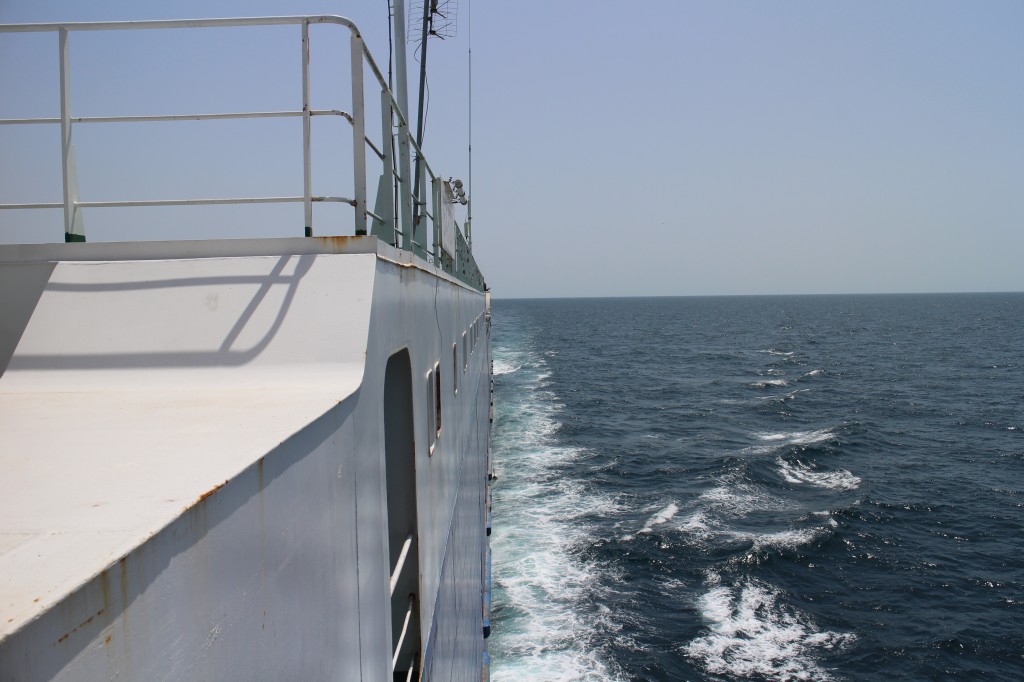 We heard and read a lot of stories about the famous ferry from Baku (AZ) to Aktau (KZ)… That made us aware of the difficulties about getting a ticket and/or catching the ferry. We even already got help from Dave and Christa (from Transa BS, traveling by minivan to Mongolia) in advance, they told us about their experience and where we would find the port.
The main difficulties we heard about:
A) There is no timetable, the ferry leaves when it is fully loaded; there are just cargo ferries.
B) Only one person at the office speaks English.
C) There are two ports – and ferries even leaves at different docks at those ports.
D) Ticket office changes its location quite frequently.
E) You have to be patient… Waiting for the ferry, waiting on the ferry to leave, a loooong passage, waiting on the ferry in front of the port on the other side, and waiting in the port again.
F) There might be no food and water on the ship, so you have to take lunch for several days (6 days was the most we heard!).
To be honest, it wasn't as horrible as we expected. No, it was quite easy to find and embark, and the ferry looked better than we expected!
TUE, 9.30 am: We have our visa in our passports, now we will wait for the ferry. Franci calls the ticketoffice. "Is there a ferry from Baku to Aktau today?" – "Are you by car?" – "No, by bicycle." – "Yes, there is a ferry. From Alat. [tuuuut]"
Today? Now? Alat?! Ohhh….
In Baku there is an old and a new port. Baku is the old one, but still in use. The new one is located in Alat, 70 km away from Baku. For us at this moment impossible to reach… Our stuff is still spread all over the room, we would have to pack first, then cycle to the Baku port to get the ticket, and then cycle to Alat 70 km AND arrive in time! No way!
We decide, that we will wait for the next one, at best departing from Baku.
TUE, 1 pm: We hop on the bus to the ticket office. Let's have a look around the port and see this famous ticket-girl called Vika (the only one who speaks English).
TUE, 3.30 pm: The bus stops at the crossing pointing to the port. We walk down to the sea and find Amina (Azeri & Russian speaking) selling tickets. With hands, feet and drawings we explain her, that we want to embark in Baku with our bicycles. It seems impossible – and she asks again if we want to buy a ticket for the ferry today from Alat. She tells us, that ferries from Baku ONLY take trucks, cars and motorbikes. Passengers (cyclists are passengers, not like motorbikes!) have to embark in Alat, where ferries ONLY take trains and passengers. And guess what: As if it wouldn't be enough, you have to buy the ticket for the ferry from Alat at the ticket office in Baku. On the same day that the ferry is leaving. Ha Ha! Because they have no ticket office and no customs at the new port yet – or something like this (maybe we didn't understand correctly).
TUE, 5 pm: We plan to camp next to the ticket office starting on Wednesday. So we could get the ticket as early in the morning as possible and cycle then "relaxed" these 70 kilometers to Alat. We ask around, if it's allowed to set up our tent in the narrow grass verge between a wall and the parked cars. We do not hear a NO, but obviously it is not allowed. Instead, a woman who is working at the staff entrance calls her daughter who speaks English: "We live very close to the port, and you are welcome to stay with us!" Wow!! Thanks a lot Sahila!
TUE, 5.30 pm: We leave the staff entrance with a huge smile on our face. Problem solved (first attempt).
Exactly in this moment, we see Jacek and someone else riding the bicycle through the gate to the parking after the customs. Yes, Jacek had to park his minivan at the port, because he just got a 5-days visa for it. We talk to the security guys and can enter the port area to meet Jacek. Funny: the other cyclist is Alain, riding the bike from France. A really adventurous guy who already sailed over the atlantic sea twice. And he already heard about me some kilometers after Batumi in Georgia…
Jacek and Alain met in the Kazakh embassy, got their visa today and wait for the ferry now, too. We tell them about the boat leaving from Alat, and Russian-speaking Jacek gets a confirmation that it is for trains & passengers only. Then Alain and Jacek prepare some salad, and suddenly we have a great idea… Jacek could give us a lift onto the ferry! Why not? Then we would be just passengers of the car, not cyclists anylonger… The ticket-office-girls agree, problem solved (second attempt) even better!
TUE, 7.30 pm: We return back "home", happy about the solution we found to take the ferry, but also a little sad to leave Rosha and Yegana. We will start camping next to Jaceks car on Wednesday to not miss the ferry. Because the ferry leaves as soon as it is loaded, you never know when it might depart. Usually you call Vika at 10 am, and she can tell you if there is a boat that day…
WED, 9.30 am: We sleep in. There is no ferry today, Vika told us yesterday. So we do not even call her. Instead, we have a lazy morning. And then we show and explain Rosha all our gear, she is very interested. Haha, and we have big fun to see what is hidden in Francis bags ("You are a VIP traveler!"), haha!
WED, 1 pm: I get out of the shower and Franci tells me that Jacek sent an email. "There are some good signs that there will be a ferry, better don't loose your time!" Alright, let's hurry up!
WED, 2 pm: With our fully packed bikes, full stomach and even a Dolma-Sandwich in our pocket we say goodbye. Thanks!! We cycle as fast as we can up to Baku and down through the city to the sea. The two Dutch cyclists we meet on the main road must think we are crazy. 26 kilometers we manage in 1.5 hours – after one week not cycling, with luggage through the 4-mio-metropole, and with around 31 degrees celcius…
WED, 3.30 pm: Out of breath we arrive at the port. Cooling down… There are no tickets yet.
WED, 6 pm: Jacek collects our passports, and returns after some minutes with a ticket for each. Well done! Vika tells him, our boat will leave at 4 am.
WED, 6.30 pm: More travellers arrive, and Franci and I go and buy some food and water. After that we prepare a salad and some dessert for all of us. Meanwhile Jacek puts the four bicyles on the top of the van. Everyone is excited, and we have a nice evening.
WED, 10 pm: We blow up our matresses on the tarmac. Jacek is sure that they will wake us up for embarkment. Good night Baku, Hello mozzies!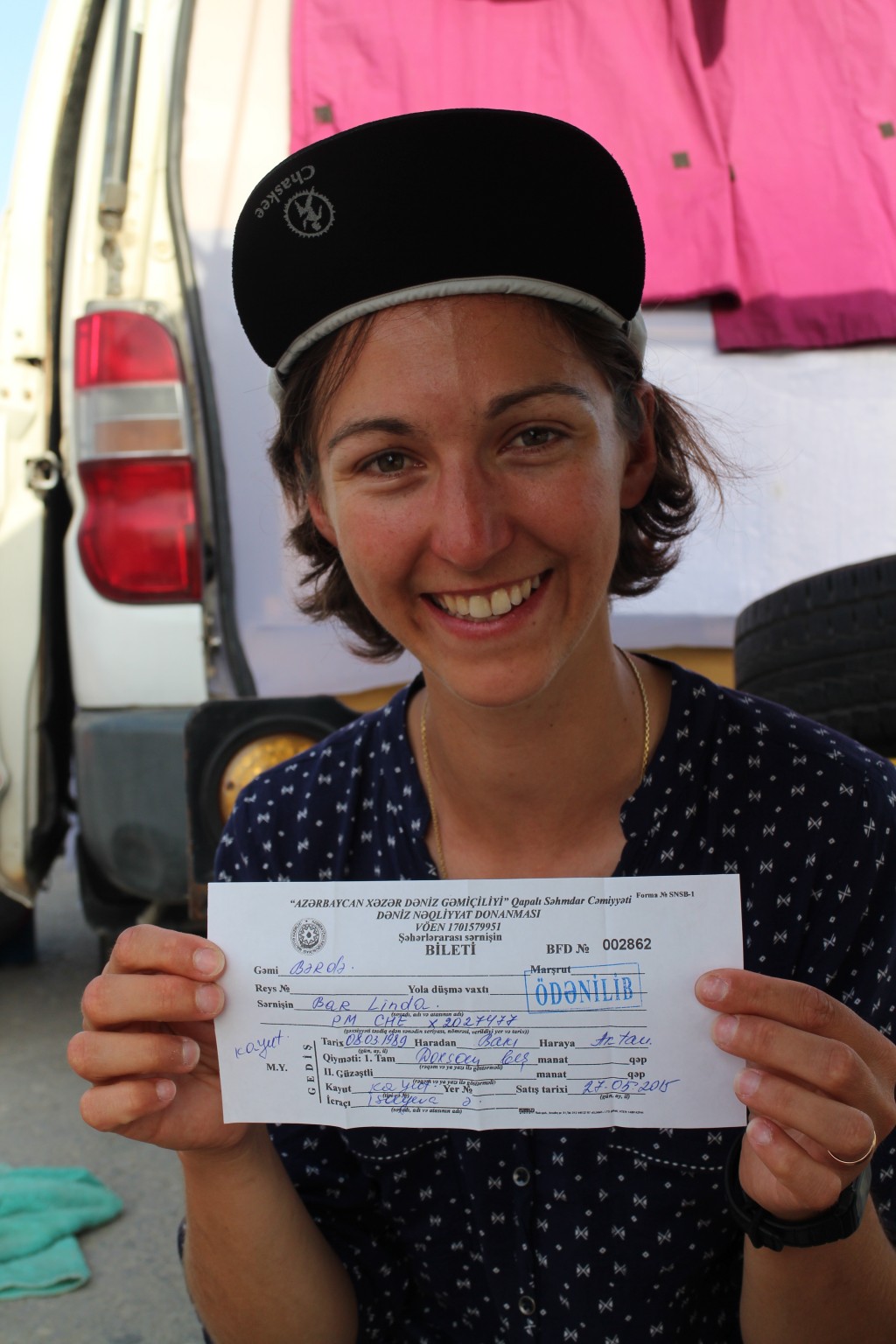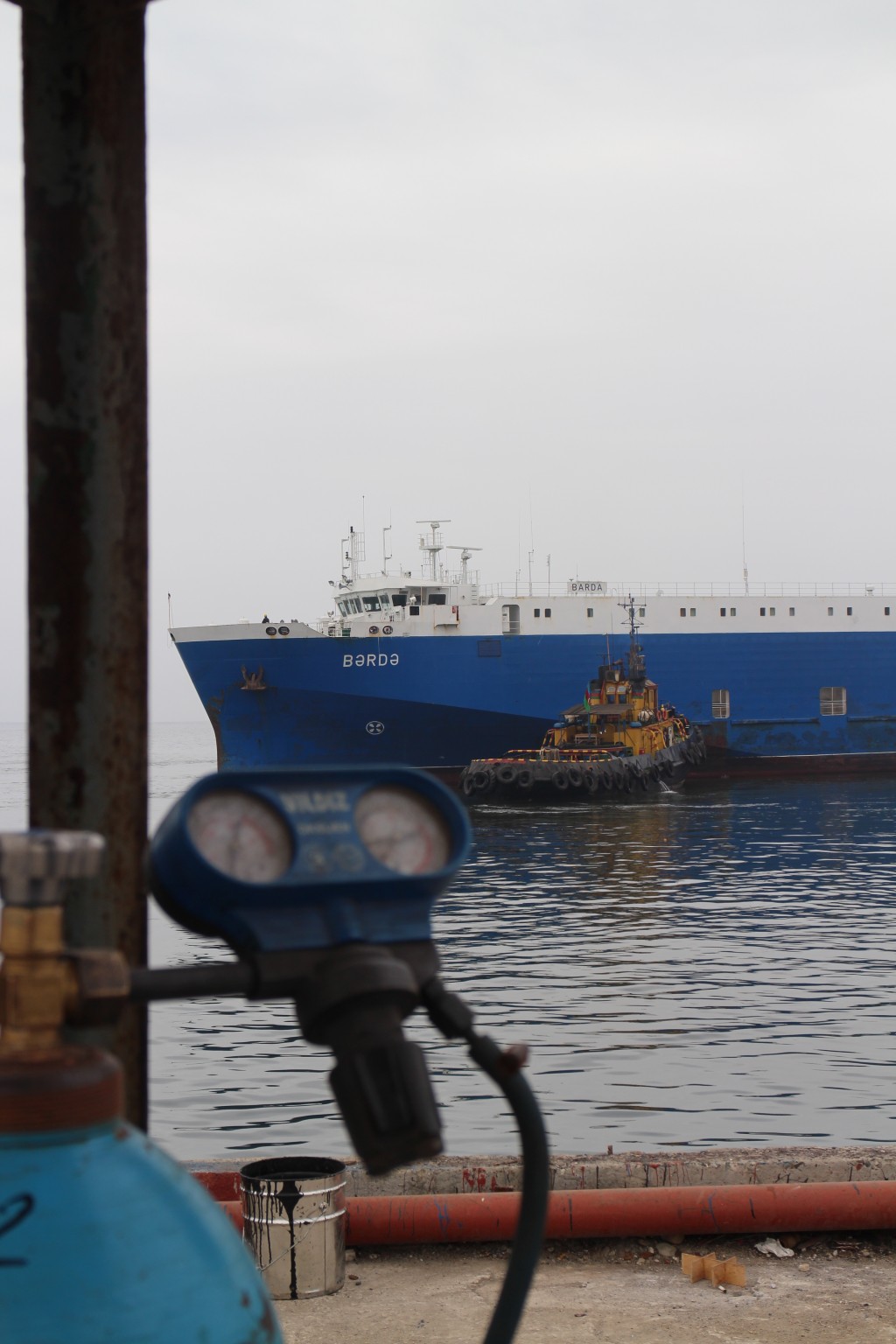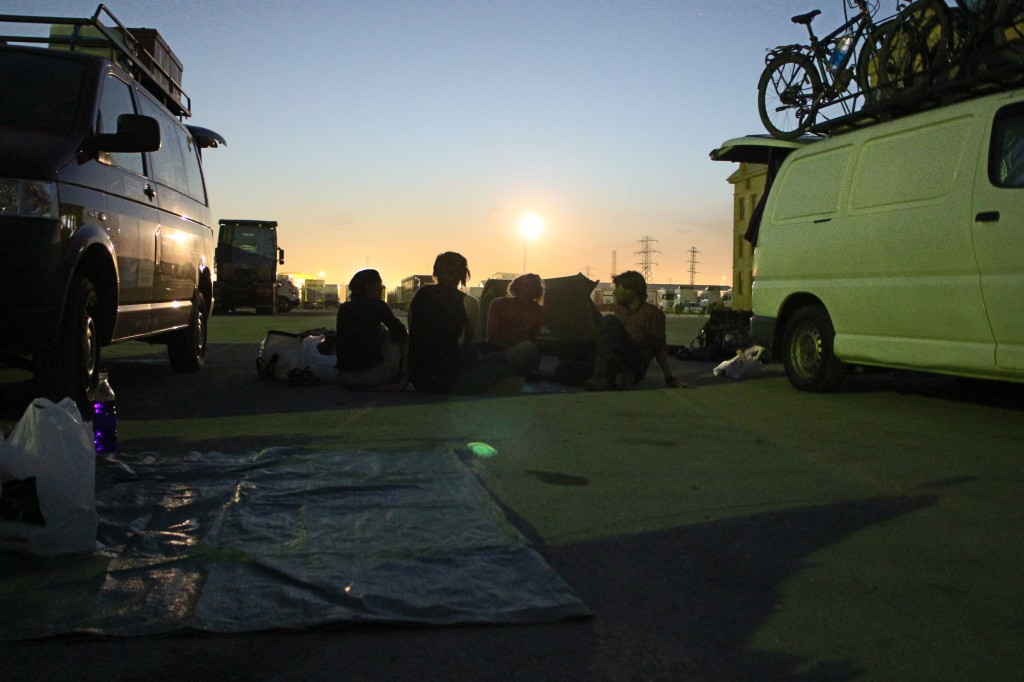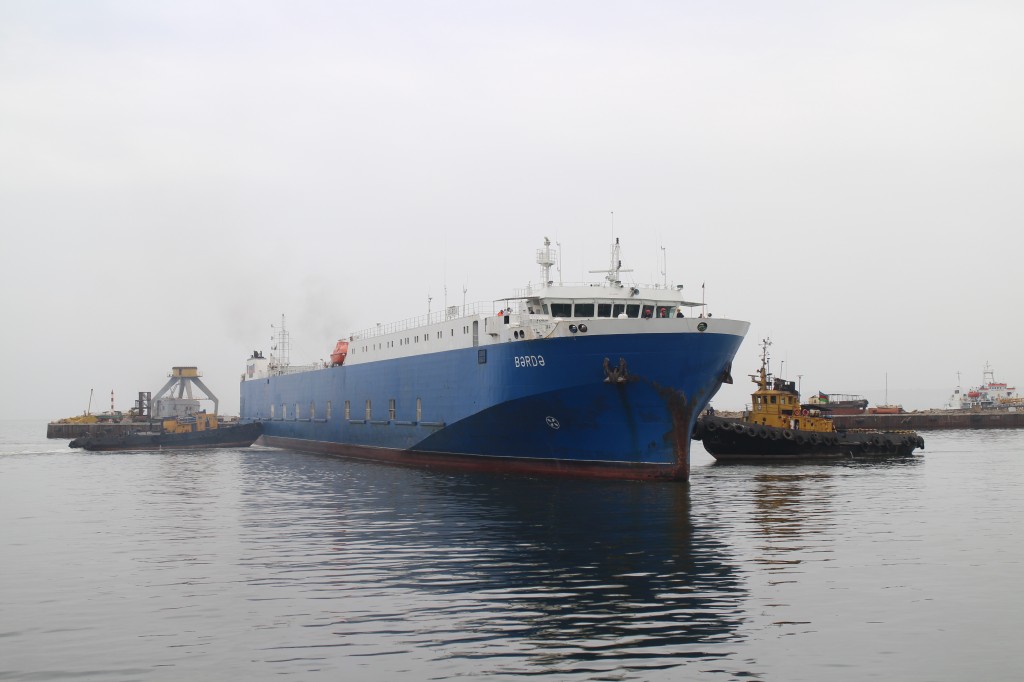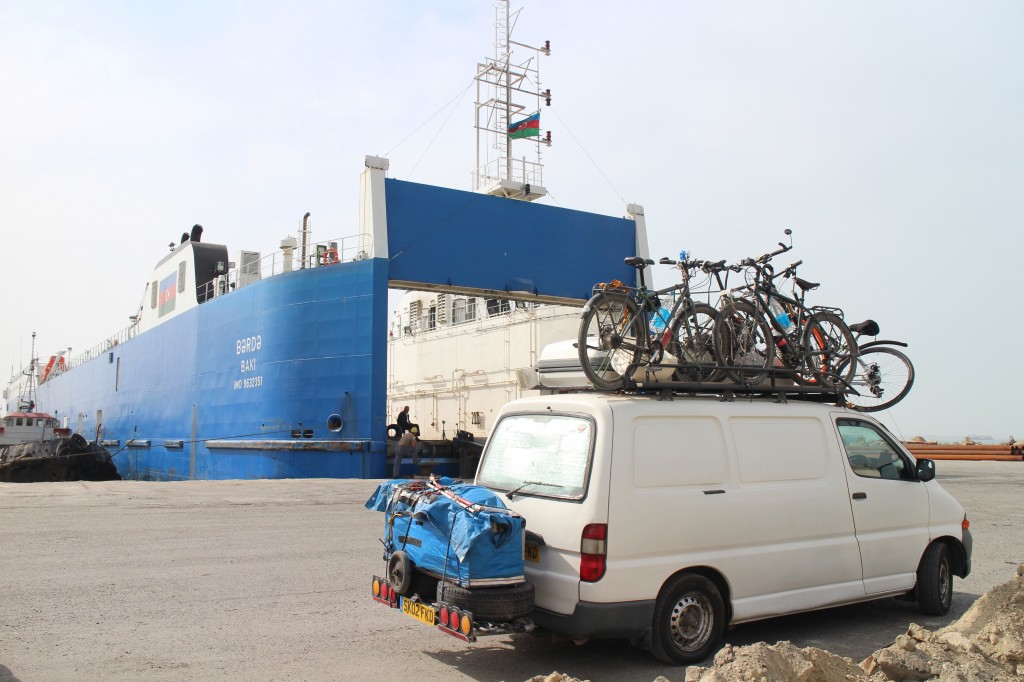 THU, 7 am: Quiet morning, almost every lorry is gone… Where is our ferry? We get up, have breakfast and …. wait.
THU, 9 am: Our ferry arrives accompanied by two tugboats. We can go to customs and get our stamp that we leave now Azerbaijan. We hop in the van and drive towards the ferry. But we are stopped, wait one hour they tell us.
THU, 10.30 am: Of course, one Azeri hour means about four Swiss hours… We sit around, Alain and I learn Russian with Jacek as our teacher, then we have a look at our Kazakh maps to figure out our routes, and Franci is taking a nap. After some time we prepare lunch, enjoy it in the shadow of a lorry and lay down to relax.
THU, 1 pm: Let the embarkment begin! A guy collects our passports and tickets, then trucks may enter first. But there is a huge gap between the ramp and the ship; now the crew starts looking around for some things to fill it. They find some rope and some wood, we cross our fingers that it will last untill we roll onto the ferry…
THU, 3 pm: We are on board. But there are still some trucks waiting outside. We don't really know what's the problem. But somehow they have to fix something… We wait, and sleep in the shade.
THU, 5 pm: Everyone is on board, the engines start, and soon we are moving. Hooray!! 13 hours delay, but that's normal for these ferries… We travel out of the port, and the gate shuts after fifteen minutes – like the Azeri busses which open and close their doors on the highway! 🙂 The guy who collected the passports appears and wants 5$ per person. For "taking care of the cars, because there are big waves". Haha, no wind at all – and of course no money for him.
Now we are one the way, nobody can stop us now. Us, the "illegal cyclists" on the ferry from Baku.
THU, 6.30 pm: We have a look at the cabins. In three of the four empty cabins is no toilet (well, there are but they are out of order). So we would have to share one toilet, but stay in the other cabins. The air is a little muggy and too hot for us. We decide to stay outside and put the tent between the trains (yes, there are trains on our ferry).
THU, 7 pm: We start preparing dinner, the captain shows up. "Why don't you stay in the cabin?" We just say that we feel more comfortable to sleep outside because we are used to, and talk about the journey and the ferry. He tells us, the ferry came from Alat to Baku. It might be the ferry we would have had to embark in Alat! And he tells us, that there is food included, dinner starts at 7 pm. Sooo, we stop preparing our food and go upstairs. The chef tells us, dinner will be ready in about 1 1/2 hours. We wait again…
THU, 8.30 pm: Spaghetti with some chicken, bread and tea. Dinner was okay, but not like a five star cuisine… Now its for free. But tomorrow we would have to pay. 1$, 2$, 3$, maybe 4$, they don't know. Sure, they just want to make money. So we say, we do not want to pay, we have our own food. And suddenly the reply "no money, no problem!" After that, we had a nice evening outside. Listening to the guitar concert, playing games and sleeping early.
FRI: We spend the day eating, chatting, sleeping, visiting the navigation bridge, etc. We eat just our food, we were not in the mood for negotiating again to just get some dry bread and cheese…
FRI, 5 pm: Just in time, 24 hours after leaving Baku, we stop in front of Aktau. The port was busy, we have to wait… 1 hour, maybe 5 hours, the captain told us. Alright, slowly but surely we know what that means – and we expect to stay another night on the ferry. The Turkish and Georgian lorry drivers fetch their fishing rods. And so do I. I try with bread on the hook, at least for two or three hours. But i don't catch anything. What a pity. We set up the tent again and cook dinner.
FRI, 10 pm: The engines start. Really, after waiting for five hours, we move towards the harbour. Quick quick, we pack everything, and as soon as we are ready we have to go upstairs and wait in a cabin for the custom control. Russian TV helps us to bridge the time gap.
FRI 12 pm: We get the passports and are allowed to leave the ferry. No, not by car. We walk to the street where a minibus gives us a lift to the customs office. There it takes some time, but we all get a stamp (Alain even gets two) that we enter Kazakhstan on saturday (it is already saturday). The way back we have to walk.
SAT 1.30 am: We can ride off the ferry, but cars are not allowed yet to enter Kazakhstan. Jacek, the Germans with their minivan and the Dutch couple with their motorbikes have to stay the night in the port area. And so do we, we are lucky that we can put the tent between the cars and go to bed around 2 am.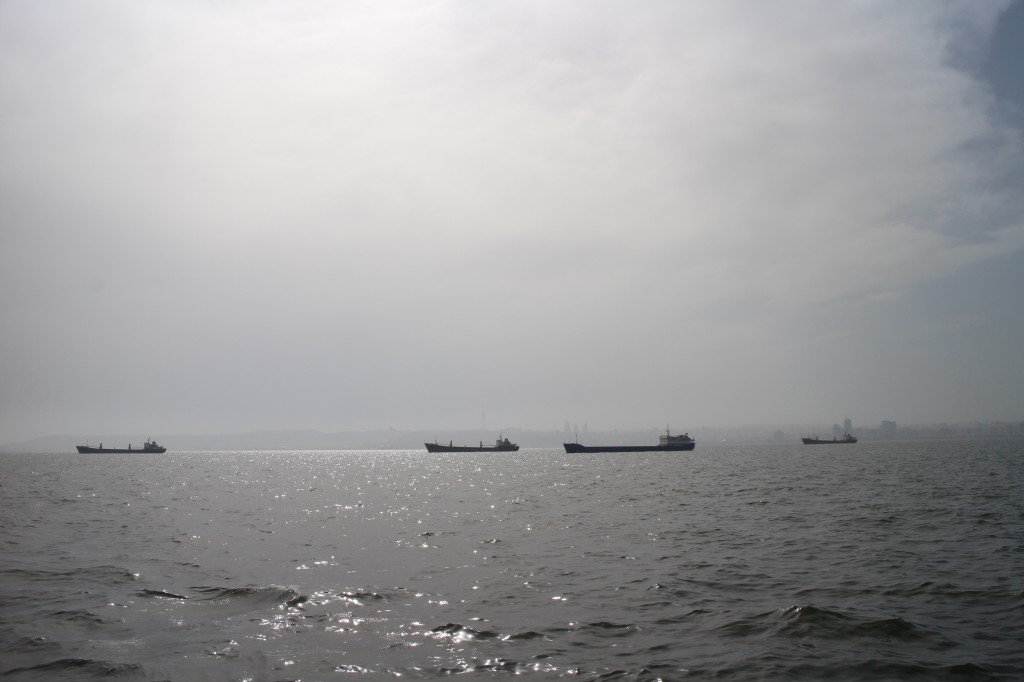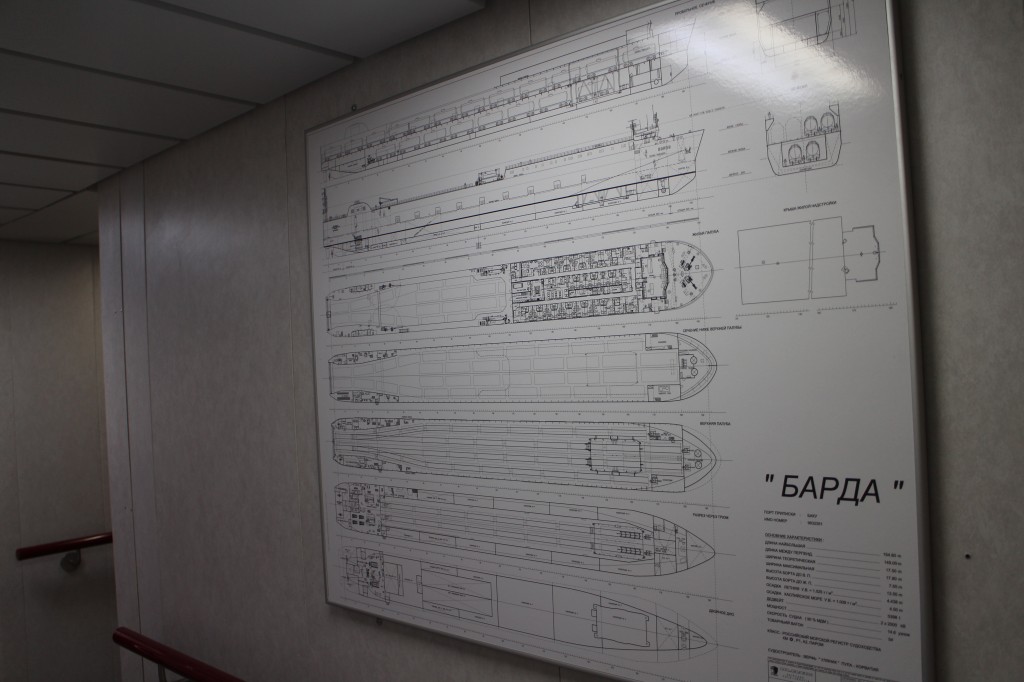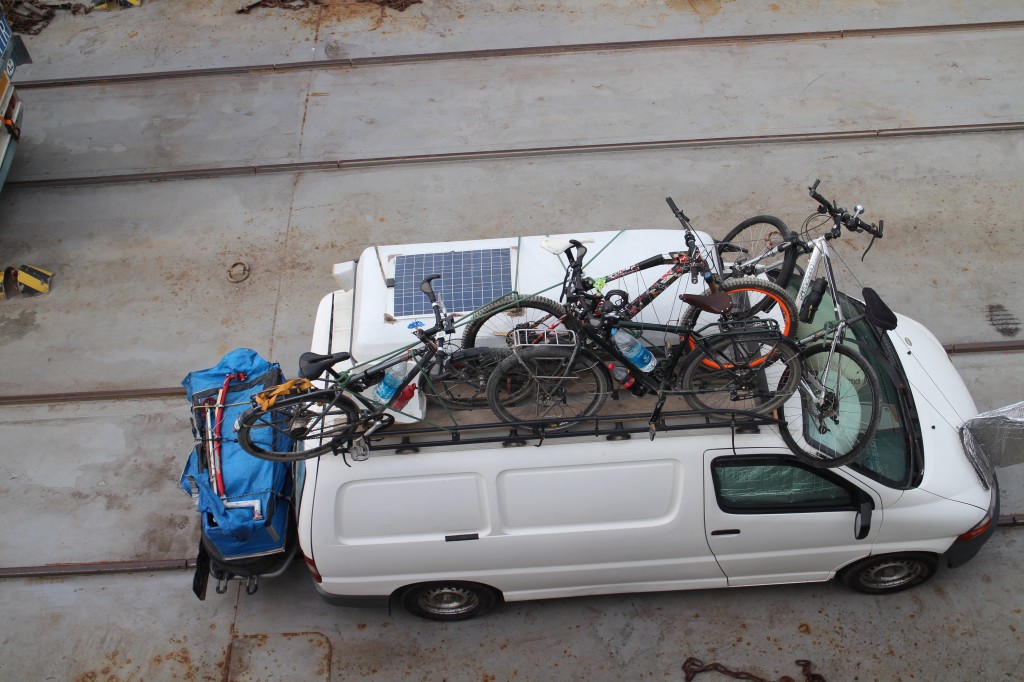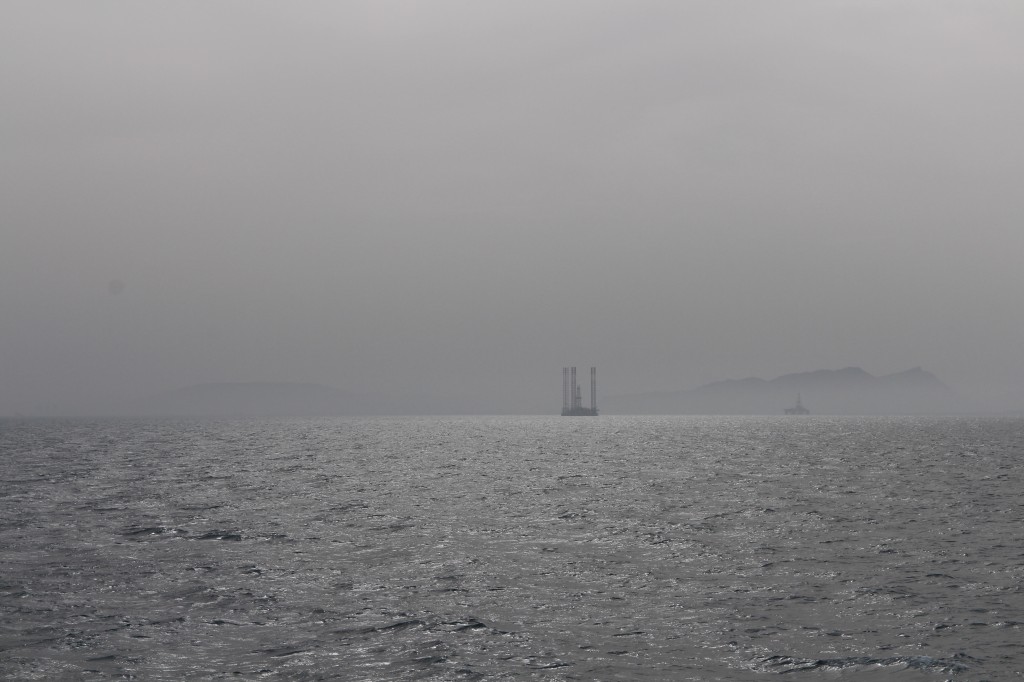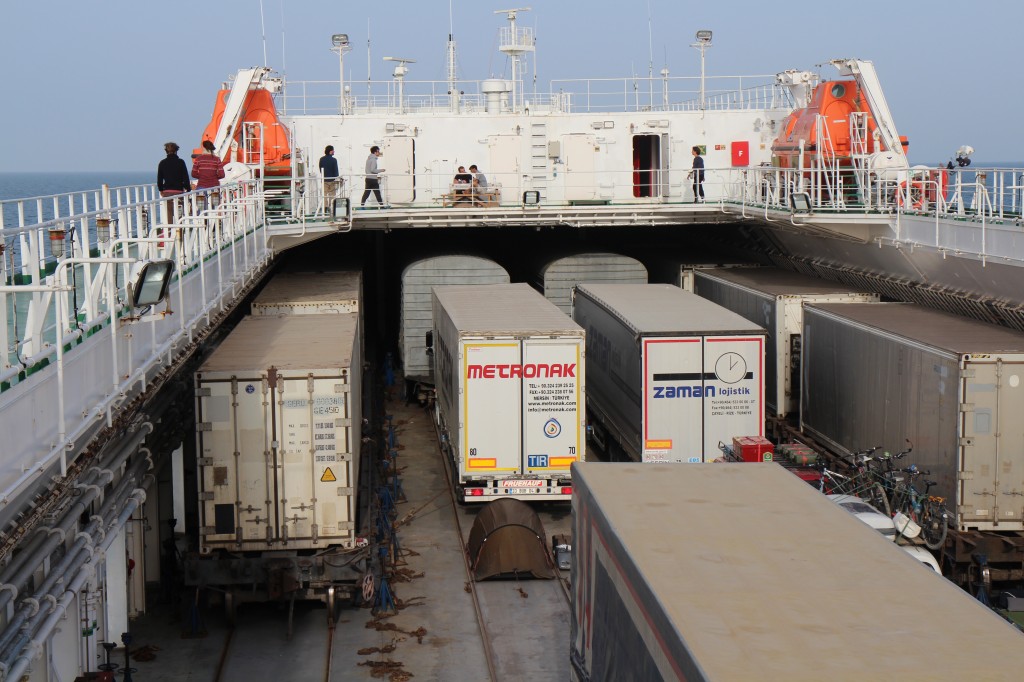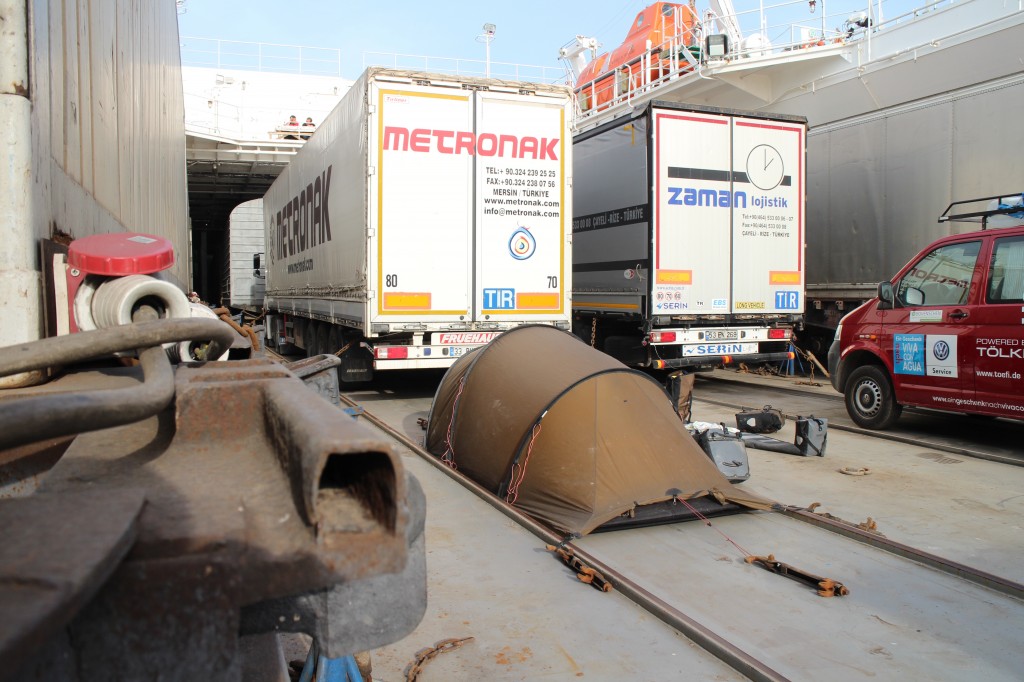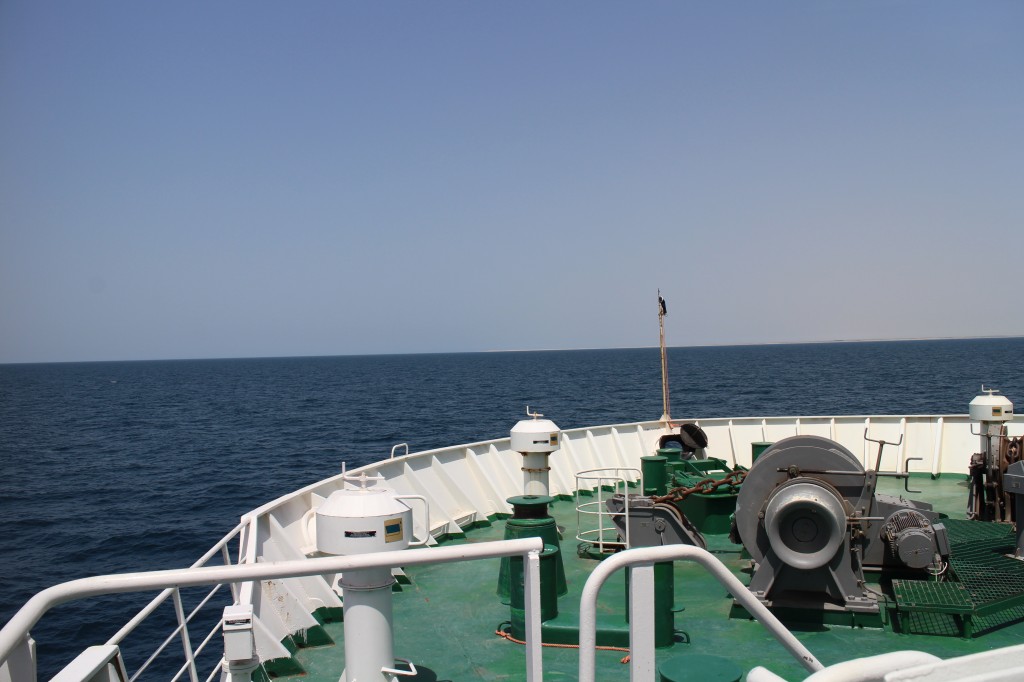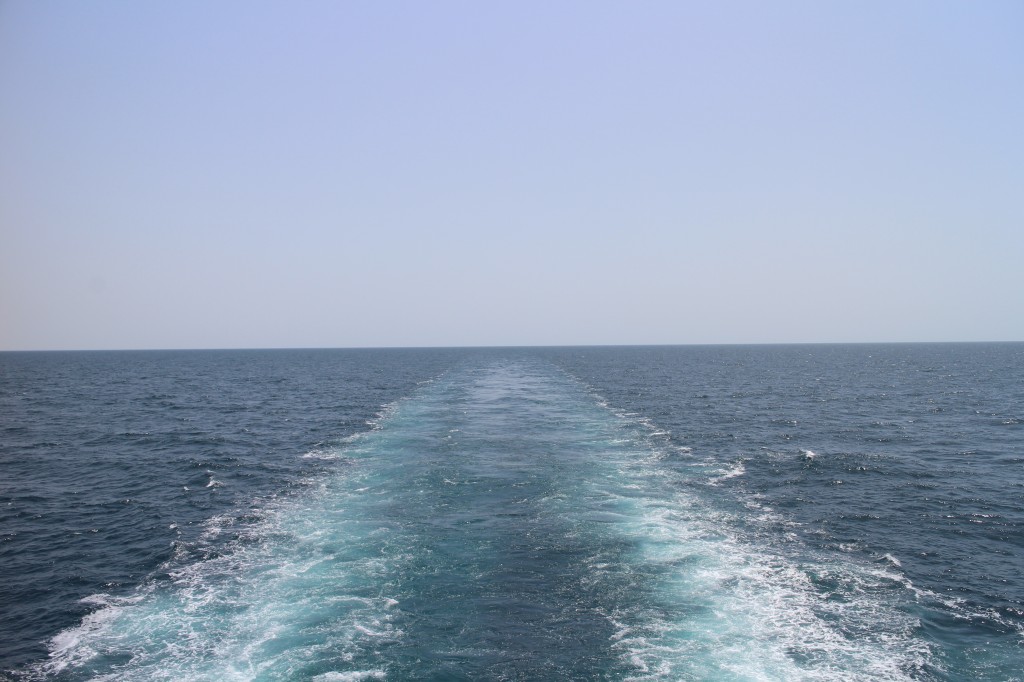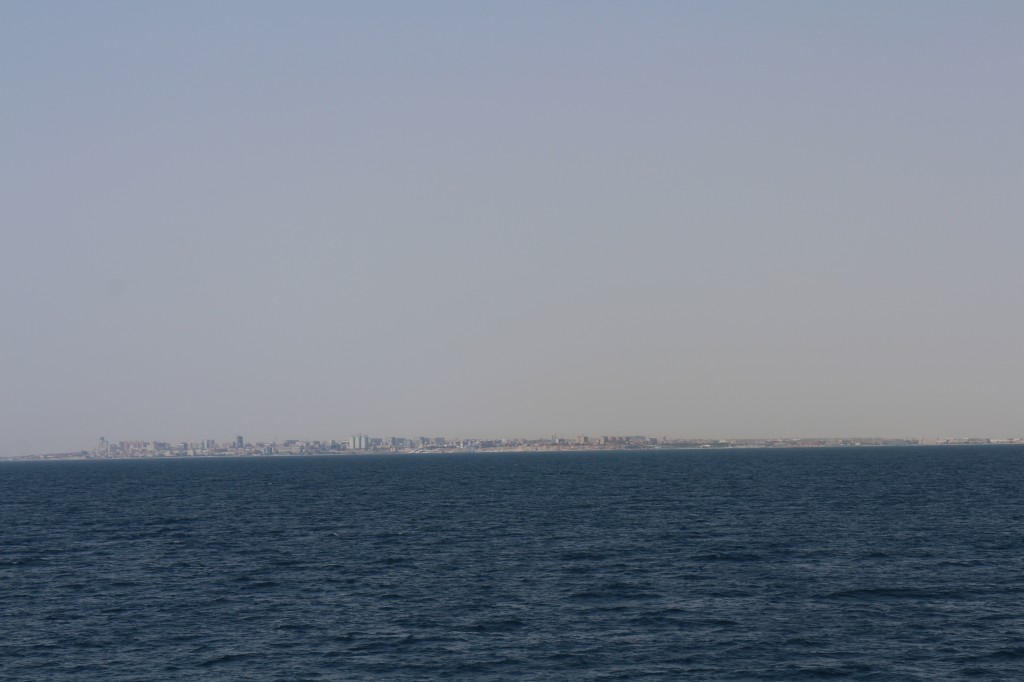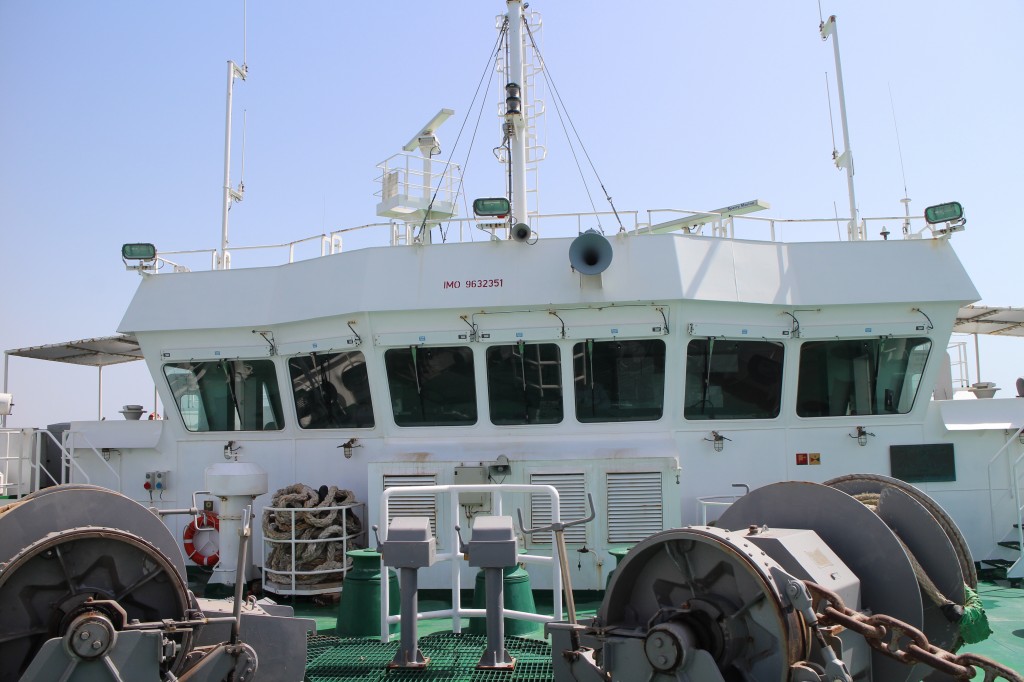 SAT 8 am: Some officials are not amused about us camping in the middle of the area. We have to go. First, the cars need a stamp on a paper. We drive there and wait some time. As soon there is the stamp on the paper, we drive to the gateway. They do not let us pass, there are some things missing. We return and park. Jacek, the Germans and the Dutch visit all those different offices, get dozens copies of their documents, get different stamps on all of them… Alain, Franci and I wait in the shade and have breakfast.
SAT 12 am: The copies-and-stamps-offices close for lunch. But the guys cannot return to the car because a minister arrived by boat and lots of security guys do not let pass anyone. There is a small military parade.
SAT 1 pm: Offices are open again.
SAT 1.30 pm: Jacek is getting pissed. He thinks, 10 stamps might be enough, and we drive to the gate again. Sure there are still some stamps missing… We park on another parking slot. While the guys are collecting ink again, we prepare a salad as lunch for all of us.
SAT 2.30 pm: We have all the stamps we need to enter the country. Believe it or not, 16 – sixteen – of them! We hop on the bus and leave. Better fast, maybe there is still one stamp missing… 🙂
SAT 3 pm: Welcome to Kazakhstan! We stop some hundred metres after the port and have lunch in the shade of a tree.
Thanks a lot to Jacek for giving us a lift, thanks to everyone on the ferry for this good time! Jurriaan and Linda, have a good trip, enjoy! Marc and Oliver, we hope you reached Kyrgystan in time, and thanks a lot for the isolated camelbaks! Alain, we hope you reach Kyrgystan in time, too, and your umbrella is working in the desert! And of course, Jacek, have a good trip, too! We'll see you soon!