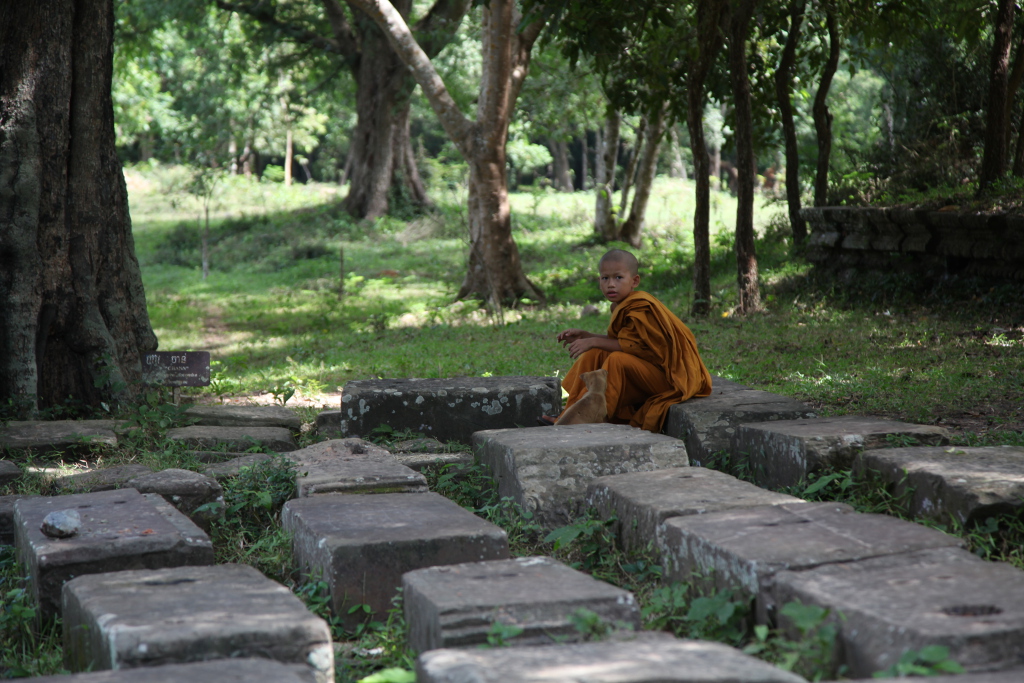 Cambodia gave me definitively the boost I needed to pedal on. Such a big change!! Everything attracted my attention, from roadsigns to hawkers to nature. Wow…
But: About Cambodia, I do have mixed feelings. On one hand, it was just great to cycle. The main road we took was smooth and flat, there wasn't much traffic except small motorbikes, the food was amazingly delicious (coming from Central Asia) and available at every corner, it was cheap, and the sights like temples in Angkor Wat definitively a must-see. But on the other hand, I felt like tourism had been growing too fast in Cambodia. The people aren't as kind as people in other countries I've visited. That means, they just saw two tourists in us – ATM's on wheels. Everything did cost 1$ at the start – food, drinks, fruits, etc. Yes, that is cheap. But in reality, it would often be even cheaper. Example: A pineapple – peeled, cut in pieces, including sticks and something to dip in – started with «one dollaaar». I never found out how much Cambodian paid, but we never paid more than half.
From Almaty, Kazakhstan, we had a comfortable flight to Bangkok. There we changed the plane and airline to reach Phnom Penh. Guess what: Everything was alright – all our bags and both bikes arrived without being damaged. Yay!
Already in the plane, we slightly went crazy thanks to the good food. A Thai-curry, extremely delicious. Okay, plane-food cannot be good, I know. But it was!
Landing in South East Asia: A climate change. Humidity and heat, first we had to change the wardrobe. And then, we started rebuilding the bikes. Just after a few minutes, people realized that there was happening something special – and we were surrounded by dozens of them. They watched everything in detail, and some of them also helped us with gestures what we should do. Some aaah's and oooh's accompanied their chatting, and in the end we were able to roll into town.
We stayed some days in the capital city Phnom Penh. One has to get used to the traffic, the noise, the mess, the food, the prices, the people, … just everything! We went sightseeing and shopping, went crazy due to food, drank dozens of smoothies and fruit shakes, and finally we met Mirko. He still didn't feel 100% recovered, so he wasn't sure if he'd cycle to Siem Reap or not… Franci had the fabulous idea to organize a Thai visa. We got 60 days to stay, which relieved some pressure off of me.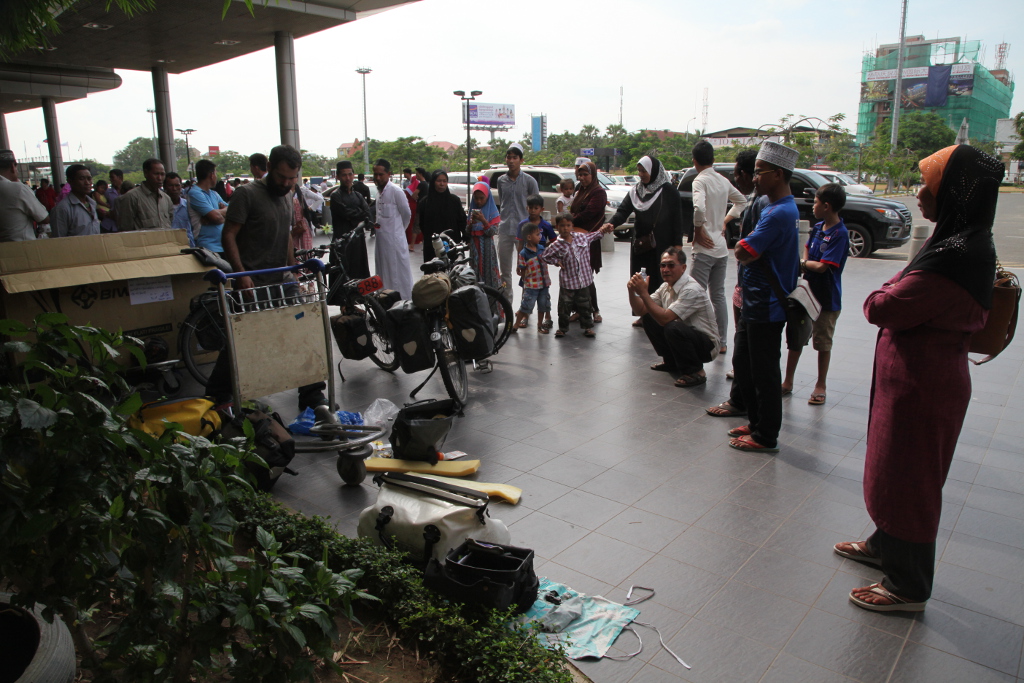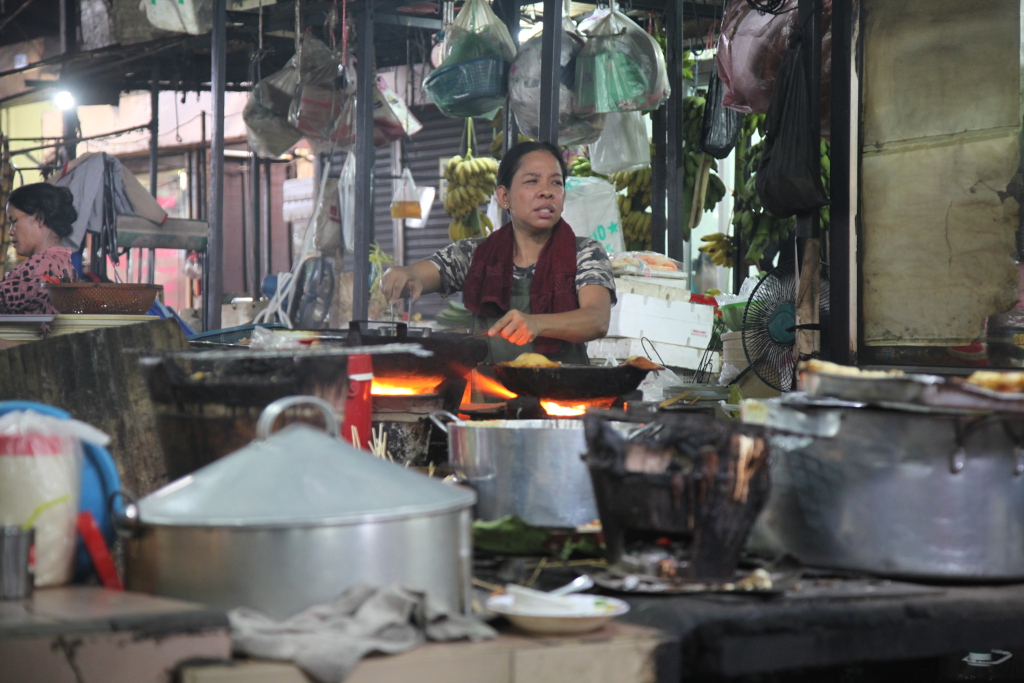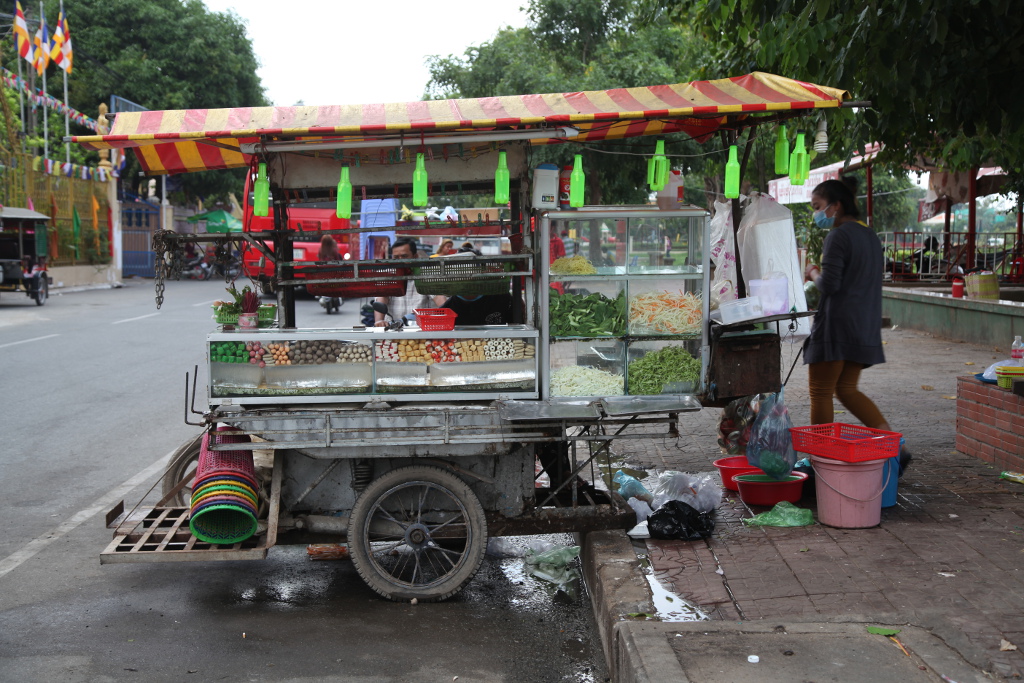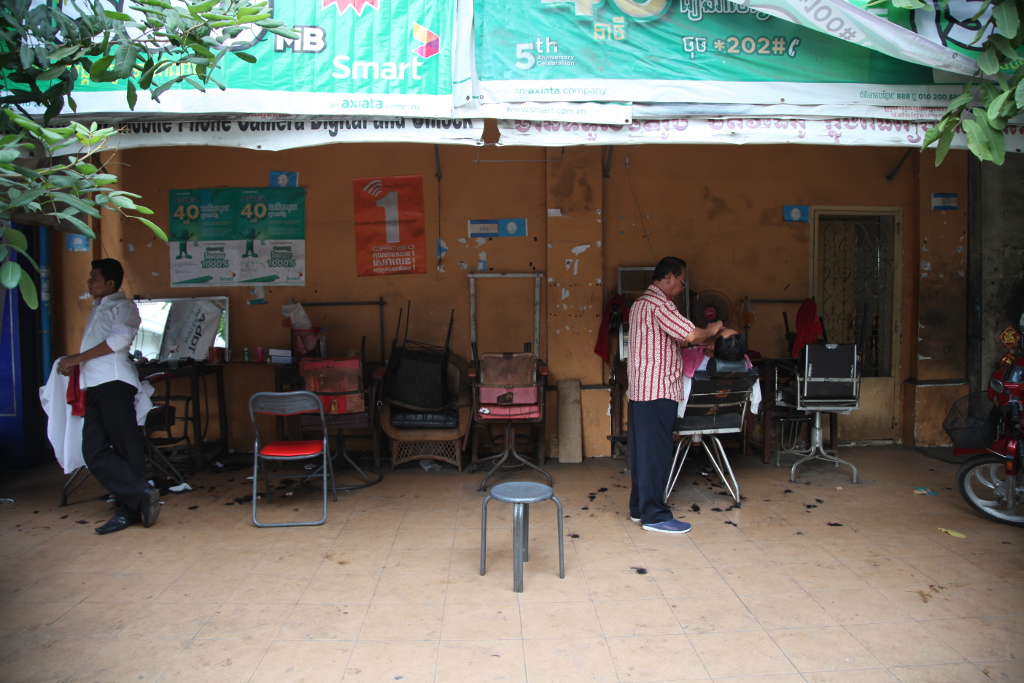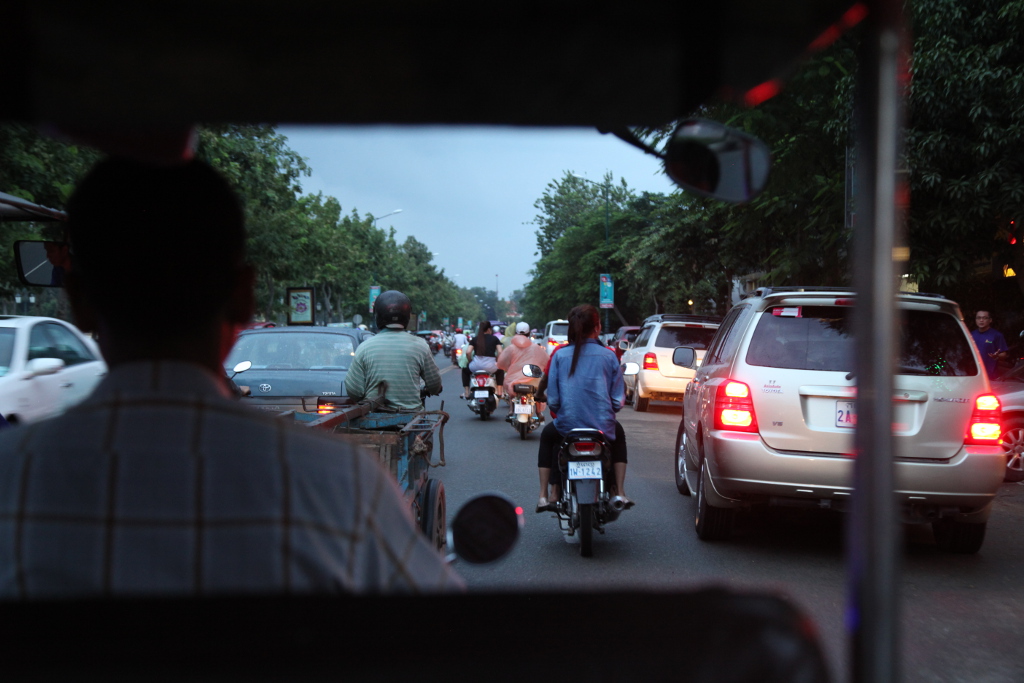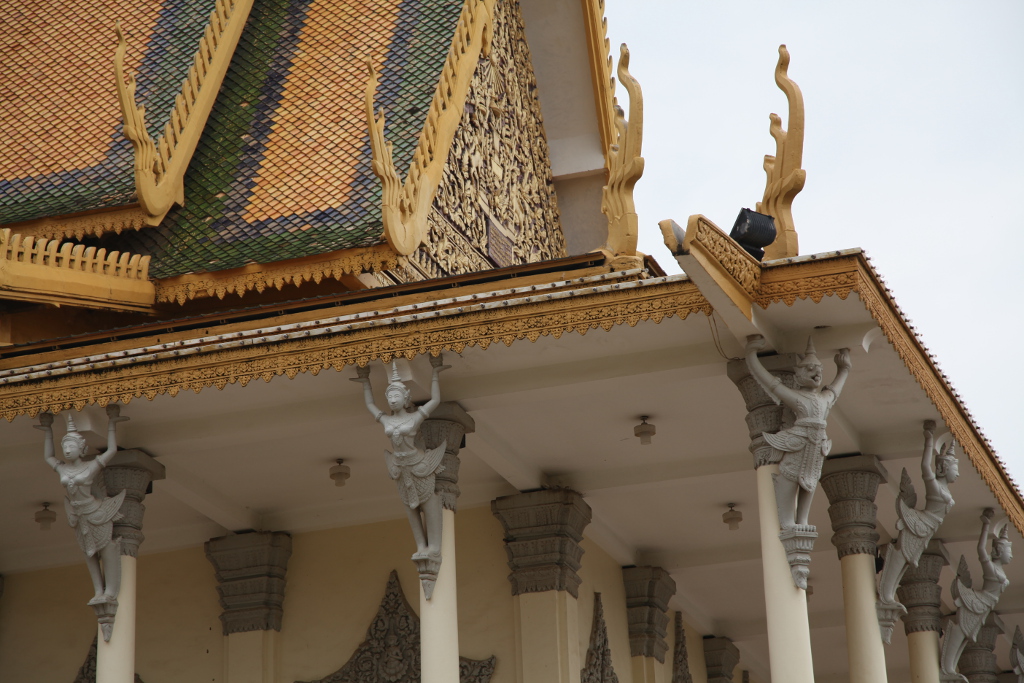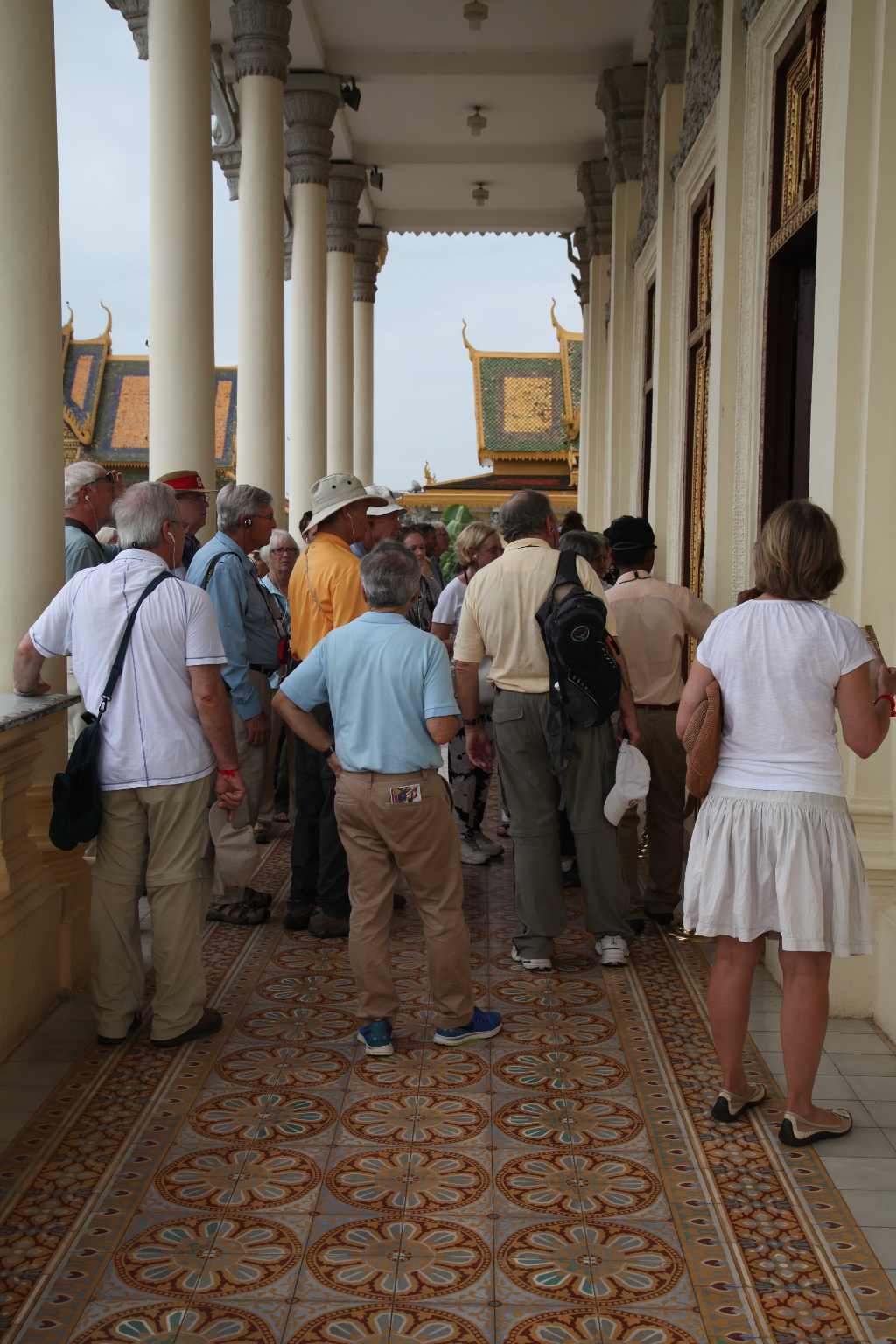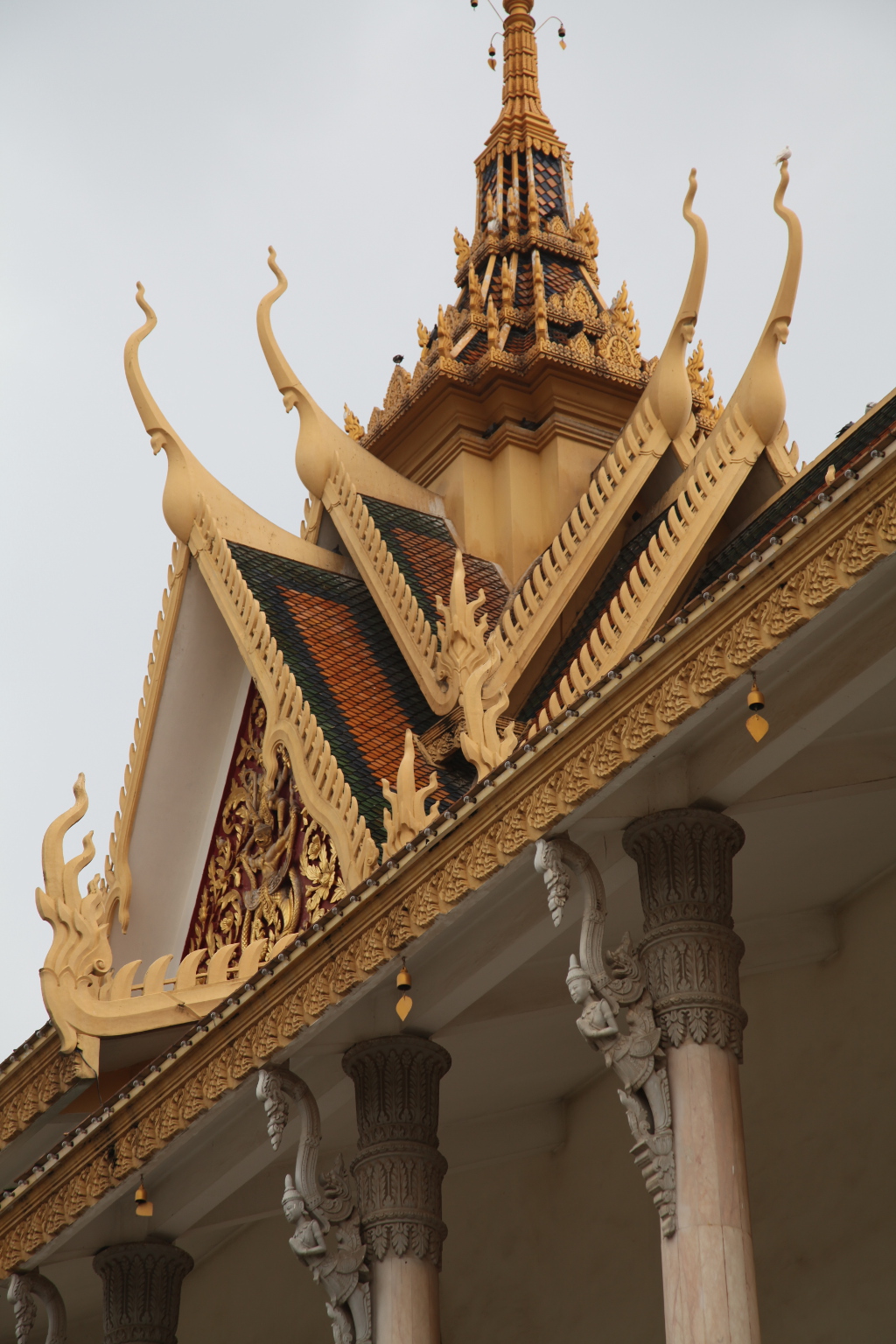 The day that we cycled out of Phnom Penh did me good. Finally pedaling again, after an almost two weeks long break.
From Phnom Penh, we took the main road to Siem Reap. It was nearly completely paved and in a pretty good condition – which beat our expectations: A touring cyclist we've met in Phnom Penh coming the other way (Singapore-Malaysia-Thailand-Cambodia) like warned us that Cambodian roads would be really crappy and the worst he had been cycling on so far. Well, it's all relative, isn't it?
There was a small part, maybe around forty kilometers, which was dirtroad. Red dust covered all the trees besides the road, and soon also us. With our sweat it turned to a creamy skin-package. But come on, it was only forty k's.
Usually we stopped in small restaurants for lunch. The first days it was quite challenging for us, to find them. Different than in Kazakhstan, we couldn't read any sign, and so we had to guess whether we could eat somewhere or not. Once we stopped in front of a house, which had a red «Angkor» sign (which was for us the sign that it is a restaurant – what was wrong that we found out later). We asked for lunch, because we saw people eating – and the daughter prepared some fresh fish with rice for us. With a soup. And some special fruit as desert. Not bad, we thought. Different than in other restaurants, where we usually pointed on the ingredients… After we've eaten, we wanted to pay – and realized that it was not a restaurant! No, we've just stopped at a house and asked the family if we could eat with them! Oh… After some days, we realized how a restaurant in a small village looks like (you see lots of pots and some plastic chairs around a couple of tables)…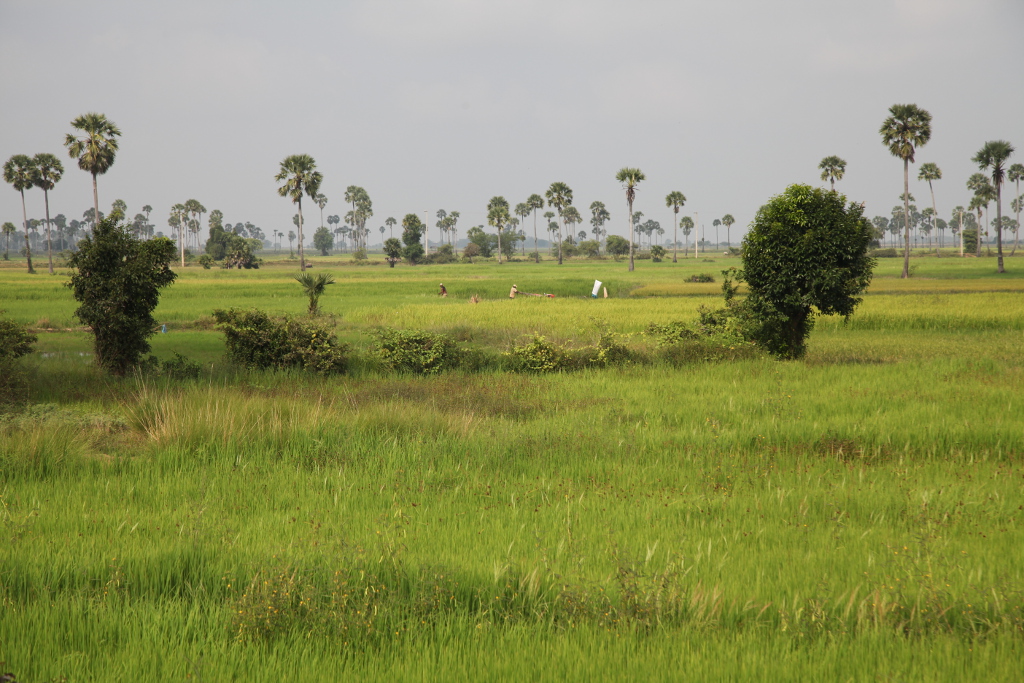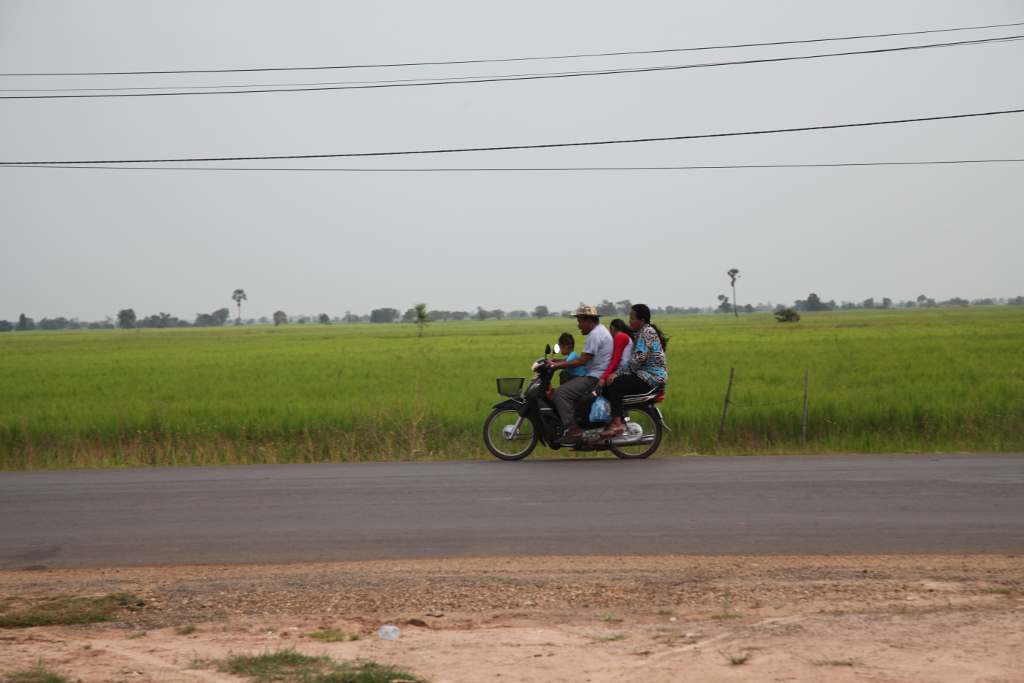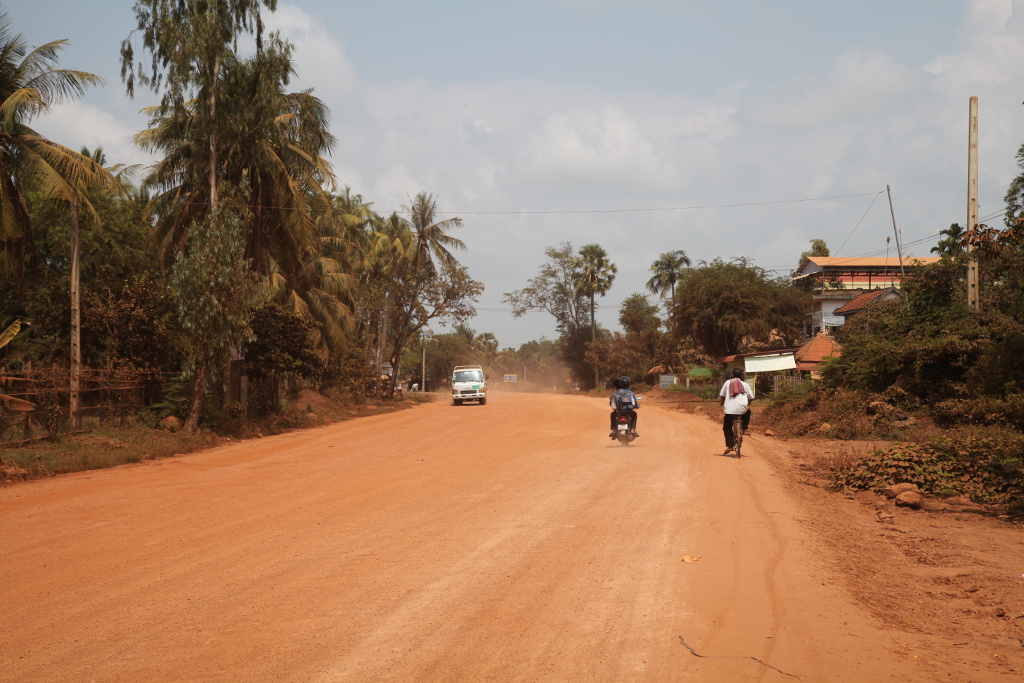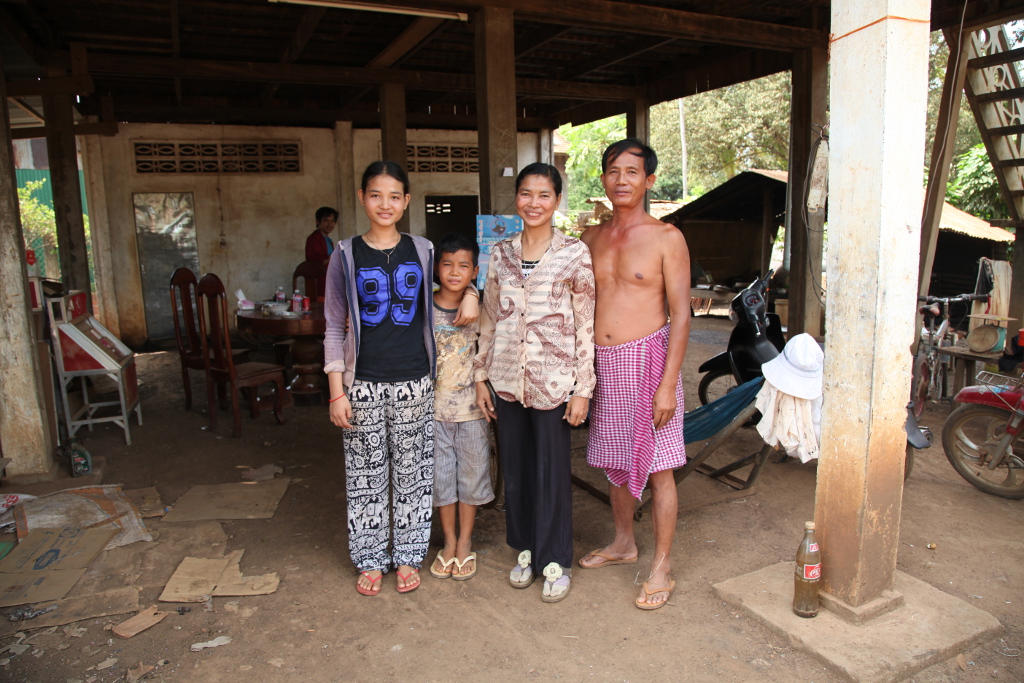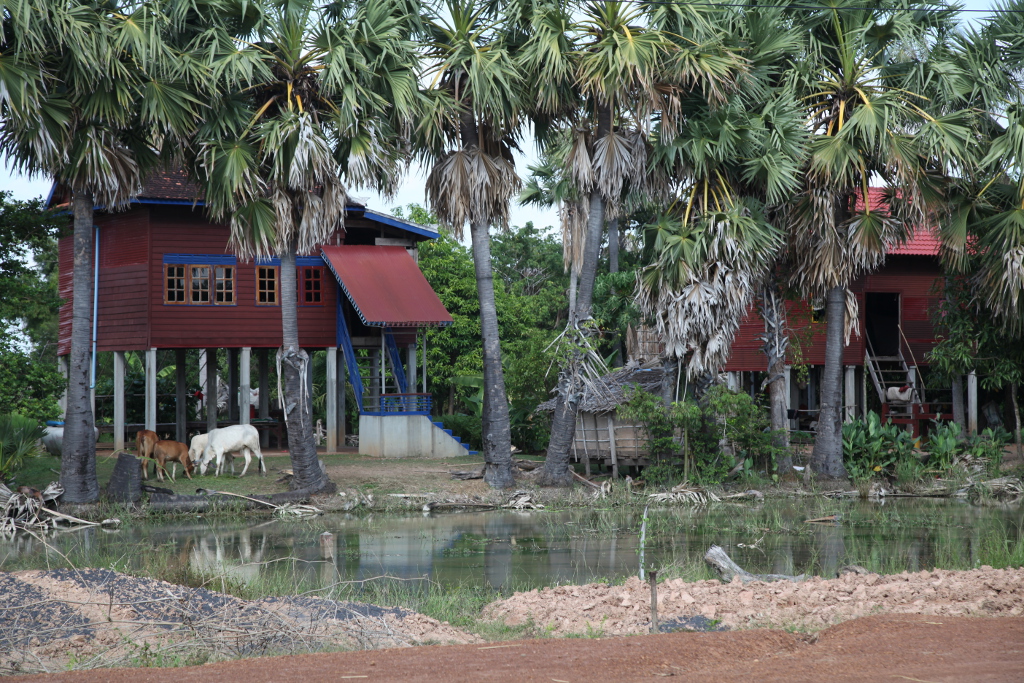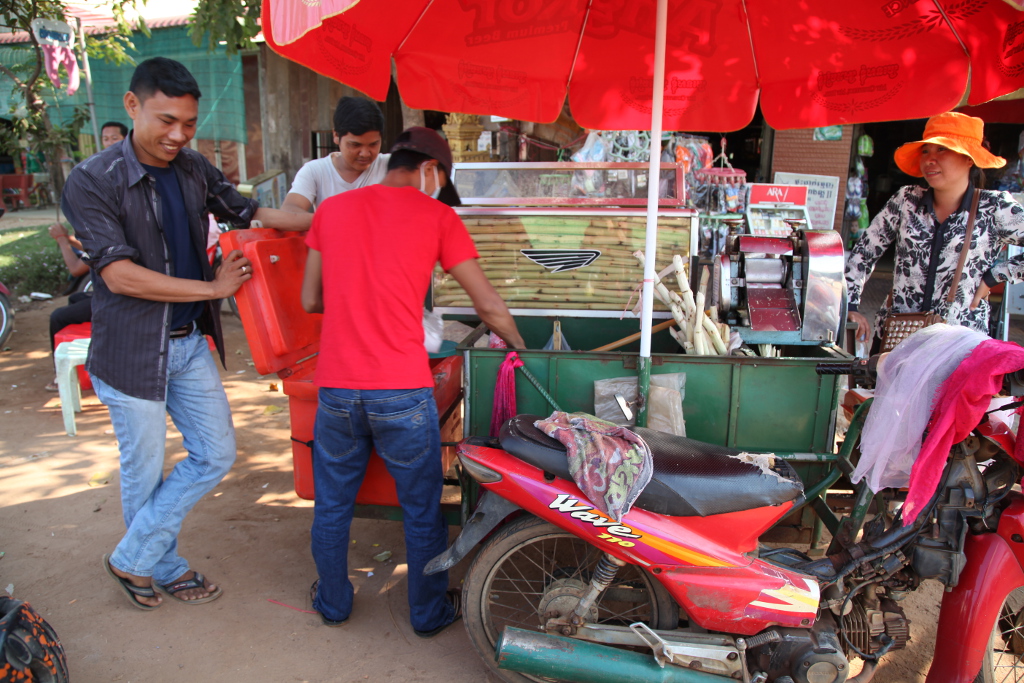 In Cambodia we never camped. It is simply too dangerous because of all the landmines. And there is almost no ground to put a tent on, ricefields everywhere! Guesthouses are really cheap. Usually we found a room in every bigger town, and paid between five and seven dollars for a double room with a fan. Okay, the standard was very basic. Which means that there wasn't always a sink, or we had to flush the toilet by hand. Or if there was a sink, the drain wasn't always connected, so that we spit on our feet when we brushed the teeth. You get used to it…
We haven't only managed to not camp, we also never cooked on our own. The food was so good and cheap, that we always ate in restaurants. And breakfast we just bought a fresh baguette and a pineapple in the morning, two iced coffees and enjoyed it in the shade of a tree. Magninficent!
On the main road, we moved quite fast. Our daily stages were more or less set, because we always had to reach a town with a guesthouse.
In Siem Reap we made a break. Some days off cycling, to visit famous Angkor Wat. The first day, we saw a very small part of the Angkor area. We visited the three most important temples one should visit – the big "main" temple, the faces-temple and the Lara Croft temple – and were so exhausted and tired of all these old stones and tourists that we returned to the hotel. It was really fascinating these temples and the jungle.
In Siem Reap we met Mirko again, and Mischa! With Mirko we were on a daytrip to another temple far outside the Angkor area, riding a motorbike, when we crossed Mischa. He just came from Laos, and we decided to have a beer in the evening…
After Siem Reap it took us only two days to the border, I think we were so excited to come to Thailand that we were so fast through Cambodia…